Source: Huffington Post Wednesday, 22 May 2013, 18:33
Dominique Venner committed suicide yesterdayin front of the altar of Notre Dame Cathedral in Paris. The death of the 78-year-old essayist and historian sparked numerous reactions from French nationalists.
Several executives and members of the country's far-right National Front party took to Twitter to praise Venner. Directly referencing Venner's last blog post, National Front party leader Marine Le Pen called the writer's act an "eminently political" gesture destined to "awaken the people of France."
"All our respect to Dominique Venner whose last gesture, an eminently political one, attempted to awaken the people of France. MLP
In a blog post published on the same day as his suicide, Venner talked about "new gestures, spectacular and symbolic ones, to rattle lethargies, to shake anaesthetised consciences and awaken the memory of our origins."
Louis Aliot, vice-president of the National Front and Marine Le Pen's partner, also paid his respects, calling Venner an "intransigent and courageous defender of our civilisation's values."
"My emotional thoughts go out to the tragic disappearance of D.Venner, intransigent and courageous defender of our civilisation's values."
Bruno Gollnisch, another figure of the National Front, saw Venner's suicide as a "protest against the decadence of our society." Gollnisch argued that Venner "experienced" the approval of the law on gay marriage "as it should have been experienced, as a promotion of decadence and a defacement of marriage."
Gollnisch added that "it wasn't his only fight, he also protested against the programmed disappearance of the French people, the progressive substitution with other populations."
Julien Rochedy, the president of the National Front youth group tweeted:
"It's with immense sadness that I hear about Dominique Venner's suicide. He will be reunited with the heroes from the Iliad he loved so much."
According to some members of the National Front, Venner was consideredas a potential candidate to head the party when it was founded in 1972.
Honorary president Jean-Marie Le Pen commented on the suicide to the AFP by comparing it to the death of Pierre Drieu La Rochelle, a writer who collaborated with the Nazis during WWII and who committed suicide in 1945. "An intellectual suicide, which testifies with death," declared the founder of the National Front.
On Tuesday night, thousands of far-right militants gathered in front of Notre Dame Cathedral, carrying torches and national flags. According to Le HuffPost, an unidentified speaker said: "We ignored the deep causes of his gesture. We are here to pay tribute to his last fight (...) He always defended France, beautiful, strong and proud of itself."
---
Source: WJC Wednesday, 22 May 2013, 18:16
A leading lawmaker of the Greek neo-Nazi party Golden Dawn has urged people in the country to "kill those who are responsible for their problems" rather than commit suicide. He defined "those who are responsible" as bankers. Ilias Panagiotaros made the comments during an interview for the Dateline programme broadcast by the Australian network.
Commenting on the increase in suicide since the start of the economic crisis, Panagiotaros said that instead of taking their own lives, Greeks should target those who he says are to blame. "This is tragic because Greeks were not like this. Instead of committing suicide, Greeks could have gone and killed the ones who were responsible for their problems," he told journalist Evan Williams, who informed his viewers that there have been "4,000 suicides" in Greece in the past four years. But official figures for 2011 say that 477 died by suicide in 2011.
When the reporter him asked in turn "Who should they kill?" the senior Golden Dawn lawmaker replied: "Bankers, of course."
He added that Golden Dawn was determined to set up parallel government services "like the Hezbollah in Lebanon", a senior MP with the party has told Australian telelvision. "Golden Dawn wants to become and will become like the Hezbollah in Lebanon, which in effect is a second government which helps even its poorest citizens," Panagiotaros told SBS. "Over time, Golden Dawn will do more for our fellow citizens," he said over footage showing the party's Greeks-only food hand-out earlier this month.
Golden Dawn has been severely criticized for using force against political opponents and minority groups such as immigrants in recent months.
Only last week, its lawmaker Christos Papas re-affirmed his admiration for Nazi dictator Adolf Hitler during a session of the Greek Parliament. After an opposition lawmaker read out statements made by Papas in the past, the latter thanked him for "having reminded from this podium the writings of my youth" and added that "the future of the world belongs to nationalism".
The Central Board of Jewish Communities in Greece (KIS) said in reaction to the latest incidents: "We call upon the government and the democratic political forces to overcome their differences and shield democracy in our country with appropriate legislation, in order to ensure the equality of Greek citizens, as provided for in the Constitution of Greek Republic regardless of race color or religion, and to effectively fight against any attempt made to revive Nazism in Greece".
In March, the World Jewish Congress Executive Committee had adopted a resolution urging the Greek authorities to consider a ban of Golden Dawn and to draft strong legislation against hate speech.
Watch the SBS report on Golden Dawn by clicking here.
---
Source: Deutsche Welle Wednesday, 22 May 2013, 14:44
French National Front leader Marine le Pen has saluted the acts of a far-right activist who shot himself dead at Notre Dame. The man had earlier called on his blog for "spectacular action" to protect France's identity.
Witnesses said that the man had placed a letter on the altar of the church before shooting himself in the head just after 3 p.m. on Tuesday.
The suicide was hailed as a political gesture by Marine Le Pen, leader of France's far-right National Front. "All respect to Dominique Venner whose final, eminently political act was to try to wake up the people of France," Le Pen said on Twitter, signing her initials to indicate that she had written the entry personally.
Le Pen's far-right party, running primarily on an anti-immigration platform but which also opposes French government efforts to legalize gay marriage, is the third-most popular in the country.
The man was identified by police as 78-year-old Dominique Venner, a historian known for his far-right publications. A note on Venner's blog, dated May 21st, had strongly criticized a law to allow same-sex marriage that was passed by the Socialist government last week.
Venner - a paratrooper during France's war in Algeria - had written essays, military histories and books about weaponry and hunting.
In the blog piece that saw him rail against the adoption of the gay marriage law, Venner called for words to be followed with deeds. "There will certainly need to be new, spectacular, symbolic gestures to shake off the sleepiness... and re-awaken the memories of our origins," Venner had written.
Police told the agency that the contents of the letter echoed comments posted on Venner's website.
Visitors to the cathedral were cleared from the building after the incident took place. "It's unfortunate, it's dramatic, it's shocking," Monsignor Patrick Jacquin told the AP news agency. "We did not know him, he was not a regular at the cathedral."
Jacquin said that, while a number of people had taken their own lives by jumping from the cathedral's twin towers, he had no knowledge of anyone committing suicide on the altar.
The 850-year-old Gothic cathedral, which lies on an islet on the River Seine, is one of the most visited sites in Paris, attracting 13.6 million visitors in 2011.
---
Source: Boston.com Wednesday, 22 May 2013, 10:44
After his arrest for a murderous rampage, alleged killer Keith Luke described to police a plot to invade the homes of non-whites, kill them, and drive to a temple hosting bingo night, where he had intended to have a "happy ending" by committing suicide.
"I decided I was going to kill as many non-whites as possible, and then kill myself,'' Luke told police, his defense attorney said today in court.
As the disturbing and gruesome confession was recounted in Brockton Superior Court, Luke, on trial for attacking three Cape Verdean nationals, killing two of them, smirked, then stared ahead blankly.
Since the trial began Thursday, prosecutors have sought to portray Luke, a self-described neo-Nazi skinhead, as a cold-hearted killer who amassed a trove of hammers, crowbars, and medical devices to carry out his war against anyone who was not white.
In court today, Luke's defense attorney Joseph F. Krowski Jr. used his client's own words to police to paint a picture of a disturbed young man who had languished in psychiatric hospitals and then in isolation before he carried out his deadly acts.
Questioning the chief investigator in the case, Krowski pointed out that Luke had described a growing disgust over what he saw as whites being degraded and felt that "the Zionist government" was doing nothing about it. Luke also said Congress was going to pass a "thought crime law" and that authorities were building "FEMA camps" for whites like him, Krowski said.
"You didn't go out and investigate whether there was a Zionist occupation for the case, did you?'' Krowski asked the investigator, Trooper Elvin Morales.
"No,'' Morales replied.
"Because you know that is gibberish, right?'' Krowski said.
"Yes," Morales responded.
Luke, a Brockton resident, is facing life in prison in the Jan. 21, 2009, fatal shootings of 20-year-old Selma Goncalves and 72-year-old Arlindo DePina Goncalves, who is not related to Selma.
He is also accused of raping and shooting Selma's 22-year-old sister. The Globe is not identifying her because of the allegation that she is a rape victim.
Luke confessed to the crimes, but gave a series of bizarre explanations for his actions, saying, among other things, that he was angry over black men dating white women. He also said he had no friends or family and that he had never had sex and intended to have intercourse with a girl before he died.
"I have to sacrifice my life for something,'' he said, according to testimony.
Morales testified that Luke made the statements while they were filling out paperwork at booking and then in a separate interview later. He had asked Luke a series of questions, including whether he was married or single. Luke responded in a chilling monotone.
"I am fighting for the dying race,'' he told the trooper. "I am speaking the truth. I'm banned from a list that has blackballed me from everything."
Luke, in white T-shirt and prison-issued green pants, sat quietly with one arm folded over the other during the trial. At one point, he wrote something on a yellow legal pad, and he smirked while his lawyer recounted his words for jurors.
His defense attorney said Luke had been in a psychiatric hospital for three years prior to 2009 and that prior to the killings, he had spent a majority of the time isolated from everyone else. He had only held a job for one day in his entire life.
---
Source: Deutsche Welle Wednesday, 22 May 2013, 10:41
A German TV documentary has obtained investigators' correspondence suggesting that Saxony's domestic intelligence service already considered the NSU to "resemble" a terrorist cell, before its first murder.
Investigators in the eastern state of Saxony in a letter dated April 28, 2000 - before the NSU allegedly committed its first of 10 murders in Germany - wrote that the trio now known as the National Socialist Underground could be considered similar to a terror cell.
"The group's methods resemble the strategy of terrorist groups, which pursue a collective goal through the division of tasks," the letter said, adding that in the trio's particular case, "a considerable increase in intensity up to and including the most serious crimes is identifiable."
Public broadcaster SWR aired its "Report Mainz" investigative journalism feature on national sister broadcaster ARD on Tuesday night. Regional ARD offshoots like SWR often save their prime material for first release on the national channel.
The document is printed bearing the letterhead of the then president of the Saxony state's domestic intelligence agency. Klaus Hardraht, regional interior minister at the time, is among the addressees.
At this point, Uwe Böhnhardt, Uwe Mundlos and Beate Zschäpe were under surveillance for other crimes, and the letter was justifying upping their surveillance to the highest available "G10" level, which includes tapping phones and intercepting letters. This monitoring system was approved and implemented from May to October of 2000, but with little success.
Gone, and then forgotten?
Authorities were particularly concerned by their ability to go to ground so professionally, leaving barely a trace, once they became aware of police attention. Such an effective disappearance "would not have been achievable" without help, the letter said: "Such an escape is possible only with the closest of connections within a closed loop of a few, discrete confidants."
Accused of 10 killings, among other crimes, the NSU is alleged to have committed its first murder in Nuremberg in September 2000.
A former government spokesman, Uwe-Karsten Heye, told Report Mainz that the letter ultimately showed that if the German authorities "had stayed on the case, this series of murders might never have happened."
Zschäpe is the only surviving alleged core member of the NSU and is currently facing trial in Munich for her role in the group's activities, along with four alleged accomplices. Mundlos and Böhnhardt were found dead by police in November 2011; they had taken their own lives after a botched bank robbery. Police also found the service weapon of a dead policewoman, believed to be one of the NSU's victims, at the scene - a key early piece of evidence in unraveling the case.
German authorities were already on the back foot over the NSU. As well as some investigative irregularities including the destruction of potentially pertinent paperwork after the NSU was uncovered, investigators first suggested that the killings now believed to be the work of a German far-right group were instead organized crime among immigrant communities.
The federal head of the domestic intelligence agency resigned in the aftermath, along with some of his regional colleagues. A parliamentary committee was established to investigate and described the authorities' failure as "peerless" in a report in the Bundestag last week.
Saxony's intelligence agency is moving out of its old offices in Dresden; SWR concluded its program by saying this letter was found by chance in the process, and had "evidently not been touched" in a decade.
---
Source: Balkan Insight Tuesday, 21 May 2013, 23:16
Sitting under a religious icon next to a map of Kosovo at the Belgrade headquarters of the new Zavetnici (Testifiers) movement, Milica Djurdjevic dreams about unifying all the movements that are fighting against European Union membership and want to keep Kosovo within Serbia.
Djurdjevic, political science student, said that her organisation, launched in February last year, has several thousand members. It uses a modern internet approach to popularise its views and membership is growing, she insisted. "We are fighting for a change in the way the state is run - a change of government, looking towards Russia and against EU membership," Djurdjevic explained, eyeing the small Serbian flag on her desk.
Zavetnici was one of the various right-wing groups that protested in the capital against the EU-brokered Brussels agreement between Belgrade and Pristina on May 10th . Demonstrators included some leading Orthodox Church officials, opposition groups like the Serbian Radical Party and Democratic Party of Serbia, DSS, the conservative, pro-church Dveri movement and the banned ultra-nationalist organisation Obraz.
The protest, organised by Kosovo Serbs, attracted several thousand people. The demonstrators demanded that the Serbian constitutional court challenge the Brussels agreement that saw the Serbian authorities agree to dismantle their institutions in northern Kosovo and put them under Pristina's jurisdiction in exchange for an EU accession date.
The demonstration should have been a showcase for a united and vigorous nationalist movement but instead revealed its core weaknesses. The turnout was played down by mainstream Serbian media but was still too low to show serious power. "There is more talk about unification than real action," said Djurdjevic. She remains optimistic, however: "This is the moment when all political fractions should act together. That could at some point result in a joint political platform and participation in new elections."
However, that point does not look likely to come soon. The nationalist bloc in Serbia is far from united. Some organisations are banned, others have differing strategies, many struggle to find funds, they lack clear support from the Serbian Orthodox Church and only one party represents their views in parliament: the opposition DSS, led by Vojislav Kostunica. On top of that, they have a hard time getting media attention as Serbia's mainstream outlets are traditionally aligned with the government. June 28th, the anniversary of the battle of Kosovo in 1389, would be one possible date to showcase right-wing unity but the nationalists are already squabbling over who will rally where. There are two major events announced for the same day, one in Belgrade and the other at Gazimestan in Kosovo, where a monument to the battle stands.
Traditionally, right-wing groups together with church officials, politicians and ordinary people from across Serbia gather at Gazimenstan, under police protection, to commemorate the battle which is seen as a symbol of Serbian patriotism. Marko Jaksic, a DSS deputy from North Mitrovica in Kosovo, who bitterly opposes the Brussels agreement, told BIRN that this year he wants to see opposition parties like the Radicals and Dveri as well as the DSS organise a protest in Belgrade. "The issue of Kosovo and Metohija is not only an issue for Kosovo Serbs, it is a nationwide issue and everyone should get involved more actively in the defence of Kosovo and Metohija," he said.
But the Serbian National Movement, known as SNP 1389, a right-wing organisation with tens of thousands of members which says it wants to "unify all Serbian lands", says it will go to Gazimestan on June 28th, instead of attending the Belgrade protest. "I think it is more important to be at Gazimestan on Vidovdan (St Vitus' Day) and show that Kosovo is still Serbian than to participate in a promotion of political parties," SNP 1389 representative Igor Jovanovic said. "The big question is whether the Belgrade rally will be a wide popular protest or just a rally of languishing opposition parties," he added. Another group, SNP Nasi ('Ours'), which was united with SNP 1389 until 2010, will also go to Gazimestan and not protest in Belgrade.
Ivan Ivanovic, the president of SNP Nasi, has also announced a series of events across Serbia aimed at bringing down the current government of "traitors". Zavetnici will however, participate in the Belgrade protest, and will join other Kosovo gatherings either the day before or the day after. As well as lack of unity, the right-wing bloc is also suffering because of the contradictory messages coming from the Serbian Orthodox Church, widely perceived as the defender of Kosovo and the nation.
In April, Patriarch Irinej sent an open letter to Prime Minister Ivica Dacic, asking him to quit negotiations with Kosovo officials. During the Belgrade protest on May 10th , two top bishops - Amfilohije Radovic from the Montenegro eparchy and Atanasije Jevtic, a retired bishop - denounced Dacic along with Serbian President Tomislav Nikolic and deputy prime minister Aleksandar Vucic as traitors.
They held a public prayer for the Serbian government to come to its senses. However, just a day later, Patriarch Irinej slammed the clerics for participating in the protest without his blessing.
In Zavetnici's small office, packed with flags, posters, and leaflets, some of the movement's members lamented that there is no political party or organisation that is standing up for what they believe. "Over 30 per cent of Serbian people support the causes we stand for," said Zavetnici president Stefan Stamenkovski. "We need a consensus from all political sides to get what we want: to stop the implementation of the Brussels agreement and create that long-awaited nationalist bloc," he said.
Political analyst Jovo Bakic explained that the Radicals, before their split with Nikolic's Progressive Party, used to be the driving force that united all these movements ideologically. The ruling Progressive Party has changed dramatically since the split in 2008, going from patriotic defenders of Kosovo to eager EU supporters. As a consequence, a significant number of right-wing voters, some 20 to 25 per cent of the electorate, are not represented in parliament, Bakic argued. "If unified, this might be a force in the next elections and I don't see how any government could be formed without them. They will profit more from the economic crisis, the issue of Kosovo and the loss of territories where Serbs live," he said.
Bakic believes that the Church would support a unified nationalist bloc because it shares a similar ideology: traditionalism, family values, xenophobia and homophobia. He sees the lack of a strong and authoritarian leader as the right-wing bloc's most serious weakness. "I am not sure who will emerge as a leader, bearing in mind that Kostunica is an old and outdated figure, while the Radicals' leader Vojislav Seselj is on trial in the Hague and the Dveri political party has so far not delivered a strong personality. Still, I think that this is the bloc that has the biggest growth potential," he said.
Milica Djurdjevic has similar hopes. "I am disappointed in both the ruling parties and the opposition. The problem is that we do not have an opposition that is strong enough to stand up against the government," she said. "Our goal is to enter politics because we can win the battle there. That is how we can avoid media censorship and marginalisation," she insisted. "Yes," Stamenkovski agreed enthusiastically. "We need to penetrate the system."
---
Source: Sofia Globe Tuesday, 21 May 2013, 22:30
In a fiery and emotional speech at the first sitting of the 42nd National Assembly, ultra-nationalist Ataka leader Volen Siderov sought to portray his party's role as the eyes and ears of ordinary Bulgarians, distanced from the two big political forces, GERB and the Bulgarian Socialist Party.
Not only was there Siderov's histrionic rhetoric, there were symbolic gestures too. Ataka's MPs stood for the playing of the Bulgarian national anthem but remained sitting for the European Union's anthem.
Later, as presiding officers were being elected, Ataka walked out.
Siderov's party placed fourth in the May 12 elections.
In the 240-seat National Assembly, the Bulgarian Socialist Party and the Movement for Rights and Freedoms together have 120 seats. Boiko Borissov's party GERB got the largest share of seats, 97, and Ataka have the rest, but Siderov – estranged politically from Borissov in the previous parliament – emphasised ahead of the first sitting he would make no deal with GERB.
Speaking in Parliament on May 21, Siderov said that Ataka would support no government, would not vote in the election of a Speaker and would not seek the election, from among its number, of a Deputy Speaker.
He told GERB and the BSP: "We will be your nightmare".
Siderov said that he saw collusion between GERB and the BSP, interpreting earlier remarks by Borissov stating conditional support for socialist prime minister nominee Plamen Oresharski as such.
GERB intends trying to form a government, but it is inevitable that this will be rejected in Parliament. The socialists intend following up that stage with a "programme government" headed by former finance minister Oresharski.
Ataka would be the check in Parliament against the other parties for "those humiliated and insulted people who took to the streets," Siderov said, in a reference to the cost-of-living and anti-monopoly nationwide protests of early 2013.
"I will not defend lobbying circles, as did GERB. We are the exception in Bulgarian politics. We are the authentic party in this Parliament," said Siderov, portraying the parties as – among other things – agents of foreign interests.
Turning to the foreign diplomats assembled in the public gallery to watch proceedings, Siderov made an emotional call for them to see how Bulgarians lived in misery on what he called the lowest incomes in Europe, while subjected to foreign exploitation.
Bulgaria, Siderov said, was the "fifth world" with incomes lower than in African countries.
Sweeping his hand towards the benches occupied by GERB and the Cabinet seats where the members of the caretaker administration headed by Prime Minister Marin Raykov were sitting, Siderov said, "for me, this part of the hall here, with all these people from the service, the so-called cabinet headed by the person Raykov, are from now on objects for prosecution and investigation, nothing more".
Siderov said that MPs salaries should be cut to minimum wage, although he also repeated his call to be raised to 1000 leva.
Siderov also repeated his call for pensions to be drastically increased. "Nothing is more important. Unless you start to raise people's incomes, there will be protests".
He said that Ataka would not work with the Movement for Rights and Freedoms, which he described as an "unconstitutional party" – a reference to its being led and supported in the main by Bulgarians of ethnic Turkish descent.
After Siderov's speech ended, MRF leader Lyutvi Mestan rose to object, saying that the Constitutional Court had found his party not to be unconstitutional.
---
Source: BBC Tuesday, 21 May 2013, 22:28
"We are entering a time when words must be backed up by actions," he said.
Venner, 78, was a former soldier who willingly served with the French army in Algeria during the war for independence.
On his return, he engaged in far-right politics, taking part in an attack on Communist Party headquarters in Paris in 1956.
He joined the outlawed OAS paramilitary group, which campaigned against Algerian independence and tried to assassinate Charles De Gaulle.
His OAS activities earned him 18 months in La Sante prison in Paris.
In the 1970s, he turned his back on party politics and made a career writing about military history. Numerous published works include Pistols And Revolvers and a history of the Russian Civil War.
In the age of the internet, he kept a blog on which he fulminated against what he perceived as threats to French identity.
In his final blog post, he quoted an Algerian blogger predicting Islamists would rule France within 15 years, overturning the new law on same-sex marriage.
For Venner, the prospect of Islamist rule and the reality of same-sex marriage were equally "disastrous".
He closed his entry with lines reminiscent of French existentialist authors of the left, active during the war in Algeria.
"It is here and now that our destiny is played out to the very last second," he wrote. "And this final second has as much importance as the rest of a life."
Later on the same day, he entered the country's most celebrated cathedral, where he pulled out a pistol and shot himself through the mouth.
Police said he had made no statement though a note was found next to his body.
The cathedral's rector, Monsignor Patrick Jacquin, said Venner had not been known as a worshipper at Notre Dame.
The dead man's editor, Pierre-Guillaume de Roux, suggested it would be wrong to link his suicide to the same-sex marriage affair because it went "far beyond".
The essayists had been preparing a new work called A Samurai Of The West, The Breviary Of The Unsubued, he said.
Venner's death, de Roux told AFP news agency, might be compared to that of the far-right Japanese writer Kimitake Hiraoka, known better as Mishima, who performed ritual suicide in 1970 after a failed coup attempt.
---
Source: Channel 4 Tuesday, 21 May 2013, 11:12
In Hungary an extremist nationalist party linked to paramilitary-style militias is making huge gains.
The far-right Jobbik party is hoping to become Hungary's second biggest political party at next year's elections but their manifesto is filled with vitriolic references to gypsies and Jews. Channel 4 News travelled to Budapest to meet the men behind the campaign.
Jobbik currently holds 43 seats in the Hungarian parliament and two in the European parliament. In Hungary it has become a legitimate political force - although its anti-Semitic message has raised concerns across the globe.
The party is allied with the BNP through the Alliance of European National Movements, but is considerably more successful. One key difference is its ties to vigilante militias - think English Defence League, but sober and in military uniforms.
The nationalist militias descend on gypsy towns to intimidate and sow division - when banned, they simply re-form with new names and similar structures.
At a Jobbik protest against "Zionism and communism" a few hundred metres from the World Jewish Congress, Channel 4 News watched Jobbik's leader address a crowd containing uniformed members of the Magyar Nemzeti Garda and the more extreme Betyarsereg (Army of Outlaws). The groups took part in military-style drills, and members of Betyarsereg carried helmets and gas masks.
The gathering went almost completely unopposed, with a very light police presence - in Hungary paramilitary-style far-right rallies have been normalised.
Although he Jewish Congress is usually held in Jerusalem, it came to Budapest to draw attention to the rise of anti-Semitism and to send a message to Jobbik that they would not be intimidated.
Jewish leaders told me that Prime Minister Victor Orban assured them he had dealt with the problem of militias
Nevertheless, those who came to view the rally were shocked by what they saw. At a training session for the Magyar Nemzeti Garda (Hungarian National Guard) militia, the group wore full military uniforms, displayed a clear military-style structure, but claimed it was not a violent organisation. It has taken part in distributing food and clothes to the homeless and given blood en masse to the Red Cross.
Its leader, Joseph, laid out the group's ideas to us: "We have a domestic problem that is the gypsy criminality and an external problem that is the Jew expansion."
When asked about the past suffering of Hungarian Jews, he replied: "If we want to remember victims, in my mind the holocaust is not the biggest tragedy. This has nothing to do with me. It doesn't interest me. I don't deny it, I'm just not interested."
Less than a century after Hungarian Jews were shot and their bodies dumped in the Danube by the Arrow Guard, fascist groups now openly wear the Arrow Guard logo, and statues of Hungarian nazi-Collaborator Miklós Horthy have been re-erected in parts of the country.
The militias play an important role for Jobbik, as we learned in small town of Gyongyospata, where a Jobbik mayor is now in charge.
Tensions in the town exploded in 2011. Nationalists blamed the small Roma population for the suicide of a local, and thousands of black-shirted militia members arrived to patrol the streets. Jobbik held rallies outside the homes of gypsies and there were violent clashes. In the aftermath the village became a party stronghold.
The Roma say they played no role in the man's death, and even brought us to meet his son, who confirmed their side of the story. They said over 2,000 journalists have been to the town but never sought to clarify the truth behind Jobbik's claim.
The difference in the Roma side of town is astonishing: the roads are unpaved and homes are run-down. The mayor says he is helping the Roma by providing work but many have already fled the town.
Across Europe, far-right organisations have been enjoying increased success on the streets or in the ballot boxes. Greece's Golden Dawn holds 18 seats in parliament and Bulgaria's extremist Ataka have 23 seats.
The deputy leader of Jobbik told Channel 4 News of his admiration for Ukip. The parties have little in common but share their opposition to the EU, and both have made rapid gains off the issue.
Unlike UKIP, Jobbik plans to strengthen its ties to places the near East and, more specifically, Iran. The town of Tiszavasvari, the "Jobbik capital" has been twinned with the Iranian city of Ardabil. The partnership has been called an "anti-Semitic alliance".
In Budapest, the real-world effects of the party's extremist rhetoric is clear. A report prepared for the World Jewish Congress showed how spontaneous anti-Semitic attacks are growing.
Jobbik told Channel 4 News it now wants the secret service to start investigating Jewish people involved in public life in the country.A simple shout goes up from one drunken reveller: 'What are these Jews doing here?' And then a glass of beer is poured over me.
At the party's May day festival, Nazi-tattoo-wearing skinheads rubbed shoulders with ordinary Hungarians. The crowd swells to over 7,000 people, all gathered under the Jobbik flag to watch rock bands and listen to speeches.
While shooting our report, a simple shout goes up from one drunken reveller: "What are these Jews doing here?" And then a glass of beer is poured over me. I'm slapped in the head and the crew is forced to leave.
A small example of how speeches from a stage can translate into action on the ground. The worst violence came in 2009, though, when six gypsies were murdered in attacks involving guns, hand grenades and homemade explosives. Four nationalists currently remain on trial for these crimes.
---
Source: al.com Monday, 20 May 2013, 23:31
The only real drama from today's hearing for a Neo-Nazi convicted of murder was whether he would serve a life prison term after or at the same time as his sentence on federal gun and drug charges.
Mobile County Presiding Circuit Judge Charles Graddick chose the former, sentencing Daniel Dwight Brown to life in prison after he finishes the rest of his prison term of 20 years and eight months on charges of possession with intent to distribute methamphetamine and a related gun offense.
"That's what we asked for, and we're very pleased that is the sentence that he got," Mobile County Assistant District Attorney JoBeth Murphree said.
A jury last month convicted Brown, 42, of murder in the death of James "Jimbo" Huddleston III, a fellow member of the Aryan Brotherhood. The victim's sister spoke in court today, describing the impact of the murder not only on her family but on Brown's, as well.
During the trial, jurors heard testimony linking Brown to Huddleston's shooting death on a dirt road in Tillman's Corner. He had been shot multiple times at close range from two different handguns. A nightclub bouncer near a bar that was a frequent hangout for Brown testified that he found the weapons, along with Huddleston's cell phone, in a Dumpster in March 2011.
A partially smoked cigarette containing the defendant's DNA was near Huddleston's body on Rabbit Creek Road.
Murphree said investigators never determined what sparked the shooting.
"It was a very brutal crime," she said. "It seemed like a very personal crime."
The defense maintained during the trial that Brown and Huddleston were friends and had no bad blood between them. Defense lawyer Deborah McGowin suggested that a third man, who had had a confrontation with Huddleston, was a much more likely suspect.
At today's hearing, Brown said he was sorry about what had happened, although he stopped short of taking responsibility.
"We had hoped for concurrent time, but I'm not completely surprised," McGowin said in an interview.
McGowin told Graddick that her client intends to appeal. The judge appointed Mobile lawyer Glenn Davidson to represent the defendant in that proceeding.
Barring a successful appeal, Brown would not be eligible for parole consideration until he serves at least 15 years of his state sentence.
Because the bullets came from two different guns, Murphree told jurors during the trial that Brown might not have been the only person involved in the murder. Police never made another arrest, though, and Murphree said today that it is difficult to predict if police would ever be able to come up with another suspect.
"There's always a possibility," she said.
---
Source: AFP Monday, 20 May 2013, 18:44
The Greek neo-Nazi party Golden Dawn has threatened to mobilize 100,000 people against plans to build a mosque in Athens, state television reported today.
"If a mosque is constructed for Islamist criminals in Greece, a front of 100,000 Greeks headed by Golden Dawn will be created," party spokesman Ilias Kasidiaris told supporters at a rally late on Sunday, in footage broadcast by state television.
The threat came after the Muslim Association of Greece over the weekend said it had received a crude note littered with profanities, warning its members to leave the country or face "slaughter like chickens."
Police said they were examining the note, which had as its backdrop the symbol of neo-Nazi Golden Dawn, which blames migrants for Greece's economic woes and has pledged to throw them out of the country.
Golden Dawn, which has 18 seats in parliament and is suspected by rights groups of encouraging supporters to beat up migrants, denied sending the note.
Greece is home to around 500,000 Muslims -- many of them undocumented migrants -- including a community of over 100,000 Greek citizens of Turkish origin in the country's northeast.
A staunchly Orthodox state with bitter memories of nearly four centuries of Ottoman Turkish rule, Greece currently offers sanctioned Muslim religious sites only near its northeastern border with Turkey.
Despite years of promises, successive Greek governments have failed to provide a mosque for Muslims in Athens.
---
Source: thelocal.es Monday, 20 May 2013, 14:13
Three youths walking home in the early hours of Sunday morning were violently assaulted by a group of 'Neo-Nazis' in Valladolid, the capital city of the autonomous region of Castile and León in Spain.
Online journal últimoCero reported that the attack was focussed on two of the three victims.
A witness recalled that, "They broke a bottle over one person's head, then started kicking him on the ground."
"They also pushed and punched another person but the third avoided the aggression."
The alarm was raised by a worker in the area who saw the incident which he described as "started by the neo-Nazis."
According to the witness, the victim struck with the bottle was "bleeding profusely from the head."
"His clothes were soaked with blood and his trousers were ripped from being on the ground."
The witness expressed his astonishment that when police arrived, only one of the two officers present got out of the squad car.
"The first thing he did was to go over to the kid who had his head split open and his clothes soaked with blood and demand to see his ID."
An ambulance arrived while the policeman took details of the incident and transported the injured youths to hospital.
Official sources confirmed that the two hospitalized youths had not filed a police complaint but did not rule out the possibility that others in the area may have done so on their behalf.
The same sources also noted that the two victims "had not referred at any time to being attacked by neo-Nazis" but that they "confirmed that their attackers were dressed in black and wearing a well-known brand of sports shoe."
The attack coincided with the end of a neo-Nazi meeting in the nearby headquarters of the far right National Democracy party.
A presentation titled "Indo-European Spanish Nationality" had concluded only hours before the incident.
ÚltimoCero reports that this is not the first attack in Valladolid attributed to neo-Nazis in recent weeks.
A musician was stabbed by a neo-Nazi youth on April 27th.
The perpetrator of the stabbing, who is under 18 years old and has a history of similar offences, is known by the nickname of 'Heineken'.
He was later arrested at a youth detention centre in Zamora where he was already incarcerated for his role in a third incident.
---
Source:enetenglish.gr Monday, 20 May 2013, 13:57
With MPs from many parties warning that Golden Dawn MPs are entering parliament armed, the Eleftherotypia newspaper has reported that an unnamed Golden Dawn MP was asked to store his gun away while driving into parliament's underground parking. 'I prefer to get someone first, before they get me,' he is reported to have replied before driving on

A New Democracy MP has expressed her concern that Panayiotis Iliopoulos, surrounded here by his Golden Dawn colleagues during his eviction from parliament on May 17, is often armed
Amid growing concerns that Golden Dawn MPs are attending parliamentary sessions armed, the Eleftherotypia newspaper has reported that one of the extreme-right party's MPs was asked to put away his gun whilst driving into parliament.
The weapon was placed on the passenger seat of the car being driven by the unnamed MP into parliament's underground parking.
The policeman who guards the area noticed the gun and asked the MP to put it away.
The MP reportedly drove on, replying: "I prefer to get someone first, before they get me."
Syriza's Petros Tsatsopoulos and Pasok's Paris Koukoulopoulos have in the past warned that Golden Dawn MPs have been entering parliament armed.
And in an interview over on Sunday, New Democracy MP Fotini Pipili criticised Golden Dawn MP Panayiotis Iliopoulos – who was evicted from parliament on Friday after an outburst against Syriza leader Alexis Tsipras – for carrying a gun and said that she feared one of the party's members would open fire in the chamber.
Earlier this month, Golden Dawn MP Giorgos Germenis apparently reached for his gun while being restrained by Athens Mayor Yiorgos Kaminis' bodyguards. The Athens mayor has filed a suit against Germenis for allegedly assaulting him after Kaminis asked police to stop a pre-Easter Greeks-only food handout by Golden Dawn on Syntagma Square.
MPs who carry guns are obliged to hand in their weapons to a secure location on entering parliament, with only their personal police guards being allowed to carry guns in the chamber.

---
Source: vice.com Saturday, 18 May 2013, 23:37
A couple of years ago, my friend moved out to Malaysia in search of a life where a winter wardrobe isn't a thing and you don't have to worry about stuff like moronic bro culture or seeing Kim K's face on television. What he found was a job as a bar manager in an establishment frequented by Malay punks covered in swastikas, wearing Combat 18 (a neo-Nazi terrorist organization) T-shirts and harping on about "Malay power."
Turns out they're a group of far-right nationalists who want to rid Malaysia of any non-ethnic Malays and stop immigration into the country. Which, although pretty backwards and reductive, isn't all that surprising in the current world climate. What was surprising, and kind of confusing, is that they identify themselves as neo-Nazis, are fond of sieg-heiling and listen to Nazi bands like Skrewdriver and Angry Aryan, yet definitely aren't Aryan themselves. And adopting a worldview that specifically discriminates against your race seems a very odd thing to do.
I was told that one of the most popular Malay power bands is an act named Boot Axe, so I got in touch with band member Mr. Slay to find out why exactly a group of Malaysians are going through this bizarre, neo-Nazi identity crisis.
VICE: Hi Slay. So what's the deal with all this "Malay power" stuff then?
Slay: Malay power is important because we're concerned about keeping a pure Malay community all over the Malay Archipelago [the archipelago between Australia and Southeast Asia, believed by some to be the homeland of the Malay race]. I'm a second generation fighter for Malay power. The first generation, who founded the Malay power movement, have been less active recently. Malay power stems from a point in history—the 13 May 1969 — where the Chinese and Malay communities fought each other. However, the punk and skinhead Malay power movement started in Kuala Lumpur in the early 90s.
As far as I understand it, the idea that there's a "Malay race"—which is supposedly indigenous to the Malay Archipelago—was proposed by German scientist Johann Blumenbach. There's a lot of contention over whether or not such a race actually exists. For a start, Blumenbach's theory hinged around the idea that there were only five different races in the world, which is clearly pretty flawed. I take it racism features pretty heavily in your ideology?
We're extremists in regards to the Malay race, but that doesn't mean that we're extreme racists. It's not about racism. It's all about being Malay.
OK. How exactly is Nazism culturally relevant to Malaysians? Malaysia isn't a country that most people would associate with Hitler and his Third Reich buddies.
Malaysia is home to people from China, India, and foreign immigrants from Bangladesh, Africa, Sri Lanka, Nepal, and Burma. The government can't control the entry of immigrants and we get so many of them. There are so many protests against the government about this issue, but they haven't done anything tangible to improve the situation. Race has become a focus because of the inclusion of uncontrolled numbers of these people in our society.
How has immigration affected you?
Malay people have been affected in socio-economic terms. Ethnic Malays also fall prey to criminals who come from abroad and sell drugs and commit murder, rape, robbery, and so on. The lesson that we can learn from Nazism is that we can take extreme racist action if the position of the Malays is affected by these factors. We won't practice overt racism if the Malay race isn't compromised, but, if threatened, we will take action.
So you aren't openly hostile to minorities at the moment?
We don't like minorities in Malaysia if they can't co-exist with the Malay race. If they are good, then we are good.
What about Jews? Most Nazis aren't too fond of them.
All Malay power punk and skinhead bands are outright antsemitic and anti-Zionist. Study the origins of the descendants of the Malay people from thousands of years ago and you'll see that we're connected with the Jews.
According to the Jewish scriptures, a "lost tribe" of children from Israel who are divinely guided—which means they must be Muslims—will kill the Jewish Zionists in Palestine. In the beginning, Zionists thought that Native Americans were the ancestors of the lost tribe.
Then an American scientist and theologist called Professor Ralph Olsen concluded that the Malay in the Malay Peninsula are the descendents of the lost tribe. This hypothesis is a half-truth. The Malays are not 100 percent descendents of the lost tribe, but Ralph Olsen's theory about the adventures of a lost race is an interesting one.
This is all news to me. It sounds as if there's an Islamic ideology mixed in with Nazism here, which is a little confusing.
Malay power is connected to Islam. It doesn't have links to any pro-Islamic movements, though.
So you're a neo-Nazi movement with elements of Islam and some Jewish scripture thrown in for good measure? I've noticed that your band appears to be quite fond of the slogan "blood and honor," which is the name of a British neo-Nazi group. Were you influenced by neo-Nazis from over here?
We weren't directly influenced by British neo-Nazis because we realize that the extremists in the UK don't like Asian people. We just took the slogan "blood and honor" to demonstrate our identity.
Do you listen to British and American Nazi bands?
Yes, I listen to English Rose, Skrewdriver, Brutal Attack, and Angry Aryan.
That's quite a selection. Do you think Skrewdriver would be into Boot Axe?
No, I don't think they would listen to our songs.
Do neo-Nazi groups exist in other Asian countries?
Yes, in Indonesia, Singapore, and Japan. In Singapore, there's a Nazi black metal band called As Sahar.
Is every Malay neo-Nazi a punk? Or does Nazism extend beyond the punk and skinhead subculture?
No, all Malaysian neo-Nazis listen to punk and skinhead music.
You get anti-Nazi punks in quite a few countries—do they exist in Malaysia?
Yes, they do exist, but they dare not openly oppose us. They are afraid to speak out.
How are you regarded by the general public? Are they afraid of you as well?
Speaking honestly, maybe some people don't believe that the average, ethnic Malay citizens of Malaysia agree with us. However, we are not all that violent or extreme, as I have already told you.
How successful would you say your movement has been so far?
We make minorities afraid to commit crime in Malaysia. We always warn them not to cause trouble here. Violence isn't a solution for us because we begin with discretion, tolerance, and politeness when talking to these immigrants. If they insist on continuing or if they are stubborn people, we will do what is necessary.
We also do charity work for the community and for Palestine, Syria, Somalia, and other countries that are at war. We've also tried to have discussions with the government about how to overcome the problem of having so many immigrants, but we were ignored.
We're very different when compared to European and American neo-Nazis, who state openly that they want to eliminate races other than the white race. We start off with restraint and a zero tolerance stance, but we won't keep up this position if the Malays in Malaysia are threatened.
OK. Finally, how do you square being a Nazi with not actually being white?
Most worldwide organizations say that Nazism is just for whites. And yes, we are not members of the blue-eyed, blond-haired Aryan race—our community is brown-skinned, brown-eyed, and dark-haired. We've just adopted the spirit associated with Nazism as a symbol for the Malay race's response if it's threatened by racial issues.
Thanks for answering my questions.
---
Source: Daily Mail Saturday, 18 May 2013, 23:28
Far-right politician Marine Le Pen has fractured her spine after falling into an empty swimming pool in France, it emerged tonight. News of the 44-year-old's 'rather serious' accident will send shockwaves around nationalist groups, not just in France but across Europe. Le Pen, who is leader of the National Front (FN), is one of the most high-profile right-wing politicians on the continent, with her hardline anti-immigrant and anti-Muslim agenda regularly winning a huge number of votes at elections.
A poll in May showed that the current president, Francois Hollande, would lose to her if France were to vote tomorrow.
Miss Le Pen has been capitalising recently on growing discontent in over economic gloom, record unemployment levels and President Hollande's personal unpopularity.
News of her accident was broken by her notorious father, the convicted racist and antisemite Jean Marie Le Pen, who was runner-up in the French presidential elections of 2002. Explaining his daughter's absence from an FN meeting in Limoges today, Le Pen senior said: 'Marine could not come because she was the victim of a rather serious accident that prevented her from moving.
She fell into an empty pool and got a fracture of the spine.' A statement released by the FN said Le Pen had a fracture of the sacral - the triangle-shaped bone at the bottom of the spine.It is a particularly painful condition which severely limits movement and may require surgery to put right. Le Pen's accident happened a week ago but, said the FN, she was determined it would not stop her fulfilling future engagements.
The FN, which was founded by her father, is the third largest political force in France, and has been led by Le Pen since January 2011. Since then she has attempted to modernise its image for extremism, and for intimidating Jews, Muslims, and those from racial minorities. In recent weeks she has been at the forefront of the campaign to allow gay marriage in France, and has also been a fierce critic of Francois Hollande's Socialist government.
She wants to severely reduce immigration to France, reinstate capital punishment, and withdraw from the European Union. Like her father, Le Pen's energy and enthusiasm has come to personify the FN - something which could now be put at risk by her accident.
---
Source: enetenglish Saturday, 18 May 2013, 23:20
The Muslim Association of Greece says they received a threatening note giving all Muslims one month to leave the country or be 'slaughtered like chickens'. The letter, as it appeared on the association's webpage, has the Golden Dawn emblem printed on it
The Muslim Association of Greece on Friday received a threatening note giving all Muslims, Greeks and foreigners, one month's time to evacuate the country or be "slaughtered like chickens", according to a statement released by the association on Saturday.
The note, published on the association's webpage, is written in Greek, English and Arabic and the Golden Dawn emblem is printed on the paper.
The anonymous author uses vulgar language against Muslims, threatening that if they do not leave the country "there will be blood"
The association stresses that the note, which was posted via a central post office in Athens, is addressed to Muslims and not to immigrants, "and this indicates that the religious hatred against humans is undisguised."
The board of the Muslim Association calls on the Greek State "to make certain that all citizens are enjoying equal law and that we are not prey in every asymmetric threat".
---
Until June 30 you shut your bordela in Greece and you will go to hell.
From July 1 onwards those who are still here will [be] slaughtered like chickens on the road.
Islam F*** you, f*** you and the Koran f***ing your mothers.
There will be blood.
---
Source: Hope not hate/Antifeixistes.org Saturday, 18 May 2013, 16:05
From Hope not hate's Spanish correspondent Sandra Cortès for Antifeixistes.org in Madrid
"The Spanish government's honouring of the Nazi killers of the infamous Spanish Blue Division must not go unpunished!" – This is the demand of Catalan Jewish, Roma and LGTB organizations after Thursday's revelation that Maria de los Llanos de Luna, the Spanish government's direct representative in Catalonia Luna, was honoured with a diploma last weekend by the, fascist veterans organisation, the Brotherhood of the Blue Division at the Civil Guard headquarters of St. Andreu in Barcelona.
This shameful and tawdry event has upset many organisations and groups that suffered the Nazi oppression and murder.
"We will look at the possibility of filing a criminal complaint," Jai Aguilar, a representative of the Jewish Beth Shalom organisation, told the La Directa newspaper which first published the news.
Eugeni Rodriguez, from the Gay Liberation Front of Catalonia, has stated that he will also take up the matter. "We were surprised about the tribute and the participation of Llanos," he said while Cristóbal Laso, from the Federation of Gypsy People in Catalonia, has indicated that he will study the case and does not rule out legal action.
---
Source: The Independent Saturday, 18 May 2013, 15:30
General Jorge Rafael Videla: Dictator who brought terror to Argentina in the 'dirty war' – The Independent
By Nicholas Caistor
General Jorge Rafael Videla was the dictator who brought terror to his country in the second half of the 1970s, plunging it into a "dirty war" against subversion. At least 9,000 people were killed by armed forces under his direct command as president of the military junta which had seized power in March 1976.
Videla always argued that he had merely been doing his duty. He claimed not only to have saved Argentina from political chaos, but to have defended "Western Christian civilisation" in its fight against communism. He remained unrepentant to his dying day, declaring in 1998 that " I reject the accusations made against me and on the contrary call on behalf of the Argentine nation and its armed forces in particular, for the honour due to victory."
He was born into a military family in the province of Buenos Aires in 1925. His father played an active role in the first military coup in 20th century Argentina, when the government of Hipólito Yrigoyen was overthrown. He went to a Catholic school (he remained a practising Catholic), then entered military college at 16 in 1942, when the Argentinian army was still highly politicised – and great admirers of Mussolini and national socialism. He graduated into the infantry and at 23 married Alicia Raquel Hartridge, a descendant of Irish immigrants to Argentina.
Through the 1950s and '60s, Videla was a career officer, in the general staff and at military college. He was known as a disciplinarian and a traditionalist, and managed to keep out of politics. In part it was because of his neutral position that he was appointed head of the Military College in 1971, with the rank of general, when the armed forces were once more in power but were considering handing power back to the civilians. He was also fortunate in not being high enough up in the military hierarchy to be dismissed when the leader of that civilian govenrment turned out to be Juan Peron.
After Peron´s death in 1974 his widow Isabel became president. It soon became obvious that her government was doomed, split as it was by internal rivalries and an increasing threat from armed guerrilla groups. By this time, Videla had risen to become commander of the army, and in October 1975 ordered his forces to concentrate on eliminating the "subversive threat".
He began planning with Emilio Massera, head of the Argentine navy, and Brigadier Agosti, the Air Force commander, for a military take-over, in what was known as "Operation Aries"- the zodiac sign for the month of March, when the coup was to take place. In order to avoid the emergence of one all-powerful figure, the three men agreed that each service would hold approximately one third of the power for at least two years, although as commander of the senior branch, General Videla would be nominated leader of the junta.
On 24 March 1976 the coup duly arrived. Isabel Peron was arrested with all her cabinet and hundreds of politicians, trade unionists and other leaders. The coup was bloodless, as no one lifted a finger to defend the Peronist government, but what Videla and his colleagues grandly termed the "Process of National Reorganisation" included a concerted campaign to kidnap, torture and kill anyone regarded as being part of or supporting the left-wing guerrilla groups.
Videla was installed as president on 29 March 1976 in a ceremony that lasted 20 minutes. He and the other junta members argued that they were at war with the subversives, although there are many indications that the guerrilla groups had already been substantially defeated. Videla and his colleagues decided that as their enemies were not a real army, any tactics were legitimate against them, so they declared that this was a "dirty war", under which the armed forces could torture and kill without any respect for legality, with no obligation to reveal to anyone what they were doing.
A total of 364 secret detention centres were used between 1976 and 1978 to receive the thousands of "disappeared", who were routinely tortured and killed, their bodies disposed of in mass graves, or thrown out of planes at night over the River Plate. Questioned by the press, Videla and the others insisted that they must have joined the guerrilla or gone abroad. Only one case of habeas corpus was ever admitted, and Videla refused to intercede even on behalf of relatives or the children of friends who were caught up in the violence.
It was only more than 20 years later, in 1998, that Videla finally admitted that there had been a plan to get rid of the left-wing groups in this way. "We could not put them all - say 5,000 of them - before firing squads. Argentine society would not have stood for that... At one time, we thought of publishing lists, but then there was an objection: if we say they have been killed, then the awkward questions will start: who killed them, where, how."
On 1 August 1978, with the "subversives" crushed, Videla stepped down as commander-in-chief of the army. He continued as president while a new junta of three service commanders was sworn in. Since the coup, it is estimated that as well as some 9,000 "disappeared" there were 10,000 political prisoners, while more than a quarter of a million had left to live in exile. But Argentina had won the football World Cup, and Videla was laying plans for a gradual return to democratic rule with himself as the leading presidential candidate.
His plans came to nothing after the Falklands Islands debacle (which he did not support), and the return of political parties to power at the end of 1983. His next public appearance was in the dock in April 1985, when President Alfonsín's government put the junta members on trial for human rights crimes. It was during the months of this trial that Videla acquired the nickname of "The pink panther", because of his bony face and the aloof disdain he showed for everything going on around him, as if he were above civilian justice.
For all his disdain, he was convicted of direct responsibility in 66 murders, 306 kidnappings, 93 cases of torture and four of theft. Videla was sentenced to life imprisonment and stripped of his general's rank and civilian rights. Refusing to try to justify himself any further, he accepted a comfortable prison in an army camp outside Buenos Aires.
There were further twists in the sequel to his years in power. When the Peronist Carlos Menem won the 1989 elections, he quickly pardoned the military and guerrilla leaders still in prison. Videla was among them, although he insisted in a public letter that he had not asked to be set free, and called on the new president to also restore the reputation of the armed forces.
Then in 1996 fresh proceedings were opened against Videla. This time it was for the kidnapping of five children from mothers who had disappeared after the 1976 coup. Shortly after they had given birth, their babies had been taken from them and placed in the families of military personnel or other childless couples. Although Videla had been pardoned for the crimes committed between 1976-1983, human rights groups argued successfully that the kidnapping of the children was still going on, and was therefore not covered by President Menem's pardon.
It was eventually estimated that around 500 babies had been kidnapped and given to new parents. By last year 105 of them, by then all in their 30s, had been identified through DNA tests and reunited with their blood families through the efforts of the Grandmothers of Plaza de Mayo, an association formed in the 1980s by the mothers of the women whose babies were stolen.
On 22 December 2010, Videla was sentenced to life in a civilian prison for the deaths of 31 prisoners following his coup d'état, and then, after a 16-year trial, last year he was sentenced to 50 years for the baby kidnappings. He died in his sleep of natural causes in Marcos Paz prison in the province of Buenos Aires.
---
Source: gazzettadelsud Saturday, 18 May 2013, 14:52
Italy's far-right Forza Nuova party has launched an Internet campaign called 'Immigration Kills', referring to the recent rape and murder of a young woman in Livorno and a pick-ax killing spree committed in Milan on Saturday, both by non-Italians living in the country.
The campaign warns against reforms proposed by recently appointed Integration Minister Cecile Kyenge, Italy's first black minister, that would grant children born to immigrants living legally in Italy automatic citizenship.
The recent acts "nail proponents of immigration reform to their responsibilities...and provide dramatic reasons against its applicability," the group said on its site.
Mada Kabobo, an undocumented immigrant, killed two men and injured three others in a string of attacks before being stopped by police on Saturday in Milan. Ablaye Ndoye, a Senegalese national, was arrested on May 3 for suspicion of raping and murdering 19-year-old Ilaria Leone, found strangled to death outside the port city of Livorno.
Kyenge has received a spate of racist insults since her appointment. "Shoot Minister Kyenge, not Carabinieri" and "Minister Kyenge, f**k off" were found daubed on walls in the Tuscan city of Pistoia, signed by Forza Nuova supporters.
The first taunt referred to a man who shot two Carabinieri outside the premier's office while Democratic Party (PD) deputy head Enrico Letta's new left-right government was being sworn in nearby. On Thursday Forza Nuova party hung a banner outside the PD offices in the Marche city of Macerata that read: "Kyenge go back to Congo".
Italian prosecutors have opened a probe into online abuse directed at PD member Kyenge, a doctor who was born in the Democratic Republic of Congo. As well as anonymous attacks on the Internet, the 48-year-old Kyenge was also targeted by a senior member of the anti-migrant Northern League.
League MEP Mario Borghezio called Letta's new executive a "bonga bonga government" and claimed Kyenge would seek to "impose her tribal traditions from the Congo".
An online petition has been launched calling for Borghezio to be ousted from the European Parliament.
---
Source: Moscow Times Saturday, 18 May 2013, 14:44
Two members of an ultranationalist organization accused of taking part in the killing of a federal judge have been detained in Serbia and Ukraine.
Investigative Committee spokesman Vladimir Markin said that one of the suspects, Ilya Goryachev, was detained in Serbia, while the other, Mikhail Volkov, was detained in Ukraine, Interfax reported Monday.
Both Volkov and Goryachev were members of the ultranationalist BORN organization, whose members are accused of killing Moscow City Court Judge Eduard Chuvashov, who presided over court hearings on far-right groups.
Chuvashov, 47, was gunned down in Moscow in his apartment building in Moscow in April 2010. It was the first murder of a federal judge in Russia over a six-year period.
Novaya Gazeta reports that Goryachev lived in Serbia for a long time after leaving Russia in 2010.
---
Source: jns.org Saturday, 18 May 2013, 12:30
The Hungarian Reformed Church is trying to defrock Lorant Hegedus, a Protestant pastor, for participating in a radical right-wing rally during which his wife had given a speech denouncing Jews and Israel.
Hegedus's wife is a deputy for the right-wing Jobbik party in the Hungarian Parliament. The party had won 17 percent of the country's vote in the 2010 election.
"This is a permanent provocation… It has nothing to do with the Gospel," said Gusztav Bolcskei, the church's presiding bishop, regarding Hegedus's involvement with Jobbik, according to Reuters. Defrocking the pastor "
Peter Feldmajer, who just stepped down as the head of the 80,000-100,000-member Hungarian Jewish community, said Hungarian Jews are "satisfied with the actions of the churches," and that he thinks "at the end of the day, he will be fired."
---
Source: ekathimerini.com Friday, 17 May 2013, 12:02

An MP for the ultra-right Golden Dawn party, Panayiotis Iliopoulos, was today ejected from a session in Parliament after the deputy used derogatory language to revile fellow MPs.
Yiannis Dragasakis, a prominent SYRIZA MP and economist who was chairing the session, asked security guards to remove Iliopoulos after the far-right MP remarked that "Mr Alexis is preparing a souped-up question for the prime minister," he said, adding that the leftist opposition leader was "sleeping the sleep of the just" and dreaming of waking up as prime minister.
Pulled up by Dragasakis for using derogatory language, Iliopoulos went further, condemning fellow MPs as «wretched sell-outs» and «goats.» Iliopoulos left Parliament, cursing all the while, accompanied by the remaining Golden Dawn MP who had been in attendance.
Shouts of "Heil Hitler" heard during the MPs' departure were believed to have been uttered by the party's parliamentary spokesman Christos Pappas though Golden Dawn claimed the cries came from SYRIZA deputies.
Earlier in the day in Parliament, a request by former prime minister and socialist PASOK deputy George Papandreou to be granted leave so that he can attend a conference abroad as a speaker prompted hoots of laughter from Golden Dawn MPs.
---
Source:thelocal.de Friday, 17 May 2013, 11:56
As the trial of a German woman accused of being part of a murderous neo-Nazi terror cell adjourned until next month, when two of her alleged accomplices will speak, excruciating details emerged of how the security services failed to stop them.
Although Beate Zschäpe, 38, on trial in connection with nine racially motivated murders and that of a German policewoman, has not made any comment to the Munich court hearing the case, it seems two of her four alleged accomplices may testify.

She is said to have been, along with Uwe Mundlos and Uwe Böhnhardt, part of the nucleus of the killer cell. The other two died in a murder-suicide in November 2011 after being surrounded by police in the wake of a botched bank robbery. It was only then that the cell was uncovered.
When the court resumes its work on June 4th, the judges plan to start cross-examining the four alleged supporters and helpers of the neo-Nazi terror gang the National Socialist Underground.
Two men identified only as Holger G. and Carsten S. - accused of various crimes such as supplying the murder weapon, identity papers and rental vehicles to the killers - are in witness protection programmes and are expected to turn state's evidence.
"We expect that the accused will very openly put their cards on the table," said Reinhard Schön, a lawyer for victims of a nail bomb attack the NSU is also accused of.
"We are very eager to hear their testimony."
The other two, Ralf Wohlleben and Andre E., are not expected to speak.
The Munich office of lawyers representing relatives of those killed by the gang were smeared with faeces and urine this week, while last week paint was thrown at a building in which antifascist campaigners live. The office of the Bavarian refugee council was also attacked and a window smashed, the Süddeutsche Zeitung reported.
Meanwhile a parliamentary investigative committee reported this week on the shambolic performance of the police and various levels of security services over the seven years during which the NSU seemed to murder, set off bombs and rob banks with impunity.
Friday's Die Tageszeitung newspaper reported the main findings of the report.
- When in 1998 the NSU trio went into hiding after police found the garage where they had been building bombs, they left a list of addresses which included two of the four people now on trial with Zschäpe. Ten entries were in Chemnitz, where the trio spent the following two years. This list was never given to the relevant security service, but is thought to have been sent to the state criminal police.
- There were so many paid neo-Nazi informants in the circles surrounding the NSU trio that the authorities must have been able to deduce that they had formed an armed gang. One even told military intelligence he thought they were acting as terrorists. Yet none of this information was passed to police by security officials who wanted to protect their sources.
- The right questions were asked - as early as 2004 - with a paper within the Office for the Protection of the Constitution discussing the danger of armed right-wing extremists in Germany. The paper even specifically named Mundlos, Böhnhardt and Zschäpe, but concluded there was no evidence that they were active. By this time the gang had killed five people and let off two bombs. The neo-Nazi magazine Der Weisse Wolf carried a note saying thanks to the NSU.
- In 2006, after the ninth NSU murder, a Bavarian police profiler produced an analysis suggesting the murderers were right-wing extremists. But other investigators dismissed his work and a paper from the Baden-Württemberg police insisted the victims had been involved with a south-eastern European crime gang whose head had ordered the killings to save face.
- The NSU investigative committee repeatedly heard from police and intelligence officers who said they could not remember details they were being asked for. In Nuremberg and Munich, the committee heard, intelligence agencies paid people to set up kebab shops and deliberately not pay for deliveries in order to flush out the "kebab killer commandoes".
- The Hamburg police even had to admit having hired a medium who promised to contact one of the murder victims - free of charge.
- After a bomb was set off in Cologne and a video was found showing two men pushing the bomb to the attack site on a bike, the fact that two men on bikes were often seen at the murder sites was ignored. A woman who was near the murder spot in Nuremberg said there were similarities between the men on bikes she saw and those on the video, but was ignored.
- In the wake of the 2001 al Qaida attacks on the USA, with many of those involved having studied in Hamburg, security service priority was put on Islamist terrorism - and the danger from neo-Nazis was side-lined, even though they had radicalized during the late 1990s.
- Several officers told the investigative committee they had not recognized the attacks as fascist because there were no claims of responsibility. It seemed to have been accepted wisdom that neo-Nazis would always send letters claiming any attacks for themselves, even though this was not the case.
The conduct of the security services "was not becoming of a state with the rule of law, and this must not happen again," said the head of the committee, Sebastian Edathy.
He said the multiple intelligence failures were "without historic precedent".
---
source: Radio.cz Friday, 17 May 2013, 11:40
The organisers of a martial arts show in Prague have bowed to pressure from the media and sponsors and cancelled an appearance by a Hungarian fighter who's covered from head to toe in Nazi tattoos. Attila Petrovszki, a Mixed Martial Arts fighter from Hungary, had been due to appear at the event - his tattoos covered in a T-shirt - on Friday; now organisers are looking for a replacement.
Attila Petrovszki, source: Romea
Friday's Heroes Gate martial arts tournament offers an evening of pumped up aggression for those looking to blow off a little steam. A combination of Mixed Martial Arts (MMA), kickboxing and boxing, Heroes Gate is the tenth such event, heavily advertised and held under the auspices of the Prague 9 district council.
This year however organisers found themselves with a little too much publicity; the Roma news agency Romea.cz reported that one of the MMA fighters on the bill, Attila Petrovszki, was a Hungarian neo-Nazi. Photos of the semi-naked fighter seemed to confirm this; his chest features large tattoos of Hitler and a swastika, and the words 'Death of the Jews' is scrawled across his abdomen. The photo quickly made the transition from Romea to Facebook and then the mainstream media, and Attila's fate was sealed.
The event's promoter, Ladislav Kutil, told Radio Prague the fighter's appearance had been cancelled due to 'media pressure' on Heroes Gate and its sponsors, which include gyms, car dealerships and even Pepsi. The poster also carries the logos of the City of Prague and Czech Television; both categorically denied supporting the event, and some sponsors who did threatened to withdraw their support.
Former journalist Josef Bouška is an expert on the Czech neo-Nazi scene.
"Let me tell you one thing. The main problem isn't whether the guy has a tattoo or not. The main problem is that they knowingly invited a Nazi guy to compete. They would have provided him with money, that basically equals support of neo-Nazism. On the other hand, there are a number of Nazis in Mixed Martial Arts circles, at least here in the Czech Republic. They're promoted on the websites of the gyms, they do training. So I think there's a deeper connection between these two worlds, and it's not going away too soon I think."
We should stress that you can be a fan or even a fighter of Mixed Martial Arts or kickboxing and not have any Nazi sympathies at all. I think the organisers said previous Czech tournaments had featured Romany and Vietnamese fighters. So I guess it's not the exclusive preserve of the neo-Nazi underground is it?
"No, no, no, it's absolutely not. I believe the vast majority of fighters and gyms are OK and they have no inclination towards neo-Nazism. The problem is that they know there are a number of Nazis among them, some of them very prominent, and they don't consider it to be a problem. They just don't care, and I believe that sets a very bad example."
Heroes Gate has since released a statement claiming that Attila Petrovszki's Hungarian agent had assured them the fighter was no longer an active neo-Nazi, that the tattoos were the result of a troubled youth and he was now – through kickboxing – taking his life in a new direction, which, said the promoters, was what martial arts was all about.
A cursory glance at Mr Petrovszki's Facebook page, however, would suggest otherwise. There he's pictured in a T-shirt of the British skinhead band Skrewdriver, whose leader Ian Stuart co-founded the violent neo-Nazi movement Blood and Honour.
---
Source: Expatica Germany Friday, 17 May 2013, 11:28
Germany's trial of a woman accused of being part of a neo-Nazi killer trio on Thursday adjourned until next month after four plodding days, as lawmakers slammed security services for failing to stop the seven-year killing spree.
Beate Zschaepe, 38, is on trial over 10 murders, most of them of Turkish migrants, blamed on the far-right cell the National Socialist Underground (NSU), whose two male members died in an apparent murder-suicide in 2011.
The first four days of hearings of the landmark trial, held under tight security in Munich, were dominated by a raft of defence motions that sought to delay or stop the hearings, all of which were rejected by chief justice Manfred Goetzl.
Zschaepe, dressed in a cheery polka-dot blouse on Thursday, was seen chatting with her lawyers and police, but kept her steely silence to the court and the public which she has maintained since her arrest a year and a half ago.
When the case resumes on June 4, after a Bavarian state holiday, the panel plans to start cross-examining the four co-accused men, all alleged NSU supporters, two of whom have turned state witnesses.
Two of the four men – who are accused of various crimes such as supplying the murder weapon, identity papers and rental vehicles to the killers – are expected to testify.
They have been identified only as Holger G. and Carsten S. and are both in a witness protection programme.
"We expect that the accused will very openly put their cards on the table," said Reinhard Schoen, a lawyer for victims of a nail bomb attack the NSU is also accused of. "We are very eager to hear their testimony."
A third, Ralf Wohlleben, who remains in custody, was due to hand in a written statement, according to his lawyers, while the fourth alleged supporter, Andre E., was expected to stay silent, like Zschaepe.
The court adjourned Thursday afternoon, ending an anti-climactic start to what has been described as Germany's trial of the decade.
The nation was stunned and shamed by news in late 2011 that racist killers were apparently behind the 2000-2007 murder spree that claimed the lives of eight Turkish migrants, one Greek man and a German police women.
The case highlighted intelligence failures by security services and police, who had long suspected the killings, dubbed the "doner (kebab) murders" in the media, were the work of foreign gangsters and had ruled out a racist motive.
A parliamentary inquiry that has examined the case over the past year concluded on Thursday that Germany's security apparatus had failed completely.
Their conduct "was not becoming of a state with the rule of law, and this must not happen again," said the head of the panel, Sebastian Edathy.
He said the multiple intelligence failures were "without historic precedent".
---
Source: Hope not hate/Antifeixistes.org Friday, 17 May 2013, 00:52
From Hope not hate's Spanish correspondent Sandra Cortès for Antifeixistes.org in Madrid
The Spanish government's official representative in Catalonia, Maria de los Llanos de Luna, attended a ceremony to pay homage to the soldiers of the Spanish Nazi Blue Division last week.
The event took place in a Civil Guard barracks in Barcelona on May 11, during which Llanos de Luna awarded a medal to a veteran of Hitler's Spanish army.
All opposition parties have now called for de Luna's resignation and even the Unified Association of the Guardia Civil (the progressive police union) has demanded that those responsible for staging this grotesque commemoration be fired.
Over 18,000 Spanish fascists, who volunteered to join the Nazi armies after the Spanish Civil War, formed the infamous so-called Blue Division. On 12 October last year, Spain's National Day, a vehicle carrying elderly Nazi veterans of the Blue Division took part in the Spanish army's official event to mark the occasion. Every February, nazi groups stage an annual pilgrimage to the Almudena cemetery in Madrid in honour of the Blue Division.
The ruling Popular Party has a completely revisionist view of Spanish history. It has never condemned Franco's fascist dictatorship or permitted the families of Franco's victims to have exhumed the mass graves that dot the whole country and which are estimated to hold more 100,000 anti-fascists killed during the Spanish Civil War and murdered after it.
---
Source: Hope not hate Thursday, 16 May 2013, 21:56
Leading Hope not Hate correspondent, Jean-Yves Camus, files on-the-spot report from Paris
The Front National commemorates Joan of Arc every year on 1 May. However, the more radical Extreme-Right stages a separate event in Paris around 12 May.
Its march this year, on 12 May, gathered a crowd of about 700, less than in 2011. As is usual within the world of fringe movements, internal fights far exceed the usual calls for unity, so the groups present took great care to arrive separately at the Joan of Arc memorial on Paris's posh Place des Pyramides.
The royalist movement, Action française (Af), was the first to pay tribute to the French national heroine at the beginning of the 20th century and it is still alive and in even better shape than for decades, having been at the forefront of the anti-gay marriage demonstrations that have spread all over the country this year. About a hundred Af militants showed up to call for the return of the King, in an autocratic, not constitutional, monarchy.
Next came the Nouvelle Droite Populaire, marching along with the racialist Europe-Identité and Serge Ayoub's Jeunesses Nationalistes Révolutionnaires (JNR), also known as the Troisième voie (Third Way) movement.
The JNR were by far the biggest in numbers with around 300 activists. They define themselves as national-revolutionaries. The Réseau identités led by Richard Roudier, a splinter group of Bloc Identitaire, was in the same group of marchers.
The rival groups for the leadership of this ragbag of radicals are the twin movements Oeuvre française and Jeunesses nationalistes (JN), led respectively by Yvan Benedetti and Alexandre Gabriac. Their combined attendance was around 200.
While the JNR has stayed away from the anti-gay marriage demonstrations, the JN have been very active there, both recruiting new members and fighting with the police. The JN's ideology is clearly fascist.
Another separate outfit on show was Renouveau français, a Catholic fundamentalist, self-proclaimed counter-Revolutionary, movement with about 80 demonstrators.
There were also two foreign guests: a group of Autonomous Nationalists from Flanders who seem to have a connection with JNR and also from the (French-speaking part of) Belgium, the Mouvement Nation whose leader Hervé Van Laethem was among the speakers at the end of the event.
On the same afternoon, Civitas, the Catholic fundamentalist movement that launched the anti-gay marriage protest movement, gathered one thousand followers separately.
There are two lessons to be taken from the day's events.
The first is that those who stand to the right of the Front national now have very limited political space and a dwindling following. There is no serious electoral opportunity for them.
The second lesson is that the fierce competition between rival groups for the leadership of what remains of the fascist scene results in an increase of the threat of physical violence against their opponents.
Four members of the FEMEN feminist movement who had rented a room in an hotel in front of the Joan of Arc memorial, dared confront the demonstration from the balcony, holding an anti-Nazi poster and had to be quickly removed to safety by the police amidst the fascists' calls to beat them up.
---
Source: Global Post Thursday, 16 May 2013, 21:55
Immigrants living in Greece gather on Omonia square in the center of Athens on December 3, 2011 during an anti-racism demonstration. Louisa Gouliamaki (AFP)/Getty Images
Police have arrested two Greek men on suspicion of attacking a Cameroonian national and setting fire to his coffee bar in a central Athens neighbourhood that has become a flashpoint for racist violence.
The suspects, both 34, appeared before a prosecutor later in the day and were formally charged with deliberate arson, illegal violence and causing damage.
Police spokesman Christos Parthenis said a search of the suspects' homes revealed "slogans and symbols of a particular political party" on a bedroom cupboard. A photo of the cupboard later released by police showed handwritten slogans supporting the extreme right Golden Dawn party, a formerly fringe group that has gained a significant following as Greece struggles through a deep financial crisis.
The party and its members, including some of the 18 lawmakers who gained seats in parliament in last year's general election, have often been accused of being behind a surge in violent attacks against immigrants in Greece. The party denies such charges.
The suspects, along with another three men, allegedly verbally harassed the 34-year-old man from Cameroon Monday evening, threatening to burn down his coffee bar, Parthenis said. The two are accused of carrying out their threat overnight in the early hours of Tuesday, breaking into the cafe and setting it alight.
Police are searching for the other three suspects who remain at large and are investigating whether the two already arrested were involved in other recent cases of racist violence, the spokesman said.
Earlier this week, the medical aid group Medecins du Monde said they had treated a 14-year-old Afghan boy who suffered wounds to the face and head after being beaten by three men as he emerged from a subway station in central Athens.
The boy told the aid group in a video testimony that his attackers all wore black T-shirts bearing the same symbol. Although the boy said he didn't recognize it, his description was similar to the Golden Dawn symbol which the party says represents the ancient Greek meander motif surrounded by laurel leaves.
On Wednesday, police said they were investigating another violent attack which occurred Sunday in the same area by five men against a 20-year-old Syrian refugee.
Once on the political sidelines and garnering less than 0.3 per cent of the vote in 2009 elections, Golden Dawn enjoyed a meteoric rise in popularity as Greece found itself struggling through a deep and protracted recession, with unemployment spiraling to above 26 per cent.
Campaigning on a vehemently anti-immigrant, populist platform, the party won nearly 7 per cent of the vote in last June's elections. Recent opinion polls have placed it consistently as the country's third-most popular party.
The government has been working on drawing up legislation that will penalize politicians for hate speech or racist comments or actions.
---
Source: Global Post Thursday, 16 May 2013, 21:52
Participants of a demonstration of the Jobbik party hold a banner reading 'Go away merchants (Israeli)! This is our home-land!' in Budapest downtown, nearby the parliament building on May 4, 2013.
Once again, Hungary's record on human rights is under fire. In a report released today , Human Rights Watch details threats to a wide range of freedoms since the government of Prime Minister Viktor Orban forced through major constitutional changes after it took office in 2010.
One of the rights under threat, according to the report's author Lydia Gall, is freedom of religion.
Under the new constitution, which came into effect in 2011, all religious groups had to be re-certified by the government. Religious institutions are a major conduit for dispersing social funds in Hungary. The reason given by the government for the re-certification is that it wanted to be sure that those who claim religious status really are faith organizations before they receive funds.
But, Gall says, "There was no transparency to the process." The government failed to make its criteria clear. "The result was that many churches were summarily deprived of their status as religious institutions."
No mosques or Sikh gurdwalas were re-certified. Even the Methodist church was denied religious status initially, although it was restored after a year long appeal process.
The Orban government argues that the religious institutions certified represent the faiths of 95 percent of Hungarians who go to church and denies they are discriminating against any religious minority.
As a member of the European Union, Hungary is obligated to uphold freedom of worship for all its citizens.
Since his Fidesz party gained power, Orban has been skillful at sanding the rough edges of its right-wing nationalist agenda by avoiding populist demagoguery and making sure that he is always within a legal framework as he asserts greater government control over the press, the courts and religion.
He is aided indirectly by the existence of Jobbik. The third-largest party in the Hungarian parliament, Jobbik has been called by critics a neo-Nazi, neo-fascist party. Jobbik disputes these labels. It also rejects the charge that it is anti-Semitic but the record of many of its politicians says otherwise.
Judi Szima, a Jobbik candidate for the European Parliament wrote in 2009, "Given our current situation, anti-Semitism is not just our right, but it is the duty of every Hungarian homeland lover, and we must prepare for armed battle against the Jews."
In November last year a Jobbik member of the Hungarian Parliament, Marton Gyongyosi, demanded the creation of a list of Jewish politicians to identify potential "national security risks."
The Jewish community in Hungary is at a loss about how to deal with the situation. Its members do not know just how hard to push back. Last week, the World Jewish Congress held its annual meeting in Budapest. A few days before, despite a court-ordered ban, Jobbik held demonstrations against the WJC meeting. One speaker called the meeting a "Jewish attempt to buy up Hungary."
Prime Minister Orban addressed the Congress. He condemned anti-Semitism around Europe but somehow did not mention Jobbik nor condemn the rally.
This caused outrage among some delegates but the president of the Federation of Hungarian Jewish Communities, Peter Feldmajer, told the German magazine Der Spiegel , "In our view there are no anti-Semites in the Hungarian government," he says. "But we certainly see anti-Semitic tendencies in the government majority."
Most Jews in Hungary don't feel endangered, Feldmajer added. "However, among most of the members of our community the increasingly intense right-wing extremist and anti-Semitic attacks are creating very uncomfortable feelings."
On Monday it was announced that Feldmajer and his entire leadership team had resigned following a vote of no confidence by his board. The primary reason: his unwillingness to challenge Orban on anti-Semitism.
Anti-Semitism without Jews is one of the stranger post-Soviet phenomena of central and eastern Europe.
Once the heartland of world Jewry, the Holocaust effectively eradicated the Jewish presence from Hungary deep into the Ukraine — yet anti-Semitic attitudes persist. It's as if Jew-hatred was an inherited part of the social culture.
Szabolcs Hegyi, of the Hungarian Civil Liberties Union, notes, "Anti-Semitism appeared right after the transition [from communism]. Unfortunately, in the meantime it didn't disappear. Indeed, it has been increasing and growing."
In the years before the war, Hungary had a large Jewish community, mostly living in and around Budapest. Twenty percent of the population of the city in 1930 was Jewish. Today it is 0.5 percent. Nevertheless, Hungary still has the largest Jewish community left in the region, around 100,000 people. It also has the most entrenched anti-Semitic attitudes.
A survey last year for the Anti-Defamation League asked people around Europe, from east to west, a series of questions based on old anti-Semitic canards. Among them: "Do you think Jews have too much power in the business world?" Seventy-three percent of Hungarians surveyed said yes, by far the highest figure of any nation.
The failure of Orban's government to challenge these attitudes is deeply troubling to Hungary's EU partners as well as to the Jewish community. Hegyi has a simple explanation as to why Orban resists denouncing anti-Semitism: "There are votes in it," he says.
---
Source: israelnationalnews.com Thursday, 16 May 2013, 21:45
Posters of Volen Siderov, leader of the Attack party,Reuters
A Bulgarian far-right party has emerged victorious following the country's parliamentary elections last Sunday, securing 7% of the popular vote.
The Ataka party, meaning "Attack" in Bulgarian currently holds a keyposition to dictate terms for the formation of Bulgaria's next ruling coalition, after the winning GERB party did not gain enough seats in the Parliament to form a government on its own.
Ataka's success is attributed largely to the vote of the poor and disenfranchised, who are frustrated with the country's weak economy.
"Espousing a mix of populist and fiery nationalistic policies, Ataka has branded foreign companies operating in Bulgaria 'robbers', called for the re-nationalization of some sectors of the economy and has vilified Bulgaria's sizeable Romany community," reported Scotsman.com.
According to reports, Ataka party members wear shirts with swastikas and make Nazi salutes at rallies.
Ataka's success follows the rise of the Golden Dawn neo-Nazi party in neighboring Greece, and Jobbik in Hungary—both of which espouse neo-Nazi ideologies imbued with anti-Semitism and a desire for "racial purity."
---
Source: world.time.com Thursday, 16 May 2013, 21:40
When Beate Zschäpe arrived at Munich's Upper Regional Court on Tuesday, wearing a plain gray suit, her calm appearance contrasted with what some commentators are calling one of the most important trials in Germany's postwar history.
The 38-year-old stands accused of being a member of a neo-Nazi cell responsible for a series of racially motivated murders across the country. Her first appearance the week before prompted one German newspaper to editorialize that "Evil has a face. An ordinary face."
The case, which finally commenced this month after many delays, features 600 witnesses, 49 lawyers representing 71 joint plaintiffs and a bill of indictment against Zschäpe — who if convicted could be sentenced to life in prison — that runs nearly 500 pages. With more than 80 days allocated for the trial, which German legal experts say could drag on till 2014, Zschäpe and right-wing extremism will be sure to be under the media spotlight in Germany for a while.
Three days into the trial, the defense lawyers have already begun arguing for it to be stopped on the basis that the case has been prejudged as a result of the government paying out compensation to the families of the victims.
The trial is the culmination of the search for the perpetrators of a seven-year killing spree that took place between 2000 and 2007 across Germany. Ten people were murdered during the spree, eight of whom were of Turkish descent. A ninth victim was of Greek descent; the final victim a German policewoman.
German police got a break in their investigation in November 2011 when the bodies of Uwe Böhnhardt and Uwe Mundlos, two members of the self-styled National Socialist Underground (NSU) movement, were found in the eastern city of Eisenach.
They had apparently committed suicide following a bank robbery. Zschäpe, the alleged co-founder and comrade of the two bank robbers, turned herself in to authorities saying, "I'm the one you are looking for," after setting fire to a house in the city of Zwickau where the two men had lived.
Police gathered evidence from the burned-down flat linking the group to the murders — including a video in which the then little-known NSU claimed responsibility for nine of the killings (bar that of the police officer). The video features the cartoon character the Pink Panther, interlaced with clips of the bloodied victims, taking viewers on a "tour of Germany."
That Zschäpe and her alleged co-conspirators were supposedly able to carry out these killings for so long with impunity has raised some serious soul-searching in the country that this year marked the 68th anniversary of the end of the Holocaust.
"The truth is a punch in the face," wrote the tabloid Bild as the case finally went to trial 13 years after the first murder of flower seller Enver Simsek. "The crimes of the Nazi serial killers have torn us out of our self-satisfaction."
In February last year, Chancellor Angela Merkel publicly apologized at a public funeral in Berlin in honor of the victims for her country's "shame." Inquiries into the alleged failings of the security services and police have been held both locally and nationally, a parliamentary committee report has already returned an interim judgment that the NSU investigation was a "peerless failure."
The head of the domestic intelligence service, Heinz Fromm, resigned in July after an official from the Interior Ministry testified to a parliamentary committee that the head of a department in Fromm's organization, the Federal Office for the Protection of the Constitution, had shredded documents containing possible evidence about the NSU cell that had originated from paid right-wing informers.
Much has been made by German politicians, and both German and Turkish media, of the question of blindness to xenophobia and right-wing extremism in Germany — a potentially explosive issue given the country's history.
In an interview in November, Wolfgang Thierse, the deputy speaker of the Bundestag, Germany's Parliament, posed the question as to whether the mistakes by the security services betrayed their blindness to right-wing extremism: "Was it bad blindness or harmless blindness? There is a constant anxiety among Germans because of our terrible Nazi history."
For many of the more than 3 million ethnic Turks living in Germany — its largest minority — that blindness to xenophobia, whether intentional or otherwise, has been a painful reminder of their outsider status in Germany.
The Associated Press uncovered an internal police report from the southern state of Baden-Württemberg from 2007 that asserted that the killers could not have come from Western Europe because "in our culture, the killing of human beings is a grave taboo." Even the German media dubbed the crimes the döner murders.
"It's quite sad that the Turkish community, some of whom are third-generation Germans, are still called ausländer — foreigners," says David Crossland, a correspondent for Spiegel Online. "Until the day when Turks living here are seen as Germans, we won't get to grips with the problem."
The murders have also tested relations between Turkey and Germany: the trial was delayed earlier this year over an uproar from Turkish media over no accreditation being allocated to Turkish newspapers for the trial (a matter that has now been redressed). Ankara will certainly be paying close attention to how justice is administered in Munich.
The question of how popular extreme right-wing ideology is in Germany is difficult to establish. Preliminary official estimates from the Interior Ministry for right-wing crimes in 2012 suggest that there was a 4% rise from the year before. Though federal government estimates say 63 people have been killed by far-right extremists since reunification, two German newspapers, Der Tagesspiegel and Die Zeit, suggested this year that that number is closer to 152.
The Friedrich Ebert Foundation, a German political think tank that has published reports into far-right attitudes since 2010, found that the number of people with right-wing extremist attitudes in states in what was once East Germany, home to Zschäpe and the two dead NSU members, rose from 10.5% in 2011 to 15.8% in 2012.
The authors of the foundation's latest report warn that these views are more prevalent among young people and that there is a "new generation of right-wing extremism" forming in parts of the country.
Tensions over immigration have emerged in other European countries in recent years — in Greece, for example, the neo-Nazi Golden Dawn party won their first seats in the Greek Parliament the May elections — but Crossland argues that Germany needs to hold itself to a different standard than other European countries: "This is where the Holocaust happened. [Germany] has to have zero tolerance to neo-Nazis."
Some newspaper editorials have expressed doubt that the trial of Zschäpe and the four other defendants accused of aiding and abetting the murders may not ultimately have much impact on reducing extremism in Germany and increasing racial tolerance. "It has put the spotlight on neo-Nazism, but it is not going to tell people much more than they already know.
The victims are going to be disappointed," says Crossland. Germans, he believes, tend to see right-wing extremism as a distant concern: "The truth is the Germans, ethnic Germans, don't feel threatened by the far right. Germany won't really be shaken by the problem of the right wing until something like the Boston bombings happen."
---
Source:ČTK Thursday, 16 May 2013, 21:29
The participants in Friday's martial sports tournament in Prague are to include Attila Petrovszki, a Hungarian contestant who openly claims his adherence to neo-Nazism, Czech server Romea.cz reported Wednesday, citing the Antifascist League's information.
The Prague City Hall and public broadcaster Czech Television (CT), whom the organisers present as the tournament gala evening's partners, have dissociated themselves from it, while other partners said they do not mind the neo-Nazi's participation, Romea.cz wrote.
It wrote that Petrovszki's open adherence to neo-Nazism is clear from his rich tattoos including a swastika and Adolf Hitler's portrait, and a photograph in which he poses wearing a T-shirt with the name of the neo-Nazi group Blood & Honour on it.
On a video recorded last year, Petrovszki uses the Nazi salute to greet the audience after a victorious match.
The organisers say, citing Petrovszki's manager, that he will be dressed at his match in Prague, and that he does not actively support neo-Nazism any more.
"I've been assured that this fighter will appear in Prague dressed and will refrain from any propaganda. The manager also told me that Attila Petrovszki is no longer an active supporter of this [neo-Nazi] movement, he is trying to actively focus on sport and leave his past behind," one of the tournament's organisers, Pavel Tous, is quoted as saying.
While the City Hall and CT have dissociated from the event and asked for their logos to be withdrawn from its website and promotion materials, representatives of the Prague 9 district, the tournament's venue, said they find sufficient the organisers' assurance that Petrovszki will be wearing a maillot.
Similarly, the event's another partner, the Prazska energetika company, said it relies on the organisers' assurances that Petrovszki will be dressed and no problems will accompany his stay in Prague.
Prague 9's spokesman Adam Vazansky said the district authority has asked the police to monitor Petrovszki's appearance and conduct.
---
Source: Times of Israel Thursday, 16 May 2013, 21:28
Jobbik party supporters burning an EU flag at a rally in Budapest in 2012. (photo credit: screen capture/YouTube video uploaded by Euronews)
The heads of several major American Jewish groups called on Secretary of State John Kerry on Tuesday to confront Hungarian officials about the "alarming rise of anti-Semitism in Hungary."
"Given the growth of hatred against Jews and other minorities (particularly the Roma) in Hungary, we urge you to keep the issue of intolerance and discrimination squarely on the US-Hungarian bilateral agenda," the organisation's leaders urged."We also encourage you to raise the matter personally in your direct dealings with Hungarian officials."
The letter was addressed to Kerry and Ambassador Michael Kozak, the State Department's acting special envoy on anti-Semitism.
The Jewish leaders commended the US State Department for its 2012 Human Rights Report that "identified a number of troubling developments" impacting the 100,000-strong Hungarian Jewish community, the largest in central Europe.
These developments included "the rise of the xenophobic and anti-Semitic Jobbik party, which has called for the creation of a list of Jewish public officials, repeated the historic 'blood libel' against Jews, and labeled Jews a 'national security risk.'"
Jobbik is not a member of the current ruling government in Hungary, but holds 47 seats in the National Assembly, the country's unicameral 386-seat parliament.
The leaders also noted an "increase in violence against Jewish individuals and institutions"; the desecration of Jewish cemeteries and Holocaust memorials; "the proliferation of anti-Semitic materials in the media, on the Internet, and in the streets"; and "the attempted rehabilitation and glorification of World War II-era figures, who were openly anti-Semitic and pro-fascist."
The letter was signed by the heads of a broad spectrum of US Jewish religious and political groups, including, among others, Rabbi David Zwiebel of the Orthodox umbrella group Agudath Israel, Rabbi Julie Schonfeld of the Conservative rabbis' group Rabbinical Assembly and Rabbi David Saperstein of the Reform movement's Religious Action Center in Washington.
They were joined by the Anti-Defamation League, the American Jewish Committee, the Simon Wiesenthal Center, the World Jewish Congress, the women's group Hadassah, and the heads of umbrella bodies, including Jerry Silverman of the Jewish Federations of North America and Rabbi Steve Gutow of the Jewish Council for Public Affairs.
The letter noted Kerry's promise at the time of the publication of the State Department human rights report that the US would engage "governments at the highest levels and [push] them to live up to their obligations to do right by their people."
The letter comes just two days after the leadership of the Hungarian Jewish community's umbrella federation, the Mazsihisz, resigned over accusations that local Jewish leaders had failed to challenge the country's Prime Minister Viktor Orban's statements on anti-Semitism at a World Jewish Congress confab a week earlier.
Dr. Peter Feldmajer, president of the Mazsihisz since 1991, quit Sunday, together with other communal leaders, following a no-confidence motion and several hours of fierce debate at the annual meeting of the group at the Budapest Jewish community headquarters.
Feldmajer was blamed for being too soft on Orban, who condemned anti-Semitism in Hungary in a speech to WJC, but who, critics said, did not go far enough in condemning the far-right Jobbik party in his own government.
An ADL poll in 2012 found that 63% of Hungary's population held negative views of Jews, compared to 47% in 2009.
---
Source:entreprisenews.com Thursday, 16 May 2013, 21:22
Jury selection continued Wednesday in the trial of Keith Luke, accused of a racially motivated rampage on Jan. 21, 2009 that left two people dead and a third critically injured.
Plymouth County Superior Court Judge Frank Gaziano asked the jury pool a series of questions, including whether they knew or were related to Luke, his alleged victims, area law enforcement, judicial employees or witnesses.
Gaziano also asked potential jurors that if Luke "harbored extreme neo-Nazi and racist beliefs towards non-white and Jewish people," whether that would interfere with their ability to fairly and impartially decide this case.
The judge asked potential jurors whether they had read, seen or heard anything about Luke's case in the media, and if they have any opinions based upon race, ethnicity or national origin.
A self-proclaimed white supremacist who once came to court with a swastika etched into his forehead, Luke, 26, appeared in court Wednesday in manacles, but court officers removed the restraints when jury selection began.
Dressed in a white T-shirt and orange prison pants, Luke sat next to his defense attorney, Joseph Krowski Jr., watching the judge interview potential jurors.
When one young woman walked up to Gaziano and began answering questions, Luke smirked.
He also smirked after another potential juror, a tall man, told the judge he took exception to matters involving violent crimes against women and the elderly. The man was excused from jury duty.
Authorities allege Luke gunned down Selma Goncalves, 20, and Arlindo Goncalves, 72, who are not related, and shot a third person, who survived and whom he is charged with raping. All of the victims are of Cape Verdean descent.
The judge also asked potential jurors whether they have "any pre-judgments about insanity" and whether any opinions about insanity would interfere with being impartial.
Luke's attorney on Monday said it is a "strong possibility" that he may pursue an insanity defense.
Prosecutors said Monday sadistic tools confiscated from Luke show he planned to rape, torture and murder his victims.
---
Source: Sydney Morning Herald Thursday, 16 May 2013, 21:17
Defendant Beate Zschaepe arrives in court on the second day of the NSU neo-Nazi murder trial on May 14, 2013 in Munich, Germany. Photo: Getty
Munich: German prosecutors have charged that a woman at the centre of a landmark trial over a neo-Nazi group's murder spree was an integral part of a "unified killing squad" that shot dead 10 people, most of them Turkish migrants.
Beate Zschaepe, 38, sat silent and motionless as prosecutors accused her of helping plan the hate crimes of the self-styled National Socialist Underground (NSU), covering their tracks, handling finances and providing a safe retreat in their shared home.
When asked to confirm her name, Ms Zschaepe, wearing a grey business blazer, stayed quiet.
Her lawyer Wolfgang Heer told the Munich court: "My client will not give any information regarding her person."
Ms Zschaepe was a conspirator in the racially motivated murders in which her two late NSU companions Uwe Boehnhardt and Uwe Mundlos gunned down their arbitrarily chosen victims "assassination-style", said prosecutor Herbert Diemer.
He accused Ms Zschaepe of having been a "founding member of a cell that fully shared national-socialist and racist ideas and whose only aim was to kill people".
The prosecutor detailed each killing, in which the gunmen between 2000 and 2007 allegedly used a Ceska pistol to shoot dead eight ethnic Turks and one Greek business owner across the country and also attacked a police patrol, killing a female officer.
"The defendant Zschaepe, who took part in the planning and preparations, had the duty during the crimes to routinely create covers for the travel movements of Boehnhardt and Mundlos and to provide a safe refuge" and the "veneer of legality", Mr Diemer told the court.
He charged that the NSU trio, including Ms Zschaepe, also shared responsibility for two bomb attacks on Cologne migrant neighbourhoods which wounded at least 23 people, and 15 bank robberies.
Ms Zschaepe was also accused of arson for torching their shared home in eastern Germany in November 2011 after Boehnhardt and Mundlos died in an apparent murder-suicide after a botched bank robbery.
It was only after the mens' deaths that authorities - who had long suspected immigrant gangsters were behind the shootings - stumbled on what they now consider a far-right terrorist organisation.
The hearing - held under tight security, with almost 400 police stationed around the building - is one of Germany's highest-profile trials in decades.
The trial is expected to last about two years.
---
Source: euronews.com Thursday, 16 May 2013, 21:04
Germany has not seen a trial receive this much media attention in decades, not since the 1970s, with the left-wing militant group Red Army Faction. Germans want to know how today's gang, the dangerous neo-Nazi National Socialist Underground, went undetected for more than a decade.
'The Nazi girlfriend' is one of the German media's labels for the defendant. Her two male accomplices committed suicide.
Lawyers for one victim's family said: "With its historical, social and political dimensions, the NSU trial is one of the most significant in post-war German history."
The trio appeared to be a product of 1990s post-reunification unemployment drifting.
Beate Zschaepe is charged with complicity in the shooting of eight Turks – shopkeepers and small business owners – a Greek and a German policewoman in towns across Germany between 2000 and 2007, as well as two bombings in immigrant areas of Cologne and 15 bank robberies.
The attack in Cologne left ten people wounded in 2001 and 22 wounded in 2004. The police did not treat these as racist crimes.
They attributed them to Turkish organised crime. Politicians have accused the intelligence agencies of being "blind in the right eye" and of focusing so much on Islamist groups that they overlooked the threat from the far right.
The head of Germany's domestic intelligence agency resigned last year after it emerged that files documenting the use of informers in the far right had been destroyed after the discovery of the NSU.
The German parliament is conducting an inquiry into how the security services failed for so long to link the murders or share information, despite having informers close to the group. As teenagers, the trio were known to authorities to be involved in racist hate crimes and bomb making, but they escaped arrest.
An anti-extreme right activist, Janine Patz, said: "Say good-bye to the idea that it was only three or four people. The right-wing organisation NSU is where all other right-wing organisations in Thuringia originated, even organisations that still exist today, also on party levels."
The case shows how deep the roots of xenophobia run. A recent study found that extreme right ideas found takers among some 16 percent of people in eastern Germany, seven in western Germany. In 2011, there were estimated to have been more than 23,000 neo-Nazis, 10,000 of them considered dangerous.
---
Source: news.com.au Thursday, 16 May 2013, 20:59
Galatasaray striker Didier Drogba has hit out at racist Fenerbahce fans who bombarded him and fellow Ivorian Emmanuel Eboue with monkey chants during the two sides meeting last weekend
The former Chelsea star posted a message on the Turkish champions' Facebook page and also published a photograph depicting Charles Darwin's theory of evolution on the social media site Instagram.
"You call me a monkey but you cried when Chelsea beat Fenerbahce in 2008, you called me monkey but you jumped in front of your screen when I won the Champions League," Drogba wrote.
"You called me monkey but you got mad when I became Champion with Galatasaray and the saddest thing is you called me monkey and forgot that you jumped (when) my 'monkey' brother scored twice," he added, referring to Cameroon striker Pierre Webo, who scored both goals in Fenerbahce's 2-1 win on Sunday.
"And you call yourself a true fan?? Check all the Galatasaray fans comments and learn from them," he added.
Drogba and Eboue were whistled by sections of the Fenerbahce fans, some of whom also waved bananas in the penultimate match of the Turkish league.
The match was overshadowed by the death of a Fenerbahce supporter, who was stabbed by a Galatasaray fan, according to media reports.
Drogba, 35, joined Galatasaray in January from Chinese club Shanghai Shenhua.
---
Source: SI Thursday, 16 May 2013, 20:35
AS Roma have been fined 50,000 euros ($64,085) for racist behaviour by fans in Sunday's Serie A match at AC Milan, a game interrupted by the referee early in the second half
Serie A's sporting tribunal said Roma supporters had "continually directed chants expressing racial discrimination to three of the players of the opposing team" The match was stopped for two minutes and a warning was issued over the public address system.

The tribunal did not say which three players were the victims but Milan coach Massimiliano Allegri said Italy striker Mario Balotelli was one.
Milan fielded five black players in their starting line-up although Sulley Muntari was sent off before halftime.

Roma issued a statement condemning the behaviour of the supporters.
"AS Roma condemn all form of racist abuse," the club said. "This type of behaviour on the part of any supporters, including our own, is totally unacceptable.

"We are committed to confront the matter with determination to eliminate the problem from sport and promote respect to everyone."

Sepp Blatter, president of world soccer's ruling body FIFA, said on Twitter he was appalled at the incident. "Tackling this issue is complex but we're committed to action, not just words," he said.

Milan chief executive Adriano Galliani said: "This jeering has to stop, it's really a shameful thing. "Violence in stadiums has been drastically reduced and I expect us to do the same to stop the minority of racists. We need to end this now."
---
source: National Post Thursday, 16 May 2013, 20:30
Lajos Soos / AP Photo / MTIThe World Jewish Congress was held in Budapest last week amidst tensions between the large Jewish population and the gaining popularity of the anti-Semetic far-right wing party, Jobbik.
For some Hungarian Jews, an eerie sense of déjà-vu is sweeping Budapest.
After enduring the dual horrors of the Second World War and Communism, they are now faced with the spectre of rising anti-Semitism fuelled by the far-right party Jobbik and the country's faltering economy.
It is no coincidence the World Jewish Congress (WJC) convened here last Sunday: the decision to gather in the Hungarian capital was taken to show solidarity for the country's Jewry after a string of anti-Semitic incidents in the last few years, including vandalization of monuments, hate speech and physical attacks.
Already, many young Jews have left to seek a brighter future elsewhere. But a determined few are fighting back, as well as exploring their identity with increasing support from the older generation who have witnessed Hungary's turbulent history firsthand.
Speaking at the meeting, Ronald Lauder, 69, the WJC president and cosmetics billionaire, warned of the "dark forces" of intolerance assailing his ancestral home of Hungary. He also alluded to the "whitewashing" of the country's Nazi past and the fact several small municipalities have put up statues of Miklós Horthy, Hungary's wartime leader during the mass deportation of Jews.
ATTILA KISBENEDEK / AFP / Getty ImagesActivists and sympathizers of the far-right Jobbik party, hold a banner reading "The past is theirs, the present is yours, the future is ours", in downtown Budapest during a protest last year.
"Today, Jews are again wondering whether they will have to leave the country … Horthy was equivalent to Hitler and seeing statues of him going up sends the wrong signal," he said.
In response, a spokesman for Jobbik accused the WJC of meddling in Hungary's politics. "They came here and unperturbedly offended, directed and humiliated our country," said Adam Mirkoczki, a Jobbik lawmaker.
On early Friday evenings in Budapest, home to central Europe's largest Jewish population, ultra-Orthodox men can be seen hurrying from Sabbath prayers at the Kazinczy Street synagogue in the Jewish quarter of District VII. At the same time, throngs of tourists flock to the labyrinthine romkocsmak (literally "ruin bars") to drink the night away in the trendiest area of town.
Helene Bienvenu / NPSzimpla, the most famous ruin-bar of Budapest, located on Kazynczy street has become the center of Budapest fancy nightlife breathing new life in the derelict Jewish quarter.
In a nearby gallery, the diminutive Dina Samu-Pandzarisz sings hauntingly resonant melodies infusing traditional Hungarian folk elements with Yiddish, Hebrew and Ladino rhythms.
She has recently came under fire for planning to sing at a Purim party, which commemorates the salvation of Jewish people from the genocide in ancient Persia. The website kuruc.info claims the festival celebrates the killing of Persians.
Although the website describes itself as a "patriotic, nationalist, fact-finding news site," the Budapest-based extremism watchdog Athena Institute says it's "one of the most active and significant hate groups operating in Hungary."
Recently, the site, which boasts 50,000 to 80,000 daily unique views, posted a piece entitled "The Jews celebrate their ancestors' mass bloodshed." Readers' comments were a stream of venomous slurs.
"I am now mentioned on their website," said Ms. Samu-Pandzarisz.
"At first I felt very afraid because I have a nine-month old baby, they know where I am going to sing and it makes you paranoid. But I decided to just ignore it. Sometimes I have dreams of escaping but I will be an alien in every country so where could I go?"
Despite the hardships, others are working to ensure young Jews grow up knowing about their heritage.
Marcell Kenesei works for Centropa, an educational organization that has interviewed more than 1,250 elderly Jews across Europe to teach students about Jewish history. In post-Communist societies like Hungary, many people were unable to practise their religion and their children grew up unaware of their roots.
"When I was 14, I only found out that I was Jewish when I asked my parents, so that was my education," she said. "Nowadays we want to teach today's children how our ancestors lived, not how they died."
For its part, the government says it is fighting anti-Semitism. Mr. Orban recently called Jobbik, the country's third largest political party, "an increasing danger" to democracy.
Meanwhile, at the Passover seder for Bet Orim, the country's leading reform movement, an airport-style metal detector at the door reminds all who enter danger may never be far away although Istvanné Fischer, 90, remains unfazed.
The oldest member of the congregation grew up in the countryside, from where more than 500,000 Jews were deported, including her parents. At age 22, she was lined up with other Jews in a brick factory awaiting deportation when an army officer asked her age.
Lying, she replied she was 15, too young to work in the labour camps. The officer said, "I thought you were 13!" and let her go.
"In times of economic hardship, people always look for a scapegoat, but if you explain to them who we Jews are, they understand," Ms. Fischer said.
Another survivor is Agnes Heller, an 83-year-old philosopher, has been an opponent of practically every regime that has run Hungary since the war. She shows no sign of stopping now.
As she rails against the current government, she punctuates her speech with regular thumps of the table in her apartment overlooking the Danube, displaying the same defiant spirit that saved her from the Nazi occupation.
"I don't know if [Prime Minister] Viktor Orban is an anti-Semite, I don't know his soul but he certainly enjoys the support of anti-Semites because he needs it," she said.
Recently, Ms. Heller returned to her office at the esthetics and communication department of Budapest's oldest university ELTE to find graffiti daubed over her door reading, "Jews, the university is ours, not yours!"
Many would have good reason to be worried, but not Ms. Heller.
"I'm a child of the Holocaust, I forgot how to be afraid."
---
Source: The Guardian Thursday, 16 May 2013, 20:27
Monkey chants directed at Milan's Mario Balotelli and Kevin-Prince Boateng by Roma fans was deeply dispiriting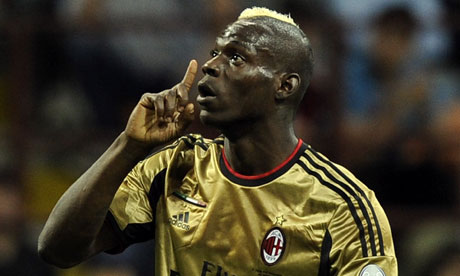 Milan's Mario Balotelli attempts to silence the Roma fans after being subjected to racist monkey chants. Photograph: Claudio Villa/Getty Images
This time, nobody walked. When the racist chants began at San Siro on Sunday evening, Mario Balotelli turned towards the offending supporters and pressed a finger to his lips. An announcement was broadcast over the stadium's public address warning that displays of discrimination – whether on the grounds of race, sex, religion or regional stereotypes – would not be tolerated. But in the short term, at least, Milan's match against Roma continued.
That had not been the case four months previously, when Kevin-Prince Boateng was abused during Milan's friendly against Pro Patria. Back then the midfielder simply kicked the ball in the direction of the culprits before removing his shirt and walking off the pitch. His team-mates followed suit, and the game was abandoned.
Boateng was acclaimed for his bravery, his stand described in the Italian newspaper La Repubblica as "the only just and reasonable act we have seen in decades of barbarised football". The player was invited to address United Nations delegates on the importance of confronting racism, as well as to meet with the Fifa president Sepp Blatter.
But it is one thing to walk out of a friendly on a point of principle, quite another to do it in a match that matters. Milan had gone into Sunday's game against Roma knowing that victory would allow them to tie up third place in Serie A once and for all. Anything less would mean travelling to Siena on the final weekend with qualification to next year's Champions League still very much in jeopardy.
So when a section of Roma's supporters began to make monkey noises at Boateng and Balotelli on Sunday, both players knew that there was little they could do in response. As Blatter himself had reminded the club back in January, teams that abandon games will typically be made to forfeit them.
Under Fifa's guidelines, only the referee should decide when a match needs to be suspended. Gianluca Rocchi was the man filling that role on Sunday. His selection for this game had been a controversial one. Rocchi hails from Florence, home to the Fiorentina team that has been challenging Milan for that last Champions League berth.
At first Rocchi did not act. When the chants began mid-way through the first half, he allowed play to continue. It was, as ever, a vocal minority leading the abuse, and many supporters in both the home and away sections attempted at first to drown them out with jeers and whistles.
The voice on the PA warned twice that the game could be suspended, but it was not until after the interval that Rocchi made good on that threat. In the 48th minute the referee brought proceedings to a halt, scooping the ball up and tucking it under his left arm. As he did so, Roma's captain, Francesco Totti, went over to address the troublemakers. The game was suspended for a total of 97 seconds before the chants died down and play resumed.
Sadly, that was not to be the end of it. Further monkey noises were heard on at least two more occasions before the end of the game. Some Milan supporters responded with a chant of "Nerone, bruciali tutti!". That phrase would commonly be translated as "Nero, burn them all!" – a reference to the emperor who was accused of playing his lyre while Rome burned in the Great Fire of 64 AD. But this was likely a deliberate play on words. "Nerone" can also mean "big black".
It all added up to a deeply dispiriting scene. "What a beautiful evening for families," wrote a bitterly sarcastic Alessandra Bocci in Monday morning's Gazzetta dello Sport. The Milan manager Massimiliano Allegri lamented the "retrograde mentality" displayed by his compatriots.
This, after all, was no isolated incident. In just the last few weeks Balotelli had been racially abused during away games against Juventus and Fiorentina (and he wasn't even playing against the former). Such instances not only stain the reputation of the league, but also deter families who might otherwise consider bringing their kids to a game – with the result that stadiums become both ever more empty and dominated by the extremist fringe.
These problems are not new. Racist chants and banners have been a feature of Italian stadiums for decades. Endless initiatives have been launched to combat such activity, from public awareness campaigns to a system of fines for clubs whose fans persist in racist chanting. The Italian Football Federation has recently sought to refine the latter method, offering discounts to teams if they can identify ringleaders and ban them from the stadium.
Players have staged their own protests. Marco Zoro walked off the pitch after being abused during Messina's game against Internazionale in 2005, before eventually being persuaded to continue. In 2001 Treviso's players and manager famously "blacked up" in support of their forward Akeem Omolade.
The truth is that there can be no simple solution to a complex problem. Racism persists in Italian stadiums in part because it persists in sections of Italian society. A culture of campanilismo – the sense of belonging to one's town or province, rather than to the country as a whole – has tended to foster wariness in some communities towards all outsiders, not just those with a different skin colour, religion or nationality.
It is also true that the perpetrators of racist chants will often seek to defend their actions with the claim that they are not racist at all – but simply intent on doing whatever it takes to get under an opponent's skin. Not all of the chants aimed at Balotelli on Sunday, for example, were explicitly racist. At times he was simply informed: "You must die. You must die."
To his credit, Balotelli managed for the most part to keep his cool. That was more than could be said for his team-mate Sulley Muntari – sent off after attempting to physically restrain the referee.
It all began with a foul by Balotelli. The forward arrived late, if not with any particular malice, into a challenge on Marquinho in the 39th minute, and was duly booked for his trouble. Muntari protested on his team-mate's behalf, and got shown the yellow card too. At that point he got into in a physical confrontation with Rocchi, leading the referee to reach for the red.
Rather than accepting his fate, Muntari then proceeded to grab Rocchi's arms, restraining them by his side. For about half a minute he prevented the official from getting the card out of his pocket. As a long-term strategy, though, his approach had its flaws. Eventually Rocchi obtained the card and sent Muntari off. The player's ban is likely to be a long one.
In the short term Muntari seemed to have put his team in a perilous position. Roma had started the game brightly, and this was a fixture that they too needed to win in order to maintain their faint hopes of qualifying for Europe through the league.
Despite such stakes, however, there was a lack of urgency on both sides. A game which had promised much during its high-tempo opening exchanges petered out into a tame goalless draw. The second half was notable only for Totti getting himself sent off in injury time, for an elbow to his former team-mate Philippe Mexès.
The good news for Roma fans is that suspensions in Italy do not carry over from one competition to another, meaning that Totti will still be available for their Coppa Italia final against Lazio in two weeks' time. If Roma do not win that game, they will not play in Europe next season.
---
Source:Kathimerini Thursday, 16 May 2013, 12:29
As a new report by Europol marks a worrying increase in the activities of far-right organizations in several European countries, a confidential Greek police document seen by Kathimerini highlights the need for a "re-evaluation of security needs" following a spike in assaults attributed to ultra-right organizations in Greece.
The police document refers to "commando-style" assaults by members of far-right organizations against immigrants, noting that 84 such attacks were recorded last year. Of the 84 assaults, nine were linked directly to the ultra-right party Golden Dawn, which entered Parliament last summer after campaigning on a staunch anti-immigrant platform and currently ranks third in opinion polls.
The document notes that far-right groups and parties have thrived due to a growing sense of insecurity among many Greeks due to a burgeoning population of immigrants, a fear of "the erosion of the nation's cultural characteristics" and an alarming rise in unemployment.
Such groups "walk a fine line between constitutional order and the principles and values of a democratic society," the document notes. The observations in the police review came as Europol issued a report highlighting an intensification of activities by far-right organizations in several European countries as well as cross-border cooperations that are apparently aimed at creating an "anti-Islamic" front within the EU.
The daily newspaper Efimerida ton Syntaktonon Tuesday published a chilling photograph of a 14-year-old Afghan teenager who was attacked in central Athens on Monday, May 6, by three men who beat him and carved his face with a broken bottle.
The newspaper said that it reached the controversial decision to publish the photograph in order to prompt a response from authorities to the vicious attack, which comes in the wake of similar assaults around Greece on migrants.
According to the report, the unnamed teenager told the Doctors of the World nongovernmental group, which treated him for his injuries and has been overseeing his case ever since, that he was approached by three men wearing black t-shirts with a stamp of "two intertwined laurel branches and another symbol in the middle.
"He said they demanded to see his identification papers and when the teenager told them he was from Afghanistan they began beating him and cutting his face with a broken beer bottle. The injured youth was taken to a Doctors of the World free clinic by a group of his compatriots, where he received 300 stitches on his face alone, the newspaper said.
The organization reported the incident to an Athens prosecutor, which now has protective custody of the youth with the supervision of Doctors of the World. "This was yet another incident of racially motivated violence that reached our office," the organization's chief, Nikitas Kanakis, told News 247 in the aftermath of the attack.
"What makes this particular case different is that it concerns a boy. It can only be defined as barbaric." Kanakis said that his organization has seen an escalation in street violence.
He also added that the case of the teenager brings to light the problem of undocumented minors who are without adult supervision. "He was all alone, without any support. His parents had left the country and he had stayed in Greece," Kanakis said.
---
Source: ITN Thursday, 16 May 2013, 12:27
Polish far-right and neo-Nazi groups which have been silent for decades in a country harshly experienced by Nazi occupation during World War II, are working to become more visible in the social and political sphere.
Marches and demonstrations which are organized throughout Poland show a tame picture of the organizations, which reach back to the roots of Polish far-right at the beginning of the 20th century.
But a different picture was drawn when around 50 men affiliated with the same organizations attempted to enter a lecture by Magdalena Sroda, a Polish feminist and academic, at Warsaw university, wearing balaclavas and plastic animal masks.
Security guards pushed them from the auditorium and they moved to an adjacent hall, waving fists and shouting a chant from the soccer terraces that compares opponents with Poland's widely despised former Soviet overlords: "Hit the red trash with a hammer, with a sickle!". The anti-racist Never Again Association said it documented a 30 percent rise in the number of racist or xenophobic incidents and crimes linked to the far-right last year.
"Well, certainly what we have seen in the last couple of months has been an increase in activities of extreme right groups in Poland and quite clearly there is a certain increase in support for those groups, for example among the football hooligan circles or fan associations related to the polish football culture," said Rafal Pankowski, founder of Never Again.
In Poland, where the far right is not in parliament, the "flash mobs" combine elements of both ends of the right-wing spectrum. At one is the hooliganism of the soccer fans who fight police with their club scarves over their faces and whose anti-communist chants can mask anti-Semitism and homophobia.
At the other is the organisation and social conservatism of the mainstream right-wing, which expresses its views in parliament, Catholic sermons and on television talk shows.
"It would be quite difficult to imagine lawmakers from the British Conservative Party, for example, marching together with skinheads of the British National Party. Well, this is what has happened in Poland on a number of occasions. We've seen members of parliament from Law and Justice, the main right-wing opposition party marching together with the extreme right, with skinheads, with neo-Nazis in Warsaw on the 11th of November and on other occasions," Pankowski said.
The masked gangs are loosely affiliated to far-right groups and have targeted, among others, the editor of a major newspaper, the first openly gay member of parliament and a student society planning to debate same sex couples.
They coincide with a rise of the far-right in countries across Europe as recession bites. Hungary's far-right Jobbik party is now third biggest in parliament, while in Greece, the far-right Golden Dawn won 7 percent of votes last year.
"Jobbik is a model for the activity of the National Movement in Poland, the new extreme right group. And there is a lot of contact, there is a lot of exchange of experiences and the hope for the Polish far right today is to follow into the footsteps of Jobbik, create a big extreme-right group, a big extreme-right movement, which is active both on the street level, against its enemies and on the political, parliamentary level," Pankowski added.
The invasion by "flash mobs" of liberal lectures and conferences marks a new battleground in a years-long struggle between Poles seeking to embrace liberal, western European values and those who say phenomena like feminism and gay partnerships are a corruption of traditional Polish values.
"Violence is not a characteristic of the National Movement, we organize dozens of public debates at universities or in other public places, you should go there with a camera there; hundreds of people come to listen to leaders of the National Movement, there is a debate on Polish and speaking about violence is an attempt to distort the image by the media," said Artur Zawisza, a former member of parliament who is now one of the leaders of the National Movement (Ruch Narodowy), which aims to unite the forces of Poland's far-right.
"A part of the football fan groups, the most mature ones, can be seen as an example, they remember Polish history and cultivate it at football games.
But this is a real phenomenon. But we can't take responsibility for everything that goes on at football stadiums. Hazel '86 is not our responsibility, it's very good that Margaret Thatcher dispersed British hooligans during her time, but you should not blame it on us," Zawisza said about his movements followers. The "flash mobs" were well-organised groups standing up for their beliefs, Zawisza said, adding that he had nothing to do with inspiring or organising them but understood their frustration with the liberal establishment.
"Going to political meetings and asking difficult questions or chanting slogans ridiculing organizers of the meeting fits the standards of a debate, it is a impulsive behaviour, but has nothing to do with violence," he said about the flash mobs. Poland's far-right agenda ranges from fighting social liberalism and rights for sexual minorities to calls for the creation of a Catholic state for the Polish nation.
Even in the political mainstream, conservatism is strong. The legislature in January threw out draft laws aimed at giving homosexual couples limited legal rights and deputy Krystyna Pawlowicz of the largest opposition party, Law and Justice (PiS), said gay people should attend "therapy centres".
Analysts say economic slowdown plays a role in the rising popularity of far-right beliefs. Youth unemployment is at a six year high of 29 percent as Poland's economy, which defied the euro zone crisis for years, grinds almost to a halt.
The far-right "flash mobs" and demonstrations, like a march on Poland's Independence Day which turned into a few-hour battle between football hooligans and riot police in central Warsaw, have channelled unformed youthful aggression into disciplined operations with a political agenda.
The main far-right organisations deny organising them but there is a trail of connections - from links on each other's Facebook pages to statements praising each other's activities - that tie the groups indirectly to the new tactics.
---
Source: JTA Thursday, 16 May 2013, 12:20
The Jewish Community of Prague documented a tripling of online instances of anti-Semitic hate speech last year. The increase, which the community links to a Jewish politician's presidential bid, among other factors, was documented in an annual report on anti-Semitism published Tuesday. The community documented 82 instances of online hate speech on Czech websites in the last year, compared to only 26 the previous year.
According to idnes.cz, a news site, the report attributes the increase to the presidential campaign ahead of elections last January. Jan Fischer, a Jewish politician, was considered a leading candidate but did not make it past the first round. "The presidential elections have revealed a degree of latent anti-Semitism in some groups, but certainly did not indicate anti-Semitism in the majority or mainstream political speech," the authors of the report wrote.
Other causes listed were a strategic shift in extreme-right circles to online activity; escalation of the Israeli-Palestinian conflict; and warm relations between the Czech government and Israel, idnes.cz reported.
The authors recorded no physical assault or threats due to anti-Semitism in 2012, but did register six attacks on property and ten instances of harassment, mainly via email. The report further states that the overall prevalence of anti-Semitism is lower in the Czech Republic than in other European countries.
---
Source: Jerusalem Post Saturday, 11 May 2013, 11:52
A Hungary court has sentenced three men who verbally abused attendees of the World Jewish Congress (WJC) Conference with two and three years in jail, news agency MTI reported on Friday.
The three men shouted Nazi slogans and anti-Semitic remarks, and made Nazi salutes at visitors attending the WJC Conference in Budapest earlier this week, near the city's Great Synagogue.
Convicted in a fast-track trial, one man received a three-year prison sentence, while the other two received two-year sentences, both suspended for three years, MTI reported.
---
Source: perthnow.co.au Saturday, 11 May 2013, 11:48
Norwegian mass killer Anders Behring Breivik has been refused permission to found a fascist association, authorities said on Friday, due to missing paperwork and a lack of support.
Breivik, held in isolation in a high security prison near Oslo for killing 77 people in twin attacks in 2011, placed an application to create an association he wanted to call "The Norwegian fascist party and the Nordic league."
But Mette Siri Broenmo, a spokeswoman for the body that registers such applications, told the Aftenposten daily that Breivik's bid fell short of the legal requirements.
"To be an association, you need to have two people or more ... and in this case, there's only Breivik," she said.
In addition, the killer failed to attach the necessary statutes to the application, added the spokeswoman.
Tord Jordet, Breivik's lawyer, said his client intended to reapply.
Creating a political party in Norway is a more arduous process than founding an association, requiring 5000 supporters to be officially recognised and benefit from public cash.
---
Source: Voice of Russia Saturday, 11 May 2013, 11:43
Greek nazi
Dr. Fabian Virchow, New York University Global Scholars Program Visiting Professor, about reasons of revival of Nazi sentiment in Europe.
Now we can see the Nazi sentiment revived. And the obvious question would be – why?
I think, first of all, we have to distinguish between neo-Nazi groups that are openly referring to their historical predecessors, like in Italy the fascist movement or in Germany the National Socialist movement, on the one hand, and on the other hand parties that might better be termed far-right or even right-wing populists which are not openly linked to this political tradition. And the neo-Nazi groups in most European countries are really marginalized, while many of the far-right or right-wing populist parties are all quite successful.
What could be the reason for that? What is their support base? How come that they emerge out of the shadows, if I may put it that way?
Of course, we should have a country by country look which might not be preferable in this interview. But generally speaking, I would say that on the one hand there is a long tradition of anti-foreigner, anti-immigration attitudes valid in most European countries. And these attitudes strengthened since 911 a kind of anti-Muslim campaign run by groups as well as, at least partly, by governmental institutions in some European countries. So, this leads to a situation where the population in some countries is voting for the far-right or right-wing populist parties.
And you started the interview from saying that we need to differentiate. So, what is the difference between ultra-rightist movements, like you said, nationalist movements and Nazism?
Well, neo-Nazi movements or groups are openly referring in style and ideology to the National Socialist Workers Party in Germany pre-1945 or to the Italian fascist movement, or to the Iron Guard in Romania etc. So, let's take the German case of Adolf Hitler or the leader of the storm troopers as their role model. In contrast to that right-wing populist parties deny any connection to this political history and argue that they are in principle defending democracy and basic democratic rights. In fact, they are anti-immigrant, they are in many cases anti-Muslim denying this part of the population's equal rights. So, this does not make them democrats but they are definitely not the same as neo-Nazi who are in many cases also acting violently.
What is the legal status of the neo-Nazi movements across Europe?
Well, the legal status in most countries is that they can act legally and openly also being allowed, for example, to show the swastika in most European countries. Germany, I would say, is a country where they do have the most problems to openly refer to the pre-1945 national socialism because, for example, a lot of symbols are banned since 1951. Some neo-Nazi groups have been banned in Germany. So, there are some differences but in general they can act quite openly except for the cases when they are turning to violent actions, then of course they are prosecuted.
So, what is your estimate of the social trend? Is neo-Nazi ideology going to be more and more popular? What is your assessment? Do you think that we are now witnessing the long-term trend and the neo-Nazi ideology might become more and more popular as the economic crisis unwinds?
There might be some countries where the economic crisis hits the population really hard, especially I'm thinking of Greece where this neo-Nazi group Golden Dawn has got real influence, especially among young people. But in most other countries it is more the danger of rising right-wing populism and anti-Muslim political parties and movements, and not so much neo-Nazi groups.
Professor, thank you so much. And just to remind you our guest speaker was Dr. Fabian Virchow – New York University Global Scholars Program Visiting Professor.
---
Source:albanytribune.com Friday, 10 May 2013, 14:58
Although Greece's government has said it will not ban the neo-Nazi Golden Dawn party, the Council of Europe's commissioner for human rights said there is enough evidence of the party's support for violence to outlaw the group.
Nils Muiznieks said Greece must take tougher measures to combat a surge in racist violence that critics blame on extremists. While he didn't recommend that Greece should ban Golden Dawn from public office, Muiznieks added the government would be "fully within its rights under international human rights law" to do so.
"If you ban Golden Dawn," he said, "you would still have the problem of racist violence in Greece, which is the broader issue."
Golden Dawn holds 18 seats in parliament and its approval has been as high as 13 percent in public surveys.
The Council of Europe — a separate entity from the EU — runs the European Court of Human Rights, which enforces the rights code signed by the council's 47 member states.
Muiznieks visited Greece earlier this year and recently released a report describing Golden Dawn as a "neo-Nazi and violent political party" that should be isolated under legally binding international human rights conventions signed by Greece.
The coalition government, led by Prime Minister Antonis Samaras, has rejected the idea of banning a legally elected party.
Antonis Klapsis, head of research for the Konstandinos Karamanlis Institute for Democracy in Athens, said the government's hands-off approach is the right way to deal with Golden Dawn.
"Trying to outlaw Golden Dawn now will not help in any way tackling the problem of right-wing extremism," he told SETimes. "It would make Golden Dawn look like a victim and give more points to the party's support. The root of the problem is the one that should dealt with, not the symptoms."
Between October 2011 and December 2012, UNHCR and the National Commission for Human Rights logged more than 200 racist attacks in Greece, including many directed at immigrants, a regular target of Golden Dawn's rhetoric.
Golden Dawn did not respond to a request to answer Muiznieks' charges, but posted a link to the report on its website describing the Council of Europe as a "Zionist institution." It added: "The brazen commissioner did not see and did not hear anything about the murders, rapes and robberies of our people by the barbarian hordes of Asia and Africa."
The government has moved swiftly to make arrests in cases of violence against immigrants, including the murder of a Pakistani man riding to work on a bicycle just before Muiznieks' visit. Three foremen and the owner of a strawberry farm were arrested in the shooting and wounding of 29 immigrant strawberry farm workers, mostly from Bangladesh, after they demanded six months back pay.
Alex Sakellariou, a sociologist at the University of Panteion who specializes in studying extremist groups, said the government should go after Golden Dawn.
"Compared to the tactic of staying silent, it's better to try to reveal their ideology in full and challenge them," he told SETimes. "If we leave them alone to reproduce history through revisionist tactics they will have the opportunity to influence people, especially the younger ones, which will be disastrous."
Golden Dawn, which received only 0.29 percent of the vote in 2009′s elections, has gained popularity via its opposition to government austerity measures.
"They shouldn't be in Parliament. They are Nazis and it bothers me that I know people who like them," Saimir Limka, 20, an Albanian living in Greece told SETimes.
---
Source: European Jewish Press Friday, 10 May 2013, 14:55
The World Jewish Congress (WJC) has urged European countries to consider banning neo-Nazi parties or organizations "whose aim is to overthrow the democratic order, or which pose a threat to the safety and well-being of ethnic, religious or other minorities."
In a resolution adopted on the last day of this week's WJC Plenary Assembly in Budapest, the Jewish organization expresses great concern at the emergence in several European countries of electorally successful, extreme-right and neo-Nazi parties - like Golden Dawn in Greece and Jobbik in Hungary -, who openly glorify Hitler's Nazi regime, publicly utilize Nazi terminology in respect of Jews and other minorities and espouse the toxic combination of extreme anti-Semitic discourse, aggressive national chauvinism, and anti-capitalist and anti-socialist rhetoric that hallmarked the thinking and deeds of the Nazi Party.
The resolution was adopted by delegates representing more than 100 countries.
The WJC noted what it termed the "lack of appropriate and energetic action on the part of German democrats that led to the rise to power of the Nazis," as a motivating factor for the resolution urging "parliaments and governments in countries in Europe to enact and enforce legislation, against threats of violence, racist hate and insults and the denial of the Holocaust."
The resolution also called on Hungary to recognize that Jobbik and the New Hungarian Guard "pose a fundamental threat to Hungary's democracy" and that « decisive action by all democratic forces against these contemporary expressions of extremism must now be taken.»
Jobbik, which has called for the compilation of a list of Jews serving in government due to concerns over disloyalty, is today Hungary's third-largest party.
The resolution urges the Hungarian authorities to take effective measures including by enacting and enforcing legislation, for the protection of all citizens and residents of this country, in particular vulnerable minorities such as the Roma and the Jews, against threats of violence, racist hate and insults and the denial of the Holocaust.
It calls on Hungary's Prime Minister Viktor Orban and other national leaders and legislators in Europe to join the 125 legislators from more than 40 countries, in signing the London Declaration on Combating anti-Semitism.
At the opening of the Budapest WJC gathering, Orban said that "anti-Semitism today in Hungary is unacceptable.", adding "we will show zero tolerance in regards to it."
But despite this condemnation, the Jewish group was not satisfied, issuing a statement that "actions speak louder than words."
"He missed a golden opportunity," said WJC president Ronald S. Lauder, who had specifically asked Orban to do more against growing anti-Semitism coming from the Jobbik party.
Germany's Foreign Minister Guido Westerwelle said in his keynote address to the assembly on Monday : "Anti-Semitism has no place neither in Berlin, nor in Budapest, nor anywhere else in Europe or in the world… We are firmly committed to protecting and nourishing Jewish life in our societies and to countering anti-Semitism across the globe. We have to tackle the root causes of anti-Semitism."
---
Source: The Slovak Spectator Friday, 10 May 2013, 14:36
Former Slovak National Party (SNS) leader Ján Slota was arrested and detained by police in Čadca on May 9. The TASR newswire quoted the Pluska.sk news website, which broke the story, as stating that Slota, who was driving a car, refused an order by traffic police to pull over, and that officers subsequently blocked his vehicle.
The Sme daily wrote that Slota was stopped as part of a routine police check and was not pulled over for speeding. "He [Slota] displayed evident indications of drunkenness," said a police officer who wanted to remain anonymous, as quoted by Sme. Slota refused to take a breathalyser test, Sme reported. He was later offered an alcohol blood test, but it is not clear whether he agreed.
TV Markíza reported that if the amount of alcohol in Slota's blood exceeded 1 per mille, equivalent to about 4 large beers, it can be defined as a crime and he could face up to one year in jail.
Police said they want to handle Slota's case via so-called ultra-quick proceedings (resulting in a court decision within 48 hours). Until then he may be held in custody or released based on a prosecutor's order. The police were reported to be waiting for instructions from the prosecutor's office.
Apart from drinking and driving, if proved, Slota will also have to face an accusation of failing to respect a request from a police officer. Police Corps President Tibor Gašpar said Slota will not enjoy any special treatment.
Slota had summoned a press conference in Ružomberok on the day of his arrest at which he wanted to speak about the current situation in the SNS (which has expelled him over alleged financial improprieties). However, he did not show up for the conference and his colleagues could not explain his whereabouts.
---
Source: Reuters Friday, 10 May 2013, 12:49
Austria's far-right Freedom Party lost ground on 28 April at a third consecutive state election, further clouding its prospects for joining a national coalition after parliamentary elections due by September. Heinz-Christian Strache's Freedom Party - which had stumbled badly in two other state votes this year, including in its heartland of Carinthia - fell below 10 percent in the western province of Tyrol, provisional results showed.
In more good news for the centrist coalition in Vienna, Eurosceptic billionaire Frank Stronach's new party failed to clear the minimum vote hurdle, halting its momentum from the two previous state elections at which it won 10 percent. Team Stronach national parliamentary leader Robert Lugar blamed party infighting for the poor showing in Tyrol, saying: "We will do better in the national elections."
Partners in the federal coalition - the conservative People's Party and center-left Social Democrats - slipped to their worst post-war results in the state but still finished first and second in a fragmented field of 11 parties. The People's Party fell below 40 percent but still took first place in Tyrol where it has long dominated, lending some support to national leader and Deputy Chancellor Michael Spindelegger.
Chancellor Werner Faymann's Social Democrats fell below 14 percent for second place. National polls show the coalition parties comfortably ahead, with the Social Democrats on around 27 percent and the People's Party on 25 percent. Freedom stands at 19 percent, while Team Stronach gets 10 percent and the Greens 13 percent.
State elections in Salzburg, which has been shaken by a financial scandal, take place next Sunday in the last regional test before the national parliamentary vote.
---
Source: Struggles in Italy Friday, 10 May 2013, 12:41
A rally of students was brutally charged by the police in Naples on Tuesday morning. The images of the attack went viral immediately, shared both on mainstream and independent media, from Repubblica to youreporter.it.
Surprisingly, almost all sources unanimously introduce the video with the same caption, reporting a police intervention in order to divide two clashing group of protesters and presenting the incident as a scuffle between students and workers.
The video can be seen here. Yet the footage tells a different story: a group of protesters attacked the students' rally unprovoked, with the complicity and support of the police, who charged and chased the students without identifying those responsible for the violence.
The events took place in Naples, in Piazza Plebiscito on the morning of May 7. About 100 students were protesting in front of the Prefecture: they were demonstrating their solidarity peacefully with the students brutally charged by the police at the State University in Milan the day before (May 6), and were waiting for the arrival of Maria Carrozza, newly nominated Minister of Education.
A few meters away, around thirty former workers of the Consorzi di Bacino were also demonstrating against their job losses, as they have been doing for several months. A group of neo-fascist extremists entered their ranks. They were led by Salvatore Lezzi, a local member of Forza Nuova who was tried in 2003 for alleged involvement with organized crime. Neo-Fascists started taunting the students, then attacked them.
Policemen who had been standing nearby then immediately charged and dispersed the students with anti-riot batons. Two more charges followed, as police chased students in the alleys behind the square. One student was injured.
Several other students and researchers were identified by police; they were all released but they reported intimidating behavior during their questioning. Police attacked left-wing activists once more during the afternoon, for no apparent reason, as they had regrouped and formed a rally in Via San Sebastiano.
This episode of violence closely follows the violent repression of student protest in Milan and it comes as a sinister start for the term of Angelino Alfano, the Minister of the Interior coming from the ranks of Berlusconi's party. Meanwhile, biased media keep criminalizing dissenting voices and protesting students even when they are suddenly attacked at a peaceful demo, while neo-fascists pose undisturbed as representatives of the "workers".
---
Source: Romea Friday, 10 May 2013, 12:39
Organizers from the ultra-right Workers' Youth (Dìlnická mládež – DM) association, which is linked to the ultra-right Workers' Social Justice Party (Dìlnická strana sociální spravedlnosti - DSSS) experienced disappointment over their assembly today in the Czech town of Pøerov. Instead of the anticipated 700 radicals, only about 200 DSSS promoters showed up, according to the Romea.cz correspondent at the scene.
According to those who convened the gathering, this was to be the main 1 May assembly for their movement this year. Police are claiming there were eventually a total of 450 right-wing extremists in attendance, while the Czech Press Agency reports there were 300.
The ultra-right radicals also invited colleagues from Slovakia to the event. Several hundred police officers were on hand, a police helicopter conducted aerial surveillance, and mounted officers were also in reserve. Policie confiscated pepper spray and truncheons from some of the demonstrators. A brawl broke out later at the train station that was unrelated to the ultra-right event.
DSSS representatives led by their chair, Tomáš Vandas, met on the central TGM Square just after 14:00 today. Vandas gave the same speech he has been giving, with minor modifications, at all of the party's rallies since 2008. "Nothing new, it's still the same speech," the Romea.cz correspondent reported from the scene just after 14:30. After Vandas, the head of the Slovak Solidarity group (Slovenská pospolitost) and DSSS vice-chair Jiøí Štìpánek also spoke.
The Pøerov daily has reported that the registrar at the Pøerov town hall, Jiøí Bakalík, said all of the political speeches were standard. In his view, no manifestations of extremism were on display during the gathering. When the speeches were done, the demonstrators gathered in Kratochvílova Street and set out on a roughly two-kilometer "exercise march" through the town. The Romea.cz correspondent reports they were carrying banners at the head of the parade reading "Out of the Crisis = Out of the EU" (Pryè z krize = Pryè z EU). He did not notice any conflicts taking place during the march.
The demonstrators did not target Romani localities with this particular event as they normally do. From TGM Square they walked down Kratochvílova Street, Komenského, Havlíèkova and Èechova streets, across Šíøava Street to Žerotínovo Square and then along Wilsonova Street back to TGM Square.
"The route does not pass through any socially excluded localities and is not advertised as a march against Romani people," police coordinator Michaela Sedláèková announced prior to the start of the demonstration. Nevertheless, Romani residents displayed a significant degree of nervousness in their parts of town, leaving their homes and coming into the streets to see what might happen. Shortly after 16:00, the DM and DSSS march made it back to TGM Square and the event was officially over. The riot police then relocated to the train station, as many local Romani people live nearby.
The sole incident of the day took place there. "Two local citizens aged 39 and 22 attacked a man who had not been participating in the march. The older man punched him, he fell to the ground, and the younger man kicked him. The man was taken to the hospital and both assailants were detained," said Sedláèková.
Police later clarified that the conflict had nothing to do with the ultra-right march and had been the settling of a personal dispute between the assailants and the victim. The Pøerov daily reported that the two assailants were Romani and the victim was allegedly a member of the Antifa movement.
The incident sparked tension in the local Romani locality, with roughly 50 Romani people coming out of their houses to see what was happening, but in the end everyone calmed down and dispersed. Police will remain to monitor the situation into the night.
---
Source: Deutsche Welle Friday, 10 May 2013, 12:36
A major study of attitudes towards religion says Germans approve of openness towards other religions. But many are still suspicious of Islam.
Former German President Christian Wulff earned much praise but also much criticism when said in a speech during his tenure, "Islam is also a part of Germany." The criticism can be partly explained by the "Religion Monitor," a survey put together for the Bertelsmann Foundation. The findings have been published, and among them is the fact that half of all Germans believe that Islam does not fit into the Western world.
The study, which surveys views on the social significance of religion and values, was carried out in Germany and 12 other countries, and included the views of 14,000 people. Among the Germans, 85 percent agreed or tended to agree that one should be open towards all religions. They saw most religions as an enrichment, especially Christianity, also Judaism and Buddhism, but a majority of 51 percent saw Islam as a threat.
Media influence

Detlef Pollack, the sociologist who co-authored the study, says that this negative perception could be due to the lack of personal contact between Christians and Muslims. More people in eastern Germany see Islam as threatening than in the West, even though the east is home to only two percent of all the country's Muslims.
But Pollack also notes that people have even less contact with Judaism, Buddhism and Hinduism, all of which are seen more positively than Islam, and he argues that the media have a lot to do with that: "The picture the media give of Buddhism or Hinduism is that of peace-loving religions," Pollack told Deutsche Welle. "Their picture of Islam is more about fanaticism and aggression."
Self-critical Muslims

The chairman of the Central Council of Muslims in Germany, Aiman Mazyek, agrees. "In the media we often see a very distorted picture of Islam," he says. Extremist groups are often shown, and frequently no distinction is made between religion and extremism, as when, after the Boston Marathon attacks, the bombers were said to be part of an "Islamic network."
But Mazyek also sees reason for self-criticism: "The Muslims have to roll up their sleeves, get more involved in society and make it clear that they are committed to this country." Politicians and churches have been trying to encourage dialogue between the various religions for years now. The Muslim communities have held an "Open Mosque Day" every October 3 since 1997, while Jewish communities also regularly invite non-Jews into their synagogues.
But it's not just in Germany - in many western states, Islam is seen as a particular threat. That applies to 76 percent of Israelis, 60 percent of Spaniards, 50 percent of the Swiss and 42 percent of US citizens. In contrast, in India, only 30 percent see Islam as a threat, and in South Korea, it's just 16 percent.
All the same, there are differences among western European countries: France, Britain, and the Netherlands all see Islam in a more positive light than does Germany. Pollack argues that this has something to do with the educational level of the Muslims in each country. "In Germany we have very few highly educated people among immigrants," he says. "That influences people's attitudes, especially towards the Muslim immigrants."
In other countries, educational opportunities are better, and there's a larger proportion of immigrants who are moving upwards socially. There are some optimistic findings in the Religion Monitor: a clear majority of Christians, Muslims, and those without religion all agree that democracy is a good way of governing the country - that's the view held by 80 percent of Muslims and those without religion, and by 90 percent of Christians. And a majority of all the groups asked is also in favor of the separation of religion and state.
---
Source: Spiegel Online Wednesday, 8 May 2013, 14:19
A 2011 archive photo shows two security guards at a Celtic culture museum in Germany who it was later revealed were connected with a right-wing extremist party.
As Borussia Dortmund and Schalke, two teams that are part of Germany's Bundesliga professional soccer league, survived a crucial derby in the landmark Signal Iduna Park unscathed last fall, a fan of the traditional club from the Ruhr region was less fortunate and ended up in hospital with a concussion, broken ribs and a bruised jaw.
The Schalke supporter sustained his injuries in a scuffle in the stadium toilets. Police believe his assailant was a Dortmund stadium marshal thought to have posted far-right content on the Internet.
The suspect denies the assault, and the toilets happen to be one of the few areas of the stadium without surveillance cameras. It is therefore his word against the victim's, and ultimately it will be up to a court to determine guilt.
Given that the arena in Dortmund has now been overshadowed by rumors that its security team includes far-right extremists for a number of years, reigning Bundesliga champion Borussia saw no other option after the attack on the Schalke fan but to run checks for a second time on its stadium marshals' police clearance certificates.
But the incident in Dortmund is symptomatic of a wider problem besetting Germany's security services. Uniforms, male camaraderie and the opportunity to wield power tend to exert a magical pull on neo-Nazis and other far-right extremists. Moreover, it is all too easy to get hired in a sector which is in fact a highly sensitive one. Industry authorities make hiring decisions, and Germany's domestic intelligence agencies -- the Office for the Protection of the Constitution, which operates with branches at the federal and state levels and is responsible for monitoring extremist activity -- are not generally expected to run any kind of security checks.
A Fraught Situation
There is, after all, a demand for muscle. The security sector is booming, with security guards patrolling sports events, concerts, shopping malls, amusement arcades and nightclubs. These days, there are almost as many private security guards as there are police officers.
According to the German Association of Private Security Services (BDSW), the sector employs some 180,000 people, while turnover in the industry has more than doubled since the mid-1990s to approximately €5 million ($6.55 million).
Best positioned to gauge how many security guards have far-right affiliations are the domestic intelligence agencies. According to one report, secret services in the eastern German state of Brandenburg observed that "people with ties to the far-right scene are increasingly likely to seek employment or set up their own companies in the security sector."
The situation is becoming fraught. The same report published by Brandenburg's intelligence services also addressed the "significant potential for conflict" generated by the presence of neo-Nazi security guards in places such as hostels for asylum seekers. Even the owners of certain security firms have gained notoriety.
The city of Walsrode, for example, fined the company GAB security over €1,200 after its staff became aggressive at a football game where they were hired to keep the peace. The company's owners include former Hells Angels and brothel operators.
In Wetterau in the western state of Hessen, meanwhile, two security guards at the opening of a new museum of Celtic culture were identified as former officials with the right-wing extremist National Democratic Party (NPD).
Then, last December, online retailer Amazon hired security guards with the company Hensel European Security Services (H.E.S.S) who appeared at work wearing clothes made by the label Thor Steinar, a brand that is popular within the neo-Nazi scene. Patrick Hensel, the head of H.E.S.S, maintained it had never occurred to him that his business shared a name with Hitler's deputy, Rudolf Hess, and announced he would be changing it.
In a further incident, security guards at a university campus party in Dresden in 2012 were identified as right-wing extremists. It transpired that a well-known neo-Nazi who ran the Internet portal Aryan Brotherhood had been advertising for security services -- despite the fact that Saxony is the only state in Germany where intelligence actually does generally run checks on applicants for jobs in the security industry.
"Since 2008, we have established ties to right-extremism in some 50 of over 6,000 applicants," said Frank Wend, spokesman for Saxony's Interior Ministry.
A Need for Reform
But all the trade regulations require from applicants for the security industry is information provided by the Federal Central Criminal Register. More comprehensive regulations only apply to specific jobs such as security at airports and nuclear reactors.
In the light of recent developments, a number of politicians are calling for reform. "Either trade licensing authorities need to boost their cooperation with domestic security agencies under existing legal frameworks or we need to change the law and transfer responsibility to the Interior Ministry," says Hans-Peter Uhl, spokesman for domestic policy for the convervative Christian Democrat group in the federal parliament, the Bundestag.
Michael Hartmann, the center-left Social Democrats' expert on domestic policy, also believes that a "rigorous review of security guards' integrity" is necessary given how closely they work with police at major events.
Not even the German Association of Private Security Services has any objection to tighter controls.
"Careful checks on the part of licensing authorities is the only way extremist applicants can be filtered out from the start," says BDSW's Oliver Arning.
---
Source: huffingtonpost.com Tuesday, 7 May 2013, 17:59
FBI officials said Monday they foiled a terrorist attack being planned in a small western Minnesota town, but they offered no details about the exact targets of the attack – or the motive of the man accused of having a cache of explosives and weapons in a mobile home.
The FBI said "the lives of several local residents were potentially saved" with the arrest of Buford Rogers, 24, who made his first appearance Monday in U.S. District Court in St. Paul on one count of being a felon in possession of a firearm.
Rogers, of Montevideo, was arrested Friday after authorities searched a mobile home he's associated with and found Molotov cocktails, suspected pipe bombs and firearms, according to a court affidavit.
"The FBI believed there was a terror attack in its planning stages, and we believe there would have been a localized terror attack, and that's why law enforcement moved quickly to execute the search warrant on Friday to arrest Mr. Rogers," FBI spokesman Kyle Loven said Monday.
He said the investigation is ongoing, and agents are looking at the case as one of domestic terrorism.
Loven said the investigation prohibits him from getting into details about Rogers' target, or his possible political or religious views, but he said the FBI is confident in calling this a "terror" situation. He also said the alleged target was believed to be in Montevideo, a city of about 5,000 people about 130 miles west of Minneapolis.
"We had information which indicated that Mr. Rogers was involved in a plot to conduct terror activities in and around the Montevideo area," he said. He declined to say whether Rogers was believed to be acting alone or as part of a group, or if other arrests were expected.
Montevideo Police Chief Adam Christopher said a homemade sign in front of the mobile home that bore the letters "BSM" refers to a local anti-government militia group called the Black Snake Militia, which the Rogers family started.
"That is not a large scale, nationwide group, as far as I know," Christopher said. "I think it's kind of them, and their family, and a few of their friends."
Mark Pitcavage, who researches militias for the Anti-Defamation League, said the Black Snake Militia is part of a movement that has slowly grown from about 50 active groups around the U.S. a few years ago to more than 260 small groups today.
Pitcavage said there are "a whole lot of little militia cells out there with 6-8 people in there, which is what this seems to be. ... It's teeny tiny, it's probably a group of like-minded friends who believe some of the same things."
Rogers' father, Jeff Rogers, told KMSP-TV his son doesn't own any guns, and the guns in the home belonged to him. He said his son is not a terrorist.
"He was not out to bomb nobody and I have no clue where the hell that came from," Jeff Rogers said. "I have no idea of who the hell he'd even be targeting. He's not that kind of a person. I can guarantee you that."
Rogers appeared in court Monday wearing a construction company T-shirt, baggy pants, and work boots. He answered "yes sir" and "no sir" to questions from U.S. Magistrate Tony Leung, who ordered him held pending a detention hearing Wednesday, citing "serious concerns."
Rogers was appointed a federal defender, but an attorney was not immediately assigned. Defendants do not typically enter pleas during initial appearances and he made no statement about the case to the court.
In a news release Monday, the FBI said the alleged terror plot was discovered through analysis of intelligence gathered by local, state and federal authorities.
"Cooperation between the FBI and its federal, state, and local partners enabled law enforcement to prevent a potential tragedy in Montevideo," Christopher Warrener, the special agent in charge of the FBI office in Minneapolis, said in the statement.
According to a federal affidavit, FBI agents from the domestic terrorism squad searched the mobile home in Montevideo and discovered Molotov cocktails, suspected pipe bombs and firearms. The affidavit said Buford was there at the time, and one firearm recovered from the residence was a Romanian AKM assault rifle.
In an interview with authorities, Rogers admitted firing the weapon on two separate occasions at a gun range in Granite Falls, the affidavit said. Rogers has a 2011 conviction for felony burglary and is not allowed to have a firearm.
Dustin Rathbun, who lives next door, said he and other neighbors noticed a few months ago that the Rogers family was flying an upside-down flag from the side of their home. He said the owners of the park asked them to take it down.
Christopher, the Montevideo police chief, said officers were called to the Rogers' home about that flag.
"Residents were very upset by that. They felt it was really a disrespectful thing to the flag, but it's not illegal," Christopher said. He said the family told him the upside-down flag was a "sign of distress because the country is in distress."
When asked if he believed a threat was imminent, Christopher said: "That's always hard to say. My take on it is, when somebody has made explosive-type devices, the potential is there."
Christopher also declined to comment about the target of the alleged plot, but said the general public is not in danger.
---
Source: Times of India Tuesday, 7 May 2013, 13:39
A neo-Nazi trial in which a German woman is accused of involvement in 10 murders was adjourned for a week on its opening day on Monday over a defence complaint about the judge.
The case against Beate Zschaepe, 38, who is accused of being part of a far-right killer cell, and four alleged accomplices who face lesser charges, will resume on May 14 in Munich, the judge said.
The postponement follows motions by defence lawyers objecting to the trial's chief judge Manfred Goetzl. They argue among other things that he is biased in insisting that the defence teamundergoes security checks on entering the court while prosecutors, police and others are not required to be searched.
Zschaepe is charged with complicity in the murders of eight ethnic Turks, a Greek immigrant and a German policewoman between 2000 and 2007.
---
source; the greekreporter.com Tuesday, 7 May 2013, 13:35
In the wake of repeated criticism from NGO's and human rights groups too little has been done to combat rising assaults against immigrants, the Greek government is planning to introduce legislation calling for tougher penalties against racist and xenophobic crimes to comply with European Union directives.
Some of the assaults have been blamed on the anti-immigrant neo-Nazi Golden Dawn party which has denied them although admitting it wants all immigrants deported and would like to place land mines around the country's border to keep them from getting in too.
SKAI TV reported that Deputy Justice Minister Costas Karagounis has the draft bill ready and is looking for broad support, not just from the three parties serving in the governing coalition.
According to sources, the bill foresees anyone found guilty of racist behavior, including in the media and on the Internet, facing between three and six years in jail and a fine of up to 20,000 euros ($26,000.) The penalties will also apply to acts of racist violence.
The Racist Violence Recording Network, a collection of 30 nongovernmental organizations initiated two years ago by the UN Refugee Agency (UNHCR) and the National Commission for Human Rights (NCHR), said in a report last week that a total of 154 racist attacks were recorded in Greece in 2012. It warned that such attacks were becoming more frequent and violent.
In November 2008 the European Council adopted the "Framework Decision on combating certain forms and expressions of racism and xenophobia by means of criminal law." EU countries were obliged to transpose it into their national laws by November 2010.
---
Source: euronews.com Monday, 6 May 2013, 12:04
An alleged member of a German extreme-right wing group has gone on trial in Munich today over her links with a series of racially motivated murders.
The case of Beate Zschaepe is one of the country's most eagerly anticipated in decades as it has also revealed serious intelligence failings.
The 38-year-old is thought to have been part of the "National Socialist Underground, a neo-Nazi gang which was only discovered in 2011 when its two founders committed suicide after a botched bank robbery.
Uwe Mundlos and Uwe Boehnhardt killed themselves in an apparent suicide pact and set their caravan ablaze in the eastern town of Eisenach. In the charred vehicle, police found the gun used to murder each victim – eight Turks, a Greek and a policewoman – all killed between 2000-2007.
They also found a grotesque DVD presenting the NSUand claiming responsibility for the killings. In it the bodies of the murder victims are pictured while a cartoon Pink Panther tots up the number of dead.
After her companions' suicides, Zschaepe is believed to have set fire to a flat she shared with the men in Zwickau, 180 km away, and gone on the run. Four days later she turned herself in to police in her hometown of Jena, saying "I'm the one you are looking for."
Prosecutors say the gang chose people running small businesses or shops as easy, vulnerable targets, in an attempt to terrify migrants and hound them out of Germany.
Some of the relatives even came under suspicion themselves because police simply did not consider a far-right motive.
The trio had been known to authorities during their teenage years in Jena, for their racist hate crimes and bomb making, but had managed to escape arrest and assume new identities.
Angelika Lex, a lawyer representing one of the victim's family's wants the secret service also to be also held to account: "The scandal in this process is the fact that there was a series of murders committed by the far right terrorists who murdered ten people over a decade," she said.
"The intelligence services, who have many people and many spies working in this area were not able to contribute in any way to the success of the investigation of this series of crimes," added Lex.
Zschaepe is also charged along with four others with assisting with two bombings in immigrant areas of Cologne and 15 bank robberies.
Germany's patchwork of intelligence agencies are set to undergo reforms, after an inquiry found they failed to share information and neglected the far-right threat. The head of domestic intelligence resigned last July.
---
Source: EUobserver.com Monday, 6 May 2013, 11:58
Hungarian Prime Minister Viktor Orban's speech against anti-Semitism at the World Jewish Congress (WJC) in Budapest on Sunday (5 May) failed to impress organisers, as the far-right Jobbik party staged a rally against Jews in the Hungarian capital.
Orban condemned the rise in anti-Semitism in Hungary and in Europe more widely. He called it a danger that "threatens even us Christians" and voiced determination to stamp it out.
Congress organisers said Orban did not confront the true nature of the problem, however
"We regret that Mr Orban did not address any recent anti-Semitic or racist incidents in the country, nor did he provide sufficient reassurance that a clear line has been drawn between his government and the far-right fringe," the WJC, which represents Jewish communities around the world, said in a statement.
WJC head Ronald S. Lauder told press that several recent events in Hungary have caused him alarm.
He said that anti-Semitism and incitement against the Roma minority are becoming commonplace and "even acceptable" in Hungary.
He noted that Zsolt Bayer, a journalist and one of the founding members of the ruling Fidesz party, called the Roma "cowardly, repulsive, noxious animals" who are "unfit to live among people."
"Let us never forget the Roma were also victims of the Nazi Holocaust. Today, Jews are again wondering whether they will have to leave the country, for similar reasons," Lauder said.
He added: "We were shocked to learn that an anti-Semitic TV presenter was awarded a prize," referring to TV broadcaster Ferenc Szaniszlo, who won the Tancsics Prize for journalism in March. The prize was later withdrawn amid heavy protest.
He questioned why Hungarian officials are erecting statues to honour anti-Semites like Miklos Horthy.
Horthy was a Hungarian naval officer in World War I who later led the country into an uneasy alliance with Nazi Germany up until Hitler's invasion.
Lauder also pointed out that several Hungarian MPs had wanted to draw up a menacing "list of Jews."
Marton Gyongyosi, the deputy leader of Hungary's far-right Jobbik party proposed the list last year saying that Jews who hold public office are "a national security risk."
Jobbik is Hungary's third largest political party with 47 seats in the 386-seat parliament.
It says it wants to protect Hungarian values and heritage.
It has been linked to vigilante attacks on minorities.
On Saturday, several hundred Jobbik supporters staged a demonstration in central Budapest "in memory of [the] victims of Bolshevism and Zionism," despite attempts by Orban's government to block the event.
A number of individuals wore the black uniform of Jobbik's banned paramilitary group, the Hungarian Guard, which has previously staged torch-bearing demonstrations in Roma villages.
---
Source: Vancouver Sun Sunday, 5 May 2013, 16:15
For years, police blamed killings of ethnic Turks on foreigners. Most of the victims were immigrants and their deaths at first failed to make headlines. Police were quick to blame the slayings on foreign gangs with links to gambling and drugs.
But revelations that a string of unsolved killings may have been a cold-blooded neo-Nazi campaign against ethnic Turks have shaken the nation, forcing Germans to confront painful truths about racism and the broader treatment of immigrants in a society deeply conscious of the lasting legacy of the Holocaust.
The sole survivor of the group blamed for the killings - the self-styled National Socialist Underground - goes on trial Monday in Munich, along with four men alleged to have helped the killers in various ways.
Beate Zschaepe, 38, is charged with complicity in the murder of eight Turks, a Greek and a policewoman. She is also accused of involvement in at least two bombings and 15 bank robberies carried out by her accomplices Uwe Mundlos and Uwe Boenhardt, who died in an apparent murder-suicide two years ago.
CASE PROMPTS SOUL-SEARCHING
Zschaepe, who surrendered to police four days after Mundlos and Boenhardt were killed, denies the charges. If convicted she faces life imprisonment.
The case is being closely watched by Germany's three million ethnic Turks, many of whom still feel marginalized by German society despite having lived in this country for decades or even having been born here.
"There have been only a handful of trials in recent German history that have had a similar effect," said Gurcan Daimaguler, a Berlin lawyer of Turkish origin who represents some of the victims' families. He cited court cases against members of the far-left Red Army Faction terror group starting in the 1970s and the trials of East German border guards who fired at people trying to flee to West Germany during the Cold War. "These were all trials that went beyond the courtroom," Daimaguler told The Associated Press in a recent interview. He noted that each of them prompted periods of soul searching that in some cases continue until today.
It was only when Mundlos and Boenhardt died following a botched bank robbery in November 2011 and weapons were found at the scene tying them to the killings that authorities acknowledged they had failed to stop what amounted to a far-right terror campaign lasting more than a decade. Public debate has focused on how Germany's well-funded security services could have been so catastrophically wrong with their long-held theory that the killings were the work of immigrant criminal gangs.
Several high-ranking security officials including the head of Germany's domestic spy service have already resigned over blunders made on their watch. These ranged from failing to act on intelligence about the trio's whereabouts in 1998, shortly after they avoided arrest on lesser crimes; shredding evidence gathered by informants close to the group; and ignoring a racist motive in the crimes despite the fact that random killings without claims of responsibility fit the pattern recommended for decades by racist supremacists.
For years the media described the killings as Doener Murders - after the popular Turkish dish of spit-roast meat served in snack bars across Germany. Yet only two of the nine men killed worked in doener restaurants, and many Turks say the phrase reflected the dismissive attitude mainstream society had toward the victims.
SECURITY SERVICES PROBED
The police failures prompted Parliament to establish an independent panel investigating whether there was institutional reluctance to deal with far-right extremists.
Its chairman, Sebastian Edathy, has said that not only did Germany's 36 security services fail to exchange information in the case, but the potential for far-right violence was massively underestimated even as some officers instinctively blamed the victims.
An internal document drawn up in 2007 by police in the southern state of Baden-Wuerttemberg and obtained by The Associated Press asserted that the likely killer couldn't have come from Western Europe because "in our culture the killing of human beings is a grave taboo" - a striking comment in a country that made genocide against Europe's Jews a matter of state policy in the last century.
EXTREMIST GROUPS IGNORED
Zschaepe, Mundlos and Boenhardt met as teenagers in the eastern city of Jena amid an ideological vacuum following the 1989 collapse of the Socialist dictatorship in East Germany.
The region suffered economically during the early 1990s, with anti-immigrant sentiments voiced even by mainstream politicians, providing a fertile recruiting ground for far-right groups. Thomas Grund, a social worker in Jena who knew the trio when they first showed up at his youth club 20 years ago, said Zschaepe showed no hint of political extremism until she befriended the two young men who, he said, would later become her lovers.
Grund says social workers warned throughout the 1990s that extremist groups were setting up base in small towns and villages in the region but authorities did little.
Sometimes, he says, it appeared as if officials were protecting the far right.
Such claims have been made by people across the political spectrum, skeptical that a group such as the NSU managed for more than a decade to slip through Germany's sophisticated surveillance net for neo-Nazi activity.
---
Source: Montreal Gazette Saturday, 4 May 2013, 13:44
A rally by Hungary's far-right Jobbik party has been held despite government efforts to ban it because of its antisemitic nature.
About 1,000 supporters of Jobbik, the third largest party in parliament, attended Saturday's rally, where speakers complained about a meeting of the World Jewish Congress starting Sunday in Budapest, prayed for the end of Zionism and said any lawmakers or public servants holding dual Hungarian-Israeli citizenship should resign.
A police ban of the rally was struck down by a Budapest court. Despite the ruling, Prime Minister Viktor Orban ordered the interior minister to use "all legal means" to block the rally. In response, police closed off several streets leading to the meeting place, but otherwise did not interfere with the event.
---
Source: Hope note Saturday, 4 May 2013, 13:39
Yes, Hope not hate's international page will have published its 1,000th news item since first being launched on 5 January 2012.
Since that date, we have carried top quality news and information from the four corners and five continents of the earth and have become a major source of international – as well as domestic – news coverage for anti-fascists, anti-racists and progressive people everywhere.
Having established this proud record, we are determined to continue to provide as much up-to-date international news, information and commentary as possible.
Graeme Atkinson (Hope not hate European editor)
---
Source: FT Saturday, 4 May 2013, 10:40
By seizing a quarter of the vote in local elections this week, the UK Independence party has stamped its image on British politics in a manner comparable to populist, anti-establishment movements across continental Europe.
There is a rising possibility that Ukip and like-minded parties will ride a wave of discontent with political elites, economic distress and immigration to achieve a breakthrough in next year's elections to the European parliament.
From France's National Front to Finland's True Finns, from Italy's Five Star Movement to Hungary's Jobbik, parties that pour scorn on the European Union's political and technocratic establishment and embrace varying degrees of xenophobia believe the force is with them.
Arguably, the only leading EU country where populism lacks momentum is Germany, whose post-1945 political culture permits minimal space for overt anti-Europeanism, let alone hard-right racism.
Populists are not, however, on the march everywhere.
In the Austrian state of Carinthia, once a far-right stronghold, the Freedom party crashed in March to a heavy election defeat. In the Netherlands, Geert Wilders and his identically named Freedom party were punished in last September's national election for having brought down the government and won only 15 seats in parliament, down from 24.
Likewise, in Italy, the anti-immigrant, regionalist Northern League saw its vote halved in February's general election. But the League's poor result was less striking than the earthquake detonated by Beppe Grillo, the blogger-comedian whose Five Star Movement took 25 per cent of the vote and made it impossible for two months for Italy's mainstream politicians to form a government.
Ukip shares some characteristics of its continental counterparts, especially an instinct to label the EU incompetent and distant from citizens and an appeal to voters unhappy at perceived high numbers of immigrants competing for jobs and welfare. But Ukip's identity and place on the political spectrum are also distinctively British – or rather English.
Catherine Fieschi, an expert on European populism who directs the Counterpoint think-tank in London, says Ukip is making headway because of fault-lines in the ruling Conservative party, especially over Britain's EU membership, that date back to the premiership of the late Margaret Thatcher. "Ukip owes a great deal to the pathology of the modern Tory party. They connect with a deep-rooted English wariness about the EU.
But they are not anti-establishment in the style of Beppe Grillo, who has the revolutionary objective of ending Italian politics in its present form," she says. Ukip also differs from the French National Front, which under Jean-Marie Le Pen, its founder, stood unashamedly on the far right and exuded more than a whiff of anti-Semitism.
Marine Le Pen, his daughter, has sought respectability by moving to a more conventional form of nationalism, reaping the reward in last year's presidential election when she scored her party's best ever result with 17.9 per cent of the first-round vote.
Unlike Nigel Farage, Ukip's leader, populists such as Ms Le Pen, Mr Grillo and Timo Soini of the True Finns can tap into popular fears and resentments about the eurozone's financial crisis that are sharper than in non-euro Britain.
But there are shades of difference among continental populists: the northern European version attracts votes by denouncing financial rescue operations for Mediterranean countries, whilst southerners condemn the imposition of austerity measures from the north.
A set of strong populist party results in the European parliament elections will shake the EU, but it will by no means put populists in the driving seat of European politics. Most of them are motivated by a hard-edged, exclusive nationalism that renders co-operation on the European stage difficult.
Yet, in many EU countries, mainstream politicians are struggling to find an effective antidote to their nonconformist adversaries. As Ukip's success suggests, European populism is likely to be with us for a long time.
---
Source:politics.hu Friday, 3 May 2013, 18:59
The radical nationalist Jobbik party today got the green light to hold a protest ahead of the World Jewish Congress' plenary meeting in Budapest after a court struck down a police order banning the demonstration.
The protest, entitled "Justice for Hungary! A Commemoration for the Victims of Bolshevism and Zionism," is set to take place on Vértanúk tere next to Parliament at 10 a.m. on May 4, the day before the WJC assembly convenes.
"We are asking everybody, as we have done before, to join us if they want to commemorate the victims of Bolhevism and Zionism in a manner that is full of piety, full of dignity," protest organizer and Jobbik MP Enikő Kovács Hegedűs said in a video statement on her party's website.
The court ruling represents a rebuke for Prime Minister Viktor Orbán, who had ordered a blanket ban on all demonstrations that might offend WJC conference participants. Orbán has recently been taking a tougher line on anti-Jewish speech after human rights organizations accused his governing Fidesz party of being too tolerant toward anti-Semitism and other forms of racism. The prime minister is scheduled to deliver the opening address at the WJC assembly on May 5.
The anti-Zionist demonstration was originally organized by the Rev. Loránt Hegedűs Jr., a former vice president of the ultranationalist Hungarian Justice and Life Party (MIÉP) who has recently been turning up at Jobbik events. Protest organizers demanded that the WJC "condemn the Judeo-Bolshevik terror against Christians and Hungarians that took place in 1919 and after 1945 and the Jews who sponsored it," according to hvg.hu.
Hegedűs withdrew his call to protest after the leadership of his Reformed Church launched a disciplinary procedure against him on April 12. His wife, Kovács Hegedűs, took over, and vowed to fight the April 29 police order prohibiting the demonstration, hvg.hu reported. They won the right to protest in court today.
The WJC, founded in 1936, claims to represent the interests of Jewish communities in more than 100 countries. It usually holds its plenary sessions in Israel, but deliberately picked Budapest for its 2013 gathering as "a symbol of solidarity with our Jewish community, which has been faced with growing anti-Semitism in recent years," said Péter Feldmayer, president of the Federation of Jewish Communities of Hungary (MAZSIHISZ), in a press statement today.
Prime Minister Orbán declared a policy of "zero tolerance" toward anti-Jewish and anti-Roma racism in a July 2012 interview with Germany's Focus magazine.
This policy has not satisfied WJC president Ronald S. Lauder, the billionaire son of cosmetics magnate Estée Lauder, who claims Hungarian heritage through his maternal grandparents. On April 4, Lauder penned an article in the German Süddeutsche Zeitung saying that Orbán "seems to have lost his political compass.
"Despite an overwhelming parliamentary majority he still panders to the far-right fringe of Hungarian politics. That makes these people even stronger," Lauder wrote.

---
Source:ynet.news Friday, 3 May 2013, 18:08
A Hungarian court has given the go ahead for a far-right protest on Saturday before an international conference of Jewish leaders in Budapest, saying a police ruling that banned it was belated and unlawful.
The rally, to be held near parliament, will feature speeches from leader of the far-right Jobbik party and Marton Gyongyosi, a Jobbik lawmaker whose call for Jews to be registered on lists as threats to national security was condemned internationally.
---
Source: enetenglish.gr Friday, 3 May 2013, 10:45
A 25-year-old man is being sought by police after his girlfriend died from injuries sustained while being beaten outside her house.
Police say the man belonged to 'extreme-right groups' and had previously been arrested for attack on six Communist Party members ahead of June 2012 elections
A 23-year-old woman has died from head injuries sustained while being beaten by her 25-year-old boyfriend.
The man, whom the police said belongs to extreme rightwing groups, is still at large. He had previously been arrested for an attack on Communist Party members ahead of the June 2012 elections.
The woman, who was in a coma since the April 4 assault outside her home in Nea Makri, died at the Erythros Stavroshospiral in Athens on Monday.
Her organs have been donated by her parents.
The man, whom police describe as "fearsome" and a regular visitor to gyms, drove to the woman's house in Nea Makri and called her down. For reasons that have not yet been explained, he subsequently beat her, including banging her head repeatedly on his car bumper.
He then put her in his car and drove her to a friend's house. They took her to the Erythros Stavros hospital, where they informed the woman's sister. He disappeared immediately afterwards.
The sister and friend were arrested the following day for giving false accounts. They originally said that they had transferred the injured woman to hospital directly from her house.
The 25-year-old man was arrested last June after severely beating six Communist Party members outside a party kiosk in Ayia Paraskevi, among them a municipal councillor who was hospitalised.
---
Source: ibtimes.co.uk Thursday, 2 May 2013, 19:04
A standoff between authorities and members of the extremist far-right Golden Dawn party in Athens over food handouts degenerated into violence as the mayor was assaulted by a reportedly armed Golden Dawn MP.
Mayor Giorgos Kaminis said that MP Giorgos Germenis tried to punch him and attempted to draw a gun at a charity food distribution centre in the Greek capital.
"This man sneaked in, we didn't notice him and he tried to hit me," Kaminis told Vima FM radio. "At the last minute my personal guards stopped him."
Germenis' punch missed Kaminis and struck a 12-year-old girl, local media reported. Germenis then tried to pull a gun but was blocked in time, the mayor said. The girl suffered a bruised forehead, local media reported.
Video footage uploaded on YouTube shows security guards trying to contain Germenis.
The mayor recently banned Golden Dawn members from staging a "Greeks-only handout" of traditional Orthodox Easter food, such as lamb and eggs, ahead of Sunday celebrations in Athens' central Syntagma Square.
In defiance of the ban, 40 Golden Down members wearing traditional black T-shirts started distributing bags of food in the square after checking recipients' identity cards.
Police intervened and fired teargas. A brief scuffle broke out, as authorities prevented the Golden Dawn truck from unloading its cargo of meat and other goods.
Golden Down resumed the handouts at the party headquarters near Larissis train station in central Athens and Kaminis was confronted as he visited a municipal food distribution centre nearby.
"The only thing these people know is the language of violence," Kaminis said.
"Syntagma Square will never be used again by anyone to hand out goods," he told Skai TV. "Thuggery will not prevail in this city as long as I am mayor."
Germenis is one of the 18 Golden Dawn MPs who won a seat in parliament in the 2012 elections.
The extremists have been channelling the unrest caused by the country's deep economic crisis into blaming the large immigrant population.
An April report by the Council of Europe said: "The steep increase in hate crimes in Greece, primarily targeting migrants, is an issue of grave concern," and urged authorities to take prompt action.
Human rights commissioner Nils Muiznieks blamed a number of the attacks on Golden Dawn, which he described as a "neo-Nazi and violent political party". He suggested that the government should ban the movemen
---
Source: news.co.au Thursday, 2 May 2013, 17:45
Australia's best known neo-Nazi, Ross "The Skull" May, has claimed that right wing politician Pauline Hanson supports a white Australia and shares his extremist views.
May, who has met Hanson on several occasions and claims she "likes a cuddle" says "Pauline is a bloody good friend" and he will be "supporting her the best I can" in her bid to be re-elected to Federal Parliament in September.
Ms Hanson, who was previously embroiled in a scandal over connections between her former party, One Nation, and the white supremacist group, the Ku Klux Klan, agrees she knows May but says she does not support his racist opinions.
"I know he's a big supporter of the white Australia policy (but) that doesn't mean I support it. I don't," she told news.com.au. "People have claimed to be associated with me. These people cling to you."
The Skull, who says he is proud to be a neo-Nazi in 2013, is the now defunct Australian National Socialist Party's most notorious member.
In the 1970s he was a fit, shaven-headed "stormtrooper" dressed in Nazi uniform, who threatened and assaulted opponents, for which he served several stints in jail.
He was jailed for throwing eggs at feminist Germaine Greer, fined $400 for writing "Kill all Jews" on a Brisbane Jewish memorial, and campaigned against Gough Whitlam in 1974, while dressed in Nazi regalia.
Now a supporter of the ultra right Australia First Party, May's radical ideas include blowing refugee boats "out of the water".
While Ms Hanson distanced herself from May, she said refugees were a problem for ordinary Australians.
"We are looking after refugees' health care and housing, cigarettes and international phone calls," she said. "Australians are hurting as far as job security goes, as far as keeping on paying their bills."
She said Prime Minister Julia Gillard's government was "putting the country further into debt" and "the refugee question has to be addressed".
Ms Hanson will announce next month which lower house seat she plans to stand for as an independent in the federal election.
She said it would be between the seats of Blair, Wright and Oxley in Queensland and Hunter in NSW.
Ms Hanson formerly held the seat of Oxley as an independent, and then as the leader of the One Nation Party, before losing it in 1998.
In 1999, after David Palmer, the "Imperial Wizard of the Ku Klux Klan in Australia", claimed he had infiltrated the party, Hanson was forced to expel party member, Robert Leys, who claimed he was a Grand Titan of the so-called Australian Knights of the Ku Klux Klan, and Peter Coleman, the alleged Australian organiser of the Imperial Klans of America.
---
Source: upi.com Thursday, 2 May 2013, 08:22
The mayor of Athens, Greece, vowed Wednesday to stop members of the neo-fascist Golden Dawn party from handing out free food in a city square ahead of Easter.
Mayor Giorgis Kaminis declared the food distribution set for Thursday in Syntagma Square was "illegal" and said the city "will do what is needed so that it does not take place," ekathimerini.com reported.
In a similar event last year on the steps of Parliament, Golden Dawn gave free food to anyone who could prove they were Greek.
The far-right organization said the aim of the food giveaway was to help Greek families harmed by Greece's "genocidal policies."
Kaminis called the gathering "provocative."
Greeks typically give away food such as lamb and eggs on the Thursday before Easter, which this year is celebrated on May 5 by Eastern Christians.
---
Source: France24 Wednesday, 1 May 2013, 21:41
The National Front held its annual May Day rally in Paris on Wednesday, with the far-right party currently ahead of President François Hollande's Socialists in the latest polls.
Thousands gathered in Paris Wednesday to show their support for France's National Front (also known by its French acronym FN), with the latest polls showing a surge in support for the anti-immigration party.
An important national holiday in France, May 1 has long been used by FN supporters to rally in the French capital and demonstrate their commitment to nationalist ideals.
Wednesday's demonstration began with a march at 10 a.m. from Paris's Place du Palais Royal. At the head of the procession, FN leader Marine Le Pen marched under a banner that proclaimed "The people first".
Later, Le Pen addressed the crowd in a speech outside Place de l'Opera amid an air of optimism within the FN as it looks to build on its growing popularity.
In her speech, she claimed that she would act as the "the light of hope" for ordinary French people suffering through the "darkness" of the financial crisis.
"I understand our countrymen when they say they're losing confidence; that they no longer believe in the political class," the daughter of FN founder Jean-Marie Le Pen told her audience.
In the latest favourable poll for Le Pen, carried out by CSA on behalf of BFM-TV and published on Tuesday, voters were asked for whom they would cast their ballot if the presidential election took place this coming Sunday.
The results suggested that the FN would earn 23 percent of the electorate in the first round of voting – behind former president Nicolas Sarkozy with 34 percent, but ahead of current President François Hollande with 19 percent.
Under the French voting system, this would see Hollande eliminated while Le Pen and Sarkozy would go head-to-head in a second round of voting.
Indeed, with France's economy flagging, unemployment at a record high and the country split over social issues such as the recent legalization of gay marriage, the FN has been successful in capitalising on Hollande's nose-diving popularity and the rising number of disaffected voters.
"The French are starting to understand that the free movement of people, the free movement of goods and wealth are ruining French industry," the FN's vice-president Bruno Gollnisch told reporters.
However, Le Pen may still have some way to go before she becomes a serious contender for the Presidency, says political commentator and far-right expert Jean-Yves Camus.
Speaking to FRANCE 24, he said that the FN cannot be truly accepted into mainstream French politics until it can form an alliance with France's main right-wing party, the UMP.
"To make sure that the [FN's] destigmatisation is complete, the UMP needs to accept that alliances are possible," said Camus. "However, their leader, Jean-François Copé, has recently reiterated that this isn't yet the case.
---
Source: JNS Wednesday, 1 May 2013, 21:17
Greece's neo-Nazi political party, Golden Dawn, has posted an article on its website condemning Greek Prime Minister Antonis Samaras for a planned visit to Washington, DC, next month, during which he will address the American Jewish Committee's (AJC) Global Forum.
Golden Dawn, which currently holds 18 seats in Greece's national parliament, maintains that "Zionists" control American and Greek politics. A cartoon accompanied the article, showing Prime Minister Samaras under a bloody AJC logo in front of a Jewish man, evoking the Nazi cartoons of the pre-Holocaust era. On a wall within the picture, U.S. President Barack Obama is similarly portrayed as a stereotypical religious Jew.
"Golden Dawn does not even attempt to camouflage its ideology of hate. Indeed, Golden Dawn is crystal clear, and, nearly 70 years after the Holocaust, represents an insidious outlook that cannot be ignored today," AJC Executive Director David Harris said in a statement.
"AJC enjoys long-standing and fruitful relations with Greece—with the government, civil society, the Orthodox Church, Greek American leaders, and, of course, the Jewish community in Greece. We are truly honored that Prime Minister Samaras, with whom we stay in close touch, will address our Global Forum. He will reach a large global audience eager to hear from him and show their support for Greece's bright and prosperous future – a future in which the Golden Dawn will, we hope, fade into the oblivion it so richly deserves," Harris added.
---