World News
SWEDEN |
Clashes at Stockholm protest against neo-nazis
Saturday, 30 August 2014, 21:26 | Source: AP |
Swedish riot police briefly clashed with counterdemonstrators at a neo-Nazi rally in Stockholm on Saturday, two weeks before a parliamentary election.
Police said four police officers and three civilians were slightly injured in the violence that erupted on the sidelines of a march by about 150 members of the far-right Party of the Swedes.
Thousands of people gathered in downtown Stockholm to protest peacefully against the march, but a few dozen masked activists attacked police with firecrackers, bottles, eggs and panels from a security fence.
"We have had violent riots with people throwing objects at police," police spokesman Lars Bystrom said.
He said one person was arrested for "preparation for aggravated assault," while another was arrested for trespassing after climbing onto the roof of the Royal Opera, outside which the neo-Nazis started and ended their march.
Fifteen people were apprehended for violating a ban on wearing masks at political demonstrations.
Police had sealed off large parts of central Stockholm because of the march by the Party of the Swedes, which wants to stop immigration and reserve Swedish citizenship for people with "Western genetic and cultural heritage."
Formerly known as the National Socialist Front, the party won a local council seat in a small town in central Sweden in 2010. Polls before the Sept. 14 vote show it only has a fraction of the support needed to enter the national Parliament.
A week ago, three people were injured when mounted riot police charged demonstrators in the southern city of Malmo, in connection with another protest against the Party of the Swedes.
---
GREECE |
Neo-nazis attack Gay couple in Athens
Saturday, 30 August 2014, 12:23 | Source: Seattle Gay News |
A Gay couple was attacked in central Athens on August 23 by a neo-Nazi mob of 10 to 15 men.
According to the Greek newspaper Kathimerini, the attackers 'had shaved heads and were wearing black t-shirts,' the typical attire of the neo-Nazi Golden Dawn Party.
Kathimerini said the couple was attacked in the upscale Pangrati neighborhood, east of the city's main soccer stadium. Both men were injured, with one needing surgery on his ankle.
The August 23 incident is only the latest in a series of anti-Gay assaults. Last month another Gay couple was attacked by a group of police officers who observed them holding hands.
Greece is generally considered a safe destination for LGBT tourists, and the main cities have significant and increasingly visible LGBT communities, with annual Pride Parades in Athens and Thessaloniki.
Ultra right-wing groups are growing in numbers, however, as the country's economy languishes in a seemingly permanent recession. Unemployment is now around 30% overall, and over 60% for workers under 30.
Golden Dawn took almost 10% of the vote in May elections for the European Parliament, becoming Greece's third-largest party. They ran on a nationalist, anti-immigrant, anti-Gay platform.
Many police officers are said to be Golden Dawn supporters. Police have repeatedly been accused of assaulting immigrants, just as they are accused of beating boyfriends George Kounanis and Harry Vasilakis in July.
The Greek Orthodox Church is also anti-Gay, although less stridently so than their Russian Orthodox colleagues. In January, LGBT activists staged a kiss-in in Piraeus, the seaport of Athens, to protest anti-Gay statements by Bishop Seraphim.
The Archbishop of Athens has taken a more moderate approach, urging church officials to be willing to 'change with the times'.
---
SWEDEN |
Neo-Nazis gathered in Stockholm
Saturday, 30 August 2014, 12:17 | Source: Norway |
Swedish police have blocked off parts of central Stockholm, hoping to prevent collisions during an announced demonstration against the neo-Nazi party Svenskarnas meeting Saturday afternoon.
Party supporters will meet at Gustav Adolf's Square in the Swedish capital, and in Kungsträgården there will be a counter-demonstrations. Nearly 12,000 have announced via Facebook that they will attend in protest against the Nazis. Last weekend ended with violent clashes as anti-racists protesting against Svenskarnas street meeting in Malmö. Five people were seriously injured after being ridden down by police horses. - We must show our opposition to Svenskarnas hostile, racist politics, and against that the Nazis take over parts of our public spaces, says one of the organizers of Saturday's counter-demonstrations. Large police forces to be stationed in Stockholm's streets to prevent unrest and police warn that it may be difficult to find your way by car or on foot in the downtown area. Both around the venue and along the neo-Nazi march route towards Skeppsholmen via Strömgatan going to put up roadblocks to prevent clashes.
---
AUSTRALIA |
Golden Dawn visit dismays Australia's Greek community
Friday, 29 August 2014, 02:23 | Source: Guardian |
A planned visit to Australia by members of the European parliament representing Greece's neo-Nazi Golden Dawn party has been met with embarrassment and dismay by leading members of the country's Greek community.
Days after the extremist group announced that former army generals Eleftherios Synadinos and Georgios Epitideios would visit Sydney and Melbourne in October, Greek Australians vowed to stop the organisation spreading its message of hate.
"Greeks in Australia oppose Golden Dawn," Bill Papastergiadis, the president of the Greek Orthodox Community of Melbourne and Victoria, told Guardian Australia. "The visit by an anti-immigrant party is incompatible with the pluralist and multicultural society in which we live."
More than 300,000 people of Greek descent live in Melbourne.
The forthcoming trip is the most concrete sign yet of the neo-fascists' determination to extend their global reach. Emboldened by its unexpectedly good performance in recent local and European polls, the Holocaust-denying party, now the third-biggest political force in Athens, has stepped up efforts to tap the Greek diaspora for support.
Australia appears to have pride of place in that campaign. Ignatius Gavrilidis, Golden Dawn's newly appointed Australia representative, told the ABC support for the group was soaring, especially among younger Greek Australians, despite a judicial inquiry in Greece that has unmasked the movement as a criminal organisation. Most of its leadership is detained in pre-trial custody as a result.
The visit aimed to raise awareness and funds, Gavrilidis said. He acknowledged that some ultra-nationalist Golden Dawn MPs admired Hitler – with its leader, Nikolaos Michaloliakos, keeping a portrait of the Führer in his home – but they neither espoused nor endorsed Nazi ideology.
"Yes they have admired the leadership of Hitler, just like we also admire the leadership of many strong leaders across the world," Gavrilidis told the public broadcaster. "Vladimir Putin is a very strong leader. He's got integrity. Benjamin Netanyahu is a very strong leader."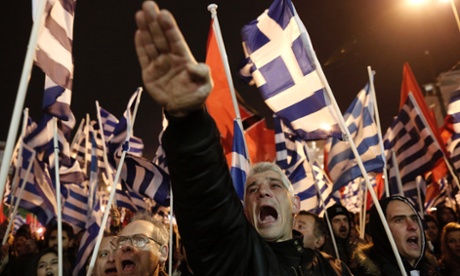 A
Golden Dawn party supporter raises his hand in a Nazi-style salute during a rally in Athens. Photograph: Yannis Kolesidis/AP
Supporters in Australia numbered in the "thousands" even if there were no more than 70 activists nationwide, Gavrilidis said.
But Greek community leaders denied the far-right group had any appeal. "Support for Golden Dawn is largely nonexistent," Papastergiadis said. "They have no profile whatsoever in Australia."
Victorian Liberal MP Nick Kotsiras, a former minister in the state government, echoed that sentiment, saying Golden Dawn had minimal support among Australia's Greek community.
"I am embarrassed by the existence of Golden Dawn. Golden Dawn does not represent me, it does not represent my family and does not represent the vast majority of Greeks living in Victoria," he said. "But they are also not representative of Greeks living in Greece. They are the antithesis of what the Hellenic spirit is all about."
The politician insisted that if the far-right MEPs were allowed into Australia it should only be after passing the character test automatically conducted on people trying to enter who are suspected of being associated with a criminal organisation.
In May,black-shirted Golden Dawn followers clashed with Greek Australians from the anti-fascist front during a protest in Brisbane that was also attended by supporters of the far-right Australia First party.
A Greek-Australian organiser with the Melbourne Anti-Fascist Initiative, Alex Kakafikas, said opponents of Golden Dawn were meeting to discuss their response to the MEPs' visit, including a blockade of any events they held.
"The ultimate goal is to stop them from having their meeting," he said.
Kakafikas said Golden Dawn maintained a "shadowy" presence in Melbourne and had only a few supporters.
"But one of the problems is that local Greek-Australian supporters are making connections with the far-right in Australia. Golden Dawn's Australian leader has spoken at an Australia First meeting," he said.
"It's not that Golden Dawn will be able to muster enough energy for political influence here. Our concern is its ability to contribute resources [to the Greek branch] and to send people over there to work with the organisation," he said. Australian members of the group had regularly travelled to Greece to take part in demonstrations and engage in "paramilitary training", he said.
In Athens, leftist activists who maintain contact with the Melbourne-based "No to Golden Dawn" campaign pledged to help stop the party broadening its support base.
"Their aim, clearly, is to set up Nazi cells of hate in the Greek diaspora that would strengthen far-right forces that already exist in Australia and the United States," said Petros Constantinou, a prominent campaigner with the Movement against Racism and the Fascist Threat (Keerfa).
"We will coordinate with our friends over there to stop them creating this black international of fascism. We will help and support their mobilisations in any way we can," he said in Keerfa's Athens office. "Diaspora Greeks, immigrants themselves, have been very vociferous in rejecting Golden Dawn's message of hate."
The party, whose insignia bears an uncanny resemblance to the swastika, has gone out of its way to soften its image as support for the organisation has risen on the back of Greece's economic and social collapse. Both Epitideios, an erstwhile Nato commander and Synadinos, the former head of Greece's special forces, are representative of Golden Dawn's determination to replace boots with suits in an effort to expand its appeal.
But although the makeover appears to have paid off – with the far-rightists more than doubling the party's showing in the Athens mayoral election in May – Golden Dawn MPs still face criminal charges for the brazen violence and hate speech they have directed against immigrants, gay people and Jews. Attacks against dark-skinned migrants and homosexuals by black-shirted assault squads have once again proliferated over the Athens summer.
Michaloliakos, who founded the party more than 30 years ago, and is accused of murder, extortion and assault, will stand trial with other MPs later this year.
---
HUNGARY |
Jobbik's mayor candidate proposes law to clarify role of state in Budapest
Friday, 29 August 2014, 02:18 | Source: politics.hu |
The radical nationalist Jobbik party's candidate for Budapest mayor has proposed that parliament should pass a law to "clearly define" the roles of the state, Budapest's city council and its districts, as well as municipal services and central financing.
In an interview with MTI, MP Gabor Staudt also said that municipal operations should be made cheaper, and public safety in the capital should be increased.
Concerning a planned consolidation of public utility providers, Staudt said that setting up a holding to run those companies was "not a bad idea", but warned that greater financial transparency was necessary. "The government now sees a wasteful capital which it is not ready to finance," he noted.
Jobbik would integrate the municipal and district-level public area inspectors into a consolidated Budapest Warden and reinforce the single body with volunteers. Staudt argued that resident-participation would increase the "good manager" attitude in the city.
As for homelessness, Staudt said that assistance should be given to those that are cooperative, but the law must be enforced against those that prefer living on as rough sleepers. The candidate also called for a viable social housing programme in the city.
---
GREECE |
Thessaloniki mayor Boutaris sworn in wearing yellow star amid Golden Dawn protests
Thursday, 28 August 2014, 18:50 | Source:ekathimerini.com |
Thessaloniki Mayor Yiannis Boutaris wore a yellow Star of David badge, like the ones worn by Jews rounded up in the northern city during the Second World War, on Thursday for his swearing-in ceremony.
Boutaris pinned the badge to his jacket amid protest by leftists against the presence of Golden Dawn MP Artemis Matthaiopoulos on the municipal council. Mathaiopoulos gained 7.7 percent of the vote when he stood for Thessaloniki mayor in May's local elections, helping Golden Dawn elect two councillors.
Protesters exchanged chants and insults with Golden Dawn supporters who sat in the opposite public gallery at the municipal council. Boutaris pleaded with both sides to calm down.
"The municipal council is not a coffee house or a soccer stadium," said Boutaris, who prevailed comfortably in May's elections, winning 58.1 percent of the vote in the second round to secure a second term.
His decision to wear the yellow badge carries significant symbolism as almost 90 percent of Thessaloniki's Jews were killed during the Second World War after being transported to Nazi German concentration camps, leaving only some 10,000 survivors.
---
GREECE |
Greek neo-nazis to get brief jail release for Council oaths
Thursday, 28 August 2014, 10:02 | Source: naharnet.com |
Greek neo-Nazi politicians who won town council posts in recent elections whilst jailed on criminal charges are to be temporarily released to be sworn in, a justice source said Thursday.
The decision affects party spokesman Ilias Kassidiaris and fellow lawmaker Panagiotis Iliopoulos, who were respectively elected city councilor in Athens and regional councilor in Thessaly.
They are currently in pre-trial detention at Korydallos prison, and are to be temporarily released to accept their posts on Friday, the justice source said.
Similarly, party lawmaker Nikos Kouzilos is to be released from house arrest to be invested as city councilor in Piraeus.
The three Golden Dawn members are accused of belonging to a criminal organisation. Magistrates say the party over recent years orchestrated attacks on migrants and political opponents, causing at least two deaths.
Kassidiaris has also been charged with illegal weapon possession.
Overall, nine Golden Dawn lawmakers including leader Nikos Michaloliakos are in prison pending trial proceedings expected to begin in the autumn.
Founded in the 1980s, the openly xenophobic and anti-Semitic Golden Dawn was for years a semi-clandestine group on the fringes of Greek politics.
But in 2012 the party won 18 seats in parliament, tapping into widespread anger over immigration and austerity reforms in the debt-ridden country.
While two politicians have since resigned from the group, Golden Dawn also came third in May's European elections, winning three seats.
---
SWEDEN |
Swedish neo-nazis get an earful of Schindler's List theme at rally
Wednesday, 27 August 2014, 15:38 | Source: Guardian |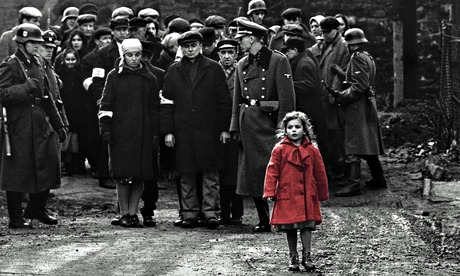 Playing the theme from Schindler's List was an appropriate way to demonstrate Norrköping's belief in 'the equal value of all people', officials said.
Photograph: Allstar/Cinetext/Universal
Neo-Nazis who gathered for a rally in the Swedish city of Norrköping have been greeted by the theme song from Schindler's List ringing from the bells of the city hall.
Local government spokesman Ulf Mossberg said city officials decided the tune from Steven Spielberg's Oscar-winning Holocaust drama was an appropriate way to demonstrate the city's belief in "the equal value of all people".
He said the bells of the clock tower played the song before and after a political rally on Tuesday by the Party of the Swedes, a small extremist group that wants to stop immigration and reserve Swedish citizenship for people with "western genetic and cultural heritage."
The party aims to win seats in local assemblies across Sweden in elections on 14 September.
Spielberg's 1993 film is based on the life of Oskar Schindler, a German businessman who saved the lives of more than a thousand mostly Polish-Jewish refugees during the Holocaust by employing them in his factories.
---
GREECE |
Rise in Greek homophobic attacks blamed on Golden Dawn
Tuesday, 26 August 2014, 12:49 | Source: Global Post |
Greek human rights groups condemned a rise in attacks on gays Monday after two young men were savagely beaten in Athens.
The anti-racist alliance Keerfa blamed the far-right party Golden Dawn for mounting homophobic violence after two men were set upon by a dozen shaven-headed men in black T-shirts at the weekend.
The couple, aged 25 and 30, were sitting on a bench in the Pangrati district of the capital when two men on a motorcycle threw detergent on them, activists said.
A few minutes later they were set upon by a group of men in black T-shirts. One of the victims was badly beaten and had his leg broken, while his partner, an immigrant, was less seriously hurt, police said.
Supporters of Golden Dawn, which has 17 MPs in the Greek parliament although several are being held in custody, often stage vigilante patrols dressed in black T-shirts, and have been regularly accused of street violence.
"Racist and homophobic attacks are unacceptable," Greefa said in a statement. "We are not going to let the neo-Nazis of Golden Dawn sow their racist venom in our neighbourhoods."
Evangelia Vlami, of the Greek lesbian movement, told the Ta Nea daily that "behaviour like this is on the rise, encouraged by the popularity of the extreme right".
Gay rights activist Grigoris Valianatos denounced the disinterest of the police, who he says have not been trained to deal with hate crimes. "Some of the attackers are actually in the police," he told the newspaper.
Saturday's attack is the fifth in Athens in three months, although right groups claim many more are not reported to the police.
The main opposition party Syriza condemned the police for not arresting anyone after the latest attack.
"This incident shows the necessity to adopt an anti-hate law. Not having one only encourages attacks by the extreme right," the party said in a statement.
Greece's conservative government has again put back a parliamentary debate on a hate law, which has been shelved for 18 months, because of opposition to it from within Prime Minister Antonis Samaras' New Democracy party.
The law aims to outlaw racist and homophobic attacks, targeting in particular Golden Dawn whose MPs have already been charged with being party of "criminal organisation".
---
AUSTRIA |
Teenager sentenced for running Nazi chat forum
Monday, 25 August 2014, 13:57 | Source:thelocal.at |
Salzburg Regional Court has sentenced an 18-year-old youth to 12 months for operating a right-wing internet forum, under the Prohibition Act Section 3g.
He must serve one month of his sentence behind bars, and cannot appeal. The 18-year-old has also been told he will be on probation and will have to undergo psychotherapy, as well as finishing college. He was also convicted of assault and serious commercial fraud.
According to the prosecution the youth had been running a right-wing extremist forum on Skype, which he called "National Resistance and true National Socialists". He shared numerous videos and audio files which portrayed National Socialism in a positive light. In addition, together with a 20-year-old, he sprayed "Jews out" and a swastika on a glass pane of a local primary school.
He was also charged with using the chat forum for fraudulent purposes. He offered Nazi paraphernalia such as badges and coats of arms for sale, although he didn't actually possess any such items. One person paid him €25. The Prohibition Act of 1947 contains a number of provisions to combat the resurgence of National Socialist activities.
---
CROATIA |
Croatian Anti-Fascist Street Name Sparks Dispute
Monday, 25 August 2014, 13:54 | Source: Balkan Insight |
The mayor of Split's backing for the naming of a new street after WWII anti-fascist Partisan fighters has been criticised by right-wing politicians in the Croatian coastal city.
Controversy erupted in Split after the local committee responsible for naming streets approved a proposal by the Society of Anti-Fascists and Anti-Fascist Fighters to name a street after the 1st Split Partisan Detachment, one of the Yugoslav Partisan units that fought against the Nazis and the German-allied Croatian Ustasa regime during World War II.
The small street in the suburbs of Split has yet to be built but critics claimed that the decision to name it after the Partisan fighters was wrong because it was taken when some right-wing members of the naming commission were on summer holiday. One of them, the local president of the main opposition centre-right party, the Croatian Democratic Union (HDZ), Patar Skoric, complained that such a "forced and hurried procedure" was unacceptable.
Another member of the committee, a member of the far-right Croatian Pure Party of Rights, Luka Podrug criticised the proposed name as "anachronistic"'. "I'm not complaining about marking the victims of totalitarian regimes, but naming a street 'Partisan' in the 21st century is anachronistic. It will bring us back into divisions," Podrug said. Mayor Ivo Baldasar, from the ruling centre-left Social Democratic Party, said that the city council would decide on the issue on Monday but restated his own backing for the move. "I don't see what the problem is.
That name was used before and its return has been wanted for years," Baldasar told local media on Thursday. The dispute follows a previous controversy in Split in May, when Baldasar was criticised for participating in a commemoration to honour the 9th Battalion of the Croatian Defence Forces battalion that operated during the 1990s war and was named after a notorious WWII Ustasa general, Rafael 'Knight' Boban.
Rights campaigners accused him of effectively endorsing hate speech. "The mayor of Split participates in a gathering along with people who wear Ustasa symbols and chant [Ustasa slogan] 'for the homeland'," Vesna Terselic, from the Zagreb-based NGO, Documenta - Centre for Dealing with the Past, complained at the time.
But Baldasar argued on Thursday that both the Partisans and fighters in what Croatians call the 'Homeland War' of 1991-95 deserve commemoration. "Both the homeland fighters and the Partisans are victims [of war], and they have a right to be revered because of their struggle for the freedom of their town and their people. This is history, not politics," Baldasar explained. "That is the reason why I accepted the invitation from the Croatian Defence Forces to unveil the statue of the 9th Battalion, and for the same reason I accepted the request from the Society of Anti-Fascists to name this street," he said.
---
DENMARK |
Jewish school vandalised in Copenhagen
Monday, 25 August 2014, 13:52 | Source: thelocal.dk |
Carolineskolen in Østerbro had its windows smashed and its walls painted with "political" anti-Semitic messages. The school's leader says nothing like it has happened before in the school's 200 year history.
The private Jewish school Carolineskolen in Copenhagen's Østerbro was extensively vandalised overnight between Thursday and Friday. Windows were smashed and anti-Semitic graffiti was written on the school's walls. "We are the world's second-oldest functioning Jewish school and we have never before in our 210 year history experienced something like this," school leader Jan Hansen told TV2 News.
"Parents and children are worried, and some parents don't want to send their children to school." Hansen said that the graffiti was "political" in nature and referred to the current conflict between Israel and Hamas in Gaza. The vandals cut a hole in the school's surrounding fence in order to reach the school.
Hansen said that school officials covered up the graffiti before students arrived so that they would not have to read the anti-Semitic messages. Carolineskolen serves roughly 200 children. In addition to the school, there is a nursery and daycare facility.
Earlier this month, school officials advised parents to not let their children wear Jewish religious symbols outside of school grounds as a result of rising reports of anti-Semitic harassment in Denmark. The increase in reported anti-Semitism led to a 'kippah march' through Nørrebro last week in support of Jews' right to bear religious symbols in the city.
---
SWEDEN |
Sweden Democrats hold the key to elections – claim
Monday, 25 August 2014, 13:47 | Source: thelocal.se |
With national elections around the corner, political scientist Stig-Björn Ljunggren says there's a hive of activity behind the scenes, and that the right-wing nationalist party could end up being the key player.
With elections less than a month away, you'd be forgiven for thinking opposition leader Stefan Löfven will walk away as prime minister with no questions asked. Indeed, the 57-year-old former welder has been a trailblazer in the polls for months, and the governing Alliance is still 7.7 percentage points behind the Red-Green bloc.
But the competition heated up this week when Prime Minister Fredrik Reinfeldt brought the red-hot topic of refugees onto the agenda, asking Swedes to open their hearts, show tolerance, and feel comforted by the fact that the Alliance could financially deal with the influx. With this in mind, and considering it's unlikely that either bloc will win a majority of the votes, The Local turned to Social Democrat and political commentator Stig-Björn Ljunggren for the lay of the land.
He offered two potential outcomes for September 14th. "The first scenario is that we get a new government, and I think this would more likely be due to people being pushed away from the Moderates rather than being pulled towards the Social Democrats," he explained. "Some people are bored with the current government, some think they're incompetent, and some are just looking for a change.
As a result, we'd get a minority government with the Social Democrats and the Greens. And in the long run, they'll try and make some kind of bloc in the central ground with parties from the other side. Löfven has long shown distaste for the traditional left and right."
The second result would see Prime Minister Fredrik Reinfeldt getting his third four-year term in office. "And he'll only remain in power due to indirect support from the Social Democrats. He will tell the Red-Greens that if they want to form a minority government, they'll need to take on the Left Party, which Stefan Löfven doesn't want," Ljunggren explained. But where it gets both interesting and complicated, he explained, is how the Sweden Democrats come into play.
"The reason the Sweden Democrats are major players, despite only having five or ten percent of the votes, is because of the rigidity of the bloc system. As no party on either side of the bloc is willing to support the other side, the Sweden Democrats have the key. And since no one wants to touch them, it becomes problematic."
Why? Because the nationalist party led by Jimmie Åkesson would hold the balance of power. Since the Swedish system is one of negative parliamentarianism, this opens up a can of worms. Negative parliamentarianism means that a government doesn't need to be actively supported by a majority of MPs - it just needs there not to be a majority actively voting against it.
The consequence is that abstentions can play a key role. If, for instance, the Sweden Democrats choose to abstain in a parliamentary vote, and all the Alliance parties vote against a red-green government, then Stefan Löfven cannot be prime minister even if the combined forces of the red-green parties have more seats. But if Reinfeldt chooses to resign, speaker Per Westerberg will select the person he thinks has the best chance of forming a government. This is likely to be the leader of the largest party (probably Löfven), or possibly the leader of the largest distinct bloc (for instance, a successor to Reinfeldt as Moderate leader).
The political scientist explained that the Sweden Democrats will essentially have the same role as the Greens did several elections ago, but the difference is that no party had any problems in principle talking policy with the Greens. And considering the Sweden Democrats are likely to side with the Moderates, as they've supported the Alliance in around 90 percent of votes in parliament, the possibility of Reinfeldt winning again appears all the more likely.
"Of course, the Sweden Democrats might want something in return," Ljunggren mused. "But the Moderates have said they won't do any kind of negotiation." So with what appears to be a very complicated election on Sweden's hands, how exactly will it pan out? "If I had to guess now it'd be the Social Democrats with the Greens," Ljunggren said, adding quickly that he'd be keen to see the polls after Reinfeldt's refugee speech. "If his comments become the game changer he was hoping for, then I might change my bet."
---
GREECE |
Members of controversial Greek far-right political party to visit Australia
Monday, 25 August 2014, 13:44 | Source: ABC News |
European Parliament MPs from the controversial Greek far-right political party Golden Dawn are set to visit Australia, the group's local spokesman says.
The party's Australian representative told the ABC that the two men, both former army officers, would address events in Melbourne and Sydney in October. Golden Dawn has been strongly criticised in Europe for its use of pseudo-Nazi imagery and its violence against immigrants, who it partly blames for Greece's economic malaise. The party's leader and other MPs were arrested last year and charged with membership of a criminal organisation after a party member stabbed a left-wing activist to death outside an Athens cafe. Some have subsequently been released.
In his first media interview, the party's Australian representative, Ignatius Gavrilidis, said MEPs (Members of the European Parliament) Eleftherios Synadinos and Georgios Epitideios were planning to come to Australia to raise funds and increase awareness among Greek-Australians. He said the party had between 60 and 70 "activists" in Australia, but thousands of "supporters" in the large Greek community here, a figure he said was gleaned from social media use.
Mr Gavrilidis said many of the party's supporters did not wish to be publicly identified, but that Golden Dawn's philosophies were proving particularly popular among young Greek-Australians. The party has collected clothing here and shipped it to Greece to be distributed to people hit by the economic downturn.
Party rejects neo-Nazi tag

Golden Dawn has risen to prominence over the last few years as Greece has spiralled downwards into economic crisis. It has portrayed itself as an 'outsider', accusing the traditional political parties of corruption and mismanagement of the economy. However, its members have also become infamous for violent attacks on immigrants, hardline nationalism, anti-Semitism, and use of flags and salutes that bear a striking similarity to those used by the Nazis.
Mr Gavrilidis denied Golden Dawn was a neo-Nazi party, but acknowledged that some of its members admired Adolf Hitler and other leaders. "Yes, they have admired the leadership of Hitler, just like we also admire the leadership of many strong leaders across the world. Vladimir Putin is a very strong leader. He's got integrity. Benjamin Netanyahu is a very strong leader," he said.
Mr Gavrilidis said some of the imagery people claimed was neo-Nazi, such as the flags and salutes, had roots in Greek history. Golden Dawn has also established links with right-wing groups in Australia, including the anti-immigration Australia First Party, with which it held a joint rally in Brisbane earlier this year. Mr Gavrilidis said he shared Australia First's concerns about Muslim immigration to Australia. "One thing I am for is controlled immigration in the interests of Australia and in the interest of Australian citizens," he said. "We've got a serious threat from the east. If you cannot control immigration, you're asking for trouble."
MP calls for character test at Australian border

Any visit by the Golden Dawn MEPs is likely to attract significant opposition within both the Greek-Australian and wider communities. Victorian Liberal MP Nick Kotsiras, a former minister in the State Government, said Golden Dawn had minimal support within the Greek community in Australia, and its "politics of hatred" were abhorrent to most Greeks. "I am embarrassed by the existence of Golden Dawn. Golden Dawn does not represent me, it does not represent my family and does not represent the vast majority of Greeks living in Victoria," Mr Kotsiras said. "But also they are not representative of Greeks living in Greece. They are the antithesis of what the Hellenic spirit is all about."
Mr Kotsiras said the MEPs would have to pass the character test to enter Australia, and that under Australian law, anyone associated with a criminal organisation could be denied entry. "I would hope that these individuals are checked, their backgrounds are checked by [Department of] Foreign Affairs, to make sure that if they don't fit in that criteria, they are not allowed to enter Australia." The ABC contacted the office of Immigration Minister Scott Morrison to ask whether the two men would be fail the character test, but is yet to receive a response.
---
SWEDEN |
Swedes throw stinky fish at calm neo-Nazi rally
Sunday, 24 August 2014, 23:59 | Source: thelocal.se |
After Saturday's violence in Malmö the party of the Swedes held three meetings in other parts of Sweden which police said passed without incident, although some threw portions of fermented herring.
The right-wing party of the Swedes (Svenskarnas parti) were greeted with the foul smelling fish in Gothenburg after a Facebook group pledged to give them a "sour welcome."
A large police attendance was in force in Gothenburg for the meeting which was held at 2pm. The authorities estimated that around 2,300 people showed up in the Götaplatsen square to protest, but unlike in Malmö there were few signs of trouble.
Demonstrators attempted to drown out the speech of Stefan Jacobsson by chanting and whistling. The protesters were divided into pens although many chose to stand outside the enclosures to avoid being trapped.
Police said the meeting in Gothenburg passed without major incident as did other rallies held by the party in Halmstad and Vänersborg.
"We've taken it in what happened in Malmö and spoke with the Skåne police," Halland police press officer Tommy Nyman told the TT news agency, when asked if the authorities had changed their approach following the incidents in Malmö.
Meanwhile the fallout into the chaos in Malmö continues as police arrested three people in connection with the violence.
The conduct of the police has been called into questions after pictures were published of officers on horseback trodding over demonstrators. An investigation is currently under way after a police van collided with a protester.
An organizer with Skåne against racism said she was "shocked" with how the police behaved. On Sunday the information officer of the Skåne police was unable to confirm if they had received any complaints about their behaviour.
Opposition leader Stefan Löfven, who was in nearby Helsingborg, didn't want to be drawn into a debate as to whether the police should be investigated.
"Of course it's bad when people get injured especially in connection with a demonstration," he said to TT.
The anti-racist Expo foundation described the scenes in Malmö as a "success" for the party of the Swedes.
"The Nazis in the party of the Swedes have a media strategy that all publicity is good publicity. That's why they have decided to host meetings in big cities to provoke a violent reaction," Alexander Bengtsson of Expo told TT.
The leader of the left party (Vänsterpartiet) Jonas Sjöstedt said that the police had been too "generous" in allowing the party to authorize meetings by the right wing party.
"They did it on the first of May and they did it at Almedalen. I also think that it's completely absurd that the Svenskarna parti can come into Swedish schools," Sjöstedt told Kvällsposten.
However the justice minister Beatrice Ask said it would set a dangerous precedent if such restrictions became commonplace.
On Sunday night more than a hundred people gathered in the main square in Möllan in Malmö to protest against police violence after the incidents on Saturday. A similar rally has been planned for outside the police station on Tuesday night.
---
SWEDEN |
Police horses trample rival protesters at far right rally in Sweden
Sunday, 24 August 2014, 14:34 | Source: Reuters |
Several people were hurt, one seriously, when mounted police moved in to separate rival sides at a far right demonstration in the Swedish city of Malmo on Saturday, police said.
"A number of people were trampled and one person was seriously injured," Malmo police said in a statement. "We do not know currently how seriously."
Police arrested nine people at the march where supporters of the Party of the Swedes were confronted by a counter demonstration by opponents who consider them neo-Nazis.
Swedes vote in a general election on Sept. 14 with immigration a major issue. Party of the Swedes has too little support to make any impact. A more moderate anti-immigration party, the Sweden Democrats, is polling at around 10 percent.
---
FRANCE |
"Marine Le Pen is the 21st century Joan of Arc" claims Bardot
Saturday, 23 August 2014, 16:18 | Source: thelocal.fr |
Bardot's support of National Front head Marine Le Pen hasn't wavered a bit since backing her in the 2012 presidential election, if anything it's grown stronger.
In an interview with Paris Match that hit the web this week, the 1960s fashion and cinema icon who's since become an animal rights activist said: "I hope she saves France, she is the Joan of Arc of the 21st century."
Yes, the same Joan of Arc who was burned at the stake in the 15th century, but was later sainted by the Catholic Church and is a national hero in France.
For Bardot, Le Pen and her anti-immigration, anti-European Union party could rescue France from its current economic and cultural woes.
"I am a native Frenchwoman and proud of it. I mourn the fact my beautiful country has deteriorated in every way. It's criminal to submit to these depths," she told the magazine.
In addition to backing Le Pen in 2012, Bardot has repeatedly supported the party with which she shares a critical view of Islam.
In 2013 Bardot's animal right group, the Brigitte Bardot Foundation, joined the National Front in protesting against a temporary slaughterhouse opened in France as part of the celebrations that mark the end of the Muslim holy month of Ramadan.
In recent months Le Pen's National Front has taken advantage of French anger at its politicians and the EU to record significant electoral victories.
The party has also become increasingly mainstream under Le Pen's leadership and has mounted a concerted campaign to rid its ranks of flagrant racists and anti-Semites.
That so-called de-demonization effort was declared successful by Bardot in 2012 who told French paper Nice Matin Le Pen is the only leader "to denounce the scandal that is Halal meat."
---
USA |
American White Nationalists to attend inaugural Identitarian Congress in Budapest
Friday, 22 August 2014, 16:20 | Source: HOPE not hate |
From Eric O' Neill in Washinton DC
American and European racists will gather in Budapest on October 3-5 to participate in the first Identitarian Congress. Sponsors of the three-day event include the American white nationalist think tank National Policy Institute (NPI), the Swedish far-right think tank Motpol, the American racist journal Radix and Arktos Media, a far-right publishing house based in Budapest and amajor distributor of New Right and Identitarian literature.
Scheduled speakers include a mix of European Identitarian figures and ideologues such as Markus Willinger and Philippe Vardon as well as leading American white nationalists Jared Taylor and Richard Spencer.
Spencer, the current president of NPI and the founder of Radix, is heavily promoting the Identitarian Congress in the United States. An advocate for the creation of a white ethno state, in a recent interview Spencer called for a sterilization program to slow non-white birthrates. Taylor, almost 30 years Spencer's senior, is the head of the New Century Foundation, and formerly published the racist magazine American Renaissance (AMREN).
In 2005, Taylor wrote, "When blacks are left entirely to their own devices, Western civilization — any kind of civilization — disappears."Both Spencer and Taylor have spoken in Europe in recent years and have invited European New-Right/Identitarian ideologues and activists to participate in events in the U.S.
Former Croatian diplomat and nazi Tom Sunic is another scheduled speaker. Sunic regularly addresses racist gatherings in America and Europe, including the BNP's national conference in September 2013. Sunic sits on the board of the American white nationalist political party American Freedom Party (AFP) and is the author of the anti-Semitic book, Homo Americanus.
Hungarian-based American John Morgan, editor of Arktos, will also speak. Morgan recently moved Arktos from India to Budapest. He is allied with members of the Jobbik, Hungary's right-wing extremist political party, which will also be participating in the October conference.
---
GERMANY |
Hunt for German neo-Nazis was 'complete disaster'
Thursday, 21 August 2014, 23:49 | Source: AP |
Police and security services in Germany's eastern state of Thuringia bungled the hunt for three neo-Nazis, who years later turned out to be the main suspects in a far-right murder spree, according to an official report published Thursday.
A panel of lawmakers in the state assembly examined thousands of case files and interviewed dozens of former investigators, concluding that efforts to find the fugitive trio between 1998 and 2003 were a "complete disaster."
"In the best case the comprehensive failure of many of those involved resulted from simple lack of interest," the panel said in its 1,895-page report. But so many mistakes were made that one might even be justified in suspecting "deliberate sabotage."
The neo-Nazi group, calling itself National Socialist Underground, allegedly killed eight Turks, a Greek and a policewoman between 2000 and 2007. It is also believed to be behind two bombings and 15 bank robberies. The group's sole survivor, Beate Zschaepe, and four alleged supporters are currently on trial in Munich.
Zschaepe and her erstwhile accomplices, Uwe Mundlos and Uwe Boenhardt, grew up in Thuringia and first came into contact with the far-right scene there.
The report lists a string of errors by investigators who failed to follow up leads that could have led to their arrest, beginning with the fact that police didn't start searching for the trio until six hours after finding explosives in a garage rented by Zschaepe in the Thuringian city of Jena in January 1998.
Other mistakes included not properly investigating a list found in the garage that contained the names and phone numbers of the group's contacts — as well as police informants.
The group's existence came to light in late 2011, after Mundlos and Boenhardt died in an apparent murder-suicide. Authorities had previously attributed most of the killings to immigrant gangs, sparking a debate about institutional racism in Germany.
Earlier this week a man wounded in one of the group's alleged bomb attacks filed a lawsuit against Thuringia state for its failings in the case.
---
AUSTRIA |
The grassroots group uniting Muslims and Jews
Wednesday, 20 August 2014, 23:13 | Source: thelocal.at |
Participants visited Vienna's main synagogue. Photo: Daniel Shaked
The organiser of the Muslim Jewish Conference, held in Vienna this year, says that he believes the gathering of young people from around the world has helped break down stereotypes and that every participant has been changed by their experience.
He told The Local he was inspired by a personal experience to help create dialogue and understanding between Muslims and Jews. "Until the age of 25 I had no constructive contact with Muslims, but a student conference meant I had to step out of my comfort zone. I was a left-wing student but had appalling misconceptions about Muslims.
A lot of the participants came from Pakistan, Lebanon… the wider Middle East. It was really a personal relationship that started it, with a participant from Pakistan - we both realised how little we knew about each other's religion and culture and how problematic the ideas we had about each other were." Mustapha is now his best friend.
When Sichrovsky decided to set up the MJC most people told him it was "unthinkable that a grassroots organisation could deal with this issue - especially as established organisations have failed. People told us we were making a big mistake."
But Sichrovsky thinks the problem is that the organisations that are working on building interfaith relations and solving the Middle East conflict have an agenda - and are jeopardised by either financial or political influence.
Ilja Sichrovsky. Photo: Daniel Shaked.
"The power of the MJC is that it really is neutral and independent of all the existing organisations and institutions. We do have financial support but we're not affiliated with anyone."
The MJC is struggling financially, as it refuses to take money from sources that want to have a say in what it does.
Its main sponsors are private donors, but it operates on a shoestring budget. The last four conferences were run on a total budget of €250,000, which included salaries.
It takes a full year to organise each conference which has taken place in a different city every year - including Kiev, Bratislava and Sarajevo. A core team of 35 volunteers work across 25 countries.
Conference attendees have to pay for their own flights, and the MJC pays for their accommodation, food, and events. There is no conference fee.
Sichrovsky praises the participants, who are often "taking a risk, going against their communities, their religious background, sometimes they are identified as a traitor, but they are brave enough to hop on a plane and do something unprecedented - without these people we wouldn't exist."
The MJC has applications from Afghanistan, Iran, Iraq and Libya and Sichrovsky credits word of mouth and social media for helping spread the news about the grassroots movement.
"We've never had to campaign to get people to apply for the conference - and we've got 400 alumni from the previous conferences who have really spread the word and are ambassadors for the cause."
Every year they have between 200 and 300 applications - and accept around 100 people. "The demand is there - people want to make up their own minds and there isn't a forum in which to do that. If we had a bigger budget we would have more than one conference a year."
Of course there are still people who believe that the MJC is wasting its time and meddling - "many people try to tell us that we should accept that this is an impossible task… but we don't agree, and we think we have a right to try and make interfaith dialogue possible."
"We want to be taken seriously, this isn't some feel-good programme that we do two days a year… and I think if organisations like ours don't get supported and funded Europe is going to be a very uncomfortable place, racism, anti-Semitism and Islamophobia is not something that is going to go away by itself."
"Hate-speech on social media and violence on the streets has to be taken seriously - the Muslim and Jewish minority have to stand up for their rights as citizens of European countries," Sichrovsky adds.
'Healing effect'
His grandfather fled from Nazi Austria and fought his way back to Vienna with the British army in 1945. He resettled in Vienna, and serves as an inspiration to his grandson. "I'm not willing to give up on this place. Looking at the odds he overcame I know I can develop the patience and stamina to keep doing this."
With anti-Semitism and Islamophobia growing in Europe, Sichrovsky believes interreligious dialogue is the only solution to bring people together. "You have to destroy these stereotypes and this hatred, which I think we manage to do in seven days…We need to find a language where we can agree to disagree, and be friends, not enemies."
This year the visit to the Mauthausen concentration camp memorial was a moving experience.
"Being able to see a group of Muslim participants coming together and reciting their prayer for the lost loved ones, really made the Jewish participants emotional. They were sharing the pain together - the same thing happened in Srebrenica where we went last year - and I think this has a healing effect that goes beyond words and projects…which will last a lifetime."
---
HUNGARY |
Jobbik calls for isolating refugee camps to reduce Ebola threat
Tuesday, 19 August 2014, 11:27 | Source: politics.hu |
The radical nationalist Jobbik party on Monday called for isolating Hungary's refugee camps and reception centres in order to reduce the threat of the Ebola epidemic and improve public safety.
Jobbik MP Daniel Z Karpat told a press conference that illegal refugees are approaching Hungary who originate from countries that are potentially affected by the epidemic. Even if there is but a minimal chance for these people to carry the disease, this option cannot be ruled out either, he said, noting that refugees are currently free to walk out of the camps and get in contact with the locals.
The lawmaker called on the government to make the costs of catering for "supposed" refugees public and said that many criminals could be hiding among them. He called for preparations to restore the national border crossing authority with no delay because the "rush of refugees" is not expected to abate. Last year the number of refugees grew by nine to ten-fold from previous years and reached 15-20,000, he said.
---
RUSSIA |
Russian neo-nazi who tortured gay men on film sentenced to 5 years in prison
Monday, 18 August 2014, 20:16 | Source: Source: cennetwork.wordpress.com |
Maxim Martsinkevich, a Neo-Nazi leader of the anti-gay gate group 'Occupy Paedophilia', has this week been sentenced to five years of prison time by a Russian court.
Martsinkevich, who is also known as 'Machete' by fellow gang members, was one of the leading figures in a string of attacks on gay Russian men that occurred over several months in 2013. Members of the 'Occupy Paedophilia' gang posed as young men online in order to subject gay men to violent homophobic attacks.
Victims of Martsinkevich's gang were tortured and humiliated while being filmed. Videos were later posted on the popular social media site VK. Martsinkevich himself was directly involved with several of the attacks, and is believed to have been a main figure in the gang's homophobic activities.
However, despite his well-documented attacks against LGBT homosexuals Martsinkevich was charged for un-related crimes related to his involvement with another neo-Nazi gang.
Martsinkevich was detained in Cuba after being arrested by local police and was later extradited to Russia for 'extremist' charges. The crimes he was charged with include acts of violence, death threats and robbery and inflicting bodily harm. It is unsure at this point whether he will also face trial for the abduction and torture of young gay Russians.
9 associates of Martsinkevich have also been arrested in Russia and are currently awaiting trial for similar crimes.
---
GREECE |
Report: Greek police under orders to leave neo-Nazis alone
Monday, 18 August 2014, 19:42 | Source: ekathimerini.com |
A former member of Golden Dawn who will also testify in the trial of party MPs and supporters has told a US-based rights group that the police were under orders not to trouble neo-Nazis.
"Once, when four Golden Dawn members attacked two Pakistani migrants and beat them 'really, really badly,' he received a phone call from the police chief, who had ties to the local Golden Dawn boss and told him the case would not be investigated," says Human Rights First in a new report.
The organization does not give details about which Golden Dawn cell the defector belonged to.
The same witness also told Human Rights First that a businessman who was a member of New Democracy provided financial support for the extremist party in 2011 in the hope that it would become a coalition partner for the conservatives.
Human Rights First describes itself as an "independent advocacy and action organization."
The report, published on August 14, is titled "We're not Nazis, but...The Rise of Hate Parties in Hungary and Greece and Why America Should Care."
---
HUNGARY |
Far-right sympathizers clash with protesters at WW2 monument
Sunday, 17 August 2014, 22:14 | Source: Politics.hu |
Far-right sympathizers posed for photographs with the monument dedicated to the victims of the German occupation at Szabadság tér, then verbally insulted the participants of the daily protests and even crashed the camera of one of the protesters last Friday.
Ágnes Bárdos Deák, a regular participant of the protests and former singer for alternative rock groups, recounted how the far-right radicals started to mingle with the protesters who were preparing for a film screening at the "living monument" they had created next to the official memorial.
Statements of Holocaust denial followed soon from the thugs, some of whom had admittedly taken part in the attack against the headquarters of Hungarian state television at the same spot back in 2006.
The police on the premises took little notice of the events until a heated row ensued which culminated in one of the radicals crashing the camera of a protester. At this point they finally intervened and initiated a legal process against the perpetrator.
---
SERBIA |
Festival cancelled after reports neo-Nazi would perform
Saturday, 16 August 2014, 21:44 | Source: Tanjug |
The organizers of the Kamp Pustai Music Festival in Novi Bečej have called off the event, Tanjug is reporting.
This came after accusations that the festival program features the performance of Hungarian neo-Nazi Balazs Sziva and his rock band.
One of the camp organizers Ferenc Erman told Tanjug on Friday that the festival was canceled after various accusations appeared in the media, and added that Sziva was never supposed to perform at the festival.


Erman said that the camp was cancelled to avoid potential provocations after the appearance of unfounded accusations, and added that the organizers would never allow a Nazi band or performer to appear on stage during the event. 


Erman told Tanjug on Thursday that the event is not a festival but a closed-type summer camp, adding that no such Hungarian band would have performed because they would not have been allowed to do so. 


The Novi Sad-based Anti-Fascist Action (AFA) was the first to warn against the performance of Sziva, the singer of the Hungarian neo-Nazi rock band Romanticus Eroszak (Romantic Violence), and their warning was followed by reactions of the Liberal Democratic Party and the Democratic Party of Serbia which called for a ban of the controversial performance.


AFA warned on Thursday that the three-day festival which was supposed to begin in Arac near Novi Bečej on August 19 serves as a replacement for the banned EMI-Tabor festival which had been organized for years by Hungarian fascists in the Serbian province of Vojvodina, Transylvania in Romania, and Slovakia.


AFA called on all anti-fascists to stand in the way of public fascist events regardless of the national community it may come from.
---
HUNGARY |
Jobbik protests planned state award to Holocaust survivor
Friday, 15 August 2014, 23:55 | Source: politics.hu |
The radical nationalist Jobbik party on Friday protested in an open letter addressed to President Janos Ader against his plan, reported by the press, to grant the highest state award dubbed Hungarian Saint Stephen Order to Nobel laureate writer Imre Kertesz.
In the letter, a copy of which was sent to MTI, Dora Duro, head of parliament's cultural committee, cited a 2009 interview by Die Welt online in which Kertesz "made it clear that he would not like to be branded a Hungarian."
Duro also cited Kertesz as saying in the interview that Budapest had become Balkanised and "the residents of the country are liars who are unable to face up to their past."
Duro criticised Kertesz stating that he failed to use the international attention attracted by his Nobel Prize to promote his country and instead "discredited it and even dissociated himself from it".
According to Jobbik, Kertesz does not deserve a Hungarian state award and if Ader decorates him "it will cause indignation among a wide spectrum of society."
Kertesz, a Holocaust survivor, won the Nobel Prize for literature in 2002 "for writing that upholds the fragile experience of the individual against the barbaric arbitrariness of history".
---
USA |
Aryan Nations gone, but memory remains
Friday, 15 August 2014, 11:56 | Source:today.com |
The house where Aryan Nations founder Richard Butler lived has been demolished. So has the church where he preached his racist religion. Cows graze where hundreds of white supremacists used to burn crosses in the summer.
The Aryan Nations is long gone from northern Idaho, but its reputation lingers to the chagrin of locals.
When a man recently shot up the Holocaust Museum in Washington, D.C., much was made of the fact that accused shooter James von Brunn spent a few days in 2004 in this area, living with a fellow anti-Semite before he was evicted for being too radical.
"The stain is so deep," said Tony Stewart, a long time resident who helped evict the Aryan Nations. "We feel stereotyped in a way that is unjust."
At the center of the debate is Hayden Lake, a posh town of fewer than 500 people that mostly consists of a country club and lavish homes along its picture-postcard lake. Hayden Lake served as the post office address for the rural Aryan Nations compound, some five miles away, and became shorthand as the haven for hate groups.
Instead of goose-stepping neo-Nazis, its streets are full of golf carts and joggers.
So it is in much of the Idaho Panhandle these days, where tourism has replaced logging and mining as the major economic activity.
Coeur d'Alene, eight miles south of Hayden Lake, is the largest city and economic hub of the panhandle. Built along Lake Coeur d'Alene, it draws golfers, boaters, and outdoor enthusiasts, and the charming downtown is full of sidewalk cafes, art galleries and boutiques.
A decade ago, the Aryan Nations held annual marches by its handful of members down Sherman Avenue, at the height of the tourist season.
Not that it hurt business much. Kootenai County has grown from 69,000 residents in 1990 to nearly 140,000 now, and has been able to recruit jobs and retirees from larger urban areas.
The Aryans were never a local product. Butler was an aerospace engineer from Southern California who used to vacation in the area because it had so few minorities. The county is more than 94 percent white and non-Hispanic, one of the most homogenous places in the nation.
In the 1970s, Butler bought 20 acres near Hayden Lake and began gathering followers from around the country. He held annual skinhead symposiums called the Aryan World Congress, which lured hundreds of supporters to the compound for a weekend of speeches, cross burnings and marches. Some followers would leave and commit acts of violence.
Stewart and other community leaders organized a human rights task force that rallied the community against Butler. Their opposition put them at risk, as when the home of activist Bill Wassmuth was bombed in 1986. Three Aryan Nations members were convicted in the bombings.
The end for Butler began during a congress in the summer of 1998. A car driving past the compound apparently backfired, and Aryan security guards, thinking it was a gunshot, gave chase.
They shot at the vehicle and forced the two terrified occupants off the road. Working with the Southern Poverty Law Center, the two victims sued the Aryan Nations for negligence in the supervision of the guards. A Coeur d'Alene jury awarded them a $6.3 million judgment, and Butler was forced to declare bankruptcy and then sell his land.
He lived his remaining days in a donated house in Hayden, dying in 2004. His remaining followers scattered around the country.
There are still scattered efforts to revive Butler's legacy.
The Aryan Nations Web site lists Coeur d'Alene residents Jerald O'Brien and Michael Lombard as leaders. Both hold the title of pastor, which was also used by Butler. O'Brien declined to say how many people had joined the group, but welcomed a reporter's attention.
"Any publicity is good publicity," O'Brien said. "If the enemy is not screaming for our blood, we are not doing a good job."
O'Brien, who knew Butler, said he is trying to re-establish the annual congresses.
"I promised Pastor Butler on his death bed that I would not let this die," he said.
Accused Holocaust museum shooter von Brunn, 89, grew up in Missouri, worked in advertising in New York City and has lived on Maryland's Eastern Shore since the late 1960s.
But what got the most publicity in his background was a few days in 2004 he spent at the home of Stan Hess, an anti-Semite in Hayden, Idaho, who von Brunn located via the Internet. Hess found the visitor too violent for his liking and asked him to leave.
"He lives in Maryland, but Maryland didn't get the bad rep," Stewart complained.
That's not to say that northern Idaho is a tolerant paradise, Stewart notes.
Right-wing political attitudes are common. It's not unusual to see people sporting Confederate flags, anti-government slogans or even a swastika tattoo.
Many of the newcomers hail from California, including a large cadre of retired law enforcement officers, of whom O.J. Simpson trial figure Mark Fuhrman is the best known.
"LA cops move up here to get away from diversity," said Rachel Dolezal, director of education for the Human Rights Education Institute in downtown Coeur d'Alene.
Dolezal, a multi-racial woman who graduated from Howard University, jokes that she traded one monoculture for another when she moved here in 2004.
As a woman of color, she finds plenty of challenges in Coeur d'Alene. The center's efforts to bring black history programs to schools, and a black student association to North Idaho College have resulted in letters to the editor criticizing the efforts, she said.
There was also a recent incident in which three skinheads visited the office and asked for a tour, Dolezal said.
They showed little interest in the center's work, she said, but saluted a Nazi flag that was part of an exhibit on propaganda.
"They asked me where I lived," she said, and where her young son went to school.
The three eventually left. Dolezal reported the incident to the FBI, which interviewed the men. The center also installed security cameras.
---
UKRAINE/SERBIA |
Serbian mercenaries fighting in eastern Ukraine
Friday, 15 August 2014, 09:10 | Source: Deutsche Welle |
Serbian fighters fight side by side with pro-Russian separatists in eastern Ukraine. According to Belgrade, they're not the only ones active in Ukraine, either.
An unruly beard, army fatigues and an automatic weapon are part of Bratislav Zivkovic's image. The 39-year-old is the leader of the Serb Chetnik militia in eastern Ukraine. He was in Crimea in March where he "defended the Russian brethren."
Now Zivkovic and his comrades are again making headlines. According to the pro-Russian separatist "People's Militia" in the self-proclaimed region of "New Russia" in eastern Ukraine, Serb volunteers fended off an offensive by the Ukrainian army near Luhansk.
The separatists declared that two tanks - including the crew - and other military equipment were destroyed in the fight.
Participants in Crimea
The media has reported that Russia, Chechen and Cossack mercenaries are supporting the pro-Russian fighters in Ukraine. Russia's RIA Novosti news agency wrote that even two "anti-fascist" Spanish and one Czech volunteer showed up.
The Chetnik unit in Ukraine has 46 members, including Russians and a Bulgarian, according to Zoran Andrejic, deputy president of the Serbian Chetnik movement. Serbian guerillas fought in WWII under the name Chetniks, as did Serbian paramilitary troops in the Yugoslav wars in the 1990s.
Andrejic claims that his comrades flew to Moscow in mid-July, from where they supplied Luhansk with humanitarian aid.
"At the Ukrainian border, our men received weapons to protect the convoy," he told DW. "At Luhansk airport, the entire convoy came under massive artillery fire and three of our comrades were injured."
As a result, they decided to create the "New Russian People's Militia." The Chetniks never received money for their operation, Andrejic said, adding they also never demanded payment.
Zivkovic commands Serbia's Chetnik movement
The Chetniks in Luhansk are battle tested, with many having fought in the bloody Yugoslav Wars. "We didn't send inexperienced boys to Ukraine," Andrejic said.
He added that many Russian and Cossack volunteers "defended Serbian lands" in the past. The former military leader of the self-proclaimed Donetsk People's Republic, Igor Girkin, is said to have fought for the Serbs in the Bosnia War, where he met his present Chetnik comrades. Better known by his nom de guerre "Strelkov," Girkin quit his post on Thursday.

Mercenaries on both sides
But Belgrade-based security expert Zoran Dragisic said the mercenaries are more interested in money than in ideals.
"They are after all mercenaries that are recruited worldwide for wars," Dragisic told DW. "At the start of the century, they marched through war zones in Africa - today, they are headed to Syria, Iraq and Ukraine."
Serbian mercenaries are often referred to as "war dogs". But the security expert argues that Serbia's difficult economic situation isn't to blame for the mercenary movement, since even prosperous nations like Germany and the Netherlands grapple with "war tourism."
"It's indoctrination that draws young people – some of them almost children - to war," Dragisic said.
Ninety-nine percent of the Serbian fighters in Ukraine are mercenaries, Serbian Prime Minister Aleksandar Vucic told reporters in Belgrade. Several dozen are fighting on the side of the separatists, Vucic said, adding that several dozen are also fighting for the Ukrainian army.
"They should go back home and take care of their families instead of fighting for third parties' interests – even if they make 2,100 or 6,500 US dollars, depending on what side they're on," the prime minister said, without commenting on his source for the above information.
Belgrade plans to pass a law that penalizes participation in a foreign war. The draft law is aimed at Serbian fighters in Ukraine as well as Muslim Serbs fighting alongside jihadists in the Mideast. Until the law takes effect, Serbian mercenary fighters can return home without having to fear penalties.
Chetnik Bratislav Zivkovic is already planning his return to Serbia – because he expects the fighting to come to an end soon.
---
SERBIA |
Ban sought on concert of Hungarian neo-Nazi
Friday, 15 August 2014, 08:18 | Source: Tanjug |
The Liberal-Democratic Party (LDP) said in a statement that the announced performance was "unacceptable and in complete contradiction with the principles of respect for human and minority rights, multiculturalism and prohibition of discrimination and hate speech."
"Promoting a dark totalitarian idea is an affront to our society that has made many sacrifices in the fight against Nazism. As part of the European democratic society we must not allow a smooth promotion of fascist and Nazi ideas," the statement said.
The LDP invited competent national authorities to respond as soon as possible and make a decision to ban the holding of these and all other events and gatherings which send messages spreading ethnic and other forms of hatred and intolerance.
The Democratic Party of Serbia (DSS) assessed in its own statement that the municipality of Novi Bečej in the province of Vojvodina, where the local government is headed by the LDP and the Serb Progressives (SNS), is complicit with the parties movements of the Hungarian right-wing in organizing a camp within whose program neo-Nazi Balazs Sziva plans to perform on August 20.
"Sziva was already a guest in Serbia with the band 'Romantic Violence', whose fans openly and publicly call for the use of arms in order to achieve the objectives of the Hungarian irredentists. After the concert in Kanjiža, where he participated in 'The Festival of the United Hungarian Youth in the Southern Area," he is now arriving in Novi Bečej," the DSS noted.
The party added that the current and the two previous prime ministers of Serbia are responsible for allowing Hungarian neo-Nazis to, for several past years, enter the territory of Serbia unimpeded, and to, in cooperation with some municipalities, propagate their ideology, advocating a revision of the Trianon Treaty and the restoration of 'Greater Hungary.'
The DSS urged the Ministry of State Administration and Local Self-Government to supervise the legality of work of local government units.
"The government is under obligation to take all legal measures to prevent the actions of neo-Nazi groups and individuals, whether they are our citizens or not, and also when it comes to those municipalities where such activities are not only tolerated but are also irresponsibly encouraged," the statement said.
Earlier, the Anti-Fascist Action (AFA) of Novi Sad warned that Sziva, one of the leading figures of the Hungarian neo-fascist movement, would perform in Novi Bečej in a camp organized by people close to the Hungarian ultra nationalist party Jobbik and other movements of the Hungarian fascist right-wing.
---
SLOVAKIA |
Recalling the Roma Holocaust
Wednesday, 13 August 2014, 23:07 | Source: The Slovak Spectator |
The Roma Holocaust in Slovakia largely took the form of forced labour in awful conditions leading to death and illness, and later moved to a second phase – direct mass murders. As the August 2 commemoration date of the Roma Holocaust passes, historians are returning to the theme of what took place.
The Holocaust was the result of legislation adopted by the Slovak war-time state (1939-45), which mirrored the legislation of Nazi Germany, including the racist Nuremberg laws. The precise number of Roma killed in Slovakia during the Holocaust remains unknown, with data from many regions missing. The total number of European Roma victims is estimated between 300,000 to 500,000.
To justify the murders, the Nazis used propaganda portraying Roma as an asocial group that spoiled the racial purity of the German population. "Propaganda stemmed from stereotypes of both Slovakia and Germany," Arne Mann, an ethnographer of the Slovak Academy of Sciences, told The Slovak Spectator. "Those stereotypes have been present here for several centuries."
Restrictions on Roma
To target the Roma, the Slovak state introduced various restrictions even before the mass murders began. First, Roma as well as Jews were forced to do labour for the Nazi military and thus became part of the war effort, but carrying pickaxes and shovels instead of weapons.
Second, an Interior Ministry edict defined the term "gypsy" as a person whose parents were Roma and avoided working. Other edicts introduced restrictions for those who were not willing to work. For example, the Roma were forced to leave their villages and establish their residence at least two kilometres from the municipality in a place which could not be seen from the road.
Furthermore, the Roma were only allowed to visit towns and cities during certain hours of the week and were banned from using public transportation, buying beer in bars or owning a dog, according to Mann.
Another measure against the Roma was the creation of labour camps for people considered to asocial. A report from the local mayor saying that a particular person refused to work was enough for the authorities to send someone to the camps.
Roma worked 11 hours per day in the camps in horrible conditions. In one camp, typhus spread among prisoners, so all straw and blankets were burned and prisoners slept on wooden desks. "When [the Nazis] took them in the summer, the Roma were shoeless; but they let them work this way even during the winter," Mann said. "Truly, the conditions were like those in liquidation camps; many prisoners harmed themselves or tried to escape." Roma worked on the construction of railways in eastern Slovakia, the Èertovica mountain road and the Orava water reservoir.
During the Slovak National Uprising, numerous Roma joined the fight against the Nazis. After Germany defeated the rebels, the most cruel phase of the Roma Holocaust began as the SS special corps initiated killings of groups of Roma. "A big execution took place in Èierny Balog village, where they killed 60 Olach Roma," Mann said. "They were captured near the town of Zvolen, imprisoned in a school and then the Roma men were shot dead while the women were gathered in barns and burned."
The Nazis were also preparing deportations similar to what was done with the Slovak Jews, but the war ended, Stanislav Mièev of the Museum of the Slovak National Uprising told the Slovak Radio. The first goal was to destroy the Jews, the Roma were next and the Slavs were third, he added. However, many Roma from southern and eastern Slovakia, which belonged to Hungary at that time, were also taken to Nazi camps.
Slovaks willing to help
Generally, relationships between the majority population and the Roma were not as bad as Nazi propaganda presented. Most Roma lived in rural areas and farmers hired them as labourers, paying them in kind. In villages, where this form of cooperation existed, mayors were usually not willing to let them go to labour camps, according to Mann. For example, in Kuzmice, a village in eastern Slovakia, locals had a good relationship with the Roma and helped them survive the war.
When troops of Slovak fascist militia – the Hlinka Guard – came, they destroyed all the Roma houses. After the guards left, the villagers took all the important remains of their previous houses, transported them to a nearby forest and helped the Roma build temporary shelters. Roma lived there until the front moved closer to Germany, then the villagers helped them move back to Kuzmice again. "This is proof that relationships were not tense everywhere," Mann said.
---
SLOVAKIA |
Slovak media closing online discussions due to hatred and racism
Wednesday, 13 August 2014, 23:06 | Source:Romea |
The Slovak media are starting to run out of patience with readers who inundate the discussion boards beneath their online articles with hatred, lies and racism. Two popular news servers, Aktuality.sk and SME.sk, have changed the format of their discussion boards in recent days.
The main tool is not to post open discussions beneath articles on specific topics, but moderated discussions where every contribution is checked by a moderator before being published. Sme.sk started its changes at the start of August and Aktuality.sk began turning off its discussion boards yesterday; both servers had already instituted the requirement that discussants register to participate.
No more aggressive, lying, racist contributions
The editors of SME.sk say their reason for the move is simple. "If we can't manage to control the discussion, if we don't know how to ensure that aggressive, lying, racist or vulgar contributions are not posted to our website, then we are forced not to open some discussion boards," news server SME.sk writes on its editorial blog.
The editors also point out that the most frequent complaints received by SME.sk are about the level of the discussions posted beneath the articles. Aktuality.sk gave a similar justification for its own decision: "As of today we are closing the discussion boards on several types of articles. The reason is the growing hatred and deteriorating communications and vocabulary of the discussants.
This has primarily to do with the topics of Islam, Romani people, Russia and Ukraine. The hateful discussions conducted among themselves by several people depreciate the articles, these topics, the events reported on and the people we are writing about."
Not censorship
Both editorial boards say the move is under no circumstances about censorship, but about taking responsibility. "No, this is not censorship. This is a responsible decision. At the end of the day, it's not just the authors of these discussion posts who are responsible for their content - we are too," write the editors of SME.sk. As Aktuality.sk points out, administering discussion boards is an extraordinarly demanding, sensitive matter, because "many discussants consider the removal of their contributions to be interference with their freedom of speech.
That is not the case. Aktuality.sk has always approached discussion boards with maximum openness, but it is unacceptable for our discussion boards to become a place for communications by extremists (of any kind) or for individuals who intentionally unleash hatred... We are making this move for our readers who want to join responsibly join discussions that stay on topic."
Czech media not much bothered by hatred
It seems that for the time being calls for hatred, the dissemination of lies, racism don't much bother the Czech media. While discussion board formats have changed in the Czech media more than once, many hateful, racist contributions are left untouched by the administrators of the discussions posted beneath articles online.
In the Czech Republic the news server that is probably most hospitable to aggressive discussants is Novinky.cz, where discussants must register under their own name, and iDNES.cz, where the discussions are supervised by several moderators led by Jan Dvoøák.
Differences of perception as to what constitutes hatred have been well-mapped by the magazine RESPEKT in an article entitled "If Hitler had only known" (Kdyby to Hitler tušil), which investigates hatred on the Czech internet. "They've had hundreds of years and they still live on the outskirts of society. However, it's not because of racism, it's only because of their approach to education, life and work," one discussant posts beneath an article about Romani integration on iDNES.cz.
According to Dvoøák such a posting may remain online because "while it is a bit of a generalization, it is nonetheless a legitimate, rather sober way of expressing a critical opinion of Romani people." Representatives of news server Romea.cz and SME.sk take a different view of the matter. "That's an ordinary generalization unsupported by any arguments. Our image isn't made just by the quality of our articles, but by what kind of discussions we allow under our brand," Filip Struhárik, one of the designers of the current form of online debating at SME.sk, told RESPEKT.
Zdenìk Ryšavý, director of the ROMEA organization, agrees, saying he believes the contribution made above by a reader of iDNES.cz is hate speech and should be removed. "This is a classic example of a generalization that tars an entire group of people with the same brush," he says.
Ryšavý believes everything should be removed that offends either specific individuals or any group of people, from Romani people to wheelchair users to Czech soldiers. "Naturally I am under no illusions that such hatred would completely disappear, I don't believe it would. However, at least the followers of such hatred would not have acccess to the biggest websites and to wide-ranging discussions. They should be somewhere in the background, tucked away on their own websites, and as long as they don't break the law, let them discuss all they want there," he said.
Improvement in the justice system and police
We can see a slight change for the better, of course, in the work of the justice system and police in the Czech Republic. As RESPEKT reports, a contribution posted to a discussion on Facebook calling for death to Czech soldiers participating in foreign missions was found by police to be a misdemeanor against civil coexistence warranting a CZK 5 000 fine. The author of the hateful commentary, Jiøí Pohl, ultimately did not have to pay the fine, as he apologized.
Recently former Czech MP Otto Chaloupka (Public Affairs) received a first-instance verdict for his own anti-Romani statements on Facebook. News server Romea.cz reported that Chaloupka was sentenced to six months' probation by the District court for Prague 1. The court made its ruling without holding a hearing or asking for additional evidence.
The former MP, according to the court, incited hatred against an ethnic group. Chaloupka appealed the April verdict and a hearing will be held in his case this September. Last year Chaloupka posted a message to his Facebook profile on the events in Duchcov (Teplice district), where a small group of Romani people attacked and beat up a non-Romani married couple.
"Decent people have put up with your aggression, your thievery and your unjustified demands for more and more advantages for long enough," he wrote. During the subsequent discussion he added that "people are on edge - a few more gypsy provocations like this and the slaughter will begin. Then even the riot police won't save them."
---
ALBANIA |
Roma Evictions in Albania 'Concern' CoE
Wednesday, 13 August 2014, 22:59 | Source: Balkan Insight |
The Council of Europe's Commissioner for Human Rights, Nils Muiznieks, has expressed concern over the planned eviction of seven Roma families in Elbasan to make way for development.
"Concerned about planned evictions of Roma in Elbasan, Albania," Muiznieks wrote on his twitter account on Thursday. "I call on authorities to ensure suitable and sustainable housing alternative and uphold human rights," he added. The houses of the seven Roma families face demolition due to make way for the expansion of the city's soccer stadium and a road.
The stadium is undergoing reconstruction funded by the municipality and Albania's Football Federation, and is earmarked to host the qualifying games of the national football team in the run-up to the UEFA European 2016 championship. Although the families are entitled to compensation, they cannot claim it because, like hundreds of thousands of other families in Albania, they built their homes without permits. Since 2007 the government has allowed for process of legalization for unauthorised constructions, but progress has been slow.
In July the municipality of Elbasan suspended the demolition of the houses after the UN Committee on Human Rights called on the government to suspend the eviction of the families until a complaint filed by their lawyers on the merits of the decision to demolish the houses and subsequent compensation claims had been heard. The UN Human Rights Committee is a body of independent experts that monitors implementation of the International Covenant on Civil and Political Rights by state parties.
On Friday the municipality announced that the demolition of two houses due to the stadium expansion had been halted, while the families affected by the road expansion would be provided with a rent allowance. However, the families' lawyers from the ResPublica legal aid center in Tirana told BIRN that the issue of compensation for the soon to be demolished houses remained unsolved and they would proceed with their claim before the UN human rights committee.
---
CZECH REPUBLIC |
Czech cell of international Blood & Honour organization indicted
Wednesday, 13 August 2014, 22:56 | Source: Romea |
The residential hotel in Aš shortly after the neo-Nazi arson attack (February 2012).
(PHOTO: František Kostlán) This autumn a nine-member group from various parts of the Czech Republic will be going on trial. According to the indictment, the group planned to assault specific individuals and called for violent attacks on the headquarters of political parties and on representatives of the Government and the police.
At least two attacks were carried out but no injuries were sustained by those targeted. Some of those now indicted, according to police, also personally contributed to the creation and establishment of the neo-Nazi organization Blood & Honour Division Bohemia and its militant daughter organization Combat 18.
The main representative of the Czech branch of the neo-Nazi organization Blood & Honour and Combat 18 is said to be a Jan B., the founding member of the Prague branch of the organization called Division Bohemia (who was 22 years old at the time of his arrest). Other members of this organized group are a man (age 22) and a woman (age 28) from Aš, a man (age 37) from Hodonín, a man from Prague (age 22) and a man from Sokolov (age 28) who have also been charged with establishing, supporting and promoting a movement aimed at suppressing human rights and freedoms.
The same charges are also being faced by a man (age 31) from Trutnov who is also being prosecuted for the offense of defamation of a nation, race, ethnic or other group and the offense of inciting hatred against a group or suppressing their rights and freedoms. Two other men from Aš (age 22 and 32) have been charged with the crime of establishing, supporting and promoting a movement aimed at suppressing human rights and freedoms.
Eliminate the possibility of saving any victims
Jakub Kubias of the Regional State Prosecutor in Plzeň told the daily Právo that the most serious crime in the indictment was committed by two men from Aš, who now face between 15 and 20 years in prison or even the possibility of extraordinary sentencing for 18 counts of racially-motivated attempted murder. Youths Michal P. and Tomáš K. identified a building to target in the northwest tip of the Czech Republic where two Romani families and several foreign workers were living.
In the dead of night on 26 February 2012 the youths masked themselves with balaclavas, threw Molotov cocktails through one of the family's windows, and then fled the scene. "They did their best to carry out the attack in such a way as to maximally eliminate the possibility of saving any victims. They poured gasoline around the front doors, intending to make it impossible for the occupants to get out of the residential hotel once it caught fire," the daily quotes the state prosecutor saying in the indictment.
Fortunately, neither of the Molotov cocktails made it into the rooms where 10 adults and eight children were sleeping at the time because the interior window pane of the double-glazed windows stopped them. The occupants managed to put out the blaze from the burning gasoline in the space between the windows.
"Given the significant amount of flammable material, the fire would have spread very rapidly in the interior areas with their lack of partitions. Toxic fumes would have represented another danger. If the main entrance had also caught fire, the opportunity to flee would have been greatly complicated," reads a fire expert's evaluation of the situation, according to the daily.
The head of the group, according to the indictment, criticized those who carried out the arson for being insufficiently "committed" and for not causing more damage. The indicted men excused their behavior to investigators by saying they had been drunk at the time, describing the entire incident as an unfortunate excess.
At the start of 2012, other members of the group attacked the "Gizela" cabin in a forest in the Krč quarter of Prague because their self-appointed leader said it was a hangout for left-wingers. According to the indictment, Jan B. is said to have pulled a canister out of his backpack and begun spraying the walls of the cabin with gasoline.
Jan B. then allegedly handed a friend a box of matches and ordered him to set the cabin on fire. Právo reports that flames were soon shooting from it, according to his co-defendant, Čeněk N. of Prague.
Threat to paralyze the state
Members of the group are also charged with actively planning so-called "direct actions" against their opponents, representatives of the state, and the democratic order of the Czech Republic, as well as calling for participation in these actions on the organization's website, which was hosted on a server abroad. Through this site they reported on the activities of the organization and its ideological struggle against "the system", the democratic order of the state and its representatives, "whether that be representatives of the Government or the Police of the Czech Republic."
Pavel Hanták, spokesperson for the Organized Crime Detection Unit (Útvar pro odhalování organizovaného zločinu - ÚOOZ) said those plans had not yet acquired a concrete form. "However, if they had decided to realize them and succeeded, the result apparently would have been to paralyze the activity of the state," Hanták said.
For example, the highly organized group pointed out on its website that it would be easy to attack the headquarters of the Central Committee of the Communist Party of Bohemia and Moravia (KSČM) in Prague, for example, from a passing car. Another onlne piece approved of the arson attack committed on a house occupied by a Romani family in Vítkov in April 2009 that resulted in a two-year-old girl suffering third-degree burns over almost her entire body, the painful, permanent repercussions of which will remain with her for the rest of her life.
By posting links to other freely-accessible websites, the group actively supported racial hatred, various forms of violence with a tendency to terrorism, Holocaust denial, and incitement to violence against the so-called "inferior races", certain groups and certain individuals. Police say the group identified and invited new members and maintained active communications with them.
Politicians disappointed with intelligence services
Immediately after the arson attack in Aš, the then-Deputy PM for the fight against corruption, Karolína Peake, made the following emphatic statement: "The Molotov cocktails thrown at the Romani residential hotel in Aš have prompted my concern over this horrible spread of aggression and intolerance. (...) Throwing Molotov cocktails or any other kind of violence is not a legitimate method and will only produce misfortune. This can destroy the lives of both the assailants and the victims and cause a human tragedy."
The Communist Shadow Interior Minister said in April 2012 that "the Security Information Service did not not warn [the public] of the activities of this neo-Nazi organization, which even espouses violence", nor did the cabinet-level recipients of the service's classified reports. "According to the information published online, [the Government] was satisfied by the statement regarding developments on the extremist scene that the 'right-wing extremist scene had stagnated'," he said.
The anti-extremist department of the ÚOOZ carefully kept its two-year investigation of Blood & Honour Division Bohemia a secret, collecting hundreds of hours of tapped telephone calls, the recordings of which they were able to spend entire weeks studying in order to be able to cast doubt on the defense case of those charged. This is another reason the court proceedings will not start until the fall, i.e., two and a half years after the suspects were arrested.
The whole case has one big flaw, mainly in relation to the defendants charged with multiple counts of the attempted murder of children: Neither of them has ever been taken into custody. Requests for these possible murderers to be remanded into custody were filed by ÚOOZ investigators and rejected by the judge, which makes it probable, therefore, that this case, just like other similar "highly serious cases of ultra-right extremism" in the past, will end after years of work with the acquittal of the defendants or with their receving mild, suspended sentences.
Blood & Honour Division Bohemia
According to the Czech Police, Blood & Honour Division Bohemia is a section of the most radical, militant contemporary neo-Nazi organization, Blood & Honour, which was established in Great Britain in the 1980s by the leader of the neo-Nazi skinhead music group Skrewdriver, Ian Stuart Donaldson. It was originally established as an extensive, effective distribution network for racist, neo-Nazi materials among youth (carrying on the legacy of the Hitlerjugend in Germany), mainly in the area of music.
In many of its materials the group calls for violent action. Its name is sometimes coded as the number "28".
Combat 18 (C 18) is the militant, terrorist wing of Blood & Honour. It was created at the end of 1991 and start of 1992 in Great Britain and gradually its divisions or sections were created in several other countries, including the Czech Republic.
Members of this organization have carried out many violent terrorist actions. In its current conception C 18 espouses the notion of a leaderless resistance and serves as a symbol of ultra-right terrorism.
David Vaculík, the head of the group of arsonists who carried out the attack in Vítkov, has "C 18" tattooed on his chest. A group of Hungarian neo-Nazis who carried out several fatal arson attacks on Romani dwellings throughout Hungary recently were also part of the group; last year a first-instance court in Budapest sentenced three of its members to life in prison.
---
NETHERLANDS |
Civil servant who made zionist plot remarks suspended
Wednesday, 13 August 2014, 22:47 | Source: Dutch News |
A civil servant at the justice ministry who said terror group ISIS does not exist and is a zionist plot has been suspended. Yasmina Haifi, project leader at the National Cyber Security Centre, said on Wednesday morning on Twitter that ISIS has nothing to do with Islam and is a plot by zionists to blacken the name of Islam. The outcry that followed did not look as if it would make her take back the words. However, she later deleted the tweet saying: 'Realise the political sensitivity in relation to my work. This was never my intention.' On Wednesday afternoon, Haifi was suspended from her job.
Connection
'Because her remarks have a direct connection with the work of the NCSC, they form a reason for immediate suspension,' the justice ministry said in a statement. Both the ministry and the Dutch counter terrorism organisation NCTV said they 'distance themselves totally' from Haifi's remarks.
Fuss
Haifi told Radio 1 she had no idea her comments would cause such a fuss. 'I assumed I was living in a democratic country,' she said. 'Apparently freedom of speech in the Netherlands applies to particular groups and not to others,' she told Radio 1.
---
GERMANY |
Neo-Nazis increasingly target young net users
Tuesday, 12 August 2014, 22:21 | Source: Deutsche Welle |
Blatant racism, homophobia and promotion of violence are on the increase in the German-speaking cyber world, finds the latest annual report published by Jugendschutz.net, Germany's state-sponsored child protection service in matters relating to the Internet.
The report, titled "Right-wing extremism online 2013" ("Rechtsextremismus online 2013") finds that the more offensive and provocative the content, the more quickly and broadly it is circulated.
"While in the past the propaganda was more subtle, today we regularly see blatant portrayals of Jews, Muslims, Sinti and Roma and homosexuals as second-class citizens," Stefan Glaser, deputy head of Jugendschutz.net, said in a statement.
Not new, only worse
This general finding reflects the overall trend identified in the reports from previous years.
"The first neo-Nazi websites appeared in the 1990s, and right-wing Internet content has increased dramatically over the years," Christiane Schneider, head of the political extremism department at Jugendschutz.net, told DW. "With the rise of social networking, hate propagators have also grown smarter. They know how to present themselves in a friendly and appealing way to attract young followers."
Methods such as humor and satire are used, which help disguise hate speech. "In addition, a widespread climate of hate online makes this kind of behavior look increasingly normal, which only attracts more people," said Schneider.
Beyond national borders
While the study focused on Internet content accessed by German youth, its findings extend beyond Internet platforms hosted in Germany. An increasing amount of young people are networking internationally or simply using foreign websites for sharing extremist content.
Russia's VK rarely removes hate-inciting content on request
An example is the Russian social networking site VK. Previously known as VKontakte, the platform has been described as a safe haven for right-wing extremists from countries like Germany, where the laws controlling Internet content are stricter. The network has recently been used for disseminating videos published by the Okkupay Pedofilyay group, an anti-gay movement started in Russia. The videos feature neo-Nazis attacking, beating, torturing and humiliating gay people.
So far, according to Jugendschutz.net, VK operators have not given a sufficient response. They rarely delete hate-inciting content or block access for German users.
"It's hard to control the activities of web portals based abroad," said Schneider. However, there have also been some examples of success.
"There is a Latvian question-and-answer site called Ask.fm, which has been quite popular among young German users," explained Schneider. "When we noticed right-wing activity there we notified the operators. At first they didn't react, but through various international contacts and organizations we managed to put pressure on them and today they react much more quickly to complaints."
Jugendschutz.net representatives hope to have more influence of this kind in the future. According to Glaser, sites like VK and US microblogging and social networking site Tumblr do very little do ban extremist content.
A double goal
While it's hard to pinpoint the exact consequences of an individual piece of right-wing propaganda online, there are obvious dangers when one particular group is labeled as inferior. Jugendschutz.net aims to prevent young people from becoming both perpetrators and victims of online extremism.
"Hate propagators take advantage of the latest technology and popular social networking sites to influence young people," said Schneider. "Some of these people then cause emotional or physical harm to their peers, but young Internet users can also be harmed simply by what they read online."
---
UKRAINE |
Ukraine crisis: the neo-Nazi brigade fighting pro-Russian separatists
Monday, 11 August 2014, 17:02 | Source: The Telegraph |
Phantom, 23, a fighter in the Azov battalion, outside its HQ in the Ukrainian seaside town of Urzuf
Photo: Tom Parfitt The fighters of the Azov battalion lined up in single file to say farewell to their fallen comrade. His pallid corpse lay under the sun in an open casket trimmed with blue velvet.
Some of the men placed carnations by the body, others roses. Many struck their chests with a closed fist before touching their dead friend's arm. One fighter had an SS tattoo on his neck.
Sergiy Grek, 22, lost a leg and died from massive blood loss after a radio-controlled anti-tank mine exploded near to him.
As Ukraine's armed forces tighten the noose around pro-Russian separatists in the east of the country, the western-backed government in Kiev is throwing militia groups – some openly neo-Nazi - into the front of the battle.
The Azov battalion has the most chilling reputation of all. Last week, it came to the fore as it mounted a bold attack on the rebel redoubt of Donetsk, striking deep into the suburbs of a city under siege.
Andriy
Biletsky, in black T-shirt, commander of Ukraine's Azov battalion (Tom Parfitt)
In Marinka, on the western outskirts, the battalion was sent forward ahead of tanks and armoured vehicles of the Ukrainian army's 51st Mechanised Brigade. A ferocious close-quarters fight ensued as they got caught in an ambush laid by well-trained separatists, who shot from 30 yards away. The Azov irregulars replied with a squall of fire, fending off the attack and seizing a rebel checkpoint.
Mr Grek, also known as "Balagan", died in the battle and 14 others were wounded. Speaking after the ceremony Andriy Biletsky, the battalion's commander, told the Telegraph the operation had been a "100% success". "The battalion is a family and every death is painful to us but these were minimal losses," he said. "Most important of all, we established a bridgehead for the attack on Donetsk. And when that comes we will be leading the way."
The military achievement is hard to dispute. By securing Marinka the battalion "widened the front and tightened the circle", around the rebels' capital, as another fighter put it. While Vladimir Putin, Russia's president, prevaricates about sending an invasion force into Ukraine, the rebels he backs are losing ground fast.
But Kiev's use of volunteer paramilitaries to stamp out the Russian-backed Donetsk and Luhansk "people's republics", proclaimed in eastern Ukraine in March, should send a shiver down Europe's spine. Recently formed battalions such as Donbas, Dnipro and Azov, with several thousand men under their command, are officially under the control of the interior ministry but their financing is murky, their training inadequate and their ideology often alarming.
The Azov men use the neo-Nazi Wolfsangel (Wolf's Hook) symbol on their banner and members of the battalion are openly white supremacists, or anti-Semites.
The Azov battalion uses the neo-Nazi Wolfsangel (Wolf''s Hook) symbol on its banner (Tom Parfitt)
"Personally, I'm a Nazi," said "Phantom", a 23-year-old former lawyer at the ceremony wearing camouflage and holding a Kalashnikov. "I don't hate any other nationalities but I believe each nation should have its own country." He added: "We have one idea: to liberate our land from terrorists."
The Telegraph was invited to see some 300 Azov fighters pay respects to Mr Grek, their first comrade to die since the battalion was formed in May. An honour guard fired volleys into the air at the battalion's headquarters on the edge of Urzuf, a small beach resort on Ukraine's Azov Sea coast. Two more militiamen died on Sunday fighting north of Donetsk <<Aug 10>>. Petro Poroshenko, Ukraine's president, called one of them a hero.
Each new recruit receives only a couple of weeks of training before joining the battalion. The interior ministry and private donors provide weapons.
The HQ is a seaside dacha compound dotted with pines that once belonged to the ousted president of Ukraine, Vladimir Yanukovich, when he was governor of this region. Families in swimsuits with towels and inflatable rings walk past gate-guards toting automatic rifles.
Parked inside among wooden gazebos overlooking the sea are the tools of Azov's trade – two armoured personnel carriers, a converted truck with retractable steel shutters to cover its windows, and several Nissan pick-ups fitted with machine-gun mounts.
A converted truck with steel shutters used by the Azov battalion and known to the fighters as 'the Lump of Iron' (Tom Parfitt)
Mr Biletsky, a muscular man in a black T-shirt and camouflage trousers, said the battalion was a light infantry unit, ideal for the urban warfare needed to take cities like Donetsk.
The 35-year old commander began creating the battalion after he was released from pre-trial detention in February in the wake of pro-western protests in Kiev. He had denied a charge of attempted murder, claiming it was politically motivated.
A former history student and amateur boxer, Mr Biletsky is also head of an extremist Ukrainian group called the Social National Assembly. "The historic mission of our nation in this critical moment is to lead the White Races of the world in a final crusade for their survival," he wrote in a recent commentary. "A crusade against the Semite-led Untermenschen."
The battalion itself is founded on right wing views, the commander said in Urzuf, and no Nazi convictions could exclude a recruit. "The most important thing is being a good fighter and a good brother so that we can trust each other," he said.
Interestingly, many of the men in the battalion are Russians from eastern Ukraine who wear masks because they fear their relatives in rebel-controlled areas could be persecuted if their identities are revealed.
Phantom said he was such a Russian but that he was opposed to Moscow supporting "terrorists" in his homeland: "I volunteered and all I demanded was a gun and the possibility to defend my country."
Asked about his Nazi sympathies, he said: "After the First World World War, Germany was a total mess and Hitler rebuilt it: he built houses and roads, put in telephone lines, and created jobs. I respect that." Homosexuality is a mental illness and the scale of the Holocaust "is a big question", he added.
Fighters of the Azov battalion say farewell to their first comrade to die in the war against Russia-backed rebels (Tom Parfitt)
Stepan, 23, another fighter, said that if leaders of the pro-Russian separatists were captured they should be executed after a military tribunal.
Such notions seem a far cry from the spirit of the "Maidan" protests that peaked in Kiev in February with the ousting of Mr Yanukovich, who had refused to sign a trade agreement with the European Union. Young liberals led the way but the uprising, which ended with the president fleeing to Russia, provoked a huge patriotic awakening that sucked in hardline groups.
Azov's extremist profile and slick English–language pages on social media have even attracted foreign fighters. Mr Biletsky says he has men from Ireland, Italy, Greece and Scandinavia. At the base in Urzuf, Mikael Skillt, 37, a former sniper with the Swedish Army and National Guard, leads and trains a reconnaissance unit.
"When I saw the Maidan protests I recognised bravery and suffering," he told the Telegraph. "A warrior soul was awakened. But you can only do so much, going against the enemy with sticks and stones. I had some experience and I though maybe I could help."
Mr Skillt says he called himself a National Socialist as a young man and more recently he was active in the extreme right wing Party of the Swedes. "Now I'm fighting for the freedom of Ukraine against Putin's imperialist front," he said.
His unit is improving fast under his tutelage. "What they lack in experience, they make up in balls," he said. Once he is done with Azov –where he claimed he receives a nominal GBP100 a month – Mr Skillt plans to go to Syria to fight for President Bashar al-Assad as a hired gun earning "very good money".
Such characters under Kiev's control play straight into the hands of Russian and separatist propaganda that portrays Ukraine's government as a "fascist junta" manipulated by the West.
"These battalions are made up of mercenaries, not volunteers," said Sergei Kavtaradze, a representative of the rebel authorities in Donetsk. "They are real fascists who kill and rape civilians." Mr Kavtaradze could not cite evidence of his claim and the battalion says it has not harmed a single civilian.
Ukraine's government is unrepentant about using the neo-Nazis. "The most important thing is their spirit and their desire to make Ukraine free and independent," said Anton Gerashchenko, an adviser to Arsen Avakov, the interior minister. "A person who takes a weapon in his hands and goes to defend his motherland is a hero. And his political views are his own affair."
Mark Galeotti, an expert on Russian and Ukrainian security affairs at New York University, fears battalions like Azov are becoming "magnets to attract violent fringe elements from across Ukraine and beyond". "The danger is that this is part of the building up of a toxic legacy for when the war ends," he said.
Extremist paramilitary groups who have built up "their own little Freikorps" and who are fundamentally opposed to finding consensus may demand a part in public life as victors in the conflict, Mr Galeotti added. "And what do you do when the war is over and you get veterans from Azov swaggering down your high street, and in your own lives?"
Full story here:
http://www.telegraph.co.uk/news/worldnews/europe/ukraine/11025137/Ukraine-crisis-the-neo-Nazi-brigade-fighting-pro-Russian-separatists.html
---
FRANCE |
France may ban violent Jewish fringe group
Friday, 8 August 2014, 23:29 | Source: thelocal.fr |
An violent Jewish 'self-defense' group may be banned in France. Photo: Screengrab/LDJ
The French government is considering banning a violent, extremist Jewish 'self-defense' group that has been involved in recent fighting with pro-Palestinian demonstrators. Similar groups have already been banned in Israel and targeted by the FBI in the United States.
News of the possible ban on the Jewish Defence League (LDJ) came just ahead of a Thursday evening pro-Israel demonstration to be held outside the Jewish state's embassy, located near the French prime minister's office.
The rally called by the Representative Council of Jewish Institutions in France (CRIF) is in response to weeks of protests marred by clashes, arrests and allegations of anti-Semitism in which synagogues were targeted and Israeli flags burnt.
The CRIF's head Roger Cukierman distanced his group from the LDJ as news of the possible ban emerged, saying: "We share neither their ideology nor their methods."
"It's a tiny organisation comprising a few dozen members from what I know," he said, but expressed surprise that the government was not planning to ban "pro-Palestinian groups which have tried to vandalise eight synagogues in the Paris region."
The presence of charged-up JDL activists on the sidelines of recent rallies was seen as one of the reasons they turned violent, with clashes outside a synagogue on July 13 leading to a ban on subsequent pro-Palestinian protests.
"We are carrying out an extremely fine analysis of the law," a source close to the case told AFP, confirming a report by French newspaper Liberation of the move to disband the LDJ.
Last week Interior Minister Bernard Cazeneuve said the group's actions were "excessive" and "should be condemned".
The French LDJ denies breaking French laws. It takes inspiration however from the far-right Jewish Defense League, labelled a "violent extremist organization" by the FBI in 2001.
It also uses the emblem of a banned Israeli far-right party, the Kach, a raised fist inside a black Star of David, set against a yellow backing.
The Gaza conflict has stirred up huge passions in France -- home to the largest Muslim and Jewish communities in western Europe with around five million Muslims and half a million Jews.
While many protests around the country have gone smoothly, some demonstrations in Paris and the northern suburb town of Sarcelles have descended into chaos and looting in which Jewish businesses were targeted.
French far-left and Muslim leaders have been calling for action against the LDJ, with the French Muslim council branding it "an extremist, racist and violent association."
The government meanwhile has come under attack for banning some demonstrations on the ground that it went against the principle of freedom of speech and assembly.
Far-right leader Marine Le Pen meanwhile blasted the ruling Socialists for failing to stem "riots in the heart of Paris" after having banned demonstrations.
"We must protect the right to demonstrate but from the moment that the state takes a decision to ban a rally they must provide the powers so that the ban is respected," said the head of National Front party.
"We ask policemen to confine troublemakers within a specific perimetre but... neither to arrest them nor to burn or break everything," she said Thursday.
Scores of people have been arrested following the riots and unrest that marked most of the Gaza demonstrations in and around Paris.
---
ITALY |
Italy expelling Moroccan imam who called for killing of Jews
Thursday, 7 August 2014, 17:46 | Source: JTA |
Italy is expelling a Moroccan imam who called for Jews to be killed.
Raoudi Aldelbar, the imam of a mosque in the town of San Dona di Piave, near Venice, was filmed during a sermon there last month saying, among other things, "Oh Allah, bring upon [Jews] that which will make us happy. Count them one by one, and kill them one by one."
The video clip of the sermon was posted on the website of the Middle East Media Research Institute and later shared on social media.
Interior Minister Angelino Alfano said he had ordered the "immediate expulsion" of Aldelbar "for seriously disturbing public order, being a danger to national security and for religious discrimination."
The decision was made after counterterrorism, police and other security experts had examined the video and investigated.
Alfano said it was "unacceptable to pronounce a speech of clear anti-Semitic tone, containing explicit incitements to violence and religious hatred." He said his decision to expel the imam would serve "as a warning to anyone who thinks that in Italy one can preach hate."
---
AUSTRALIA |
Three alleged anti-Semites identified
Thursday, 7 August 2014, 17:34 | Source: Sydney Morning Herald |
Three of the six allegedly drunk boys who threatened primary school kids with anti-Semitic rants and violence have been identified as Sydney's Jewish community comes to grips with the disturbing incident.
"Heil Hitler, kill the Jews ... we're going to cut your throats", the abusers told children as young as five on a bus in Sydney's east on Wednesday afternoon.
Police arrested five of the alleged racists in Rose Bay in the early hours of Thursday morning.
But due to their intoxication, the boys, aged between 15 and 17, were released into the custody of their parents.
"Of that group we have identified three that were on the bus earlier in the day," a detective told AAP.
"The other boys are yet to be identified, we're working off the footage on the bus."
Despite the harrowing attack which left children terrified and parents shocked, the boys may not be charged.
"It depends on their history, on whether they have exhausted their right to be cautioned, whether they admit the offence.
"The young offenders act will be applied to them in terms of how they're processed judicially," the detective said.
"If you are underage and we have evidence that you've committed an offence and you admit the offence and it does not involve violence (police), can refer you for a caution rather than charge you."
Police are using CCTV footage from the bus to hunt the remaining alleged racists.
They've also asked anyone who recorded part of the pernicious tirade to make contact.
Many details of the case can't be reported as the accused abusers are all under 18.
The detective wouldn't say if they were school students, but did tell AAP "some are part of the education system."
The victims were students from Mount Sinai College, Moriah College and Emanuel School.
Several Jewish schools planned to bring guardians on to school buses on Thursday.
The president of the NSW Jewish Board of Deputies, Yair Miller, says support will be offered for the children.
Late on Thursday afternoon, a father of four young students that attend Mount Sinai College spoke to police for about 20 minutes at Waverley police station.
Local federal member Malcolm Turnbull said the "anti-semitic language will strike a chill into the heart of every parent, indeed every Australian."
"We all have a vital vested interest in a harmonious multicultural nation where we respect our fellow citizens in their diversity," the Communications Minister said in a statement.
The Department of Education says it isn't commenting on the incident as all involved are minors.
---
HUNGARY |
One-third accept use of force against minorities
Wednesday, 6 August 2014, 09:17 | Source: politics.hu |
Almost one-third of Hungarians, 29%, consider it acceptable to use force against Roma, according to a Szonda-Ipsos poll.
Use of force against Jews is deemed acceptable by 16%, and by 14% against homosexuals.
Of the supporters of Hungarian parties, mostly Jobbik's voters are inclined to approve of force against minorities.
Fidesz voters accept violence to a lesser extent than Jobbik supporters or left-of-centre parties in defence of the family, the nation or personal freedom.
However, Fidesz voters are more likely to accept use of force against minority groups such as drug addicts, Jews, and gays than are left-wing voters.
---
HUNGARY |
Far-right Hungarian mayor, Mihaly Zoltan Orosz, filmed hanging effigy of Benjamin Netanyahu in protest against Gaza war
Tuesday, 5 August 2014, 00:17 | Source: Independent |
co
The member of notorious anti-semitic group Jobbik called Israel a "Jewish terror state"
The extremist right-wing mayor of a town in eastern Hungary held a mock-execution in which effigies of the Prime Minister and former President of Israel were hanged, in what he claims was a protest against the war in Gaza.
Erpatak mayor Mihaly Zoltan Orosz told reporters on Monday that the "Jewish terror state" is trying to obliterate the Palestinians and said he opposed "the efforts of Freemason Jews to rule the world."
Hungary's foreign ministry condemned the mayor's actions, saying he was using innocent victims of the war "to spread hate-inducing propaganda."
An online video of Saturday's event shows an executioner with a black hood over his face kicking chairs out from under the puppets of Israeli Prime Minister Benjamin Netanyahu and former President Shimon Peres, each tied to a gallows.
Flanked by flag-bearing youths, he holds an Israeli-like flag, where the Star of David has been replaced with the Freemason symbol.
Orosz has been mayor of the town 240km from the capital of Budapest since 2005, and is affiliated with the ultra-nationalist group Jobbik. The group are part of a trend of so-called "Putinism" in Hungary, characterised by support for nationalism, religion, social conservatism, state capitalism, and government domination of the media.
Earlier in the year, anti-racism groups in the UK attempted to ban Jobbik's leader , Gabor Vona, from making a speech in Londonwhich co-incided with Holocaust Memorial Day.
At the time, the then-leader of the British National Party, Nick Griffin, had spoken of a "common core" of shared values with Jobbik and the Greek neo-Nazi party Golden Dawn.
---
DENMARK |
Danish imam calls for death to Jews
Saturday, 2 August 2014, 00:26 | Source:thelocal.dk |
Speaking in Berlin, the imam of an Aarhus mosque prays for God to "destroy the Zionist Jews".

Abu Bilal Ismail, an imam at Aarhus's Grimhøjmoskeen mosque, used an appearance at a Berlin mosque on Friday to pray for the death of Jews. Speaking at the Al Nusra mosque in Berlin, Ismail is seen in a YouTube clip calling for the death of Jews. "Oh Allah, destroy the Zionist Jews. They are no challenge for you. Count them and kill them to the very last one. Don't spare a single one of them." "Oh Lord, bring torment upon them," he adds.
Despite the videotaped comments, Ismail denied to BT that he was calling for the death of all Jews. "I don't mean that all Jews should die," he said. "Only those Jews who have killed people in Gaza. I prayed for God to destroy those Jews who kill us. It's not all Jews, because I know Jews who are good toward us." Grimhøjmoskeen in Aarhus is suspected by East Jutland Police of encouraging 22 young men to take part in Syria's civil war.
"We can definitely say that when you go to that mosque, there is an increased risk of heading off for Syria," police spokesman Allan Aarslev told TV2 Østylland earlier this year.
An analysis released by Denmark's Center for Terror Analysis last month estimated that at least 100 individuals have left Denmark to fight in Syria and that at least 15 of them have died.
---
SPAIN |
"We're hunting Arabs and scumbags"
Saturday, 2 August 2014, 00:23 | Source:elpais.com |
A neo-Nazi on trial this week was in charge of a youth center funded by the Valencia government.
On June 30, 2005 Pedro "Lofer" Costa entrusted four boxes of 22-caliber ammunition to a comrade in his neo-Nazi gang Frente Antisistema (FAS, Anti-system Front), according to the Civil Guard. Nine years later, Lofer finally sat down on the bench of the Valencia regional High Court along with 17 other members of the far-right organization.
He is thought to be the group's accountant and part of its leadership. Until a week-and-a-half ago, the 34-year-old neo-Nazi ran a private center in Valencia that looked after six youngsters, aged between nine and 17, who were at risk of social exclusion.
The minors were under the tutelage of the Valencia regional government's social services department. The non-profit institution has seven employees and last year received part of a €19-million subsidy that the regional government distributed among 20 organizations.
Lofer arrived at the association in 2008, when he had already been under official investigation in the so-called Panzer case, which looked into the inner workings of the FAS.
The management of the center discovered the far-right past of its director in February 2013 after seeing his photo in a weekly newspaper. However, it did not dismiss him because of a "lack of funds," according to a source. At the time the organization was paralyzed by the fact it had not received its payment from the regional government in four months (it is now owed three months' money).
What's more, Lofer won the favor of his bosses after setting himself up as the organization's spokesman in demanding the money from the regional administration. "Professionally he has behaved in an excellent manner," admits a colleague, who also defines Lofer as "clever and manipulating." Lofer arrived at the association in 2008, after being under official investigation in the so-called Panzer case
The Valencia regional government is distancing itself from Costa's hiring. "We watch out to ensure the service is supplied," says a social services department spokeswoman. "We do not manage labor relations at the centers."
The state attorney is asking for three years for Lofer for criminal association and illegal possession of firearms. Civil Guards seized a pen gun, a rifle, a knife with a swastika on the handle, and a Power 200 electroshock weapon from his home in Valencia. They also found videos and propaganda about the Nazi genocide.
FAS spread its fervor for the Third Reich online and financed itself by selling weapons. Two members of the military, a Paralympic athlete who competed in Beijing in 2008, a councilor for far-right party España 2000, and a mountaineer also formed part of the "army." Their motto: betrayal is paid for with death.
After analyzing dozens of documents, investigators defined their ideology as "close to terrorism." The case is expected to be ready for sentencing this week. The state attorney and the private prosecution brought by a group of eight organizations led by the Movement against Intolerance have centered their case on the house searches and in dozens of hours of recorded telephone calls.
Civil Cuard investigators defined the group's ideology as "close to terrorism"

In one FAS member Pedro Cuevas, "El Ventosa," boasts about going out hunting for human targets in August 2005. "I'm carrying a knife. I'm going to hurt them. You have to give it to them good. Leave them reeling…," he says. His prey were "Arabs" and "scumbags," which is to say to immigrants, antifascists, Roma and Latin Kings gang members. Cuevas has been frequenting far-right groups since he was a teenager.
He spent four years in jail for killing a young anti-fascist campaigner, Guillem Agulló, in the town of Montanejos (Castellón) in 1993. Within FAS he was in charge of distributing weapons. In the unpublished conversations, to which EL PAÍS has had access, the 43-year-old neo-Nazi is heard offering to supply a gun. He also suggests selling knuckledusters "to kids" and appears to be linked to an assault in Villena, Alicante province, in which a "disgusting punk" received a beating.
The origins of one of the most active neo-Nazi groups lie in a center on Valencia's Tres Cruces avenue. Between 2003 and the 2005, the Centro Thule financed itself with €40 payments from its members and hosted conferences on firearms and anti-communist rock concerts. FAS venerated the group Batallón de Castigo, whose lead singer Eduardo Clavero is the confessed killer of young Alejandro Arruñada Sánchez at Madrid's Tribunal Metro station in 1990.
The group was led by Juan Manuel Soria, a 44-year-old tanner. A former candidate for the neo-fascist Alianza Nacional (National Alliance, AN) in Valencia, Soría is now sought by Interpol. His Facebook account is updated on a daily basis from Tangier, where he presents himself as an advisor on foreign trade.
FAS is considered the third-most-active neo-Nazi group after Hammerskin and Blood and Honour. "It was the most important independent organization in Spain," explains the head of the Movement against Intolerance, Esteban Ibarra. This week the group's lawyer had a Civil Guard escort around Valencia's Ciudad de la Justicia courts, where one of the supporters of the accused called him a "a son of a bitch" and a "Jew."
---
POLAND |
Neo-Nazi gang busted in Bialystok
Saturday, 2 August 2014, 00:21 | Source: The News |
A criminal Neo-Nazi gang numbering 14 members has been taken into custody by police in the north-eastern city of Bialystok.
The arrests come as officers from the Central Investigation Bureau and functionaries from Bialystok police stormed 31 apartments and homes across the north-eastern Podlaskie region on Thursday morning.
According to unofficial information obtained by the Polish Press Agency, the group may be responsible for a number of arson attacks on apartments owned by foreigners in the city last year. Police found firearms, ammunition, amphetamines, marijuana and a few thousand anabolic steroid pills during the raids.
Police "also found items containing Nazi contents and symbols," police spokesman Mariusz Sokolowski informed, adding that two marijuana plantations had also been seized.
"The majority of the group's members were people linked to the Nazi-skinhead subculture," spokesman of the Appellate Prosecution in Warsaw, Zbigniew Jaskolski said, adding that "items were found which promote fascist and Nazi ideology, unequivocally demonstrating the views of the accosted parties." Members of the group may be liable to 10 years in prison if found guilty.
---
ITALY |
Spate of anti-Jewish, anti-Israel graffiti blankets Rome
Saturday, 2 August 2014, 00:14 | Source: JTA |
Italian police are investigating a widespread spate of anti-Jewish and anti-Israel graffiti in Rome that local media speculate could be the joint work of leftist and right-wing extremists.
Dozens of swastikas, slogans and posters were found spray-painted or plastered on walls and shop windows Monday in various parts of the city – as many as 70 or more in all.
They included slogans such as "Dirty Jews," "Jews your end is near," "Out with Zionists," and "Israel executioner." Some posters bore a swastika and the phrase "Anne Frank storyteller." Other posters, apparently put up by a neo-fascist group, showed a Celtic cross and a Palestinian throwing a rock at an Israeli tank.
Jewish leaders, and local and state officials, strongly condemned the vandalism. Rome Mayor Ignazio Marino called the affair shameful and "an insult to all Romans." He expressed solidarity with the Jewish community, saying "Rome wants and must be the capital of dialogue and peace, and not the terrain of barbarism."
Interior Minister Angelino Alfano promised "maximum" efforts by law enforcement to identify the culprits and curb further outbreaks.
---
POLAND |
Remembering the Sinti and Roma of Auschwitz
Saturday, 2 August 2014, 00:12 | Source:Tablet |
On August 2, 1944, Nazis liquidated the concentration camp's Gypsy section.
At twilight on the evening of Aug. 2, 1944, big, wood-sided trucks arrived at the Gypsy family camp of Auschwitz-Birkenau. The prisoners were given sausage and a piece of bread and told that they were being taken to another camp. At first, the trucks drove off in a different direction from the gas chambers and crematoria, but as they doubled back toward the killing factories, the Gypsies began to struggle and fight the guards. "Betrayal!" they screamed. "Murder!"
A Hungarian Jew who heard the clamor from a nearby barrack later said that the memory made her blood run cold. "We heard yelling, German orders, the ever, ever-present German Shepherd dogs barking," she recalled. "And then, screaming. I never, ever forget that screaming. Terrible screams. They must have known." On that August night, Nazis liquidated the Gypsy camp, killing nearly 3,000 Roma and Sinti—the two major groups of European Gypsies—in the gas chambers of Birkenau.
They were women and men, elderly people and children, many of whom had been victims of Nazi medical experiments and forced sterilization. Their deaths were among the 20,000 Roma and Sinti who perished at Auschwitz—but a fraction of the hundreds of thousands murdered by the Nazis in mass killings and concentration camps.
The Nazi genocide of Roma and Sinti, which in the Romani language is known as Porajmos, or the Great Devouring, has also, until recently, been called "the forgotten Holocaust." When I set out 20 years ago to record the memories of an extended family of Sinti survivors in Germany, I found that characterization to be sadly true.
In 1985, Gabrielle Tyrnauer, a pioneer in recording oral testimonies of Gypsy survivors, issued a call for more of such "urgent research," as the survivors were dying off. Yet the body of recorded and archived testimonies from Roma and Sinti remains sparse, and still today the experience of Gypsies under the Nazi regime is often neglected or underacknowledged. As German Chancellor Angela Merkel said in 2012 at the opening of Berlin's memorial for Roma and Sinti victims of the Holocaust, "far too little attention has been paid for far too long."
Why is this so? Ignorance, misunderstanding, prejudice, and even denial have all contributed to the problem. Romantic stereotypes portray Gypsies as colorful free-spirited wanderers; discriminatory stereotypes label them as criminals and thieves.
Especially in the United States, where ethnic Gypsies often hide their identity to prevent discrimination, many people are still unaware that Gypsies are a true ethnic group with a distinct language and culture and a long history of persecution in Europe. The Sinti Gypsies I met in Germany dispelled such stereotypes. Their families had been settled in Germany and Austria for hundreds of years. They lived in houses, worked as antique dealers or musicians, and sent their children to school.
There was no legitimate reason to label them or their children as criminals. Yet some historians still maintain that Nazis did not target Gypsies for racial reasons, as they did the Jews, but rather because they were "asocials" or criminals. In fact, German courts used this argument for decades to deny reparations to Gypsy victims of the Nazis.
But Nazis applied this "asocial" classification to all Sinti and Roma after 1942, even to infants and children, who certainly had committed no crime. The childhood memories of the Sinti I met in Germany, whose families had been labeled "asocial," recalled the horrors of Auschwitz and Mauthausen, Ravensbrück, Sachsenhausen, and Bergen-Belsen.
Although debates still rage among Holocaust historians, and words such as "genocide" and "Holocaust" when applied to Gypsy victims can set off an academic conflagration, a clear statement by German Chancellor Helmut Schmidt in 1982 signaled a welcome and long awaited change in attitude. "The Nazi dictatorship inflicted a grave injustice on the Sinti and Roma," Schmidt said. "They were persecuted for reasons of race. These crimes constituted an act of genocide."
Inevitably, a discussion of Roma and Sinti Holocaust victims provokes comparison to Jewish victims and brings up the question of numbers. Nazi policy toward Gypsies was inconsistent before 1942, and there were anomalies, such as the Zigeunerlager or Gypsy camp in Auschwitz, where Gypsies were allowed to stay in family units for some time—until the camp was liquidated. The number of Gypsies who perished is not known, but most estimates range from 220,000 to 500,000.
It's important to know that before World War II, the Roma and Sinti in Europe represented a far smaller segment of the population than the Jews. In Germany, for example, with a prewar population of 67 million, there were 500,000 Jews and only 30,000 Gypsies. Yet only 5,000 Gypsies survived—a proportion similar to that of the Jewish population. And surely we should reject the notion that only the group with the highest number of victims deserves acknowledgement for their suffering.
What matters most, in any case, is not the anomalies or the differences in the numbers, but the fact that both Jews and Gypsies were deemed "parasitic alien races" and targeted for racial extermination. "The fates of the two communities were inextricably linked," said Holocaust historian Raul Hilberg, comparing the Nazi treatment of the Jews and the Gypsies at a symposium on Roma and Sinti victims. "It's not a matter of whether one wants to talk about both—one has to. During the years 1933 to 1945, the parallels between what happened to the two communities, in my view, predominate over the differences."
Even if some can't agree on the "parallels," or whether to call it Porajmos, Holocaust, or Roma Genocide, it is certainly time for full recognition of the Roma and Sinti victims of the Nazis. Just as Jews have Yom HaShoah, the Roma and Sinti have the Aug. 2 commemoration to fully recognize Gypsy victims of the Holocaust. Roma and Sinti organizations such as the International Roma Youth Network, ternYpe, have called for the Memorial Day of the Roma Genocide to be observed annually on Aug. 2, and will gather at Auschwitz and other sites for education and remembrance.
The Polish government in 2011 officially recognized the date as a day to honor the Roma and Sinti victims of the Holocaust. Seventy years after the Gypsy camp at Auschwitz was liquidated, it's time.
---