World News
AUSTRALIA/GREECE |
Australian branch of far-right Greek party raises cash
Tuesday, 30 September 2014, 17:58 | Source: Guardian |
The Australian branch of Greece's ultra-nationalist Golden Dawn party is raising funds locally using an unregistered charity. A Melbourne-based charity named Voithame Tin Ellada (VTE) – which translates to "We are helping Greece" – has been raising cash and clothing from Australia's Greek community since late last year.
The donations are ostensibly sent to Greece to help citizens afflicted by the country's financial downturn. A shipping container of clothing collected from Australians was sent to Greece in March.
Photographs on the charity's Facebook page show its members clad in matching T-shirts bearing the far-right party's name and swastika-like logo. A Christmas fundraising drive – asking donors to deposit their money into a Greek bank account – was announced on the page last week by Golden Dawn's Australian representative, Ignatius Gavrilidis.
Gavrilidis confirmed to Guardian Australia that VTE was affiliated with the controversial Greek political party, whose leader, Nikolaos Michaloliakos, is in detention awaiting trial on charges of running a criminal organisation. But Gavrilidis said the money raised by VTE's fundraising efforts only went towards buying food for the needy. "We buy the food direct from the producers and Golden Dawn takes delivery of the goods … We use their labour, they hand out the food where it's appropriate," he said. "They [the recipients] need to hold citizenship. As long as they hold citizenship, it gets distributed to them." The organisation is not registered with either federal or state charity regulators.
Golden Dawn's anti-immigrant, antisemitic and homophobic rhetoric has found favour with some in a Greek population reeling from the country's financial crisis, and the party has become the third-largest political force in Athens. Its members have been accused by human rights groups of leading street attacks on dark-skinned immigrants, gays and Muslims.
All 18 Golden Dawn members of the Greek parliament were arrested in police raids last year after an anti-fascist rapper, Pavlos Fyssas, was murdered, allegedly by thugs affiliated with the party. Since the crackdown, the party has increasingly turned to its overseas branches to help deliver aid and build support among the Greek population, Gavrilidis said. "The [Greek] government has virtually financially dried the party; they've stopped any funding, any entitlements they get as a party," he said. "So to continue to help those in need they are reaching out to those beyond their borders."
Gavrilidis said VTE was set up in November 2013 by members of the Greek community not associated with Golden Dawn. "But these individuals failed to attract support, and I offered my assistance, and they were more than happy to get it off the ground," he said. Within two months the organisation had been absorbed into Golden Dawn's Australian branch, he said. "We decided to aid VTE and back them up, and we became VTE ourselves."
Sotiris Hatzimanolis, the editor of the Greek community newspaper Neos Kosmos, said it was "not really common knowledge" within Australia's Greek diaspora that VTE was a front for Golden Dawn. Victorian Liberal MP Nicholas Kotsiras, who is of Greek heritage, said he was "disappointed" that Golden Dawn was fundraising in Australia. "Our aim should be to take away the oxygen of the group so they disappear as quickly as they appeared," he said.
Kotsiras said he would raise VTE with the Consumer Affairs Department: "I'd like the authorities to take a good look at it." Golden Dawn announced last month that two of its European MPs, the former army generals Eleftherios Synadinos and Georgios Epitideios, would visit Australia later this year to raise funds and awareness of the group. The proposed visit, scheduled for November, has been condemned by ethnic community leaders, trade unions and senior members of the Greek community.
---
GERMANY |
Police suspect neo-Nazis of Reichstag attack
Tuesday, 30 September 2014, 10:26 | Source: thelocal.de |
An investigator gives a sniffer dog the scent of an object found at the scene. Photo: DPA
Investigators believe a Molotov cocktail thrown at the Reichstag building in Berlin early on Monday morning was the work of a far-right group, a police spokeswoman said on Tuesday.
A flyer from a neo-Nazi group was found at the Paul-Löbe-Allee entrance to the parliament building where a Molotov cocktail was thrown at around 2am.

Investigators are examining similarities with an attack on the Christian Democratic Union headquarters near Berlin's Tiergarten on August 25th, the Berliner Morgenpost reported .
As in the Reichstag attack, a bottle filled with flammable liquid was thrown at the entrance but burned itself out without the fire spreading or injuring anyone.
---
HUNGARY |
Jobbik mayoral candidate suggests creating Budapest Guard to combat "beggars' mafia"
Monday, 29 September 2014, 22:22 | Source: Politics.hu |
Radical nationalist Jobbik wants Budapest to be a strong and livable city providing a broad range of services for its residents, the opposition party's mayoral candidate said on Friday.
Gabor Staudt presented the party's programme for Budapest for the local elections to be held on October 12.
Public safety and transport services are the main focus areas in Jobbik's programme, he said.
Jobbik wants to promote public transportation by reducing the VAT of tickets and passes to 5 percent, introducing student fares and establishing more P+R lots. It would also introduce a uniform parking system with parking passes.
Jobbik would introduce a classification system to indicate safe bars and provide a call service for the elderly.
Jobbik wants to assign more tasks to the police, Staudt said.
The party would establish a Budapest Guard tasked with combatting trade at illegal markets, metal theft crimes and the beggars' mafia to protect citizens and assets more efficiently, he said.
The unit would also perform green area and animal protection duties.
Jobbik's programme contains a separate "Budapest law" designed to regulate the distribution of powers between the city, its districts and the central government, he said.
Staudt said the party plans to use state and EU funds to cover the costs of development projects.
---
GERMANY |
German minister compares far-right party to neo-Nazis
Monday, 29 September 2014, 22:14 | Source: wn.com |
Germany's finance minister, Wolfgang Schäuble, has called the anti-euro Alternative für Deutschland (AfD) party demagogical and populist, and compared it to German neo-Nazis.
His attack on the AfD is the first time a senior member of chancellor Angela Merkel's ruling Christian Democratic Union (CDU) has engaged with the party, little more than a year after it was founded.
Until now the CDU largely ignored the AfD, hoping it would vanish as quickly as it appeared. However, a run of AfD electoral success appears to have prompted a rethink inside Dr Merkel's inner circle.
"We have to deal with these populists with all decisiveness," said Dr Schäuble to Berlin's Tagesspiegel newspaper, accusing the AfD of employing "no-holds-barred demaogoguery" to win support.
The rapid rise of the party reminded him of the Republikaner, he said, a neo-Nazi party that won seats in the 1990s in the state parliament of his native Baden-Württemberg.
Germany without euro
Dr Schäuble said AfD party leader Bernd Lucke, an economics professor in Hamburg, wanted voters to believe everything would be better in Germany without the euro.
"That an economics professor claims such nonsense is an impertinence," he said, adding that every serious economist knew that European integration would mean less prosperity in Germany.
Dr Lucke said the finance minister's "below the belt" attack revealed "his helplessness in dealing with a party that's opening people's eyes . . . and finding growing support". He added that Dr Schäuble was a "pied piper" for "not informing adequately what risks hide behind German liability for European debts", a nod to the European Stability Mechanism bailout fund his party opposes.
Social spending
Anti-euro, bailout-critical policies were the core of the AfD programme when it was established last year. After narrowly missing the 5 per cent hurdle to enter the Bundestag last September, it polled 7 per cent in May's European elections. In recent weeks it won double-digit support in three regional polls in eastern Germany after broadening its anti-euro platform to demand greater social spending and tough law-and-order policies.
However, the party faces growing criticism that its rapid rise is thanks to extremist positions to attract support from Germany's political fringes. In recent regional elections the AfD demanded referendums on mosque minarets and praised East Germany as a safer place than Brandenburg's border region with Poland today. A candidate in the central state of Thuringia, with a non- German quota of 1.8 per cent, warned that excessive immigration endangered "German identity".
Voter concern

The AfD denies it is chasing extremist votes, insisting its critical stance on immigration addresses a voter concern that mainstream parties ignore.
But far-right rows forced the AfD in Brandenburg to fire two new parliamentarians before they even took their seats. The first was ousted for spreading far-right rumours about colleagues to the media. Days later his replacement, Jan- Ulrich Weiss, was kicked out for posting a picture of banker Jacob Rothschild on Facebook with the commentary: "We own pretty much every bank worldwide. We steer news, media, oil and your government . . . you have probably never heard of me."
Brandenburg AfD leader Alexander Gauland said the remarks from Mr Weiss were more suitable for the Nazi propaganda newspaper Der Stürmer than his party.
---
FRANCE |
Front National wins seats in French senate for first time
Sunday, 28 September 2014, 21:57 | Source: Guardian |
The far-right Front National (FN) scored a historic victory in elections to the French senate on Sunday, winning its first ever seats in the upper chamber as the ruling Socialists and their leftwing allies lost their majority to rightwing parties.
The shock victory of Stéphane Ravier from Marseilles and David Rachline from Fréjus confirmed the party's political breakthrough under Marine Le Pen, who has brushed the poisonous legacy of her father Jean-Marie Le Pen under the carpet in an attempt to "de-demonise" the FN.
The two seats are both in the FN's stronghold in southern France, and at 26 Rachline, the mayor of Fréjus, is the youngest French senator ever elected.
The result marks a third humiliating electoral defeat for the Socialist party, which has been punished by disillusioned voters while support for the FN has surged. Le Pen's party won control of a dozen municipalities in elections last March, including the 7th district in Marseilles where Ravier was elected mayor.
It also came top in the European elections two months later, when it knocked the centre-right UMP into second place. One poll earlier this month said that Le Pen could theoretically beat the country's president, François Hollande, in the second round of the next presidential election, scheduled for 2017.
Referring to the presidency after his election to the senate, Ravier said: "There's just one more door to open, the Elysée. In 2017 we'll have Marine Le Pen to do it."
Sunday's complex vote was for half of the 348 seats in the senate by an electoral college of 87,000 voters made up of city councillors and local officials. A first round of voting which concluded around midday provided a foretaste of the final shock result, with the Socialists losing seven seats, including in Hollande's own constituency of La Correze. "It's Berezina," one leading Socialist said, referring to Napoleon's defeat while retreating from Russia.
With Hollande's popularity at an unprecedented low of 13% and the government hit by budget woes, record joblessness and zero growth, his party had expected to lose the senate majority it has held with the Communists and Greens since 2011.
Le Pen hailed her party's success as a "great victory, an absolutely historic victory" which she said would represent a "breath of fresh air in a rather sleepy chamber".
"With every day that passes, our ideas are making progress," she told BFMTV, predicting further gains for the FN in the forthcoming territorial and regional elections.
The result is also a much-needed shot in the arm for the UMP of the former president Nicolas Sarkozy, who is bidding to return to head the party. Sarkozy returned to the political arena last week, and is clearly positioning himself for another run at the presidency after Hollande defeated him in 2012.
With the final senate results still awaited, the Socialist leader, Jean-Christophe Cambadélis, played down the scale of his party's defeat, saying it had feared greater gains by the opposition right-wing parties.
The Socialist leader of the senate, Didier Guillaume, predicted that the right would not have a stable majority, saying that the UMP would need to rely on centrist allies. The government spokesman Stéphane Le Foll stressed that whatever the outcome, the prime minister, Manuel Valls, would not be deflected from his reform plans.
---
HUNGARY |
Racist gathering banned
Sunday, 28 September 2014, 18:01 | Source: Hnh/Budapest |
Hungarian Prime Minister Viktor Orban has ordered the Minister of the Interior to prevent a racist conference to be held in Budapest.
Viktor Orban told Sandor Pinter, Minister of the Interior to prevent the Budapest conference of the US-based extremist, racist National Policy Institute to be held between 3rd and 5th October 2014 with all legal means at his disposal - said Bertalan Havasi, the Head of Prime Minister's Press Office to the Hungarian News Agency (MTI) on Sunday .
Last Monday the Ministry of Foreign Affairs and Foreign Trade told MTI that the government found it unacceptable that an American extremist racist organization together with Russian radicals were to hold a conference in Budapest, Hungary.
The proposed meeting was previously opposed by opposition parties
Egyutt-PM and the Democratic Coalition. Last Wednesday the Socialist party MSZP and the Left Bloc's platform demanded a ban on the event .
The Larus Events-Organising Center in Budapest- which was originally planned to host the event next Saturday - said that "the contract has been cancelled with the conference organizers".
The event to be organized for October 4 does not conform to the spirit of democratic and civil principles - Larus explained.
---
ITALY |
iPhone 6: Apple Customers Attacked by neo-Fascists at launch of new iPhone in Italy
Friday, 26 September 2014, 23:23 | Source: IBT |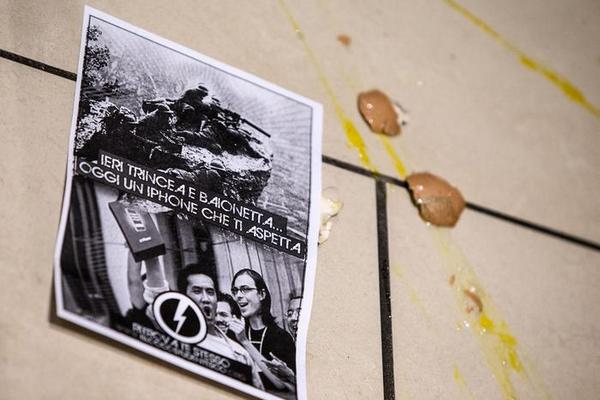 A splinter student group of Italy's notorious neo-fascist CasaPound movement has attacked buyers of the new iPhone 6 and iPhone 6 Plus, throwing eggs, flour and water at people queuing outside Rome's Apple Store.
Members of Blocco Studentesco also distributed flyers with a split picture showing the contrast between World War I's brutality and young customers holding the new iPhone.
"Yesterday: trenches and bayonet... today: an iPhone waiting for you," reads the anti-consumerist slogan on the posters. The organisation defended itself by saying that it was "an irreverent action to mock the consumerist craze to wait for hours and hours for a tech product that has become a status symbol".
"The water balloons hurled at people queuing serve as a wake-up call to youths addicted and attracted to cultural trends that are dictated by multinationals. The launch of a new product becomes an event for them," said Fabio Di Martino, spokesman for the far-right organisation.
"In the 100th anniversary of World War I, we don't want the sacrifice of those who died for Italy to be forgotten. It is an example for the new generations," he continued.
Far-right groups and fascist sympathisers have always found a breeding ground in Rome, which still displays buildings and symbols of Benito Mussolini's regime.
In the past months, the extreme-right group Vita Est Militia displayed posters urging Rome residents to boycott Jewish-owned businesses, causing shockwaves among Europe's oldest Jewish community. Rome's left-wing mayor, Ignazio Marino, condemned the incident saying that the language used in the posters "echoes the anti-Jewish blacklists of the Nazi period".
The episode came after swastika graffiti and postersreading "Anne Frank storyteller" appeared on Rome's Appia Nuova street.
Earlier in August, Italian academics posted an online petition calling for a "Nurembeg" for the entire state of Israel for the "slow genocide of the entire Palestinian people".
The iPhone 6 and iPhone 6 Plus sold over 10 million units in just three days.
---
JAPAN |
Japan's cabinet rocked by new claims of links to neo-Nazis who target the ethnic Korean population
Friday, 26 September 2014, 23:14 | Source: Independent |
Members of the far-right group, Zaitokukai, visit Korean communities in Japanese cities, screaming slogans such as 'cockroaches' and 'kill, kill Koreans'
Japan's government is weathering accusations of links to far-right groups that promote racism and hate speech. Several members of Prime Minister Shinzo Abe's cabinet, including the Police Minister, have been forced to deny their neo-Nazi links after photographs surfaced of them posing with far-right figures.
In the latest episode, Eriko Yamatani, head of the National Public Safety Commission, rejected claims that she had a 15-year association with the former leader of an ultra-right group that spouts crude racism against Koreans.
The group, Zaitokukai, wants Japan to expel its ethnic Korean population. It has 12,000 members, many of whom descend on Korean communities in Japanese cities, screaming slogans such as "cockroaches" and "kill, kill Koreans".
Police have mostly turned a blind eye to the group but in July, the high court in Osaka ordered Zaitokukai to stop its tirades against an elementary school in Kyoto with links to North Korea. The group was ordered to pay 12 million yen (£68,000) to the school in compensation.
This month, a magazine published a 2009 photo of Ms Yamatani posing with Shigeo Masuki, former leader of Zaitokukai. Mr Masuki says he has known Ms Yamatani for 15 years. But at the Tokyo Foreign Correspondents' Club, the Police Minister said she had "no memory" of where or how many times the two had met.
When invited to distance herself from the group, Ms Yamatani said it was "not appropriate" for her to comment on specific groups and opted instead to lecture journalists on Japanese values. "Japan has a long history of placing great value on the idea of harmony and respecting the rights of everyone," she said.
About 500,000 non-naturalised Koreans live in Japan, remnants of a larger community that peaked decades ago. They have long been subjected to racial abuse. In one infamous episode, thousands were lynched in a pogrom after the Great Kanto earthquake of 1923.
Two more of Mr Abe's new appointees have also been accused of neo-Nazi links. Sanae Takaichi, the Internal Affairs Minister, and Tomomi Inada, Policy Chief of the ruling Liberal Democrats, appeared in separate, undated photos with the leader of the National Socialist Japanese Workers Party, Kazunari Yamada.
In online videos, Mr Yamada can be seen in street demonstrations wearing a modified swastika. Ms Takaichi also appeared in a magazine advert endorsing a 1994 book titled Hitler's Election Strategy. Both ministers deny endorsing Nazi ideology.
Mr Abe's government has raised eyebrows with its far-right profile. Sixteen cabinet members belong to the League for Going to Worship Together at Yasukuni, a Tokyo shrine that honours leaders executed for war crimes. Sixteen support Nihon Kaigi, a nationalist think-tank that advocates a return to "traditional values" and rejects Japan's "apology diplomacy" for its wartime misdeeds.
Many belong to a parliamentary association that wants school history lessons to put a better gloss on Japan's militarist era. They deny many wartime atrocities. Most of the cabinet is also associated with the Shinto Political Alliance Diet Members Association, a right-wing lobby group that promotes traditional values.
In August, Mr Abe sparked controversy when he paid tribute to soldiers, including war criminals, who gave their lives for "the foundation of the fatherland". The tribute was sent to a temple housing a monument to 1,000 "martyrs" who fought in the Second World War. A spokesman said the Prime Minister acted in a "private capacity" when he sent the message.
---
AUSTRIA |
Fine and jail time for Nazi comments
Friday, 26 September 2014, 17:57 | Source: thelocal.at |
A 27-year-old man has been handed a €7,200 fine and a one year prison sentence for inciting hatred and re-engagement in National Socialist activities.
Korneuburg Regional Court convicted the man after he confessed to posting countless Nazi and xenophobic comments and content online.
The prosecutor noted that he had trivialised the Holocaust and had an '88' tattoo on his back, which stands for HH, or Heil Hitler.
The prosecutor said he would not bother reading out any of the man's postings as "any normal person would find them disgraceful".
When questioned the 27-year-old admitted that he had extreme right-wing views and said that he had developed an aversion to immigrants, Jews, Muslims and Africans since being at school.
He also admitted possessing illegal weapons purchased in the Czech Republic. The 27-year-old already had a criminal record after being involved in violent brawls.
His defence argued that he had been unemployed for some time and in his frustration had become influenced by right-wing propaganda. He said that he has since had most of his tattoos removed, or altered into Hawaiian symbols, and was a "changed man".
---
FRANCE |
Far-right councillor faces suspension over slur on black minister
Friday, 26 September 2014, 17:51 | Source: france24.com |
A regional councillor belonging to France's far-right National Front (FN) faces suspension from the party for comparing the country's black Justice Minister Christiane Taubira to a monkey on Twitter.
Olivier Burlats, who sits on the council for the Haute-Savoie region of eastern France, posted a picture on his Twitter feed showing a monkey riding a bike in response to a tweet by Taubira, who is a keen cyclist.
The anti-immigration and anti-Europe FN ,which is keen to shake off its historic image as a party of racist bigots, told Europe 1 radio on Friday that Burlats had been "suspended from the party pending a disciplinary hearing".
It is not the first time Taubira, who supported gay marriage legislation which was vigorously opposed by the French far-right, has been subjected to racist abuse .
In October 2013 she was subjected to at least three overtly racist slurs in as many weeks, beginning with a 12-year-old at an anti-gay marriage demonstration approaching the minister to offer her a banana.
Later in October Anne-Sophie Leclère, an FN candidate for the 2014 local elections, said she would prefer to see Taubira "in a tree swinging from the branches rather than in government". Leclère was jailed for nine months. in July and banned from politics for five years.
And in early November 2013 she was once again compared to a monkey when far-right magazine Minute running ran the headline: "Crafty as a monkey, Taubira gets her banana back." (The French phrase "to get your banana back" also means putting a smile back on your face).
Minute is currently being prosecuted for the slur. On Wednesday, French prosecutors said they wanted its editor to be fined 10,000 euros and handed a 3-month suspended sentence for slandering the minister.
---
RUSSIA |
Torpedo Moscow hit with stand closure after racist chanting
Friday, 26 September 2014, 17:47 | Source: insideworldfootball |
Leading Russian club Torpedo Moscow have been ordered to close a section of their stadium for one match following racist abuse aimed at rival Dynamo Moscow's English defender Christopher Samba.
The former Blackburn Rovers and Queens Park Rangers player asked not to come out for the second half of Monday's Moscow derby because of the chanting.
As a result the Russian Football Union (RFU) ruled Torpedo must shut the so-called 'fans sector' for their next league match.
However, all other parts of the Saturn Stadium will remain open and there are no restrictions to prevent supporters from buying tickets to sit elsewhere.
After the RFU's ruling, head of the disciplinary committee Artur Grigoryants said: "There was a note in the delegate's report that throughout the first half there were chants directed at FC Dynamo player Christopher Samba.
"The delegate has confirmed it once again at the meeting. The referee of the match has also informed the committee that Samba told him about chanting during the first corner kick. Samba has also sent a letter to the disciplinary committee where he confirmed the chanting and that he appealed to the referee during the game."
---
AUSTRALIA |
Australian Defence League — Soldiers Facebook page accused of inciting anti-Muslim hatred in posts
Friday, 26 September 2014, 01:48 | Source: couriermail.co.au |
THE Australian Muslim community is concerned an anti-Islam group is inciting hatred against it with racist Facebook posts.
Community members say the far-right wing group, Australian Defence League- Soldiers, has been spreading hate and instigating vicious Facebook fights with inflammatory posts.
The group similar to Britain First in the UK, aims to ban Islam from Australia.
Malek Sleiman said she was disgusted when the ADL posted Facebook photos of her daughter and husband, Ramsey Elhouli.
"It was very upsetting," she said.
"For them to target my daughter like that, it was disgusting."
The post: "I would like everyone to meet Ramsey. He has a very interesting profile picture of his daughter worshipping a pedophile (sic) while his other picture is of him holding a gun. And Yes you guest (sic) it this is the sort of terrorist scum that are on our streets right here in Sydney Australia. Please share and make this guy famous."
The ADL published the post after Mr Elhoui retaliated to a previous status update made by the group in which he called the ADL "terrorists" for "going around bashing Muslim women".
ADL encouraged their followers to share the post to "make this guy famous".
Mr Elhoui's profile picture was taken on a duck hunting trip in 2013.
Ms Sleiman said she had reported the post to Facebook numerous times but the status has not been removed.
Earlier this month news.com.au reported that ADL President Ralph Cerminara had warned that "another Cronulla is coming" in a YouTube video.
Ms Sleiman said that most of the ADL's members lacked a proper understanding of Islam.
"Islam is actually a very peaceful and calming religion," she said.
"We don't support ISIS, we don't support terrorists."
A woman who was targeted by the ADL in April said her life had been changed forever.
An ADL member took a photo of the women on her way to work and posted it to the Facebook page with accompanying caption "Are you having problems getting a man? Then join Islam, taking the world's rejects, pedophiles and weak-minded people for thousands of years."
The women was then ridiculed and abused by the group's supporters.
The women, who has chosen to remain anonymous, has had to go on stress leave and visit psychologists since her traumatic ordeal.
"I was having panic attacks, hyperventilating, I get anxiety," she said.
"I don't like to go out, I don't like to go to parties or engagements or weddings because in my community everyone knew who I was and it's just embarrassing and humiliating.
"I'm never going to be the same."
The woman said she would like to see the ADL investigated.
"They're creating division and racism and saying that we're the ones who are racist and don't want to live the Australian way but they're doing the exact opposite," she said.
"They're doing what they're saying we're doing and it doesn't make sense.
"The thing that worries me is that these people blatantly make death threats on their page against Muslims and yet the police don't do anything about it."
Despite her emotional pain, the women said she decided to try and turn the situation into a positive.
She discussed the situation with community groups and went on Muslim radio to appeal for calm and asked the public not to retaliate.
Last night the ADL Soldiers Facebook page posted screenshots of abuse and threats made against its members.
Research fellow at Curtin University in Perth, Dr Anne Aly questioned Australian Justice Minister Michael Keenan about the ADL Soldiers on Monday night's Q and A program.
Mr Keenan said the Government would act upon any group who threatened the community.
"If there was a group that we knew were about to go and randomly kill Australian citizens no matter who they are we would take action," he said.
"We don't apply the law based on people's background, we apply it based on what we would see, or what we would understand to be a threat to the Australian community.
"The Australian Government does not target sections of the Australian community."
---
GERMANY |
NSU trial offers glimpse into extremist milieu
Thursday, 25 September 2014, 22:59 | Source: Deutsche Welle |
The Thuringian neo-Nazi and former intelligence service informer Tino Brandt discusses his past double life as he testifies at the trial centering on the NSU Terror group. What exactly went on back then remains unclear.
Tino Brandt's best days are long gone. In the mid-1990s he was one of the leading lights of the emergent far-right scene in the German state of Thuringia. Back then he was acquainted with the presumed murderers who made up the National Socialist Underground (NSU); they were part of his circle.
Uwe Böhnhardt, Uwe Mundlos and Beate Zschäpe are believed to have been motivated by racism to murder ten people of predominantly foreign origin between 2000 and 2007. Zschäpe is now the main defendant in the murder trial currently being heard by the Higher Regional Court (OLG) in Munich. Her two companions committed suicide after they blew their own cover in November 2011.
All those involved in the trial are expecting Brandt's appearance in the witness box to provide insights into the milieu in which the trio of alleged murderers were involved before they went into hiding in the late 1990s. But they are also hoping it will provide clues about the period that followed, when the NSU is believed to have selected and mercilessly gunned down its victims.
One year after the first murder, perpetrated on the Nuremberg florist Enver Simsek in September 2000, Brandt was exposed as an informant for the Thuringian intelligence services. He has been branded a traitor by the far-right scene ever since. The 39-year-old has already given evidence to this effect when he first took the stand in the NSU trial in mid-July.
Hoping for exoneration
This time around, both Zschäpe's court-appointed lawyer and the lawyers of the four alleged NSU helpers who stand accused of complicity to murder will have an opportunity to question the witness more extensively. Wolfgang Stahl, who along with Anja Sturm and Wolfgang Heer is defending Zschäpe, is particularly interested in Brandt's dubious career with the intelligence service. Why did he became an informant in the first place, Stahl wants to know. The answer, unsatisfactory from the defense attorney's point of view, is that things "unfortunately developed that way" in 1994.
Wolfgang Stahl (l.), Anja Sturm and Wolfgang Heer (r.) are defending Beate Zschäpe (back).
Stahl's strategy is clearly aimed at extracting information from the witness that will exonerate his client. For this it might be helpful if the NSU trial were able to scotch the image of the intelligence services helping to rebuild the far-right scene in Thuringia. It's an impression that has already been reinforced by the federal and local NSU investigation commissions. And Brandt's statements at the NSU trial sound like confirmation.
Photos from a neo-Nazi march
The intelligence services obliged him not to reveal his role as an informant to the far-right scene, the police or the judiciary, says Brandt. He states that he put the money he received for his services as an informant towards supporting political work in the right-wing scene. As examples, Brandt cites the distribution of propaganda stickers and covering the outstanding debts of members of the right-wing extremist party - the NPD - who got into financial difficulty.
At the start of the cross-examination the presiding judge, Manfred Götzl, presents the witness with several photos of events organized by the right-wing scene. Among them are pictures of a so-called Rudolf Hess commemorative march. Hess was Adolf Hitler's deputy: the last Nazi war criminal left in prison, he took his own life in 1987. "Here I recognize myself, Uwe Mundlos and Beate," says Brandt. The photo is from 1996 or 1997; he says he's no longer exactly sure.
Well-versed in right-wing ideology
At Zschäpe's lawyers' request, Brandt describes the 39-year old as a person who, although well-versed in right-wing ideology, did not push herself to the fore. At political rallies she "never stood in front of the crowd and held speeches," says Brandt. But she wasn't a "wallflower," either; and he adds that, unlike her companions Böhnhardt and Mundlos, Zschäpe was always dressed "nicely," in "civilian clothes." She didn't correspond to the cliché of the blonde skinhead girlfriend.
The so-called NSU trio: Uwe Mundlos, Beate Zschäpe and Uwe Böhnhardt
Brandt's portrayal of the accused fits the picture the public has been able to make of her during the NSU trial so far: that of a confident woman who definitely didn't allow herself to be treated as a compliant "girlie" by the men around her in the right-wing milieu. This characterization is hardly likely to work in Zschäpe's favor: It fits better with the prosecution's appraisal of her. Their case is that Zschäpe was the one who covered for Böhnhardt and Mundlos as they traveled about the country murdering people, maintaining their bourgeois façade in the apartment they shared in Zwickau. This was where they lived for the longest period of time, without raising the suspicions of either neighbors or the authorities.
"We wanted to be members of parliament"
Tino Brandt claims that he had no further contact with his old comrades after the trio went into hiding. Relations with Ralf Wohlleben, a former NPD official who is also on trial in Munich as an accessory to murder, were, according to Brandt, "completely messed up" after he was exposed as an informer. Wohlleben's lawyer, Olaf Klemke, wants to know whether Brandt ever discussed the use of violence with his client. Not that he can recall, answers Brandt. Back then, in the 1990s, they decided to go down the "political route," and joined the NPD. "We wanted to be members of parliament," he says.
At the end of the day, no one has much reason to be satisfied with the witness' answers. When the presiding judge presses the question of who he still had contact with, Brandt cites his poor memory for names. "The intelligence services used to complain about it even back then," the shifty witness jokes. His cross-examination is set to continue this week.
---
UKRAINE |
Nazi truth that West refuses to recognise
Thursday, 25 September 2014, 22:32 | Source: Jewish Chronicle |
In an era of diminished news budgets, foreign reporting is skimpy at best. We know there is fighting in eastern Ukraine along the border with Russia. But we get few details about Ukraine's fiercest warriors, the 500-strong Azov Battalion. Are they heroes fighting Russian aggression? Or antisemitic, neo-fascist nationalists on a glory hunt? To find the answer, follow the Wolf's Angel. This symbol of the Waffen SS was adapted by the Social National Party in Ukraine - the words 'Social' and 'National' are intentional - when it was founded in 1995.
In 2004, the party changed its name to Svoboda and began to publicly moderate its extreme nationalism. That did not stop its leader, Oleh Tyahnybok, from making speeches excoriating the "Muscovite Jewish mafia". Ukraine's neo-fascist right wing, like most extremist political movements, is prone to splits. The three main parties representing this segment of the Ukrainian electorate still got 10 per cent of the vote in last May's elections for the Verkhovna Rada [parliament]. The leader of the Radical Party, the largest of these groups, is Oleh Lyashko, who is also one of the leaders of the Azov Battalion. The Wolf's Angel is now their symbol.
Traces of their worldview are all over the internet. It is pure Aryan Nation fantasy. So why, at a time of heightened awareness about antisemitism's return to Europe, has there been so little about the Azov crew? The internet era is all about rapid flow of unverified, uncontextualised "information", much of it inaccurate. Journalism has changed its rules to keep up. Normal verification procedures have gone out the window; objectivity now means correcting an earlier rumour reported as fact.
Ukraine has been the place where all of these changes exploded. Reporters with agendas and language skills make up the West's primary lens on events. But they have left truth in A&E. In the middle of this are the Jews - or the idea of the "Jews", since there are relatively few Jews left in the borderlands. Ukrainian ultra-nationalism, a powerful force, has never really shed its antisemitism. Its heartland is western Ukraine in places whose names are familiar to all Jews: Tarnopil, Berdichev, Lemberg (today L'viv). The ultra-nationalist parties annually honour those Ukrainians who helped the Nazis eliminate almost 100 per cent of the Jewish population during the Holocaust.
From the beginning of the conflict last February on Kiev's Maidan [Independence Square], there have been neo-Nazi elements at the sharp end of the conflict. The Azov battalion evolved from these groups. Their influence has been consistently denied or underplayed by spokespeople for the Ukrainian government but also by Western reporters for outlets such as the Economist and Washington Post, for whom this is a story about a resurgent imperialism in Russia led by the odious and slightly deranged Vladimir Putin.
For some of them, war with Russia - with its massive nuclear arsenal - is something the West must anticipate out of this crisis. This view was articulated by Washington Post columnist Anne Applebaum last month, in an article headlined: "War in Europe Is Not An Hysterical Idea." In making her case, Ms Applebaum did not mention the fascist elements in Ukraine - although she linked Putin to Mein Kampf in the same sentence.
As for Ukraine's 70,000 Jews, most live in Kiev and are staunch backers of the government. But when the fighting is done with Russia and the ultra-nationalists turn on parliament to battle for an ethnically pure Ukraine - as they have sworn they will do - what will Ukrainian Jews think then?
---
CROATIA |
Anti-Fascist Victims of WWII Honoured in Zagreb
Thursday, 25 September 2014, 22:28 | Source:Balkan Insight |
A new temporary memorial was unveiled in a park in the Croatian capital to honour thousands of people who were executed there by Zagreb's wartime Ustasa pro-Nazi regime.
"This monument is to honour the anti-fascist victims of the Ustasa regime [during WWII in Croatia] and the Nazi occupiers who were killed here," Vesna Terselic, the director of Croatian NGO Documenta - Centre for Dealing with the Past, told the unveiling ceremony in Zagreb's Dotrscina park on Monday.
The park was the scene of mass executions by the Ustasa authorities, beginning in May 1941 and continuing until the end of the war. Around 18,000 people were killed in total, according to the Dotrscina memorial website. Several thousand of them were executed "simply because they were Jews, Serbs or anti-fascists", Terselic said.
The new monument, a sculpture made of tree trunks by contemporary Croatian artist Slaven Tolj, entitled 'Freezing Rain', was created as part of the Dotrscina Virtual Museum, a memorialisation project supported by Documenta. Sasa Simpraga, the head of the virtual museum, said that its main objective was "to bring Dotrscina back into the collective memory, from which it disappeared during the 1990s".
There are already several other memorials in the park, including monuments created by distinguished Croatian artists such as Vojin Bakic and Josip Siessel during the 1960s and 1970s.
---
FINLAND |
City of Ylivieska in Finland awards anti-Semite with distinction
Thursday, 25 September 2014, 22:26 | Source: Migrant Tales |
Juha Kärkkäinen who was fined by a Finnish court, in the fall of 2013, 45,000 euros for publishing anti-Semitic writings of the likes of David Duke and others, was awarded a distinction from the city of Ylivieska, according to Oulu-based Kaleva. Dan Kantor, executive director of the Jewish Community of Helsinki, told Migrant Tales that he was "surprised that in this century" such things happen in Finland today.
Kärkkäinen is owner of a company based in Ylivieska that owns shopping centers in the cities of Lahti and Oulu. The Pro Ylivieska distinction is awarded to a person or association who has distinguished himself or herself in the community and nationally. A Ylivieska city official whom Migrant Tales spoke to said that the award was given only for Kärkkäinen's accomplishments as a businessman. "What he thinks (about Jews) is his personal opinion and we have nothing to do with with," the official said. Even if Kärkkäinen isn't editor of Magneettimedia, the publication is still owned by J. Kärkkänen Oy.
Kärkkäinen appealed the sentence and 45,000 fine he got in the fall to a the court of appeal, which is expected to give legal validity to the lower-court ruling in the next two months. "In the meantime Kärkkäinen has been able to publish his anti-Semitism on Magneettimedia (which is today an online publication)," said Kantor. The decision to give Kärkkäinen a distinction by the city of Ylivieksa reveals a lot of matters, according to the executive director of the Jewish Community of Helsinki .
"First: That Finland's laws are helpless and that such a thing (publish anti-Semitic stories on Magneettimedia) can continue to happen for such a long time (even if Kärkkäinen got sentenced by a lower court for ethnic agitation)," he said. "Second: Even if we're waiting for the court of appeals ruling, anyone with a little common sense could tell that what was (and continues to be) published is wrong."
---
SWEDEN |
Sweden Democrats had 'violent pasts'
Thursday, 25 September 2014, 20:29 | Source: thelocal.se |
Several regionally elected Sweden Democrats were revealed on Thursday to have previous convictions for violent crimes.
During Sweden's election on September 14th, dozens of Sweden Democrats were nominated by open ballot in the regional areas of Örebro and Västmanland, meaning voters were allowed to write any name on a ballot paper rather than select people from a list.
For the party's 101 seats in the areas, 34 of the nominees were selected in this manner - and several of these have violent histories, Swedish broadcaster Sveriges Television (SVT) has revealed. Three of them were convicted for assault, one for aggravated drink driving and drug crimes, while another was sentenced for blackmail and fraud.
Furthermore, some had ties to white supremacy forums online, SVT reported. But Jonas Millard, the regional party chairman, said that the nominees were unlikely to end up being allowed to take up the positions. "When it comes to aggravated crimes, and especially when they occurred recently, you'll not pass the character test," he told the broadcaster.
Nationally, the Sweden Democrats doubled their support in the September elections, becoming the third biggest party in the country with 12.9 percent of the votes.
---
HUNGARY |
Government condemns radical conference planned for Budapest
Thursday, 25 September 2014, 14:31 | Source: politics.hu |
Plans by a racist US organisation to hold in cooperation with Russian radicals a conference in Hungary are unacceptable for the country's government, the foreign ministry said in a statement on Monday.
The Hungarian government firmly distances itself from any xenophobic or discriminative events or ones that are offensive for religious or ethnic minorities, the statement said. Radical circles would use this initiative to undermine Hungary's international reputation, which is unacceptable, the statement added.
The conference, initiated by the US-based National Policy Institute, would be held in Budapest between October 3-5, its speakers including Russian radical ideologist Alexandr Dugin, as well as Hungarian MP Marton Gyongyosi, of the radical nationalist Jobbik party.
---
HUNGARY |
DK demands release of files to EP on Jobbik MEP suspected of spying
Thursday, 25 September 2014, 14:29 | Source: politics.hu |
The opposition Democratic Coalition (DK) is calling on Hungary's chief public prosecutor and the interior minister to give the European Parliament access to information on Bela Kovacs, a radical nationalist Jobbik lawmaker suspected of having spied for Russia.
The information would be required by the EP in order to make a decision on suspending Kovacs's immunity, Csaba Molnar, DK's deputy leader, told MTI.
Molnar noted that Peter Polt, the chief public prosecutor, had asked EP president Martin Schultz to suspend Kovacs's immunity on suspicion that he spied against European Union institutions before the EP elections in May. But ever since there "has been complete silence" concerning the matter.
Molnar made reference to a Sept. 9 letter Pavel Svoboda, chairman of the EP's legal committee in charge also of immunity issues, sent to the prosecutor, stating concern over the committee's inability to proceed with Kovacs's case. According to the letter, Polt said related information was a state secret and he had no powers to declassify the related files. Svoboda, however, indicated that Polt had the legal option of asking the Interior Minister Sandor Pinter to declassify the documents.
These files or their content are not required to be released to the public, but must be seen by the EP committee, said Molnar.
It appears Polt wants to prevent clarification of the Kovacs case and the ruling Fidesz wants to "hush it up", DK insisted.
Geza Fazekas, a spokesman for the chief public prosecutor's office, said the office was in regular contact with the European Parliament over this matter. He said the Central Investigating Chief Prosecutor's Office has launched an investigation suspecting a crime punishable by a 2-8 year prison sentence. The investigation is classified and no details can be revealed, he added.
The documents sent to European Parliament also contained classified information, but the Chief Public Prosecutor's Office had fulfilled requests for information by the EP, to the extent they could, Fazekas said. He added that if there is a criminal suspicion of spying the matter is treated as top secret in any part of the world.
In an article published on Tuesday news website index.hu gave an extensive account of Kovacs's alleged spying activities in the past. Kovacs denied the article's statements and called the piece "manipulative".
Jobbik said in a statement on Wednesday that its opinion regarding Kovacs's case "has not changed an inch", namely that nobody has come forward with any substantive evidence against the MEP. Adam Mirkoczki, a spokesman for the party, said members of parliament's national security committee have not received any meaningful information on Kovacs, whether he had actually been involved in activites of which he is accused, received any information or money from other countries. He called the timing of the article "interesting", referring to the upcoming local elections.
---
GREECE |
Video shows Golden Dawn No 2 teaching children to chant "Heil Hitler!"
Tuesday, 23 September 2014, 18:36 | Source: enetenglish,gr |
The video is one of four that is included in the case file against Christos Pappas, who along with Golden Dawn's leader and other MPs, is facing charges of forming and directing a criminal organisation
September 2013: Golden Dawn's deputy leader Christos Pappas is escorted to court by anti-terrorist officers (Photo: ANA-MPA)
The deputy leader of neonazi Golden Dawn instructed young children on how to chant "Heil Hitler" and give the Nazi salute, according to a video recording made public by a leading Sunday newspaper.
In the video clip, published by Kathimerini, Christos Pappas can be heard encouraging a young boy, dressed in a traditional Greek costume and wearing a swastika armband, to say "Heil Hitler" while holding a small Nazi flag.
When the boy does as he is told, Pappas praises him by saying: "Well done, my brave man. Well done, my boy!"
The faces of the children in the video have been blurred to protect their identity. The newspaper said the clip is one of four that that is included in the case file against Pappas, who along with Golden Dawn's leader and other MPs, is facing charges of forming and directing a criminal organisation. The videos are believed to have been found by police on a hard drive in Pappas' home in a search conducted last year.
In another scene, a younger child, a girl, is also taught how to say "Heil Hitler".
"Do a 'Heil Hitler' for me. Do a 'Heil Hitler' for me," Pappas asks the child, who is wearing a Mickey Mouse top.
An older girl assists in showing the younger child how to outstretch her arm. "This way, boing! This way, boing! 'Heil Hitler,'" she says.
"Heil, my child, Heil," Pappas, who was was elected MP for the neonazi party in 2012, then tells the child.
---
SWEDEN |
Loophole lets neo-Nazis onto Swedish councils
Tuesday, 23 September 2014, 18:27 | Source: thelocal.se |
Members of the Party of the Swedes march in central Stockholm in August 2014. Photo: Maja Suslin/TT
Two neo-Nazis who received only a handful of votes have won seats on Swedish councils thanks to a kink in the country's election laws.
Far-right extremists from the Party of the Swedes and the Swedish Resistance Movement were able to exploit a quirk in the system to sneak into local governments in Ludvika and Surahammar, Expo magazine reports.
In both cases, the neo-Nazis crept into the corridors of local power at the expense of the nationalist Sweden Democrats, whose unprecedented success left a gap for opportunists.
In Ludvika, the Sweden Democrats won seven seats but only fielded five candidates on their open list for the municipal election. Their failure to close the list meant voters were free to suggest alternative candidates.
Eighteen people wrote the name of Pär Öberg from the Swedish Resistance Movement. This was enough to get him elected, much to the annoyance of Sweden Democrat Benny Rosengren.
"It was an open list and they've used subterfuge to get in. All I know about him is the little I've read. None of us know him," Rosengren told news agency TT, adding:
"He'll be an independent; we don't take in these kinds of idiots."
The Party of the Swedes slunk in through the back door in Surahammar, where Carolus Motander from got enough written votes on a Sweden Democrat list to claim a seat.
The Swedish Resistance Movement is also next in line for a seat in Borlänge should any Sweden Democrats step down, Expo reports.
The Sweden Democrats in Ludvika said they would hold a meeting on Tuesday evening to discuss what had happened.
---
GREECE |
Golden Dawn figures jailed for attempted murder
Tuesday, 23 September 2014, 16:26 | Source: enetenglish,gr |
An Athens court has handed a former member of Golden Dawn's central committee and local election candidate for the neonazi party a 11½-year prison sentence after it found him and an accomplice guilty of attempted murder and the possession and use of weapons.
The Athens mixed jury court found Vasilis Siatounis and Athanasios Stratos guilty of participating in a gang attack on the Antipnoia anarchist space in Kato Petralona on 30 June 2008, in which a Greek and a Spanish national were stabbed. Stratos received a 13½-year prison sentence for his role in the attack.
Four people were attending a Spanish language course at the centre, when a man wearing a helmet entered the room yelling "Greetings from Golden Dawn! You're going to die, w*nkers!" He was followed by a group of 10-15 people holding knives and batons, who, following orders, set about attacking those inside, wounding two people, one of them seriously. According to the prosecutor, the room was left "covered in blood and unrecognisable" after the "cowardly invasion".
Identifying Stratos as his assailant, one of the victims said he was hit on the head with a chair and was stabbed in the knee and buttocks. He subsequently spent 20 days in hospital and required eight blood transfusions.
The Spanish teacher, who identified Siatounis as her attacker, said the first blow of the knife cut her trousers. She still wonders what would have happened to her had the leader of the attack not issued the order "time up".
When they took the stand, the defendants contradicted previous statements in which they admitted taking part in a Golden Dawn motorcade to distribute flyers. In that earlier testimony, they claimed never to have entered the centre and fled the scene in panic when they realised that an attack was taking place.
When a lawyer representing the victims asked to read out the defendants' earlier statements to the court, their defence team objected, claiming that Golden Dawn lawyers had written them without their consent.
This was an attempt to disassociate Golden Dawn from the case, according to JailGoldenDawn, a lawyer's initiative that monitors cases against members of the neonazi party.
JailGoldenDawn said that the prosecutor's observation that the accused were not speaking freely because they feared for themselves and their families was "a direct reference to Golden Dawn's mafia practices", which it said are becoming more apparent at social and institutional and legal level.
After the attack, Golden Dawn denied that Siatounis and Stratos were not members of Golden Dawn, despite the claims otherwise of those engaging in "anti-Golden Dawn, antinationalist hysteria". But according to a list of Golden Dawn central committee members from 2008 that was published in the Efimerida ton Syntakton newspaper earlier this month, Siatounis was a member of the party's highest council when the attack occurred.
He was also a candidate for the party in the 2010 Athens municipal elections and was subsequently appointed an advisor to Nikos Michaloliakos, Golden Dawn's leader, who became a councillor in that election.
Originally classed as a misdemeanor, the criminal trial against the two men was postponed 12 times.
---
HUNGARY |
Hungary's Fidesz and its "Jewish Question"
Tuesday, 23 September 2014, 12:04 | Source: opendemocracy.net |
By Bernard Rorke
Hungary's Fidesz government may not have pursued a state-sponsored policy of anti-Semitism. However, it has indulged in outrageous historical revisionism; failed to censure anti-Semitism from high within its own ranks; and screwed up its official commemoration of the 70th anniversary of the Holocaust in Hungary.
Six days after the October 15th Arrow Cross coup in 1944, the 60-year-old writer Ernõ Szép was dragged away for forced labour by Hungarian fascists from his 'yellow star' house in Budapest's Pozsony utca. In his memoir The Smell of Humans, he recounts the fate of a fellow prisoner, a seventy-year-old former senior railway official, and a severe diabetic:
"He had fainted, the doctor had not been able to revive him. The corporal, after putting two bullets in him, had kicked his body into a ditch. We marched on in silence … This was how a life was extinguished now: no announcement, no glass hearse with wreaths, no high-flown funeral orations, no family members in mourning, no old friends around to cast a lump of earth into your grave."
The house from which Szép was taken was one of almost 2000 apartment 'yellow star' buildings in the city. These buildings had been marked out by a mayoral decree in June 1944. Some 220,000 Jews were obliged to leave their own apartments by midnight June 21 and move into these designated buildings marked with "a six-pointed canary yellow star measuring 30 centimetres in diameter."
"Watching how Jews are being erased from the official Holocaust commemoration, we decided to provide an alternative," said historian István Rév, who led Open Society Archives city-wide initiative that culminated in Yellow-Star Houses Remembrance Day on June 21, the seventieth anniversary of the forced mass relocation of Budapest Jews into the yellow-star houses. As Rév described it:
"Budapest came alive with commemorative events planned and held by the people of this city. From this, we can all conclude that it is simply not enough to protest when the powers that be try to use, abuse and falsify the facts of our shared history for political ends. It is up to us to remember, to understand and to comprehend the past: this is our shared moral, civic and human duty. Our shared history, and thus this city, are ours."
This was the largest public act of commemoration in a year otherwise fraught with controversy and conflict. Originally, the announcement by the government that 2014 would be marked by official commemoration of the 70th anniversary of the Holocaust in Hungary was widely welcomed. By late 2013 concerns about the government's actual intentions and motives were mounting; by January 2014 when the government declared its intent to erect a monument to commemorate all the victims of the German occupation in Budapest's Szabadság Tér (Freedom Square), relations between government, and Jewish representatives and civil society had plummeted to an historic low.
A few months earlier it had all seemed more promising for Fidesz. In October, as part of an effort to dispel growing international perceptions that it was weak on combating anti-Semitism, Fidesz had hired a powerful New York public relations outfit to reach out to the Jewish community; pledged to make 2014 a year of Holocaust commemoration; and made a series of very public, high level admissions of state responsibility for the deportation of at least 450,000 Hungarian Jews to the Nazi death camps.
At the conference Jewish life and anti-Semitism in Budapest in October, Deputy Prime Minister Tibor Navracsics stated that it was time for Hungarians to accept their responsibility for their role in the Holocaust. This was followed on January 24th by a declaration at the United Nations by Hungarian Ambassador Csaba Kőrősi:
"We owe an apology to the victims because the Hungarian state was guilty for the Holocaust. Firstly because it failed to protect its citizens from destruction and secondly because it helped and provided financial resources to the mass murder."
A couple of days later Hungarian President János Áder issued a statement on Holocaust Remembrance Day which spoke of the guilt of the collaborating state authorities in "the inhuman suffering, humiliation and death of close to half a million of our compatriots."
All fine and unambiguous but more seasoned observers of Hungarian politics were not taken in by what some saw as high-profile theatrics. After all there were plenty of reasons why Fidesz needed to hire a heavyweight PR company 'to reach out' to Jewish communities in the first place, and plenty of occurrences where the smear of moral turpitude was such that many simply disbelieved Fidesz declarations of zero tolerance towards anti-Semitism.
In October 2011, protests erupted at the news that Fidesz Budapest Mayor, István Tarlós had vetoed a 6-2 majority on a panel to force through the appointment of Jobbik supporter György Dörner as director of the city's Új Színház (New Theatre). In his application he stated his intent to put an end to "degenerate, sick, liberal hegemony," that "Hungarians will declare war on the liberal entertainment state, which has sunk to the brothel level". He also stated that he intended to run the theatre together with Hungary's best-known Nazi and anti-Semite, MIÉP leader István Csurka. As philosopher Ágnes Heller put it, "a theatre had been handed to the far right, and racists".
German conductor Christoph von Dohnányi cancelled a guest appearance at the State Opera, and the Academy of the Arts in Berlin sent a letter to Budapest to protest "the anti-Semitic views of the politician and author Csurka and the pro-fascist proximity to the Jobbik Party of theatre director Dörner." Tarlós brusquely dismissed the protest and replied that he would not tolerate the Berlin academy's "meddlesome" letter.
More recently, Human Resources Minister Zoltán Balog followed up an obtuse and offensive denial that Roma were deported from Hungary during WWII (it was the Austrians apparently!) with a warning to the Roma community not to focus on these wartime experiences in the way that the country's Jewish population has focused on the Shoah, for fear that they too may end up displaying "signs of schizophrenia."
This was but the latest blunder from Balog who back in 2008 at the inauguration of a statue of Catholic bishop Ottokár Prohászka, described the bishop as someone who worked for the spiritual renewal of Christians in Hungary, and reminded those present of the need to defend that the Christian faith, for without it, "Hungarians will survive only in the biological sense."
Prohászka, elsewhere described as the founder of modern anti-Semitism in Hungary, wrote in 1919 "that the Jews are eating us up and we have to defend ourselves against this bedbug epidemic … Here we are dealing with the rampage of a cunning, faithless, and immoral race, a bedbug invasion, a rat campaign. There is only one question: How do we defend ourselves?"
In 2009, as recently recounted in the Hungarian Free Press, Balog told visiting Nobel laureate Elie Wiesel, that Hungarians "will not tolerate" that the sufferings of Jewish people are used to distract attention from "the difficult problems of our country." Concerning Hungary's responsibility for the mass deportations of Jews, Mr. Balog stated that the nation is constantly defending itself "against false accusations."
In March 2013, Balog handed out government awards in "recognition of and gratitude to those who represent the best of the nation." The prizes went to individuals described by Eva Balogh in Hungarian Spectrum as "either racist, antisemitic neo-Nazis or representatives of unscientific, bogus 'scholarship'." The Táncsics Prize, the highest award for journalism went to the raving anti-Semite Ferenc Szaniszló. Balog also presented an award to the guitar player of neo-Nazi band Kárpátia, which composed the official anthem of the Hungarian Guard. In the furore that followed Balog claimed that he simply got the list, gave out the prizes and knew nothing of the credentials of the recipients. This, to put it politely, was difficult for many to credit.
In July 2012, on the occasion of Israel's commemoration of the centenary of the birth of Raoul Wallenberg, Haaretz ran an article headlined "Israel has a tough time finding a Hungarian leader not identified with anti-Semites." The Knesset withdrew its invitation to Fidesz speaker of Parliament Laszlo Kövér, over his attendance at a ceremony in honour of Hungarian Arrow Cross fascist writer, Josef Nyirő. In Kövér's place, Hungary decided to send its newly elected president, Janos Áder. But according to Haaretz: "Áder also expressed support for a controversial figure from the Holocaust, Albert Wass, a nationalistic anti-Semitic writer found guilty of murdering Jews." In 2008, Áder unveiled a statue of the popular author, and spoke in praise of Wass.
Nyirő and Wass were two of three interwar fascist authors the government recommended for inclusion in the National Curriculum. Dezső Szabó was the third. Dezső Szabó was nothing if not clear on the Jewish question: "Jews are the most serious and the most deadly enemy of Hungarians; in 1921 he declared Judaism "a tribal superstition exalted as a religion," and concluded that "in the interest of human progress, the barbarian, murderous memories of dark, primeval centuries must be exterminated." In response to protests in June 2012 from Jewish groups, education state secretary Rozsa Hoffmann rejected the organisations' concerns as ill-founded because these authors were 'optional' rather than compulsory within the curriculum.
Zsolt Bayer, author of many a racist and anti-Semitic tract remains close to both Kövér and Orbán. Bayer memorably wrote of "a stinking excrement called something like Cohen from somewhere in England," and expressed his regret that "they were not all buried up to their necks in the forest of Orgovány (a reference to massacres of Jews in the White Terror of 1919-20)." One of the founding members of Fidesz, Bayer is one of the main organisers of pro-government 'Peace Marches'. Orbán has on more than one occasion expressed his gratitude for the physical expressions of support by these tens of thousands of 'national-minded' marchers on their torch-lit processions. Orbán has never publicly repudiated Bayer for his racist and anti-Semitic diatribes. Köver publicly pledged his undying friendship at Bayer's 50th birthday party.
Paul A. Shapiro testifying in Washington to the US Commission for Security and Cooperation in Europe on March 2013, condemned "the incremental rehabilitation" underway for political figures who aligned the country with Adolf Hitler, and that their legacy can be labeled "controversial" by Fidesz representatives. He was moved to describe the prospect of Hungary assuming the chair of the International Holocaust Remembrance Alliance in 2015, as "inappropriate and an insult to the living and desecration of the memory of the dead."
His verdict turned out to be more prescient than could have been imagined. In July 2013, the Orbán government announced that Mária Schmidt, the controversial right-wing director of the House of Terror, would be in charge of the construction of a museum called "House of Fates" to commemorate child victims of the Holocaust. Reputable historians and Jewish community leaders were dismayed that such a crude ideologue with a track record of relativizing the Holocaust to foreground the crimes of Communism, would be in charge of such a project.
On 31 December Deputy Prime Minister Zsolt Semjen, commissioned a memorial to "all the victims of the 19 March 1944 German invasion of Hungary", to be erected in Budapest's Szabadság Tér (Freedom Square) a stone's throw from the statue of Horthy commissioned by the neo-fascist Jobbik. According to Hungary's new constitution, that day marked the end of Hungary's national sovereignty until free, multi-party elections were held in 1990.
On 2 January, the Orbán government inaugurated a new historical institute named VERITAS, whose purpose was "to strengthen national awareness." To carry out this "historically important patriotic task," the institute was placed under the leadership of Dr. Sándor Szakály, who soon after publicly described the 1941 round-up and deportation of 18,000 Jews, most of whom were subsequently murdered near Kamenets-Podolsk, as nothing more than a police action against illegal aliens.
On 26 January, in an open letter, the historian Randolph L Braham returned a high state award to Hungary, in protest at the 'brazen attempt to falsify history' and exonerate the country from its role in the Holocaust: "As a survivor whose parents and many family members were among the hundreds of thousands of murdered Jews, cannot remain silent, especially since it was my destiny to work on the preservation of the historical record of the Holocaust."
For Braham 'the straw that broke the camel's back' was the plan to erect the memorial which he described as "a cowardly attempt to detract attention from the Horthy regime's involvement in the destruction of the Jews and to homogenize the Holocaust with the 'suffering' of the Hungarians - a German occupation, as the record clearly shows, was not only unopposed but generally applauded."
While protest mounted from abroad, Jewish organisations inside Hungary turned up the volume of dissent. In mid-January Mazsihisz (Association of the Jewish Communities of Hungary), president Andras Heisler announced that Jewish organizations would not cooperate with the government on the Holocaust anniversary events if the erection of the Freedom square memorial went ahead. The 16 organisations also called for the dismissal of Sandor Szakaly; and stipulated that the "House of Fates" examine the events leading up to the Holocaust and the Hungarian government's complicity in those events.
Fidesz reactions to such impudence from civil society were very telling. I was present at a conference in late January where a senior Fidesz official in an 'off the record' briefing expressed his exasperation at "the almost Pavlovian reactions of Jewish organisations when anyone challenges the uniqueness of the Holocaust." János Lázár, the controversial state secretary of the prime minister's office, accused Jewish leaders of wrecking the government's plans for the Holocaust commemoration and of "fomenting discord between Hungarians and Jews who have lived in unity and symbiosis for centuries."
In the context of the dispute this particular 'symbiotic' revisionist aside was simply baffling in its audacity. (Lázár is another senior Fidesz figure with a soft spot for Albert Wass: in 2010 as mayor of Hódmezővásárhely, he unveiled a statue honouring the anti-semitic writer and war criminal).
Orbán's favoured ideologue and curator Mária Schmidt went even further, launching a bitter attack on the cosmopolitan, internationalist left-liberal elite "who would still like to prescribe whom we can mourn and whom we can't, for whom we can shed a tear and for whom we cant." She called them well-compensated servants of foreign interests obsessed with "the favoured topics of the empires (Holocaust, racism, Roma issues, homosexual marriage, etc.)." She accused them of scorning as suspicious and provincial, everything connected to the 'national, concretely Hungarian interest': "And so, because they act as if our national mourning can have no palliative effect on tragedies past, they exclude themselves from our national community."
As for the international community, the move by Orbán's government in July to appoint the unabashed anti-Semite Péter Szentmihályi Szabó as its new ambassador to Rome, was simply baffling in terms of sheer effrontery.
In the wake of international protests, Szentmihályi Szabó, on record as referring to Hungary's Jews as being "agents of Satan," later declared he was no longer interested in the diplomatic posting. As the Hungarian Free Press noted: "In his brief statement, Szentmihályi never apologized for his earlier antisemitic hate speech, nor did the Orbán government's Minister of Foreign Affairs, Tibor Navracsics, explain why it attempted to appoint a rabid anti-Semite who spoke absolutely no Italian and had little experience in foreign affairs as ambassador to Italy." Commenting on this nasty farce, World Jewish Congress President Ronald Lauder suggested that such decisions do "not inspire confidence that the Orbán government means business when it says it will fight anti-Semitism."
In its condemnation of the brazen drive to falsify history, the Simon Wiesenthal Center declared that Hungary must choose whether it's committed to remembrance of the Holocaust or to the distortion of the Holocaust: "it cannot have it both ways." The blunt fact is that as things stand for Fidesz - Yes it can.
For hubris knows no bounds, this regime is unbothered by inconsistencies; untroubled by 'liberal' qualms of conscience; and indifferent to international opinion. Prime Minister Orbán has made it quite clear that "one must not overrate the so-called common European values," that only the national interest matters in his quest to build an illiberal workfare state, founded on Christian values. Criticism from civil society is deemed illegitimate, for according to Orbán, the NGO community is comprised of paid political activists attempting to promote foreign interests. This is a gravely distorted notion of what constitutes the national interest, where any critic of government policy is by definition an enemy of the nation, and as a consequence irrationality abounds.
It would be inaccurate, simply wrong, to accuse Fidesz of pursuing a state-sponsored policy of anti-Semitism. Fidesz spokesmen repudiate such charges and point to the occasions where Orbán and some of his ministers have unequivocally condemned anti-Semitism. But it is clear that in a country where such a significant percentage of the population is overtly anti-Semitic, this populist-authoritarian government has no qualms about pushing the boundaries of what is acceptable; no qualms about failing to censure anti-Semitism from within its own ranks; and in pursuit of its Christian-national vision of Hungary, no qualms about engaging in what its critics have branded brazen historical revisionism.
Back in 1944, at the mercy of his Arrow Cross captors, Szép Ernö wrote of the sheer stupidity of anti-Semitism, more offensive than the physical brutality was the one meted out to one's intelligence
"To have to swallow this thick spate of idiocy, to breathe this filthy smog instead of clean air; all these lies, all these stupefying inanities. To look on helplessly at the mental degradation of this country blessed with such human resources and talent, to witness this atrophy of reason, spirit, humour. What explanation for otherwise intelligent people believing these wild inanities? When would we ever recover from the damage done to the mind and soul of this nation?"
The answer on this 70th anniversary year of the Holocaust in Hungary is sadly, not for some time yet.
---
BELGIUM |
Young MP to lead far-right Vlaams Belang
Saturday, 20 September 2014, 18:10 | Source: FlandersNews.be |
Belga
27-year-old Tom Van Grieken is set to become Flanders' youngest ever party leader. The Member of the Flemish Parliament from Mortsel, near Antwerp will become the new leader of the far-right Vlaams Belang once a party conference to be held next month confirms his appointment.
Vlaams Belang's Party Council chooses Tom Van Grieken over the 76-year-old former Flemish MP and Senator at a meeting held on Saturday morning.
After a crushing defeat in May's election, Vlaams Belang is keen to rejuvenate. Party of this process included the resignation of the incumbent party leader Gerolf Annemans, a politician associated with the party's old guard.
On his resignation Mr Annemans said that it was time for the younger generation to take over the reins.
Tom Van Grieken has already indicated that he wants to break with the party's far-right image in order to concentrate on other topics such as education and the family. If the congress confirms his appointment as party leader (normally a formality), Tom Van Grieken will be just 28, making him the youngest party leader in Belgium.
---
SERBIA |
Antisemitic Partizan Belgrade banner slammed
Friday, 19 September 2014, 22:10 | Source: The Mirror |

Volatile: Partizan Belgrade supporters display a banner toward Tottenham fans
Spurs' boss Mauricio Pochettino has slammed Partizan Belgrade fans as "disrespectful" after they hung banner for Spurs' visit saying: 'Only Jews and Pussies'.
The Serbian club now face a UEFA probe and possible future sanctions.
UEFA officials took photos of the anti-semitic sign which was in the home kop.
And Tottenham boss Pochettino, whose side drew 0-0, said: "The club is aware.
"It is true that it is very disrespectful. It is a shame as it was great performance.
"It is very disrespectful and unacceptable and a massive problem for us."
The episode detracted from Spurs' battling goalless draw in their opening Group C game.
The controversy is set to rumble on with UEFA now looking into the incident.
It is likely to be included in the report of Israeli referee Alon Yefet.
It was displayed in the home end behind the goal and mocked up in the style of the 'Only Fools & Horses' logo.
Partizan now face further sanctions after being kicked out of the UEFA Cup in 2007 for hooliganism.
A French fan and Toulouse supporter was also killed near club's ground in 2009 after an attack on a bar.
---
GREECE |
Greek police, protesters clash during rally to mark rapper killing
Thursday, 18 September 2014, 22:17 | Source: newsdaily.com |
Greek police fired teargas at protesters who hurled petrol bombs and stones in Athens on Thursday during a rally marking one year since the killing of an anti-fascism rapper by a far-right Golden Dawn supporter.
The killing of 34-year-old Pavlos Fyssas — who bled to death in the street after being stabbed — sparked protests across Greece last year and prompted an investigation into Golden Dawn for evidence linking the party to violent attacks.
Thousands rallied on Thursday in the working-class neighborhood of Keratsini where Fyssas, who performed anti-racism raps under the stage name Killah P, was knifed.
The short-lived violence began after dozens of hooded demonstrators broke off from the initially peaceful march and police in riot gear chased them through the streets.
At least four banks, two shops and one kiosk were attacked, a police official said.
Dressed in white T-shirts proclaiming "We won't forget", the demonstrators marched through the streets earlier on Thursday, holding banners that read: "Pavlos is alive — crush the Fascists!"
Hundreds of mourners laid flowers and candles at the spot where he died and where a monument depicting Fyssas with microphone in hand was erected.
Fyssas's killing had fired outrage against a party that is widely regarded as neo-Nazi and the investigation into Golden Dawn landed its leader Nikos Mihaloliakos and other lawmakers in jail pending trial on charges of belonging to a criminal group, in the most significant mass round-up of lawmakers since a military coup in 1967.
Golden Dawn, with a swastika-like emblem, rejects the neo-Nazi label and any involvement in the attack, saying it is the target of a government-led witch-hunt on questionable evidence to rob the party of votes.
It remains the country's third-most popular political force in opinion polls, two years since it entered parliament for the first time on a wave of anger against the country's economic crisis, rising unemployment and political corruption.
---
GREECE |
Police report identifies officers with ties to Golden Dawn
Thursday, 18 September 2014, 11:15 | Source: ekathimerini.com |
A year after the killing of leftist rapper Pavlos Fyssas by a Golden Dawn supporter amid allegations of links between the neofascist party and the Hellenic Police, a report by the force's internal affairs department has identified several officers alleged to have been affiliated with the party and to have covered up for offenses attributed to GD supporters.
The report, which is the product of a year of investigation, comes as prosecutors prepare for a criminal trial against dozens of Golden Dawn members in the coming weeks.
Judicial officials have been given the details of all the officers identified in the report.
One of the suspects is a 48-year-old officer in the security detail of a shipowner and former member of the police's special forces unit (EKAM). The man, known as "Babis," is said to have publicly declared his allegiance to Golden Dawn and traded in tasers and is alleged to have been involved in a scuffle with a leftist SYRIZA MP.
The report also identified an officer of the Galatsi precinct's security police as a member of Golden Dawn known as "the Patissia torturer." He is alleged to have displayed racist behavior toward immigrants and to have refused to record claims of violence implicating his colleagues.
An officer from the Nikaia police precinct is alleged to have been bribed by GD officials to not deal with cases implicating party supporters. Another officer from Larissa, aged 38, is alleged to have collaborated with a GD MP in an attack a migrant.
The report also refers to a policeman at the migrant detention center in Amygdaleza in northern Athens who is alleged to have beaten immigrants there, cursing their religion and declaring himself a Golden Dawn supporter.
---
GREECE |
Golden Dawn orchestrated pogrom, say lawyers
Tuesday, 16 September 2014, 12:23 | Source: neoskosmos.com |
New evidence has emerged pointing to the heavy involvement of leading Golden Dawn figures in orchestrating a pogrom against foreigners in central Athens in May 2011, which resulted in over a hundred people being injured and the death of one man, a group of lawyers has claimed.
The lawyers, members of the JailGoldenDawn initiative, said they had provided fresh evidence to the police's anti-racism department that showed that four individuals subsequently elected MPs for the neo-Nazi party were "centrally involved" in organising the attacks.
The four - Ilias Kasidiaris, Ilias Panagiotaros, Panayiotis Iliopoulos and Stathis Boukouras - are currently being held on remand pending trial for directing a criminal organisation. The lawyers say that the May 2011 attacks must now be included in the case against the Golden Dawn leadership, which is scheduled to begin in December.
The orgy of violence followed the fatal stabbing of Manolis Kantaris on 10 May 2011. Kantaris was preparing to bring his pregnant wife to hospital to give birth when he was stabbed for his camera. Two Afghan nationals were subsequently tried and convicted of his murder.
The JailGoldenDawn lawyers said that on May 12, two days after Kantaris' murder, records from the ambulance service (Ekas) show that eight foreigners with fractured heads were admitted to hospital in the space of three hours. Overall, at least 120 people were injured in the attacks, 20 of them seriously. Most of the attacks took place in broad daylight on busy streets.
Earlier that same day, 21-year-old Alim Abdul Manan from Bangladesh was fatally stabbed on a Kato Patisia street by a group of four individuals wearing black clothing. He was found wounded shortly after midnight and died later in hospital. No-one has been brought to justice for his murder.
The new evidence contains statements from victims as well as photographs and video footage of the attacks and showing the presence of Golden Dawn
leaders on the streets. The JailGoldenDawn lawyers say they had to appeal to the Supreme Court to open an investigation into the violence following Kantaris' murder.
To date, only one Golden Dawn member has been convicted for his involvement in the events following Kantaris' murder. Ilias Koliopoulos, who once stood for the party in Arta, received a 12-month sentence for attacking an internet cafe belonging to an Afghan in Victoria Square.
"The Greek police now has the names of the perpetrators and the victims of the pogrom. Any further delay in the indictment and arrest of the perpetrators can no longer (be seen as) passive, but as the active concealment of the racist violence unleashed and led by the neo-Nazi construct," Thanasis Kampagiannis and Kostas Skarmeas from the JailGoldenDawn initiative said in a statement.
"The instigators of the crimes committed are the prominent Golden Dawn leaders (Ilias) Kasidiaris and (Ilias) Panagiotaros, who should be indicted. Any further delays are the responsibility of Civil Protection Minister Vasilis Kikilias and the government itself."
---
DENMARK |
Politician defends 'report an eastern European' site
Tuesday, 16 September 2014, 07:00 | Source: thelocal.de |
Danish People's Party politician has created a website for people to report home burglaries or job losses at the hands of eastern Europeans. A 'report a racist' site was launched in response.
A Danish politician Monday defended launching a website that urges people to share their complaints about eastern Europeans -- including their alleged contribution to the crime rate.
Peter Kofod Poulsen, a local politician for the anti-immigrant Danish People's Party who is also running for parliament, prompted allegations of racism after launching the website 'Meld en Østeuropæer', meaning "report an eastern European".
On the website, the 23-year-old said he wanted to hear from anyone whose home had been burgled by eastern Europeans, who had lost their job to "an underpaid eastern European", who felt insecure or had been "bothered in other ways" by the group.
Citizens of eastern European countries commit 27.4 percent of Danish burglaries that result in charges being pressed, the website stated, citing police data from last year.
"I think there is a need for some stories by ordinary Danes to be put on the table. They are experiencing problems with the open borders," he told AFP, referring to the EU's freedom of movement.
More than one in four Danes voted for the Danish People's Party in this year's EU election, making it the largest Danish party in the European parliament.
Reintroducing border controls was a key campaign issue for the populist party, which was able to tighten Danish immigration policy under the country's former right-wing government in return for its support in parliament.
In neighbouring Sweden, the anti-immigrant Sweden Democrats more than doubled their votes in Sunday's general election to 13.0 percent.
Poulsen, who is studying to become a teacher, said he had received around 1,900 messages since launching the site on Friday, although that number included spam and insults from people who disagreed with its content.
"I have no way of checking these stories that are received. What I have chosen to do is to completely anonymise the stories that are made public," the Haderslev councillor said.
A parliamentary candidate for the Liberal Alliance party, Danny Malkowski, launched a "report a racist" website, Meld en racist, in response, while PR consultant Frej Elbaek Eriksen suggested people use Poulsen's website to share stories of "particularly friendly eastern Europeans".
"I want to emphasise that I have nothing whatsoever against eastern Europeans in general," Poulsen said.
---
WORLD |
2000 up!
Monday, 15 September 2014, 11:13 | Source: HOPE not hate |
Todays's post on the Swedish election results was our 2,000th since the launch of our international web page on 5 January 2012.
The page is being used more and more by anti-fascists and journalists as a vital port of call when doing research or simply trying to find what's going on internationally.
Long may it continue!
---
GERMANY |
Angela Merkel joins Berlin rally against antisemitism
Monday, 15 September 2014, 11:05 | Source: Guardian |
Germany will do all it can to fight antisemitism, Angela Merkel has said, following a surge of abuse against Jews and spreading anti-Israeli sentiment aroused by the Gaza conflict.
The chancellor made her pledge on Sunday to thousands at a landmark rally protesting against a rise in antisemitism that authorities and Jewish leaders blame mainly on Muslim extremists and young immigrants.
She said anyone who attacked Jews was attacking all of Germany. "That people in Germany are threatened and abused because of their Jewish appearance or their support for Israel is an outrageous scandal that we won't accept," Merkel said. "It's our national and civic duty to fight antisemitism."
Merkel rarely attends demonstrations, but she joined the German president, Joachim Gauck, and Jewish community leaders for the rally at the Brandenburg gate in central Berlin.
"Anyone who hits someone wearing a skullcap is hitting us all. Anyone who damages a Jewish gravestone is disgracing our culture. Anyone who attacks a synagogue is attacking the foundations of our free society," she said.
The rally itself, organised by the Central Council of Jews in Germany, was extraordinary. Jews in Germany generally keep a low profile, but community leaders have said Jews were feeling threatened by antisemitism after the Gaza conflict.
More than half a million Jews lived in Germany when the Nazis took power in 1933. That number was reduced to about 30,000 by the Holocaust. The population has since grown to about 200,000, a source of pride for Merkel and many Germans.
The German government said 131 antisemitic incidents were reported in July and 53 in June, up from a total of 159 in the second quarter.
Merkel said authorities would use all means at hand to fight antisemitism.
"That far more than 100,000 Jews are now living in Germany is something of a miracle," Merkel saidin an unusually personal speech. "It's a gift and it fills me with a deepest gratitude.
"Jewish life is part of our identity and culture. It hurts me when I hear that young Jewish parents are asking if it's safe to raise their children here or elderly ask if it was right to stay here."
The Gaza conflict between Palestine and Israel has caused tension to flare between local Muslim and Jewish populations across Europe. Antisemitic chants and threats marred pro-Palestinian protests in France, Germany and Italy in July.
European leaders rushed to reassure local Jewish communities of their safety.
The French office of the American Jewish Committee said last week that French interior ministry figures showed there were 527 antisemitic incidents in France between 1 January and 31 July, up 91% from the same period in 2013.
In Britain, antisemitic incidents rose to a near-record level after an Israeli assault on the Palestinian enclave of Gaza began in July, the Community Security Trust, a Jewish advisory body, said that month.
The trust said there were 304 antisemitic incidents between January and June, a 36% rise compared with a year earlier.
Ronald S Lauder, the president of the World Jewish Congress, praised Germany's efforts to fight antisemitism at the rally.
"There are some places where I'd expect to see this," Lauder said. "But not in Germany. Since the end of the war Germany has strongly supported the Jewish rebirth. So why has all this good work been darkened by the stain of anti-Ssemitism?"
In July, petrol bombs were thrown at a synagogue in the western town of Wuppertal and a man wearing a skullcap was beaten up on a street corner in Berlin.
---
SWEDEN |
Political hopelessness and racism behind Sweden Democrats' success
Monday, 15 September 2014, 01:44 | Source: HOPE not hate/EXPO |
By Daniel Poohl and Mohammed Tuffaha for EXPO
The far right anti-immigration Sweden Democrats (SD) were, arguably, the biggest winner in yesterday's Swedish parliamentary elections with 12.9 percent of the vote according to the preliminary results.
That is more than double the votes cast for the SD in the last election when the party got 5.7 percent.
The election result means that the Sweden Democrats – now the third biggest party – will have 49 parliamentary seats, 29 seats more than in the previous term.
At the same time, the outright nazi Party of the Swedes had a disastrous election and, despite an unprecedentedly large electoral effort, did not manage to win a single local council seat.
The main consequence of the election is that the right-wing Alliance that has ruled the country for the last eight years will lose power. The country's largest party is now the Social Democrats who won 31.1 percent of the votes and will face the difficult task of forming a coalition government.
But how such a coalition will look is uncertain as the Red-Green parties, the Social Democrats, the Greens and the Left Party do not – with 44.8 per cent between them – have enough seats to form a majority in parliament together.
The Sweden Democrats' success is not a surprise. The party has attracted new voters, despite the many scandals that have hit the public media, and has been able to ride on negative reactions to the prime minister Fredrik Reinfeldt's declaration asking the Swedish people to open their hearts to the refugees from the wars in Syria and Iraq.
The now former premier's outspokenness highlighted the costs of admitting and maintaining the 80,000 refugees expected this year in a way that the SD was able to exploit for its own benefit.
While the SD has grown because of its ability to channel racism and intolerance in Swedish society, the party's success does not necessarily mean that racism has increased. Rather, it means that more people who already sympathise with the extremists' position on immigration and matters relating to the multicultural Sweden, have now been convinced that these questions are crucial for the country's future.
The Sweden Democrats win votes from political hopelessness. At a time, when politics is viewed as more about short-term profits than ideologies, the Sweden Democrats can step forward as a spurious alternative to the established parties, turning the hopelessness into racist and populist matrices: the Swedes against the immigrants; the people against the elite and the periphery against the centre.
Regardless of the success of the SD, at least the nazi Party of the Swedes hit the deck headfirst. Fielding candidates in 35 municipalities, it failed to win a single seat, despite having spent over one million Swedish crowns (£87,000) on this election and having employed full-time election campaigners. Thus, we can conclude that at least nazism is dead as a would-be parliamentary movement. The Swedish extreme right's hopes now lies at the feet of the Sweden Democrats.
This morning, Swedes will wake up to a new political landscape. And it doesn´t look pretty.
---
SWEDEN |
ELECTION SPECIAL/1 :Who's who?
Sunday, 14 September 2014, 12:07 | Source: thelocal.se |
Elections 2014
Photo: TT/Maja Sushin
Sweden heads to the polls on Sunday, but with the result on a knife-edge, The Local explains the potential outcomes and how they could affect your life in Sweden.
Moderate Party (Moderaterna)
Who: Fredrik Reinfeldt
Age: 48
Current role: Prime Minister of Sweden since 2006
Photo: Pontus Lundahl/TT
Background: Born and bred in the Swedish capital, Prime Minister Fredrik Reinfeldt has been in politics since joining the Moderate Party's youth wing as a teenager and has a degree in Business and Economics from Stockholm University. He is a passionate supporter of the Djurgårdens IF football team and has also written a political science fiction novel. After having three children with his wife Filippa Holmberg, also an active politician in the party, the couple divorced in 2012. His ex-wife still goes by the name of Reinfeldt herself, and is something of an Instagram celebrity.
Party: Following years as the main opposition party in Sweden, the Moderates broke up decades of dominance by the Social Democrats when they came into power in 2006. They formed a centre-right coalition known as the Alliance, with the Centre Party, the Liberal Party and the Christian Democrats. When it lost its majority in 2010, the coalition stayed in power as a minority government.
The Moderates are focused on job creation and cutting taxes. The party has lost support in recent years and was pushed into third place behind the Social Democrats and the Greens in May's European elections.
Current number of seats: 107
Social Democratic Party (Socialdemokraterna)
Who: Stefan Löfven
Age: 56
Current role: Party leader
Photo: Henrik Montgomery/TT
Background: Stefan Löfven isn't an elected member of parliament and has no previous experience of being a politician. Formerly the head of one of the country's most powerful unions, IF Metall, he was persuaded to stand for leadership following record low poll ratings for the Social Democrats in 2012. He started his career as a welder after growing up with an adoptive family in Örnsköldsvik, a small industrial area in northern Sweden. Watching his hometown's ice hockey team and going to the theatre with his wife Ulla Löfven count amongst his hobbies.
Party: The Social Democrats are the oldest and largest party in Sweden and dominated the political landscape until the 1990s. The party promotes workers' rights and built the modern Swedish welfare state, paid for by progressive taxation. It strongly promotes gender equality and takes an active stand against discrimination and racism. After a crushing defeat in 2006, the Social Democrats continued to lose votes in 2010, particularly from Sweden's urban middle class. But the party has bounced back since Löfven took over as leader and recently came top in May's European Elections.
Current number of seats: 112
Green Party (Miljöpartiet)
Who: Gustav Fridolin and Åsa Romson
Ages: 31 and 42
Current role: Joint Green party spokespeople
Photo: Janerik Henriksson/ TT
Background: Gustav Fridolin was the youngest Member of Parliament in Swedish history when he was first elected in 2002. Since then he has taken time away from politics to work as a journalist and a teacher, written three books and got married. He became joint spokesperson for the party in 2011 alongside Åsa Romson, a Stockholm-based lawyer. Romson is single and describes herself as a keen blogger and cyclist.
Party: The Greens first won seats in the Swedish parliament in 1988, becoming the country's third largest political party by 2010. The party is focused on fighting climate change and promotes policies designed to protect the planet for future generations. The Greens came second in May's European elections, ahead of the ruling Moderates. The party is against political careerism and actively encourages its members to take time out to try other jobs. It has never been in government but supported the minority Social Democrat government that held power from 1998 to 2006, along with the Left Party.
Current number of seats: 25
Liberal Peoples Party (Folkpartiet)
Who: Jan Björklund
Age: 52
Current role: Deputy Prime Minister
Photo: Fredrik Sandberg/TT
Background: A former major in the Swedish army, Jan Björklund first became a Member of Parliament in 2006. He was chosen as Deputy Prime Minister after his party emerged as the second largest in the government coalition following the 2010 general election. Originally from the west coast of Sweden, he now lives in Bromma in Stockholm with his wife and two sons. He says he cries easily, makes good pancakes and enjoys listening to Frank Sinatra.
Party: The Liberal Party is the fourth largest in the Swedish parliament and has been part of the centre-right alliance with the Moderates since 2006. Its core supporters are middle-class voters. The party is focused on improving education, encouraging more open immigration, joining NATO and nuclear expansion. It also promotes what it calls '"feminism without socialism", aiming to secure equal opportunities by investing in work sectors dominated by women and encouraging men to share childcare responsibilities. The Liberals lost votes in May's European elections.
Current number of seats: 24
Centre Party (Centerpartiet)
Who: Annie Lööf
Age: 31
Current role: Minister for Enterprise
Photo: Fredrik Persson/TT
Background: Annie Lööf became MP for Jönköping County in southern Sweden when she was just 23 years old. She followed her father Hans-Göran Johansson's footsteps into politics; he is also a Centre Party politician and is the current mayor of Värnamo Municipality. Lööf was selected to become leader of the party in 2011 and is Minister for Enterprise in the current Alliance. She has a degree in law and lives in Nacka, Stockholm, with her husband.
Party: The Centre Party has rural roots, emerging from Sweden's Farmers' League, which was set up more than one hundred years ago. Agricultural and environmental issues remain key concerns alongside allowing local communities to make their own decisions. More recently the party has tried to attract urban voters by promising help for small businesses. It is one of the smaller parties in the centre-right governing coalition.
Current number of seats: 23
Sweden Democrats (Sverigedemokraterna)
Who: Jimmie Åkesson
Age: 35
Current role: Party leader
Photo: Henrik Montgomery/TT
Background: An early entrant into politics, Jimmie Åkesson began his career as a city councillor in his hometown, Sölvesborg in southern Sweden, after joining the party's youth wing as a teenager. He has also worked as a web designer. Åkesson has led the party since 2005 and still lives in his home city along with his partner, baby son and three cats. He says the Godfather Trilogy is his favourite movie box set.
Party: The nationalist Sweden Democrats were founded in 1988, evolving from far-right organisations with neo-Nazi roots. In recent years the party has worked to tone down its image as a racist and extremist group although cutting immigration remains its main goal.
The Sweden Democrats currently describe themselves as neither right nor left wing and say they support a strong welfare state alongside traditional conservative values. They also promise to take a tough stand against crime and to guarantee a dignified retirement for older people.
The party got its first seats in Sweden's parliament in the last election in 2010. It also secured its first two seats in the European Parliament in May 2014.
Current number of seats: 20
Left Party (Vänsterpartiet)
Who: Jonas Sjöstedt
Age: 49
Current role: Party leader
Photo: Anna Karin Drugge/TT
Background: Born in Gothenburg, Jonas Sjöstedt is a former metal worker who has also worked in Strasbourg and Brussels as a Member of the European Parliament and in New York where he wrote for left wing magazines and newspapers. He has been a Member of Parliament in Sweden since 2010. Sjöstedt is married to Swedish diplomat Ann Måwe who is part of the Swedish delegation to the United Nations.
Party: As its name suggests, The Left Party is the most left-wing group in the Swedish parliament. It has a long history and described itself as communist until the 1990s. The Left Party has never served in government but alongside the Greens it supported the minority Social Democrat government that held power from 1998 to 2006.The party is against the privatisation of public companies and supports higher taxes to fund Sweden's welfare state.
Current seats: 19
Christian Democrats (Kristdemokraterna)
Who: Göran Hägglund
Age: 55
Current role: Minister for Health and Social Affairs
Photo: Henrik Montgomery/TT
Background: After working for the Christian Democratic Youth organisation and as a councillor in Jönköping in southern Sweden, Göran Hägglund had a break from politics to work in insurance. He was later elected to the Swedish parliament in 2001, became party leader in 2004 and has served as Minister for Health and Social Affairs since 2006. Married with two children, he has a strong Christian faith, in contrast to many politicians in Sweden, which is one of the most atheist countries in the world.
Party: The Christian Democrats are a right wing, conservative group. They won their first seats in parliament in 1985, two decades after the party was set up. The party supports cutting taxes and reducing the number of regulations on companies. Improving elderly care and increasing child benefits are other key policies. Despite its religious background, the party has a pro-choice approach to abortion and backed the introduction of gay marriage in Sweden. It is the smallest party in the centre-right governing coalition and polls suggest it could struggle to maintain the 4 per cent vote threshold needed to secure seats in the next parliament.
Current seats: 19
Feminist Initiative (Feministiska initiativet)
Who: Gudrun Schyman
Age: 66
Current role: Party spokesperson
Photo: Henrik Montgomery/TT
Background: After leading the Left Party for a decade, Gudrun Schyman helped form the Feminist Initiative in 2005, arguing that issues as such sexual discrimination and violence against women needed to take centre stage. She famously burned 100,000 SEK in a protest about the gender pay gap in 2010. A candid politician, she has admitted battling with alcoholism and avoiding taxes. Outside the party she has worked as a consultant and entrepreneur. She lives in Stockholm and has a son with Swedish filmmaker Lars Vestman.
Party: The Feminist Initiative argues that Sweden's image as a tolerant, equal society isn't a reality. It wants women and men to be entitled to the same rights, opportunities and responsibilities. The party also speaks out against racial discrimination and violence and wants to stop all military spending and arms exports by Sweden. After competing in two elections the party has yet to win a seat in the national parliament, but it had an historic victory in the European Parliamentary elections as Swedes voted in the EU's first feminist MEP, Soraya Post.
Current number of seats: 0
Pirate Party (Piratpartiet)
Who: Anna Troberg
Age: 40
Current role: Party leader
Photo: Janerik Henriksson
Background: Working in publishing, Anna Troberg was initially opposed to The Pirate Party's criticism of copyright and patent laws and challenged its members on her blog. She then decided she agreed with their ideas and went on to join the group, becoming leader in 2009. Troberg also works as an author and she has translated several books including British celebrity Sharon Osbourne's biography Extreme. She lives in Stockholm with her girlfriend and four cats and says she enjoys reading and listening to Dolly Parton in her spare time.
Party: The Pirate Party was founded in 2006 as a response to changes in communication in the Internet age. It promotes sharing online films and music that are currently copyrighted, as long as this is done without making a profit. The party argues that this kind of access will spread culture and knowledge and improve society. Personal privacy is also a core value; it is against government retention of digital data and supports the work of Wikileaks. The party has yet to win a seat in a national election and lost its two seats in the European Parliament in May 2014
---
SWEDEN |
ELECTION SPECIAL/2 : Five possible election outcomes
Sunday, 14 September 2014, 12:03 | Source: thelocal.se |
Sweden heads to the polls today, but with the result on a knife-edge, The Local explains the potential outcomes and how they could affect your life in Sweden.
Sweden has eight main political parties, so it is very rare for one party to win an election and form a majority government.
Usually the party with the largest proportion of the vote seeks to form a coalition government with other groups that share some of its values.
The current ruling government - known as the Alliance - is made up of Prime Minister Fredrik Reinfeldt's Moderate Party, the Centre Party, the Christian Democrats and the Liberal Party.
Polls suggest that support for the Moderates has dropped and the Alliance's total share of the vote is now smaller than the combined share of its main rivals - the Social Democrats, the Greens and the Left Party. But the gap between the two blocs has narrowed in recent days.
With the help of political commentator Dr Stig-Björn Ljunggren, we've put together a list of what could happen next:
1. The Social Democrats form a Red-Green coalition
If the centre-left parties secure a greater share of the vote than the Alliance, and Fredrik Reinfeldt decides to resign as prime minister, Stefan Löfven would seek to take over as Sweden's next Prime Minister and form a coalition government. Although the Social Democrats haven't formally agreed to a Red-Green coalition, Löfven has made it clear the Green Party is his preferred partner, in preference to the Left Party.
The Social Democrats would seek to raise taxes in order to increase benefits and spend more money on public healthcare and education in Sweden.
The Green party would also want to influence policies, for example by pushing Sweden's industries to become more environmentally friendly. The Left Party would offer indirect support on many policies. Most people living in Sweden wouldn't notice any dramatic changes straight away.
Stefan Löfven (left) and the Green Party's Åsa Romson (right). Photo: TT
2. The Social Democrats form a Red-Red-Green coalition, with support from the Left Party as well as the Greens
If the Social Democrats and the Greens don't secure a large enough combined share of the vote, they are expected to team up with Left Party to form a formal three-group coalition. The Left Party would expect concessions such as limiting the privatization of schools and hospitals, more radical increases to benefits and stricter regulation of the labour market to make sure that foreign workers have the same rights as Swedes. People living in Sweden would expect higher taxes.
The Greens and Social Democrats could work with The Left Party's Jonas Sjöstedt (right). Photo: TT
3. The Alliance remains in government with indirect support from the nationalist Sweden Democrats
Fredrik Reinfeldt could stay Prime Minister if the Alliance got enough votes to remain the largest political bloc. But this would probably be the result of a very narrow victory, so the Alliance would need support from the nationalist Sweden Democrats in order to get its policies through parliament.
In fact, this scenario wouldn't differ much from the way the Alliance has governed for the past four years - since 2010 they have been in a minority, and the Sweden Democrats have backed them on most key issues including tax cuts and boosting Sweden's defence budget.
However, on migration policy Reinfeldt has previously sought to isolate the Sweden Democrats by agreeing a deal with the pro-immigration Greens.
The government would remain focused on boosting business in Sweden and allowing private companies to play a role in schools and hospitals. But Fredrik Reinfeldt might make a fresh start by reshuffling his cabinet or creating new government departments
Fredrik Reinfeldt (left) and Sweden Democrat leader Jimmie Åkesson (right). Photo: TT
4. The Social Democrats team up with one or more of the current Alliance parties
The Green Party might not agree to a coalition with the Social Democrats, especially if it includes the ex-communist Left Party, which the Greens regard as having radical views in some areas. In this scenario, the Social Democrats would seek an alternative coalition partner or two. We could see Stefan Löfven negotiating with the Centre Party, which is focused on improving infrastructure and jobs in rural areas, or the Liberal Party which typically attracts middle-class voters and has put education at the helm of its campaign.
The Christian Democrats, Liberal Party and Centre Party could join a red-led coalition. Photo: TT
5. The Moderates form a coalition with the Social Democrats
This is the least likely scenario, comparable to Angela Merkel's fairly successful 'Grand Coalition' with Social Democrats in Germany. But if there was a sudden national crisis, the country's two biggest parties might seek to work together, despite their opposing ideologies. For example if Russia started invading Sweden's Baltic neighbours or the economy crashed unexpectedly, Sweden would be focused on dealing with these issues ahead of debates on welfare or unemployment. The Social Democrats have previously worked with the Moderates during times of crisis such as World War Two.
Could Stefan Löfven (left) work with Fredrik Reinfeldt (right)? Photo: TT
---
GERMANY |
German newspaper targeted by neo-Nazis
Saturday, 13 September 2014, 11:49 | Source: thelocal.de |
Photo: DPA
The Organisation for Security and Cooperation in Europe said on Friday that neo-Nazi vandalism and threats against a local newspaper in eastern Germany were "unacceptable and must be stopped".
The week before four swastikas were daubed on other offices of the paper as well as "Jews, kill them" and "We'll get you all". There were similar incidents against the daily in 2012.
"These threats and acts of vandalism must be stopped and I am confident that the authorities will take the necessary precautions to ensure journalists' safety," the OSCE's media representative Dunja Mijatovic said.
"I welcome the condemnation of these attacks from the highest level of the German authorities in Brandenburg state and trust that these incidents will be swiftly and thoroughly investigated," she said in a statement.
The chief editor of the newspaper, Johannes Fischer, told the Berliner Zeitung that it would fight back with words which were "the most powerful weapons against spray cans and baseball bats".
Chancellor Angela Merkel will speak at a rally at the iconic Brandenburg Gate in Berlin against anti-Semitism on Sunday coinciding with a World Jewish Congress (WJC) meeting in the German capital.
---
GERMANY |
The rise of 'Germany's UKIP': Eurosceptic AfD party threatens Angela Merkel in state elections
Friday, 12 September 2014, 22:14 | Source: Independent |
In the back room of a dimly lit pub in the rural east German village of Grossbahren, Beatrice Amelie Ehrengard von Storch was busy expounding her theories about how Angela Merkel's unquestioning support for the euro and the European Union was gradually wrecking the Fatherland.
A group of some 35 citizens of the state of Brandenburg – many of them young men with military-style haircuts – sipped pilsner beer and listened attentively as she outlined the dire prospects in store if Germany continued on its pro-European course.
"Our social security is a luxury that we may soon no longer be able to afford. That's because Merkel has signed up to a European unemployment benefit scheme," insisted Ms von Storch, a skinny woman in her forties. "It means that we Germans will have to support jobless Spaniards," she added.
Ms von Storch, who would have been entitled to call herself Princess of Oldenburg had she not married a commoner, is a Euro MP for Germany's recently elected new Eurosceptic Alternative for Germany party (AfD). "If you don't want to live in a centralised European state – then vote for the AfD," she told her audience on Thursday night.
The AfD is set to enter the parliaments in the German states of Brandenburg and Thuringia in regional elections on Sunday after winning almost 10 per cent of the vote and several seats in the state of Saxony for the first time this month. Ms von Storch's pub visit was part of her party's Brandenburg campaign.
With an often bizarre and contradictory mix of right-wing policies, the AfD is in the process of destroying Ms Merkel's traditional liberal Free Democrat allies. The pro-business liberals were ousted in national government in elections last year. They are now being replaced at regional level by the AfD, which only narrowly missed winning seats in Berlin.
Chancellor Angela Merkel recently admitted that the AfD is a "problem" and most political analysts predict that the party will enter Germany's federal parliament after the 2017 general election. They say it has the potential to undermine the country's hitherto cosy political consensus on Europe and swing Germany to the right.
"The AfD is similar to Ukip. It is part of the current renationalisation of politics in Europe," Professor Werner Patzelt of Dresden's Institute for Political Science told The Independent. "It has filled a gaping hole on the German political right caused by Merkel shifting her ruling conservative Christian Democrats to the left," he adds.
Just how far to the right the AfD lies is a matter of intense debate and some alarm in Germany. Professor Patzelt says the party draws its support from disillusioned Christian Democrats, estranged former liberals and even the neo-Nazi National Democratic Party. "The AfD is in puberty and has the potential to become anything on a right-wing political spectrum which ranges from Marine Le Pen's French Front Nationale to right-wing nationalist Bavarians," he said.
The AfD's leadership objects to being linked to the "crude" far right and likes to present the party as the natural home of frustrated yet concerned aristocrats and nationalists like Mrs von Storch. It wants debt-plagued countries such as Greece, Spain and even France to leave the eurozone and aims to claw back powers from Brussels. It insists it is not anti-Europe and that its natural allies are Britain's Tories, not Ukip.
Bernd Lucke, the AfD's leader and an economics professor, rejects allegations that his party is a far-right organisation. "This is a deliberate and untrue media slur which is meant to discredit us," he says. Yet in Brandenburg the party has attracted officials who were previously members of far-right organisations, and the party is campaigning vigorously for tougher immigration controls in the state.
In Saxony, where AfD has already entered the state parliament, the party is calling for a referendum on plans to build mosques with minarets and has advocated tighter controls on abortion to make way for more German children. Mrs von Storch would like to see all Third World refugees obliged to apply for asylum at European embassies in their own countries before being let in. Her answer to Ukraine crisis is for Germany to set up a free trade agreement with Russia to guarantee "German business interests".
In Thuringia, the AfD's leader talks about German identity "dying out" because of immigration. A former Muslim member of the AfD was found to have attended a Turkish social occasion and was warned by party officials that she "should never attend multi-cultural events". She subsequently resigned from the party. Speaking on German TV this week, she told the investigative programme Monitor that Mr Lucke had lost control and that the party was now largely in the hands of far-right activists. Another former liberal AfD member from the state of Lower Saxony told the programme that she left the party after right-wing members threatened her on her Facebook site.
Professor Patzelt says that if the AfD continues its run of electoral successes, it could win seats in national parliament. Under Ms Merkel Germany's pro-European Christian Democrats have ruled out any coalition with the AfD. But Professor Patzelt is not convinced this will always be the case: "The conservatives may be saying that now, but when politics in Europe are being renationalised, attitudes and policies can change," he said.
An alternative for Germany? what the AFD wants
The party insists it is not anti-Europe but anti the euro. It
* wants to scrap the euro as a single currency for Europe. It argues that its use fails to take into account Europe's different traditions and forces Germany to provide financial guarantees for the EU's debtor nations.
* claims the euro forces Europeans to cede ever more national powers to Brussels.
* wants to claw back these powers from Brussels and bring to an end what it claims is a European super state. Instead it wants a Europe of independent sovereign states which operate in a common economic zone.
* wants referendums to be held regularly before parliament decides on key national issues such as the introduction of the euro and euro rescue packages.
* wants to step up the pay and powers of the police and judiciary to help them combat crime more effectively.
* wants a substantial reform of immigration policies and stresses that immigrants have duties such as learning German, fully integrating themselves and paying taxes.
* wants substantial tax breaks for families with children and says women should be able to chose between a career and raising children.
---
SWEDEN |
Sweden Democrats head hit by gambling scandal
Friday, 12 September 2014, 22:04 | Source: thelocal.se |
The nationalist Sweden Democrats were dealt two more blows on Friday as party leader Jimmie Åkesson was revealed to have a high-stakes gambling habit and footage was leaked of party members secretly filming foreigners.
On Friday afternoon, Sveriges Radio (SR) revealed that Åkesson had spent upwards of 500,000 kronor (£43,000) this year alone on online betting.
A gambling expert told the channel that such a habit was "out of control". The sum is more than the politician would have earned all year, after tax, reported SR.
Åkesson said that the large sums he spent were simply the winnings from previous bets, adding that he gambled "for fun" with his partner.
The revelations came hot on the heels of a film clip leaked by the Aftonbladet newspaper on Friday morning. It shows at least three people in a car - one of whom was the Sweden Democrat's party chairman in Lund, Hans-Olof Andersson - on the look out for foreigners to film.
"Look, I got a n*****," one of them says.
One person in the car refers to the activity as "drive-by filming", while one of them uses the words "Somali bitches".
In another scene, the camera is pointing to a dark-skinned couple and their child, as someone says "Here's a bit of multi-culturalism".
When a woman sees them filming and confronts the trio, Andersson says that he's simply working on a "media project for university".
The film was made in 2010, and published on the party's official website at the time.
When confronted by Aftonbladet, Andersson denied that he was part of the filming, but changed tune when he was shown the clip.
"I don't understand what the problem is with this, we had a licence and we were often filming out in public areas," he said.
He declined to comment on why the team had said they were from university.
With elections on Sunday and the results far from certain, a fresh survey by pollsters Sifo has found that 33 percent of supporters for Prime Minister Fredrik Reinfeldt's Moderate party would support a cooperation with the Sweden Democrats.
The nationalist party is something of a kingmaker in the coming elections, and is expected to earn around 10 percent of the total votes. With the red-green bloc and the governing Alliance running a close race, cooperation with the Sweden Democrats, while extremely unlikely, would allow either bloc a definite majority.
Friday's revelations mark the third of their kind for the party. Earlier this week, a party member stepped down after posting anonymous and racist comments online. Last week, another Sweden Democrat left her post after pictures surfaced of her wearing a Nazi swastika armband while apparently cleaning her house.
---
CZECH REPUBLIC |
Czech prosecuted for selling clothes with neo-Nazi symbols
Friday, 12 September 2014, 11:01 | Source: Prague Post |
Czech police have accused a 23-year-old man of producing clothes with neo-Nazi symbols and selling them via the Internet, police spokesman Petr Gřes has told the Czech News Agency.
The suspect ran the controversial "business" for almost one year, using his father's trade license.
"The young man promoted the right-wing extremist movement. He also attended several [ultra-right] meetings and demonstrations. He designed, produced, distributed and sold clothes and accessories with extremist symbols," Gřes said.
He decorated the clothes with signs of the officially unregistered neo-Nazi organization Blood and Honor - Combat 18, the neo-Nazi militant skinhead organization Hammer Skins, the banned neo-Nazi movement National Resistance and the Anti-Antifa organization, the police say.
He also used the symbols that were used by Nazi Germany: the Reichsadler (Imperial Eagle) and the swastika.
"He ran the business since November 2013 at the latest. We arrested him during a home search in early September," Gřes said.
The police seized some clothes bearing extremist symbols. They also took photos of the suspect's room to document the wall decorations mirroring his extremist views.
The man, a resident of north Moravia, faces up to 10 years in prison if found guilty.
---
SWEDEN |
Racism scandals engulf Sweden Democrats as voters turn away
Friday, 12 September 2014, 10:57 | Source:Bloomberg.com |
The Sweden Democrats, which a week ago were poised to become kingmakers after the Nordic nation's election, have started losing voters after revelations of racist online commentary from party members.
So far eight candidates for municipal seats have stepped down or let go after tabloid Expressen this week started revealing what they had been writing on anonymous online forums such as Avpixlat, according to the newspaper. In the most recent election poll by Sifo, support for the party fell to 8.9 percent from 10.4 percent.
The party's rise had sparked concern over post-election turmoil that could weaken the krona and bonds as neither of the two major blocs have their own majority. The other groups don't want to govern with the Sweden Democrats because of its anti-immigration views.
Leader Jimmie Aakesson has sought to reinvent the Sweden Democrats to make it more palatable to the broader electorate and scrub its racist past. It's now in damage-control mode.
"The party has viewed this very seriously and handled it quickly, which has resulted in quite a few people being warned to leave," Henrik Vinge, a spokesman, said by phone today. "What's important to emphasize is that this is one of our most successful elections ever, with thousands of candidates. A very small number of those have acted in this way and we have been very clear in that we don't accept this behavior."
According to the Expressen revelations, party members have compared immigrants to monkeys and asylum seekers to vermin and parasites in online forums. The tabloid and the organization Researchgruppen this week stepped up their publication of the identities of anonymous commentators. The newspaper also published a photo of a local Sweden Democrats candidate wearing a swastika armband.
In the most recent Svenska Dagbladet and Sifo poll, carried out Sept. 8-9 and published on Sept. 10, support for the Sweden Democrats fell to 8.9 percent from 10.4 percent in a poll published on Sept. 5. In a TV4 and Novus poll, conducted Sept. 7-9 and published on Sept. 10, backing for the Sweden Democrats declined to 8.1 percent from 9.5 percent.
---
JAPAN |
LDP trio try to distance themselves from photos taken with neo-Nazi
Thursday, 11 September 2014, 19:29 | Source: ajw.asahi.com |
A newly promoted Cabinet minister and two ruling party lawmakers were left scrambling to explain how they ended up posing for photos with the leader of a Japanese "neo-Nazi" organization.
Particularly embarrassing for Prime Minister Shinzo Abe is that Sanae Takaichi was involved. Takaichi, the new internal affairs minister, is one of five women appointed by Abe just over a week ago to give his administration a more modern touch.
The other two were Tomomi Inada, who is also female and chairs the Liberal Democratic Party's influential Policy Research Council, and Shoji Nishida, an Upper House member.
They were photographed with Kazunari Yamada, whose National Socialist Japanese Workers Party flies a swastika-like flag during its activities.
The organization espouses racist views that are more commonly associated with Nazi Germany.
Three photos were temporarily posted on the organization's website. Overseas media, mainly European based, jumped on the story. Yamada, 52, said he visited the offices of the three lawmakers in summer 2011 as a writer for an opinion magazine. The LDP at the time was in opposition.
After his interviews, Yamada asked if they would pose for photos with him.
Takaichi's office issued a statement Sept. 10 that said the minister had no idea Yamada was the leader of an extremist organization.
"He accompanied the publisher for an interview as its staff member. As he asked for a photo (with Takaichi), we accepted the request. We did not know who he was."
After reports the photo had been posted on the organization's website, the office demanded through the publisher that it be deleted.
That same day, Inada's office issued a written statement that said: "We did not know the background or thoughts of the man or his organization. We did not even grasp his name. There has been no contact with him since the interview."
Nishida also tried to distance himself from suggestions he might sympathize with extremism, saying through his office, "We had no idea about what he was doing."
Yamada appeared to be contrite about the matter, saying: "I did not reveal my private thoughts (to the lawmakers). I posted the photos with them on the website in commemoration. I had no intention of causing problems for them."
After Shinzo Abe reshuffled his Cabinet on 3 Sept, the postings of the three photos became a topic on the Internet.
On Sept. 8, the French news agency Agence France-Presse reported the story, saying, "The pictures will add fuel to claims that Prime Minister Shinzo Abe is increasingly surrounding himself with people on the right of Japanese politics."
Based on the dispatch, The Straits Times of Singapore, along with The Times and The Guardian of Britain, carried similar reports.
The Guardian's report was headlined, "Neo-Nazi photos pose headache for Shinzo Abe."
Toru Yoshida, an associate professor of European comparative politics at Hokkaido University, noted that in Germany people face being prosecuted if they are openly sympathetic to nazism.
"There are no politicians who would pose for photos with people who agree with the thinking and creed of the Nazis. I am sure the European media were surprised by these photos and made it a story."
---
DENMARK |
Danish Muslims condemn Islamic State
Thursday, 11 September 2014, 14:03 | Source: cphpost.dk |
The Danish Muslim Union is publicly distancing itself from the jihadist group Islamic State (IS), reports DR.
"The Danish Muslim Union (DMU) condemns the organisation IS, its brutality, its killing of innocent people, its abuse of the concept of the caliphate, and its abuse of Islam as a religion to justify atrocities and crimes against humanity," says an official DMU statement.
The Danish Muslim Union is an umbrella organisation for several Danish Muslim organisations such as the Islamic Society and the Danish Islamic Council.
"The extreme behaviour of IS has created a completely distorted view of Islam. It reduces this beautiful and peaceful religion to nothing but a bogey and feared ideology," continued the union.
"For this reason, IS has become the enemy of Islam with no legitimacy as a true expression of Islam or as a model for Muslims."
---
UKRAINE |
Azov fighters are Ukraine's greatest weapon and may be its greatest threat
Thursday, 11 September 2014, 13:40 | Source: Guardian |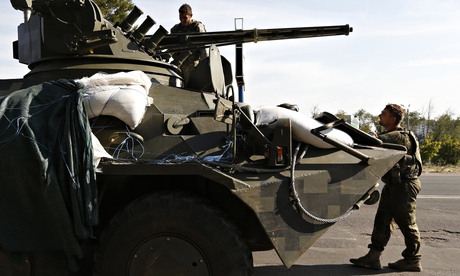 An Azov battalion soldier stands next to an armoured personnel carrier at a checkpoint in Mariupol on 4 September.
Photograph: Vasily Fedosenko/REUTERS
"I have nothing against Russian nationalists, or a great Russia ," said Dmitry, as we sped through the dark Mariupol night in a pickup truck, a machine gunner positioned in the back. "But Putin's not even a Russian. Putin's a Jew."
Dmitry – which he said is not his real name – is a native of east Ukraine and a member of the Azov battalion , a volunteer grouping that has been doing much of the frontline fighting in Ukraine's war with pro-Russia separatists. The Azov, one of many volunteer brigades to fight alongside the Ukrainian army in the east of the country, has developed a reputation for fearlessness in battle.
But there is an increasing worry that while the Azov and other volunteer battalions might be Ukraine's most potent and reliable force on the battlefield against the separatists, they also pose the most serious threat to the Ukrainian government, and perhaps even the state, when the conflict in the east is over. The Azov causes particular concern due to the far right, even neo-Nazi, leanings of many of its members.
Dmitry claimed not to be a Nazi, but waxed lyrical about Adolf Hitler as a military leader, and believes the Holocaust never happened. Not everyone in the Azov battalion thinks like Dmitry, but after speaking with dozens of its fighters and embedding on several missions during the past week in and around the strategic port city of Mariupol, the Guardian found many of them to have disturbing political views, and almost all to be intent on "bringing the fight to Kiev" when the war in the east is over.
The battalion's symbol is reminiscent of the Nazi Wolfsangel, though the battalion claims it is in fact meant to be the letters N and I crossed over each other, standing for "national idea". Many of its members have links with neo-Nazi groups, and even those who laughed off the idea that they are neo-Nazis did not give the most convincing denials.
"Of course not, it's all made up, there are just a lot of people who are interested in Nordic mythology," said one fighter when asked if there were neo-Nazis in the battalion. When asked what his own political views were, however, he said "national socialist". As for the swastika tattoos on at least one man seen at the Azov base, "the swastika has nothing to do with the Nazis, it was an ancient sun symbol," he claimed.
The battalion has drawn far-right volunteers from abroad, such as Mikael Skillt, a 37-year-old Swede, trained as a sniper in the Swedish army, who described himself as an "ethnic nationalist" and fights on the front line with the battalion.
Despite the presence of these elements, Russian propaganda that claims Kiev's "fascist junta" wants to cleanse east Ukraine of Russian speakers is overblown. The Azov are a minority among the Ukrainian forces, and even they, however unpleasant their views may be, are not anti-Russian; in fact the lingua franca of the battalion is Russian, and most have Russian as their first language.
Indeed, much of what Azov members say about race and nationalism is strikingly similar to the views of the more radical Russian nationalists fighting with the separatist side. The battalion even has a Russian volunteer, a 30-year-old from St Petersburg who refused to give his name.
He said he views many of the Russian rebel commanders positively, especially Igo Stelkov, a former FSB officer who has a passion for military re-enactments and appears to see himself as a tsarist officer. He "wants to resurrect a great Russia, said the volunteer; but Strelkov is "only a pawn in Putin's game," he said, and he hoped that Russia would some time have a "nationalist, violent Maidan" of its own.
On one afternoon earlier this week the Guardian travelled with a group of Azov fighters to hand over several boxes of bullets to Ukrainian border guards. During an artillery attack outside Mariupol in the days before, the border guards had come to the rescue of a group of Azov fighters, and the bullets were their way of saying thank you.
"Everything in this war is based on personal links; Kiev does nothing," explained the Azov's Russian volunteer, as we sped towards a checkpoint in a civilian Chevrolet; the boot full with the boxes of bullets and rocket-propelled grenade launchers; one of the windows shot out by gunfire during a recent battle.
"This is how it works. You go to some hot spot, they see you're really brave, you exchange phone numbers, and next time you can call in a favour. If you need an artillery strike you can call a general and it will take three hours and you'll be dead. Or you can call the captain or major commanding the artillery battalion and they will help you out straight away. We are Azov and they know that if they ever needed it, we would be there for them."
For the commanders and the generals in Kiev, who many in Azov and other volunteer battalions see as responsible for the awful losses the Ukrainian army has suffered in recent weeks, especially in the ill-fated retreat from Ilovaysk, there was only contempt. "Generals like those in charge of Ilovaysk should be imprisoned for treason," said Skillt. "Heads are going to roll for sure, I think there will be a battle for power."
The Ukrainian armed forces are "an army of lions led by a sheep", said Dmitry, and there is only so long that dynamic can continue. With so many armed, battle-hardened and angry young men coming back from the front, there is a danger that the rolling of heads could be more than a metaphor. Dmitry said he believes that Ukraine needs "a strong dictator to come to power who could shed plenty of blood but unite the nation in the process".
Many in the Azov battalion with whom the Guardian spoke shared this view, which is a long way from the drive for European ideals and democracy that drove the protests in Kiev at the beginning. The Russian volunteer fighting with the Azov said he believes Ukraine needs "a junta that will restrict civil rights for a while but help bring order and unite the country".
This disciplinarian streak was visible in the battalion. Drinking is strictly forbidden. "One time there was a guy who got drunk, but the commander beat him in his face and legs until he could not move; then he was kicked out," recalled one fighter proudly.
Other volunteer battalions have also come under the spotlight. This week, Amnest International called on the Ukrainian government to investigate rights abuses and possible executions by the Aidar, another battalion.
"The failure to stop abuses and possible war crimes by volunteer battalions risks significantly aggravating tensions in the east of the country and undermining the proclaimed intentions of the new Ukrainian authorities to strengthen and uphold the rule of law more broadly," said Salil Shetty, Amnesty International secretary general, in Kiev.
Fighters from the battalion told the Guardian last month they expected a "new revolution" in Ukraine that would bring a more decisive military leader to power, in sentiments similar to those of many Azov fighters.
Despite the desire of many in the Azov to bring violence to Kiev when the war in the east is over, the battalion receives funding and assistance from the governor of Donetsk region, the oligarch Serhiy Taruta. An aide to Taruta, Alex Kovzhun, said the political views of individual members of Azov were not an issue, and denied that the battalion's symbol had Nazi undertones.
"The views of some of them is their own affair as long as they do not break the law," said Kovzhun in written answers to questions. "And the symbol is not Nazi. Trust me – some of my family died in concentration camps, so I have a well-developed nose for Nazi shit."
As well as their frontline duties, the Azov battalion also functions as "a kind of police unit", said a platoon commander who goes by the nom de guerre Kirt. A medieval history buff who takes part in Viking battle reenactments and once ran a tour firm in Thailand, Kirt returned to east Ukraine to join the Azov. He took the Guardian on an overnight patrol through the outskirts of Mariupol and the villages around the front line.
Part separatist hunters, part city cops with no rules to restrain them, they travelled in a convoy of three vehicles, all heavily armed. As midnight approached we set off across the bumpy tarmac roads to the outskirts of Mariupol, and soon came across a parked car by the side of the road that the men found suspicious.
Fighters dashed from the front two cars and rushed at the vehicle pointing their guns at it. A startled man got out of the passenger seat, then a sheepish looking woman in a cocktail dress and holding a half-smoked cigarette emerged, smoothing her hair. The Azov fighters apologised, but only after demanding documents and thoroughly searching the car.
As we edged closer to the front line, Kirt and the others scanned the skyline with binoculars, on the lookout for snipers and separatists. Later, fighters sprinted towards a suspicious jeep parked on the beach while the sea was scanned for hostile support vessels, but it turned out that again the men had stumbled upon people just trying to have a good time: a group of women drinking sparkling wine out of plastic cups on the beachfront.
The Azov have been partially brought into the military and officially function as a special police unit. There are discussions that Azov and other battalions could be integrated into the army or special forces when the conflict is over.
Some of them, however, are hoping Ukraine will look very different in the not-so-distant future. And while they may be a tiny minority when it comes to Ukraine as a whole, they have a lot of weapons.
President Petro Poroshenko will be killed in a matter of months, Dmitry said, and a dictator will come to power.
"What are the police going to do? They could not do anything against the peaceful protesters on Maidan; they are hardly going to withstand armed fighting units."
---
HUNGARY |
Jobbik spy case stuck in Brussels
Wednesday, 10 September 2014, 17:09 | Source: Politics.hu |
A novel situation could emerge in the European Parliament in the case of Bela Kovacs, the radical nationalist Jobbik European lawmaker who is suspected of spying for Russia, Magyar Nemzet daily said.
The work of the parliamentary committee on suspending the MEP's immunity has been impeded because it is unclear what documents from the investigation the rapporteur can have access to without breaking state-secrecy rules, the paper said on Wednesday.
Brussels cannot get access to documents on which basis it would be able to decide whether the Hungarian prosecutor's request to lift the parliamentary immunity of Kovacs would be lawful or not. Geza Fazekas, the Hungarian public prosecutor's spokesman, told the paper that the prosecutor is in constant contact with officials of the European Parliament in connection with the matter.
Peter Polt, the public prosecutor, has asked EP president Martin Schultz to suspend Kovacs's immunity on suspicion that the Jobbik politician spied against European Union institutions.
The Constitutional Protection Office raised charges against Kovacs after suspicions were raised that the lawmaker had regularly met Russian diplomats covertly and paid monthly visits to Moscow, the paper said, adding that this is the first time that a request has been made to lift the immunity of an MEP in connection with state secrets.
Jobbik spokesman Adam Mirkoczki told a press conference on Wednesday that it was "intolerable" that the government was "using the public prosecutor, courts and police for political purposes". During every election campaign this year, there have been examples of "heavy-handed control" of police and justice administration authorities.
He cited the examples of former Socialist deputy leader Gabor Simon arrested during the general election campaign and Kovacs's case which was first introduced during the European Parliamentary election campaign among others.
---
GREECE |
Pavlos Fyssas murder trial expected to start before the end of the year
Tuesday, 9 September 2014, 13:04 | Source:ekathimerini.com |
The trial over the September 2013 murder of anti-fascist rapper Pavlos Fyssas by a self-proclaimed member of Golden Dawn, an act that sparked a large-scale investigation into the alleged criminal activities of the neo-Nazi party, is expected to start before the end of the year, Kathimerini has learned.
Prosecutor Isidoros Dogiakos, who has supervised the probe into the activities of Golden Dawn's MPs and other high-ranking party officials, is said to be preparing his recommendations for a council of judges and to request a start to the trial by end-2014.
The investigation that followed the lethal stabbing of Fyssas in the early hours of September 18, 2013, in Keratsini, a suburb of Piraeus, is the biggest involving political officials to be conducted in Greece since the aftermath of World War II.
Giorgos Roupakias, a self-proclaimed member of the ultranationalist party, has allegedly confessed to the crime, with evidence suggesting that he was following orders from the higher echelons of Golden Dawn.
A probe sparked by the 2013 killing into the party's activities and led by investigating magistrates Ioanna Klapa and Maria Dimitropoulou under the supervision of Dogiakos, has resulted in criminal charges being brought against all of Golden Dawn's Parliamentary deputies as well as several high-ranking officials of the party, including the head of the branch of Golden Dawn in Nikaia, near Keratsini, Giorgos Patelis.
A total of 78 suspects have been charged over the findings of the probe, which include thousands of pages of evidence, hundreds of videos and voice recordings and multiple testimonies suggesting that Golden Dawn operates as a criminal organization with a strict hierarchical structure.
The central premise of the case is that the murder of 34-year-old Fyssas was ordered from within the party ranks and was politically motivated as the young musician was known for his anti-fascist activism.
Nine of the original Golden Dawn 18 MPs (two defected earlier this year) are currently in pretrial custody, including party leader Nikos Michaloliakos and his right-hand man Christos Pappas. The other nine have been granted conditional release.
Meanwhile, marking the anniversary of Fyssas's murder anti-fascist rallies are being organized on September 18 in Keratsini and in other parts of the country. There will also be a concert held in Syntagma Square on September 19 to commemorate his death.
---
JAPAN |
Tokyo's two newest ministers deny neo-nazi links
Tuesday, 9 September 2014, 00:33 | Source: chinapost.com |

Two newly promoted Japanese politicians moved Monday to distance themselves from allegations of extremism after pictures emerged of them posing alongside the leader of a domestic neo-Nazi party.
Minister Sanae Takaichi and party policy chief Tomomi Inada are seen in separate photographs next to Kazunari Yamada on the home page of the National Socialist Japanese Workers Party.
The pictures will add fuel to claims that Prime Minister Shinzo Abe is increasingly surrounding himself with people on the right of Japanese politics. Yamada's blog postings indicate admiration for Adolf Hitler and praise for the 2001 attack on the World Trade Center. In video footage posted on the website,
Yamada is seen wearing a stylized swastika during street demonstrations. Captions for the photographs claim they were taken "sometime in June or July 2011 when (Yamada) visited the conservative lawmakers for talks." Spokesmen for both senior lawmakers acknowledged Monday that the photographs were genuine and had been taken in their offices over the last few years, but denied there was any political affiliation.
"He was an assistant for an interviewer, and was taking notes and photos," a member of staff at Takaichi's office told AFP, referring to Yamada. "We had no idea who he was back then, but he requested a snap shot with her. (The minister) wouldn't refuse such requests."
Following media enquiries, the office has asked that the pictures be removed, he said. "It was careless of us," he said, adding that Takaichi did not share Yamada's view "at all ... it is a nuisance." A staffer at Inada's office said the Liberal Democratic Party (LDP) policy chief did not subscribe to Nazi ideology. "It is disappointing if there are people who would misunderstand that she does," he said.
Abe has courted criticism for his strident nationalism and views on history that some find unpalatable. In particular his unwillingness to condemn Imperial Japan's behavior up to and during World War II has proved a sticking point in international relations.
His equivocations about the formalized system of sex slavery — known euphemistically as "comfort women" — has particularly irked South Korea and China, and both regularly call on him to re-think his views. Abe's new 18-strong cabinet, announced last week, includes a number of people with hawkish views.
Takaichi and Inada have both visited Yasukuni Shrine, the supposed repository of the souls of Japan's war dead, including a number of convicted war criminals. The shrine is seen in Asia as a symbol of Japan's lack of repentance for the war.

---
GREECE |
Greek island's police chief photographed giving Nazi salute
Monday, 8 September 2014, 23:32 | Source: JTA |
The police chief of the Greek island of Hydra was photographed giving the Nazi salute while on a trip to Germany.
The Ethnos Sunday newspaper published the picture of Lt. Yiorgos Kagkalos, which it reported was taken in 2011 during a visit to the Nuremberg Transport Museum.
The publication follows persistent reports suggesting widespread support among the Greek police for the neo-Nazi Golden Dawn party. It also comes in a week when the Greek Parliament is working to pass a law that would outlaw Holocaust denial and hate speech.
In the photo, Kagkalos is standing in front of a red locomotive emblazoned with the Nazi eagle and swastika. His arm is raised in the Nazi salute.
The newspaper reported that the photo was sent anonymously to the police, who investigated the incident but ultimately did not charge Kagkalos due to a lack of evidence.
Kagkalos has appealed to the administrative courts an order by police headquarters to remove him from his position, which he has held since 2011, the newspaper reported.
---
FRANCE |
Far-right groups rally against migrants in Calais
Monday, 8 September 2014, 11:37 | Source: theaustralian.com.au |
FAR-RIGHT groups have rallied against migrants in the northern French port of Calais days after refugees tried to storm their way onto a ferry to England.
In a protest on Sunday, demonstrators carried placards saying "Kick them out!" as they blamed migrants for the "crime, filth and economic disaster" they claim was affecting the town from which hundreds of refugees try to cross the English Channel.
Calais' mayor Natacha Bouchart threatened to close the port on Tuesday in protest at London not doing enough to deter migrants, who she claimed considered Britain "an Eldorado".
UK Immigration Minister James Brokenshire Sunday offered Calais the security fences used at this week's NATO summit in Wales.
More than 100 migrants stormed the gates of the port last Wednesday in a failed bid to board a ferry, after a number of confrontations around the heavily-guarded docks in August. Police said there are an estimated 1,300 migrants now in the town.
Before a crowd of a few hundred laughing and booing supporters, Olivier Roulier from the extreme right Identity Network said, "From Vladivostok to Calais and Lampedusa, the people are rising up to say no to the invasion of our continent." To shouts of "This is our place", one of the organisers of the rally, Kevin Reche, called for the shacks in which migrants sleep awaiting passage to Britain to be cleared.
Thomas Joly, from the France Party, a breakaway from the far-right National Front, said the "future of the white world is in danger".
While a small group of anti-fascist protesters were dispersed by the police, migrants and their supporters organised a "World Cup" football tournament at a local stadium as a symbolic riposte to the protest.
French Prime Minister Manuel Valls warned on Sunday that the National Front is at the "gates of power" in France, in a stark assessment of the rise of the extreme right as his centre-left government plummets in the polls.
The Front have made big gains in the Pas de Calais region in recent elections, with leader Marine Le Pen building her personal power base there.
A poll on Friday found she would beat French President Francois Hollande if the 2017 presidential vote were held now.
Meanwhile, a record number of French Jews have emigrated to Israel so far this year, the Jewish Agency for Israel said, blaming a "climate of anti-Semitism".
---
GERMANY |
Nazis lose seats in heavy setback
Monday, 8 September 2014, 01:34 | Source: HOPE not hate. |
From Michael Klein in Berlin
Now that the results of last weekend's regional elections in Saxony have been fully compiled, it is clear that the nazi National Democratic Party (NPD) has failed in its attempt to re-enter the Saxon parliament for a third time after successes in the 2004 and 2009 elections.
Just an additional 800 votes would have given the party a major success but now the 81,000 votes cast for the party can be seen as wasted.
While polls saw the NPD at only three percent some months ago, surveys shortly before election day gave them a chance to enter the parliament again.
Accordingly, activists and members were quite optimistic after bitter internal ructions in late 2013 when party leader Holger Apfel quit having been accused of sexual harassment of two young men. Apfel finally left the party and now runs a pub on Mallorca.
The loss of its parliamentary representation after ten years is a heavy setback for the party because financial resources, personnel and access to information will now be cut off.
There are also rumours that party leader and convicted racist Udo Pastörs will quit in the near future.
Among those regarded as possible successors are 35-year-old Frank Franz, currently the party's press officer, and Sascha Roßmüller from the Bavarian branch of the NPD and also a member of the Bandido rocker gang.
With regional elections in Brandenburg and Thuringia coming next weekend, the NPD faces two more important challenges. Their outcome could prove decisive for the party.
---
SLOVAKIA |
Slovak priest: Jews are to blame for Holocaust
Monday, 8 September 2014, 01:27 | Source: Prague Post |
Slovak Catholic priest Emil Floriš hassaid the Jews themselves are to blame for the Holocaust and the same can happen to Romanies, the Czech daily Právo writes.
"A part of the speech by Floriš, who spoke at a mass in Èadca, north central Slovakia, that was devoted to Jews and the Holocaust offends and humiliates the memory of the victims," Lucia Kollárová, spokeswoman for the Headquarters of the Jewish Religious Communities in Slovakia, told the Slovak news agency SITA, Právo writes.
Kollárová said a part of Floriš's speech included untruths and anti-Semitic cliches, relativizing the suffering of the Jewish population during World War Two, also on the territory of present-day Slovakia.
Floriš reportedly said Jews from all over Europe had been transported to the concentration camps because they were hated, for which they themselves were to blame, Právo writes.
"Now the same is threatening Romanies. Do you know why? Because they abuse the system and charity of people," Floriš said before hundreds of church-goers, Právo writes.
About 70,000 Jews were deported from war-time Slovakia, a Nazi-controlled puppet state, during the war. About 67,000 of them perished in Nazi death camps. The head of wartime Slovakia, Catholic priest Jozef Tiso was executed as a war criminal in 1947.
---
FRANCE |
France's Moroccan-born education minister Najat Vallaud-Belkacem fights back against slurs
Monday, 8 September 2014, 00:25 | Source: Independent |
France's new education minister – young, female and Moroccan-born – has become a lightning rod for all that is nasty in French politics. Since she took over the job two weeks ago, Najat Vallaud-Belkacem, 36, has been besieged by racist and sexist comments and malicious rumours on social media. Her appointment has been attacked by magazines of the far right, and the less far right, as a "provocation" and a politically-correct piece of social engineering by President François Hollande.
Two new false rumours about Ms Vallaud-Belkacem are being pedalled this week by right-wing websites and on Facebook and Twitter.
A forged letter carrying the minister's signature calls for primary school pupils to be given lessons in Arabic each week in the name of good community relations. A fake identity card appears to "prove" that Ms Vallaud-Belkacem adopted an Arab identity to further her political career. The card suggests that her real name is "Claudine Dupont".
Ms Vallaud-Belkacem has started criminal proceedings, but her advisers say that the volume and tenacity of the lies threatens to overwhelm them. As soon is one is shot down, another springs up.
Although the rumours seem to begin with the far right, they are often passed on by moderate right-wing individuals and websites as if they were true. A parliamentarian of the main centre-right party, Isabelle Balkany, retweeted the "Arab language classes" letter at the weekend before she realised that it was false.
The campaign against Ms Vallaud-Belkacem is reminiscent of a barrage of attacks last year against the French Guiana-born justice minister, Christine Taubira. The two women are detested on the hard right of French politics not just because of their racial background.
Ms Taubira pushed through the law legalising gay marriage last year. Ms Valaud-Belkacem, as a junior minister for women's rights, helped to devise an experimental programme in which some primary schools tried to combat gender stereotypes. The programme, though clumsy, was widely misrepresented on the far right and on the radical Catholic right as the spearhead of an attempt to "abolish differences in gender".
Ms Vallaud-Belkacem's appointment as France's first woman education minister in a reshuffle two weeks ago was taken by many right wingers – even relatively moderate ones – as a "provocation". This was the word used by the far-right magazine, Minute, on its front cover. A supposedly more moderate magazine, Valeurs Actuelles, carried an evil-looking image of the new minister with the front-page headline "L'Ayatollah".
Ms Vallaud-Belkacem tried to respond with an intellectual joke. She said that buying Minute was better value than buying books by the existentialist philosopher, Jean-Paul Sartre. "For the price of a newspaper you get both Nausea and Dirty Hands (two Sartre titles)."
The new minister has also been the object of sexist attacks. Franck Keller, a centre-right councillor in Neuilly-sur-Seine, where Nicolas Sarkozy was once mayor, tweeted an alluring picture of Ms Vallaud-Belkacem and the message: "I wonder what attributes persuaded Hollande to give her a big ministry."
The education minister is a rare symbol of political success in France by someone from a poor background. Najat Vallaud-Belkacem was born in 1977, the second oldest of seven children in the impoverished village of Bni Chiker in Morocco. Her family emigrated to France to join her father, a labourer, when she was five.
After a brilliant school career in Amiens, she graduated from the Paris Institute of Political Studies in 2002.
---
SWEDEN |
Sweden Democrat quits over swastika photos
Sunday, 7 September 2014, 22:11 | Source: thelocal.se |
A photo obtained by The Local appears to show Catharina Strandqvist, a soldier and the Sweden Democrats' top candidate in Halmstad municipality in south-west Sweden, cleaning up after a party with a swastika wrapped around her arm. The picture is believed to have been taken in 2012.
"Catharina has today announced, after consulting with the party, that she has resigned her candidacies to Halmstad municipal government and Halland county council," said Sweden Democrat spokesman Martin Kinnunen in a statement sent to The Local.
The Sweden Democrats are a far-right party campaigning to cut immigration to Sweden. The group has Nazi roots but its members have sought to distance themselves from their past in recent years. Polls suggest they currently have the support of around ten percent of voters.
Kinnunen said the pictures showed Strandqvist "messing around in a very inappropriate way".
"Catharina is currently far too shocked, sad and regretful to comment further on the incident in the media," said Kinnunen.
"She deeply regrets what happened and wants to sincerely apologize to anyone who took offence at this very inappropriate joke."
Scandals reminding the party of its past have plagued the Sweden Democrats over the years and Ann-Charlotte Marteus, a leader writer with the Expressen newspaper, was not surprised by Friday's revelations.
---
FRANCE |
'Quenelle' comedian Dieudonné may face prosecution over sketch about Isis executions
Saturday, 6 September 2014, 01:48 | Source: Independent |
The anti-Semitic French comedian Dieudonné M'bala M'bala faces possible prosecution after posting a sketch on the internet justifying the execution of American journalists by Isis.
In his sketch the comedian says that beheading has always been a "gateway to civilisation" and compares Isis executions to the guillotining of royalty and aristocrats during the French Revolution. He says that Western media made no fuss about the execution of the late Iraqi dictator Saddam Hussein or the Libyan strongman Muammar Gaddafi.
A preliminary investigation has been started by the French state prosecution service for alleged "justification of terrorism".
More than 100 other video sketches by Dieudonné have been removed from YouTube in the past few days.
The comedian came to international attention in December when the footballer Nicolas Anelka Nicolas Anelka performed Dieudonné's trademark gesture, the quenelle, after scoring a goal for West Bromwich Albion in a Premier League football match. Opponents say that the gesture is an obscene form of the Nazi salute.
---
UKRAINE/RUSSIA |
Ukraine: Who are the Russian neo-nazi groups fighting with separatists?
Thursday, 4 September 2014, 11:04 | Source: IBT |
The leader of Ukraine's Jewish communities has warned that Russian neo-Nazi organisations are increasingly active in the pro-Russian insurgency in east Ukraine. Iosif Zisels, head of Vaad Ukraine, the Association of Jewish Organisations and Communities of Ukraine, has said that that Russia is "infected with the ideas of revanchism and that is very closely linked to fascism". According to Zisels, neo-Nazi organisations – which have prospered in Russia for over 20 years, and fuel tensions in the country after the fall of the Soviet Union – are now operating in Ukraine after being active in Moldova and Georgia. Zisels says the most powerful far-right unit is the Russian National Unity (RNU) movement, led by ultra-nationalist Aleksandr Barkashov. Barkashov visited Ukraine twice this year, in March and May, and is currently based in Donetsk.
This paramilitary organisation, which advocates the expulsion of non-Russians from the country, was founded in 1990. Its red-and-white emblem resembles the swastika icon used by the German Nazi party in the 1930s and 1940s. Barkashov's son is fighting in separatist groups in eastern Ukraine, says Zisels. Among other Far Right groups alleged to be operating in the Ukraine is Aleksandr Dugin's Eurasian Youth Union, right-wing elements of The Other Russia dissident coalition, and the resurrected 'Black Hundreds'. Zisels said the Russian neo-Nazis "do not have their own military units, but their members are included within other units".
Expansionist philosopher
Ultra-nationalist philosopher Dugin is a legendary figure in Russia. A professor at Moscow state university, the founder of the Eurasian Youth Union is thought to have inspired President Putin's desire to annex of Crimea. Dugin also publicly supports the rebels in Donetsk region, which he calls Novorossiya – 'New Russia' – and claims the separatist struggle there, which he calls "Russian Spring", has rekindled the "Russian spirit". Dugin is also one of the greatest supporters of Igor Strelkov, the charismatic separatist leader who recently resigned from his ministry of defence post in the self-proclaimed Donetsk People's Republic. The bearded Dugin backed Russia during the 2008 war with Georgia, calling for a full-scale invasion of the ex-Soviet country to overthrow the then-president Mikhail Saakashvili. On that occasion, he said Russia should have seized Crimea "which is part of Russia anyway".
Strange bedfellows
The Other Russia coalition was established in July 2011 by writer and National Bolshevik Party leader Eduard Limonov. It is formed by a disparate group of political organisations, including liberals, communists, nationalists, human rights organisations, and elements of the Far Right. Eduard Limonov, leader of the radical ultranationalist National Bolshevik Party, is one of Other Russia's leaders, alongside Garry Kasparov, the Russian chess Grand Master who founded the pro-democracy United Civil Front. This unusual coalition of political movements is linked together by their opposition of Putin's rule.
Russian Neo-Nazis
The Black Hundreds leader, Anton Raevskii, attempted to create a subversive group in Odessa while taking part in Ukrainian separatist rallies back in March. This led to him being banished from Ukraine later that month. Raevskii has denied being a neo-Nazi, claiming his organisation promotes "monarchy, empire and Eastern Orthodox Church", but photographs show he has Nazi-themed tattoos: including a large tattoo of Hitler on one his arm. The organisation shares its name with pro-Czarist, ultranationalistic and anti-Semitic political groups from pre-Stalinist Russia. Raevskii promotes The Black Hundreds through a YouTube channel.
---
GREECE |
Man accused of attempted murder was member of Golden Dawn's central committee
Thursday, 4 September 2014, 10:47 | Source: enetenglish,gr |
A man accused of attempted murder following an attack on an alternative hangout in Athens in June 2008 was a member of Golden Dawn's central committee at the time of the incident, it has emerged.
Since the attack on the Antipnoia anarchist space in Kato Petralona, in which a Greek and a Spanish national were stabbed, the accused, Vasilis Siatounis and Athanasios Stratos, claimed they were not members of the party.
But according to a list of Golden Dawn central committee members from 2008 that was published in the Efimerida ton Syntakton newspaper, Siatounis was a member of the party's highest council when the attack occurred.
He was also a candidate for the party in the 2010 Athens municipal elections and was subsequently appointed an advisor to Nikos Michaloliakos, Golden Dawn's leader, who became a councillor in that election.
After many delays, the trial against Siatounis and Stratos will begin on September 19. Last March, the pair refused to appear in court fearing, it was claimed, the reaction of those who had gathered to follow the trial's proceedings.
In May 2011, the men initially appeared before a Athens misdemeanour court, which referred the case to a higher court after it converted the initial charges of dangerous bodily harm, the illegal carrying and use of weapons into one of attempted murder.
The attack on Antipnoia occurred on 30 June 2008, while four people were inside attending a Spanish language course. Suddenly, a man wearing a helmet entered the room yelling "Greetings from Golden Dawn!" He was followed by a group of ten people holding knives, who wounded two people, one of them seriously.
Siatounis and Stratos were later arrested at a police checkpoint. Initially, they admitted they were part of the group that went to the centre but claimed they remained outside during the attack and played no role in the stabbing.
Two weeks after the attack, Golden Dawn's newspaper denied the organisation had any role in the attack, despite the claims otherwise of those engaging in "anti-Golden Dawn, antinationalist hysteria".
---
GREECE |
Golden Dawn leaders orchestrated 2011 pogrom in Athens, say lawyers
Thursday, 4 September 2014, 10:43 | Source: enetenglish,gr |
New evidence has emerged pointing to the heavy involvement of leading Golden Dawn figures in orchestrating a pogrom against foreigners in central Athens in May 2011 which resulted in over a hundred people being injured and the death of one man, a group of lawyers has claimed.
Last week, the lawyers, members of the JailGoldenDawn initiative, said they had provided fresh evidence to the police's antiracism department that showed that four individuals subsequently elected MPs for the neonazi party were "centrally involved" in organising the attacks.
The four – Ilias Kasidiaris, Ilias Panagiotaros, Panayiotis Iliopoulos and Stathis Boukouras – are currently being held on remand pending trial for directing a criminal organisation. The lawyers say that the May 2011 attacks must now be included in the case against the Golden Dawn leadership, which is scheduled to begin in December.
The orgy of violence followed thefatal stabbing of Manolis Kantaris
on 10 May 2011. Kantaris was preparing to bring his pregnant wife to hospital to give birth when he was stabbed for his camera. Two Afghan nationals were subsequently tried and convicted of his murder.
The JailGoldenDawn lawyers said that on May 12, two days after Kantaris' murder, records from the ambulance service (Ekas) show that eight foreigners with fractured heads were admitted to hospital in the space of three hours. Overall, at least 120 people were injured in the attacks, 20 of them seriously. Most of the attacks took place in broad daylight on busy streets.
Two men, one of whom is holding a knife, chase a man through central Athens on May 12 (Photo: Ethnos newspaper)
Earlier that same day, 21-year-old Alim Abdul Manan from Bangladesh was fatally stabbed on a Kato Patisia street by a group of four individuals wearing black clothing. He was found wounded shortly after midnight and died later in hospital. No one has been brought to justice for his murder.
The new evidence contains statements from victims as well as photographs and video footage of the attacks and showing the presence of Golden Dawn leaders on the streets. The JailGoldenDawn lawyers say they had to appeal to the Supreme Court to open an investigation into the violence following Kantaris' murder.
To date, only one Golden Dawn member has been convicted for his involvement in the events that followed Kantaris' murder. Ilias Koliopoulos, who once stood the party in Arta, received a 12 month sentence for attacking an internet cafe belonging to an Afghan in Victoria Sq. "The Greek police now has the names of the perpetrators and the victims of the pogrom. Any further delay in the indictment and arrest of the perpetrators can no longer (be seen as) passive, but as the active concealment of the racist violence unleashed and led by the neonazi construct," Thanasis Kampagiannis and Kostas Skarmeas from the JailGoldenDawn initiative said in a statement.
"The instigators of the crimes committed are the prominent Golden Dawn leaders (Ilias) Kasidiaris and (Ilias) Panagiotaros, who should be indicted. Any further delays are the responsibility of Civil Protection Minister Vasilis Kikilias and the government itself."
---
CANADA |
Infamous Canadian nazi running for office
Wednesday, 3 September 2014, 10:17 | Source: ShalomLife.com |
72-year-old Canadian John Beattie may claim that his Nazi days are far behind him, but that hasn't stopped many of the residents of Minden Hills, Ontario to fear his current campaign of running for deputy reeve due to his detailed past, and the fact that he still considers himself a staunch white supremacist.
As reported by the Toronto Star , Beattie founded the Canadian Nazi party in 1965, and became infamous during the sixties for leading pro-Nazi rallies in Toronto that often led to violence. Shortly after the party's inception, Beattie was arrested for inciting hatred, and spent six months in jail after painting swastikas onto the homes of Jewish residents.
In 1966, hundreds of police officers had to guard Beattie during a protest at Allan Gardens, as he preached anti-Semitic and anti-Jewish rhetoric to a crowd of over 1,500 demonstrators. In 1969, at a similar protest, he was beaten unconscious by a demonstrator with a pair of binoculars. In 1978, he ran for mayor of Toronto. His campaign called for "white-only housing."
Now, decades later, Beattie lives in the small cottage-country town of Minden Hills. Outside his house, a Red Ensign flag (a former unofficial flag of Canada) stands beside a white sign that reads his name. In an interview with the Toronto Star, he describes why he continues to advocate for white supremacy, why he feels comfortable in Minden Hills, and why he believes the small town of approximately 5,600 should elect him.
"We were the first in space, most of the inventions were by white people," Beattie said of the former. "With our administrative abilities, the world was better off when the British ran things."
Beattie describes Minden as a "white village" where he can be amongst his own people and visit only white establishments. In reality, however, he lives next door to a Mexican woman who, despite his views, brings him dinner every Christmas, and also frequents a local Thai restaurant.
Beattie moved to Minden Hills in 1989. Shortly after, he hosted a celebration of John A. Macdonald (Canada's first prime minister) at his residence. In attendance were hundreds of white supremacists and neo-Nazis who concluded the two-day-long event by burning a giant cross.
Jack Brezina, editor of the local paper, the Minden Times, recalled the event with disdain.
"As a citizen of Canada and a member of this community, I believe in the equality of all individuals regardless of race, colour, creed, religion or ethnic origin," he said to the Star. Regarding Beattie's campaign for office, he called it a "slap in the face."
"This man laid a major stain on this community back in the first rally, and tried to do it again the second time. People still say, 'Oh, I know Minden, that's where that rally was.' "
While Beattie apparently renounced Nazism in 1972, he continues to network with right-wing activists and fellow white supremacists. He's active on YouTube and other forums where he's interviewed Ku Klux Klan members and spreads other forms of propaganda. It appears the residents of Minden do not seem supportive of his decision to run, and hopefully, the 72-year-old won't gain any momentum during his campaign.
---
USA |
Gunsters weigh in on neo-nazi's Supreme Court case
Wednesday, 3 September 2014, 09:52 | Source: opposingviews.com |
Gun Owners of America is backing a Minnesota neo-Nazi who was arrested in 2012 for allegedly plotting to attack the Mexican consulate.
Samuel Johnson, 31, was sentenced to 15 years on gun charges.
Johnson, a former a member of the neo-Nazi group the National Socialist Movement, started his own group in 2010 called the Aryan Liberation Movement. The group allegedly planned to counterfeit money.
Johnson told an undercover informant that he planned to make napalm, silencers and other explosives so that ALM could attack the Mexican consulate in Minneapolis on May 1, 2012.
He was arrested before the attack could take place and booked on drug charges. He pleaded guilty to a meth possession charge and was sentenced to 10 years.
At the time of his arrest he also admitted to possessing an AK-47 assault rifle and .22 caliber semiautomatic handgun. As a convicted felon, Johnson isn't allowed to own firearms.
Indicted by a federal grand jury he was given a 15-year mandatory minimum for possessing a gun while having three previous felony convictions for robbery, attempted robbery and possession of a sawed-off shotgun, according to Mother Jones.

The mandatory minimum is part of the Reagan-era Armed Career Criminal Act.
Gun Owners of America filed an amicus brief on Johnson's behalf.
"Nobody's interested in defending the guy per se," said GOA executive director Larry Pratt. "In fact, if anything I resent him more because who he could mess [the law] up for a lot of really innocent people. Bad cases make bad law."
---
GREECE |
Golden Dawn's visit slammed by ethnic groups
Wednesday, 3 September 2014, 09:43 | Source: Guardian |
Senior leaders of the Greek-Australian community have joined the heads of other ethnic lobby groups and union officials to denounce a proposed visit by European MPs representing Greece's neo-Nazi party, Golden Dawn.
"The planned visit to Australia in October by two members of the extremist Greek political party, Golden Dawn, is a matter that should concern all Australians," the statement, signed by the honorary secretary of the Greek Orthodox Archdiocesan Council, Nicholas Pappas, among others, said.
Golden Dawn's Australian branch announced last week that two of the ultra-nationalist group's MEPs, former military commanders Eleftherios Synadinos and Georgios Epitideios, would visit later in the year to raise awareness and funds.
The statement, which has been sent to the federal attorney general, George Brandis, and the immigration minister, Scott Morrison, accused Golden Dawn of "promot[ing] hateful attitudes towards women and espous[ing] the marginalisation and suppression of people who it deems to have an 'unnatural' sexuality".
"These prejudices are entirely incompatible with the vision of a peaceful, tolerant, multicultural Australia that promotes harmony and cooperation across all parts of society," it said.
"Australians have a proud record of bravery and sacrifice in fighting and defeating fascism in the 20th century.
"We call on all Australians to unite once more to demonstrate their detestation of the message of hatred and the violent politics being propagated by groups like Golden Dawn."
The Holocaust-denying party has ridden a wave of misery since Greece's economic downturn to become the third-biggest political force in Athens. Human rights groups have accused Golden Dawn members of directing or fomenting hundreds of street attacks on dark-skinned immigrants, gay people and Muslims.
A crackdown last year saw the arrest of the party's leader, Nikos Michaloliakos, and five of its MPs, on charges that included murder, extortion and money laundering. They say the charges are a political witchhunt.
Golden Dawn's Australian convenor, Ignatius Gavrilidis, has denied the organisation has a neo-Nazi ideology, but admits its Greek leadership "admire[s] the leadership of Hitler".
"We also admire the leadership of many strong leaders across the world," Gavrilidis trold the ABC last week. "Vladimir Putin is a very strong leader. He's got integrity. Binyamin Netanyahu is a very strong leader."
To enter Australia, the MEPs Synadinos and Epitideios will have to pass a character test, which prohibits visitors who "have, or have had, an association with an individual, group or organisation suspected of having been, or being, involved in criminal conduct" or might "incite discord in the Australian community".
Black-shirted Golden Dawn followers clashed with Greek-Australian leftists during a protest in Brisbane in May that was also attended by supporters of the far-right Australia First party.
Members of anti-fascist groups in Melbourne have told Guardian Australia they aim to blockade any events involving Golden Dawn members. "The ultimate goal is to stop them from having their meeting," one organiser, Alex Kakafikas, said.
The chairman of the Federation of Ethnic Community Councils, Joe Caputo, the president of Muslims Australia, Hafez Kassem, and the president of the Australian Council of Trade Unions, Ged Kearney, were among those who signed the statement.
Despite its senior leadership being behind bars, the organisation made significant gains in European elections in May, capturing 9.4% of the vote and three seats in the Brussels parliament.
---
GERMANY |
Berlin memorial remembers Nazi euthanasia victims
Tuesday, 2 September 2014, 19:11 | Source: Deutsche Welle |
The federal government and the city of Berlin unveiled on Tuesday a monument for the victims of what the Nazis called "euthanasia" at a ceremony in the central Tiergarten park.
The open air installation, which comprises a 24-meter (80-foot) glass panel, is meant as a symbol to inform people about the scope of the euthanasia murders and their "repercussions that reach to the present day."
Federal culture secretary Monika Grütters said the monument reminded of the Nazis' "inconceivably inhumane distinction between 'life worth living' and 'life not worth living'," adding that it also served as a warning not to view life in such utilitarian terms.
Victims' relatives and other political figures gathered in Tiergarten for the ceremony, at the site of a now-demolished villa at Tiergartenstrasse 4. More than 60 Nazi bureaucrats and doctors worked in secret there under the "T4" program to organize the mass murder of sanatorium and psychiatric hospital patients.
High time
The monument is made of blue glass and contains information panels detailing the Nazis' campaign to exterminate the sick, the physically and mentally handicapped as well as people branded social "misfits."
In 1940 and 1941, around 70,000 people were killed as part of the Nazis' official euthanasia program. It was cancelled in August 1941, following public protests, but the killings continued under wraps. Various methods of execution were employed, including gas, forced starvation and poison.
"In contrast to the etymology of the word euthanasia [Greek: "easy death," eds.], the victims died a horrible death," Adolf Bauer, chairman of Germany's council for disabled persons, told DW.
"We welcome this memorial greatly, as it will serve as a means never to forget the Nazi crimes committed against disabled people," he added.
A total of 300,000 people deemed not worthy of life by the Nazis are believed to have been murdered. Neither West nor East Germany ever compensated the victims' families or the survivors, and critics had been long calling for official recognition of the injustices.
---
FRANCE |
Two teenage girls arrested over French synagogue suicide bomb plot
Monday, 1 September 2014, 17:15 | Source: Newsweek.com |

The gallery for women at the Great Synagogue of Lyon.
FLLL Two teenage girls have been arrested on suspicion of conspiring to blow up a synagogue in Lyon, French news websites have reported.
According to JSS News and Europe 1, a source from the French security agency the Central Directorate of Homeland Intelligence revealed that two Muslim girls, aged 15 and 17, were arrested in the Tarbes and Venissieux neighbourhoods a week ago, after authorities uncovered a plan to carry out a suicide bombing inside the Great Synagogue of Lyon. They were indicted on August 22nd for conspiracy to commit terrorism.
An unnamed security source also revealed that the two teenagers had never met, but communicated only via social media. "These girls were part of a network of young Islamists who were being monitored by security services," said the unnamed security source. Security services are becoming increasingly concerned with online radicalisation, particularly following the proliferation of videos created by jihadist groups such as Islamic State.
In a statement released on an online forum, the National Bureau of Vigilance Against Antisemitism (BNVCA), one of France's leading anti-semitism watchdogs, remarked that synagogues have become increasingly popular targets for Islamists and terrorists. The excessive measures taken to secure Jewish places of worship have turned them into "semi-fortresses", they said.
BNVCA attribute the recent spike in anti-Semitic crimes in France to the influence of unnamed political parties and sections of the media, which "pillory the Jewish state fighting against the Islamic state in Gaza". They also called upon the French Interior Minister to take all possible security measures to foil further attacks, particularly during important Jewish festivals like Yom Kippur, which begins in early October. "Jewish citizens are increasingly pessimistic about their future in France," the statement added.
---