World News
DENMARK |
Far-right rally in Denmark eyes pan-European reach
Thursday, 29 March 2012, 13:58 | Source: Reuters AlertNet |
Far-right groups from across Europe meet in Denmark on Saturday to try to form a pan-European anti-Islamist alliance, a project that will test the cohesion of a fringe trying to build support from fears about immigration and Islamist extremists.
The long-planned gathering of extreme right-wing movements from Nordic countries, Britain, Poland and elsewhere is expected to try to exploit revulsion at the killings of seven people this month by a Muslim of Algerian origin in south-west France.
The meeting eight months after anti-Islam fanatic Anders Behring Breivik killed 77 people in Norway will test whether these groups are recovering from the political blow Breivik dealt them and whether they can coordinate internationally.
Their detractors say these fringe groups, with members often associated with violent incidents, are racists seeking to latch on to tensions over immigration in Europe.
Several previous attempts by European far-right groups to join forces over the past 15 years have foundered amid splits and feuding over ideology and leadership.
"We're not expecting big numbers in Aarhus," Stephen Lennon, the head of the English Defence League (EDL), one of the biggest groups behind the gathering, told Reuters, adding that a few hundred people would attend. "We hope it will be the start of a European movement that will continue to grow."
Security experts say the meeting - billed on the website of the EDL as "A United Europe Against Islamic Extremists: No Surrender" - will try to launch a network of activists to promote the idea that Europe needs to be defended against what they call Islamification.
Peter Knoope, Director of the Netherlands-based International Centre for Counter-Terrorism, said the murders in France by al Qaeda-inspired gunman Mohamed Merah, "will be exploited in terms of propaganda ... What they (the rightists) are trying to do is to influence the political arena."
It may be no coincidence that the EDL chose to come to Denmark, where a newspaper in late 2005 published cartoons lampooning the Prophet Mohammad which angered Muslims around the world and sparked violent riots in far-away countries in 2006.
Social tensions have eased in Denmark six years after the "cartoon crisis," although the country is preparing to put on trial next month four Muslim immigrants to Sweden accused of a 2010 plot against the Jyllands-Posten paper.
Matthew Goodwin, an expert on British far-right extremism at Nottingham University, said the meeting would be strategically significant, even if the numbers were not.
"What we are seeing here for the first time in British political history is an anti-Muslim far-right organisation taking the lead in trying to mobilise pan-European opposition to Islam," Goodwin said.
The EDL said on social media Facebook that its "counter-jihad meeting" aimed to be a public discussion of "sharia law, halal, immigration and the continuing Islamification of Europe."
It listed speakers from the EDL, the Stop Islamisation of Europe (SIOE) group and the defence leagues of Denmark, Norway, Sweden, Finland and Poland.
Local groups in Aarhus opposed to the rightists expect thousands to turn out for their rival march through the city, to demand respect for democracy and tolerance of foreigners.
Officials said the groups would be kept apart. "The police can and will handle this situation... We will be out massively," Police Superintendent Mogens Brondum said.
Muslim leaders in Aarhus have urged their followers to stay home and not let themselves be provoked by the defence leagues.
Lennon predicted attacks like those by the French gunman Mohamed Merah, who killed three Jewish children, a rabbi and three soldiers before being shot by police, would grow frequent over the next 20-30 years across Europe.
Founded three years ago, the EDL still has a small organisation but has drawn as many as 12,000 people to attend numerous marches and demonstrations it has staged in England.
Breivik claimed in his manifesto to have had contact with EDL, the biggest group behind the Aarhus gathering being organised by the smaller Danish Defence League. The EDL has denied links to Breivik and rejects extremist labels.
---
SPAIN |
Nazi attack leaves 16-year-old boy in coma and several injured
Wednesday, 28 March 2012, 18:36 | Source: Hope not hate Spanish correspondent |
Sandra Cortes reports from Barcelona
A gang of more than 10 nazi skinheads violently attacked an anti-fascist concert in Manresa in the Barcelona region on Friday evening. The nazi raid took place two hours before the start of the concert when only a few people were waiting for the show to start. Armed with sticks and flares, the nazis assaulted a group of three young boys, leaving one of them in a coma for two days.
The Catalan police are still hunting the nazi gang while all political parties and organisations in the local community have decided to create an anti-fascist alliance. All the town councillors in Manresa have also condemned the nazi attack, the sole exception – surprise, surprise – being the fascist Plataforma per Catalunya (PxC) party.
PxC got 65.905 votes, and grew from 17 to 67 councillors in the 2011 local elections.
---
CHILE |
Gay man dies from attack by neo-Nazis
Wednesday, 28 March 2012, 18:27 | Source: UPI |
A gay Chilean man who was brutally attacked near a Santiago park by a group of neo-Nazis has died of his injuries, hospital officials have said.
Daniel Zamudio, 24, had been in a coma since March 3rd when his attackers burned him with cigarettes, cut his ear open and carved swastikas into his skin, The Santiago Times reported Wednesday.
His case prompted the gay rights group Movement for Homosexual Integration and Liberation to push for legislation providing greater protection for Chile's lesbian, gay, bisexual and transsexual community.
Movement spokesman Jaime Prada said Zamudio was "a victim of intolerance, of homophobia, and of the hate that some have grown."
Last week, police arrested four people in connection with the attack.
---
GERMANY |
Germany links million-euro fraud scam to neo-Nazis
Wednesday, 28 March 2012, 18:25 | Source: Monstersandcritics.com |
Police investigating a million-euro fraud raided homes in eastern Germany Wednesday and indirectly linked one suspect to a neo-Nazi movement that spawned a far-right gang suspected of 10 murders.
Two of the 13 suspects in the fraud inquiry had previously been active in the far right in Thuringia state, local radio reports said.
The alleged fraudsters are suspected of setting up straw companies, employing staff on massive salaries and insuring them against sickness and accidents, then claiming payouts totalling 1 million euros (1.3 million dollars) from the insurers.
Prosecutors said two of the companies had never been operational and a third had done little business. Some of those registered as staff had been incapacitated for as long as they were on the payroll. Almost none had ever been paid actual wages.
Thuringia Justice Minister Holger Poppenhaeger said police were researching whether the fraud had funded neo-Nazi operations.
'I could well imagine this enterprise was not just the suspects' own idea,' he said.
Prosecutors did not speak of any link to the National Socialist Underground (NSU), a trio under investigation since November for a decade of murders and bank robberies. But one individual has figured in both inquiries.
Prosecutors in the eastern city of Gera confirmed one of the 13 fraud suspects was Tino Brandt, formerly a provincial official in the far-right National Democratic Party (NPD), who also informed for anti-subversion agencies on the rightist movement in Thuringia.
Brandt was separately suspected of illegal weapons ownership. A raid on his home in the city of Rudolstadt turned up a rifle, crossbow, axes and other weapons, the prosecutors said. Documents were seized at the other suspects' homes.
Investigations into the murders of eight immigrant Turkish shopkeepers, a Greek man and a police officer have raised the question why Brandt - who was a paid informer from 1994 to 2001 - never alerted police to the NSU being set up in Thuringia in 1998.
MDR public radio named another of the 13 suspects as a man from the city of Leipzig who was formerly active in the area's anti-immigrant neo-Nazi movement.
The government has voiced shock at the unprecedented alleged hate murders between 2000 and 2007 by the NSU, which is believed to have grown out of violent neo-Nazi youth gangs active in Thuringia in the late 1990s.
The group came to light when two men died in November in an apparent suicide-murder and a woman turned herself in. She has not been indicted yet. Berlin has paid compensation to families of the 10 victims and held a national memorial ceremony for them last month.
There has been controversy in Germany over the state employing neo-Nazis as informers, not only because they have been unreliable sources but also because they are suspected of encouraging other neo-Nazis to break laws.
---
EUROPE |
Don't be fooled. Europe's far-right racists are not discerning
Wednesday, 28 March 2012, 13:09 | Source: The Guardian |
By Anne Karpf
On Saturday, in the Danish city of Aarhus, a Europe-wide rally organised by the English Defence League will try to set up a European anti-Muslim movement. For Europe's far-right parties the rally, coming so soon after the murders in south-west France by a self-professed al-Qaida-following Muslim, marks a moment rich with potential political capital.
Yet it's also a delicate one, especially for Marine Le Pen. Well before the killings, Le Pen was assiduously courting Jews, even while her father and founder of the National Front, Jean-Marie Le Pen, was last month convicted of contesting crimes against humanity for saying that the Nazi occupation of France "wasn't particularly inhumane". Marine must disassociate herself from such sentiments without repudiating her father personally or alienating his supporters. To do so she's laced her oft-expressed Islamophobia (parts of France, she's said, are suffering a kind of Muslim "occupation") with a newfound "philozionism" (love of Zionism), which has extended even to hobnobbing with Israel's UN ambassador.
Almost all European far-right parties have come up with the same toxic cocktail. The Dutch MP Geert Wilders, leader of the anti-immigrant Freedom party, has compared the Qur'an to Mein Kampf. In Tel Aviv in 2010, he declared that "Islam threatens not only Israel, Islam threatens the whole world. If Jerusalem falls today, Athens and Rome, Amsterdam and Paris will fall tomorrow."
Meanwhile Filip Dewinter, leader of Belgium's Vlaams Belang party, which grew out of the Vlaams Blok Flemish nationalist party, many of whose members collaborated with the Nazis during the second world war, has proposed a quota on the number of young Belgian-born Muslims allowed in public swimming pools. Dewinter calls Judaism "a pillar of European society", yet associates with antisemites, while claiming that "multi-culture ... like Aids weakens the resistance of the European body", and "Islamophobia is a duty".
But the most rabidly Islamophobic European philozionist is Heinz-Christian Strache, head of the Austrian Freedom party, who compared foreigners to harmful insects and consorts with neo-Nazis. And yet where do we find Strache in December 2010? In Jerusalem alongside Dewinter, supporting Israel's right to defend itself.
In Scandinavia the anti-immigrant Danish People's party is a vocal supporter of Israel. And Siv Jensen, leader of the Norwegian Progress party and staunch supporter of Israel, has warned of the stealthy Islamicisation of Norway.
In Britain EDL leader Tommy Robinson, in his first public speech, sported a star of David. At anti-immigrant rallies, EDL banners read: "There is no place for Fascist Islamic Jew Haters in England".
So has the Jew, that fabled rootless cosmopolitan, now suddenly become the embodiment of European culture, the "us" against which the Muslim can be cast as "them"? It's not so simple. For a start, "traditional" antisemitism hasn't exactly evaporated. Look at Hungary, whose ultra-nationalist Jobbik party is unapologetically Holocaust-denying, or Lithuania, where revisionist MPs claim that the Jews were as responsible as the Nazis for the second world war.
What's more, the "philosemite", who professes to love Jews and attributes superior intelligence and culture to them, is often (though not always) another incarnation of the antisemite, who projects negative qualities on to them: both see "the Jew" as a unified racial category. Beneath the admiring surface, philozionism isn't really an appreciation of Jewish culture but rather the opportunistic endorsement of Israeli nationalism and power.
Indeed you can blithely sign up to both antisemitism and philozionism. Norwegian mass murderer Anders Behring Breivik described himself as "pro-Zionist" while claiming that Europe has a "considerable Jewish problem"; he saw himself as simultaneously anti-Nazi and pro-monoculturalism.
The British National party's Nick Griffin once called the Holocaust the "Holohoax", subsequently supported Israel in its war "against the terrorists", but the day after the Oslo murders tweeted disparagingly that Breivik was a "Zionist".
Most Jews, apart from the Israeli right wing, aren't fooled. They see the whole iconography of Nazism – vermin and foreign bodies, infectious diseases and alien values – pressed into service once again, but this time directed at Muslims. They understand that "my enemy's enemy" can easily mutate into "with friends like these ...".
The philozionism of European nationalist parties has been scrutinised most closely by Adar Primor, the foreign editor of Haaretz newspaper, who insists that "they have not genuinely cast off their spiritual DNA, and ... aren't looking for anything except for Jewish absolution that will bring them closer to political power."
Similarly Dave Rich, spokesman of the Community Service Trust (CST), which monitors antisemitic incidents in Britain, told me that far-right philosemites "must think we're pretty stupid if they think we'll get taken in by that. The moment their perceived political gain disappears they revert to type. We completely reject their idea that they hate Muslims so they like Jews. What targets one community at one time can very easily move on to target another community if the climate changes."
Rich's words, spoken before the murder of Jews in Toulouse, now sound chillingly prescient. The president of the French Jewish community, Richard Pasquier, judges Marine Le Pen more dangerous than her father.
French Muslim leaders rallied round Jewish communities last week. Next week sees the start of Passover, a festival celebrating the liberation of Jews from slavery in Egypt, when Jews often think about modern examples of oppression. Let's hope that French Jewish leaders use the occasion to rally round Muslim communities, and to remember that ultimately, racism is indiscriminate.
---
NETHERLANDS |
Dutch Parliament Condemns Xenophobic Site
Wednesday, 28 March 2012, 12:51 | Source: Novinite.com |
Dutch Members of the Parliament have condemned the the notorious anti-immigration website created by the far-right PVV party of Geert Wilders.
The site, titled "Complaints about Central and Eastern Europeans," boasts slogans such as "Do you have problems with people from Central and Eastern Europe?" and "Have you lost your job because of a Pole, a Bulgarian, a Romanian? We want to know." It also displays media headlines reporting how Eastern Europeans commit more and more crime.
The declaration, submitted by the opposition centrist party D66, had been approved by 94 votes for in the 150-seat local Parliament. It states that the site is prompting unnecessary discrimination of a group of the country's population, the Bulgarian National Radio, BNR, reports Wednesday.
Speaking for the Dutch State TV, Wilders labeled the move "inconsistency."
On March 13, 2011, following in the footsteps of the Council of Europe, theEuropean Parliament demanded that the Dutch government distance itself from the anti-immigration website, but Prime Minister, Mark Rutte, said then that he would refrain from comments because it belonged to a party, not to the cabinet.
---
SERBIA |
Far-right Serb jailed over threats against gays
Wednesday, 28 March 2012, 12:49 | Source: AP |
A far-right Serbian leader was convicted and sentenced yesterday to 10 months in prison for making death threats that led to the cancellation of Belgrade's 2009 gay pride march.
Belgrade's district court ruled that Mladen Obradovic, the leader of the extremist group Obraz, or Honor, made the threats ahead of the planned march. His group incited discrimination with graffiti that read "Death to gays" and "Blood will flow, there will be no gay parade."
Lazar Pavlovic, a leader of a Serbian gay-rights group, said he is not satisfied with the length of the sentence because such charges should carry prison terms of up to three years in prison.
"We expect that the prosecution will lodge an appeal and we will continue to follow this case," he said.
Obradovic has been sentenced in a separate case to two years in jail on charges that his group incited violence during a gay pride march in 2010 that left scores of people injured. He is currently a free man while appealing the verdicts.
Serbia has pledged to protect gay rights as it seeks to join the European Union. But the gay community still faces threats and attacks, especially as it tries to organize pride marches.
Serbia's constitutional court has been deliberating over whether to ban Obradovic's far-right group, one of many that have mushroomed in the Balkan state after the wars in the region in the 1990s.
Obradovic said upon leaving the courtroom on Tuesday that he doesn't care whether Obraz would be officially banned because it could continue acting illegally.
"Let them prosecute and rule, but they cannot stop us," Obradovic said.
---
CANADA |
Nazis skip Calgary and move protest to Edmonton
Monday, 26 March 2012, 17:25 | Sources: Calgary Herald & Times Colonist |
After years of annual clashes between white supremacists and anti-racist activists at downtown rallies, this year's version was peaceful as the city's neo-Nazis elected not to show up.
The two sides typically square off in competing rallies downtown around the International Day for the Elimination of Racial Discrimination and are surrounded by a heavy police presence.
On Saturday morning, a few dozen anti-racist activists showed up - outnumbered by police - in front of city hall.
Police said there were prepared and went in trying to balance public safety with the right to free speech.
"These kinds of incidents can escalate or turn out to be nothing. Our plan is to be prepared for any type of situation," said Acting Insp. Colin Adair.
The largest turnout was in 2009 when 60 white supremacists confronted about 400 anti-racist demonstrators.
It wasn't a surprise that the skinheads did not appear: the group Blood and Honour had printed flyers saying that this year's march would take place in Edmonton.
There, dozens of police officers formed a line to stop a group of white supremacists and another group of anti-racism protesters from clashing in Edmonton on Saturday afternoon.
The two groups were on either side of 99th Street. Police would not allow anyone to cross the street.
About a dozen people forming the group of white supremacists were on the east side of the street, chanting "worldwide white pride."
People in the group waved black flags. Handkerchiefs covered their faces.
A small group of anti-racism protesters in Churchill Square was joined by dozens of others who marched from a rally held at End of Steel Park. In total, there were about 200 anti-racism protesters at the square.
There was a heavy police presence throughout the downtown core.
Police also stood guard at the Churchill LRT station to stop protesters from entering. The two groups started to move toward the provincial legislature grounds at about 2: 30 p.m.
"On the one hand that's a definite success for Calgary," said anti-racist organizer Jason Devine. "It shows that they're tired of being outnumbered, they're tired of being corralled."
"On the flip side, it's a displacement. If they're not focusing on Calgary and now they're focusing in Edmonton, to some extent the problem has been moved there."
Indeed, white supremacists chanting "worldwide white pride" faced off with anti-racism protesters in Alberta's capital city Saturday afternoon.
There was a heavy police presence in Edmonton's downtown.
Police stood guard at the city's Churchill LRT station to stop protesters from entering. The two groups started to move toward the provincial legislature grounds at around 2: 30 p.m.
---
USA |
Trayvon Martin's death a tragedy - Obama
Friday, 23 March 2012, 23:46 | Source: BBC |
US President Barack Obama has said the "tragedy" of an unarmed black teenager shot dead in Florida should prompt some national soul-searching.
The death of Trayvon Martin, 17, gunned down by a neighbourhood watchman, who was not charged as he claimed self-defence, has sparked outrage.
"If I had a son he would look like Trayvon," President Obama told reporters at the White House.
Rallies have been held this week in Florida and New York to demand justice.
"I can only imagine what these parents are going through and when I think about this boy I think about my own kids," Mr Obama said on Friday.
"I think they are right to expect that all of us as Americans take this with the seriousness that it deserves and we're going to get to the bottom of what happened.
"Every parent in America should be able to understand why it is absolutely imperative that we investigate every aspect of this and everybody pulls together, federal state and local, to figure out exactly how this tragedy happened," he added.
President Obama's remarks were echoed by Republican White House hopefuls who spoke out later on Friday about the case.
Former Massachusetts Governor Mitt Romney said in a statement: "What happened to Trayvon Martin is a tragedy. There needs to be a thorough investigation that reassures the public that justice is carried out with impartiality and integrity."
His rival, former Pennsylvania Senator Rick Santorum, called the shooting a "horrible case" and disputed whether Mr Zimmerman deserved protection under the state's self-defence law. "Stand your ground is not doing what this man did," he said.
In Florida, a law known as "stand your ground" can prevent criminal or civil prosecution when deadly force is used in self-defence.
There have been mounting calls for the arrest of George Zimmerman, 28, who opened fire on the teenager on 26 February in the Orlando suburb of Sanford.
A grand jury is considering whether to charge Mr Zimmerman and will hear evidence on the case on 10 April.
The Department of Justice and FBI have launched a civil rights investigation into the conduct of the local police department.
Mr Martin was carrying a bag of sweets and a can of iced tea when he was approached by Mr Zimmerman.
The neighbourhood watchman had told a police dispatcher he thought Mr Martin looked suspicious.
It was raining and the teenager had his jacket hood pulled over his head. Mr Zimmerman shot Mr Martin following a confrontation.
The Florida politician behind the state's 2005 "stand your ground" law has said in an opinion piece for Fox News that he did not believe the rule was applicable in the case of Mr Martin.
The law "does not provide protection to individuals who seek to pursue and confront others, as is allegedly the case in the Trayvon Martin tragedy in Sanford", said Republican State Representative Dennis Baxley.
On Thursday, Florida Governor Rick Scott appointed a new prosecutor to handle the case.
The parents of Trayvon Martin: "We want an arrest"
He also established a task force led by the state's lieutenant governor, an African-American woman, to conduct hearings on the incident and recommend any changes to state law.
Hours earlier, Sanford Police Chief Bill Lee temporarily stepped down in a bid to defuse building anger that his department had not arrested Mr Zimmerman.
Thousands of people gathered at a rally in Sanford on Thursday evening led by the civil rights leader Al Sharpton demanding an arrest over the 17-year-old's shooting.
More than 1.5 million signatures have been gathered for an online petition calling for justice for Mr Martin.
Mr Obama, the first US African-American president, has largely steered clear of race issues since his much-criticised intervention in the controversial 2009 arrest of a black Harvard University professor.
The president said police had "acted stupidly" in detaining the academic as a suspected burglar, but later added it would have been preferable if he expressed his concerns in different terms.
---
LATVIA |
Russia slams EU for rejecting anti-Nazi UN resolution
Friday, 23 March 2012, 23:31 | Source: RIA Novosti |
Russian Foreign Minister Sergei Lavrov has condemned several European states' for their reluctance to vote on a UN draft resolution condemning the glorification of Nazism in the Baltic states.
"The UN General Assembly annually passes the draft resolution [against glorification of Nazism]…European Union states vote against it," Lavrov said, adding that he viewed this move as "disgraceful."
Russia introduced a resolution to the UN condemning the glorification of Nazism and the desecration of World War II monuments in November, 2011. The United States, and a number of European countries, including the Baltic States, abstained from voting.
Lavrov said it was "inadmissible to glorify neo-Nazis in modern Europe, hailing SS divisions and conniving at it on an official level."
The resolution condemns the construction of memorials in honor of former Nazis and Waffen-SS soldiers and the holding of public pro-Nazi demonstrations. It also calls for the prevention of proliferation of neo-Nazi ideas on the Internet.
Russia has been introducing similar resolutions to the UN since 2005.
Parades in honor of Waffen-SS veterans, involving veterans from the Latvian Legion and the 20th Estonian SS Division and their supporters, are held annually in Latvia and Estonia. Russia has repeatedly criticized the Baltic States for allowing these parades to take place.
In April 2007, a Soviet war memorial was taken down from its plinth in the center of the Estonian capital, Tallinn, just before the May 9 Victory Day celebrations in Russia, and put up in another location on the edge of the city. The move led to street protests in which over 1,000 people were arrested and one Russian national died.
---
CZECH REPUBLIC |
Three fascists jailed for attacking Romanies
Friday, 23 March 2012, 15:04 | Source: ČTK |
The Regional Court in Ostrava sent today three right-wing extremists to prison for four years and another three got three-year suspended sentences for an attack on a group of Romanies, one of whom was severely injured.
The Romany juvenile boy suffered a skull injury, has mental problems and is partially paralysed.
One of the attackers was acquitted.
According to the indictment, a group of rightist radicals attacked in early November 2008 a group of Romanies whom they met accidentally. They were chasing them all around Havirov, north Moravia.
One Romany was saved by a group of Ukrainian workers who put up resistance to the attackers in a hotel house.
Eight people were originally prosecuted in the case. A court in Ostrava gave sentences to three of the eight persons for racially motivated heavy impairment of health and three got suspended sentences. Two men were acquitted.
The High Court in Olomouc later cancelled the verdict and returned the case for further appraisal. The sentence imposed on one of them has already become valid, therefore only seven men were tried today.
---
USA |
Life sentenced white supremacist faces more charges in murder spree
Thursday, 22 March 2012, 23:23 | Source: SPLC |
It now appears likely that confessed hate killer David "Joey" Pedersen will next face federal charges in connection with a West Coast killing spree that left his father, stepmother and two strangers dead.
The 31-year-old Pedersen, whose body is decorated with white supremacy tattoos, was sentenced late last week in Everett, Wash., to life in prison after pleading guilty four days earlier to two counts of aggravated first-degree murder for the slayings of his father and stepmother.
Mark Roe, the prosecutor in Snohomish County, said he decided not to pursue the death penalty in Washington state because there was "significant and credible" evidence that Pedersen had been sexually abused as a child by his father. Against that backdrop, the prosecutor said it would be unlikely any jury would return a death penalty against Pedersen for killing his father.
But there are different circumstances in two other murders he's accused of committing.
While Pedersen remains in custody in Washington, federal investigators are now reviewing evidence linking him and co-defendant Holly Ann Grigsby to the murders of Christian Cody Myers, 19, in Lincoln County, Ore., and Reginald Clark, 53, a disabled black man shot in the head outside a grocery store in Eureka, Calif.
In interviews with authorities, Pedersen has confessed to murdering Myers in the mistaken belief that he was Jewish and to killing Clark because of the color of his skin. Those killings easily could be the basis for federal hate crime charges.
"I can't imagine a case that cries out more for federal hate crime charges than this one," one official said in describing the evidence against Pedersen and Grigsby.
An Oregon sherriff described the eight-day rampage as a "vicious, wild reign of terror" that ended on Oct. 5 with their arrests by the California Highway Patrol near Marysville.
"I can tell you that the federal agencies are looking into it," Justice Department spokeswoman Gerri Badden told Hatewatch today when asked if Pedersen may next face federal charges in Oregon. She could offer no timeline, saying only that "a review of the case is continuing."
Prosecutors in the civil rights division at the Justice Department headquarters in Washington, D.C., would typically review cases in which federal hate crime charges are to be lodged.
In Lincoln County, Ore., district attorney Rob Bovett told Hatewatch today that he won't seek Pedersen's extradition from Washington state until charges are resolved against Grigsby, Pedersen's girlfriend.
In Oregon, the pair likely would face state charges of aggravated murder. That charge leaves it up to the trial jury to decide not only the question of guilt but whether to impose the death penalty, Bovett said.
"I can assure you that we are definitely going to want them," Bovett told the Portland Oregonian last week. "But it wouldn't make sense for any of the jurisdictions to try these folks separately."
California also is likely to extradite Pedersen and Grigsby.
Their rampage began Sept. 28 when they fatally shot David "Red" Pedersen, 56, in the head as he took his son and Grigsby to a bus station in Everett. The suspects then returned to the Pedersen home in Everett, where Leslie "Dee Dee" Pedersen's throat was slashed after she was bound with duct tape. A sword was found near the body.
As he was sentenced to life in prison, Joey Pedersen told the judge he killed his father because he had abused his own daughter. But that woman, Holly Perez called her brother's motive irrational in a statement read by a victim advocate, the Everett Herald reported.
Perez described her brother's actions as vile and asked the judge not to show him leniency, saying she's afraid of Pedersen and believes that he will hurt others if he ever regains his freedom, the newspaper reported.
When the pair was arrested, Grigsby told authorities she and Pedersen were headed to California "to kill more Jews."
During a psychiatric evaluation, Pedersen, who has spent half his life behind bars, specifically denied having joined with racists in prison and said he doesn't like to be viewed as a "simplistic stereotype" white supremacist. The report concluded that Pedersen doesn't have any history of drug or alcohol abuse or mental illness and has above-average intelligence.
When asked if a large tattoo of the letters "SWP" across his neck stood for "Supreme White Power," Pedersen "replied in a deadpan voice, 'It stands for I don't want to get hired for a corporate job,'" the psychiatric evaluation says.
Pedersen told evaluating psychiatrists that "if he must label his philosophy, it would be best described as 'white racialism,' meaning 'I see everything as a battle, and race is paramount. I see our culture as Europeans as threatened, and those are my views."
---
FRANCE |
Extremist suspect upends French presidential race
Thursday, 22 March 2012, 23:17 | Source:AP |
French far-right presidential candidate Marine Le Pen says her anti-Islam agenda has been vindicated: A French Muslim claiming ties to al-Qaida has taken responsibility for the country's worst killing spree in years.
The specter of radical Islam's grip on France has threatened to overturn France's presidential race, in which Socialist Francois Hollande has long been the pollster's favorite to unseat the divisive conservative president, Nicolas Sarkozy.
Le Pen, the No. 3 candidate in polls, said France must "wipe out" the Islamist threat, saying it has been minimized by authorities.
Sarkozy has borrowed from Le Pen's playbook in campaigning for the presidential election on April 22 and its expected runoff May 6, with talk of halving immigration and lamenting widespread availability of halal meat.
It's too soon to tell definitively how two-day standoff with suspect Mohamed Merah, 23, could affect Sarkozy's chances for a second term. Merah, who bragged to police about killing seven people in an effort to "bring France to its knees," died Thursday in a shootout with police in Toulouse.
Still, a poll released Thursday suggested that Sarkozy may benefit politically from the horror of recent days.
The survey by CSA suggested Sarkozy would slightly dominate the first round of voting in April but lose to Hollande in the May runoff by 46 percent to 54 percent.
Support for Le Pen was notably down. The poll was conducted Monday and Tuesday, after a rabbi and three children were shot dead at a Jewish school but before details about the suspect Merah emerged. A total of 1,003 people were questioned by telephone.
In many French minds now lurks the memory of Spain's 2004 election, which came three days after deadly train bombings in Madrid by Islamic terrorists. In that case the incumbent conservatives had expected to win but lost at the last minute to the Socialists.
In the United States, continued worries about terrorism and security after the Sept. 11 attacks had the opposite effect, helping to bring George W. Bush a second term in 2004.
Le Pen's far-right National Front claims that so-called Islamisation is corrupting the French culture and will change France if no one acts against the influx of Muslim immigrants and the growing demands of Muslims born on French soil.
France has an estimated 5 million Muslims — the largest such population in Western Europe — and many have long worked to defeat chronic and ambient discrimination within French society. Anti-Muslim sentiment tends to peak with international tensions like the Palestinian intifada or the Sept. 11, 2001, al-Qaida terror attacks.
The revelation that the chief suspect in three deadly attacks this month in the Toulouse region in southwest France was a Frenchman of Algerian origin who claimed al-Qaida ties and traveled twice to Afghanistan resonated among candidates and put Muslims on the defensive.
After authorities identified Merah, a man with a long record of petty crimes, Muslim and Jewish leaders joined in a single voice to warn against any bid to stigmatize Islam.
"Muslims like Jews, Jews like Muslims, and condemn all confusion that might be made between the international political situation in the Middle East and the monstrous act that ... has horrified all French," the Grand Rabbi of France Gilles Bernheim said Wednesday after meeting with Muslim leaders and Sarkozy.
Mohammed Moussaoui, president of the CFCM, an umbrella group for French Muslims, said what the suspect has done "is the very negation of ... Islam," on the France-2 TV network.
The powerful fundamentalist Muslim organization UOIF asked all citizens "not to succumb to the panic of stigmatizing Muslims, which feeds Islamophobia."
In the case of Le Pen, it may already be too late.
"We have underestimated, I think, the rise of radical Islam in our country," Le Pen said. "We didn't want to see it, out of weakness or for electoral reasons, that recruiting is going on in our neighborhoods by political-religious groups."
Le Pen, who called national attention to the numbers of Muslims who pray in Paris streets for lack of space in prayer rooms, was among six presidential candidates present at Wednesday's solemn funeral services for three dead paratroopers in the city of Montauban, near Toulouse. Merah had claimed responsibility for those attacks.
Le Pen had stayed away from mourning prayers after Monday's killing of the Jewish rabbi and the children — when investigators focused their search on neo-Nazis and extreme rightists. Le Pen's National Front has long been seen as a vehicle to spread anti-Semitism.
Hollande said the fight against terrorism is "the combat of the entire nation," above all else.
Centrist presidential candidate Francois Bayrou said the slayings around Toulouse pose the question of "the state of French society, where there are explosive germs" and the "risk of importing conflicts" onto French soil.
Sarkozy, speaking as president at Wednesday's funeral ceremony for the paratroopers, vowed that terrorism "won't manage to fracture our national community."
However, Sarkozy has followed the lead of Le Pen in the past, allowing her to set the agenda so he can take up her themes and go after her far-right followers.
A young man in Toulouse who slightly knew the suspect said he was shocked and afraid.
"This person doesn't represent me," said Mehdi Nedder, 31. "What worries me is what society will say tomorrow in the bakery shops, at the butcher's or at the post office."
---
USA |
We are all Trayvon Martin
Thursday, 22 March 2012, 23:06 | Source: People's World |
We are all Trayvon Martin, even those of us who have never been trapped alone on a dark street on the thin line between life and death.
Throw in the effects of hundreds of years of racism in the United States and you have the situation last month in which a 250 pound self-appointed white vigilante hunts down an unarmed Black child who is screaming "help." After the vigilante's bullet rips open the child's chest, he lies on the ground, gasping for air until he dies.
And thus the streets of a majority-white gated community near Orlando, Fla.,, on February 26, 2012, became a killing field for a Black young man who, despite his high marks in school will never go to college because his chance at life is over. All because he chose the wrong time to visit his father and the wrong time to walk to a store to buy a can of iced tea and a bag of candy.
This is what racism means to children like Trayvon, to mothers and fathers who have, for hundreds of years, lost children like Trayvon and to millions of African American, Latino and Asian people today. Countless people of color have had, in the history of this nation, no chance at all when an individual or group acting as if they were judge and jury, took it upon themselves to hunt, confront, tackle, kick, or beat them into submission or, worse yet, snuff out their lives altogether.
Racism is also why George Zimmermann, the killer, still has not been arrested. It is why the police have failed to carry out this basic response to the crime even though they told Zimmermann to cease his pursuit of Trayvon when the vigilante called them for the 46th time this month about having spotted someone "suspicious."
Racism is the reason why local police ignored Zimmermann's own arrest in 2005 for violence and battery against a police officer.
Racism is the reason police ignored complaints from neighbors that Zimmermann was "fixated" on accusing young black males of criminality and it is the reason they ignored complaints from neighbors that he was regularly overly aggressive towards other people.
Racism is the reason that the officer in charge of the crime scene failed in 2010 to arrest a police lietenant's son who was videotaped as he savagely beat a homeless man.
Racism is the reason police ignored Zimmermann's violation of the rules of his neigborhood "watch" group - that clearly state members have no police powers, that members should not carry weapons and that they should not engage in their own pursuit of "suspects."
Racism is the reason police ignored the fact that Zimmermann was not actually a registered member of the community's official "watch" group.
Racism is the reason police failed to test Zimmermann for drugs or alcohol but did indeed test the lifeless body of Trayvon for the same and it is the reason they kept that body for days before informing the child's parents of his death. It is the reason they never visited his parents to help ease the shock of that death - something decent police officers always do in cases where murder victims have families.
Racism is the reason someone like Zimmermann gets away with carrying a gun in the first place and it is the reason someone like him can lean on Florida's "stand your ground" law to claim self defense. How long until the next murderer uses the same law to shield himself from the consequences of his acts? How long before the next group of drunken patrons in a bar somewhere decide to go out and hunt down some more victims, using the same law as a pretext for more murders?
Racism, beyond this case, allows us to denounce the alleged atrocities of Kony in far away Africa but to overlook the Trayvon Martins.
But there is hope because from one end of the nation to the other great majorities of the people, Black and white, Latino and Asian, are rising up in outrage against what has happened. Witness the demonstrations and the marches. Witness the belated, but welcome intervention by the Justice Department.
Witness the fight against the outrageous right wing laws against immigrants and witness the outpouring against discriminatory voter ID laws.
Witness the revival and strengthening of the historic and great civil rights-labor alliance that resulted in the smashing of Jim Crow laws in the 20th century and that promises to build and is building a united movement for civil rights and workers rights in the 21st century.
The country that has seen the election three years ago of its first African American president and the formation since then of a growing and united movement for economic and social justice is a country capable of putting an end to the pervasive poison of racism.
Much progress has been made: much more needs to be done. The anti-racist majority that elected Barack Obama in 2008 and a Democratic majority still exits; its power must be felt in demanding that Zimmerman be arrested and the police chief removed. It must challenge the Fox News-fed tea party atmosphere that promotes and feeds on racism fear and intolerance. And needless to say, it must defeat these elements in November.
Trayvon Martin can never be brought back to life. There is no way to ever make right what has happened to him. But building a powerful movement that rejects racism and that rejects the right wing extremists and their horrible disregard of what makes us all human will lay the groundwork for a better society in the future. People in that society will look back at this murder as a horrific part of a past history that will have been put to rest forever.
---
GERMANY |
Germany to examine evidence against far-right NPD party
Thursday, 22 March 2012, 23:01 | Source: dpa |
Germany is to systematically examine evidence that the far-right National Democratic Party (NPD) may be anti-democratic, Interior Minister Hans-Peter Friedrich said Thursday, in a step that could potentially lead to outlawing the party.
Friedrich said he and ministers from 16 states were convinced the NPD was opposed to both the German constitution and democracy.
The constitution allowed parties to be prohibited in such circumstances, he added.
There has been public pressure to outlaw the anti-immigrant NPD. Critics say its ideology may have encouraged a neo-Nazi cell which was exposed in November and is alleged to have killed nine immigrants and a policewoman in unsolved crimes since 2000.
The ferocity of the three-person cell, the self-styled National Socialist Underground, persuaded many Germans that the danger from the entire far-right movement, small as it is, had been underestimated.
The NPD, which denies it is neo-Nazi, had about 6,600 members nationwide in 2010, the latest figures available. It has never won any seats in Germany's federal parliament, but has seats in two state legislatures.
The federal and state interior ministers meeting in Berlin on Thursday authorized a review of evidence against the NPD, Friedrich said.
But the question of whether to file a case against the party will not be considered for many more months, officials stressed earlier.
A bid to ban the NPD failed in 2003 when constitutional judges said the presence of high-placed informers in the party tainted the evidence against it, because these government agents could have promoted radical neo-Nazi views to cover their own tracks.
The ministers decided that, from next month, domestic intelligence agencies should stop paying those infiltrators who sit on the party's uppermost committees, Friedrich said.
'This is an important prerequisite to ensure a fair case,' the minister added.
Of the neo-Nazi cell exposed in November, two died in an apparent suicide-murder, and the third member is in custody. She has not yet been indicted.
The group is alleged to have killed eight ethnic Turkish shopkeepers, a Greek man and a German policewoman in 2000-07.
---
FRANCE |
Neo-Nazis and Islamic radicals, our twin nightmares
Thursday, 22 March 2012, 18:57 | Source: La Stampa |
By Cesare Martinetti
Three former neo-Nazi paratroopers were the first suspects in the Toulouse and Montauban killings. And the Utøya massacre last July was originally attributed to Islamic terrorism. The opposing ends of intolerance and multi-culturalism are often the opposite sides of the same coin.
In the end, a Muslim fundamentalist has emerged from the hell of Toulouse. It is not a neo-Nazi paratrooper incubating in the obscure entrails of French history, but a soldier of that daily intifada simmering in French suburbs.
A muffled guerrilla war is growing from Toulouse to Paris, in those "lost territories of the Republic," as they are called in a widely-circulated pamphlet that documents and exposes the ordinary anti-Semitism that reigns in suburban schools. It is this obscure evil, particularly tenacious in France, that links the possibilities explored by the investigators and public opinion during these blood-stained days of murderous folly.
The result is three young soldiers (of North African descent) killed in cold-blood, another seriously wounded and four other people (three children and a man) hunted down and slaughtered like animals in a Jewish middle school in Toulouse (known as the Pink City) which houses the tomb of Saint Thomas, the most reasonable of Christian philosophers.
It was first thought that the killer might be one of the three paratroopers disciplined, because of their neo-Nazi sympathies, by Montauban's 17th Paratrooper Regiment. A picture of the three men, posing with arms raised in the Nazi salute, draped in a flag bedecked with a swastika, was published in the press. The three young fanatics are white and French. Their profiles fit the type for the assassin. That of someone taking vengeance on the brothers in arms who turned him in, but who also kills three soldiers of North African origin before attacking Jews in a school. This is the prototype of a Le Pen [far-right] activist, which doesn't mean that all those voting for Jean-Marie Le Pen before or for his daughter Marine today [Marine Le Pen is running for the French presidency] are all budding assassins.
Reality has designated another guilty party, this Mohamed Merah, a Frenchman of Algerian descent (a second-generation immigrant, as a widely-used French oxymoron would have it), who, at 1am on Wednesday, called the switchboard of television station France 24 to unveil the reasons for this atrocity. He talked to the editor in charge – Ebba Kalondo, a woman of African origin (we are in a multi-cultural society) with a soft, calm voice.
Mohamed Merah told her that he is affiliated to Al-Qaeda and claims to want to "avenge our little brothers and sisters in Palestine," to denounce France's law against wearing the burqa, as well as the French army's participation in the Afghan war.
How is it possible that two such different and even opposed outcomes were envisaged to explain these two massacres? The answer is that they are both plausible. The Islamist terrorist and the neo-Nazi paratrooper belong to the dregs of society, two opposite nightmares which live side by side without negating each other, but which, on the contrary, re-enforce one another.
The blown-fuse reaction observed in Toulouse already happened last July in Oslo during the massacre perpetrated by Anders Behring Breivik which left eight dead in a bomb blast and 69 killed by gunshot in a campground full of youthful Social-Democrats. The police first suspected the act was undertaken by Islamic terrorists against young westerners. In fact, the guilty party was a 30-something, blond-haired Norwegian who calls himself a pro-Israeli, fundamentalist Christian, and who is hostile to multi-culturalism, Marxism and Islam. He wanted to strike at the young socialists, whom he holds responsible for massive Muslim immigration.
The two nightmares are different, yet complementary and compatible to the point that politics, in a particularly harsh presidential campaign, was suspended for a few hours, out of respect for the victims, of course, in accordance with that French 'savoir-vivre' that is taught in schools. But also to have time to understand and to not do anything out of line. The tone is firm [President Nicolas] Sarkozy has made immigration and foreigners in general his battle-cry in an effort to counter Marine Le Pen, so much so that the [conservative] Wall Street Journal has dubbed him "Nicolas Le Pen".
The president has promised the French a stronger and less accessible France. He's even raised the issue of opting out of the Schengen Treaty which ensures the free movement of populations within the countries of the European Union. An idea which does not sit well with [German Chancellor] Angela Merkel, who no longer seems keen to participate in 'Sarko's' election rallies, as she had promised. This is the climate currently reigning in this France in which Mohamed Merah, a solitary Al-Qaeda sleeper cell for years in the Mirail district of Toulouse, decided to take action. It could have been a neo-Nazi paratrooper; instead it is bin Laden's ghost. And that is not at all reassuring.
---
EUROPE |
The media and the massacres
Wednesday, 21 March 2012, 23:34 |
By Graeme Atkinson
As I write, French police have the suspected mass killer and convicted Islamist terrorist Mohammed Merah, holed up and surrounded inside a block of flats in Toulouse. Merah, who is armed to the teeth and is suspected of killing three soldiers and four Jewish people in Montauban and around Toulouse in three separate incidents, has proclaimed that he belongs to the terrorist al-Qaeda and acted to "avenge Palestinian children." According to reports, he had apparently spent time in Pakistan and Afghanistan, where he was jailed for three years for planting bombs before escaping from prison in 2008.
So, there it is. The fevered speculation can end. What does need looking at, though, is the knee-jerking of sections, but not all, of the mass media, at home and abroad. Just as in the case of the massacre conducted by Islamophobic mass killer Anders Breivik last July, some of the reporting of the horrific bout of shootings in south-west France by the printed and broadcasting media has fallen a bit short of the mark.
Whereas, in Breivik's case, the immediate assumptions of the world's media were the grisly work of Islamic extremism, in the case of the Montauban and Toulouse killings, the media leapt to the conclusion, before anything had been confirmed, that the shootings had been carried out by someone with far-right motivation, an assumption the blogosphere quickly picked up and sprinted away with. With a few honourable exceptions like the BBC, the possibility that the killer might have been an Islamist extremist hardly got a thought.
Worse than that, though, was that a whole package of other groundless assumptions were taken out of their boxes, dusted down and employed with alacrity,and enthusiasm, not least the assertion, as one of numerous newspapers and media outlets put it, that the "Rise and rise of the far right casts a shadow over Europe".
Evidence is seldom presented when huge assertions like this are made.
There is none.
If some of the media's immediate, and then sustained assumptions, about the French events were misplaced, their longer term explanations – of a so-called relentless "rise" of racism and right-wing extremism – were even more so.
Reporting the far-right raises issues of what happens to "news". For example, momentous events like the Breivik massacre, the murders committed by the terrorist National Socialist Underground in Germany and the gunning down of four paratroopers and four Jewish people – three of them children – in France take place, rightly produce universal shock and disgust and become the "big story".
In those circumstances, journalists often seem to be asked to cover issues that have rarely been touched by their publications or programmes for the previous 360-odd days and which, through no fault of their own, lie outside their field of experience and remit. And, suddenly, they are expected to become experts on matters and countries about which, again through no fault of their own, they know little.
An indication of what can then happen was seen in the aftermath of the tragic Breivik events in Norway when a leading UK quality daily printed articles trying to link Breivik with the now defunct British nazi Combat 18 and with the long since dead and buried "Column 88". As to the source of this, one can only speculate but the paper was clearly led up the path because, perhaps, having routinely ignored the far-right in the past, it had no knowledge on which to base a sound assessment. Additionally, all manner of "experts" – some real, many not – are wheeled out, some of whom are academics specialising in other fields, drafted in to add their poorly informed four penn'orth or to grind their own particular axes or to vent their own peculiar conspiracy theories.
None of this really helps and helps false assumptions about the "rise of racism and fascism and/or neo-nazism and/or right-wing extremism" to dominate the press, TV and radio. At the office of Hope not hate (and, before that, Searchlight) we are asked, every time there is a "big story", for information from some of the biggest name newspapers, magazines and broadcasting companies in the world about the supposed tidal wave of far-rightism that is about to drown us all.
Our answer is that there is no tidal wave of right-wing extremism, there is no avalanche of racism and fascism, democracy is not on the verge of collapse and civilisation as we know it is not about to end but "what we can happily help you with is…"
Hope not hate is here to help and we strive to be accurate. We will not present or give credence to analysis that does not stand up to proper examination. Our approach is simple. It is to measure political risks and threats carefully, the better to confront these serious challenges. It is to empower people, not to frighten and paralyse them.
The far-right is not an undifferentiated mass. It is multi-faceted and composed of elements whose relationship with each other is frequently one of friction: nazis, right-wing parliamentary populists, parliamentary fascists, organised racists, violent Islamophobic gangs, would-be terrorists and the real thing. This heaving mass of contradictory tendencies does not "grow" in a linear or exponential manner.
On the contrary, the entire far-right is best compared with a worm. It expands at one end and contracts at the other. In political terms, it has successes in some countries and its star declines in others. Thus, far-right advances in Austria, Hungary, Finland, Netherlands and Switzerland (where the right-wing populist SVP has sat in the government since the 1980s!) have been more than balanced by electoral reverses and losses, internal crises and debilitating splits in the UK, Belgium, France, Denmark, Germany, Bulgaria, Italy and Norway in the past five years.
Likewise, in the 2004 European elections, the combined vote of the far-right across 25 countries with a total electorate of 342 million, was 10,851,911 winning 52 seats in the 732-seat European Parliament.
In the 2009 European elections, the combined vote of the far-right across 27 countries, with a total electorate of 500 million, was 10,667,818, winning 37 seats in the 736-seat European Parliament.
Facts are stubborn and speak for themselves. That is not to downplay the obvious dangers but rather to attempt to locate them in a proper context and estimate them properly.
What we are seeing, driven by the deepest international economic, social and political crisis since the 1930s, is the growth of conditions favourable to exploitation by the extremists of the right: economic insecurity, mass unemployment, mass transnational migration and increased tendencies to the various kinds of racism, xenophobia and other hate prejudices and ignorance that the far-right feeds off like leeches with varying degrees of competence and success.
It is by bringing these factors to the centre of our approach that we can best combat these socially-destructive tendencies and sink them politically, encouraging communities to stand together and politically wipe out those intent on undermining them and dividing people from one another with the poison of hatred.
And, it also facilitates the best of assistance to the media and the public.
---
UKRAINE |
Ukrainian 'Freedom' party should be ringing alarm bells
Wednesday, 21 March 2012, 23:31 | Source: opendemocracy.net |
A far-right Ukrainian party, misleadingly called Svoboda [Freedom], became involved in an international scandal when it employed threats of violence to cancel a series of public lectures on the party's ideological origins, which were to have been given by Grzegorz Rossolinski-Liebe, an academic historian of Polish origin from Germany. Svoboda succeeded in forcing all Ukrainian institutions to cancel lectures about the Organization of Ukrainian Nationalists (OUN) and its leader Stepan Bandera: the only lecture that went ahead was in the German Embassy in Kyiv, in spite of the public protest organized by the party. When a black singer, Gaitana, was selected to represent Ukraine in the Eurovision contest this year, one of the leaders of Svoboda, Yuri Syrotiuk, went public with his contention that her race makes her unfit to represent Ukraine in the European contest.
These are just the latest cases of controversial and extremist public pronouncements that have put this ultranationalist party in the spotlight in Ukraine. The rising threat to democracy and freedom represented by the so-called 'Freedom' party has attracted little attention or concern from Western media and politicians. In Ukraine itself this party, or movement as it styles itself, encounters almost no criticism from politicians and parties that were heralded in the West as champions of democracy and the 'Orange Revolution.' Indeed, one of the provisions of the election pact signed at the end of January 2012 by Svoboda and the Orange parties prohibits criticism of other pact participants.
Svoboda may have abandoned its Nazi-like swastika logo and changed its name from the Social-National Party of Ukraine to the politically more emollient 'Freedom,' but the organization continues to promote an illiberal, anti-democratic ideology and to glorify its radical nationalist and fascist predecessors. It receives support from the opposition parties that are regarded as pro-Western and democratic, as well as from the camp of President Viktor Yanukovych.
The party came to power in several regions of Western Ukraine after the 2010 local elections and is almost certain to enter the national parliament in the elections scheduled o take place later this year. While its national popularity is nearing the 5% threshold needed to gain parliamentary seats for a party list, the election pact dividing single-member electoral districts between Svoboda and the Orange parties means that it is highly likely to win many seats in its strongholds in Western Ukraine.
'Freedom' tries to present itself as an ideological nationalist opposition to the Yanukovych government and to occupy the political space vacated by the previous President Viktor Yushchenko, whose personal popularity, together with the popularity of his party, is in tatters.
Ironically, it was Yushchenko, hailed at the time in the West as leader of the democratic 'Orange Revolution,' who helped to pave the way for the illiberal 'Freedom' party. A cornerstone of his policy was his promotion as national heroes of the OUN, Svoboda's ideological predecessor, and the Ukrainian Insurgent Army (UPA), established by the OUN during World War II.
Svoboda, like Viktor Yushchenko, hails the OUN and the UPA as freedom fighters and national liberation movements, but these organizations bore the same relationship to freedom as the Taliban and Al-Quaida do in Afghanistan. The OUN was a semi-totalitarian organization combining elements of radical nationalism and fascism. Both organizations relied on terrorism, murdering tens of thousands of Polish and Ukrainian civilians. A significant proportion of OUN and UPA leaders and members were involved in the Nazi genocide. While serving in various police formations, they assisted the Nazis in the mass annihilation of hundreds of thousands of Jews, Ukrainians, Russians, Poles and Belarusians.
Despite differences in ideology, Svoboda appears quite similar to Yanukovych's Party of the Regions and Tymoshenko's 'Fatherland' party, both of which represent the interests of the oligarchs. Allegations that politicians and oligarchs from the Yanukovych camp covertly finance the 'Freedom' party are difficult to verify, but the party and its leader Oleh Tiahnybok undeniably derive considerable benefit from their regular and prominent presence on prime-time TV shows on major national channels controlled by oligarchs from the Yanukovych camp or by the government.
In addition, several leaders of the 'Freedom' Party in regions of Western Ukraine, like their counterparts from the Eastern Ukraine-based Party of the Regions, are reputed to have a background in organized crime. The support of the avowedly pro-Russian Party of the Regions for the nationalist Svoboda party can be regarded as an attempt to tighten their grip on power for a long time by turning radical nationalists, unlikely to win national parliamentary or presidential elections, into the main opposition force.
This rise of radical nationalism threatens the already bleak prospects for liberal democracy in Ukraine. Svoboda's extremist ideology and policy, particularly in respect of ethnic and linguistic minorities and immigrants, together with its threats of violence against both its political opponents and academics are far from unique in Ukrainian or European politics. But the implicit or explicit support for Svoboda from both the opposition parties, which present themselves as beacons of democracy, and from the government camp, which publicly presents itself as the ideological alternative to Svoboda, should set the alarm bells ringing about the state of politics in one of Europe's largest countries.
---
BULGARIA |
MEP sets up new fascist outfit
Wednesday, 21 March 2012, 23:23 | Source: Novinite.com |

Nationalist Bulgarian MEP, Dimitar Stoyanov (l) with stepfather and leader of the nationalist Ataka party, Volen Siderov. Photo by BGNES
Dimitar Stoyanov, a far-right Bulgarian MEP, will create a new patriotic political formation together with his mother, Kapka Siderova.
Stoyanov is the stepson of Volen Siderov, the eccentric leader of the troublednationalist Ataka (Attack) party.
In 2011, Stoyanov was removed from the party on the grounds of "tarnishing" and "undermining" the party's image with his media statements. He had demanded that Siderov step down as leader.
Volen Siderov and Kapka Siderova split last year, and, allegedly, Ataka's leader now lives with Ataka MP, Denitsa Gadzheva, who is much younger than Kapka.
Dimitar Stoyanov's new political project has attracted five former Ataka MPs that currently count as "independent" - Borislav Stoyanov, Valentin Ivanov, Dimitar Karbov, Ognyan Tetimov and Petar Hlebarov.
Initially, Ataka's parliamentary group consisted of 19 MPs, but a number of dissents left it with just 10 lawmakers, which is the bare minimum.
In June 2011, Pavel Chernev, a former deputy chair of the far-right formation, created the Party of the Ordinary Folk. In April, another former Ataka deputy chair, Anton Sirakov, created the New Power formation. Prior to that, Ataka member and owner of the party's former mouthpiece, the Skat TV station, Valeri Simeonov, founded his National Front for Saving Bulgaria.
---
FRANCE |
Le Pen tears up election truce
Wednesday, 21 March 2012, 22:09 | Source: Reuters |
French far-right presidential candidate Marine Le Pen has broken the tentative campaign truce, saying an attack on a Jewish school showed it was time to "wage war" on Islamist groups that had flourished due to a lax government.
Le Pen, who is in third place in opinion polls for the April 22 first round, cast aside any semblance of national unity as police laid siege to an apartment in southwest France where a young Muslim gunman suspected of the killings was holed up.
"It is time to wage war on these fundamentalist political religious groups who are killing our children," Le Pen said on TV news channel i>tele.
"The fundamentalist threat has been underestimated."
Police were besieging the gunman, a French citizen of Algerian origin, in an apartment in the southwestern city of Toulouse who according to Interior Minister Claude Gueant said he carried out three attacks on Jews and soldiers in the last 10 days, killing seven people.
Gueant said Mohamed Merah claimed affiliation with al Qaeda.
Le Pen said Islamist militants had prospered "thanks to a degree of laxity" and that she would seek a debate about restoring the death penalty, abolished 30 years ago in France under the late Socialist President Francois Mitterrand.
While conservative President Nicolas Sarkozy and his main rival, Socialist Francois Hollande, suspended campaigning after Monday's school shooting, Le Pen's comments drew angry responses from several other outsider candidates in the election race.
Francois Bayrou, a popular centrist who is fourth-ranked in the polls, said she had overstepped the mark.
"The extreme right is trying to exploit this situation," he said. "Nobody has the right to let the political debate run off the rails."
Hard leftist Jean-Luc Melenchon, who has been waging a war of words with Le Pen for weeks and has branded her "semi-demented", warned in a statement against political exploitation of the shootings to stoke hatred.
"Our first duty from this point is to prevent this situation being used as a pretext to promote hateful approximations and stigmatisation," he said.
The killings have played to Sarkozy's strengths, showcasing his national leadership and putting the issue of security at the top of the political agenda in what had seemed an uphill re-election battle against Hollande.
The Socialist still leads the incumbent in polls for the May 6 runoff but no surveys have yet been published that were taken after Monday's events.
Some political analysts say the killings may turn the election campaign upside down and prove a windfall for Sarkozy, a tough-talking former interior minister.
The president's response to the shootings of Jewish school children and soldiers has enabled him to recapture the moral high ground, lead the nation in mourning and don his favourite uniform as France's first policeman.
Like U.S. President George W. Bush after the 9/11 attacks on New York and Washington in 2001 and Norwegian Prime Minister Jens Stoltenberg after last August's Oslo shootings, he has found the words and gestures to express the shock, determination and unity of a wounded nation.
That is a harder task for his Socialist rival, Hollande, who has also cancelled campaign events, visited the crime scenes and attended commemorations, but inevitably has a back-seat role while the president is chairing emergency meetings and ordering deployments.
Both men attended the funerals of the dead soldiers on Wednesday. But as an opposition leader, Hollande sat silently in a line of election candidates at the ceremony, while Sarkozy was shown comforting the families and delivering a moving eulogy and a rousing call for national unity.
Hollande has called for a new spirit of "living together" - code for embracing France's ethnic diversity.
---
DENMARK |
Thousands mobilise against planned anti-Islam demo in Denmark
Wednesday, 21 March 2012, 21:25 | Source: dailystar.com.lb |
Several thousand people turned out for an open-air concert in Denmark's second city of Aarhus today to protest against a far-right anti-Islam rally planned for March 31, officials said.
Aarhus city officials said they organised the concert as a way of showing the city's tolerance and because "Aarhus does not want to be associated with extremist groups" that represent "everything we want to distance ourselves from."
Around 5,000 people attended Wednesday's concert, a spokesman for the mayor's office said.
Far-right groups from across Europe are scheduled to meet in Aarhus on March 31 for an anti-Islam rally organised by the Danish Defence League, a sister organisation of the English Defence League.
A spokesman for the Danish Defence League, Philip Traulsen, said the programme for the meeting had not been confirmed but that it would deal with "the obvious problems caused by radical Islam."
In an email to AFP, he said some 300 to 1,000 people were expected to attend the rally, which he said would "probably be the biggest anti-Islam demonstration on Danish soil."
A counter-demonstration organised by the group "Aarhus for Diversity" was to be held at the same time in the town of 315,000 people, located on the Jutland peninsula north of Germany.
Local police, who have requested reinforcements, "will be present en masse", eastern Jutland police official Mogens Broendum said.
But shopowners have expressed concern and a number of restaurants have already indicated they plan to close on the day of the rally, he said.
---
HUNGARY |
Fidesz conservatives gain supporters, far-right Jobbik less popular
Wednesday, 21 March 2012, 21:22 | Source: portfolio.hu |
While Hungary's ruling Fidesz party, and opposition parties MSZP and LMP enjoy a slowly growing support, the far-right Jobbik party is losing followers and the Democratic Coalition cannot increase its popularity, the latest survey by Ipsos showed on Wednesday. It also found that the ratio of voters with party preference is shrinking.
The poll conducted in mid-March with a 1,500-strong sample (18 years of age and above) shows a 19% support for Fidesz (cc. 1.5 million people) and a 14% support for the Socialist Party (MSZP) among eligible voters, which would translate into 1.1 million voters. For both party this means a 1-percentage-point gain from February. Last month their popularity grew by 2 ppts each.
Support for green party LMP has been fluctuating within a tight range over the past 18-24 months. The party is at the height of this range now with a 5% support among eligible voters, which translates into a cc. 400,000-strong voter base.
The camp of far-right nationalist Jobbik party has been shrinking gradually over the past quarter. Its support ebbed from 10% in December 2011 to 7% by mid-March. This means the party could count on some 600,000 people to vote for it if elections were held this Sunday. The Democratic Coalition, a creation of former Socialist Prime Minister Ferenc Gyurcsány, has been enjoying stagnating support (2%) for months. This means about 150,000-200,000 supporters.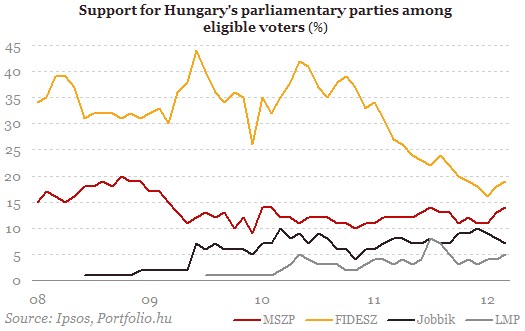 Ipsos finds it interesting that the political lethargy that was observed at the turn of the year has abated. While about one third of the population said they would cast their ballot in an election, now about 40% of the eligible voters said they would turn up at the voting booths this Sunday.
The ratio of those with no party preference has declined, from a 57% peak to 52%. This means still more than half of the eligible voters are either undecided about which party to support or would not vote at all.
A consequence of the rise in political activity is that both the Socialist Party and Fidesz boosted their voter base by about 250,000 people each since the beginning of the year.
The rise in the number of Fidesz supporters in the past few months can be attributed to the return of those who had previously left the party. In early 2012 42% of its supporters said they voted for the now ruling party in the 2010 spring election, while in the mid-March poll 49% of the respondents said they were loyal that way to Fidesz.
The Socialists had never lost its appeal that much, with 75% of those voting for it two years ago still supporting it - there is no change in that. Its new supporters are mostly those who had not cast their ballot in 2010 and a few tens of thousands have previously preferred Fidesz, Ipsos said.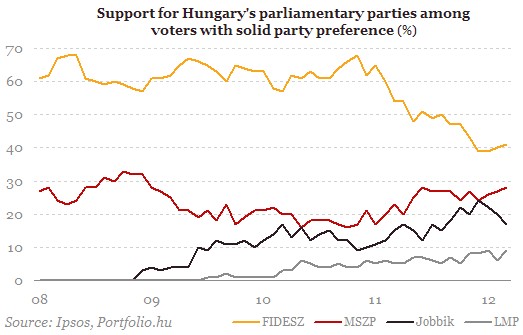 Ipsos believes that the rise in the popularity of Fidesz and MSZP may have something to do with the relationship with the European Union. So far, the opinion about Hungary's accession to the bloc has been quite negative among the supporters of the ruling party: 53% said the overall balance of the country's EU membership is negative, while 37% said it brought advantages. As the popularity of Fidesz grew, this ratio changed to 58%-32%. An opposite change occurred within the MSZP camp. While previously 50% of them said being member of the European family was overall detrimental for the country and 43% said it was beneficial, now 48% of the respondents said EU membership was advantageous for Hungary and 43% of them said the balance was negative.
---
EUROPE |
24% of French harbour antisemitic attitudes
Wednesday, 21 March 2012, 19:25 | Source: Reuters |
Nearly a quarter of French citizens still show antisemitic attitudes, the Anti-Defamation League revealed in a new poll published on Tuesday.
The findings were released a day after the brutal murder of three children and a rabbi in front of a Jewish school in Toulouse, France.
According to the poll, "the overall level of antisemitism increased to 24 percent of the population, an increase from 20% in a previous ADL poll conducted in 2009."
In addition, 45% of respondents said violence against European Jews was based on "anti-Jewish feelings," rather than anti-Israeli sentiment, an increase from 39% in 2009.
ADL executive director Abraham H. Foxman commented on the findings, saying that "Those increases are all the more disturbing in light of the shooting attack at the Jewish school in Toulouse."
The results were part of a larger study on antisemitism in Europe, which included nine other countries: Austria, Germany, Hungary, Poland, Spain Italy, the Netherlands, Norway and the United Kingdom.
Respondents in those ten countries where asked to identify whether or not they subscribed to certain statements labeled by ADL as "classical" antisemitism. Those questions included whether respondents felt Jews were more loyal to Israel than the European country, whether Jews have too much power in the business world or international markets and whether Jews discuss the Holocaust too often.
Nine out of ten countries showed increases in antisemitic attitudes, according to the poll.
The most anti-Semitic country was Hungary, the ADl found, with 63% of the population expressing anti-Semitic sentiments as compared with 47% in 2009.
Spain also showed high marks, with over half the population (53%) showing "deep-seated antisemitic attitudes." Poland hovered at 48%, the same as in 2009.
The UK and Germany showed the lowest levels of antisemitism, at 17% and 21%, respectively.
The question that resonated the most in all countries was whether European Jews were more loyal to their European state or Israel. In none of the 10 countries did less than 45% of respondents believe Jews were more loyal to their European country, with as many as 72% in Spain and 61% in Poland and Italy questioning Jewish allegiance.
---
NETHERLANDS |
Far-right MP Brinkman quits over website.
Wednesday, 21 March 2012, 19:19 | Source: expatica.com |
A Dutch parliantarian has quit as a representative of Geert Wilders' extreme rightwing party in parliament, citing its anti-eastern European immigrant website as one of his reasons for leaving.
Hero Brinkman told reporters Tuesday he would continue supporting the Dutch ruling coalition of Prime Minister Mark Rutte as an independent parliamentarian.
Rutte's minority government has a 76-seat majority in the 150-seat Lower House thanks to the support of Wilders' Party for Freedom (PVV) which has 24 seats.
"I do not think you should stigmatise whole groups of people like that," Brinkman said at a press conference in The Hague, adding "citizens from central and eastern Europe are presented by the PVV through the website as criminals".
But Brinkman said he would continue to support the governing coalition, securing its majority in parliament.
"I absolutely will not let this government down," he said, adding "Rutte and his team have my trust".
The "Report Middle and Eastern Europeans" site went online last month for Dutch citizens to report "nuisances" caused by immigrants from countries like Bulgaria, Poland and Romania.
Rutte refused last week to condemn the website described as "deplorable" by the European Parliament, saying the initiative did not reflect any official views, adding his government does not "comment on the measures taken by political parties".
The European Parliament earlier called on Rutte to condemn and distance himself from the website as it adopted a resolution describing it as an affront to the fundamental values of human dignity, freedom, equality, the rule of law and respect for human rights.
Apart from lashing the website, Brinkman also denounced what he called the undemocratic functioning of the PVV "which revolves around one person".
"I am convinced there is no future for the PVV once Geert Wilders' political career is over," he said.
---
RUSSIA |
Russian racism under the spotlight once more
Wednesday, 21 March 2012, 19:09 | Source: Argophilia.com |
As preparations for the 2018 World Cup begin to pick up steam, Russian Sports Minister Vitaly Mutko has announced that one of his biggest priorities lies in fighting the racist culture that remains a big stain on the country's reputation.
Russia's Sports Minster pledges to fight racism before World Cup © Ingus Evertovskis - Fotolia.com
Mr. Mutko pledged to fight racism in Russian football just two days after a highly publicized incident in which Anzhi Makhachkala's Congolese defender Chris Samba had a banana thrown at him during a match at Lokomotiv Moscow.
The incident represents the third occasion in the last 12 months in which an Anzhi player has been the victim of racist abuse, raising questions about whether or not the widespread racism in Russia could become an issue at the World Cup in 2018, reports the Associated Press. At a press conference earlier today, Mutko found himself fending off questions about Russia's readiness in light of such events:
"Of course, it's a bad thing, and Russia will fight against such manifestations of racism," he told reporters at a conference to discuss the nation's preparations for the tournament.
Even so, Mutko faces a much tougher task than he is prepared to admit if he isn't just paying lip service to international anger surrounding the Samba incident. Xenophobia in Russia has long been a problem, and if anything its one that is getting worse.
Russian Ultra fans. Image courtesy of Néric Blein
Late last year, Moscow bore witness to thousands of neo-Nazis and right wing nationalists marching through its streets, chanting racist slogans and calling for Russians to "take back Russia". Known as the "Russian March", this is an event that has taken place annually since 2005 when the Russian government decreed that November 4 would be a national holiday, replacing celebrations of the Bolshevik Revolution in 1917.
Of course, this is far from an isolated incident. Russia's problems with racism have been well documented, with numerous racist groups rising from the chaos that followed the Soviet Union's collapse in the early 1990s. Migrants from Central Asia, and numerous students from Africa and elsewhere have found themselves the target of frequent racially motivated attacks by skinhead gangs in the country's biggest cities.
The problem is so bad that the UK Government has issued an official warning for its citizens of Afro-Caribbean and Asian descent to take extra precautions while visiting Russia, due to the risk of racist attacks.
Further evidence of Russia's growing problem comes from the Sova Centre r, a Russian NGO that documents incidents of xenophobia in the country. According to its latest report, by the end of September 2011, 16 people were murdered during racist attacks that year.
While government ministers such as Mutko are making the right noises about fighting xenophobia, it's difficult to see what they can do when the racist culture seems to be so prevalent in Russian football. Samba's banana incident was just the latest in a catalogue of stains on the Russian game. Just last year, another Anzhi player, Brazilian Roberto Carlos, was also subjected to a banana being thrown at him during a league match. This followed a previous incident in which fans of Zenit St. Petersburg waved bananas at the same player during a previous league game.
Robert Carlos has twice been the target of racism in Russia. Image courtesy Wikipedia Commons
Zenit may be one of Russia's highest profile teams, but they notorious for the racism of their fanatical 'Ultras', who refuse to allow the club to sign any black players.
The big fear is that racist abuse targeted at players and fans visiting the country during the World Cup could explode into violence. For many Russian cities, the massive influx of multi-colored nationalities in 2018 will be on a scale previously unseen in the country's history. All of a sudden, the extremists will find themselves with may targets with which to vent their anger at.
Of course, the flip side is that the World Cup could in fact become a catalyst for change in the region. Russian authorities have been rhetorical in their assurances that they will come down hard on any intolerance shown to its guests, while the country's football union has set up a seven-point memorandum on fighting racism. In addition, officials insist that the highly publicized incidents of racism in the country are not indicative of the wider public mood.
Let's hope they are right. For all its problems, Russia is an enigmatic, fascinating place, and the 2018 World Cup represents a fantastic opportunity for the country to showcase its merits.
---
FRANCE |
NEWSFLASH: Police shot in raid on Islamists - report
Wednesday, 21 March 2012, 04:23 | Source: Reuters |
Two French police officers were injured in a shoot-out during a raid on a house in Toulouse on Wednesday to arrest suspects in the killings of three children and a rabbi at a Jewish school in southwest France this week, a police source said.
The source said the raid began at 3.00 am local time (02:00 a.m. British time) and was ongoing, but did not provide further details.
French news channel BFM TV said the suspects were linked to an Islamist group which it identified as Forsane Alizza but it was not immediately possible to confirm this.
---
FRANCE |
Toulouse murders update
Tuesday, 20 March 2012, 18:42 |
By Graeme Atkinson
Earlier speculation that the killer may have belonged to a trio of former paras thrown out of the army after being snapped giving Nazi salutes in front of a swastika flag can be dismissed.
A police official in Toulouse has said they have all been located, interrogated and cleared of all suspicion.
---
FRANCE |
Violent rampages during culture war set to shift French politics
Tuesday, 20 March 2012, 18:38 | Source: globeandmail,com |
It is as if France has been frozen in horror, its institutions paralyzed, its politics halted, its leaders unable to respond. Monday's slayings at a Jewish school in Toulouse were a wholly new outrage – and yet, in the poisoned political atmosphere of southern France.
The revelation Monday afternoon that at least one of the two pistols used in the Jewish-school slaying was the same one used in the previous week's murders of three soldiers – two of them Muslims of North African immigrant backgrounds – suggested that this was an act driven by dark beliefs cultivated in the current French air of distrust.
The possibility that small children and teachers were slain because of their religion and ethnicity brought to mind the worst outrages of the country's Nazi occupation, and had no precedent in postwar France. Yet it occurred against a backdrop of mounting interracial and ethnic tension and increasingly mainstream messages of political extremism and intolerance.
French politics have turned into an angry culture war, and its flashpoint is often the southern coast of France, which is home to both the largest concentrations of religious minorities and the strongest support for extreme-right, anti-immigration political parties.
With a hotly contested presidential election pending on April 22 in which conservative president Nicolas Sarkozy faces a serious challenge from the extreme-right leader Marine Le Pen, whose 17-per-cent standing in the polls threatens Mr. Sarkozy's majority, France's politics had turned increasingly racial and xenophobic. The April 22 vote is the first of two rounds, with the runoff on May 6.
Two weeks ago, Mr. Sarkozy had shocked European observers by declaring in a three-hour TV debate that, "We have too many foreigners on our territory and we can no longer manage to find them accommodation, a job, a school." It was almost a precise echo of Ms. Le Pen's heated anti-immigration message.
His prime minister, François Fillon, drew on Ms. Le Pen's National Front party message the same week by suggesting that Jews and Muslims ought to stop eating kosher and halal meal: "Religions should think about whether they should keep traditions that don't have much in common with today's state of science, technology and health problems," he said. Mr. Sarkozy has himself hinted that ritually slaughtered meat sold on the open market was an offence.
On the day of the killings, France's election office announced that the 10 candidates who had been found eligible to run for president included Ms. Le Pen and a number of other figures from the far right and left. While there is no evidence that the killer had any affiliation with any political party or movement, the fact that the atrocity occurred in the midst of a full-fledged culture battle is bound to transform the country's political climate, certainly for the duration of the election.
Given that the same handgun, motorcycle and clothing were used in the shootings of a predominantly Muslim group of soldiers last week and a group of Jewish children and teachers on Monday, investigators are pursuing two main motives.
First, that the killer comes from the far right – either an organized right-wing extremist from one of many movements popular in France or a lone, ideologically driven killer similar to Anders Breivik, the Norwegian man who killed 77 people last summer to protest against Muslim immigration. Prosecutors say they were especially interested in a far-right motive because the 17th Parachute Regiment has had a problem with neo-Nazis in its ranks. In 2008, French media revealed that three of its soldiers had been removed from the regiment's ranks after being filmed participating in an extreme-right ritual that involved Hitler salutes. Those soldiers were reportedly questioned Monday by anti-terrorism investigators.
Prosecutors are also pursuing a "second track" of investigation involving Islamist terrorism – more likely a domestic organization than a global group like al-Qaeda.
Because the paratroopers had recently returned from Afghanistan, it is possible that an Islamic extremist could have killed them as traitors and then committed the Jewish killings out of anti-Semitic motives or as revenge for recent Israeli military actions in the Palestinian territories (two of the victims had dual Israeli-French citizenship). While this does not fit the pattern of any known Islamist groups, the theory is being seriously considered, prosecutors said.
Prosecutors said they are also open to the possibility that the killer is a member of an extreme-left group with anti-Semitic leanings – several of which exist in France – or an isolated, mentally disturbed individual, perhaps with a police or a military background.
"The security of our community has been a real issue for us for 10 years," said Ariel Goldman of the Jewish Community Protection Service, a national group. "We are in an almost permanent state of alert. … There is great concern in schools, in families. This is the first time in 30 years that we are the victims of a shooting of this magnitude."
Jewish schools have been receiving extra state security since 2005, on the basis of intelligence warnings about the potential for far-right and Islamist attacks, according to a report in Le Monde newspaper.
Mr. Sarkozy will almost certainly have to drop his "too many foreigners" rhetoric and, if the killer proves to be a far-right activist or an anti-immigration zealot, the political tenor of this election could shift dramatically.
It brings to mind the 2002 election, when the brutal killing of a pensioner just before the first-round vote raised fears of crime and immigration and caused a surge of support for Ms. Le Pen's father, National Front founder Jean-Marie Le Pen, giving the extremist party a place on the final-round ballot for the first time.
If the killer proves to be a right-winger, the shock of slain religious-minority children could have the opposite effect, discrediting the xenophobic policies of the National Front and driving voters toward Socialist Party opposition leader François Hollande. On the other hand, if the killer proves to be an Islamist, the slaying could further galvanize French politics and drive the centre of gravity further right.
Mr. Sarkozy's position is unpredictable. While the killing could hurt him by drawing attention to the dangerous outcomes of his stronger anti-immigrant rhetoric, the President has a history of benefiting from events involving immigrant tensions and violence. He first came to public attention in 1993 when, after serving as the mayor of Neuilly-sur-Seine, he negotiated with a "human bomb" terrorist who had taken children hostage in a kindergarten. That thrust him into a national cabinet position. Then in 2005, he rose to presidential stature by using the riots in the immigrant high-rise suburbs of Paris to take a tough-on-crime stand. His angry response was seen by many to be his key to the presidency.
---
CZECH REPUBLIC |
New trial of Prague nazis begins
Tuesday, 20 March 2012, 14:15 | Source: CzechPosition.com |
A second attempt to try eight ultra-right activists accused of supporting a movement that denies human rights — in part, for putting up neo-Nazi stickers and posters around the Czech capital in 2010 to promote a march honoring fallen German WWII-era soldiers — is now underway.
The Prague 1 district court began the trial on Monday more than a year after the initial process was halted, the news server iDnes.cz reports. The judge in the original trial had petitioned to excuse herself in order avoid accusations of bias, as she is a former member of the Czechoslovak Communist Party (KSČ), and most of the defendants were members or leaders of the banned far-right Workers' Party (DS).
Among the most prominent of those on trial is Patrick Vondrák, a former leader of the DS branch in Prague."I do not believe I am guilty, and consider this trial to be politically motivated," he said, as cited by iDnes.cz, entering a plea of not guilty, as did the other defendants. Their lawyers also tried on Monday to have the presiding Judge Dana Šindelářová recalled over bias along with an expert witness, Ivo Svoboda, who has yet to appear in court.
Another prominent defendant is a female member of the Workers' Social Justice Party (DSSS), the successor to the outlawed DS. Michaela Dupová was arrested in February for having allegedly propagated the ideals of the neo-Nazi movement Resistance Women Unity (RWU), the non-registered women's offshoot of the Nazi group National Resistance (Národní odpor). She is said to have helped create and maintain the RWU website.
The Prague 1 district court has thus far heard evidence that six of those on trial had attended a march in Jihlava whose real aim was to commemorate soldiers from the Wehrmacht and SS officers — one of whom, Herbert Schweiger, was due to attend the June 2009 event, along with Austrian nationalist Gottfried Küssel, iDnes.cz reported.
If found guilty of promoting and supporting a movement aimed at suppressing human rights and freedoms, the accused could be sentenced to up to three years in prison.
There are currently around 4,000 extreme right-wing activists in the Czech Republic, according to a recent report commissioned by the Czech Ministry of Interior, with about 10 percent of them especially active leaders and ideologists
---
POLAND |
Jewish cemetery hit by antisemitic attack
Monday, 19 March 2012, 20:17 | Source: Associated Press |
Vandals have desecrated a Jewish cemetery in Poland with swastikas and antisemitic slogans sprayed on tombstones and memorial plaques.
The Foundation for the Preservation of Jewish Heritage in Poland says the desecration occurred Sunday night in Wysokie Mazowieckie, a town in eastern Poland.
A memorial plaque stained with antisemitic vandalism, March 19, 2012. Photo: AP
The vandals also wrote "This is Poland, not Israel" on one sign.
The foundation's director, Monika Krawczyk, said police are investigating the case, which is the worst such act of vandalism this year so far.
Similar cases of antisemitic desecration occurs from time to time in Poland, a country that was home to Europe's largest Jewish community in Europe before it was nearly wiped out by Nazi Germany in the Holocaust. Today the Jewish community in Poland is tiny.
---
EUROPE |
France shooting: Jewish communities in Europe under threat
Monday, 19 March 2012, 20:16 | Source: IBT |
The fatal shooting outside a Jewish school, in which four people including three children were killed and two people were wounded, has sparked alarm in Jewish communities all over France.
The minister of the interior, Claude Gueant, who was expected in Toulouse along with President Nicolas Sarkozy, issued an order to police to intensify security around Jewish schools, especially in the southwest of the country.The shootings occurred outside the Ozar Hatorah school.
The Community Security Trust (CST), which has been providing security advice and training for Jewish schools, synagogues and Jewish communal organisations in the UK since 1994, is not surprised by the attack.
"Terrorist attacks have been around for decades - it's something France is well used to," the CST told the International Business Times UK. "The threats against Jewish communities rise and fall depending on the overall political situation of the time. But it's too early to classify this particular attack."
Some 500,000 Jews live in France, the third largest Jewish community in the world. Ozar Hatorah is a Jewish society promoting religious education among young people, especially in the Middle East and among the Sephardic Jewish community in France.
Sephardic Jews are the descendants of the Jews who used to live in the Iberian Peninsula before their expulsion in the Spanish Inquisition. Their ancient tradition of costumes and cultures was almost swept away by the Nazi Holocaust.
In 2011, CST published a report on terrorism against Jewish communities around the world over the last 30 years and stressed a shift in the type and nature of perpetrators.
"[In the 1980s] we saw mainly secular Palestinians and their leftist associates targeting Jewish buildings. Also neo-Nazis were very active in France," said CST. "They have been replaced by radical Islamists, the global jihad movement and its Iranian surrogates, from 9/11, mainly radical Sunni groups like al-Qaida."
After the massacre in Oslo, where 77 people were shot dead by hard-right supporter Anders Breivik at a youth camp, the perception of right-wing violence has risen in the minds of politicians across the continent, according to experts. Police examination of Breivik's contacts highlighted a Europe-wide online blog discussion board of anti-immigrant and nationalist ideas.
But the neo-Nazi threat has always been present in Europe, particularly in Britain, according to the CST. "Most of the time it was unsuccessful so people were less aware of it," CST said. "Breivik's carnage was successful and horrific and made a lot of people recognise publicly a problem that was already there."
However, the CST rejects the idea that before Norway there was a tendency among European politicians to downplay far-right violence because it did not fit the Al-Quaida and anti-Islamist narrative post 9/11.
"The threat of al-Qaida was a serious problem and needed a great deal of resources and attention," CST said. "But it is important when you focus on one threat not to forget the others".
---
FRANCE |
French Prosecutor: Killer at Jewish School May be Linked to Neo-Nazi Group
Monday, 19 March 2012, 18:51 | Source: The Algemeiner |
According to a report from France's Le Point newspaper, the country's prosecutor believes Monday's killer may be linked to two other incidents inside France recently, where the only leads police have trace back to former members of a French paratrooper division who were discharged for being closely linked to Neo -Nazis.
In 2008, a fellow member of the 17th Parachute Engineer Regiment reported that 3 members of the regimen "had their picture taken…..behind a swastika flag," according to Le Point.
The 3 men were discharged from the military and according to the Le Point report, their profiles do correspond with the small amount of information available to authorities on Monday's killer.
"The typical profile of these sinister characters corresponds to the meager reports available to investigators to identify the crazy Toulouse killer, well muscled, tattooed and dressed in black," the paper reports.
"One thing is certain, the mysterious killers appear to be veterans in the use of weapons," Le Point writes.
French investigators have confirmed that one of the two weapons used in Monday's attack was the same weapon used in the other two deadly incidents recently.
---
FRANCE |
Is this France's Breivik?
Monday, 19 March 2012, 18:38 |
By Graeme Atkinson
The tally of people gunned down by the motorcycling marauder in the south of France has now risen to eight: three paratroopers of Arab origin in Montauban, a black soldier in Toulouse and, today, four Jewish people at a school in the same city.
Three of the dead at the school are believed to be a father and his sons aged three and six. The fourth victim is said to be aged between eight and ten years old.
Media reports have described the killer as a well-built "lone wolf" assassin with a tattoo on his face and a grudge against ethnic minorities but so far no firm evidence of this or of his motives has emerged.
It is known, however, that a similar gun, a 11.43mm calibre automatic pistol, was used in last week's lethal violence against the three paratroopers and that, as previously, the killer was wearing a crash helmet with visor pulled down, and was carrying two weapons.
Police are now speculating that the gunman might be a crazed fanatic, motivated by right-wing extremist ideas, a French Anders Breivik. Undoubtedly, a major possibility, if not the most likely explanation.
Another possibility, however, is that the killer might be an Islamist extremist terrorist, shooting down Arab and black soldiers as "traitors" for belonging to an army engaged in the Afghan conflict and wanting to make his mark by murdering Jews because they are simply Jews or, spuriously, because of their links with Israel.
A third, but highly unlikely, explanation is that the man is simply an individual with twisted thoughts or violent inclinations that have propelled him over the edge.
Whatever the precise motivation, it is apparent that hatred lies behind the ongoing shootings, a hatred that appears to know no limits.
---
SLOVAKIA |
Right-wing extremists rally at Krásna Hôrka and in Bratislava
Monday, 19 March 2012, 18:33 | Source: The Slovak Spectator |
Right-wing nationalists led by Marian Kotleba, leader of the People's Party – Our Slovakia party (ĽS-NS), held a rally near fire-damaged Krásna Hôrka Castle on Sunday, March 18, but police did not have to intervene, Košice regional police spokesperson Jana Mesárová said the same day, as reported by the TASR newswire on the same day.
"What the Turks didn't accomplish in the 16th century, the Gypsies did in 2012," stated an invitation to the rally posted on the party's website. Krásna Hôrka Castle, considered one of the best-preserved medieval castles in Slovakia, was severely damaged by fire on March 10. Police said that the fire broke out after two local boys, who were identified locally as Roma, accidentally set fire to grass on the castle hill while trying to light cigarettes.
Meanwhile participants in a rally commemorating the 73rd anniversary of the establishment of the Nazi-allied wartime Slovak State (1939-1945) in Bratislava on Saturday, March 17, slated the European Union, calling the euro a "currency of occupation".
"Not so long ago, various humanists and intellectuals mocked us nationalists when we dared to criticise the EU. Some time has passed, and it has become evident that we were right," Marián Mišún of the ĽS-NS said in a speech addressed to several dozen people.
Marcel Urban, the current leader of another extreme nationalist group, Slovenská Pospolitosť (Slovak Togetherness), alleged that the 1939-45 Slovak State was neither fascist nor created by Adolf Hitler, but was "our Slovak one". Urban expressed dissatisfaction that police had forbidden those taking part in the rally from using the official salute of the wartime fascist paramilitary Hlinka Guard, "Na stráž!" ("On guard!"), TASR wrote.
---
FRANCE |
Shootings in Toulouse and Montauban: What we know
Monday, 19 March 2012, 16:28 | Source: BBC |
Murder victim Abel Chennouf (left) was due to become a father with his partner (right)
Three gun attacks which left seven people dead and two wounded have sparked a security alert in south-western France, with fears that the same killer could be at work.
In each case the attacker is said to have been a gunman on a moped, using a weapon of the same calibre, striking in broad daylight.
All of the attacks took place within a radius of about 50km (30 miles), between the city of Toulouse and town of Montauban.
The first two shootings saw soldiers targeted but the third took place at a school.
What the victims have in common is that they belong to, or are associated with, ethnic or religious minorities - North African, Caribbean and Jewish.
That they were singled out is suggested by reports that, in at least one attack, the killer pushed aside a bystander to get to his victims.
A manhunt is under way and France has placed its national judicial police in charge of the investigation, with anti-terrorist investigators and specialists in serial crimes at its disposal.
While little has been reported about the identity or motivation of, in the words of Le Figaro newspaper, the "most wanted man in France", some of the strongest clues may have been left by the first attack.
Investigators believe it is "highly plausible" that the same .45 calibre gun was used in the first two shootings, a judicial source told France's AFP news agency several days before the third.
On Sunday 11 March, Imad Ibn-Ziaten, a 30-year-old staff sergeant in the 1st Airborne Transportation Regiment, was shot dead around 16:00 (15:00 GMT) behind a school in a quiet district of Toulouse.
According to Le Figaro, Sgt Ibn-Ziaten, who was not in uniform, was unwittingly waiting for his own killer.
He had posted a small ad on a website to sell a Suzuki Bandit motorcycle, and the suspected gunman had arranged a meeting to see it.
The sergeant was found shot in the head, his motorcycle beside him.
French cyber police are working to extract clues from the two men's internet exchanges, Le Figaro says.
Sgt Ibn-Ziaten had a clean service record, prosecutors stressed, rejecting suggestions that there could have been a gangland element to his murder.
In the second attack, in Montauban on Thursday 15 March, 46 surveillance cameras picked up the gunman on his scooter, according to Le Figaro.
They showed "a man in dark clothing wearing a black helmet and riding a powerful moped".
The CCTV footage available to investigators is said to include footage of the actual shooting, taken by the camera in the cash machine being used by the three soldiers the gunman attacked.
Two members of the 17th Airborne Combat Engineering Regiment, Corporal Abel Chennouf, 24, and Private Mohamed Legouad, 26, were killed. Both, like Sgt Ibn-Ziaten, were of North African origin.
A third paratrooper, 28-year-old Corporal Loic Liber from the French overseas region of Guadeloupe, was left in a coma.
There were numerous witnesses to the attack in Montauban, which occurred at around 14:00 outside a small shopping centre.
Before opening fire on the three unarmed, uniformed servicemen, the gunman reportedly moved aside an elderly woman, who was apparently also standing in line at the cash machine.
The killer was described as a small man who acted calmly, stopping to change the magazine of his pistol.
Witnesses described how he had turned over one of the wounded men who was trying to crawl away, and fired three more shots into him.
One witness, who described the killer as "of average height and quite fat", told French broadcaster RTL his helmet visor had been raised and she had seen his eyes and a tattoo on his face. In the same account, there was no indication of the killer's race.
On Monday 19 March, a gunman on a moped attacked the Ozar Hatorah Jewish school in Toulouse, killing three children - aged three, six and 10 - and a 30-year-old religious education teacher.
A youth of 17 was injured. The victims' names were not available in the immediate aftermath of the attack.
Interior Minister Claude Gueant told AFP there were "similarities" with the first two attacks.
Police say the killer opened fire with a 9mm weapon at the school but then switched to a .45 - the same calibre of weapon as that used in the earlier attacks.
"One can't fail to notice the similarities between the attacks on our troops in Toulouse and in Montauban and then this horrible attack on children this morning," he said.
In one respect, however, the third attack appears different: the gunman reportedly fired indiscriminatingly inside the school grounds.
"He shot at everything he could see, children and adults, and some children were chased into the school," prosecutor Michel Valet told reporters.
As a result of the attack, Prime Minister Francois Fillon ordered security to be tightened at all schools and religious buildings in France.
Earlier, security was tightened at military bases in the south-west.
French media have speculated whether the attacks could terror-related - an Islamist act of revenge against French forces deployed in Afghanistan, for example.
However, just one of the soldiers had served in Afghanistan, and the attack on the Jewish school does not fit such a pattern.
The fact that none of the soldier victims had a criminal record, other than a speeding offence in one case, seems to undermine the theory of a gangland motive. Furthermore, the soldiers in Montauban did not know the sergeant killed in Toulouse, according to France TV Info.
Robbery is another theory which does not seem to hold water: neither the motorbike in the first shooting nor money in the second were taken, police sources said.
Another suggestion is that these are race hate attacks. Toulouse is home to large communities of both Jews and North African Muslims.
Some commentators have voiced fears that French society is being targeted by a lone extremist like Anders Behring Breivik, who carried out attacks in Norway last summer.
"This event made me think immediately about the Oslo massacre last summer, the act of revenge on society of one isolated extremist," wrote Pierre Haski on the Rue89 news website.
The head of the French Muslim Council, Mohammed Moussaoui, has condemned the attack on the Jewish school and expressed his "solidarity and that of Muslims in France with the Jewish community".
All of the theories remain speculation for now.
---
FRANCE |
NEWSFLASH ! Racist killer on the loose?
Monday, 19 March 2012, 10:07 | Source: BBC |
Four die in Toulouse Jewish school attack
It was the start of the day for Toulouse's Ozar Hatorah school when the shooting happened.
A gunman has opened fire on a Jewish school in the French city of Toulouse, killing three children and an adult, police say.
At least two people were also injured in the attack outside the Ozar Hatorah school in the north-east of the city.
Police are hunting for the gunman, who witnesses said was riding a black scooter.
The attack comes days after three soldiers were shot dead by a man on a scooter in the same part of France.
President Nicolas Sarkozy, his education minister and interior minister are travelling to Toulouse, in south-west France.
The grand rabbi of France, Gilles Bernheim, who is also on his way to the city, said he was "horrified" and "stunned" by what had happened.
Israel also said it was horrified, adding that it trusted the French authorities "to shed full light on this tragedy and bring the perpetrators to justice".
Monday's attack happened as children and their parents were arriving at the Ozar Hatorah school, in the Joliment area of the city, for the start of the school day.
The French network BFMTV said the dead included a school teacher, his six-year-old daughter and a 17-year-old school boy.
There is no information yet on the third child killed.
Local residents have immediately linked the shootings with last week's attacks on the soldiers.
A 30-year-old paratrooper out of uniform was gunned down in a residential area of Toulouse just over a week ago, while two soldiers were killed and a third wounded as they used a cashpoint in the town of Montauban, some 29 miles (46km) away, on Thursday.
All the soldiers were of North African origin.
Some 60 police officers, including anti-terrorist specialists, had been drafted in to help investigate those attacks.
They have been looking for a gunman who was targeting soldiers, the BBC's Christian Fraser in Paris says.
But if the latest attack does prove to be linked, then it suggests the pattern has changed and, if so, police are looking for a dangerous serial killer, our correspondent adds.
Freelance journalist Christopher Bockman says Toulouse is "in lockdown" as police hunt the gunman
---
HUNGARY |
Far-right militia reforms in defiance of ban
Sunday, 18 March 2012, 19:25 | Source: euronews.com |
About a hundred new members of a Hungarian far-right group have been sworn in at a very public ceremony in Budapest.
They would have broken the law if they had stood in formation, so the new uniformed recruits sat down or knelt to make silent oaths.
The Hungarian National Guard grew out of the Hungarian Guard, an offshoot of the nationalist Jobbik party.
Founded in 2007, the Guard was disbanded two years later by a court order, amid concerns about its attitude to minorities.
A small group of demonstrators believe the same extremists are donning new clothes to get round the law.
"Today they are here again to inaugurate new members of the Guard, but they are banned. We are here to demonstrate against them, because to be Hungarian cannot be equated with fascist ideology," said Peter Daniel, one of the protesters.
A Budapest-based think-tank set up to combat extremism in Europe describes the new National Guard as a splinter group, saying its significance cannot be compared to that of its predecessor – and the police have it under close surveillance.
---
AUSTRALIA |
'Heil Hitler' train guard sacked for harassment
Sunday, 18 March 2012, 19:20 | Source: Sydney Morning Herald |
A TRAIN guard gave a ''heil Hitler'' salute and traced the letters ''SS'' on the back of a CityRail colleague before sexually harassing him in the driver's compartment with an unwanted massage.
It is the second anti-Semitic affront to hit CityRail in a month after a station manager at Central was sacked for telling a Jewish couple, Cheryl and Jeffery Bogan, of Bondi, they could afford to take a taxi because ''all Jews living in the eastern suburbs are wealthy''.
The latest embarrassment emerged in a decision by the Transport Appeals Board on Friday, rejecting an appeal by Kevin Byrne, a CityRail employee of 35 years.
Mr Byrne was sacked for workplace misconduct and sexual harassment and terminated in July last year after a RailCorp investigation. He had been on the platform at Hornsby station in July 2010 when he threw out a straight arm salute and said ''Heil Hitler'' to Lee Kemp, the driver of the train, adding: ''You look good in uniform.''
On the same day at Chatswood station, Mr Byrne joined Mr Kemp in the driver's compartment.
The commission heard that Mr Byrne took the driver's hair in his hand and ''twirled it between his fingers'' before saying, ''Don't tell anyone, will you.'' He then began a back and shoulders massage on Mr Kemp, asking: ''Are you gay or bisexual?''
The driver alleged Mr Byrne said: ''All men have bisexual tendencies. Women say that I'm good with my tongue and men say I'm good with my mouth.''
Mr Kemp took his complaint of sexual harassment to management after he claimed the massage had gone ''below the belt line''. In his evidence to commissioner David Ritchie, Mr Byrne admitted to the salute but denied tracing ''SS''.
In dismissing Mr Byrne's appeal, Mr Ritchie said: ''The actions of the appellant in the driver's cabin were completely unacceptable and inappropriate in a work environment, and Mr Kemp had every right to report this matter to the appropriate authorities within the respondent's workplace.''
The Minister for Transport, Gladys Berejiklian told The Sun-Herald that she was pleased the sacking was upheld but denied there was a problem with anti-semitism at RailCorp.
"More than 15,000 people are employed by RailCorp and I am advised incidents of this type, although deeply disturbing, are rare," she said.
---
GERMANY |
Nazis facing ban?
Sunday, 18 March 2012, 10:15 | Source: UPI.com |
The German government wants to pull undercover informants out of the National Democratic Party, a first step toward banning the far-right group.
A previous effort at a ban ended with a 2003 court decision that evidence gathered by the informants could not be used. The interior ministers of the 16 German states agreed recently to stop using infiltrators in the party, generally known by its German initials, NPD, Deutsche Welle has reported.
Only two parties were banned in the post-World War II era in West Germany and none in Germany since reunification. The Socialist Reich Party, a successor to the National Socialist or Nazi Party, was banned in 1952 and the Communist Party in 1956.
Critics describe the NPD as a neo-Nazi organization. In 2006, NPD members in the state assembly in Saxony protested a decision to hold a moment of silence to mark the 60th anniversary of the liberation of the Auschwitz concentration camp but not to mark the 60th anniversary of the bombing of Dresden.
Pressure for a ban has also grown since a series of killings of nine immigrants and a police officer was blamed on a neo-Nazi gang. But investigators have not been able to prove a strong connection between the gang and the NPD.
---
LATVIA |
Waffen SS commemoration in Riga
Saturday, 17 March 2012, 02:10 | Source: globalpost.com |
The Latvian capital has become one of the centre for the disturbing trend in much of the eastern borderlands of Europe for glorifying Nazi collaborators. The marches have become a flashpoint. Yesterday, a thousand police lined the route that the 1,500 Nazi nostalgics marched along.
Many locals regard the Latvian Legion of the Waffen-SS as freedom fighters, who fought the Soviet Union. Others regard the legion as Nazi collaborators.
Monica Lowenberg, a British academic, many of whose family were murdered in Riga by the Nazis, attended today's event dressed in the prison stripes Jews were forced to wear after the Nazis rolled into the area in June 1941. 90 percent of Latvia's Jewish population was murdered in the following 18 months, including 25,000 marched from the Riga ghetto, to a forest outside the city and machine-gunned to death over a two week period in late 1941.
Waffen SS apologists note that the Legion wasn't formed until after the Jews of Latvia were effectively wiped out so they can't be blamed. But historians note that there was some cross-over among those who joined the SS and those who had helped the Nazis carry out the liquidation of the Riga ghetto.
Speaking by phone, Lowenberg, said she had spoken with a number of marchers and was struck by the strong feelings of anti-Semitism that still exist. "It's not surprising, if you have a day of celebrating Naziism, you will have a day of anti-Semitism." She noted the irony that many young people on the march grew up anti-Semitic in a country where there are virtually no Jews left.
This was the second march in the Baltics honouring the Waffen SS in the past few days. Last Sunday in Vilnius, Lithuanians marched to remember their Nazi units.
These are not fringe events. Yesterday's march was endorsed by Latvia's President Andris Berzins.
---
HUNGARY |
Probe into IMF office attack
Saturday, 17 March 2012, 01:54 | Source: bloomberg.com/various |
Hungarian police started legal proceedings against far-right demonstrators who attacked an office building housing the local offices of the International Monetary Fund in Budapest, news website Index said today, citing city police.
A group of more than 100 far-rdemonstrators belonging to the fascist Sixty-Four Counties Youth Movement broke into the office late yesterday to present a petition to the IMF representative and lit fireworks and flares before police forced them out, Index said.
After leaving the building a leader of the group encouraged his followers to battle further, according to Index.
---
EUROPEAN UNION |
MEPs force rethink on far-right funding - Exclusive !
Thursday, 15 March 2012, 23:04 | Source: New Europe |
By Andy Carling
There was outrage among MEPs across the political spectrum in February, when the Bureau of the European Parliament, which administers the Parliament and comprises the presidents and MEPs, voted by their peers to join the body, decided to allocate funds to two pan-European political parties that consisted many of the continent's most extreme partie
The party up for funding was the Alliance of European Nationalist Movements (EAMN), which consists of the Belgian Front National, Hungary's Jobbik, Italian Tricolour Flame, Portugal's National Renovator Party, Spain's Republican Social Movement, Sweden's National Democrats, Ukraine's Svoboda and the British National Party. Although Marine Le Pen left the group, Front National MEP Bruno Gollnisch (NI, FR) is the president of the alliance, British MEP Nick Griffin (NI, UK) is vice president and Jobbik's MEP Béla Kovács is treasurer.
The objections from deputies arose from Article 3(c) of the requirements for meeting funding requirements, stating that a pan-European party "must observe, in particular its programme and in its activities, the principles on which the European Union is founded, namely the principles of liberty, democracy, respect for human rights and fundamental freedoms, and the rule of law".
Andrew Duff MEP (ALDE, UK) wrote to newly elected Parliament President, Martin Schulz: "I note that the EAMN has no website and does not self-evidently publish its programme, so I must ask how the secretary general and the Bureau came to the conclusion that these qualitative criteria are met."
Several members of the centre-left Socialists and Democrats (S&D) group also wrote to complain and it is understood that some UK socialist deputies were pushing for all funding to all pan-European parties to be halted for 2012, even though it would heavily hit their own group and the Party of European Socialists.
EPP MEP and secretary general of the party Antonio López-Istúriz strongly criticised the decision at the latest EPP political assembly. It is known that he was infuriated by the decision from the day one.
Many are also furious at Parliamentary officials whose report stated the new far right party met the criteria, leaving Bureau members to believe they had no choice other than to approve the funding.
The decision also set the Bureau against the Parliament's long record of opposing racism and xenophobia - how can the Parliament be against racism, yet fund parties that spread it, members asked.
Austrian Hannes Swoboda, Socialist group leader, raised the issue at the Conference of Presidents and was successful in asking for a full investigation into the far right alliance's commitment to the rights in Article 3(c).
This does not mean that the funding has been blocked, but few expect it to go ahead and there is a planned tightening of the rules for applications after 2012.
---
AUSTRIA |
Facebook Nazi Jailed
Thursday, 15 March 2012, 19:13 | Source: Croatian Times |
Neo Nazi Jürgen Haidegger, 32, who got the all clear from cops to leave extremist symbols on his car has been jailed for 18 months after he published them to the world when he posted them on Facebook.
The symbols on the red Volkswagen include a Celtic cross, often used by neo Nazis as a substitute for the Swastika, and the numbers 14 / 88. The court heard 88 was the code for Heil Hitler, with the number from the position of the letter H in the Latin alphabet.
And the number 14 is usually written before it and is from the 14 words in the sentence: "We must secure the existence of our people and a future for white children."
Making statements or using symbols to promote or glorify the Nazis is illegal in Austria and Germany.
The court at St Poelten in Austria heard that the man had been stopped by police after he added the symbols to his car.
Police officers who consulted with legal experts told Haidegger that the symbols were: "Right on the borderline, but not illegal."
But he ended up in court when he took the all clear from police to drive around in the car as being the all clear to publicise the news – and according to prosecutors he stepped over the border when he put images of the car on his Facebook page.
The man admitted in court that he didn't understand the exact meaning behind all of the symbols but prosecutor Patrick Hinterleitner told him that was not an excuse and added: "I suggest you buy a history book when you're in jail."
He added: "Neonazis don't wander through the district shouting "Heil Hitler" anymore with swastikas waving from flags. Nowadays they are using other symbols that are synonymous for the same thing. To claim that he didn't know what they were is just not credible."
And he added: "People like Mr Haidegger are the reason the Nazi swamp will not dry up."
But the defence argued that not every mistake should end up in jail and said that had the man realised he would end up with a jail term he would never have posted the images.
Sentencing him to 18 months judge Doris Wais-Pfeffer said he had shown no signs of remorse and his plea of guilty had merely been in the hope of getting a reduced sentence – and therefore she was not going to give him any credit for it.
She said: "It is clear that you were only saying things to protect yourself once you realised what you are faced with."
---
COLOMBIA/PERU |
Colombia's Peru ambassador quit to face charges of alleged paramilitary ties
Thursday, 15 March 2012, 19:05 | Source: Washington Post |
Colombia's ambassador to Peru resigned Wednesday after prosecutors ordered his arrest for alleged criminal association with far-right militias.
Jorge Visbal is wanted for criminal conspiracy for activities from 1998-2004, when he was president of Colombia's National Ranchers Federation, the chief prosecutor's office said in a communique.
Visbal, 59, assumed the ambassadorship in February 2011, named by President Juan Manuel Santos, who did not immediately comment.
Visbal's lawyer, Abelardo de la Espriella, said his client would return to Bogota on Friday to face the charges.
A demobilized former far-right militiaman testified two years ago that Visbal met with paramilitary warlord Rodrigo Tovar years earlier to solicit support of the illegal groups for the 2006 re-election of then-President Alvaro Uribe, prosecutors say.
Colombia's so-called paramilitaries were created in the 1980s by drug traffickers and wealthy ranchers to counter leftist rebel kidnapping and extortion but evolved into drug-trafficking criminal gangs that killed suspected rebel sympathizers and stole land.
De la Espriella said Visbal doesn't deny having contact with paramilitary leaders but says none of the meetings were "illegal or clandestine" but rather authorized by the Uribe's conservative government as it entered into a peace pact with the armed groups.
Since 2006, more than 60 congressmen have been imprisoned for entering into alliances with paramilitaries.
---
GERMANY |
Most fugitive nazis 'hiding out in the west'
Thursday, 15 March 2012, 18:58 | Source: thelocal.de |
Most neo-Nazis wanted for violent crimes have gone underground in western Germany, debunking popular assumptions that eastern regions are more hospitable to far-right extremists.
The German police have tracked down and arrested 46 of 160 fugitive right-wing extremists since the beginning of January, the Interior Ministry said on Thursday in answer to a parliamentary question from the socialist Left party.
Of the 160 extremists on the wanted list, most were hiding in western German states, the Süddeutsche Zeitung newspaper reported. These included 37 in Bavaria, 29 in Baden-Württemberg and 29 in North Rhine-Westphalia.
The ministry described the arrest of 46 of these in a little over two months as a "success" for the federal police force, the BKA.
The BKA reportedly reassessed its wanted lists following last year's revelations about its incompetence in finding the trio of neo-Nazi terrorists responsible for the murders of nine immigrants and a German policewoman over the past decade.
The security forces were initially embarrassed by the Left party's question, which came in an interior policy committee meeting in the Bundestag. According to the Süddeutsche Zeitung, the BKA representatives were initially unable to say exactly how many neo-Nazis were currently on the run.
Even after the figure of 160 was later released, there was no information on how long the police had been searching for them.
The German police has been visibly cracking down on the far-right scene in recent weeks. State prosecutors announced Thursday that 23 suspected neo-Nazi criminals were arrested on Tuesday following a major coordinated operation aimed at members of the far-right National Democratic Party (NPD).
Thirty-three houses in Rhineland-Palatinate, North Rhine-Westphalia, Thuringia, and Baden-Württemberg were raided.
The NPD is set to come under increasing pressure as politicians prepare a legal action to ban the party on constitutional grounds. As part of this, state interior ministers agreed on Wednesday that their security forces would cease cooperation with informants in the party leadership.
---
CANADA |
Calgary nazi rally in doubt
Thursday, 15 March 2012, 18:54 | Source: metronews.ca |
RYAN FACTURA/METRO FILE
Calgary police had to block several intersections along 7th Avenue Southwest during opposing protests between white supremacists and anti-racism advocates last year.
It appears Calgary's neo-Nazis are packing their bags and marching north.
A poster circulating online advertises an Edmonton white-pride rally hosted by the group Blood & Honour on March 24.
For years, that same contingent has steered organization of a similar demonstration on downtown Calgary streets, often coming face to face — and in some cases fist to fist — with counter-protesters from the group Anti-Racist Action Calgary.
A Blood & Honour member confirmed to Metro Tuesday this year's focus is on the Edmonton rally and no plans were being made for a Calgary demonstration.
That same individual downplayed those comments somewhat later in the day.
"It's complicated.... We have strict rules on what we can say," he said. "You'll see soon enough."
A Calgary police spokesperson said the service is still preparing for any eventualities and has not received confirmation of the local rally being cancelled.
Critics of the white-pride movement pointed to a low turnout at last year's Calgary demonstration — just a dozen dark-clothed Blood & Honour members, some carrying flags displaying a white cross, turned up — as indication support was lagging.
"If they don't show up and nothing's happening, that's a definite success for us," said Jason Devine with Anti-Racist Action Calgary, which had roughly 200 members attend last year's counter-protest.
"It shows they are tired of being outnumbered 10 to one.... We still plan to rally March 24 at city hall."
---
NETHERLANDS |
Dutch PM refuses call to disavow Wilders website
Thursday, 15 March 2012, 18:46 | Source: Expatica.com |
Dutch Prime Minister Mark Rutte has refused to condemn a website described as "deplorable" by the European Parliament, the work of a far-right party that partners with his government.
Stressing the site was a party initiative and did not reflect any official views, Rutte said his government does not "comment on the measures of political parties".
The European Parliament earlier called on Rutte to condemn and distance himself from the "deplorable" Party for Freedom (PVV) website, which invites citizens to complain about immigrants of east European origin.
"The government has always insisted that the site is the initiative of a political party, the PVV" of extreme right politician Geert Wilders, Rutte wrote in a letter to the Dutch lower house of parliament.
"The site does not reflect the views or the policies of the government with regards to job migration from eastern and central Europe," the document added.
The European Parliament adopted a resolution describing the site as an affront to the fundamental values of human dignity, freedom, equality, the rule of law and respect for human rights.
The text "urges the Dutch government not to turn a blind eye to the policies" of the PVV, which it said "are in contradiction with fundamental EU values."
The resolution also urges EU leaders to condemn the website and asks Dutch authorities to investigate whether it amounts to an incitement to hatred and discrimination.
The "Report Middle and Eastern Europeans" site (http://www.meldpuntmiddenenoosteuropeanen.nl/), went online last month for Dutch citizens to report "nuisances" caused by immigrants from countries like Poland, Bulgaria and Romania.
The PVV lends parliamentary support to Rutte's minority ruling coalition, but remains outside government.
The party advocates a ban of the burqa and the Koran in its campaign to stop the "Islamisation" of the Netherlands.
"The end of this story is in Mr Rutte's hands now. His non-reaction is unacceptable," said Hannes Swoboda, head of the parliament's Socialist group.
Joseph Daul, head of the parliament's centre-right European People's Party, said: "We expect a more European attitude from the Dutch government."
---
POLAND |
Anti-racists deploy monitors at Euro 2012
Wednesday, 14 March 2012, 21:27 | Source: AFP |
A pan-European racism watchdog said on Wednesday that it was recruiting monitors for Euro 2012 in Poland and Ukraine, amid concerns about links between the far right and football hooligans.
Football Against Racism in Europe (FARE) said it wanted to deploy two monitors at each game during the upcoming European championships, which kick off in Poland in June and end in Ukraine on July 1.
"Monitoring racist and discriminatory chanting and symbols has been a key element of the FARE programme over a number of tournaments from Euro 2004 in Portugal, the World Cup in Germany in 2006 and Euro 2008 Austria and Switzerland," FARE said.
"In Poland and Ukraine the need for monitoring will arguably be even more important because of the prevalence of far-right banners and potential for racist, homophobic and other forms of discriminatory abuse and interactions," it added.
FARE will work with European football's governing body UEFA and the Warsaw-based anti-racist movement Never Again, which in 1996 launched Poland's first football-focused campaign.
"A protocol will be developed and put in place for the reporting of incidents with UEFA, with an expectation that if enough evidence is available in each case sanctions will result," FARE said.
In the run-up to Euro 2012, Never Again has provided anti-racism training for almost 7,000 stadium stewards who will work in the domestic leagues after the tournament.
It is the first edition of the 16-nation, quadrennial football showcase to take place behind the former Iron Curtain.
Far-right banners or racist chanting against black players -- in a region whose non-white minority community is tiny -- are seen from the top flight down to local leagues.
Nazi imagery and anti-Semitic slogans are particularly shocking given Eastern Europe's World War II history, when millions perished at the hands of the occupying Germans, including the overwhelming majority of the region's Jews.
While fan organisations insist that extremists do not represent the majority, the issue was spotlighted last November 11 when hooligans and far-right radicals joined forces in Warsaw to battle police on Poland's independence day.
---
NETHERLANDS |
Euro-MPs urge Dutch government to condemn Wilders website
Tuesday, 13 March 2012, 19:55 | Source: Expatica Netherlands |
Europe's parliamentarians urged the Dutch government Tuesday to condemn a highly controversial anti-foreigner website set up last month by its far-right Freedom Party.
"What message does the Dutch prime minister (Mark Rutte) hope to relay by not condemning the PVV website?" said Joseph Daul, head of the parliament's conservative EPP group during a debate on the hotly-contested site.
The "Report Middle and Eastern Europeans" site, pooling complaints against east European migrants, is the brainchild of the far-right Freedom Party or PVV, which offers parliamentary support to the centre-right minority coalition but remains outside government.
The website was "racist and untruthful", added Daul, urging the Dutch premier "to condemn this offensive website clearly and quickly."
Former Belgian premier and leader of the centrist ALDE group, Guy Verhofstadt, said there was no place in Europe for the "hate message" on the website blaming east European migrants for the loss of jobs in the Netherlands.
"All parties in the Dutch government should join is in distancing themselves from the content of this website," he added, while also lashing out at French President Nicolas Sarkozy's proposals this week to slice by half the number of legal migrants to France.
Poland and nine other east European nations which have joined the European Union since 2004 have called the site discriminatory.
Some 350,000 east Europeans live in the Netherlands, or two percent of the country's population of 16.6 million, according to official data
---
GERMANY |
NPD boss used terrorist as chauffeur
Tuesday, 13 March 2012, 19:48 | Source: Local.de |
A top far right politician in Germany has admitted using one of the neo-Nazi terrorists responsible for up to ten murders, as his driver.
Frank Schwerdt, deputy leader of the far-right National Democratic Party (NPD) admitted having had one of the self-styled National Socialist Underground (NSU) members as a driver at least once in the 1990s.
The terrorist organization murdered at least ten people, including a policewoman, and robbed several banks in the past decade. They have also been linked with at least one bombing in Cologne in 2004. 


Speaking in a TV interview aired on Monday evening on the ARD state broadcaster, Schwerdt, one of three NPD deputy leaders, confirmed that Uwe Mundlos had worked for him as a driver at least once in the late 1990s.


Mundlos and Uwe Böhnhardt, died in a campervan surrounded by police in November last year, after a bank robbery. One shot the other and them himself. Their alleged accomplice Beate Zschäpe turned herself in a few days later.

Schwerdt's admission is likely to fuel the argument for a ban on the NPD, as it adds to evidence of a link between the political party and violence. 


A photo dated January 17, 1998 also shows Schwerdt with Zschäpe at a demonstration in the eastern German town of Erfurt. Ten days later, Zschäpe and Mundlos went underground, and police failed track them down until last November.

Schwerdt also admitted meeting André K., a suspected accessory to the NSU, in Berlin three weeks later.
He claimed that André K. asked him to provide support for the group and he refused.

Schwerdt has been a member of the NPD since the 1960s, and is considered a key figure in its educational work. Media reports say he was an important ideological influence on Ralf Wohlleben, another suspected NSU accessory currently in custody for supplying a weapon to the trio.

---
ALBANIA |
Mein Kampf unlawfully reprinted in Albania
Tuesday, 13 March 2012, 19:43 | Source: AP |
Adolf Hitler's "Mein Kampf," ("My Struggle"), infamous for its unparalleled anti-Semitism upon which the hate-ridden Nazi ideology was founded, has been released in Albania for the first time, the European Jewish Press reported on Sunday.
The manifest, which has been available in bookstores for about a week, was reprinted by a local publisher, who now risks possible charges for inciting racial hatred, officials said this week.
Ermir Nika of the culture ministry said Hitler's book would be "judicially treated as it violates Albanian legislation" for inciting racial hatred. He also noted that the book breached copyright regulations.
The editor of the book claimed it was published as a "warning for future generations in order not to repeat such madness ever again."
Yet, Jewish groups have a hard time accepting this rationale. The Association of Jews in Albania condemned the publishing of the book and said its plans on filing a complaint.
Bavaria holds the rights until 2015, 70 years after Hitler's death, and has successfully prevented the publication of the book in Germany since the end of World War II. Last week, a Munch court ruled that London publisher Peter McGee, could not reprint the memoir in Germany, the Associated Press (AP) reported.
He had proposed publishing three 16-page segments of "Mein Kampf" with critical commentary as an insert to his weekly magazine "Zeitungszeugen," which reproduces Nazi-era newspapers alongside expert analysis, noted the AP.
---
FRANCE |
Le Pen can run
Tuesday, 13 March 2012, 19:36 | | Click here for original article
French far-right leader Marine Le Pen has obtained the backing of 500 elected officials required to be a candidate in the April-May presidential election, she told Reuters on Tuesday, clearing a hurdle days before Friday's filing deadline.
French far-right leader Marine Le Pen Photo: JOEL SAGET/AFP/Getty Images
"I have my 500 signatures and therefore I will be a candidate in the presidential election," Le Pen said.
A failure by Le Pen to gather the requisite support by March 16 could have rocked the election race with French far-right voters likely to have switched support to conservative President Nicolas Sarkozy, who is behind Socialist Francois Hollande in most opinion polls.
Le Pen - a charismatic speaker who has won a strong following since she took over the National Front leadership from her father Jean-Marie Le Pen in January 2011 - is running third in polls but with too low a score to seriously threaten Hollande or Sarkozy's chances of facing each other in a May 6 runoff.
The former lawyer has shifted from her party's traditional anti-immigration focus and is campaigning for France to exit the euro and erect protectionist barriers. She will hold a news conference later on Tuesday to announce that she is formally in the race.
Sarkozy leads Hollande for the first time in an opinion poll on Tuesday for round one of the election, but is still shown losing in the second round. The Ifop/Fiducial poll put support for Sarkozy at 28.5 percent in the first round on April 22, up from 27 percent at the end of February. Support for Hollande slipped to 27 percent, from 28.5 percent, the poll showed.
Other recent polls put Hollande's support at 28-29 percent and Sarkozy at 27-28 percent for the first round, with Le Pen at around 16 percent, having lost several points in recent weeks. Centrist Francois Bayrou ranks fourth with 12 percent.
In January, Le Pen was just a couple of percentage points behind Sarkozy in polls, reviving memories of the 2002 election when her father made it into a second-round presidential vote against Jacques Chirac. That year, Jean-Marie Le Pen also obtained his 500th signature just before the deadline.
---
CANADA |
Jewish security network set to patrol Calgary streets
Tuesday, 13 March 2012, 19:28 | Source: Calgary Sun |
In Calgary, the most recent hate was in spray paint — a series of anti-Semitic slogans staining two synagogues and a fence near the Jewish Community Centre.
A Jewish security network might not eradicate all graffiti, but when your race is the target for such open hate, it's easy to understand why Canada's Jewish community is keen on extra protection.
"We're aware in Canada there are organizations that don't look at the Jewish community in the most positive light — we know they're out there, but are they a threat? You never know."
That's the response of Judy Shapiro, associate executive director Calgary Jewish Federation, to a private Jewish security service to be deployed in major cities across Canada — including Calgary.
"The only way you know there's a need is when something horrible happens," said Shapiro.
Starting in Toronto, the Centre for Israel and Jewish Affairs will recruit 25 men and women for training by a decorated ex-Israeli Defence Forces officer, whose speciality is counter-terrorism.
Named the Community Security Network (CSN), ex-soldier Doron Horowitz will then establish security teams in other Canadian cities, including Calgary, Edmonton, Ottawa, Hamilton, Winnipeg, Regina, and Vancouver.
Horowitz, national security director for the Centre for Jewish & Israeli Affairs, says CSN will provide surveillance in the community, and at schools, synagogues and Jewish community events.
It sounds something like a private police force for Jewish Canadians, but images of thugs trained like commandos or soldiers are totally misconstrued, said Horowitz.
"We're looking at a security model, to be an active partner in the community — this is not to create a vigilante force or to isolate ourselves from the rest of law enforcement," said Horowitz.
"We are showing that the Jewish community is proactive, that it contributes to safety and security, and it does so in a responsible manner."
The question of why is easy, at least for those targeted by anti-Jewish hate in Canada.
The B'nai Brith Canada's annual Audit of Antisemitic Incidents shows a steady rise in anti-Jewish conflict in recent years, with 1,306 anti-Semitic cases reported in 2010.
An increase of 3.3% over 2009, the incidents reported to the B'nai Brith include 965 cases of harassment, 317 cases of vandalism and 24 cases of violence.
"The Jewish community traditionally and historically has always been under threat, sometimes small, sometimes large — anyone fuelled by hate, racism with a modus operandi of violence is a threat," said Horowitz.
"We're in an era where threats to the Jewish community could be seen as increasing, and it's really about being proactive and responsible."
But fighting back is not part of the CSN plan, or at least not physically, says Horowitz.
That means no uniforms, no weapons, and no to anyone looking to join up in hopes of flexing some muscle. Horowitz says he'll ban anyone showing aggression or with an axe to grind.
Instead, the training will focus on prevention and observation, to help police in catching anyone posing a threat to the community.
A similar model used in Britain — there called the Community Security Trust — now has 3,000 volunteers and is considered a major force in quelling anti-Semitism in that country.
Counter-surveillance and security patrols will be cornerstones of Canada's training, says the ex-soldier.
"We're talking about volunteers and members of the community who will be trained in preventative measures — an enhanced neighbourhood watch is an analogy that I've used," said Horowitz.
And so long as watching and assisting law enforcement is the mandate, officials with the Calgary Police Service say there's no problem with the CSN plan to set up shop in this city.
"They're fostering and creating awareness for their community, and we would encourage that for all our communities," said Insp. Curtis Olson, of Community & Youth Services.
"It's understanding what's around you and knowing who to call — observe, call and report is the relationship we want to have as a police service with the community."
---
NORWAY |
Swedish neo-Nazis spread local fear
Tuesday, 13 March 2012, 17:51 | Source: newsinenglish.no |
A weekend demonstration organized by a Norwegian right-wing extremist group included many participants representing a similar group in Sweden. Police arrested 25 persons described as neo-Nazis, and fully 23 of them were from Sweden, raising fears that far-right Swedish organizations seek to spread their ideology across the border.
The demonstration in Trondheim on Saturday ended with several street fights and arrests. NewspaperAftenposten reported that it was organized by a group called Den norske motstandsbevegelsen (The Norwegian Resistance Movement) with many demonstrators representing a similar Swedish group calledSvenska Motståndsrörelsen.
Norwegian author Øyvind Strømmen, who follows right-wing extremism closely in Scandinavia, toldAftenposten that he's worried about what kind of influence Swedish neo-Nazis have on extremist groups in Norway.
"The Norwegian 'resistance movement' is an offspring of the Swedish group," Strømmen said. "The Swedish neo-Nazis seem to have a desire to build up a stronger neo-Nazi movement in Norway."
The Swedish group has earlier claimed it seeks to create "a Nordic reich," which the Norwegian group defines as a "new state including at least Norway and Sweden." The Norwegian group was founded in 2010 and has been active in Trondheim for around a year.
The group is cause for concern, according to Strømmen, because it's inspired by the Swedish group "which has a much lower threshold for violence" and a controversial leader. "Norwegian neo-Nazis have had a lot of inspiration from Sweden," he added. "I wouldn't be surprised if we see more demonstrations with participants from Sweden."
Norway's police intelligence unit PST was careful in assessing the demonstration in Trondheim. "We can't make any conclusions after this single event," said PST senior adviser Siv Alsén. "We can therefore not make any concrete comments now. What we can say, is the compared with the rest of Europe, Norway has a small milieu of these types."
PST has been criticized over its failure to become aware of attack preparations made by confessed right-wing terrorist Anders Behring Breivik, who claims he killed 77 persons in Norway last year as part of his crusade to prevent Norway from becoming a multi-cultural society. PST nonetheless has reported in its latest threat evaluation that right-wing extremists are not very active in Norway.
PST noted, however, that tighter contact between Norwegian and foreign organizations could further radicalize some groups. Sweden's security police unit Säpå, has said there are traditional ties between the groups in Sweden and Norway, but doesn't think they pose a major threat.
---
CZECH REPUBLIC |
Child burn victim's family facing eviction
Tuesday, 13 March 2012, 17:45 |
On the eve of the anniversary of Hitler's birthday in 2009, a group of Czech neo-Nazis lobbed Molotov cocktails into the home of a Roma family, leaving then two-year-old Natálka Kudriková with burns on 80 percent of her body. She spent eight months in hospital, lost three of her fingers, and will remain disfigured for life.
The case caused a public outcry — and also led to an outpouring of support for Natálka's family. Czech President Václav Klaus granted a pardon to the little girl's father, who was overdue to begin a short prison sentence, following an appeal for clemency by then Human Rights and Minorities Minister Michael Kocáb.
They were even given a new house to live in, near the town of Opava, purchased in part with some Kč 1 million in donations from the public. However, the news server iDNES.cz and regional media now report that the property has been under an execution order since December. The registered owner of the home, Natálka's mother, Anna Siváková, said she was unaware of the eviction threat.
The family had been living in a rundown house in nearby Vítkov before the arson attack. The perpetrators received sentences of between 20 to 22 years in prison. A court found that the four men threw the firebombs at the family's home to gain notoriety within the neo-Nazi movement
---
GERMANY |
Dawn raids on 33 suspected German neo-Nazis
Tuesday, 13 March 2012, 17:37 | source: Expatica.com |
German authorities said they had carried out dawn raids Tuesday on 33 suspected members or supporters of a neo-Nazi group including six women, carrying out 24 arrests.
The 6:00 am (0500 GMT) raids on the 33 German citizens aged between 17 and 54 were part of a probe into the banned group "Aktionsbuero Mittelrhein", prosecutors in the western German city of Koblenz said in a statement.
They also launched a probe into allegations of grievous bodily harm, serious breach of the peace and use of banned symbols.
"Nineteen of the accused were arrested for membership of a criminal organisation, three for supporting a criminal organisation and two for participating in a serious breach of the peace," the prosecutors said.
According to prosecutors, the "Aktionsbuero Mittelrhein" gathered information about political opponents and then "outed" them publicly in a bid to intimidate them.
"All participants were aware that a climate of hate was being created and fears were being stoked," the statement added.
"Another area of activity was the openly violent acts against members of the left-wing scene, both locally and further afield," added the prosecutors.
However, investigators said there was no link to the neo-Nazi cell National Socialist Underground (NSU), believed to have killed 10 people -- mostly shopkeepers of Turkish origin -- in a case that has shocked the country.
---
SWITZERLAND |
Antisemitic acts on the rise in French-speaking Switzerland
Monday, 12 March 2012, 20:14 | Source:EJP |
The number of recorded anti-Semitic acts in French speaking Switzerland increased by 28% in 2011 from the previous year, CICAD, a Geneva-based body that coordinates the fight against anti-Semitism and defamation, announced in its annual report.
This increases is a cause of concern for the Jewish community, said CICAD President Alain Bruno Levy during the presentation of the report.
A total of 130 anti-Semitic acts (against 104 the previous year), of which 6 are considered "serious" and 5 "grave" were recorded. 2011 is the year that recorded the highest number of serious incidents since the beginning of the census in 2003.
Beyond the figure increase, it is more the nature of these acts that is of of concern to the CICAD, because it they are primarily physical attacks or death threats and insults.
In Lausanne, the assistant of a rabbi was beaten by three men while in Geneva an Orthodox Jew was stabbed in the street as he was visiting the Natural History Museum with his family.
The increase of anti-Semitic acts also corresponds to a growing use of new communication tools.
Bruno Alain Levy also noted the resurgence of prejudice toward Jews. "The conspiracy theory resurfaced, especially via the internet. the conflict in the Middle East also fuels anti-Semitism," he said, also stressing the increaing presence of extreme-right groups in French-speaking Switzerland.
According to the association, "Internet users are ore creating their blogs and comments on articles to vent their anti-Semitic hatred. Using the pretext of freedom of expression, activists intend to impose a "right to discriminate and to defame."
"The release of anti-Semitic speech is somewhat alarming," said Johanne Gurfinkiel, CICAD Secretary General, who stressed the importance of educating publishers of social networks or online media not to trivialize anti-Semitism and defamation.
In its report, CICAD made a series of recommendations regarding the fight against anti-Semitism for the education world, elected officials and the media.
Around 18,000 Jews live in Switzerland, mostly in Geneva and Zurich.
---
FRANCE |
Extreme right's discourse won't bring more votes to Sarkozy'
Monday, 12 March 2012, 20:06 | Source: Sunday's Zaman |
French President Nicolas Sarkozy is not going to win more votes as he takes on the issue of halal slaughter, saying it should be banned in the country, ahead of the two-round election in April and May, according to French political analyst Jean-Yves Camus.
Camus, a political analyst and researcher at the Paris-based Institute of International and Strategic Relations (IRIS) think tank, told Today's Zaman that it is not as easy as it was in 2007 for Sarkozy to win the support of right-wingers in France's national elections. In 2007 Sarkozy took some votes from far-right politician Marine Le Pen. Camus does not think that Sarkozy will manage to accomplish the same thing this time by joining an argument started by Le Pen. Back then, Le Pen directed political discussions in France, according to Camus.
"All the abattoirs around Paris have succumbed to the rules of a minority. We have reason to be disgusted," Le Pen told a rally in Lille late in February, pledging to file a legal complaint, as she switched her presidential campaign platform back to immigration. She also argued that she had proof that all meat in Paris was halal and that she would lodge legal complaints against distributors for misleading consumers. "This situation is very deceptive and the government has been fully aware of this situation for months," Le Pen told reporters on the sidelines of the conference.
Criticism of her economic policies has provided an opportunity for conservative Sarkozy to poach far-right voters as he did in 2007, when he ran on a strong security and immigration platform. Earlier this month, Sarkozy went as far as to exclude any special indulgences for halal meat in public schools.
While stating that it is "unnecessary" for Sarkozy to put the argument over halal meat in the center of his election campaign, Camus said the discussion also hurts France's reputation in the world. Camus believes that the far-right's discourse leads Sarkozy to lose center-right and liberal voters.
French newspaper Le Monde reported that Sarkozy's concentration on halal meat for his election campaign is related to a poll that shows 56 percent of the French population support Le Pen's arguments on halal slaughter. Sarkozy is the second in polls, following front-runner Francois Hollande, a Socialist, while Le Pen is third.
---
COLOMBIA |
Leftists "sentenced to death" by far-right groups
Monday, 12 March 2012, 19:42 | Source: Colombia Reports |
Bogota Mayor Gustavo Petro, several leftist congressmen and human rights defenders have received a letter notifying prominent leftist political politician thats they have been "sentenced to death" in a letter signed by the Bloque Capital of neo-paramilitary group "Aguilas Negras."
In the letter, partially shown on the socialist party's website, the alleged paramilitary group warns it "has the order to execute" "the FARC guerrilla bitches who oppose the policies of our government and brainwash the displaced to act as human rights leaders."
"Stop screwing with the issue of land restitution because he who promotes this will be assassinated by us no matter their protection," the letter warns.
According to the party, the letter was also sent to human rights lawyers of the Jose Alvear Restrepo Lawyers Collective, women's rights organization Casa de la Mujer and former Liberal Party Senator Piedad Cordoba.
Polo said their members have not only received death threats by the Aguilas Negras, but also by drug trafficking organization the "Rastrojos."
Illegal far-right groups have threatened numerous human rights organization and displaced leaders involved in processes to have stolen land returned in both the north and the southwest of the country over the past few weeks.
According to a human rights coalition called Somos Defensores, 49 human rights activists were killed in 2011. According to the coalition, most death threats and assassinations are carried out by groups formed from the officially demobilized far-right terrorist organisation, the AUC.
---
USA |
The 'Patriot' Movement Explodes
Thursday, 8 March 2012, 20:11 | Source: SPLC Intelligence Report |
By Mark Potok, Senior Fellow Southern Poverty Law Centre
The radical right grew explosively in 2011, the third such dramatic expansion in as many years. The growth was fueled by superheated fears generated by economic dislocation, a proliferation of demonizing conspiracy theories, the changing racial makeup of America, and the prospect of four more years under a black president who many on the far right view as an enemy to their country.
The number of hate groups counted by the Southern Poverty Law Center (SPLC) last year reached a total of 1,018, up slightly from the year before but continuing a trend of significant growth that is now more than a decade old. The truly stunning growth came in the antigovernment "Patriot" movement — conspiracy-minded groups that see the federal government as their primary enemy.
The Patriot movement first emerged in 1994, a response to what was seen as violent government repression of dissident groups at Ruby Ridge, Idaho, in 1992 and near Waco, Texas, in 1993, along with anger at gun control and the Democratic Clinton Administration in general. It peaked in 1996, a year after the Oklahoma City bombing, with 858 groups, then began to fade. By the turn of the millennium, the Patriot movement was reduced to fewer than 150 relatively inactive groups.
But the movement came roaring back beginning in late 2008, just as the economy went south with the subprime collapse and, more importantly, as Barack Obama appeared on the political scene as the Democratic nominee and, ultimately, the president-elect. Even as most of the nation cheered the election of the first black president that November, an angry backlash developed that included several plots to murder Obama. Many Americans, infused with populist fury over bank and auto bailouts and a feeling that they had lost their country, joined Patriot groups.
The swelling of the Patriot movement since that time has been astounding. From 149 groups in 2008, the number of Patriot organizations skyrocketed to 512 in 2009, shot up again in 2010 to 824, and then, last year, jumped to 1,274. That works out to a staggering 755% growth in the three years ending last Dec. 31. Last year's total was more than 400 groups higher than the prior all-time high, in 1996.
Meanwhile, the SPLC counted 1,018 hate groupsoperating in the United States last year, up from 1,002 in 2010. That was the latest in a string of annual increases going all the way back to 2000, when there were 602 hate groups. The long-running rise seemed for most of that time to be a product of hate groups' very successful exploitation of the issue of non-white immigration. Obama's election and the crashing economy have played a key role in the last three years.
At the same time, a third strand of the radical right — what the SPLC designates as "nativist extremist" groups, meaning organizations that go beyond normal political activism to harass individuals they suspect of being undocumented immigrants — shrank radically. After five years of sustained growth, these vigilante groups plummeted last year to 184 from 319 in 2010, a one-year drop of 42%. The decrease appears to be a product of bad press, internecine quarrels, and the co-optation of the immigration issue by state legislatures around the country passing draconian nativist laws like Alabama's H.B. 56.

Patriot and Militia Groups 1995-2011
In some ways, it was surprising that the same deflating effect did not hit the Patriot and hate groups, as 2011 also saw many politicians and other public figures attacking Muslims, LGBT people and other minorities, effectively taking on some of the issues dear to the radical right. But there was enough of a far-right wind to fill the sails of politicians, hate and Patriot groups, and Tea Parties alike, very likely the result, in large part, of a view of Obama as a dire threat to the country. (An IBOPE Zogby survey last year found that 30% of all voters did not believe that Obama was born in the U.S. even after the release of his long-form birth certificate.)
It's hard to know how all this will play out, given the unsettled nature of the presidential campaign and, in particular, the GOP primaries. The animus toward Obama and the government may be as much rooted in economic as racial anger.
In May 2011, a scholarly study published in Perspectives on Psychological Science found that white Americans believe that progress in race relations since the 1950s has come at their expense, with bias against whites more of a social problem in the last decade than bias against blacks. (This comes against the backdrop of the Census Bureau's prediction that non-Hispanic whites will lose their majority, falling to under 50% of the population, by 2050.) But a Pew Research Center study this January suggested that income inequality may be even more important. The survey found that some two-thirds of Americans believe that there are "strong conflicts" between rich and poor, about a 50% increase since a 2009 survey. That sensibility also was apparent in both the Tea Parties and the Occupy Wall Street movement.
And so it is with many extremist groups.
August Kreis, a longtime neo-Nazi who in January stepped down as leader of an Aryan Nations faction after being convicted of fraud related to his veteran's benefits, told the Intelligence Report that it was all about income inequality.
"The worse the economy gets, the more the groups are going to grow," he said. "White people are arming themselves — and black people, too. I believe eventually it's going to come down to civil war. It's going to be an economic war, the rich versus the poor. We're being divided along economic lines."
At the most macro level, the growth of right-wing radicalization — a phenomenon that is plainly evident in Europe as well as the United States — is related directly to political and, especially, economic globalization. As the nation-state has diminished in importance since the end of the Cold War, Western economies have opened up, not only to capital from abroad but also to labor. In concrete terms, that has meant major immigration flows, many of which have drastically altered the demographics of formerly fairly homogenous populations. In Europe and the U.S. both, white-dominated countries have become less so. At the same time, globalization has caused major economic dislocations in the West as certain industries and kinds of production move to less developed countries.
The sorry U.S. economy also may offer the best single explanation for the huge expansion in the so-called "sovereign citizens" movement, a subset of the larger Patriot movement. Although the size of the sovereign movement is hard to gauge — sovereigns tend to operate as individuals rather than in organized groups — law enforcement officials around the country have reported encounters. The SPLC, for its part, has estimated that some 300,000 Americans are involved.
Sovereign citizens, whose ideology first developed in white supremacist groups, generally do not believe they are obliged to pay federal taxes, follow most laws, or comply with requirements for driver's licenses and vehicle registrations. They also typically believe that filing certain documents can relieve them of debt or bankruptcy proceedings, or even bring them millions of dollars from secret government accounts. The claims are bogus, of course, but they have attracted thousands into the movement at a time of real financial hardship.

Hate Groups 200-2011
Sovereigns' focus on their supposed right to drive "upon the land" without any regulation has brought them into regular conflict with law enforcement officials. That was seen most dramatically on May 20, 2010, when a father-son team of sovereigns murdered two West Memphis, Ark., officers during a traffic stop, but officials have had other encounters. Just this January, a sovereign accused of trying to shoot a police officer during a traffic stop in Hurst, Texas, went on trial.
"There is a contingent of malcontents out there who are exceedingly hostile," Rich Roberts, a spokesman for the International Union of Police Associations, told the Christian Science Monitor for an article last year on the rising number of shooting deaths of police officers. "It's a really complex phenomenon in that it's a whole combination of factors where on one end you've got people like sovereign citizens, who are actually deliberately targeting police, as opposed to your garden-variety bad guy who's carrying a gun and will not hesitate to use it."
The FBI agrees. Last September, it issued a bulletin to law enforcement officials entitled "Sovereign Citizens: A Growing Domestic Threat to Law Enforcement" that describes the movement as "domestic terrorist." The bulletin notes that sovereigns have killed six law enforcement officers since 2000 and that Terry Nichols, convicted in the Oklahoma City bombing, was a sovereign.
The largest group of organized sovereigns, the Alabama-based Republic for the united States of America (RuSA), last year took a new step toward organizing a kind of government-in-waiting by adding a "Congress" with voting representatives in 49 states. The group says it is in the process of "reinhabiting" the government.
Although it can sound threatening, RuSA has not engaged in any known violence. But that's not true of all other Patriot groups, two of which are alleged to have engendered major terrorist plots aimed at police and others last year.
In March 2011, Alaska Peacemakers Militia leader Schaeffer Cox and four followers were arrested on weapons and conspiracy charges related to an alleged plan to kill Alaska state troopers and a judge. A state court later ruled that hundreds of hours of secret recordings made by informants would not be admissible, leading to the freeing of one of Cox's followers. But Cox and the other three still faced federal weapons charges and, this January, a superseding federal indictment again charged them with conspiracy to murder. In a related development, a woman who was the militia's secretary was arrested trying to enter Canada when officials found a pistol and information about pipe bombs and the ricin toxin in her truck.
Then, last November, federal officials arrested four members of a Georgia militia. The four elderly men were accused of plotting to assassinate public officials, bomb federal buildings, and carry out mass murders in four U.S. cities by dispersing deadly ricin dust from the windows of speeding cars. Like Cox and his comrades, the Georgia men are to be tried this year.
One of the factors apparently driving the expansion of the radical right has been the spread of conspiracy theories and demonizing falsehoods. Tall tales about secret government concentration camps, for instance, have spread beyond Patriot groups into nativist organizations and others. Equally preposterous stories of plots to impose Islamic Shariah law and to "recruit" schoolchildren into homosexuality have been plugged around the country, often by well-known public figures. It seems clear that this kind of propaganda boosts membership in conspiracy-minded groups.
But what may end up affecting the American radical right more than any other single factor in the coming year is President Obama and the presidential election campaign. If the primaries generate more attacks on the nation's first black president based on complete falsehoods — that he is a secret Muslim, a Kenyan, a radical leftist bent on destroying America — it's likely that the poison will spread. And if he wins reelection next fall, the reaction of the extreme right, already angry and on the defensive as the white population diminishes, could be truly frightening.
ANTI-GAY GROUPS
The LGBT community made significant advances in 2011, with the repeal of the "Don't Act, Don't Tell" policy on gay men and lesbians in the military, the growing acceptance of same-sex marriage by Americans and the legalization of such bonds in New York state. But it was precisely these advances that seemed to set off a furious rage on the religious right, with renewed efforts to ban or repeal marriage equality and what seemed to be an intensification of anti-gay propaganda in certain quarters. American Family Association official Bryan Fischer, for instance, said that "gays are Nazis," claimed that HIV does not cause AIDS but gay men do, and, for good measure, criticized black welfare recipients who "rut like animals." In another development, most of the religious right groups that started out opposing abortion but moved on to attacking LGBT people have recently begun to adopt anti-Muslim propaganda en masse. The gay-bashing Traditional Values Coalition, for instance, last year redesigned its website to emphasize a new section entitled "Islam vs. the Constitution," published a report on Shariah law, and joined anti-Shariah conferences. Overall, the number of anti-gay hate groups in the United States rose markedly, going from 17 in 2010 to 27 last year.
ANTI-MUSLIM GROUPS
The number of anti-Muslim groups tripled in 2011, jumping from 10 groups in 2010 to 30 last year. That rapid growth in Islamophobia, marked by the vilification of Muslims by opportunistic politicians and anti-Muslim activists, began in August 2010, when controversy over a planned Islamic cultural center in lower Manhattan reached a fever pitch. Things got worse later in the year, when Oklahoma residents voted to amend the state constitution to forbid the use of Islamic Shariah law in state courts — a completely unnecessary change, given that the U.S. Constitution rules that out. The overheated atmosphere generated by these events also helped spur a 50% jump in the FBI's count of anti-Muslim hate crimes in 2010. Then, in March 2011, U.S. Rep. Peter King (R-N.Y.) held hearings on the radicalization of U.S. Muslims that seemed meant to demonize them. At the same time, there was a swelling of truly vicious propaganda like this remarkable Jan. 14, 2011, comment from columnist Debbie Schlussel: "They are animals, yes, but a lower form than the dog, as they won't learn to change their behavior for a carrot or a reward."
BLACK SEPARATIST GROUPS
The most remarkable development among radical black groups and individuals last year was the continuing spread of so-called "sovereign citizen" ideology, a set of ideas that originated in white supremacist groups of the 1970s and 1980s but has nevertheless taken off among African Americans. Sovereigns' conspiratorial beliefs generally include the claim that Americans are not subject to most tax and criminal laws, including statutes requiring driver's licenses and vehicle registrations. In the case of the black adherents, who make up only a sliver of the larger sovereign citizens movement, these ideas have been melded with selective interpretations of early black nationalists like Noble Drew Ali. Black sovereigns, like white ones, have engaged in a series of criminal acts, drawing up bogus financial instruments, harassing enemies with unjustified court filings, and even illegally seizing houses they do not own. Another noteworthy development among radical black groups was the Nation of Islam's furious defense of Libyan dictator Moammar Qaddafi, a sometimes Nation benefactor who was killed in an uprising later in the year. Nation leader Louis Farrakhan said that U.S. involvement in Libya would hasten the apocalypse. Malik Zulu Shabazz, head of the New Black Panther Party, went further, calling President Obama a "nigger police chief" leading the attack on a "black man … on the run, named Qaddafi."
CHRISTIAN IDENTITY GROUPS
Chritian Identity, a radical theology that describes Jews as biologically descended from Satan and people of color as soulless "mud people," has been declining in recent years, largely because its arcane, Bible-based doctrines seem to hold little interest for young racists. But last year that trend reversed itself, as a new Identity group, Crusaders for Yahweh, appeared with 30 chapters. The group is based in Chillicothe, Ohio, and led by Paul Mullet, a former member of the neo-Nazi Aryan Nations (whose members generally practice Christian Identity) who left that group in 2010. That year, Mullet briefly formed an organization he called the American National Socialist Party, but he has now moved on to Crusaders for Yahweh, which appears to be tied institutionally to Aryan Nations. Also last year, Identity lost one of its best-known proponents with the death at 64 of Peter John "Pete" Peters, pastor of the LaPorte (Colo.) Church of Christ. Peters, who ran an Internet and radio ministry called Scriptures for America, had inspired extremists for some four decades.
KU KLUX KLAN GROUPS
Overall, the number of Klan Chapters last year fell to 152 from 221 in 2010, and the various Klan groupings were relatively quiet. But the year brought major changes in the Klan formations, with some large groups disappearing while others popped up or added large numbers of new chapters. Most notably, the second largest Klan group in America — the Marion, Ohio-based Brotherhood of Klans, with 38 chapters in almost as many states — folded when its leader, Jeremy Parker, joined the leading Aryan Nations faction. At the same time, however, the Rebel Brigade Knights of the Ku Klux Klan, based in Martinsville, Va., and inactive for several years, came back to life under leader Stan Martin with 19 chapters. The United Knights of Tennessee Ku Klux Klan, meanwhile, shot up from a single chapter in Morristown, Tenn., to 19. Two others, the True Invisible Empire Knights based in Pulaski, Tenn., and the Traditional American Knights of Potosi, Mo., merged to form the Potosi-based True Invisible Empire Traditionalist American Knights of the Ku Klux Klan.
NATIVIST EXTREMIST' GROUPS
The contemporary movement of "nativist extremist" groups — organizations that go beyond lobbying and other political activities meant to restrict immigration, and instead harass and confront individuals they suspect are undocumented immigrants —began in 2005, with the appearance of the first Minuteman groups. (The SPLC does not list nativist extremist groups as hate groups; only a handful of the most extreme anti-immigrant groups are listed that way.) For its first five years, the movement expanded rapidly, reaching a high point of 319 groups in 2010. Last year, that number plummeted by more than 40%, falling to just 184, for reasons that are both internal and external. Internally, the movement was disrupted by internecine quarrels and the negative publicity that was generated by a Minuteman leader's murder of a Latino man and his 9-year-old daughter in Arizona, a case that resulted in the leader's being sentenced to death last year. But what may have been even more important is the way that the movement was co-opted as state legislatures began passing draconian legislation meant to punish undocumented immigrants, effectively stealing the issue away from the nativist groups.
NEO-CONFEDERATE GROUPS
The neo-Confederate movement, whose heart is the Alabama-based League of the South (LOS), grew both smaller and more radical last year as its political efforts to organize a second Southern secession seemed to fall on bare ground. Founded in 1994 by former university professor Michael Hill, the LOS, which opposes racial intermarriage and seeks a society marked by "general European cultural hegemony," had 42 chapters in 2010, but saw that number fall to 32 last year. The drop-off came as Hill's rhetoric grew more belligerent than ever before. Last July, at his Abbeville, S.C., annual conference, Hill told LOS members that "we are already at war" and, earlier, he urged them to buy AK-47s, hollow-point bullets and tools to derail trains. Some 60 people at the conference learned how to draw down on an enemy, and Hill asked in a speech, "What would it take to get you to fight?" Meanwhile, the group's relatively strong Alabama chapter, based in Wetumpka, almost finished work on a 4,000-square-foot building that it intends to use for international conferences.
RACIST SKINHEAD GROUPS
Last March, David Lynch, leader of the Sacramento, Calif.-based American Front and one of the best-known racist skinheads on the international scene, was shot to death in his Citrus Heights home; his girlfriend was shot in the leg. Within days, police were questioning Charles Gilbert Demar III, a Lynch associate also known as "Charlie Boots" who was the lead singer of the Stormtroop 16 band, as a "person of interest." Demar was arrested when officials found crystal methamphetamine and a meth manufacturing setup in his apartment, but as of press time he had not been charged in connection with Lynch's death. Another significant event on the skinhead scene took place last June, when the decade-old Vinlanders Social Club, one of the most violent racist skinhead groups, held its first white power concert. More than 50 people came to the event in Columbus, Ohio, including Richie Meyer, president of the Confederate Hammerskins, and Forrest Fogarty, a musician and one of Meyer's more prominent followers. Their presence and friendly association with Vinlanders at the event reflected the success of a truce between the two groups that was reached in 2007, ending what had been described as a "blood feud" between them.
WHITE NATIONALIST GROUPS
Three large groups form the core of the white nationalist movement in the United States: the Council of Conservative Citizens, an outgrowth of the old White Citizens Councils, that fights against school integration and racial intermarriage; American Renaissance, a journal that justifies white nationalism by attacking the intelligence and mental health of black people; and the American Third Position (A3P), a racist party with electoral ambitions in many states and the nation at large. Of these, it has been A3P, which only started up in 2009, that has been growing the most rapidly. It also has attracted most of the best-known white nationalists in America to its cause. Last year, Virginia Abernethy, an emeritus professor of psychiatry and anthropology at Vanderbilt Medical School, joined the A3P board of directors, as did Tomas Sunic, an American-educated Croatian who has spoken at neo-Nazi events. Others who became A3P officials earlier include Kevin MacDonald, a deeply anti-Semitic professor at California State University, Long Beach; James Edwards, host of a racist radio show based in Memphis; Don Wassall, publisher of the anti-immigrant Nationalist Times; and Jamie Kelso, once an aide to former Klan boss David Duke. A3P is headed up by Los Angeles lawyer William Daniel Johnson, a man who once sought to deport every American with any "ascertainable trace of Negro blood."
---
GERMANY |
"Brevik" store changes name - victory for anti-fascists
Thursday, 8 March 2012, 14:34 | Source: Spiegel |
Responding to public pressure, a retailer whose Thor Steinar clothing label is associated with the neo-Nazi scene changed the name of its new 'Brevik' store in Chemnitz, Germany. The store's name had sparked outcry because of its obvious similarity to the far-right Norwegian mass murderer Anders Breivik.
A store operated by a clothing company that is closely associated with Germany's neo-Nazi scene on Wednesday moved to change the name of a new outlet it had opened in the eastern city of Chemnitz. The "Brevik" store opened by Thor Steinar only one week ago offended many in Germany and around the world because of its close association with the far-right Norwegian mass murderer Anders Breivik, who killed 77 people in Oslo and on the island of Utoya in Norway in July 2011.
The company removed the sign over the store under public pressure. The company that operates the Thor Steinar label, Mediatex, said the store had been named after the Norwegian town of Brevik and that any association with Anders Breivik was disastrous and unintended. The company, which operates 13 stores, primarily in the states that belonged to the former East Germany, said it was sorry for the naming. "We apologize if this reminds anyone of the massacre of last summer," the company said in a statement. "That was not intended."
Still, the naming of the store as "Brevik" was widely seen as a far-right provocation, even if the company had opened a store with the same name in Hamburg in 2008. It also seems to have a history of recycling names. The Chemnitz outlet is now to be called "Tønsberg." The company used the same name for a store in Berlin that it opened several years ago and which has since been shuttered.
Many locals, however, didn't buy Mediatex's story. "The name was deliberately chosen and was intended to create an association with Breivik," Hanka Kliese, a member of the Saxony state parliament with the center-left Social Democratic Party (SPD), told reporters. "That is offensive, shocking and exposes just what the company is about," she said. "Behind this is a company that glorifies violence and an ideology that holds contempt for humanity. We don't want a store like that here, no matter what it is called."Kliese is the initiator of the Bündnis Buntes Brühl, a group promoting diversity in Chemnitz's Brühl district, where the store is located. Kliese said the group, formed on Wednesday, would combat right-wing extremism in the city.
She said that extreme-right activity had intensified in the city after the national chairman of the far-right National Democratic Party (NPD) opened an office in Chemnitz. "The city has clearly provided a space for these people for too long." The city has also been in the headlines in recent weeks because it had been the temporary home of the Zwickau cell of neo-Nazis that murdered nine immigrants and one police officer between 2000 and 2007. The group lived for a time in both Chemnitz and nearby Zwickau during their years in the underground. The store also angered many because it is located near a Jewish restaurant in the neighborhood that, according to the news agency Reuters, has been the subject of multiple anti-Semitic attacks in recent years.
---
LATVIA |
Latvian PM and Ambassador condone Waffen-SS commemoration
Thursday, 8 March 2012, 00:34 |
Joe Mulhall reports…
Both the Latvian Prime Minister and the Latvian Ambassador to Britain have now weighed into the controversial debate surrounding an annual commemorative march for veterans of the Latvian SS Legion. Some of the individuals honoured at this annual event in Riga were probably actively involved in the mass murder of 70,000 Latvian Jews. Around one-third of the Latvian SS Legion were volunteers, many drawn from Arajs Kommando, one of the most notorious killing units during the Holocaust. Despite the blood soaked history of the Latvian SS Legion, this commemoration event and its pitiful attempts at historical revisionism have not only not been condemned by the Latvian PM Andris Berzins, but have actually been condoned. According to Berzins: "Saying they are criminals is beyond common sense. We should bow to them instead,"
Such views, while completely unacceptable, are born out of a strong, historical anti-Soviet animosity. The repressive nature of the Soviets' long occupation has led some Latvians to regard these Waffen-SS criminals as anti-Soviet "heroes". In a letter to Monica Lowenberg, the creator of the International Petition against the March, the Latvian Ambassador to the UK, Eduards Stiprais stated, "Even if some people regard Latvian legionnaires as war heroes, it is my sincere belief they do so because they fought …. against the Soviet Union." While it is beyond doubt that the Soviet occupation of the Baltics was brutal, glorifying or excusing the murderous actions of the Latvian Waffen-SS because they fought against the Soviets is completely unacceptable and must be condemned.
Despite the attitude of the Latvian Prime Minister and his Ambassador to Britain, international pressure has been building with widespread calls for the march to be banned including an early day motion put down by Bob Blackman in the House of Commons. There is also an international petition with over 5000 signatures and a UK petition.
Sign the UK petition to ban the march:
http://epetitions.direct.gov.uk/petitions/27795
For more on this story visit the International Newsbrief section of our website:
http://www.hopenothate.org.uk/international/article/53/stop-the-ss-commemoration-in-riga-on-16-march
http://www.hopenothate.org.uk/international/article/101/latvian-president-defends-nazi-commemoration >
---
NORWAY |
Norway attacks: Breivik charged - trial in April
Wednesday, 7 March 2012, 18:38 | Source: BBC |
Anders Behring Breivik, who confessed to attacks which left 77 people dead and 242 injured in Norway, has been charged with terror acts.
Defence lawyers went to his prison near the capital, Oslo, to present their client with the charges.
Prosecutors have indicated they consider Breivik mentally ill and will seek to have him committed to psychiatric care rather than jailed.
Breivik is expected to go on trial on 16 April.
He has been charged under a paragraph in Norway's anti-terror law that refers to violent acts intended to disrupt key government functions or spread fears in the population.
"The defendant has committed highly serious crimes of a dimension we have no previous experience with in our society in modern times," prosecutor Svein Holden told reporters in Oslo.
Speaking outside Breivik's prison, police spokesman Tore Jo Nielsen said the killer had reacted calmly as the charges were read out.
"The whole reading-of-the-charges process was very calm and it took place in a small room where we were sitting with the accused and I can now confirm that the charges have been read to him..." he said.
"He was totally calm."
If convicted, Breivik faces a maximum penalty of 21 years in prison.
went to his prison to present the charges
The prosecution said last week it was prepared to accept Breivik was criminally insane and therefore not responsible for his acts, and as such it might not call for a prison sentence.
However, it reserved the right to alter that view if new elements emerged about his mental health by the end of the trial.
"The way the case appears at the time the charges are being brought, there is no basis to request a regular prison penalty," state prosecutor Tor-Aksel Busch wrote in instructions to prosecutors handling the case.
"But it must be clear in the charge sheet that the prosecution reserves the right, during the trial, to request a prison punishment or containment lasting 21 years, based on the complete evidence shown to the court."
Medical experts have been divided over Breivik's state of mind.
A first analysis by court-appointed psychiatrists last year found that he was insane, on the basis of 13 interviews with the prisoner.
Their report said Breivik lived in his "own delusional universe where all his thoughts and acts are guided by his delusions".
However, four psychiatrists who subsequently assessed Breivik disagreed with several of their court-appointed colleagues' conclusions.
In findings revealed in January, they argued that Breivik was neither psychotic nor schizophrenic and said they did not think he needed drugs.
A second court-ordered psychiatric evaluation of Breivik is currently under way.
Breivik's lead lawyer, Geir Lippestad, said the potential for conflicting psychiatric findings complicated the defence.
"We will have to prepare two lines [of defence] - both for sanity and insanity," he told broadcaster TV2.
The attacks on 22 July last year were the worst act of violence Norway has seen since World War II, and have had a profound impact there.
Breivik disguised himself as a police officer to plant a car bomb that exploded close to government offices in Oslo, killing eight people and wounding 209.
8 people killed and 209 injured by bomb in Oslo
69 people killed on Utoeya, of them 34 aged between 14 and 17 including Eva Kathinka Lutken (pictured)
33 injured on Utoeya
Nearly 900 people affected by attacks
Still in uniform, he then drove to the island of Utoeya, where a summer youth camp of Norway's governing Labour Party was being held.
In a shooting spree that lasted more than an hour, he killed 67 people - mostly teenagers - and wounded 33, while a further two people died falling or drowning.
Thirty-four of the dead were aged between 14 and 17, 22 between 18 and 20, six between 21 and 25, and seven older than 25, said prosecutor Inga Bejer Engh.
Earlier casualty reports had spoken of 151 people wounded.
According to prosecutors, nearly 900 people were affected by the twin attacks - 325 in Oslo and 564 on the island of Utoeya.
Only those killed or seriously injured, a total of 119 people, will be named at the trial.
Tove Selbekk, a member of a support group, welcomed the indictment but said many survivors and families of victims were dreading the start of the trial.
"We're very clear on the fact that it will be tough... to hear him explain himself and to hear about all those who passed away and how they passed away,'' he said.
"But this is something we need to go through.''
Trond Henry Blattmann, who lost a son in the massacre, told AFP News agency: "The penalty handed to this man will never be enough in our eyes.
"The most important thing for us is, we hope, that he will never again set foot in Norwegian society."
Breivik has said his attacks were atrocious but necessary for his campaign to defend Europe against a Muslim invasion.
Investigators have found no evidence to support his claims that he belongs to a secret "resistance" movement.
---
CZECH REPUBLIC |
Fascists to be tried for racial attack on Tonya Graves
Wednesday, 7 March 2012, 13:35 | Source: CzechPosition.com |
A Czech state prosecutor has indicted two members of the far-right Workers Party for Social Justice (DSSS) for allegedly shouting racist slogans at and otherwise abusing Tonya Graves, the African-American lead singer of the popular Prague funk outfit Monkey Business.
The attack came as she sat alone in a restaurant in Vimperk, South Bohemia, on November 26. That same Saturday, some 300 members and supporters of the DSSS atteneded a rally on the town's main square, at which the party's leader, Tomáš Vandas, railed against the Roma, blaming the minority group for rising crime rates. A number of Romani and anti-racism campaigners held a counter-protest, but no skirmishes were reported.
According to Graves and statements by witnesses, DSSS supporters stormed into the restaurant and began shouting racial epithets at her. The older of the two men facing trial, aged 43, stands accused of disorderly conduct while the younger, aged 25, faces charges of ethnic defamation; he pulled the singer's hair — and spat on Graves — in what prosecutors will argue was a racially motivated attack.
"I encountered some people from the [DSSS] at the restaurant. I was alone and it was unpleasant; they were not glad to see me there," Graves told Czech news agency ČTK shortly after the attack. A number of customers at the restaurant had come to the singer's defense, provoking a fight — but two off-duty police officers in the next room did not intervene.
"The police were called by a local and also by the guys from my band after I called them to tell them what was happening," Graves was quoted by ČTK as saying. "The main people to help me were some older people sitting at the regulars' table and the waiter. Those who assaulted me then started to fight among themselves; they threw chairs at each other."
"The police who arrived on the scene when everything was over told me that they couldn't do anything about it because the people who had assaulted me were not locals," she said.
Both of the indicted DSSS men have been been tried before, for violent crimes and theft. They are also known sympathizers of other far-right extremist movements, authorities have said. "They were there [in Vimperk] to promote a movement resembling Nazism," regional police officer František Skabalík told TV Nova.
The younger man faces up to three years in prison if found guilty of assaulting Graves, 41, who has lived in the Czech Republic since 1995 and has permanent residency here. Apart from singing for Monkey Business she has appeared in several Czech films, including Jiří Menzel's I Served the King of England (2006).Graves said it was the first time she been subject to such an attack in the Czech Republic.
The DSSS sprang up after the Workers Party (Dělnická strana, DS) was disbanded in February 2010 by decree of the Supreme Administrative Court for propagating racism and xenophobia. According to a report by the Czech Republic's domestic state security service, BIS, the successor party has been careful to avoid being publicly connected with neo-Nazi movements.
In this regard, top DSSS representatives have been criticized by rank-and-file party members "who were displeased by the party leadership's abandonment of any kind of public support for the neo‐Nazis," the BIS report said.
The Vimperk Town Hall had banned the announced DSSS rally because of the anti-Romani sentiments expressed in discussion on a Facebook page called "Movement for a Vimperk without Inadaptable Roma" (Hnutí za Vimperk bez nepřizpůsobivých Romů), the news server Romea.cz reported.
But the Regional Court in České Budějovice struck down the decision on the basis of a lawsuit filed by the DSSS arguing that anonymous discussions online could not be used as justification for banning an assembly, the server said.
---
ITALY |
Bossi in threat to "take out" Italian PM
Wednesday, 7 March 2012, 13:22 | Source: adnkronos.com |
Italian premier Mario Monti's life has been threatened – by another politician.

"Monti's life is at risk. The north will take him out," Northern League leader Umberto Bossi said on Monday.

The gruff 70-year-old cigar-chomping politician who morphed a northern secessionist movement into a powerful force from Italy's wealthy industrial north is loved and reviled for his macho and vulgar declarations about "staying hard" in the face of adversity. Through the 1990s his vitriol was directed at the south where organized crime clans and a lazy population sapped the wealth of hardworking northerners. By 2008 when the Northern League joined Silvio Berlusconi to topple a weak and fractured left, Bossi's ''Lega'' aimed its animosity at immigrants, once even calling for the military to fire on the migrant boats approaching Italian shores after sailing from Northern Africa amid the Arab Spring protests.

Earning political points with insensitive remarks in many countries is sure road to early retirement. To be sure, many Italians cringe when their politicians utter racist, sexist, and even fascist slurs. But masters of the insensitive jibe - like Bossi and Berlusconi - know their supporters love a good insult, so hurting a few feelings will unlikely be reason enough to stop.

When Berlusconi's first government fell in 1994 it was a spat over pension reform that prompted Bossi to pulled the plug after only seven months in power. Now, Berlusconi 's support of Monti's measures that include the change in pensions again makes the billionaire a legitimate target for Bossi's vitriol.

"One [is the] robber and the other is the lookout man," Bossi told reporters in the northern city of Piacenza on Monday, commenting on the support Berlusconi gives Monti's emergency government. Bossi has unsuccessfully called for Berlusconi's conservative group in Parliament to end its support for Monti whose reforms, in addition to pensions, involve tax hikes, pension and a war on tax dodgers.

Since suffering a stroke in 2004, Bossi largely speaks in snorts and slurs. Despite his verbal handicap, his adoring political base cheers on his insults at rallies that draw thousands of entrepreneurs, pious church goers and a large contingent of bearded followers who appear to have just emerged from the mountains following a six-month-long hunting trip.

Bossi can count on his foot soldiers and deputies in Parliament – the Italian and European ones – and in local governments throughout the north to practice his politically incorrect brand of populism. In 2007, Lega member and former education minister Mariella Mazzetto took a pig for a walk on the site of a planned mosque in the city of Padua. The year earlier, Reforms Minister Roberto Calderoli sparked a riot at the Italian consulate in the Libyan city of Benghazi when he appeared on television sporting a t-shirt with a cartoon lampooning the Prophet Muhammad.

Pulling out a well-timed diss may get a some cheers on the campaign trail, but it by no means guarantees victory.
---
GERMANY |
Police raid nazis after illegal march
Wednesday, 7 March 2012, 13:18 | Source: Czech Press Agency |
German police have conducted searches in the apartments of 17 alleged members of a neo-Nazi group that calls itself "The Immortals" and is said to be active nationwide. Police say members of the group are suspected of having participated in a march, in mid-December, for which permission was not granted.
During the march, right-wing extremists wearing white masks on their faces and black costumes marched through a neighborhood in Hamburg carrying torches. Between 25 and 35 masked people marched shouting right-wing extremist slogans. When police showed up, they ran away, but 17 of them have been identified.
Police officers say the neo-Nazis are doing their best to disseminate their ideology through such events, which violate the law on public assembly. During the searches in Hamburg and Lower Saxony, officers found gas pistols and materials which could be used to produce explosives. The Associated Press reports that no one has been arrested.
---
CHILE |
Gay Chilean man assaulted by nazis
Wednesday, 7 March 2012, 13:16 | Source:bikyamasr.com |
Daniel Zamudio, 24, was assaulted by a Neo-Nazi group in Santiago de Chile. Zamudio was found in the early morning on Saturday, severely injured, around Parque San Borja, in downtown Santiago.
He remains in critical condition at Posta Central hospital and under a medically induced coma after he was severely beaten, bearing serious lesions in face and head. The assailants also marked his body with swastikas and cut off a part of his ear.

Authorities are investigating the incident and do not discard the possibility that the aggression took place elsewhere and then the body was disposed at the park.

According to his relatives, the young man had received previously death threats by Neo-Nazi groups only because of being homosexual. They also reported that in a previous occasion, he had been kept on watch by a suspect group, outside a club in Santiago.

Popular singer Ricky Martin – who came out of the closet in 2010 – sent a message of encouragement to the Chilean young man via his Twitter account:

"No more hate, no more discrimination. I hope justice will be served NOW. A lot of light for Daniel and his family".

The tweet quickly spread over the social networks in and outside Latin America, expressing concern for the terrible incident and solidarity with the young man.


Quickly enough, tweets in English and other languages also spread, including those by some activists in Egypt and the Middle East. In Chile, an LGBT organization, Fundacion Iguales, expressed through an official statement, its repudiation of the crime:

"We demand from the Chilean authorities to make sure that legal actions are put into motion in order to punish the guilty culprits. A crime of this magnitude cannot remain in impunity. We also request that the Anti-Discrimination Law will be given priority, with the sole purpose to offer protection to every citizen, regardless of race, ethnic group, nationality, socio-economic situation, language, ideology or political opinion, religion or belief, gender, sexual orientation, gender identity, civil status, age, affiliation, personal appearance, illness or disability."

Fundacion Iguales also called their followers and friends via social media to stage a demonstration today at 17.30 in front of the Posta Central hospital to show support for Daniel Zamudio. They have also expressed their intention to request an appointment with the Minister of Interior to bring the matter to his attention.

An activist for another LGBT association spoke to US broadcaster CNN saying: "We are very worried because it is not the first time that such brutal expression of violence takes place in the country. This is a consequence of the Chilean government's lax attitude in tolerating Neo-Nazi groups."

This organization has also spread the victim's photo via media in order to find possible witnesses of the incident, in order to be able to come closer to finding the assailants.

According to Chilean bloggers, a good number of LGBT youth have been beaten in the past by such groups in downtown Santiago and left wounded in the street, without anyone doing anything to protect or defend them. It rings an alarm about the recurrence of violence and discrimination on the grounds of sexuality, gender, ideology and religion all over the world.

In the Middle East violence against homosexuals is not unheard of and homophobic rhetoric in media is common. It is important to address these issues at the level of policy-making and government in order to prevent such acts of brutality from happening and not only against homosexuals, but also against women and minorities, all of which experience discrimination in the Middle East on a daily basis.


---
FRANCE |
Sarkozy claims "too many immigrants" in France
Wednesday, 7 March 2012, 01:17 | Source: Daily Telegraph |
Nicolas Sarkozy pinned his dwindling hopes of re-election on Tuesday night on wooing the far-Right electorate, saying there are "too many immigrants in France" and that their integration is increasingly failing.
With support for the incumbent conservative ebbing and the victory of Socialist candidate François Hollande looking surer by the day, Mr Sarkozy made a series of proposals aimed at wooing back National Front sympathisers who voted for him en masse in 2007 but have since become disillusioned.
"Our system of integration is working more and more badly, because we have too many foreigners on our territory and we can no longer manage to find them accommodation, a job, a school," Mr Sarkozy said.
The president has clearly veered Right since formally announcing his re-election campaign two weeks ago, and FN candidate Marine Le Pen has accused him of liberally borrowing from her manifesto.
In an almost two-and-a-half hour television grilling, a combative Mr Sarkozy insisted that while immigration could remain "a boon" for France in many areas, it would have to toughen residency qualifications for newcomers.
"Over the five year term I think that to restart the process of integration in good conditions, we must divide by two the number of people that we welcome, that's to say to pass from 180,000 per year to 100,000," he said.
He also unveiled plans to limit some welfare benefits currently available to immigrant workers to those who have enjoyed residency for ten years and have worked for five of those.
Mr Sarkozy had already sparked controversy ahead of last night's programme by calling for all kosher and halal products to be labelled to inform consumers whether food is prepared in accordance with Islamic and Jewish law. The proposal followed Miss Le Pen's claims that kosher and halal meat is being sold in French supermarkets with no notification to customers.
Mr Sarkozy believes securing the far-Right vote is the only way to gain sufficient momentum to finish ahead of Mr Hollande in round one of elections on April 22 and in a second round run-off on May 6.
But the food labelling proposals have been sharply criticised by leading representatives of France's Jewish and Muslim communities and split his own Right-wing UMP party.
Alain Juppé, the foreign minister, criticised the debate as a "false problem" while François Fillon, the prime minister fuelled controversy by urging Muslims and Jews to abandon the notion of halal and kosher foods outright, saying they were outdated.
Mr Sarkozy's push Right came as a fresh poll suggested Mr Hollande had widened his lead in round one to 30 per cent support, up two percentage points, while Mr Sarkozy gained one point to 28 per cent.
But Mr Hollande enjoys a wide lead over Mr Sarkozy in round two, the CSA poll found, beating him by 54 per cent to 46 per cent, unchanged from the previous month.
Another poll found that 74 per cent of French people said their mind was made up concerning Mr Sarkozy.
Miss Le Pen, head of the far-Right National Front, fell back two percentage points to 15 per cent support in the first round, while leftist Front de Gauche candidate Jean-Luc Melenchon gained 1 point to 10 per cent.
The poll found that a large majority of French voters were disappointed by a campaign, complaining of too much mud-slinging and not enough emphasis on policy.
On Tuesday night, Mr Sarkozy once again laid into his Socialist rival, saying he was surprised he was their candidate as he had "never led anything" and "doesn't know how to say no".
Mr Sarkozy's popularity rose slightly after his official campaign launch in which he promised to be the president of the people against elites, countering claims he has spent five years being the "president of the rich".
But Mr Hollande gained ground with a surprise pledge to introduce a 75 per cent income tax rate for those earning more than €1 million (£830,000) a year – a move 61 per cent of the French back, one poll found.
With voters' mind increasingly made up, Le Parisien newspaper wrote: "The result of the election is a foregone conclusion". Libération, the left-wing daily, said that the French had "solidly and profoundly fallen out of love with the outgoing President".
All eyes are now on a huge rally in Villepinte near Paris on Sunday before up to 60,000 supporters – which his camp hopes will set him back on course.
---
INDIA |
Probe Reveals Hindu Terror Network
Wednesday, 7 March 2012, 01:14 | Source: thelinkpaper.ca |
Two right-wing extremists who died in Nanded while making explosive devices received arms training in Dewas along with alleged Samjhauta Express bomber Kamal Chauhan, National Investigation Agency investigators have learnt.
(The so-called "Friendship Express", the Samjhauta Express was bombed on 19 February 2007 by right-wing Hindu extremists, killing sixty-eight people and injuring scores of others.)
"Two right-wing extremists — Himanshu Panse and Naresh Rajkondowar — died while making a bomb on April 6, 2006, in Nanded (in Maharashtra). Panse and Rajkondowar had participated in the Bagli training camp (near Dewas in MP) along with Kamal Chauhan," an official said.
Sources said the training camp had been organised by RSS wheeler-dealer Sunil Joshi in January 2006. Joshi was shot dead in mysterious circumstances in December 2007 in Dewas.
During the camp, Joshi's close aide Ramji Kalsangra gave a demonstration of an improvised explosive device (IED) blast.
Panse led the Nanded group, which was allegedly behind the blasts at three mosques in Maharashtra, one in 2003 and two in 2004. All took place after the Friday afternoon prayers. The same thing happened in Malegaon on September 8, 2006.
"Panse and Chauhan participating in the same training camp shows that the Nanded group was not working in isolation," said an official on condition of anonymity.
The NIA suspects besides the Nanded blast, the death of two Bajrang Dal activists — Rajiv Mishra and Bhupinder Singh Chopra — in a bomb-making exercise in Kanpur on August 24, 2008, was also not an isolated incident.
"We have reasons to believe that Mishra and Chopra were also linked to the group led by Sunil Joshi. The kind of bomb-making material they were experimenting with was similar to the IED components used by the Joshi-led group. We suspect Mishra and Chopra may also have participated in training camps of Sunil Joshi and his close aides — Sandeep Dange and Kalsangra," a source said. Both Dange and Kalsangra are on the run at the moment.
"We need to know whose brain was behind the group led by Joshi and who ordered his killing," an investigator said.
---
INTERNATIONAL |
International Newsbrief 100 not out.
Wednesday, 7 March 2012, 01:06 |
As part of Hope not hate's efforts to publish quality international information more frequently and to supplement the material produced in our new bi-monthly magazine, we launched International Newsbrief on 5 January.
Now, just over two months later, we are proud to announce that the tally of articles published under this rubric tonight hit the 100 mark, signifying the success of our move towards the publication of more international news online.
We can promise our readers and supporters, both in the UK and abroad, that we will continue to post material that will keep them informed of what is going on outside the UK and reflect that strong spirit of internationalism that forms an essential ingredient of Hope not hate's campaigning efforts.
If any of our large body of anti-fascist/anti-racist/pro-human solidarity readers find stories that they would like to share with International Newsbrief readers, please don't hesitate to send them to us at: graeme@hopenothate.org. uk
---
FRANCE |
Sarkozy bids for support of antisemites and Islamophobes
Wednesday, 7 March 2012, 01:04 | | Click here for original article
France's prime minister is urging Muslims and Jews to consider scrapping their halal and kosher slaughter laws as President Nicolas Sarkozy and his allies stepped up their efforts to woo far-right voters.
Prime Minister Francois Fillon made the suggestion after Sarkozy called at the weekend for butchers to clearly label meat slaughtered according to religious laws. Jewish and Muslim leaders criticized the government for stoking the debate.
Fillon and other conservative leaders linked their tough stand on ritually prepared meat to issues such as immigration and French identity that the far-right National Front uses to tap into resentment against Europe's largest Muslim minority.
"Religions should think about keeping traditions that don't have much in common with today's state of science, technology and health problems," Fillon told Europe 1 radio while discussing the two-round presidential election ending May 6.
The "ancestral traditions" of ritual slaughter were justified for hygienic reasons in the past but were now outdated, he said. "We live in a modern society."
"I am astonished by this statement by the prime minister," said Richard Prasquier, head of the CRIF umbrella group of French Jewish organisations. "The government has no place giving advice about religious traditions."
Mohammad Moussaoui, head of France's Muslim Council, said ritual slaughter was no more painful than modern methods and labeling meat as being prepared "without stunning" would feed resentment against the two minority religions using it.
"It will stigmatize Muslims and Jews as people who don't respect the interests of animals," he said. "That will raise tensions in society."
National Front leader Marine Le Pen launched the debate last month saying abattoirs around Paris only slaughtered meat the Muslim way. It turned out they mostly supplied local Muslim butchers and most meat sold in Paris came from further away.
The issue caught hold and Sarkozy's campaign countered with ever tougher statements on immigration and ringing defenses of French civilization and secularism — code words implying some of the five million Muslims here did not share these values.
Interior Minister Claude Gueant warned last week that giving immigrants the right to vote in municipal elections, as the Socialist want, would lead to Muslims forming majorities on local councils and imposing halal meat in school canteens.
"This is quite possible, given the proportion of foreigners in some areas," he said when challenged on RTL radio on Monday.
Fillon seconded this view but Sarkozy campaign spokeswoman Natalie Kosciusko-Morizet declined to support it.
Sarkozy's former Justice Minister Rachida Dati, a Muslim, told the daily Le Figaro such comments "mix up French Muslims and foreigners. French Muslims are citizens like any other."
Hollande's spokesman Pierre Moscovici said Sarkozy "is branding French Muslims in a sly way and echoing the National Front's issues."
---
GERMANY |
Thor Steinar Names New Store after Norwegian Killer
Tuesday, 6 March 2012, 15:46 | Source: Spiegel |
In an act of provocation that is creating outrage in Germany and Norway, the Thor Steinar clothing company, associated with the neo-Nazi scene, has opened a store in eastern Germany with a name almost identical to that of Norwegian right-wing extremist killer Anders Behring Breivik. City politicians have lambasted the "scandalous" development.
In an apparent deliberate act of provocation, the Thor Steinar clothing brand, popular among German neo-Nazis, has opened a store in the eastern German city of Chemnitz bearing the name of the far-right Norwegian mass murderer responsible for killing dozens of people, including scores of youth, last summer.
The company opened a store named "Brevik" in the city last Thursday, prompting outrage in Germany and Norway over the name. German daily Die Welt reports that the company has defended the name, noting that each of its stores is named after a town in Norway. Brevik is a town located south of Olso with around 2,700 residents. According to the paper, the company opened a store with the same name several years before Anders Behring Breivik went on a killing spree by bombing a government building in Oslo and posing as a police officer and massacring 77 people at a summer political camp for youth on the Utoya island.
The store's opening has already angered many in Chemnitz, where residents and officials are concerned about the damage the store opening will have on the city's reputation -- both in Germany and abroad.
"It is out of the question for a store to have a name like that," city spokeswoman Katja Uhlemann told Die Welt's website. "We have already contacted the landlord and will plan every step necessary to shut down this business as quickly as possible."
Contacted by several newspapers, the owner of the building said he had been deceived at the time the rental contract was signed and that he was unaware a Thor Steinar outlet would be opened at the site.
According to the newspaper, Hanka Kliese, a member of the state parliament with the center-left Social Democratic Party, has an office located just a few meters from the store. "This scandalous naming shows a new quality in the aggression, right-wing extremism and capacity of violence of Thor Steinar," she told Die Welt. "Now we know just who we are dealing with." Kliese accused the state government of Saxony, where the far-right National Democratic Party (NPD) also holds seats in parliament, of doing too little to combat right-wing extrmism In recent months, Saxony has drawn attention because the state was long home to a neo-nazi terror cell that committed 9 murders of immigrants and one of a police officer. The group lived for a time in both Chemnitz and nearby Zwickau during their years in hiding.
On Monday, several thousand Chemnitz residents gathered to protest against right-wing extremism and neo-Nazis in the city. The city's mayor, Barbara Ludwig, told the local Freie Presse newspaper that 2,000 people had gathered in the inner city, to send a "message of a peaceful, cosmopolitan, diverse and tolerant Chemnitz in which there is no place for Nazis." The protest was part of a commemoration of the city's destruction 67 years ago during World War II.
According to the Freie Presse, Norway has long sought to distance itself from Germany's Thor Steinar brand, which has used the Norwegian flag and other Nordic symbols on its clothing in the past. "We consider it very regrettable that Thor Steinar uses Norwegian place names in order to associate Norway as such with Thor Steinar and the extreme right-wing scene," Anne-Kirsti Wendel Karlsen of the Norwegian Embassy in Berlin told the newspaper. "Acting at the request of a number of communities, we have asked that Norwegian town names not be used. But we unfortunately have no legal recourse to pursue it through the courts."
Over the weekend, major Norwegian newspapers including Verdens Gang and Aftenposten reported on the store's opening.
---
SPAIN |
Liverpool 'keeper in new racism rumpus
Monday, 5 March 2012, 14:37 |
Following the scandal surrounding striker Luis Suarez' disgusting racist outbursts at Manchester United's French international Patrice Evra, goalkeeper Pepe Reina has just embroiled himself in another one. The player took part in a TV promotion for a Spanish insurance firm which, widely criticised for racial stereotyping, has now been pulled off the airwaves.
Liverpool FC was lashed for its bungling of the Suarez affair but is said to have been unaware of Reina's involvement in the 26-second advert for Spanish insurance firm Groupama. The advertisement – which has been slammed for being both racist and homophobic – drew strong condemntion from Operation Black Vote director Simon Woolley. "I'm shocked on so many levels," Woolley stated. "Firstly, how would the Spanish feel if the English stereotyped Spanish people as backward, stupid and animalistic homosexuals? "Secondly, what does this say about Pepe Reina? "The Liverpool goalkeeper has lived and worked in the UK for nearly a decade – does he think it's OK to characterise black people this way? Does he think his black team-mates will laugh at his joke?"
In the advert, Reina was seen "discovering" an African tribe, whose people surround the goalkeeper dancing. When the tribe's leader points to Reina and says 'Queen' and then to himself and saying 'King', there is a suggestion of a sexual relationship between the two - the Spaniard's surname roughly translates into Spanish as 'Queen'.
Groupama remains unrepentant despite seeing it pulled from the air and "does not consider that this advert contains either offensive or any discriminatory content,"
---
LATVIA/RUSSIA |
Latvian president defends Nazi commemoration - Russians protest
Monday, 5 March 2012, 14:11 | Sources: ICARE & RT |
Latvian President Andris Berzins has defended a controversial annual parade that honours troops from the Baltic state who fought the Soviet Union under the banner of Nazi Germany.
Speaking on the LNT television channel, Berzins said veterans of the World War II Latvian Legion, a 140,000-strong unit of Germany's Waffen SS, deserved respect not condemnation. "They were conscripted into the fascist German Legion. They went with the ideal of defending Latvia. Latvians in the Legion were not war criminals," Berzins insisted. He also said foreign criticism of the March 16 rally was unfair. Though not an official holiday, the day sees a parade by veterans and their families, as well as far-right activists.
Centre-right Prime Minister Valdis Dombrovskis has warned ministers not to take part. Members of the right-wing National Alliance -- one of three parties in his coalition government -- have been prominent attendees in previous years. The rally sparks demonstrations by members of Latvia's Russian and Jewish communities who say it celebrates Nazism. Legion veterans insist they were not Nazis but simply defending their small nation against the feared Soviets.
The Soviets seized Latvia in June 1940 under a pact with the Nazis. It broke down in June 1941 when Germany invaded Soviet territory. German troops were hailed by some Latvians as liberators. Only a week before they arrived, the Soviets had deported 15,000 Latvians to Siberia. But the Nazis brought their own terror, killing 70,000 of Latvia's 85,000 Jews, helped by local collaborators.
Legion veterans underline that it was founded in 1943, after most of Latvia's Jews had been slaughtered, arguing they cannot be held responsible. The Legion was a mixture of volunteers and conscripts. Roughly a third died in combat or Soviet captivity. Another 130,000 Latvians sided with the Soviets. Almost a quarter were killed, many in battles with their Legion compatriots. As the war's tide turned, the Soviets captured Riga in October 1944. Latvia regained independence in 1991 and joined the European Union in 2004.
Meanwhile, Berzins' statement that Latvian Waffen-SS veterans were not criminals and deserve respect, has been blasted as "blasphemous and immoral" by Russian Foreign Ministry spokesman Aleksandr Lukashevich.
Lukashevich said that "attempts to justify atrocities committed by the Latvian SS volunteer legion against the civilian population of the Novgorod and Pskov regions, Belarus and Riga ghetto" are immoral. Naturally, such actions provoke outrage in Latvia and abroad, he added.
The Baltic state, he noted, "demonstratively" ignores the UN resolution "on the inadmissibility of practices that contribute to fuelling contemporary forms of racism and xenophobia." "Regrettably, we have to state that Riga's deep-rooted desire for a 'historic revanche' is not helping to promote the perception of modern Latvia as a democratic state, or to develop its relations with Russia," he pointed out.
---
FRANCE |
Sarkozy courts French right with immigration pledge
Monday, 5 March 2012, 13:58 | Source: Faithworld |
PARIS, March 3 (Reuters) - French President Nicolas Sarkozy marked a rightward shift in his re-election campaign on Saturday, pledging to cut the number of immigrants and calling for clear labelling of halal meat in a bid to entice voters away from the National Front.
Speaking to thousands of flag-waving supporters at a rally in the western city of Bordeaux, Sarkozy vowed to defend secular values in France - which has Europe's largest Muslim minority - and to send a tough message on law and order if he wins a fresh five-year term in a two-round election in April and May.
Despite rebounding in polls since launching his campaign last month, Sarkozy trails Socialist rival Francois Hollande.
"We must reduce the number of arrivals on our territory," Sarkozy said, pledging to end the automatic right of immigrants to be joined by their families. "You are not welcome in France if you are only coming to receive welfare. Everyone thinks it: it is time for republicans to say it."
"Those who come with the intention of not respecting our laws and our customs, of not respecting the property of others, of not sending their children to school, of not making an effort at integration, they are not welcome on French soil," he said.
National Front candidate Marine Le Pen, running third in polls with nearly 20 percent, sparked a scandal last month by claiming that almost all meat in Paris was halal - killed according to Islamic norms by cutting the animal's throat and letting its blood drain out.
Meat industry association, Interbev, denied this.
Sarkozy appeared to court Le Pen's supporters by echoing remarks from his hardline Interior Minister Claude Gueant on Saturday rejecting "multiculturalism" and suggesting school canteens should not serve halal meat.
"Let's recognise everyone's right to know what they're eating, halal or not. I'd like to see, therefore, the ticketing of meat according to its method of slaughter," Sarkozy said.
"We have to consider our holidays, the church and cathedral towers in our villages and towns, our eating habits, our morality, as aspects of our civilisation not just our religion: the civilisation of the French Republic."
Attitudes towards immigration and the Muslim minority have long been an important electoral issue in France, with Sarkozy accused of courting the far right when he won power in 2007.
Though polls show Hollande stands to win a May 6 runoff against Sarkozy by more than 12 percentage points, the question of where Le Pen's support would go in the second round could become decisive if that gap narrows.
Burdened with the worst poll ratings of any French leader seeking re-election, Sarkozy is attempting to recover the political initiative by drip feeding his programme on a weekly basis, with justice and immigration the latest topics. Hollande presented his own 60 point agenda in January.
Sarkozy, however, suffered setbacks this week. He was mobbed by left-wing militants and Basque activists on the campaign trail near the Spanish border and Hollande regained traction with a popular proposal to introduce a 75 percent tax rate for those earning more than 1 million euros a year.
At a meeting in Dijon, Hollande also portrayed himself as a defender of France's secular republican tradition and pledged to govern in the national interest, if elected, free from the influences both of his own party and of France's wealthy elites.
"The next president will be independent from his own party. I am a Socialist and I will remain it, but I will not act like just the head of my party," he said.
---
NORWAY |
Breivik ex-girlfriend "ashamed"
Monday, 5 March 2012, 13:48 | Source:couriermail.com |
The ex-lover of Norwegian killer Anders Behring Breivik has said "I feel terrible I was his girlfriend."
Nadya Vulegjanina, a pianist, has revealed how she was just 21 when she fell for evil Breivik, days after meeting him. The racist right-wing maniac immediately started planning the rest of their lives together.
But Ms Vulegjanina dumped him five weeks later because he did not respect her and Breivik later began his descent into hatred that led to him slaughtering 77 innocent victims in a bomb and gun attack last year.
Breivik wooed Ms Vulegjanina, from Belarus, after seeing her profile on a "Ukraine brides" website full of slim and attractive young blondes.
She was desperate to escape the grind of life in Belarus capital Minsk in 2005, while he was searching for the ideal woman to give him "perfect" Aryan offspring.
Norwegian Breivik, then 26, flew to Minsk after bombarding Ms Vulegjanina with emails and love letters. Staying in the grim apartment Ms Vulegjanina shared with her mother Alla, they became lovers within days.
Ms Vulegjanina said on Saturday, "Back then he seemed very normal. He was charming, well-dressed, and compared to a lot of the men in Belarus, he knew how to treat a woman. He was polite, pleasant to be around and he treated me well. He was anxious to get married, and I was looking for a boyfriend to help me leave the country."
After two weeks, besotted Breivik bought a plane ticket to take Ms Vulegjanina to his compact Oslo apartment, where he soon revealed his "odd" vain side.
She said, "Not many men wear make-up! When I mentioned it he tried to brush it off, saying dark eyebrows made him look more masculine. I thought it was funny." He had no guns in his apartment, but lots of alcohol - bottles of vodka which he seemed proud of because it is so expensive in Norway.
"We did normal boyfriend-girlfriend things like going for meals and walks. He was anxious to show me off to his friends. But soon we were arguing over trivial matters," Vulegjanina said. "There was no chemistry between us. I knew it was not going to work out. He might have wanted to talk about marriage but that was the last thing on my mind. I realised he just wasn't my type. He did not respect me. He was a male chauvinist who believed a woman's place was in the kitchen."
Ms Vulegjanina flew home, but he tried to win her back with pleading emails and letters, which she ignored.
Friends have revealed that after the break-up Breivik retreated behind his computer, becoming introverted, skinny and pale. He then turned to political extremism and went on to kill last July, with a bombing in Oslo and shootings on a nearby island.
Breivik is undergoing a second court-ordered psychiatric assessment before he can stand trial.
An initial evaluation last year found he was insane, to the fury of victims' relatives who insist he knew what he was doing.
Since leaving Breivik, Ms Vulegjanina has moved to the US. She added on Saturday night, "It is not pleasant to be associated with someone who has committed such a horrific crime. It's in the past - I want it to stay there."
---
FRANCE |
Le Pen tries revive flagging campaign
Monday, 5 March 2012, 13:42 | Source: Reuters |
French far-right leader Marine Le Pen sought to revive her flagging presidential campaign Saturday, saying she was the only genuine opposition to the established parties whose policies would lead France into a Greek-style tragedy.
Le Pen, who replaced her father as head of the National Front last year, has sought to broaden the appeal of the party beyond its traditional anti-immigrant constituency to attract a younger generation of voters.
She ranks third in opinion polls with just two months to go before the first round of the election on April 22. At one point in January she was just a couple of points behind conservative President Nicolas Sarkozy, but has fallen back in recent weeks.
"The campaign has truly started," Le Pen told reporters at the start of the National Front's annual congress in the northern city of Lille. "We must kick out those parties that have brought us to our knees. I am the only opposition to the UMPS (Sarkozy's UMP and Francois Hollande's Socialist Party). Those are candidates of the (Greek) troika and we cannot turn to them."
Le Pen announced a raft of policies in January to balance France's books, including taxing imports, tapping the central bank for cheap loans instead of debt markets and giving French citizens priority over foreigners for jobs.
Her anti-euro and protectionist stance has struck a chord, especially among working class voters disillusioned by economic hardship since the start of the global financial crisis. But most analysts deem her economic program as not credible.
Le Pen criticized the troika - the International Monetary Fund, the European Union and the European Central Bank - which has demanded Greece should impose austerity measures in return for bailout funds.
"The troika unites the European Commission, the Central Bank and the IMF against the people," she said. "In the name of the single currency it is throwing the Greeks onto the streets. Do you think that it will forget Paris? No, it's on its path."
A BVA poll Friday showed Sarkozy had an 11 point lead over Le Pen in the first round of the election, although Hollande would still comfortably beat the incumbent in the May 6 runoff.
Sarkozy announced officially Wednesday that he would run for a second term against Hollande and Le Pen, who launched their campaigns several months ago. He pledged to "give the public its voice back" via plebiscites, starting with one on a proposal to make the unemployed retrain and actively seek jobs.
Ruling by referendum is one of the core ideas the National Front has proposed for almost 25 years and analysts say Sarkozy must appeal to far-right voters as he did in 2007 when he ran on a strong security and immigration platform.
"The president of the rich, the small president of big firms ... and today the president of the troika wants to become the president of the people through referendums that he has always rejected and despised," Le Pen said.
Since taking over from her father, the 43-year-old former lawyer has tried to turn the National Front into a more mainstream opposition creating a strict code of conduct, removing extremist elements from her party and playing a more populist card which she says is neither left nor right, but "patriotic."
Banners at the congress showed her focus over the two days would still play to the party's traditional strengths of immigration and security, while attacking Sarkozy's record on public debt and unemployment.
Election poll graphic: r.reuters.com/was36s6s
---
BULGARIA |
3,000 fascists mobilise
Sunday, 4 March 2012, 09:47 | Source: Novinite |
Bulgaria's far-right, nationalist party Ataka organised its traditional National Liberation Day march on Saturday. Addressing a mob of more than 3,000 followers, organisers explained how Ataka is preparing for the 2012 general elections. The march started from the National Palace of Culture and went through central Sofia to the Nevsky Square, with several stops at government buildings including the Finance and Economy Ministries. There, Ataka leader, Volen Siderov, demanded the resignation of their respective ministers, Simeon Djankov and Traicho Traikov, for betraying national interests and "working for colonisers and for the impoverishment of Bulgarians."
Siderov delivered a 50-minute-long speech, asking for decent jobs for all Bulgarians, a minimum monthly wage of 1,000 levs (£416) wage, the elimination of monopolies and the transfer of all business back to Bulgarian hands. He accused European leaders of "trying to cut Bulgaria to pieces, as all Great Forces have done, not caring about Bulgarian people and their well-being, and labeled the EU the "new Soviet Union." Siderov further accused Prime Minister, Boyko Borisov, and his cabinet of doing nothing to improve the situation for fellow countrymen and women.
At the end of his rant, Siderov, appealed to all those who are challenging him and want his post, to have the courage to look him in the eye and tell him what they want and let people be the judge. "Any action against Ataka only serves Turkish and Gipsy interests, and all enemies of Bulgaria," he declared.
Despite a large crowd of people, known to be prone to violence, the march went on without incident or clashes with police
---
GERMANY |
800 anti-fascists protest against Berlin nazi centres
Saturday, 3 March 2012, 08:41 | Source: Demotix.com |
Last night, 800 anti-fascist activists took part in a demonstration last night against neo-nazi centres in the Berlin suburb of Schoneweide, a district where many right wing extremists are now active.
The demonstration marched past the nazi pub "Zum Henker" on the Brueckenstrasse, which is regarded as a key meeting point of the right-wing extremist scene. A police spokesman said there were a few scuffles and that bottles were also thrown at the bar but the situation remained generally calm. A bookshop run by a neo-nazi was damaged.
A police ban on the march passing through the Brueckenstrasse was lifted repealed earlier by the Administrative Court, after the organisers of the demonstration successfully appealed against it.
The heavy police presence in the the area was aimed at avoiding clashes at the demo, held to mark the third anniversary of the opening of "Zum Henker".
---
CZECH REPUBLIC |
Czech neo-Nazis becoming more violent and sophisticated
Friday, 2 March 2012, 17:07 | Source: ceskapozice.cz |


Despite a fall in numbers compared to the 1990s, extreme right-wing movements in the Czech Republic are becoming more discreet and sophisticated and widening their range of targets, a report commissioned by the Czech Ministry of Interior says, warning that neo-Nazis and other groups may resort to terrorism.
 


According to the 50-odd page report authored by political scientist Miroslav Mareš and several contributors, a rise in racially motivated attacks can be expected over the next five years. While the ethnic Romany population will continue to be the target of violence, the report says far-right groups are increasingly focusing their attention to resistance to multiculturalism and immigration to the Czech Republic.
 

"Calls to form home defense units (which came from the [banned] Workers Party) against Vietnamese present a risk because they could lead to an escalation in ethnic violence," the report published on Thursday states.
 


Mareš says in the report an increase in violent attacks can be expected due to: worsening economic conditions; increasing social exclusion; mainstream political failure by extreme right-wing parties; and the influence of foreign white supremacist groups.
 

There are currently around 4,000 extreme right-wing activists in the Czech Republic, the report says, with an especially active core of around 400 leaders and ideologists.
The core of the movement is now formed by the free nationalist and autonomous nationalist movements, which operate in coordinated regional cells as opposed to adhering to a national leadership, the report says. 
 

'The Russian way' of terrorism



"Within the neo-Nazi scene, which is attempting to work out courses of action, terrorist concepts influenced in part from Russia (the so-called 'Russian Way'), are being propagated," the report states.
It notes that numerous Russian judges who have sentenced neo-Nazi activists have been attacked — and several murdered (though no right-wing militants have been convicted for the homicides).
"It's necessary to monitor whether the Czech neo-Nazi scene will adopt similar tactics in reaction to a wave of controversial trials," the report's author recommends, pointing out that the Czech far-right movement has close ties with similar organizations in Russia.
 


The Ministry of Interior last year published an instructional booklet intended primarily for police chiefs under the title Extremism as a Security Threat warning of right-wing extremists infiltrating police ranks. The new report likewise warns that Neo-Nazi activists are drawn to the police force: "We can expect more conspiracies in this area than there have been before." 
 


Similarly, right-wing extremists are attracted to employment with private security firms, which is a way for them to get firearms licenses. Mareš also draws attention to potential problems arising from the increasing use of private security firms in conflict zones, warning that some extremists have gained conflict or combat experience in this way.
 


Mareš and his colleagues also warn that some core members of extreme right-wing movements are attempting to influence public life, primarily on the local rather than national level. They do so by infiltrating mainstream politics by joining the major political parties, gaining positions in public organs other than the police, where "for the time being they covertly act in the interests of their ideological orientation."
 

Change of image



Czech extreme-right wing organizations are turning away from the skinhead image, which was widely adopted by its activists and sympathizers in the Czech Republic in the 1990s. As well as the changing tastes of the younger generation of right-wing extremists, many of the activists prefer not to wear the politics on their sleeves, so to speak. "The neo-Nazi scene is not as visible as in 2008, but the number of activists remains the same," the report says.
 


Further, it warns that in response to a shift in ideological outlook — and with their perceived war on multi-culturalism in Europe and protecting European traditions — neo-Nazi groups will likely try to recruit sympathizers and active supporters by exploiting populist issues and opposition by conservatives and traditionalists to "liberal" tendencies such as same-sex marriages, as well as some stereotypical perceptions. 



"Today they manage to blend in with larger mass protests as was the case in the Šluknov district last year, where it was very difficult to tell who belonged to the neo-Nazi scene, and who were 'ordinary citizens,'" the report says, referring to the large protests against a wave of attacks and a rise in crime in the northern Bohemian district last fall, which many local residents attributed exclusively to the growing Romany population.
 

Italian professionalism



The report also notes the influence of the Italian neo-Fascist movement Casapound, which spurns identification with the traditional image of the far-right and presents itself as a mainstream political movement beyond the confines of traditional left- and right-wing politics — although the party is openly anti-immigration.
 


"Professionalism is a key characteristic of the neo-Nazi movement of the new millennium. In the case of Casapound, there is a managerial leadership and managers are groomed for specific activities," the report says, adding that the movement makes a point of appealing to university students. 
 


"A part of the Czech neo-Nazi scene views Casapound positively precisely because the movement has managed to penetrate into everyday public life. ... they view the concept positively because they themselves are attempting to find a form more acceptable to society, thus the collections for dog kennels, cleaning refuse from woods and forests, help in the wake of floods, etc.," the report states.
 


Mareš and colleagues say the best way to combat far-right extremism in the long-term is through educational programmes. Also in cases where school pupils have become involved in extremist groups, patient persuasion as opposed to in-school punishments such as suspension or detention are far more effective, they conclude.
 


The Czech Ministry of Interior has published a number of documents in English about the ministry's "Fight against Extremism," which are available here : http://www.mvcr.cz/mvcren/article/documents-on-the-fight-against-extremism.aspx> . 

---
GERMANY |
Veteran Nazi hunter nominated to run for German presidency
Friday, 2 March 2012, 01:22 | Source: Arutz Sheva |
Veteran Nazi hunter Beate Klarsfeld was nominated by Germany's opposition Left Party, Die Linke, on Monday to run for president and provide a political alternative to Joachim Gauck, a former anti-communist civil rights activist and Lutheran pastor.
Klarsfeld, 73, and her Romanian-Jewish husband whose father was deported to Auschwitz, have dedicated their lives to raising awareness of the Holocaust and hunting down those who perpetrated its crimes. She is also known to be a strong supporter of Israel, a stance with which her party is not often aligned.
She is most widely recognized for successfully tracking down Klaus Barbie, a former Gestapo officer known as the "Butcher of Lyon," who was living in Bolivia in the 1970s under an alias.
Klarsfeld is also known for her anti-establishment views, and in 1968 she accused West German Chancellor Kurt Georg Kiesinger of having been a Nazi propagandist.
Gauck, on the other hand, believes that too much attention has been given to the Holocaust, and as Berlin-based journalist and blogger Chris Hale noted, he "has spoken out against what he calls an over-valuing – or 'Überhohung' – of the Holocaust, aggressively insisting that the worst genocide in human history has to be judged alongside the crimes of various communist regimes."
While Klarsfeld's chances of emerging victorious are slim, due to the fact that her opponent has received support from a majority of the mainstream parties, she was awarded the Officer of the Legion of Honour by Nicolas Sarkozy in 2007 and was also invited to a reception at the Élysée palace at which he told her, "Beate, you embody the struggle for justice."
Klarsfeld described her feelings of "great satisfaction" for having gained the support of the Left, despite its critical stance on Israel.
Cem Özdemir of the Green party, said he hoped Klarsfeld's candidacy would prompt Die Link to "rethink their crude anti-Israeli policy and muddled position on the Middle East conflict".
---
USA |
Republican candidate denies Holocaust
Friday, 2 March 2012, 01:02 |
Arthur Jones, who hopes to challenge Democrat Dan Lipinski in Illinois' 3rd Congressional District, neither denies nor repudiates his past affiliation with the Nazi Party. A congressional candidate running as a Republican in the upcoming Illinois primary, he says the "Holocaust never happened."
Arthur Jones, 64, a Lyons, IL, insurance salesman who organizes family-friendly, nazi events around Adolf Hitler's birthday, hopes to be the Republican candidate chosen to run against Democratic Congressman Dan Lipinski in Illinois' 3rd Congressional District.
"As far as I'm concerned, the Holocaust is nothing more than an international extortion racket by the Jews," Jones said. "It's the blackest lie in history. Millions of dollars are being made by Jews telling this tale of woe and misfortune in books, movies, plays and TV. "The more survivors, the more lies that are told."
A member of the Nationalist Socialist Party in his younger days, Jones took part in the Nazis' infamous march on Chicago's Marquette Park in 1978. While he doesn't deny nor repudiate his "past affiliations," he says he votes Republican "90 percent of the time."
"Philosophically, I'm a National Socialist," Jones said. "Officially, I don't belong to any party except my own, the America First Committee."
---
GERMANY |
Breakthrough in terror case?
Thursday, 1 March 2012, 16:05 | Source: dpa |
Carsten Schultze, 32, an alleged accomplice of the National Socialist Underground (NSU) murder gang, has confessed to providing the pistol used to kill nine people of immigrant background in Germany.

Schultze's lawyer said that his client – a former official of the nazi National Democratic Party's youth organisation in Thuringia and who is under arrest – had confessed to providing the weapon used in nine of the killings. He said he gave the Ceska 83 pistol, complete with a silencer and 50 rounds of ammunition, to one of the gang members in 1999.

Schultze was arrested in Düsseldorf in January and has admitted belonging to a group of nazi militants in eastern Germany over a decade ago, but claims he has since renounced his far-right views.

The Ceska 83 weapon was used in nine murders committed by the trio of NSU members suspected of being behind 10 unsolved murders since 2000: eight Turkish shopkeepers, a Greek man and a policewoman. They are also believed to have robbed several banks and carried out bomb explosions in Cologne.

Police only discovered the group in November 2011 when two of the group's members killed themselves when about to be arrested. A third member surrendered herself to police and is in custody. She faces arson charges for blowing up their apartment, apparently to destroy evidence.

On Thursday Germany commemorated the victims of far-right extremism with a memorial service in Berlin and a nationwide moment of silence. Relatives of the victims have expressed anger at the way police had conducted the investigations.
In response to criticism of the police's failure to link the killings across several federal states, Germany opened a new national agency this month charged with tracking subversion by nazis.
---
CZECH REPUBLIC |
4,000 militant nazis in Czech Republic
Thursday, 1 March 2012, 15:39 | Source: ČTK |
There are some 4000 militant neo-Nazis in the Czech Republic, including a 400-strong hard core, and a part of them pose a latent risk of switching to terrorism, experts focusing on extremism say in a study worked out for the Interior Ministry and released on the its website today.

The neo-Nazi scene poses a permanent threat in terms of crime, including violent crime. The number of individual attacks on Romanies is expected to rise in the country in the next five years, says the study completed by a team led by political scientist Miroslav Mares.

The 50-page study mainly focuses on the threats the neo-Nazi movement poses to the integration of foreigners in the Czech Republic and describes the history, development and present of the neo-Nazi scene, as well as potential risks, new streams in the movement, its ideological basis and symbols.

The experts also recommend methods with which to prevent neo-Nazism. For example, the work with young people at schools still needs to improve in this respect, they write.

In the area of repression, it is necessary to better translate information from developments on the neo-Nazi scene into pieces of evidence that can be used in criminal proceedings, the experts write.

They say the neo-Nazi movement has changed since the early 1990s. A major part of the neo-Nazi "elites" have abandoned the skinhead image. At present, the hard core are free nationalists and autonomous nationalists. In the coming years, experts expect the "neo-Nazi movement´s new style" to result in a rising number of individual attacks on Romanies. A part of neo-Nazis are expected to legally gain firearms, they write.


The neo-Nazis will be challenging not only Roma people but also the issues of immigration and the economic crisis in Europe, the study says.

---
USA |
"Ours to Fight For" - US Jews who served in WWII
Thursday, 1 March 2012, 11:27 | Source: Chicago Tribune |
Those of an anti-Semitic bent had a definite opinion about Jews' joining the U.S. military to fight in World War II. They felt Jews would be physically unfit to serve, that they could not pull their weight and that they would take all of the so-called easy jobs. Statistics offered in "Ours to Fight For: American Jews in the Second World War," an award-winning traveling exhibition receiving its Midwest premiere at the Illinois Holocaust Museum and Education Center, tell a different story.
In all, 550,000 Jews — 11 percent of the total U.S. Jewish population — served. Nearly 40,000 were wounded, about 11,000 were killed and 52,000 were decorated for gallantry. But this exhibition, recognized by the American Association of Museums, is less a celebration of heroism and more about what was universal and unique about the experiences of Jewish veterans.
But the exhibit also includes the voices of African-American (including what is believed to be the first formal interviews with a set of Tuskegee Airmen Japanese, Chinese, Puerto Rican and American Indian veterans, whose experiences can be accessed via an interactive computer program at the end of the exhibit.
"Ours to Fight For" acknowledges the contributions and sacrifices of Jewish veterans through video, audio and written labels that accompany the exhibition's artifacts, a trove of uniforms, weapons and equipment, period memorabilia (sheet music for an isolationist ditty called "Let's Stay Over Here") and powerful religious artifacts, including the Torah scroll used at the first Jewish service performed upon the liberation at the Dachau concentration camp.
"Jews fought like everybody else," said Dr. Louis Levine, the curator of the original exhibit. "There were, and still are, people out there who say the Jews didn't really fight, and we wanted to lay that to rest. My feeling, though, is that those who want to be culturally ignorant will remain so."
But the exhibition also looks at how the brutality of war affected everyone regardless of ethnicity, religion or cultural background. Jewish veterans, Levine said, "consider themselves to be soldiers, sailors and Marines who happen to be Jewish."
Some of the most haunting quotes from the exhibit have little to do with religious affiliation. Ed Koch, the future mayor of New York City, recalls, "Crossing a field was the most terrifying moment of my life." Another soldier remembers, "I made a point of never having a picture taken of myself with my rifle so I wouldn't scare my mother."
And another recalls, "While you're in a foxhole, (your) helmet was used for bathing, as a urinal, as a commode and to brush your teeth."
Jewish veterans did face some unique challenges in being observant. One soldier recalls digging a side hole in his foxhole so he could hide the light from a Sabbath candle from possible snipers. And many faced pervasive discrimination and anti-Semitism. One recalls being rebuffed with a slur when he went to fetch his replacement for guard duty. "I reached down, pulled him out of the hole and pummeled him."
One section of the exhibit, which carries an advisory for its graphic content and testimony, features harrowing photographs of what the liberators saw when they entered the German concentration camps. "Nobody said you're going to see the worst thing you're ever gonna see, now or for the rest of your life," newsman Fred Friendly is quoted as saying. "No one gave us a hint."
The voices heard in this portion of the exhibit belong to Jews and non-Jews, Levine said, "because at this point, for the most part, the revulsion was universal."
The exhibit concludes with a Wall of Honor containing photographs of the Jewish veterans. Among them is Walter Cohn, 90, a Chicagoan who was born in Germany and was able to flee the country aboard one of the last Kindertransport trains, which took him to Holland. He received a visa to the United States in December 1939 and enlisted at age 18.
"I was accepted by my fellow soldiers," Cohn said by phone from his winter home in Florida. "I heard occasional remarks, like, 'I didn't know you were Jewish.' I'd say, 'Well, did you expect me to walk around with horns?' It was mostly people who came from smaller towns or from the South and had never seen a Jewish person. They were probably surrounded by anti-Semitic attitudes in their lifetimes and had no idea what to expect."
But as a Jew, Cohn was motivated to join the army for one simple reason: "Revenge," he said. "I lost many members of my family. The Gestapo picked up my grandmother, who was 84. She died in the gas chamber. I lost my mother when I was 5 years old, and she had helped to raise me."
Cohn made it a point to share his experiences with his children and said he gets "great satisfaction" from speaking to students. "Most young people know very little or nothing at all (about the Holocaust)," he said. "It's important that we who were fortunate enough to survive be able to pass it on."
'Ours to Fight For: American Jews in the Second World War'
Where: Illinois Holocaust Museum and Education Center, 9603 Woods Drive, Skokie
When: Until June 17
---
CZECH REPUBLIC |
Roma tenants firebombed
Thursday, 1 March 2012, 10:28 | Source: Romea |
Two masked, unidentified men threw Molotov cocktails at a residential hotel in the Czech town of Aš, home to two Roma families as well as non-Roma residents. One bottle struck a window and another struck the main door. Residents put the fire out themselves. Police are investigating the case as one of racially motivated reckless endangerment. No one was physically injured. Police have summoned reinforcements to Aš from Cheb to monitor the situation for the next few days.
The attack has been condemned by Czech Deputy Prime Minister Karolína Peake (Public Affairs - VV). The mayor of Aš, Dalibor Blažek, said the residential hotel houses two Roma families and non-Roma workers. For the time being it is not clear how many people were put at risk. "The perpetrators were two men who were thin and about 180 cm tall. Police are asking any witnesses of this incident to call 158," police spokesperson Pavel Valenta said in a public statement. The attack took place at 2:30 AM in Nádražní Street. The assailants then fled in the direction of Palackého Street.
The Molotov cocktails damaged the plaster and set fire to the window of an apartment where people were sleeping. The main door to the building also caught fire, but residents put both fires out. "The fire didn't get in because the windows are double-paned and the bottle made it through the first pane only," Valenta told news server iDNES.cz.
The Czech Press Agency has reported that firefighters intervened at the scene. The precise number of Molotov cocktails used in the attack was not given by the police spokesperson. "I was watching television. When I turned it off, I head a big crash, so I went to see what was going on. Flames were lashing out of the next window over," Bernard Hlaváè, one of the residents, told a reporter for Mf DNES. "When I ran outside I didn't see anyone," Hlaváè said, adding that a neighbor who was returning home at that time noticed two men whose faces were covered running away from the residential hotel. Police are now searching for the assailants. The police spokesperson said local patrols in Aš have been reinforced with police officers from the department in Cheb and that police have no new information yet.
Mayor Blažek said the residential hotel is currently neither 100 % Roma-occupied nor problematic in any way. "Workers live there, as do two Roma families who have never had any problems, never even had any idea of racism," he told the Czech Press Agency. He suspects the attack might have been motivated by revenge, because troublemakers, whom he says were not Roma, did live at the residential hotel previously and had to move out. 


Several assaults on Roma families' homes have taken place in the Czech Republic in recent years. The most famous remains the case from April 2009, when four right-wing extremists threw three Molotov cocktails into a small house in Vítkov (Opava district). Three people were injured during the subsequent blaze. A girl who was not yet two years old was harmed the most seriously. In March 2011 the perpetrators were sentenced to either 20 or 22 years in prison. The verdict was upheld last December by the Czech Supreme Court. In March 2010, a Molotov cocktail attack was committed on the home of a Roma family in the Ostrava settlement of Bedøiška. No one was injured and the police investigation found the motivation to have been a dispute between neighbours, not racism
---
SWITZERLAND |
Police continue nazi hunt
Thursday, 1 March 2012, 00:45 | Source: thelocal.ch |
A probe continues after a Bern man suspected of aiding a neo-Nazi terror group in Germany was released from detention. The resident of the Bernese Oberland was arrested on February 7th on suspicion of helping the extremist group by sending them a Czech pistol.

The pistol, traced to Switzerland, was linked to the death of nine immigrants between 2000 and 2006 and a police officer in 2007. Justice authorities said there was no risk of the Bern man colluding with nazis in Germany. However, Michael Fichter, spokesman for the Bern cantonal police, said the case continues to be investigated. Another Swiss man was taken in for questioning in the affair in January.

Police say they have so far been unable to establish links between the two men and extreme-right German groups. The Czech pistol is suspected to have been used by a nazi cell, consisting of two men and a woman, who lived in Zwickau, eastern Germany.

In addition to the suspected murders the group was implicated in bomb attacks in Cologne between 2001 and 2004 that injured 23 people. The two men in the group committed suicide last autumn after a failed bank break-in. The woman remains in detention.
---