World News
GERMANY |
German parliament to set up neo-nazi database
Friday, 29 June 2012, 14:17 | Source: DW |
The Bundestag has voted in favor of setting up a database to gather information on right-wing extremists. The move follows claims that an investigation into a series of racist killings was marred by police incompetence.
The new database will compile information on right-wing activists who have gone on record for either instigating violence or supporting attacks. Information on informers and possible masterminds of attacks will also be stored. Their names, addresses and dates of birth will all be accessible to investigators on a federal and national level.
More information, including phone and email account details, will be stored and provided only following an application procedure.
Interior minister Hans-Peter Friedrich described the new database as a "milestone" in the fight against right-wing extremism.
It is hoped the database will facilitate cooperation between Germany's different security organizations.
The opposition parties, the Leftist Party and the Green Party, voted against the measure because they believe such information storage jeopardizes data protection.
"This could be the beginning of a database that could be used to snoop on anti-fascists too," warned Ulla Jelpke from the Left Party.
The new database was suggested by a parliamentary committee looking into the botched investigation into the crimes of the National Socialist Underground (NSU).
The committee looked into why the police and domestic intelligence services failed to uncover a neo-Nazi group which, it was later discovered, was responsible for the murder of nine foreigners and a German policewoman between 2000 and 2007.
It emerged that parallels and connections went undetected mainly because the federal police did not share information and cooperate. After questioning countless witnesses, the inquiry found that the security authorities had failed across the board.
While politicians hope the database will prove to be a major step in the fight against right-wing violence, the parliamentary inquiry is continuing its investigation into why the extremist right-wing involvement in the attacks was more or less brushed aside, despite there being early indications that this was the case.
---
GERMANY |
Intelligence 'destroyed as Nazi terror group exposed'
Friday, 29 June 2012, 14:14 | Source: thelocal.de |
Germany's domestic intelligence service destroyed files on neo-Nazis linked to the terror gang which claimed the murders of ten people - on the day the killings were traced to them, it has emerged. The interior minister has demanded an explanation.
Hans-Peter Friedrich said on Thursday he had personally called the president of the Federal Office for Protection of the Constitution and told him to tell him what had happened.

The office destroyed at least four files on its informants within a neo-Nazi group which had strong links to the terror group.
Operation Rennsteig used eight informers to infiltrate the Thuringia neo-Nazi group the Thüringer Heimatschutz – from which the neo-Nazi terrorists emerged. The informant operation ran from 1997 until 2003.
The gang, which called itself the National Socialist Underground, killed nine immigrant shop owners, eight Turkish and one Greek, and a policewoman in a murder spree over nearly 13 years.
Uwe Mundlos and Uwe Böhnhardt botched a bank robbery and died in a murder-suicide, leaving their friend Beate Zschäpe to allegedly blow up their flat and then hand herself in to the police.
The emergence of the neo-Nazi terror cell as responsible for the until then seemingly unconnected murders shocked Germany – particularly as it emerged at the end of last year that the trio were known to police and intelligence services.
The Süddeutsche Zeitung newspaper reported on Thursday that crucial files from Operation Rennsteig were missing – destroyed by the Office for Protection of the Constitution, Germany's internal intelligence agency.
Four files were destroyed on November 11, 2011, the paper said – after it was realised that the time limit for keeping personal data had been breached.
This was also the same day as the connection between the neo-Nazi group and the string of murders was made.
The question now arises as to why the files were kept for so long – and why they were destroyed at exactly the time when it became important to see what had been known about the neo-Nazi trio, the paper said.
The fact that there were paid informants inside the notorious Thüringer Heimatschutz has been known for a long time, particularly with the outing of Tino Brandt, a neo-Nazi leader, as an informant.
But now that a parliamentary investigative committee is looking at who knew what and when - and how come nothing was done to stop the National Socialist Underground, details become crucial.
Jörg Zierke, head of the federal police BKA, admitted to the committee the police had failed in the case.
---
GREECE |
Greek nazis protest at swear-in of Turkish MPs
Friday, 29 June 2012, 14:10 | Source: hurriyetdailynews.com |
Lawmakers from Greece's far-right Golden Dawn party remained seated yesterday when the country's three Turkish deputies took their oath on the Quran in Parliament.
Three-hundred deputies were sworn in during a religious ceremony led by Archbishop Ieronymos, the head of Greece's Orthodox Church, including 18 members of the extremist far-right Golden Dawn party, a group that rejects the neo-Nazi label but whose members have frequently been accused of violent attacks against immigrants.
When Syriza lawmakers Hüseyin Zeybek, Ayhan Karayusuf and PASOK lawmaker Ahmet Hacıosman took their oath on the Quran, Golden Dawn lawmakers remained seated to protest them.
In a separate incident, a group of Greek Cypriots and members of the Golden Dawn party clashed with police in Thessaloniki after trying to enter the Turkish general consulate yesterday to protest a visit by Devlet Bahçeli, the leader of the Turkish opposition Nationalist Movement Party (MHP), who is visiting Greece as part of his tour of Balkan countries.
Bahçeli was paying a visit to the house where modern Turkey's founder, Mustafa Kemal Atatürk, was born while the city was under Ottoman rule in 1881, when a group of around 60 Greek Cypriot students gathered in front of the Turkish general consulate to protest his visit.
A scuffle broke out between the group and Greek police officers protecting the consulate after the students tried to pass the police barricade. Around 40 members of Golden Dawn joined the melee, which ended after the police dispersed the group with tear gas.
Bahçeli left Thessaloniki in the afternoon for Macedonia.
---
RUSSIA |
Neo-Nazi 'Militants' Arrested in Russia
Friday, 29 June 2012, 14:03 | Source: RIA Novosti |
Vyacheslav Isayev
A Moscow court arrested two alleged neo-Nazi activists accused of a killing spree that took the lives of a prominent judge, an anti-fascist leader and, possibly, many other opponents of the far right ideology.
Vyacheslav Isayev and Maxim "Baklazhan" (Eggplant) Baklagin face life sentence on charges of hate murder, attacking a judge and illegally obtaining firearms, the Investigative Committee reported on its website late Thursday.
The Basmanny district court sanctioned arrest for both suspects until mid-August. No date for the trial was set.
Baklagin, who was on a federal wanted list, was apprehended along with Isayev by a special police task force in an apartment full of firearms in Vladimir region this week, offering armed resistance to arrest.
The main charge against Baklagin and Isayev is the 2010 killing of Eduard Chuvashov, a Moscow City Court judge who jailed members of the White Wolves skinhead gang for multiple murders.
The actual perpetrator of the killing, Alexei Korshunov, a former officer of the Russian army's special forces, died in Ukraine in October when jogging with a hand grenade, which exploded on him.
Isayev and Baklagin helped the late killer track the judge to shoot him, investigators say.
In 2009, the trio murdered in similar fashion Ivan Khutorsky, a champion of Russia's burgeoning anti-fascist movement, known for its violent underground clashes with the neo-Nazis, the committee said.
Khutorsky, a mixed martial arts practitioner nicknamed "Bonebreaker," was shot dead in the lobby of his apartment house in Moscow.
Isayev and Baklagin are also suspected of other hate crimes, including murders of anti-fascist and charity activist Ivan Dzhaparidze in and Dagestani-born Muay Thai world champion Muslim Abdullayev, both in 2009, RBC Daily news website said.
The duo had close ties to Nikita Tikhonov, a man sentenced to life in prison in 2011 for killing lawyer Stanislav Markelov and journalist Anastasia Baburova in Moscow, also in revenge for Markelov's anti-fascist activity, the report said.
---
USA |
California girls claim marijuana cured their antisemitism
Thursday, 28 June 2012, 06:50 | Source: The Algemeiner |
They formed the music group "Prussian Blue" in 2003, named after a byproduct of poison the Nazis used to murder people during the Holocaust, but now Lamb and Lynx Gaede have turned from neo-Nazi supporters to self described "healers" and liberals.
"I'm stoked that we have so many different cultures," Lynx told the Daily Mirror in the UK. "I think it's amazing and it makes me proud of humanity every day that we have so many different places and people."
In 2006, the girls, who grew up in a family which helped indoctrinate them into neo-Nazi ideology, claimed Hitler was "a great man" and that concentration camps had swimming pools.
"We know there were concentration camps but they had swimming pools and tennis courts – that's not how you would treat people if you were getting ready to kill them," Lynx said nearly 6 years ago.
A change of hearts has come across the sisters from California after both of them received medical marijuana cards for separate purposes.
"We just want to come from a place of love and light," Lamb said, adding, "I think we're meant to do something more – we're healers. We just want to exert the most love and positivity we can."
Her sister says she's glad they were involved in starting a musical group but wished they had gone a different route with their content.
"I'm glad we were in a band, but I think we should have been pushed toward something a little more mainstream and easier for us to handle than being front-men for a belief system that we didn't completely understand at the time," Lynx told the Daily Mirror.
---
RUSSIA/SPAIN |
Spain and Russia face UEFA racism charges
Thursday, 28 June 2012, 06:04 | Source: Reuters |
UEFA has charged the Spanish Football Federation (RFEF) and Russian Football Union (RFS) for racist behavior and racist chanting by their national teams' fans during Euro 2012 matches.
"UEFA has opened disciplinary proceedings against the Royal Spanish Football Federation (RFEF) for the improper conduct of their supporters (racist behavior, racist chanting) at the UEFA Euro 2012 Group C match against Italy in Gdansk on Sunday 10 June," European soccer's governing body said on Tuesday.
"Disciplinary proceedings have also been opened against the Russian Football Union (RFS) for the improper conduct of their supporters (racist behavior, racist chanting) at the UEFA Euro 2012 Group A match against the Czech Republic in Wroclaw on Friday 8 June," UEFA added in a statement.
UEFA will deal with the cases on Thursday.
The Croatian Football Federation were later fined 30,000 euros ($37,400) after fans set off and threw fireworks and displayed "inappropriate and racist banners" during the Group C match against Spain in Gdansk on June 18, their second racism-related fine of the tournament.
Croatia were fined 80,000 euros for racist chants directed at Italy striker Mario Balotelli by their fans in Poznan on June 14.
UEFA has been gathering evidence following reports that Spanish fans racially abused Balotelli during Spain's 1-1 draw with Italy four days earlier.
Czech Republic defender Theodor Gebre Selassie, the first black player to represent the Czech national team, told reporters he had "noticed" racist chants directed at him during his side's game with Russia.
The issue of racism dominated the build-up to Euro 2012, co-hosted by Poland and Ukraine and the biggest sporting event in eastern Europe since the end of communism.
Semi-finalists Portugal, who take on Spain in Donetsk on Wednesday, were also fined 7,000 euros by UEFA after a fan attempted to enter the pitch during their 1-0 quarter-final win against the Czech Republic in Warsaw on June 21.
---
GERMANY |
Germany fined for fans' display of neo-Nazi banner
Tuesday, 26 June 2012, 15:23 | Source: sportsyahoo.com |
The German Football Association (DFB) has been fined 25,000 euros (about £20,000) for the improper conduct of German fans and the display of a neo-Nazi banner during the 2-1 defeat of Denmark on June 17 in a preliminary round of the European Championship, UEFA said in a statement on Monday.
German fans set off fireworks, chanted inappropriately and displayed offensive banners, one of which was neo-Nazi, according to the Football Against Racism in Europe (FARE) protest group.
The DFB has already been fined 10,000 euros (about £8,000) at Euro 2012 when German fans threw what appeared to be rolled up pieces of paper at Portugal players during their June 9 match.
Germany will play Italy in the European Championship semifinals on Thursday in Warsaw, Poland.
---
HUNGARY |
Hungarian Jews seek removal of antisemitic writers from curriculum
Monday, 25 June 2012, 19:15 | Source: JTA |
Hungarian Jews urged the government to take four anti-Semitic authors off the national high school curriculum.
Hungary's opposition Socialist Party, meanwhile, pleaded with the prime minister to curb the "revival" of anti-Semitism in the country.
The authors -- Istvan Sinka, Dezso Szabo, Albert Wass and Jozsef Nyiiro -- "spread hatred and anti-Semitism during their lives," the Federation of Jewish Communities in Hungary wrote in an open letter to the Ministry of Culture.
"It is unacceptable that their writings be taught to the young Hungarian people," the federation added.
In May, members of the Hungarian parliament planned to attend a reburial ceremony in Nyiiro's honor in Romania, but the Romanian government blocked the plan. A priest and writer, NyiIro was an outspoken anti-Semite.
The Hungarian Socialist Party focused on the commemoration of pro-Nazi figures in a separate open letter sent June 22 to the prime minster, Victor Orban.
Socialist Party chairman Attila Mesterhazy wrote that Hungary was experiencing a "serious moral crisis" triggered by the government's "revitalizing of the historic crimes of the Horthy era."
Over the past year, several municipalities have named streets after Miklos Horthy, the Hungarian Quisling, or Nazi collaborator. Elsewhere, statues were erected in his honor. Under Horthy, some 450,000 Hungarian Jews were sent to their deaths in Nazi death camps.
The Socialist Party called on Orban to "stop the strengthening hatred and the revival of the cult of anti-Semitism." The letter urged Orban to prevent the Budapest municipal assembly from going ahead with a plan to erect a statue honoring the anti-Semitic Catholic bishop Ottokar Prohaszka.
Last Friday, 50 U.S. congressmen wrote to Orban to express concern over anti-Semitism in Hungary. The past months have seen a succession of anti-Semitic incidents there.

---
GREECE |
Egyptian attacked by racists in Greece in stable condition
Monday, 25 June 2012, 16:52 | Source: Egypt Independent |
Ahmed Farid Awad, an Egyptian brutally attacked by neo-Nazis on 12 June on the Greek island of Crete, is currently in stable condition, medical sources in Greece said.
Two people attacked Awad, 25, at his home in Chania. The first hit him with a stick and the second with a rock to his stomach, causing him to lose a kidney.
The assailants were from Golden Dawn, an extreme right-wing group run by Nikolaos Michaloliakos which won 18 of 300 seats in this month's parliamentary elections against the backdrop of the Greek financial crisis.
Residents of Crete expressed concern over the attack, which came a week after Algerian nationals were attacked there.
Similar incidents also took place recently in Greece's capital, Athens, where groups of Egyptian youth were attacked and injured.
Egypt's consul in Athens, Mohamed al-Mahdy, said he was in Crete to visit Awad and follow up on what is suspected to be an attempted murder.
Mahdy met with the governor of Chania and the head of security in the city, who told him that staff were working hard to arrest the assailants.
Mahdy told Al-Masry Al-Youm that racist attacks are not tolerated by Greek authorities. Greek police have pledged to stop the frequent attacks on immigrants, particularly Egyptians, that happen there
Awad was born in Ismailia and has been living in Greece for six months. Sources close to him said he went to Crete for work.
The UN High Commissioner for Refugees expressed concern over racist violence against immigrants, saying the financial crisis in Greece has ignited racism and encouraged easy solutions including expelling immigrants.
---
GREECE |
Half of Athens' police neo-Nazi sympathisers
Monday, 25 June 2012, 16:41 | Source: Ansamed |
Who are these men in grey or black uniforms, wearing white helmets and riot gear, who we have for some years now been seeing in the midst of clouds of tear gas as they charge on demonstrators and lay into them with their batons?
Well, they are police officers, of course, that is, servants of a democratic state paid to protect that state. The state which is made up, theoretically at least, of those very citizens they are attacking. One uncomfortable detail lies in the fact that many of these police officers are inspired by ideals that have very little to do with democracy. Indeed, half of them are neo-Nazi sympathisers i.e. voters for the Chrysi Avghi' party (Golden Dawn).
This is the disquieting fact - one that has been confirmed in the space of less than two months - of an analysis of last Sunday's vote conducted by the authoritative weekly To Vima (The Tribune) across various Athens polling stations. Along with other citizens, around 5,000 police officers serving in the Greek capital cast their votes for the neo-Nazi party.
In some of these stations, the proportion of the vote that went to Chrysi Avghi' on May 6 (allowing them to win 22 seats in Parliament) varied between 19 and 24%, while in other polling stations such as Agios Panteleimonas and Kypseli, which are considered strongholds of the party percentages stood at between 15 and 18%.
Impressed by these findings, To Vima journalists repeated their survey last Sunday and found out that nothing has changed: the percentage of police officers voting for Chrysi Avgi' stays practically the same. This despite the fact that Golden Dawn thugs began a campaign of violent "punitive expeditions" as early as the day after the May election, targeting immigrants (illegal and legal) and the Athens gay community, as well as in other Greek cities.
But maybe this is precisely why, some say, the Golden Dawn bullies have attacted so many police votes. They are perceived as "colleagues" in arms in the fight for "public order" a concept that can easily be misunderstood.
It is no secret in Greece just how strong the links are between Golden Dawn thugs and the current security appartus, many of whom hark back nostalgically to the days of the Colonels. The leader of party, Nikos Michaloliakos, was in fact very close to the military regime that ruled the country from 1967 to 1974. Many photos have appeared over recent years of black-clad individuals giving officers a 'helping hand' against street demonstrators.
These were no members of Black Bloc or anarchists as has been rumoured, but right-wing thugs. This, according to local analysts, is why they have never been arrested, like the young man who used a Molotov bomb to set fire to a bank in central Athens on May 5 2010, leading to the deaths of three employees. Many have come around to seeing in these figures agents provocateurs, employed by the far right to give the left a bad name.
The figures appearing in this week's leave a lot of questions to be answered concerning the political persuasions of police officers not just in Athens but across Greece. High among them is: "Who is going to protect the Greeks from their police?".
---
POLAND/UKRAINE/CROATIA |
Euro 2012: Slaven Bilic wants to banish racist Croatia fans 'forever'
Monday, 25 June 2012, 16:34 | Source: The Guardian |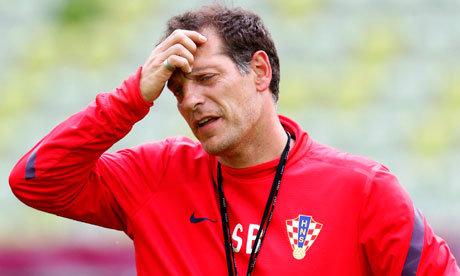 Croatia's head coach, Slaven Bilic, said racist behaviour by a minority of fans should be punished severely by Uefa. Photograph: Kamil Krzaczynski/EPA
Croatia's head coach, Slaven Bilic, has delivered the strongest condemnation of racism yet and insisted that sanctions must be imposed in order to stamp out the problem forever. His words come two days before Uefa is due to make a decision on the punishment handed out after a banana was thrown on the pitch and around 200 fans made monkey chants during Croatia's 1-1 draw with Italy last Thursday.
The banana was not noticed during the game but evidence that it had been thrown by one of their fans emerged the following day, while fan observers said some Croatia supporters had indulged in racist chanting. Croatia have been charged with improper conduct by Uefa, with the verdict expected on Tuesday. The investigation comes in the aftermath of Russia being handed a suspended six-point punishment after fans fought with stewards in Wroclaw.
Asked whether he expects a similar punishment, Bilic did not shirk the issue. Instead, he called for stern action to be taken. "[Racism] is a big problem all around Europe and all around the world and on behalf of the entire nation, not even as a football manager, I want to say that I am really disappointed as a Croatian, a parent, and a sportsman, a person who comes from a modern, open-minded and tolerant state," he said.
"Everyone is welcome in our country. I don't like these kind of supporters and nor do my players. I live in Croatia and we really are a tolerant country. We are not a racist country and we are angry at these few crazy supporters. We have to put sanctions [in place] and stop these kind of supporters forever."
Bilic also responded to speculation surrounding Croatia's final group game with Spain. A 2-2 draw would guarantee that both sides go through, putting Italy out. But Bilic, like the Spain players before him, insisted there would be no pact.
"I can say the same thing on this issue as I did about racism. We are sportsmen, we are parents, we are normal people, most of us are Catholic people, or have another religion, and we do not even think about fixing the scoreline. I don't want to waste any more words on this.
"This is just a phenomenal match. The whole of Italy and Europe can calm down. They do not even need to think about this. This [fixing games] is a part of the brain we do not have. We have to be honest and we will play the game in an honest way. If the final score is 2-2, fine. That can happen. It is not going to be 7-7, which would be strange. To the Italians I say: 'Trust in us.'"
Bilic's discourse was one of patriotic pride and his tone spoke of the anger and hurt that accusations of racism have provoked. He spoke in glowing terms of Croatia's personality and explained how that has enabled a tiny country to compete with the best in the world. "We have been in the top 10 since our independence in 1994," he said.
The captain, Darijo Srna, said: "Even [Leo] Messi is not the same for Argentina as for Barcelona, or Ronaldo for Portugal as for Real Madrid. Croatian players play even better for national team than for the clubs. Croatia is a small country but we have a big character, we fight until the end. Not just in football but in all sports. Our character is very important and that is why we are always amongst the top teams."
---
GERMANY |
Files Reveal Neo-Nazis Helped Palestinian Terrorists
Monday, 25 June 2012, 16:28 | Source: Spiegel |
By Gunther Latsch and Klaus Wiegrefe
DPA
Forty years ago, the massacre of Israeli athletes and coaches overshadowed the Munich Summer Olympics. Though it was never proved, left-wing extremists were suspected of working with the Palestinian terrorists behind the operation. But previously unreleased files seen by SPIEGEL prove that neo-Nazis were involved instead – and officials knew about it.
The men who were arrested in the Munich house of former Waffen-SS member Charles Jochheim late on Oct. 27, 1972 were armed like soldiers on their way to the front. In one suitcase, police found three Kalashnikov automatic rifles, six magazines, 174 rounds of ammunition, two pistols, a revolver and six Belgian-made hand grenades.
The two men who were arrested were also carrying other weapons. Wolfgang Abramowski had weapons hidden in his waistband, while his accomplice, Willi Pohl, was carrying two pistols and a hand grenade, according to a Munich police investigative report.
A fellow member of a right-wing extremist splinter group calling itself the "National Socialist Fighting Group for a Greater Germany" had tipped off the police about Pohl and Abramowski. The two men allegedly planned to use the weapons to free a fellow extremist who was in prison, but investigators soon questioned whether this story was true.
Among the documents Abramowski and Pohl were carrying was a threatening letter to a Munich judge tasked with clearing up one of the most shocking crimes in postwar German history: the massacre at the Munich Summer Olympics.
On Sept. 5, 1972, Palestinian militants with a Palestine Liberation Organization (PLO) terrorist group called "Black September" took nine Israeli athletes hostage and demanded the release of several hundred Palestinians from Israeli prisons. When the police attempted to free the Israelis at the Fürstenfeldbruck military airport, where they were being held in two helicopters, the terrorists murdered all of their hostages. A police officer also died in the firefight. Three of the Palestinians survived, and the judge to whom the letter found in Pohl's and Abramowski's luggage was addressed was in charge of the case against them.
In the letter, Black September threatened to retaliate against the judge "if he continues to allow Israel intelligence agents to participate in the interrogations of the Olympic terrorists." An examination of the weapons seized from Pohl and Abramowski proved that this was no joke by right-wing extremist copycats.
Seeing the Attack in a New Light
The "final report" by Munich police, dated July 23, 1973, states: "An additional indication of the relationship between the crimes committed by Pohl and his accomplices and the attack on the Olympic Village in Munich is that the … confiscated machine carbines and hand grenades have the same characteristics as the weapons used by the militants."
This evidence practically proved that the suspicion that German neo-Nazis Pohl and Abramowski were collaborating with the Palestinian terrorists was in fact true.
The police report is part of more than 2,000 pages of files that the Cologne-based domestic intelligence service, the Federal Office for the Protection of the Constitution (BfV), recently released in response to a request by SPIEGEL. The documents include classified analyses and memos, the agency's correspondence with the Bundesnachrichtendienst (BND), Germany's foreign intelligence service, and the Federal Office of Criminal Investigation (BKA), as well as police reports. Based on these previously classified documents, is it now necessary to consider the story of the Olympic attack in a new light?
Yes, at least in part.
Until now, many experts assumed that it was left-wing extremists who had had ties to Black September, helping the terrorists find places to stay in Munich, for example. There were also indications of cooperation between the two groups, such as a pamphlet by Red Army Faction (RAF) founder Ulrike Meinhof, who later praised the massacre for making "the essence of imperialist control transparent." There was also a statement by someone who had left the terrorist organization, who told SPIEGEL in 1978 that another RAF member had told him that "Revolutionary Cells," a splinter group, had had its "fingers in the pie" when finding places to stay for the Palestinian militants.
But according to the released documents, such statements must now be treated as myths.
Black September didn't need any German logistic assistance. Some of the men had arrived in Germany weeks before the hostage crisis, and they had plenty of cash. They found accommodations on their own, which was not easy in Munich, where everything was booked because of the Olympics. Instead of staying together, as planned, they had to take rooms in various hotels.
One of the leaders, nicknamed "Tony," even took out an ad in the Süddeutsche Zeitung newspaper, in which he wrote that he was "looking for living with family." Herta N., the unsuspecting former wife of an attorney, rented a room to "Tony."
Neo-Nazis Instead of Left-Wing Extremists
In a letter to their foreign intelligence colleagues at the BND in early 1973, BfV intelligence agents concluded that there was "no evidence" that German left-wing extremists had supported the Palestinian terrorists.
But that was not the case with Pohl and Abramowski, the German neo-Nazis. Less than two months before the massacre, police in the western city of Dortmund sent a telex to the BfV containing information of potential interest to the intelligence agency. The subject line read: "Presumed conspiratorial activity by Palestinian terrorists." The telex discussed Willi Pohl and his relationship with Mohammed Daoud, whose nom de guerre was Abu Daoud, the mastermind of the Munich attack.
Could the massacre have been prevented if the BfV, but also the state offices of criminal investigation in Düsseldorf and Munich and the BKA, had properly assessed the importance of the telex?
Today Willi Pohl is a successful author of crime fiction who writes under a different name. He convincingly renounced terrorism and violence decades ago and even wrote a novel about it. Pohl has also written the script for many a northern German episode of the popular crime show "Tatort." Now 68, he only agreed to speak with SPIEGEL on the condition that he would not be pictured in the article.
In the summer of 1972 Pohl, born in the region of the Soviet Union formerly known as East Prussia, was a wiry 28-year-old blond man from a poor background with several convictions for grand theft under his belt. He had also stolen money from his employer, who, as a result, felt motivated to tell the police that Pohl supported the radical wing of the PLO and had met with a man of "Arab appearance" who was staying at the Römischer Kaiser Hotel in Dortmund. The police quickly learned that a man named Saad Walli was staying at the hotel. Saad Walli was an alias for Abu Daoud.
In the now-released documents, there is no indication that the state offices of criminal investigation, the BKA or the BfV, which had all been notified by the Dortmund police, did anything to find the suspicious Walli. As a result, according to the documents, Abu Daoud, a.k.a. Saad Walli, was able to stay, unchallenged, at the Eden Hotel Wolff in Munich before and during the attack, meeting with the militants in his hotel room and calling his associates in Libya and Tunisia from there.
Unknowingly Involved?
The connection between Pohl and Abu Daoud was established through a German neo-Nazi who had fought with the Palestinians in Jordan. Abu Daoud, then a 35-year-old teacher from Jerusalem with a boyish face and a thin moustache, later stated that he was indifferent to the political views of the blue-eyed Pohl, and that he had considered people like Pohl to be "very useful for our future."
In Dortmund, Daoud needed Pohl's help to buy him several Mercedes sedans, which Pohl did. Daoud was also looking for a professional passport forger, and Pohl introduced him to a friend from prison, Abramowski. The 28-year-old, also a displaced ethnic German from East Prussia, was considered a pro.
Today Pohl is almost certain that he was unknowingly involved in the preparations for the Olympic attack. "I drove Abu Daoud halfway across Germany, and he met with Palestinians in various cities. In Cologne, the PLO official also met with Arabs wearing suits and ties. Pohl believes that they were diplomats affiliated with the Libyan Embassy in Bonn. According to Pohl, he and Abramowski left Germany at the end of July and traveled to Lebanon via Rome.
As Abramowski later told the state security division of the BKA, he and Pohl moved into a flat-roofed bungalow in a village near Beirut. Almost every evening, a PLO official picked up Abramowski and took him to a print shop in the capital, where, according to Abramowski, he forged Kuwaiti and Lebanese passports, changed names on American and French documents and exchanged passport photos. It is still unclear today whether the Munich attackers used passports from Abramowski's workshop to enter Germany.
According to Pohl, he still had no knowledge of the planned attack in Munich at the time. It was only on Aug. 24, some 12 days before the massacre, that the Palestinians became more specific and spoke of a "spectacular terrorist attack."
Although Pohl does not remember hearing the word "Munich," there was talk of a hostage-taking operation in Germany, in which the Palestinians planned to exchange 20 Israelis for some 200 fellow Palestinian militants in Israeli prisons. The Palestinians insisted that it would be a bloodless incident, and they asked the two Germans what they thought the German public would think about it.
A Crazy Plan
Pohl says that he proposed an international press conference in Vienna, which he would give together with a PLO official. According to Pohl, he flew to Vienna via Paris, which was corroborated by the statement his friend Abramowski made to the BKA foreign intelligence agency at the time, namely that Pohl was in Austria during the Olympics "to take care of something for the Palestinians there."
When he saw on television that the hostage-taking operation had failed, Pohl left the country. A few days later, he was back in the Middle East, where PLO intelligence chief Abu Iyad was determined to get revenge. In Pohl's account of events, he says that Iyad blamed the German authorities, more than anyone else, for the fact that the Munich operation had turned into such a disaster. Besides, says Pohl, Iyad believed a rumor that Israeli officers had led the failed rescue effort by German police.
From the standpoint of the PLO intelligence chief, this meant that Germany had intervened in the war between Israel and the Palestinians, making Germany an enemy that had to be dealt with. According to Pohl, Iyad asked to suggest possible German targets of future attacks. A few days later in Cairo, Pohl presented what he now calls a crazy plan.
He proposed occupying several city halls throughout Germany and taking local politicians hostage. Then, on Christmas Eve of 1972, a group of militants would storm the Cologne Cathedral. The goal was to force Germany and other countries to comply with a list of demands. The operation was given the code name "Mosque," says Pohl.
In mid-October, Pohl and Abramowski traveled to Madrid to receive weapons for these and other operations. They boarded a train to Munich, via Paris, taking the weapons with them. This is Pohl's version, which essentially corresponds to information in the released documents.
Astonishing Leniency
But before they could put their plan into action, Pohl and Abramowski were betrayed and arrested. The hand grenades that were found with the two neo-Nazis prompted investigators to conclude that they had to be in close contact with the masterminds of the Olympic massacre. According to one police report, the grenade stemmed from an "extremely rare manufacturing operation." They were Belgian grenades containing Swedish explosives that had been produced solely for Saudi Arabia. The PLO terrorists had used exactly the same grenades to murder their hostages during the failed rescue effort at Fürstenfeldbruck.
Of course, this raises the question of whether the same radical right-wing network had already brought the weapons for the Munich attackers to Bavaria on the same route through Madrid and Paris. The question remains unanswered to this day. Pohl denies that this was the case. He says that the route through Madrid was his idea, and that it was only used after the Olympics. Instead, he assumes that Libyan diplomats in Germany helped bring the Kalashnikovs and hand grenades for the Munich terrorists into the country.
The German courts treated Pohl and Abramowski with astonishing leniency. The investigations into suspected violations of the War Weapons Control Act and "membership in a criminal organization" came to nothing, even though the exhibits included "operation plans for hostage-taking" that "implied the kidnappings of unidentified personalities in Essen, Bochum and Cologne."
In 1974, the two Germans were merely convicted of illegal possession of firearms. Abramowski was sentenced to eight months and Pohl to 26 months in prison. Only four days after sentencing, Pohl was released and fled to Beirut. There is nothing in the files to explain the reasons behind such leniency.
Perhaps the authorities feared that the Palestinians could also try to gain Pohl's freedom with the same approach they had used to secure the release of the three surviving members of the Olympic attack operation: by hijacking a German airliner. A few days after Pohl's arrest, terrorists from the PLO's Fatah faction hijacked a Lufthansa flight bound for Frankfurt. The German government gave in to their demands, and the three were flown to Libya.
---
GREECE |
Greek nazi leader wants Istanbul and Smyrna
Monday, 25 June 2012, 15:37 | Source: Ansamed |
The leader of the Greek Neo-Nazi party New Dawn, Nicos Mihaloliakos (who became a member of Athens Parliament in the last elections) wants to regain Istanbul, Smyrna and the Black Sea from Turkey, the Turkish daily Milliyet has reported.
In a speech given in Thessaloniki, the ''Greek Fuhrer'' said that he would ''retake'' Smyrna and the Turkish coast of the Black Sea, former territories of the Byzantine Empire before the fall of Constantinople into the hands of the Ottoman sultans.
Last week, reports Milliyet, the Neo-Nazi leader from Athens had said he would also be retaking Istanbul and yesterday he reiterated the idea, saying that ''we will retake Istanbul, Smyrna and the Black Sea''. The Turkish paper claims he then clarified that ''yes, we are nationalists and racists. And we aren't hiding it!''.
Mihaloliakos also criticised Thessaloniki's mayor for having proposed naming a street of the capital of Greek Macedonia after the founder of modern Turkey, Mustafa Kemal Ataturk, who was born there when it was still part of the Ottoman Empire (in 1881)
---
GERMANY |
German extreme-right politicians expelled from chamber for wearing neo-Nazi clothing
Monday, 25 June 2012, 15:33 | Source: EJP |
Eight extreme-right politicians have been expelled from Germany's state parliament for sporting a brand of t-shirts closely associated with the neo-Nazi movement.
The lawmakers, from the controversial National Democratic Party (NDP), were forcibly removed by the police, after they refused to leave the chamber of their own accord.
The speaker of the assembly in Saxony, in formerly communist eastern Germany where NDP support is predominantly based, banned the seven men and one woman from the party after being alerted to the clothing by the Thor Steinar brand, which had previously been outlawed by the chamber in 2007, on account of its "Viking" and "Nordic" style slogans which have become closely interlinked with the neo-Nazi movement in Germany.
Authentic Nazi clothing and memorabilia are illegal in the country.
Last month, violence broke out at an NDP rally in Hamburg, when 4,000 counter protesters tried to block a 700-strong neo-Nazi contingent from demonstrating. 26 demonstrators were arrested (six neo-Nazis and 20 protestors) following the ensuing violence, as 38 of the 4,000 police officers present were reportedly injured.
Dieter Graumann, head of the Central Council of Jews in Germany, subsequently appealed to the country's federal courts to outlaw the BDP, which claims 7,000 members, but is thought to have a far wider unofficial following. The party, described as "the most significant neo-Nazi party to emerge after 1945" in Germany is currently represented in two of Germany's 16 state parliaments.
The federal government previously tried to have the extremist party banned in 2001, but following the revelation that many high profile members were in fact undercover agents and informants for the German secret services, and the government's subsequent unwillingness to reveal their identities and activities, the case was dismissed.
British clothing brand Lonsdale has also been widely claimed by neo-Nazi supporters, as the middle four letters of the its branded products spell "NSDA", part of the German acronym for the Nazi party. The company has strongly disclaimed any links with neo-Nazi movements, however.
---
GERMANY |
Nazis left to thrive in parts of eastern Germany
Tuesday, 12 June 2012, 19:50 | Source: Spiegel |
Martin Jehnichen/ DER SPIEGEL
Germany pledged to crack down on right-wing extremists following the exposure of a far-right terrorist cell last year. But in rural parts of the eastern state of Saxony, neo-Nazis remain well established in local councils and continue to intimidate people at will, unhindered by the police.
The German federal state of Saxony in May 2012: Two men in the city of Bautzenassault a Colombian exchange student, calling him names and kicking him. InHoyerswerda , right-wing extremists lay siege to the office of a member of the Bundestag, Germany 's parliament, smashing windows and attacking an employee. In Limbach-Oberfrohna, neo-Nazis attack a center for alternative education. In Geithain, an explosive device detonates in front of Pizzeria Bollywood, a restaurant owned by a Pakistani.
"This is what hell looks like," says Kerstin Krumbholz, 50, sitting in her living room in Geithain, a small town in the eastern German state of Saxony. Spread out on the table in front of her are newspaper articles about neo-Nazis, flyers and posters that record the right-wing terror plaguing everyday life here. "People in the cities have no idea what's going on out here in the country," Krumbholz says.
She and her husband moved to Geithain 19 years ago. They had lived in Leipzig, some 40 kilometers away, but had wanted their children to grow up in a safer environment, away from criminality and drugs, far from the dangers of the big city. Lutz Krumbholz is a professional chimneysweep, while Kerstin Krumbholz takes care of accounting for the company, and they shared the responsibilities of raising their children.
Before, Kerstin Krumbholz didn't know much more about right-wing extremism than what she heard on the news, for example if a home for asylum-seekers was burned down somewhere, or when the far-right National Dmocratic Party took seats in a state parliament.
But those things had little to do with her own life -- until a neo-Nazi injured her son so badly that he nearly died. A right-wing extremist attacked Florian, then 15 years old and a member of the punk scene, at a gas station in May 2010, fracturing his skull. Florian now lives with a titanium plate in his head, and he's moved away from Geithain.
His mother wasn't a political person before Florian's attack, but now she studies far-right Internet forums and blogs, attends demonstrations and founded a group called the Initiative for an Open-Minded Geithain. Krumbholz has made battling neo-Nazis her life's work -- but it's a losing battle here in rural Saxony.
'What's Happening in Saxony is a Scandal'
Seven months have passed since it emerged that German authorities had for years been unaware of the existence of a far-right terrorist cell calling itself the "National Socialist Underground" (NSU) that murdered 10 people, most of them Turkish immigrants, in a nationwide killing spree that went on from 2000 until 2007. When this group, based in Zwickau, Saxony, first came to light, politicians declared their intention to tackle and root out the far-right problem, but nothing has come of those declarations. "What's happening in Saxony is a scandal," says Hajo Funke, a political scientist in Berlin. There is no other German state where neo-Nazis have such a high profile, he says, adding that the regional government was refusing to take action against it.
The members of the Initiative for an Open-Minded Geithain have gathered today at the town hall. Krumbholz has invited Mohammad Sayal to the meeting, the owner of Pizzeria Bollywood, the local restaurant attacked the previous weekend. Sayal describes the harassment he's experienced from neo-Nazis in the five months since he opened his restaurant. The very first night, they smashed his windows. In May, a group of 10 of them showed up in front of his restaurant, wearing masks and wielding knives. They kicked at the door, threw a stone through the window and shouted, "You shit foreigner, we'll get you. If you don't get out of here, we'll kill you." A week later, an explosive device wrecked his restaurant.
The murders committed by the NSU went unsolved for so long partly because both authorities and the general public assumed the murderers came from the same segment of society as their victims. In Geithain, too, many people claim it wasn't right-wing radicals who attacked Sayal's restaurant, but fellow Pakistanis, reacting to disagreements over money, or family feuds.
Neo-Nazi in the Town Council
In communist East Germany, Geithain was the administrative center of the surrounding rural district. This was once a coal-mining region, but today only around 6,000 residents live in Geithain. The town square has been nicely renovated since unification, but the streets are empty. Young people looking for work move to Leipzig, or straight to the west of Germany. The established political parties have scaled down their presence here, while the right-wing extremists have expanded their influence, especially since neo-Nazi Manuel Tripp, a member of the NPD, joined the town council in 2009.
Tripp, 23, studied in Leipzig and nurtures the image of a man who looks after his constituents. The people of Geithain can reach him at any time through his homepage. He tweets about city council meetings and publishes the "Geithain Mouthpiece," a local paper with articles on the shortage of doctors in eastern Germany, or about the annual hunting festival. He works to support the zoo, and together with others from his party organizes soccer tournaments and camps where kids can hike around the countryside in military uniforms.
His true motivations emerge when he makes statements that violate the German constitution, for example: "National socialism can't be elected or begged for. It can only be achieved through the path of revolution." Tripp is a leading figure in the "Free Network" (FN), a network of militant far-right "Kameradschaften" groups throughout Germany.
The FN emerged from the "Thuringian Homeland Protection League," a group of neo-Nazis that also included the three NSU terrorists. The FN's Saxony branch is led by Maik Scheffler, who is also deputy party leader for the NPD party in the state. Scheffler has a criminal record for grievous bodily harm and illegal possession of a weapon.
Together with Tripp, Scheffler has managed in the space of just a few years to establish firmly rooted neo-Nazi structures in the rural region between the eastern cities of Chemnitz and Leipzig. At the same time, the Kameradschaften are expanding their influence. "FN cadres have repeatedly been behind acts of terror in Saxony," says Kerstin Köditz, a member of the Left Party who analyzes far-right trends.
The state of Bavaria is seeking to impose a ban on the "FN South" branch, yet here in Saxony -- the same state where the NSU's trio of murderers were able to stay under the radar for over 10 years -- the government is dragging its feet. Saxony's Interior Minister Markus Ulbig from the center-right Christian Democratic Union (CDU) considers the FN nothing more than an "Internet portal," a kind of Facebook for Nazis. And state governor Stanislaw Tillich, also of the CDU, has stated that Saxony does not have a significant problem with right-wing extremism.
'Piss Off, You Wog'
While Kerstin Krumbholz and the other members of her anti-Nazi initiative are discussing right-wing extremist violence at Geithain's town hall, a different sort of gathering is taking place in front of the Total gas station at the edge of town. Here, young men are hanging around revving their car engines, listening to loud neo-Nazi rock and drinking beer. As the evening progresses, more come to join them, some greeting the group with a Nazi salute. If a gas station patron looks at them a moment too long, they holler, "Shit Jewish pig, I'll bump you off!"
At Geithain's secondary school, the right-wing extremists are seen as the cool ones, the rebels. Kids who reject the neo-Nazis are greeted in the schoolyard with "Heil Hitler" or "Piss off, you wog." Some of the girls use sunscreen to draw swastikas on their skin when they go on class trips.
Anyone who opposes this ideology is intimidated and persecuted. After German investigative journalist Günter Wallraff gave a reading in Geithain this April, neo-Nazis scrawled "Send Wallraff to Africa!" on the street in front of the town hall, and issued threats to Geithain's mayor and to a Left Party politician. A local priest addressed the right-wing extremists in an open letter, and the next morning found the walls of his church covered in graffiti.
The neo-Nazis publish their adversaries' names, addresses and pictures online. The local "Anti-Antifa" -- a name for right-wing extremist groups that oppose the "Antifa," or antifascist, movement -- posted that left-wingers people in Geithain's should expect "disciplinary measures, house calls and car damage." The neo-Nazis also announced the attack on Florian Krumbholz online, using a video as a call for violence against him: "Leftists have names, leftists have addresses. Let's march and show our strength." A few weeks before the attack, on Good Friday 2010, neo-Nazis spray-painted the Krumbholzes' garage with the slogans "Death to the Red Front" and "We'll get you, Florian."
The attack at the gas station lasted just a few seconds. Surveillance footage shows the assailant kicking Florian in the chest, then driving his fist into Florian's forehead. The attacker, Albert R., received just a suspended sentence at his initial trial, despite having a considerable criminal record. The case went to appellate court, where he received a tougher sentence.
Citizens Feel Abandoned by the Police
Meanwhile, Albert R. is already facing charges for another crime: He and two friends stand accused of attacking a group of young men and spraying tear gas in their faces. R. assaulted one of the victims with a beer bottle.
Many people here feel abandoned by the authorities. In recent years, police stations have been closed and police districts merged, and Saxony's Interior Ministry plans further cuts. Case files from Saxony's state criminal police office reveal an attitude of resignation and indifference among officers.
One such file describes an attack by violent right-wing extremists on a commercial building in Colditz, a neighboring town to Geithain, four years ago. Emergency call transcripts show the police in West Saxony began receiving calls from concerned citizens in the late afternoon. By the evening, more than a dozen calls had come in.
7:49 p.m., a female caller: "Something's about to happen at Sophienplatz in Colditz." "What's happening?"
"There are all these masked men down here."
"So?"
"They're kicking everything here to pieces down here."
7:51 p.m., a male caller: "There are more than 50 people here at Sophienplatz in Colditz, wearing masks."
"And why are you calling?"
"Because these guys down there are kicking at a building, hitting things, throwing explosives."
8:04 p.m., a female caller: "They've destroyed everything at Sophienplatz. And they wanted to set something on fire up here at the youth club, too, at least that's what I heard."
"Well, if you've observed damages, you can come by the police station at any time to file a report."
8:43 p.m., a female caller: "I called before, and I need the police here. We already asked you to send someone."
"Yes, but there's no one available."
"Please, please, send someone."
8:44 p.m., a male caller: "They've bashed in the windows four times already."
"And what do you expect me to do? Should I go and stand in front of the windows, or what were you expecting?"
Only a few people dare to confront the neo-Nazis in Colditz. Uwe L., for example, an electronics salesman, made an attempt by founding the "Alliance against the Far-Right" and organizing concerts. But neo-Nazis attacked his store repeatedly, smashed the windows, defaced the walls, damaged his car and threatened his son. L. gave up. "I wouldn't have survived it, financially or psychologically," he says.
'The Neo-Nazis Control Everything by Now'
The NPD holds seats on the Colditz city council as well. Right-wing extremists are involved in an association that supports the secondary school. They also help run the soccer club and a canoe club. The local youth club is run by the mayor's son, together with a well-known neo-Nazi. Parents show up to preschool festivals wearing T-shirts that bear slogans such as "Scenic Train Journey to Auschwitz." Frank Hammer, who works for the Saxony branch of an organization called "Mobile Counseling against Right-Wing Extremism," says, "Things are calm in this region. But only because the neo-Nazis control everything by now."
When Geithain celebrated its 825th anniversary last June, Mayor Romy Bauer (CDU) gave the neo-Nazis a permit to run a stand at the festival. Tripp and his colleagues handed out slices of cake, set up a wheel of fortune and marched at the front of the parade. If she had refused their application, Bauer says, violence might have broken out at the festival. The mayor also declined to participate in an anti-far-right demonstration organized by the Initiative for an Open-Minded Geithain.
Those trying to combat right-wing extremism in Saxony complain of a lack of support. Kerstin Krumbholz has trouble finding people to participate in her initiative, which at the moment has just eight members. When they organized a festival against right-wing extremism last year, Krumbholz says, they couldn't find a single bakery in Geithain willing to sell them cake for the event.
After the initiative's meeting ends, Krumbholz stands on the street in front of the town hall and lights a cigarette with trembling hands. Memories of the attack on her son still haunt her. Yet to this day, none of her neighbors has brought up the topic with her. There has been not a word of sympathy, not a word of regret. Everyone in Geithain, Krumbholz says, acts as if the attack never happened.
Krumbholz brushes away tears and wonders aloud, "Do people have to die for something to change around here?"
---
SERBIA |
Far-right group banned in Serbia
Tuesday, 12 June 2012, 19:44 | Source: necn.com |
Serbia's top court has banned a far-right group responsible for attacks on gays, Westerners and liberals.
The constitutional court said Tuesday that Obraz, or Honor in Serbian,has been banned for "triggering racial, national and religious hatred."
The group was involved in the burning of the U.S. Embassy in Belgrade in February 2008 during nationalist protests against the recognition of the former Serbian province of Kosovo by Western states.
The ultranationalist group — staunchly anti-Western and pro-Russian —has also disrupted several public gatherings by liberals and attacked a gay pride march in Belgrade in 2010 that left dozens injured. Several such far-right groups mushroomed in Serbia after the Yugoslav wars in the 90's.
Serbia has pledged to protect human rights as it seeks European Union membership
---
FRANCE |
Front National heads for Parliament
Monday, 11 June 2012, 15:29 | Source: Hope not hate |
From Jean-Yves Camus in Paris
On the first ballot of the general election, held on 10 June, the extreme-right Front National polled 13.6% of the vote, a score that was obviously lower than expected because of the massive abstention (42%), the rule in France being that one has to poll more than 12.5% of the registered voters in order to qualify for the second ballot on June 17. Only 61 FN candidates are still in the race. Twenty of them will run against a Socialist candidate, nine will run against a Conservative (UMP) candidate and 32 will challenge both a Socialist and Conservative candidate.
At best, the FN can expect 4 seats in the next 577- member assembly. Marine Le Pen came ahead in her constituency of Hénin- Beaumont in Northern France, where she heavily defeated the leader of the Radical Left Front, Jean-Luc Mélanchon. Her niece, Marion Le Pen, aged only 22 and a newcomer into politics, is surprisingly leading in Carpentras (Provence), where the incumbent Conservative MP, Jean-Michel Ferrand, belongs to the hardline wing of UMP, the Droite Populaire (similar to the Tory Monday Club within Sarkozy's party).
Barrister Gilbert Collard is the most likely winner in the Gard constituency (also in Provence) where his Conservative opponent is even ready to withdraw from the race in order that the Socialist candidate can be defeated. And in Moselle (eastern France), Marine Le Pen's chief of staff Florian Philippot, can contemplate victory after less than a year of membership in the party.
At this point, the mainstream conservative party UMP, is standing firm on its refusal to reach any kind of local or national agreement with FN. It is clear however, that if the Socialist Party in alliance with the Green Party, gets an absolute majority in Parliament next week, the rank and file membership of UMP, especially in Southern France, will turn against the national leadership of their party and challenge the cordon sanitaire policy. The Left is certain to have a strong majority in the National Assembly and now controls each and every level of power in France, including the Upper House (Senate). With the regional and city council elections set for 2014, at least a faction within the mainstram Right may think the only way to reverse this trend is though a bloc with the FN.
---
CHILE |
Chilean police clash with anti-Pinochet demonstrators
Monday, 11 June 2012, 03:10 | Source:BBC |
Police in Chile used tear gas and water cannon to try to break up the protest in Santiago
Hundreds of demonstrators in Chile have clashed with the police after the screening of a documentary praising the former military government of General Augusto Pinochet.
The mayor of the capital, Santiago, Pablo Zalaquett, said police were attacked in several areas of the city centre.
He said there was extensive damage to property.
Earlier police used tear gas and water cannon to break up the demonstration.
The screening has pitted supporters of the late general, who claim the right to free speech, against relatives of victims of his regime, who are outraged at the tone of the documentary.
The mayor said hundreds of anti-Pinochet demonstrators organised in groups continued to launch "coordinated attacks" in the centre of Santiago hours after the screening at the Caupolican theatre.
"As I said before, I would prefer the event not to have taken place because we all knew what was going to happen," Mr Zalaquett told CNN.
"Chile needs to look forward. We are tired. Many people say they are out there to defend human rights, but they just come to destroy and loot."
General Pinochet led a coup against the democratically-elected Marxist president of Chile, Salvador Allende, on 11 September 1973 and only left power in 1990.
The Chilean government estimates that more than 3,000 people were killed during the Pinochet years, included those whose bodies have not been found.
Thousands more were tortured, arrested or forced into exile during his rule.
"No to the dictatorship's heritage," reads a poster outside the theatre.
Relatives of victims say the documentary, "Pinochet", is insensitive and glorifies the general's brutal regime.
The organisers say it aims to show Gen Pinochet as he really was, and not as the media portrayed him - as a ruthless dictator.
The event became one of the biggest pro-Pinochet gatherings since he died in 2006.
Thousands of Pinochet supporters turned up for the screening, including right-wing politicians and former members of the Chilean military.
The general's grandson, Augusto Pinochet Molina, was present at the theatre.
"This is not just an homage to my grandfather, I believe it is an homage to the entire military junta. My grandfather was the leader of this government but I tell you, it wasn't just his work."
The controversy shows how divisive Gen Pinochet remains, nearly four decades after the coup that brought him to power, says the BBC's Gideon Long in Santiago.
For some he was a hero who saved Chile from communism, but for others he was as brutal murderer who should be reviled, not applauded, our correspondent says.
---
FRANCE |
French Socialists poised to take control of parliament
Monday, 11 June 2012, 01:39 | Source: AFP |
French President Francois Hollande's Socialists and allies came out on top in Sunday's first round parliamentary elections, poised to secure the majority needed to push through tax-and-spend reforms.
The election also saw a surge in support for Marine Le Pen's far-right National Front, which wants to ditch the euro and battle against what she calls the "Islamisation" of France.
The Socialists and their Green allies won around 46 percent of the vote, ahead of the 34 percent of ex-president Nicolas Sarkozy's right-wing UMP party and its allies, the final results released by the interior ministry showed.
Pollsters TNS Sofres, Ipos and OpinonWay agreed that the Hollande camp might win as few as 283 seats in the 577-seat National Assembly or potentially as many as 347. But potential allies in the anti-capitalist Left Front would take 13-20 seats and ensure a majority.
Hollande defeated Sarkozy in last month's presidential election and wants voters to give him a strong mandate to enact reforms as France battles Europe's crippling debt crisis, rising joblessness and a stagnant economy.
If next week's second round confirms Sunday's results, it will boost his status in Europe as champion of the movement away from German-led fixation on austerity towards growth, which he favours as the solution to the economic crisis.
Hollande's Prime Minister Jean-Marc Ayrault called for a "large, solid and coherent majority" for the Socialist party and its allies in the second round.
"Change is going to be around for a while," he said, echoing the Socialists' presidential election slogan.
The National Front won 13.6 percent of the votes, far above the 4.0 percent it achieved in the last parliamentary election in 2007.
But under France's first-past-the-post system, that would at best give it only three parliamentary seats and possibly none at all.
The Communist-backed Left Front, headed by firebrand anti-capitalist Jean-Luc Melenchon, won 6.9 percent of the votes.
Nationwide turnout was a modest 57 percent.
But the night marked a personal defeat for Melenchon who took Le Pen head-on in a bitter battle in a rundown former mining constituency near the northern city of Lille.
"It's normal to be disappointed but we must not be defeated," Melenchon said as he bowed out, while Le Pen claimed her victory meant her party was now France's third political power.
"Given the abstention rate and a profoundly anti-democratic electoral system that has for 25 years deprived millions of voters of MPs, we confirm our position tonight as France's third political force," Le Pen said.
Her niece Marion Marechal-Le Pen, also the granddaughter of party founder Jean-Marie Le Pen, beat left and right candidates in the southern Vaucluse district with 35 percent of the votes.
Although the party has not won a seat in parliament since 1986, Le Pen is seeking to build on her strong showing in the presidential vote and cement her party's place in national politics.
Melenchon won 11 percent of votes in the April-May presidential vote that was won by Hollande, while Le Pen won almost 18 percent of votes.
Centrist leader Francois Bayrou meanwhile appeared set to lose his seat in the southwest after his left and right-wing rivals beat him in the first round.
The mainstream left's strong score in the parliamentary vote means Hollande will likely not have to rely on support from the Left Front to make good on his electoral promises.
He has pledged to hire an extra 60,000 new teachers and to hit top earners with a 50-percent tax rate on some of their income.
The Socialists took control of the upper house of parliament, the Senate, last year.
Ayrault's interim government has taken a series of popular steps in the wake of Hollande's presidential victory in the May 6 run-off.
He has cut ministers' salaries by 30 percent, vowed to reduce executive pay at state-owned companies and lowered the retirement age from 62 to 60 for some workers.
But the UMP has hit back with warnings that the Socialists are preparing huge tax hikes to pay for what the right says is a fiscally irresponsible spending programme for Europe's second-biggest economy.
UMP leader Jean-Francois Cope said the Socialists were readying "the biggest-ever tightening of the screws on the middle class".
The economic backdrop is bleak for whoever wins the parliamentary vote: unemployment is at 10 percent, growth has stalled and the eurozone crisis has lurched back into the foreground.
More than 6,500 candidates were competing in Sunday's vote, which takes place over two rounds under a constituency-based simple majority system.
If no candidate wins more than 50 percent in the first round, any contender who scores more than 12.5 percent of the vote stays in the race for the second round.
---
GREECE |
Israeli journalist beaten by Greek mob for photographing attack
Saturday, 9 June 2012, 23:41 |
A Jerusalem Post reporter — on assignment to cover the rise of a Greek neo-Nazi-like political party — was viciously beaten in Athens Tuesday for filming a mob that was attacking immigrants, refugees and homeless people in the street.
About 20 men wearing masks and helmets were beating people with batons outside the National Archaeological Museum, a popular tourist spot inthe capital city, The Jewish Journal reported.
The assaulted reporter, Gil Shefler, saw the mob attack and instinctively grabbed his camera to start shooting, he told the Athens News.
"I snapped a photo, and one guy came up and told me 'Listen, don't take a photo. They'll beat the hell out of you,' " Shefler told the paper. "Seconds later, I was being chased by five of these people. They caught me and beat me with sticks for around five minutes, I reckon."
Shefler was in Greece on assignment covering Golden Dawn, the right-wing extremist political party that's been compared to neo-Nazis. The group has tried to distance itself from the Nazi label, but employs a Greek symbol that resembles a swastika as its logo.
Their offices are also stocked with literature promoting Aryan supremacy, Reuters reports. The virulently anti-immigrant group enjoyed surprising success in a May poll as austerity-angered Greeks responded to the organization's rhetoric, which blames immigrants for the country's economic troubles.
Greek Ambassador Kyriakos Loukakis said the Greek government "unreservedly condemns the attack." He called The Jerusalem Post to apologize.
Shefler was hospitalized for head and chest wounds and is now in good condition. "Back in Israel, bandages are off, wounds are healing, sun isshining," he tweeted Friday.
Shefler told newspapers he was stunned by people's unresponsiveness during the incident. Greek citizens walked calmly by as tourists ran from the violent scene. Police showed up some 20 minutes after the attack. An ambulance came but didn't treat him because the mob was still milling around, he said.
"Greek nationals were walking calmly by, doing their best to ignorewhat was going on. I was beaten in the middle of the street for a few minutes with police nowhere in sight," he told The Huffington Post.
Local police told The Jerusalem Post they're unsure who the attackers were, but speculated they could be members of the Golden Dawn group or anarchists associated with Syriza, a far-left party in Greece.
"This country is going through a hard time, and its citizens have my empathy," Shefler told the Athens News. "But authorities need to know incidents like these do not inspire confidence. Clearly there is a problem when mob violence can take place in broad daylight in the center of the capital."
---
SWEDEN |
Sweden Democrats in false funds claim
Saturday, 9 June 2012, 23:26 | Source: thelocal.se |
The youth league of the Sweden Democrats SDU) has accepted almost 885,452 kronor ($123,000) in funding from Helsingborg municipality without being entitled to the money, according to the nyheter24.se website.
Helsingborg municipality told the website that if SDU had claimed the funding on faulty premises then it will seek advice from its lawyers. "We have failed in our controls," Ulf Bengtsson at Helsingborg municipality told nyheter24.se.
The problem lies in that SDU Helsingborg is only entitled to apply for funding if its national organisation is also in receipt of state funding.
SDU's national organisation has not been awarded state funding as its applications have been deemed to be incomplete. Sweden Democrats'press officer Martin Kinnunen told news agency TT that the party was not aware of the requirement that funding for its national organization was a prerequisite to receiving local support.
The Sweden Democrats now plan to meet with representatives from the municipality in order to clarify the situation. "Nobody wants a lawsuit," he said. "Well, we don't anyway."
Kinnunen was not however surprised that SDU Helsingborg was in receiptof municipal funds explaining that the youth league was short of money
and that Helsingborg had stepped in with sponsorship.
---
RUSSIA |
Racist abuse, far-right flags at Russia match
Saturday, 9 June 2012, 23:20 | Source: Mlive.com |
Anti-racism experts say they identified racist abuse and far-right Russian flags at a European Championship match on Friday.
The Football Against Racism in Europe (FARE) network says Czech Republic defender Theodor Gebre Selassie, who is black, was racially abused during Russia's 4-1 win in Wroclaw.
FARE director Piara Powar tells The Associated Press that imperial "Russian Empire" flags were displayed.
UEFA asked FARE to help appoint expert spotters who will report offensive banners, chants and behavior in stadiums.
UEFA has pledged zero tolerance of discrimination at the three-week tournament in Poland and Ukraine.
Film circulating online Saturday also appeared to show some Russia fans attacking stadium stewards in Wroclaw.
---
RUSSIA |
Two Skinheads Sentenced in Hate Killings
Saturday, 9 June 2012, 06:22 | Source: ria |
Two members of an ultra nationalist gang in Moscow were convicted on
Saturday of a race-hate killing and sentenced to six and eight years in prison, Moscow City Court said.
Eighteen-year-old Georgy Golovanov and 21-year-old Yevgeny Marenchuk were found guilty of killing an Uzbek national at a Moscow railway station in May 2010 as well as five other race-hate attacks on migrants from a number of former Soviet republics including Tajikistan, Kyrgyzstan and Azerbaijan.
Golovanov was sentenced to a six-year jail term while Marenchuk will spend eight years in prison.
Both culprits will serve their terms in a maximum-security prison.At least 20 people of "non-Slavic appearance" were murdered in racist killings across Russia last year, according to Sova, a rights group that monitors ethnic hatred in the country.
The Interior Ministry said race-hate crimes have grown six-fold since 1995.
---
UKRAINE |
Vandals desecrate Holocaust memorial in Ukrainian Jewish cemetery
Friday, 8 June 2012, 15:53 | Source: WJC |
Police say a World War II Jewish burial site has been vandalized in western Ukraine. A police spokesman in the town of Rivne (also called Rovno) was quoted by the 'Associated Press' as saying that Wednesday night, several unidentified assailants broke a memorial plaque and street lamps at a site commemorating the killing of 17,500 Jews during the Holocaust. The perpetrators had used the metal parts from the broken street lamps to compose insulting phrases and lay them out on the site. Police in the city, around 350 kilometers west of the capital Kiev, are investigating.
The broken street lights were laid on the ground and arranged to spell out insulting phrases. Local Jewish community leader Hennady Frayerman called the incident "horrific." Some 1.4 million of Soviet Ukraine's 2.4 million Jews were executed, starved to death or died of disease during the Nazi German occupation of the country in World War II. In Rivne, many mass executions took place.
On Friday, the European soccer championships held in Ukraine and Poland kicked off, one of the biggest sport events in Europe this year. Earlier this week, a BBC program reported about wide-spread racism and anti-Semitism among fans in both countries. People were shown giving the Hitler salute in stadiums, black players were subjected to monkey chants, and anti-Semitic attitudes and violence toward supporters of Asian origin are widespread, according to the BBC program.
In recent years, a number of violent anti-Jewish incidents were recorded in Ukraine. In 2010, a yeshiva student was brutally murdered in Kiev. In March of this year, a Holocaust memorial was desecrated in the city of Lviv. In April, a Ukrainian yeshiva student was attacked by anti-Semites as he left a synagogue in Kiev and was inflicted with life-threatening injuries. He later regained consciousness after receiving treatment in Israel in what doctors termed a miraculous recovery.
---
POLAND |
Euro 2012: Holland players subjected to racist abuse at training session
Friday, 8 June 2012, 00:55 | Source: The Guardian |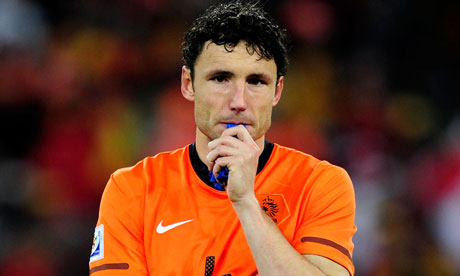 Holland's Mark van Bommel is thought to be unhappy about Uefa's response to racist abuse at his team's training camp. Photograph: Jamie Mcdonald/Getty Images
Euro 2012 was plunged into its first racism controversy after the black players in the Holland squad were subjected to monkey chants during an open practice session in the same city where England will also invite the public to watch them train on Friday.
Several hundred people targeted players such as Nigel de Jong and Gregory van der Wiel when 25,000 spectators attended the Dutch practice session at the Stadion Miejski, the home of Wisla Krakow.
The players, on the instructions of the captain, Mark van Bommel, responded by moving their training drills to the other side of the ground. "It is a real disgrace especially after getting back from Auschwitz [the Dutch squad had visited the concentration camp on Wednesday] that you are confronted with this," Van Bommel said. "We will take it up with Uefa and if it happens at a match we will talk to the referee and ask him to take us off the field."
The problems occurred as the players began the session by jogging a lap of the pitch only to be greeted at one end of the stadium with monkey noises and loud jeers. On the second circuit, they were even louder and it was then the players decided not to go around again. "At least now we know what we can encounter," the Holland coach, Bert van Marwijk, said with heavy cynicism. "Very atmospheric."
Uefa subsequently tried to deny that it was racially motivated, saying they had checked with the Dutch squad and had been told it was not thought to be of that nature. Instead, the official line is that a small part of the crowd was protesting about the fact that Krakow had not been made one of the host cities. Another theory that has been put forward is that Wisla's supporters did not want their stadium being used by anyone but their own club and were simply booing the Dutch players.
Van Bommel, however, responded angrily when it was put to him not everyone had heard monkey noises. "You need to open your ears," he said. "If you did hear it, and don't want to hear it, that is even worse."
Privately, the midfielder is understood to be unhappy that the authorities are not treating the issue more seriously, but the incident is still threatening to be a major embarrassment for Uefa, coming before a ball has even been kicked, and will increase the scrutiny on Poland's supporters when the tournament opens with the co-hosts playing Greece in Warsaw on Friday.
The Polish authorities have been eager to dispel the sense that the backdrop to this tournament will have racism at its centre, and the country's prime minister, Donald Tusk, went through an elaborate public relations exercise on Thursday to drive home the point. Tusk was accompanied by a television crew on a 90-mile journey to Lodz to dine with Poland's first black parliamentarian, John Godson, and his family, including relatives who had flown in from Nigeria. The idea was to show the improvements both in Poland's road network and acceptance of different races.
Godson criticised the BBC Panorama documentary Euro 2012: Stadiums of Hate that had warned racism would be rife. He argued that Poland was a "hospitable and tolerant country" while Tusk wore a badge that said "Welcome" and said he was convinced there would be no problems: "I very warmly invite all English people. You will definitely not encounter anything unpleasant here."
Panorama had focused on the racist elements in the support of Krakow's two major clubs, Wisla and Cracovia, as well as highlighting the seriousness of the problem in Ukraine. Michel Platini, the Uefa president, has subsequently said the referees have been empowered to take teams off the pitch if there are serious issues – but added that any player who walked off without permission would be booked.
The families of two of England's black players, Alex Oxlade-Chamberlain and Theo Walcott, have already decided against travelling to the tournament because of the potential problems. England are based in Krakow, along with the Netherlands and Italy squads, and will allow the public to watch Friday's practice session at Hutnik stadium on the outskirts of the city.
---
HUNGARY |
Hungary Rehabilitates Far-Right Figures
Thursday, 7 June 2012, 21:00 | Source: Spiegel |
Hungary's right-wing extremists are becoming increasingly self-confident. They are now openly paying tribute to Miklós Horthy, Hungary's anti-Semitic regent during the interwar period, erecting a statue and renaming a town square in his honor. Even some members of Prime Minister Viktor Orbán's Fidesz party support the new trend.
Hungary's controversial new constitution, in force since the beginning of the year, evokes the spirit of a long-past era: the thousand-year-old Hungarian state that is represented by the Holy Crown of Saint Stephen I. The constitution pledges to "protect" the unique Hungarian language, Hungarian identity and national culture. It is a thinly veiled throwback to the spirit of the interwar period, when the country was ruled by Miklós Horthy, who established an authoritarian, ultraconservative nationalist and revisionist regime.
Now, under the leadership of conservative Prime Minister Viktor Orbán, this spirit is more or less taking concrete form. In mid-May, a statue of Horthy was erected in Kereki in southwestern Hungary. It was something of a first in post-communist Hungary. After all, Miklós Horthy was a notorious anti-Semite and the leader of the White Terror, a wave of post World War I, anti- Communist violence which claimed many Jews as its victims. As head of state in 1944, he was responsible for the mass deportation of 400,000 Hungarian Jews who were murdered in Auschwitz.
A few days after the dedication of the Horthy statue, the reformed bishop Gusztáv Bölcskei unveiled a restored marble Horthy plaque at the Debrecen University of Reformed Theology in eastern Hungary. Then on Friday, June 1, Freedom Square in the town of Gyömrö, southeast of Budapest, was renamed after the right winger. More Horthy statues are set to be erected, also in Budapest -- even though Horthy despised the city, calling it a "Jewish Bolshevik cesspool of vice." A dedication is being in planned in October for a larger-than-life-size statue of Horthy on horseback in Budapest's Castle Hill district. Journalist Gábor Czene says that there is a "creeping Horthy cult" on the rise.
But it's not just the former regent who is being honored in Orbán's new Hungary. The Hungarian Parliament is pushing for the reburial of the writer József Nyírö, who was once sought after as a war criminal, in his homeland of Transylvania in Romania at the request of the Hungarian minority party there. Nyírö was a prominent cultural ideologue under Horthy. He later served as a member of parliament during the reign of terror of the national socialist Arrow Cross Party from October 1944 to March 1945, a time when tens of thousands of Hungarian Jews were sent on death marches or massacred. Nyírö fled to Franco's Spain after the war.
Nyírö's reburial was originally planned for May 27, Pentecost Sunday, but the Romanian government banned the ceremony. So in place of the reburial a small ecumenical service for the writer took place instead at his birthplace of Odorheiu Secuiesc. In addition to the leadership of the right-wing extremist party Jobbik, Hungary's powerful State Secretary for Culture Géza Szöcs attended the service along with the speaker of the Hungarian National Assembly, László Kövér, formally the second highest official in the country. Kövér behaved as if Transylvania had become a part of Hungary after World War II instead of being returned to Romania. He complained that the Romanian government is "uncivilized," "paranoid," "hysterical," and "barbaric," because they banned the reburial ceremony. He announced that they will bury Nyírö one way or the other on that spot. Kövér concluded that the people "who had a son whose ashes were feared" would be "victorious."
A few days after the ceremony, State Secretary for Culture Géza Szöcs told the Hungarian news website index.hu that the urn with the ashes of the Arrow Cross Party writer had been smuggled into Romania. It required a plot, he said, because transporting the urn "was not exactly easy." However he did not take part in the smuggling activity, he added, saying he didn't know where the urn is. The reburial of Nyírö will take place soon, he said. Szöcs appeared at the service with a large bag which he placed under a portrait of the author as he delivered the eulogy. Szöcs did not want to "either confirm or deny" whether the urn was inside.
The new Horthy cult and the attempted Nyírö reburial are part of a populist-nationalist renaissance in Hungary, which right-wing extremists have successfully been promoting in the country for years. Now Prime Minister Viktor Orbán and his right-wing conservative Fidesz party are also eagerly pushing it.
Some observers are appalled at the development. "Why is Fidesz associating itself with members of Arrow Cross? Is this how far we've come?" asks political scientist Zoltán Somogyi. "Kövér and Szöcs should resign immediately," he says, otherwise Hungary will be saddled with the reputation of having a government "that supports the Nazis."
Such demands are, however, rejected by the government camp. Some moderate Fidesz politicians and functionaries may feel uneasy with the populist-nationalistic course of the party, but no criticism is made in public. In Orbán's party, loyalty is prized above all else. As a result, official interviews with government representatives often turn into exercises in relativizing. For example, Gergely Pröhle, deputy state secretary for European affairs in the Hungarian Foreign Ministry, says that he "can understand" that the rhetoric of "some political statements" by the Orbán government sound "a bit pre-modern to Western ears," but he says that Hungary is a different country with a different language. He rejects what he calls attempts to "conflate" the conservative government with right- wing extremism and its ideology. "That is a well known tactic of the left in international history," Pröhle says.
One of these leftists is the Budapest lawyer and opposition activist, Péter Dániel. In 2008, he was one of the initiators of proceedings to ban the far-right paramilitary Hungarian Guard movement. He accuses the Orbán government of obsessively pursuing revisionist policies and cultivating an "innuendo-laden, socially acceptable anti-Semitism" that permanently blames "Zionists and Jewish Bolsheviks" for all of Hungary's problems.
Dániel has become known in Hungary for his provocative stunts. For example, he smeared a copy of the new constitution, which was displayed in public, with ketchup. He also wants to take a stance against the Horthy cult. On May 16, he traveled to the town of Kereki, doused the Horthy statue with red paint and hung a sign around the statue's neck reading: "Mass Murderer - War Criminal."
For a few days, the stunt dominated headlines in Hungary. Since then, Dániel has become enemy number one for right-wing extremists. Threats against him have been circulating on numerous far-right Hungarian websites. At one recent public appearance, he received police protection because a right-wing extremist mob had gathered. In response to Dániel's stunt against the Horthy statue, several Holocaust memorials in Budapest were desecrated.
Although groups in the democratic extra-parliamentary opposition reject the new Horthy cult, Dániel's actions are also controversial. "As you can see, this only leads to a war over statues," says Péter Juhász, a leading activist who launched a successful Facebook initiative for more press freedom in the fall of 2010. Juhász says that Hungary needs to thoroughly examine its past and calls for a social dialogue about the limits of tolerance in the country's remembrance culture. "Unfortunately, such a dialogue is not taking place at the moment," he says with resignation.
Indeed, the reality is quite the opposite. Recently, the government adopted a new national core curriculum for Hungarian schools. Required reading will include, among other works, the writings of Arrow Cross author Nyírö and his contemporary Albert Wass, a writer who was sentenced to death in absentia in Romania for war crimes and died in the United States in 1998.
When some teachers' associations protested against the inclusion of far-right and fascist writers in the core curriculum, education minister Rózsa Hoffmann curtly replied that it involved authors who had had a big impact in their own time. "They have now received a worthy place in the core curriculum," she said.
---
NORWAY |
Witnesses pull out of Breivik trial
Thursday, 7 June 2012, 20:52 | Source: theforeigner.no |
Breivik's defence counsels had planned to bring in 17 witnesses to speak in court. Nevertheless, after a week of confusion over who would have to testify and who would be broadcast, the defence is currently left with 11.
The defence have lost witnesses including, religion historian Hanne Nabintu Herland, Mullah Krekar, right wing blogger Peder Nøstvold Jensen, alias 'Fjordman', and Islamic activist Mohyeldeen Mohammad.
Jensen and Mohammad managed to convince the defence team to allow them not to testify, reports Aftenposten.
Judges have recently made the decision that only witnesses that are considered as experts could be broadcast. This decision has led to debates online with Ronny Alte, former leader of the Norwegian Defence League.
He told the Norwegian paper, "It's preposterous. All the politically correct witnesses are being broadcast, but none of us on the other side get a chance."
---
GREECE |
Arrest warrant for Golden Dawn spokesman after attack during TV talk show
Thursday, 7 June 2012, 20:50 | Source: ekathimerini.com |
An arrest warrant has been issued for Chrysi Avgi (Golden Dawn) spokesman Ilias Kasidiaris (pictured) after he attacked two female parliamentary candidates on a live talk show on ANT-1 TV.
Kasidiaris threw water at SYRIZA's Rena Dourou and then repeatedly slapped Communist Party hopeful Liana Kanelli during a political debate.
The discussion turned into a brawl after Kasidiaris and Kanelli disagreed over whether there were oil reserves south of Crete and the Golden Dawn deputy objected to Dourou referring to a pending court case.
The program went off air after Kasidiaris hit Kanelli but some reports suggested that scuffles continued when the cameras were off.
Kanelli said that Kasidiaris's behavior was proof of why some 450,000 Greek who voted for the neo-Nazi Chrysi Avgi on May 6 should withdraw their support in the June 17 election.
"With the power of their vote on June 17, citizens must isolate every thuggish hand, which has no qualms about striking at any time," said Kanelli.
Chrysi Avgi scored a stunning electoral rise on May 6, when it garnered 6.97 percent of the vote, compared with just 0.29 percent in 2009.
Prosecutor Eleni Raikou issued instructions for Kasidiaris's arrest soon after the incident. Despite being elected to Parliament on May 6, Kasidiaris does not benefit from parliamentary immunity as the House has been dissolved so elections can take place.
Kasidiaris is due to go on trial for a separate incident on Monday. He has been accused of being an accomplice in the mugging of a student.
Kasidiaris has been charged with driving the car that carried five men who beat and stabbed a student outside the Athens University halls of residence in 2007 before stealing the victim's identity card.
A witness gave police the license plate of the getaway car, which matched that of Kasidiaris's vehicle.
The spokesman for the far-right party denies taking part in the attack and claims that he was at the Metropolitan Hospital at the time, where he was representing the pharmaceutical company he worked for.
Kasidiaris also claims that the witness to the incident is a SYRIZA official. This sparked his argument with Dourou on Thursday's TV panel.
---
TURKEY |
Turkey Uneasy over Release of Suspects in German Neo-Nazi Murder
Thursday, 7 June 2012, 17:10 | Turkish Weekly | | Click here for original article
Turkey has expressed its concern over the release of three suspects in an ongoing case on the murder of eight Turks by an extremist right-wing group in Germany and called on the authorities to properly punish the criminals.
Releasing a written statement Tuesday, the Turkish Ministry of Foreign Affairs said Turkey had been closely monitoring the investigation process launched by German authorities following the unveiling of the killing of eight Turks by the far-right German group National Socialist Underground (NSU) between the years 2000-2006.
The ministry said three of the suspects in the murder case had been recently released as they were deemed unlikely to escape, adding that such development had given rise to concerns over the potential release of other suspects in the future.
"It is our rightful expectation from the German authorities to conduct the investigation attentively and punish the criminals as deserved following a fair judicial process," the statement said.
In the same statement, the foreign ministry also condemned the recent attack against a mosque in the German city of Delmenhorst.
"It is a humanitarian duty and responsibility to preserve the sacredness of places of prayer regardless of the religion they belong to," it said.
The presence of the neo-Nazi cell called the National Socialist Underground was revealed last November when two members of the group were found dead after a suspected joint suicide and another surrendered to security forces.
It was unveiled that the cell had committed murders in several German cities without being detected by the German authorities for years.
The group is being held responsible for the death of eight Turkish and one Greek immigrant, as well as a German policewoman.
---
GREECE |
Greek Golden Dawn MP punches female rival on live TV debate
Thursday, 7 June 2012, 10:26 | Source: RTÉ |
Athens prosecutors have ordered the arrest of a deputy from Greece's neo-Nazi Golden Dawn party after he punched a female communist MP during a live TV debate, a judicial source said.
The incident shows Ilias Kasidiaris throwing a glass of water at Rena Dourou from the leftist Syriza party before striking Liana Kanelli from the communist KKE party three times.
Mr Kasidiaris threw the water at Dourou after she brought up his alleged involvement in an armed robbery in 2007.
A court case on the robbery was yesterday adjourned to 11 June.
He then assaulted Kanelli after she stood up to protest.
A journalist from the TV channel said that employees attempted to keep Kasidiaris on the premises but that he had left.
The debate took place in the run-up to the June 17 election.
Chryssi Avgi (Golden Dawn) sent shockwaves through Europe by winning seats in parliament in 6 May elections, the first time that the far-right has been represented since the end of Greece's military junta in 1974.
Party leader Nikos Michaloliakos has said there were no gas chambers at Auschwitz and has questioned the number of Jews killed in the Holocaust.
He has also proposed mining the Greek-Turkish border to keep out illegal immigrants.
---
POLAND |
Radio Maryja station owner invited to European Parliament
Wednesday, 6 June 2012, 10:31 | Source: Daly Telegraph |
Jewish groups have reacted with fury after David Cameron's allies in Europe invited the owner of a Polish radio station infamous for xenophobia and anti-Semitism to a meeting at the European Parliament.
Father Tadeusz Rydzyk, the owner, was in Brussels along with around 200 supporters at the beset of MEPs belonging to Poland's Law and Justice party, key allies to the Conservatives in the parliament.
His attendance was to draw attention to the situation of TV Trwam, the television arm of his controversial radio station Radio Maryja, which has been taken off the air in Poland owing to a dispute over its broadcast licence.
In the past notable bodies such as the Council of Europe and the Simon Wiesenthal Centre have accused Radio Maryja of broadcasting anti-Semitic material.
"It is extremely disturbing that once again the European Parliament will be hosting a proud anti-Semite and xenophobe," Dr Moshe Kantor, president of the European Jewish Congress, told The Daily Telegraph.
"The seat of European democracy should be shunning people like Tadeusz Rydzyk and not giving them a platform. Especially now, as the far-Right and Neo-Nazis are making considerable political gains it is incumbent on the European Union leadership to send a clear and unequivocal message against hate and intolerance and ban him from official European institutions."
The European and Conservatives and Reformist (ECR) club, to which both Law and Justice and the Tories belong to, was quick distance itself from the presence of Father Rydzyk with a spokesman saying the event "was not organised or sponsored by the ECR and no money was contributed".
But the furore over the priest's presence will further embarrass the Conservatives, which have had to endure an at times damaging relationship with Law and Justice since the ECR was founded in 2009.
In 2010 Michal Kaminski, a Polish MEP, quit Law and Justice saying it he "could not accept the party being taken over by the far right".
---
SOUTH AFRICA |
Six white people arrested linked to 'revenge killing' for Eugene Terreblanche murder
Monday, 4 June 2012, 23:26 | Source: Daily Telegraph |
The five white men and one white woman, aged between 19 and 49, were arrested on Friday in a raid on a house east of Johannesburg. During a search, police found sixteen guns and 15 swords, along with ammunition, camouflage outfits and a swastika badge.
Detectives believe that at least one of the weapons could be linked to the murder of Sibusiso Titimani, who was beaten and stabbed to death in open land near his shanty town home two weeks ago. They are also investigating whether there is a racial element to a series of other recent attacks and murders in the area, known as Primrose East.
Sibusiso's mother Thandiwe was in her shack 500 metres away when her son's 18-year-old friend Thatoarrived at her door shouting: "Mama! Sibusiso is being beaten up by the boers." He described the three men who had attacked them as wearing balaclavas and military uniforms.
"I ran out screaming and crying," she told Johnnanesburg's Star newspaper.
"His head was on top of a rock, he was still alive. I pulled him to sit up straight. He couldn't. He would open his eyes and then close them." The boy was rushed into emergency surgery in a Johannesburg hospital but died just before midnight.
Mrs Titimani said that she knew of others who had been attacked in the same field. "From what I hear, it is by white men who say they are taking revenge for Eugene Terreblanche," she added.
Terreblanche led the Afrikaner Resistance Movement campaigning for a separate white homeland after democracy in 1994. He was murdered by a black worker on his remote farm in April 2010 in a dispute over pay.
Captain Pinky Tsyinyane, a police spokesman, said the six suspects would be put through an identification parade to determine if they were involved in any of the assaults or murders, including Sibusiso's.
The six have been charged with the possession of unlicensed firearms and are expected to appear before magistrates this week.
---
NORWAY |
In which Breivik is compared with Himmler
Monday, 4 June 2012, 23:21 | Source:Foreigner.no |
On day 28 of the trial of Anders Behring Breivik, the court heard from Terje Emberland from the Holocaust Centre in Oslo.

Emberland is a professor of religion and an expert in extreme right-wing ideologies. He has analysed the ideological sections of Breivik's manifesto or "compendium", and testified that Breivik's beliefs can best be characterised as fascistic.

He criticised the first psychiatric report about Breivik, which found him to be criminally insane, for excluding the political framework to his actions. "These beliefs may appear rather bizarre," he told the court, "but that can be explained... by their historical context."

He compared Breivik's beliefs with those of Heinrich Himmler of the SS, saying that the main difference between the two men was that Himmler demonised Jews, whilst Breivik believed his enemy to be Muslims. Both were obsessed with the image of the medieval knight.

"Breivik says he acts through love of his people. The SS man is supposed to be a perfect self-sacrificing knight on behalf of his people, liberated from responsibility as an individual," Emberland explained to the court.

"The ideal of the knight is not just to sacrifice oneself, but also [to sacrifice] morality. In this way the notion of martyrdom becomes central to National Socialist ideology... He is defending the Germanic race's existence against the threat of destruction from foreign races."

Psychiatrist Agnar Aspaas asked him to comment on Breivik's obsession with uniform and theatrical behaviour.

"We recognise that from Fascism," replied Emberland. "Symbols, rigid hierarchies and rankings: the SS was full of this stuff... A whole range of things that give this a pseudo-religious character."

"Do you know what brought someone over the boundary, so they commit such acts on their own?" asked Synne Søreide, another member of the psychiatric team.

"No, that's where the boundary is for me as a historian," replied Emberland.

Three other expert witnesses testified on the political context of Breivik's beliefs and his use of drugs on the day he committed the murders.






---
FRANCE |
Melenchon fights Le Pen in mining country
Monday, 4 June 2012, 12:01 | Source: Reuters |
By Nicholas Vinocur
For a glimpse into the possible future of European politics in an age of economic despair, look to the French town of Henin-Beaumont, where a firebrand leftist is taking on far-right chief Marine Le Pen for a parliamentary seat in her home district.
Once a thriving coal mining centre, the town in France's northernmost corner has become a breeding ground for radical ideas after years of economic decline and with faith in local Socialist officials at low ebb due to a spate of corruption scandals.
As locals prepare to vote in a two-round parliamentary election on June 10 and 17, polls show they are likely to shun mainstream candidates in favor of Le Pen and Left Front party boss Jean-Luc Melenchon, who placed third and fourth, respectively, in a first-round presidential vote in April.
Their showdown has gripped France, pitting the two outsize personalities against each other in a battle to prove their legitimacy against a backdrop of economic fatalism, rejection of the European Union and wounded worker pride.
Comparisons with other stricken regions of the euro-zone are common in the former trade union bastion, which lost its budgetary autonomy in 2008 after officials unveiled a gaping deficit.
"We're in the same mess as Greece, only we are lying to ourselves," said Arnaud Villette, 52, owner of the soon-to-close Cafe Univers in Henin-Beaumont's main square. "People here are so fed up, they vote to express their rage at the system, it's not even politics anymore."
"Economic malaise was the single biggest factor in the April-May presidential election, in which voters punished Nicholas Sarkozy for failing to curb raging unemployment as France lurched through economic crisis and euro-zone debt turmoil.
The angry mood helped Le Pen place first in Henin-Beaumont on April 22 and she hopes the town will now act as a launching pad to get her anti-immigrant party into parliament for the first time since 1986.
Backed by well-organized militants who have papered the town with posters that declare: "Only Marine Le Pen defends you!", her victory looked safe, until the popular Melenchon announced his own bid.
Latest polls suggest Le Pen could lose.
An Ifop survey published in late May in weekly newspaper JDD showed Melenchon beating Le Pen in a runoff round of voting by 55 to 45 percent.
Among Le Pen backers, however, Melenchon's bid is dismissed as a publicity stunt. The hard-left leader is reviled as a candidate dropped from the sky and lacking legitimacy. The National Front says it has by contrast been on the ground in Henin-Beaumont since 2002.
"He's looking for a rebound," Front organizer Laurent Brice said of Melenchon. "He needs to find a way to keep existing after the (presidential) election, and his best hope is to seek publicity on the back of Marine Le Pen."
The flight of industry and the rise in unemployment to more than 16 percent has dimmed hope for change and made locals cynical. But Brice says Le Pen's vow to clean up local government has hit home in the wake of a corruption scandal targeting former Socialist mayor Gerard Dalongeville.
In Henin-Beaumont, arguments against immigration come second to calls for withdrawing from the euro currency, which Brice says locals blame for ruining their buying power.
"This is a proud working class area where people don't like to take handouts," he said. "People turn to us because they are desperate and other parties have abandoned the field."
For Melenchon, whose time in the media spotlight may have ended quickly without the Henin-Beaumont bid, the goal is to tap dormant left-wing sympathies and beat Le Pen on her home turf, discrediting his rival after she outpolled him on April 22.
On campaign near Henin-Beaumont, the battle seemed to be playing out as a clash of ideas: both protectionist, but radically opposed on immigration and the euro currency, which Le Pen wants to abandon and Melenchon supports.
In nearby Mericourt, a town surrounded by coal slag heaps and dotted with desolate rows of "corons", brick houses built for miners, drivers greeted Melenchon with a chorus of honking. One yelled: "Help us get rid of Le Pen!"
Glad-handing locals in his signature red tie, Melenchon argued that outsider status was no drawback.
"The job situation is national, factory closures are national, the euro crisis is international ... What is there not to understand?" Melenchon told journalists after a stop at an old-age community. "Bit by bit, we are reclaiming our terrain."
Many in the immigrant-heavy district said they preferred Melenchon's tirades against bankers and vows to bleed the rich over Le Pen's attacks on immigration.
"This is a bastion of unionism where people carry notions of sharing in their bloodstream," said retired taxi driver Ali Abdouci, 66. "No matter what Le Pen says, her arguments are racist at heart and I think people will reject her."
In nearby Libercourt, where immigrant families live alongside the region's last surviving miners and their widows, Melenchon appeared at ease mingling with a crowd of youths.
Asked by one of them why Le Pen had refused to debate with him during the presidential campaign, Melenchon, a native of Tangiers in Morocco, drew cheers when he shot back using an Arabic word: "You know, she's archouma (ashamed)."
But the response was more muted among older locals, many of them Polish immigrants. As a Left Front militant went door-to-door in old miners' homes, some falling apart from disrepair, an elderly widow summed up her frustrations.
"I've been working for 40 years to support myself after my husband passed away, and I see people here earning as much as I do on handouts," said the woman, who declined to give her name.
Asked who she would vote for between Le Pen and Melenchon, she said: "That's none of your business."
---
FRANCE |
Three French youths beaten in vicious antisemitic assault
Monday, 4 June 2012, 03:31 | Sources: EJP/JP/Hnh |
Assailants carrying hammers and iron bars assaulted three Jewish youths Sunday in Villeurbanne near the French city of Lyon in what the interior minister said was an act of "extremely serious" antisemitic violence.
The attack happened around 1630 GMT as the three victims, all of them wearing Jewish skullcaps, or yarmulkes, left a Jewish school, police said.
A group of people jostled and insulted the three, then about 10 other assailants armed with hammers and bars joined in, striking the victims.
One youth had an open wound to the head and a girl was struck in the neck, authorities said. The third was hit in the arm. French Interior Minister Manuel Valls denounced the attack, saying he was "determined to fight against any aggression of a religious nature".
"These extremely serious acts are a deliberate attack against our republic, which allows everyone, without exception, to live freely and in all safety in their religious affiliation," his office said in a statement.
The victims were hospitalised but later released as police stepped up patrols in the neighbourhood. The National Bureau of Vigilance against Anti-Semitism said the attackers were of North African origin. Investigations are under way but no suspects have so far been arrested.
.
---
HUNGARY |
Police swoop on hate graffiti suspects
Sunday, 3 June 2012, 11:26 | Source: Budapest Times |
Two men thought to be behind the vandalism of several statues and Jewish memorials were arrested on Friday, Budapest police announced. One suspect is the Budapest leader of the nationalist youth movement HVIM. The far-right party Jobbik subsequently demonstrated outside a city centre jail for his release from pre-trial detention.

On Friday morning, passers-by found anti-Jewish graffiti scrawled on a riverside memorial in District XIII to victims of wartime Hungarian fascists. "This is not your country, stinking Jews" was among the messages. The Hungarian Arrow Cross shot hundreds, mostly Jews, into the Danube over the winter of 1944 to 1945. A Jewish monument in the same district and the Soviet war memorial near the Parliament building were also defaced overnight.
That evening, the head of HVIM's Budapest wing, Béla Incze, was arrested along with a suspected accomplice. The pair were traced to their Budapest flat following crime scene investigations and "wide-ranging intelligence gathering", Budapest Police Headquarters told state news agency MTI. Cans of spray paint were seized at the suspects' flat, police alleged.
Jobbik lawmaker Gyula Zagyva led a protest outside the Markó utca jail in District V on Sunday. Zagya told a small gathering that there was "not a gramme of evidence" against the nationalist youth leader, who had been remanded in custody. Graffiti such as that on the riverside monument can be treated as a "piffling matter", he said. Zagyva is the honorary president of the HVIM, whose full name is a reference to the greater Hungary of a century ago.
Vandals had written insults to Péter Dániel, an activist who in May poured red paint over a new statue to Hungary's authoritarian inter-war leader Miklós Horthy, who steered the country into the Second World War as an ally of Hitler's Germany. Dániel's action has sparked a series of apparently tit-for-tat anti-Semitic and anti-fascist vandalism around the country.
---
GERMANY |
Warzone' in Hamburg after Nazi demo
Saturday, 2 June 2012, 23:01 | Source: thelocal.de |
Clashes in Hamburg between those who support and oppose neo-Nazi groups erupted in violence on Saturday, as the two sides battled it out in the city's Wandsbek district, leaving it in ruins.
Eye witnesses described the neighbourhod as looking "like a warzone" after neo-Nazis tried to block the anti-Nazi groups and then set garbage on fire. The police fought back with water cannons.
Before that anti-Nazi demonstrators greeted police by throwing rocks at them. Eight officers were hurt. The police took as many as 700 people into custody.
By midday there were about 1,000 police officers on the streets trying to control the opposing factions. A police helicopter was also deployed, a spokesperson said.
Not everyone was violent. Earlier in the day some 3,000 anti-Nazi protestors marched in the streets of Hamburg and later about 10,000 gathered to protest against the far-right.
The clashes come after police found eight of their larger vehicles on fire and three police cars also affected by the flames early Saturday morning.
"An investigation is under way," a police spokesman said, adding that officials suspect the attack is connected to the neo-Nazi demonstration.
The burning vehicles were located in the parking lot of the hotel where police were staying.
Police did not have an estimate as to how many Nazi protestors are expected on Saturday. The Hamburger Abendblatt newspaper said thousands are expected.
Hamburg appears to be a popular spot for such demonstrations. Just one month ago the city was home to another large anti-Nazi demonstration, in which thousands took to the streets to protest against the far-right groups.
---
FRANCE |
Le Pen's Front National to sue Madonna over swastika video
Saturday, 2 June 2012, 22:47 | Source: RFI |
France's far-right Front National (FN) is planning to sue Madonna over a video that shows party leader and former presidential candidate Marine Le Pen with a swastika on her forehead. The video was shown at a concert the US-born singer gave in Tel Aviv on Thursday.

For the backdrop when she performed the song Nobody knows me in Tel Aviv, Madonna chose a video in which her face was collaged with a number of well-known individuals, ranging from Chinese leader Hu Jinatao to US politician Sarah Palin and from Pope Benedict XVI to Marine Le Pen.

In a split second Le Pen's eyes and forehead appear with a swastika on them, before her whole face appears, followed by an image resembling Adolf Hitler.

The 53-year-old star is famous for provocative stunts, although less well-known as a commentator on French politics.

Contacted by the 20 Minutes freesheet, the FN said that Le Pen had not had time to watch the video on Friday because she was writing a speech for a rally in Paris that evening.

But a party official called it "incredible" and said that the party's lawyer, Wallerand de Saint-Just, had been asked to look into what legal action could be taken over it.

"We'll make money with the case we're going to bring," an anonymous source told 20 Minutes.




---
USA |
White supremacist with neo-Nazi ties elected to county Republican Party committee
Saturday, 2 June 2012, 21:53 | Source: PressTV |
Republicans in Luzerne County, Pennsylvania have elected Steve Smith, a lifelong white supremacist with close ties to neo-Nazi groups and groups like Aryan Nations, to the county's GOP Committee. Think Progress
Smith, who is listed as the state chairman of the white nationalist group American Third Position, proudly shared a photo of the certificate commemorating his election on the website, White World News.
Several commenters on the site congratulated him.
The Southern Poverty Law Center said that Smith was a member of the Aryan Nations and a skinhead group known as Keystone United. In 2003, Smith and two other skinheads were arrested for shouting slurs and throwing a brick at a black man from Scranton, PA. He pleaded guilty to making terrorist threats and ethnic intimidation and received a 60-day sentence.
In 2010, Smith attended a school board in Wilkes-Barre and objected to a call to hire more minority teachers, saying that the proposal was anti-white. "Diversity is not a strength," Smith said.
He also had a letter to the editor published in the local newspaper last November in which he defended the racial profiling of blacks. "Whites need to stop walking on eggshells when it comes to the issue of race and crime," he wrote. "We need to stand up and speak out against what is happening to our once-safe communities."
---
GREECE |
Pakistani hospitalised after nazi assault
Saturday, 2 June 2012, 17:08 | Source: IHT |
A Pakistani immigrant to Greece needed treatment at a hospital after he was apparently assaulted by members of the neo-Nazi Golden Dawn party.

Police briefly detained two freshly elected Greek MPs of Golden Dawn party and its leader's daughter among six people after the attack.


The two lawmakers, Ilias Panagiotaros and Ioannis Vouldis, as well as leader Nikos Michaloliakos's daughter, were taken into custody but released for lack of evidence after the incident in Athens late Friday, the source said.


The 31-year-old Pakistani man needed hospital treatment after being assaulted by a group in helmets taking part in a motorbike demonstration "that started off from the headquarters of a political party," police said in a statement.


The source confirmed this party was Chryssi Avgi (Golden Dawn), which sent shockwaves through Europe by winning seats in parliament in May 6 elections for the first time since the end of Greece's military junta in 1974.


Michaloliakos, who has said there were no gas chambers at Auschwitz and has questioned the number of Jews killed in the Holocaust, is hoping to match or beat the party's score of 6.9 per cent in fresh elections on June 17.


Another Golden Dawn candidate, Themis Skordeli, has been accused of beating up, together with two other Greeks, three Afghan immigrants in Athens a year ago. A court case was recently postponed for the sixth time.


Three Greek non-governmental organisations meanwhile welcomed a report by the UN Committee against Torture (CAT) calling on Greece to act against what it said was a rising level of racism and related violence.


"Greece should strongly combat the increasing manifestations of racial discrimination, xenophobia and related violence," the three groups, including Greek Helsinki Monitor, cited the CAT report as saying.

It called on Athens to condemn publicly all intolerance and violence and send "a clear and unambiguous message that racist or discriminatory acts, including by police and other public officials, are unacceptable."

A report that 18 monitoring NGOs released in March had said that racist attacks in Greece mostly go unreported and unpunished and had published a list of 63 racist attacks in just two cities over six months.
---
CANADA |
Accused killer Magnotta linked to far-right U.S. white supremacists in message board posts
Saturday, 2 June 2012, 15:59 | Source: National Post |
A screengrab from a cached page from the U.S. white nationalist website Stormfront, showing a post suspected to have been written by accused murderer Luka Rocco Magnotta.
A year before he became the target of an international manhunt for an alleged killing and dismemberment, Luka Rocco Magnotta was being hailed as a hero of free speech on a U.S. white nationalist website.
A May 27, 2011 post on Stormfront.org refers to Mr. Magnotta as "an open white supremacist" and claims he was being forced to flee Canada and return to Russia because of "his views on white supremacy."
The post, by a forum member named reddragon1, said Magnotta "is of Russian/Italian heritage," was born in Tolyatti, Russia, moved to Canada at age five and went to the United States to work in modeling and adult entertainment.
Handout / Facebook: Luka Rocco Magnotta.
"However, after he published his website supporting the freeze on immigration to America and Canada, he was bombarded with hate mail and his website was removed," the post read. "His websites were frequently targeted and removed."
It quoted Mr. Magnotta's website as lamenting that "blacks get their own countries, Chinese get their own countries … however if white people want their own countries then we are denied that right."
A photo of a shirtless Mr. Magnotta accompanied the post, which has now been taken down. A second and final post by reddragon1 the following day made derogatory comments about Jews. Stormfront is run by former Ku Klux Klan leader Don Black.
The blog Anti-Racist Canada, which found the Stormfront posts, reported Thursday that it would be sending them "to the appropriate authorities" and said it suspected reddragon1 to be Mr. Magnotta himself.
Mr. Magnotta appeared again on Stormfront in September, when a member wrote that "Luka Magnotta, he wrote a lot of very interesting articles on multiculturalism. I for one am extremely happy that he is courageous enough to write the things he does, knowing full well he will receive death threats. … He says he is not advocating killing different races, he simply does not want to communicate, work or associate with different races."
Abbee Corb, an analyst with the Hate Crimes Extremism and Investigative Team, which advises police services in Ontario, said Stormfront "has become a social networking site and prominent voice in the right-wing white supremacist community.
"Prominent Canadian right winger Paul Fromm, hosts his radio show on the Stormfront network. Stormfront has a great deal of Canadian and international content. Its users can post and create content promoting events, recruiting and providing commentary on global events."
http://news.nationalpost.com/2012/05/31/luka-rocco-magnotta-tried-to-drum-up-notoriety-for-five-years-before-being-accused-in-gruesome-murder/
---