World News
AUSTRIA |
Late Austrian far-right head sullied in graft trial
Tuesday, 31 July 2012, 10:19 | Source: MSN NEWS |
Late Austrian far-right leader Joerg Haider's reputation was further tarnished Wednesday by dramatic confessions by two defendants in a high-profile corruption trial in his home state of Carinthia.
Tax advisor Dietrich Birnbacher told the Klagenfurt court that he had agreed in 2007 to donate two-thirds of his 12-million-euro ($14.6-million) fee for arranging a business deal to two political parties, including Haider's.
Even after his bill for the sale of Hypo Alpe-Adria-Bank to Germany's Bayerische Landesbank was halved, Birnbacher said he was told by Haider, then state governor, in 2008 that "there is still a million in it for the party."
Josef Martinz, local head of the other party involved, the conservative Austrian People's Party (OeVP), confirmed on Wednesday the testimony and immediately resigned, saying: "What Birnbacher says is true." He told the court Birnbacher had handed him an envelope containing 65,000 euros at a Christmas party. "I am sorry for letting myself get involved in Haider's system," Martinz said. "This was a political and personal mistake that I deeply regret."
Haider, who died in a drunk-driving accident in October 2008 aged 58, has also been accused of stashing millions of euros in secret accounts in Liechtenstein and of accepting donations from dictators Moamer Kadhafi and Saddam Hussein.
The colourful politician, who praised the Waffen SS and described Nazi concentration camps as "disciplinary camps," sent shockwaves through Europe in 2000 when he entered into a national coalition with the mainstream OeVP. The trial was meanwhile adjourned until August 6.
---
GERMANY |
Germans 'probe possible KKK link' in cop killing
Tuesday, 31 July 2012, 10:14 | Source: thelocal.de |
German authorities are said to be investigating a potential link between a former Ku Klux Klan-member police officer, and a neo-Nazi terror group in the killing of a German policewoman. Hers was the last in a string of ten killings.
The murders of eight men of Turkish extraction, and one Greek man which the National Socialist Underground gang claimed to be theirs were obviously racially motivated. But investigators have remained mystified as to why the group would kill a white, German policewoman. Michèle Kiesewetter, a 22-year-old police officer was shot dead and her partner seriously wounded as they ate lunch in their patrol car in Heilbronn in 2007.
Now, Bild newspaper cites intelligence sources saying that her team leader within the police had been a German KKK member, and an investigation has been launched into whether he led the NSU to her. The paper said on Monday that the police officer, who is still in his job at Heilbronn police force, was a KKK member until at least 2003. He has been interrogated several times but has always denied having anything to do with Kiesewetter's death, the paper said.
Although there still remains no suggestion of why the neo-Nazis were targeting Kiesewetter, the paper said Uwe Böhnhardt and Uwe Mundlos had been waiting for her for days, not knowing she was visiting her mother. Yet suspicion was aroused, Bild said, when it emerged that the day she died in her patrol car, Kiesewetter had swapped shifts at the last minute - suggesting that someone with inside information had told her killers she would be working as well as details of where she would be.
The National Socialist Underground gang is accused of the murder of nine men of immigrant background across the country as well as Kiesewetter. Cornered after a bank robbery went wrong, Mundlos shot dead Böhnhardt and then killed himself in November 2011. Their friend and alleged accomplice Beate Zschäpe is to appear in court later this year.
---
GERMANY |
Far right strategist leaves the movement
Tuesday, 31 July 2012, 10:11 | Source: Deutsche Welle |
A leading neo-Nazi has withdrawn from the scene. His departure could act as an example for other disillusioned members of the movement, who, like him, are frustrated by the its failure to modernize.
It's over for Andreas Molau, known widely as one of the most prominent strategists of the German far right. He was in the executive of Germany's National Democratic Party (NPD), Germany's most important far right political party, and was one of the leading activists behind pro-NRW, a populist right-wing citizen's movement in the state of North Rhine-Westphalia.
Now he's handed in his party membership, left his party jobs and broken off contacts. He wants to go back to a normal life.
But, as he told public broadcaster NDR, he can't see himself - now, at 44 - going back to his old job as a teacher: "I can't stand up tomorrow in front of a class and say, 'It was all for nothing.' "
Molau was always seen as an intellectual and didn't look like a typical neo-Nazi, eschewing the typical boots and leather jacket. He even taught in a Rudolf Steiner school in his previous life, until he started working for the NPD in 2004 as a research assistant.
"Nobody at the school knew about his far-right background, and nobody looked into it," says Patrick Gensing, a journalist specializing in the neo-Nazi scene. Molau was seen an example of the "new right," trying to move the NPD in a new direction. "He failed completely," says Gensing. "He tried to make the NPD more moderate, and to get it to distance itself from the crimes of National Socialism. But it didn't work."
Molau says that he left the far-right scene because of a speech given in February 2009 by Udo Pastörs, leader of the NPD faction in the state parliament of Mecklenburg-Western Pomerania.
"Pastörs used disgraceful language," says Stefan Schölermann, a journalist with NDR. "He referred to hooked noses, a Jewish republic, and [he described the Turks as] seed-cannon [referring to their alleged intention of taking over the country through their birthrate]. This speech made it clear to Molau that leading NPD politicians and other people on the far right were very close to Hitler-style ideology."
Schölermann has spoken to Molau several times in recent months, and says he wasn't surprised by his withdrawal.
It may well be surprising that someone with a conventional middle-class background, with a family and two children, a degree and a job as a teacher, could end up in the far-right world. Schölermann told DW, "When he was at school, he hated the people in the 1968 generation. He had personal experience of the division of Germany from the western side, but his teachers, who came from the 68 generation, made a taboo of the division of Germany as well as refusing to recognize those on the right who opposed the Berlin Wall." That was how he began to read and study the leaflets handed out by right-wing organizations.
Molau's career led him to the "Junge Freiheit" ("Young Freedom"), a national weekly magazine for politics and culture that was the mouthpiece for the New Right. He also began writing for the NPD party paper, and, above all, he had an important role in a think tank which was highly influential among far right extremists, the "Gesellschaft für Freie Publizistik" (Association for Free Journalism).
He set the tone and led the scene, publishing pamphlets against Muslims. "I'd be happy if I came to a town and didn't see a döner kebab restaurant," he once said, referring to the popular Turkish snack, and called for "no-döner kebab" areas to be made into a political demand.
"He was the intellectual motor of the movement and practically gave the movement its terminology," says Schölermann. Experts think his resignation could be a blow to the far right community. As Schönemann points out, "He's a prominent figure in that world. They'll be looking closely to see how he gets on in the future. There could be other people on the right who think the same as him, and there could be people who decide to follow his example."
But Patrick Gensing doesn't think he is that important in the far right any more. "His influence has diminished over the last few years," he says. But Gensing also reports what Molau told him about the reactions to his move: "He said that he has had emails from former comrades in the NPD who have said, 'That was brave of you - I should really do the same.' "
Molau's withdrawal from the scene can certainly be seen as final, since he has made contact with the intelligence services. That makes it irreversible as far as the far right community is concerned. The intelligence agency in the state of Lower Saxony has confirmed the contact and says it will help Molau leave the scene.
Molau now plans to return to his middle class existence, and wants to help explain right-wing extremism and work in social projects. The first question for him will be how he is going to fund his future life. Until now, he's been living off party jobs and far-right journalism. But he won't be going back to his old job of teaching - that's clear to him.
As Gensing says, "You can't put off your ideology, like you can take off a suit. But it's still a success when someone leaves the scene. Such people need a perspective and you can't slam the door in their faces." He calls for Molau to be given a fair chance.
---
USA |
Sting targets white supremacists: Agents' Nazi 'gang' duped suspects
Monday, 30 July 2012, 18:02 | Source: Orlando Sentinel |
A neo-Nazi motorcycle gang created by an undercover law-enforcement unit to investigate white supremacists and racist bikers has helped topple two domestic-terrorism groups in Central Florida.
The original investigation began in 2007, when an undisclosed agent traded emails with August Kreis III, a leader of the Aryan Nations hate group who wanted to form a Nazi motorcycle club to serve as the militant arm for white supremacists across the country, according to records obtained by the Orlando Sentinel.
Using a false identity, the agent with the Orange County Sheriff's Office became the Aryan Nations' top Florida administrator responsible for recruiting members for what would become the 1st SS Kavallerie Brigade Motorcycle Division — operating out of a clubhouse in St. Cloud.
Early members included at least two additional undercover FBI agents — who infiltrated the club — and a biker accused of offering $1,000 to anyone willing to shoot a black man riding an ATV in rural Osceola County, records show.
"The underlying aspect through all of it was that they were obtaining explosives and explosives expertise, and they intended to use them to kill people in the United States," Orange-Osceola State Attorney Lawson Lamar told the Sentinel last week about what he characterized as the region's most complex undercover operation in decades.
"We have a duty to stop what they were doing."
The two cases — the motorcycle club and the takedown of the American Front white-supremacist group in Osceola in May — have resulted in 20 arrests on charges ranging from unsuccessful bomb and murder plots to drug dealing, illegal firearms possession and conducting paramilitary training to prepare for a race war.
Hidden mikes, cameras
Once one of America's largest white-supremacist groups, the Aryan Nations broke into factions after losing a 2004 civil lawsuit brought by the Southern Poverty Law Center that depleted the racist group's finances. In 2008, Kreis came to Central Florida to meet his new followers after Brian Klose became the new club's "Fuhrer."
A 6-foot-6 giant known for drinking from a 70-pound beer stein, Klose worked as an enforcer for the Outlaws Motorcycle Club, which the U.S. Department of Justice describes as one of the country's largest "outlaw motorcycle gangs" with a long, violent history in Florida. A doting son of elderly parents, he opened the Kavallerie Brigade's clubhouse within walking distance of their St. Cloud home on Old Canoe Creek Road.
The Sentinel obtained hundreds of pages of documents related to the two domestic-terrorism cases. The information in this report comes from them and from interviews with Lamar, some members of his staff and local law-enforcement officers.
Once the operation into the Kavallerie Brigade began, the FBI Joint Terrorism Task Force installed enough hidden microphones and cameras in the clubhouse to stage a reality-TV show.
Unaware of being filmed and recorded, Klose warned members to be wary of the post-9-11 Patriot Act, which gave police new surveillance powers, and to never admit they belonged to the Kavallerie Brigade.
Despite his wariness of police infiltration, Klose's in-house explosives experts turned out to be agents whom he asked repeatedly to build bombs and hand grenades for attacks he was planning.
Documents in the case show an agent reported to officials that he stalled Klose and others by claiming the explosives were difficult to make or easily traceable.
But on April 28, 2009, the agent detonated a remote-control bomb to show Klose what he could do. The blast so excited Klose, he fired a pistol and told the agent "he had a target for him to use the explosives on and that was the [rival] Warlock motorcycle gang's clubhouse."
By then, agents had become so entrenched in the group that three of them traveled with Klose to Chicago to meet with heads of the Outlaws' chapters about opening Kavallerie Brigade chapters there, records state. The outcome of the discussions was not disclosed.
Combat training
In the spring of 2010, the local Joint Terrorism Task Force began looking at the American Front, another Nazi-influenced group of white supremacists rumored to be conducting combat training in rural Osceola County for a race war.
There were no law-enforcement officers inside that organization. Instead, that investigation relied on a former drug dealer working as a confidential informant for the government. In that capacity, the man received offers to join biker gangs and the Confederate Hammerskins, a skinhead group that required genetic testing to prove racial purity.
Emailing agents late at night, the informant reported on whom he met, the drugs they sold, the guns they carried and violent acts the group was planning.
---
GREECE |
Golden Dawn lawmaker whips Corinth mayor
Monday, 30 July 2012, 13:18 | Source: Greek Reporter |
With one its lawmakers already charged with assaulting two rivals, the neo-Nazi Golden Dawn party is dismissing a second assault, that of Corinth Mayor Alekos Pnevmatikos with a whip by another of its Members of Parliament, Efstathios Boukouras, despite outrage from other political parties.
According to local media in Corinth, Boukouras used some kind of military whip in the alleged attack on the mayor following a dispute about a forest fire in the area of Solomos. There were no details about the injuries suffered by the mayor, who reportedly called the far-right MP "A scared little man" a few days ago.
The Coalition of the Radical Left (SYRIZA) party called for an investigation but Golden Dawn officials dismissed it as "ridiculous." The PASOK Socialists, who with the Democratic Left are partners in a coalition government led by New Democracy Conservative leader Antonis Samaras, called for a "democratic front" to prevent the spread of "intenstifying far-right provocations," which PASOK said threaten to turn Greece into a fascist country.
Earlier this year, the party's spokesman Ilias Kasidiaris was shown on a live television program throwing water into the face of SYRIZA lawmaker Rena Dourou and then slapping Communist MP Liana Kanelli. He went into hiding to avoid being prosecuted, getting around Greece's curious law which requires the apprehension of a suspect within 48 hours. He was elected to Parliament on June 17 and sits on the same committee with the two women he assaulted. Instead of being arrested, Kasidiaris sued the women he assaulted and charged them with unprovoked verbal abuse.
He has a history of assaults, and was due to appear in court earlier this year to face charges of being an accomplice to a violent attack on a student five years ago, of driving the car that carried the attackers. The case was postponed until September 3. Despite the assault on the MP's and the previous charges, he was allowed to take a seat in Parliament, where the party has 18 seats and continues to make provocative statements.
Golden Dawn has been linked to a series of beatings of immigrants, consistent with its platform to rid Greece of all foreigners, and is well known for anti-Semitic views as well, stating that it wants "Greece for Greeks," and wants to expel immigrants, including children born in Greece and who speak Greek.
On July 25, the party placed an anti-Semitic musician, Artemios Mattheopoulos, as an MP to replace another member who resigned. He is known as a composer of hate lyrics as a member of a band called Pogrom, meant to mean a massacre, especially of Jews. He wrote a song entitled Auschwitz, after the name of one of the notorious Nazi death camps, as part of a repertoire that Jewish organizations complained had "fiercely racist, fascist, vulgar and anti-Semitic songs," such as "F**k Anne Frank."
The Jewish group wrote President Karolos Papoulias and asked him to take "all necessary measures to keep those who extol Nazism out of the mainstream of our country's political and social life." Voula Papachristou, a Greek Olympian in the triple jump, was expelled from the team just before the start of the London 2012 Games for re-sending a racist Tweet from Golden Dawn and was found to be a supporter of the party and Kasidiaris.
---
ESTONIA |
Estonia sees another Nazi reunion
Saturday, 28 July 2012, 22:07 | Source: Voice of Russia |
Photo: RIA Novosti
Estonian veterans of the Nazi SS have gathered on the Sinimae Heights near Estonia's border with Russia to mark 68 years since their SS division first engaged advancing Red Army troops.
Neo-Nazi delegates from Latvia, Denmark and Sweden were very much in evidence.
In a statement issued in Tallinn Thursday, the Russian Embassy pointed out that Estonia's tolerance of neo-Nazism is incompatible with its membership of the European Union.
---
NETHERLAND |
Dutch Anti-Semite:"You Know, the Word Nazi Comes from Ashkenazi"
Friday, 27 July 2012, 23:37 | Source: Arutz Shiva |
Last Tuesday, July 17, Jeroen de Kreek stood trial for Holocaust denial and anti-Semitism.
De Kreek is a former lawyer who has been bombarding the Dutch public with daily articles dedicated to Holocaust denial and various examples of anti-Semitism through his three websites and via Twitter.
A few years ago, De Kreek was twice convicted for stalking and threatening former Dutch Prime Minister Jan-Peter Balkenende. Right now, De Kreek is the biggest producer of Holocasut denial and anti-Semitism in the Netherlands.
After complaints filed by the Dutch Cyber hate Bureau (MDI), the Center for Information and Documentation Israel (CIDI) and the Dutch Jewish Broadcasting Corporation, the Public Prosecutor decided to take De Kreek to court.
De Kreek, convicted only a few months ago because of previous complaints about online anti-Semitism by MDI and CIDI, seems to be a slow learner.
The trial before the court in Amsterdam started 'in style'; De Kreek, wearing a T-shirt with 'I love Jews' on the front and 'Against Zionism' on the back, challenged the court for bias and asked the presiding Judge (Mr. Korthals Altes) immediately if his name was Cohen. When the answer was negative, he wanted to know if the other members of the Court were of Jewish origin. Korthals Altes told him 'I have no idea'.
His attempt to garner 'proof' that the court was biased because of 'Jewishness' was not successful, but the incident certainly set the tone. De Kreek - two backpacks with books and papers with him throughout the session - was hostile and abusive, especially toward the prosecutor, Hielke Freezing-Buist and toward those who had filed the complaints.
His next attempt to drag out the session was a last-moment request to call a number of witnesses: Daniel Veenboer of the MDI, Geert Wilders, Ronny Naftaniel and Elise Friedmann of the CIDI, Hans Jansen, MP Jeanine Hennis-Plasschaert, Sille Jansen (former MDI director), British Rabbi Aaron Cohen of Naturei Karta, (a small anti-Zionist sect active in England and New York), Director Alfred Edelstein of Jewish broadcasting Coporation and last but not least a woman he had met in the hallway "who is of Jewish origin and is afraid of Zionists'.
All these requests were rejected. The prosecution and the court believed both that it was too short a day and not important enough. Why De Kreek needed to have these witnesses he could not really make clear; "I want to discuss things with these people to find out their motives for persecuting me", he claimed.
For nearly three hours the judge questioned the defendant about his statements and publications with respect to Jews and the Holocaust. With pathological tenacity, De Kreek defended his theories and only made matters worse for himself.
An anthology of madness from the defendant:
-Jews themselves caused the Holocaust, or in any case the Zionists, which are no Jews, but Nazis.
-The Holocaust did not happen, but if it did there are far fewer people killed than 6 million.
-Theodor Herzl incited all pogroms, the Rothschild family financed IG Farben and Auschwitz.
-The Ashkenazi Jews wanted to colonize Palestine and therefore promoted anti-Semitism from the French Revolution on.
-Ashkenazi Jews are not real Jews because they are not descended from the real Jews, the Sephardim. Zionists are not religious and therefore are not real Jews.
-"Holocaust" is a concept from the Kabbalah, which states that after the Holocaust, Jews would be divine and could take possession of Palestine. The Jews themselves say that the crucifixion of Christ is their fault. The Holocaust was conceived and performed by Jews on Jews, the Zionists built Auschwitz.
-Many Jews who were murdered were not Jews, because Jews are not a race but a religion.
"My publications are in the interest of the public debate", he asserted, "since nobody knows all this. The court is confused, the prosecutor is confused and the judiciary in general is confused".
And so it went on and on. De Kreek said that 'Even the Zionists of the CIDI and MDI realize that my websites are not anti-Semitic'
To top it off, he shared the idea that the word 'Nazi' really comes from 'Asheknazi', to which the judge replied innocently "I always thought that 'Nazi' was an abbreviation of National Socialism".
De Kreek: (giggling) "No, that would have been NaSo!"
Of course the defendant insisted that when he writes "Jews", he really means 'Zionists'. When asked by the judge why he did not stick to the use of "Zionists", he answered: "that would diminish the readability".
Finally, the Prosecutor could start reading the indictment. She did this quickly and concisely, since the judge had already discussed most parts of the indictment extensively with the accused.
The accusation of threats against Hans Jansen was rejected, since De Kreek had written that Jansen should be 'slaughtered as a pig in a legal sense', which is a metaphor. However, she deemed it well-proven that both Hans Jansen and Jeanine Hennis-Plasschaert were insulted in a very coarse and offensive manner; as the "suspect just wants to insult and humiliate".
On the other counts in the indictment, 'publicly insulting Jews because of their race', the Prosecutor considered De Kreek guilty. She denounced the influence of De Kreeks websites on young people. Websites which she described as "filled with proven baseless allegations and insults" and indicated that the influence of these on society are very negative.
Moreover, she indicated that it was clear for her, given previous lawsuits against the defendant, that in the sense of the anti-discrimination legislation De Kreek had made discrimination 'his profession or business'.
As a penalty, the Prosecutor claimed the forfeit of the two laptops, two PCs and one hard disk confiscated during a search of De Kreek's house, a hundred hours of community service and a suspended jail term of one month with a probationary period of three years.
Then it was De Kreek's turn to take the floor, again proving the adage that a lawyer who does his own defense has a fool for a client. The Judge indicated that De Kreek would get 30 minutes for his plea, the same time that had been allotted to the Prosecutor. Mr. Korthals Altes added that since De Kreek had been given more than 3 hours already to explain his ideas, the court was very generous in this.
Of course, De Kreek found 30 minutes to be too little. He claimed he needed more time to prepare and asked for a postponement of the case to be able to do so. Asked how much time he needed De Kreek retorted: '3 hours or maybe even 3 days, I don't know'.
The court adjourned for five minutes and returned with a decision; no delay, the request had been denied. Again De Kreek began to argue and eventually he was getting louder, gesticulating, yelling and screaming. The court tried several times to calm him down but it was useless.
He turned around and pointed at the MDI staff sitting in the audience, shouting "they are the real criminals, the Zionists, the cheaters and liars!".
Again the judge asked him if he wanted to start his 30 minute plea. Again De Kreek refused and added: "I challenge this court for bias."
After that, Mr. Korthals Altes could do nothing more than to say that the so-called "challenge court" would meet soon, after which he suspended the court session.
The challenge court, a separate panel of judges, will meet and decide if the challenge made by defendant was just and deserved. Probably this meeting will take place next week. If these judges decide there were no grounds for the challenge (and it certainly looks that way), the court case against De Kreek will immediately recommence.
For the MDI, it was the most serious complaint they have filed since the start of their operations in 1997. Their dossier on De Kreek contains hundreds of instances of Holocaust denial and anti-Semitism, of which 'only' 87 were filed in this case.
Additionally, liberal MP Jeanine Hennis-Plasschaert and Arab Culture expert Hans Jansen filed separate complaints for insult and threats, which the prosecutor attached to the case.
Will a conviction in this case help? Probably not. De Kreek is an obsessive anti-Semite and will continue publishing his filth, if necessary from jail.
But a case like this delivers a warning to others: if you want to publish Holocaust denial and anti-Semitism there are organizations that will see to it that there are consequences.
---
GREECE |
Greek Jewish community blasts hate music Golden Dawn MP - statement
Thursday, 26 July 2012, 11:42 | Source: The Central Board of Jewish Communities i |
The new 'Golden Dawn' MP Mr Artemios Mathaiopoulos was sworn in as a member of the Greek Parliament yesterday following the resignation of an MP from the region of Serres.
In the past, Mr Mathaiopoulos was a bass player in a hard rock Greek band called "Pogrom"(!); a band with a vast repertoire of fiercely racist, fascist, vulgar and anti-Semitic songs. "Auschwitz", a song with lyrics like "f*** Anne Frank", "f*** the tribe of Abraham", "piss on the Wailing Wall" "Juden raus" and "Auschwitz, how much I love it", is characteristic of the band's 'work'.
The Central Board of Jewish Communities in Greece has protested on behalf of Greek Jewry with letters to the President of the Greek Parliament and to Greek political parties.
In this letter, the Board writes:
"The Central Board of Jewish Communities in Greece represents Greek Jewry in expressing revulsion at the election of the new "Golden Dawn" MP Mr Artemios Mathaiopoulos.
This composer of hate lyrics that praise Auschwitz, offend the memory of the six million Jewish victims of Nazism – of whom 65,000 were Greek Jews – also offend thousands of their Christian fellow Greek citizens and vulgarly trivialize Jews and their sacred places, is now a member of the Greek Parliament.
Mr. President, We bring this issue before you in order to take all necessary measures to keep those who extol Nazism out of the mainstream of our country's political and social life, since they offend the Constitution of Greece, the Greek Parliament, Greek citizens, and the Democratic values of our country".
---
GREECE |
Greek Olympian Papachristou expelled for 'racist tweet'
Wednesday, 25 July 2012, 15:33 | Sources: BBC/IBT |
Greek Olympian Papachristou expelled for 'racist tweet'
Greek triple jumper Voula Papachristou has been expelled from her country's Olympic team over comments she posted on Twitter which were deemed racist.
Papachristou was due to compete in the London 2012 Games, which officially start this Friday.
But the Hellenic Olympic Committee said her posts mocking African immigrants and expressing support for a far-right party went against the Olympic spirit.
Papachristou has apologised for the "unfortunate and tasteless joke".
As well as the comment on Monday referring to the West Nile virus and Africans living in Greece, Papachristou also reposted a tweet by Ilias Kasidiaris, a politician with the far-right Golden Dawn party, criticising Prime Minister Antonis Samaras's stance on immigration.
Her remarks had sparked calls for her to be thrown out of the team, Greece's Ekathimerini newspaper reports.
In a statement on her Facebook page and Twitter, she said she was "very sorry and ashamed for the negative responses I triggered, since I never wanted to offend anyone, or to encroach human rights".
She apologised to her friends, family, fellow athletes and the national team, but said it would not have been possible for her to compete if she did not support the values of the Games.
"Therefore, I could never believe in discrimination between human beings and races."
The committee said she had been "placed outside the Olympic team for statements contrary to the values and ideas of the Olympic movement".
Despite her apologies, Isidoros Kouvelos, president of the committee, decided to take a step forward.
The West Nile virus is a disease transmitted by mosquitoes of African origin which can be fatal to humans. This summer one man died and more than 180 were infected in Athens.
---
GERMANY |
Vandals desecrate German Jewish cemetery
Wednesday, 25 July 2012, 15:10 | source:israelnationalnews.com |
Vandals desecrated the Jewish cemetery in the German town of Anklam over the weekend. According to local police, the vandals smashed gravestones and, in some cases, completely uprooted them.
Local media reported that the prosecution in Anklam is conducting an investigation into an incident of "disturbing the dead" and destruction of property. It was also reported that police are looking for eyewitnesses to the vandalism.
This is not the first time that Jewish cemeteries in Germany have been desecrated by anti-Semitic vandals. In 2008, a Jewish cemetery in the city of Gotha was desecrated, with the vandals hanging a pig's head on a metal Star of David.
Next to the pig's head was a cloth sign stating, "Six Million Lies." Anti-Semites also vandalized a Jewish cemetery in nearby Erfurt with broken glass and a red liquid at the entrance.
Three weeks ago, 43 graves in two Jewish sections of Vienna's main cemetery were desecrated. Tomb stones and slabs were found toppled or damaged at the Austrian capital's Central Cemetery, but the vandals did not deface the graves with graffiti.
Several weeks before that, a Jewish cemetery was vandalised in the city of Rivne in western Ukraine. The vandals broke street lights and desecrated a plaque in the memory of 17,500 Ukrainian Jews murdered in the Holocaust. The broken street lights were laid on the ground and arranged to spell out insulting phrases.
In April, members of the Jewish community in Geneva, Switzerland, woke up to discover that antisemiti symbols had been sprayed overnight on a monument to Holocaust victims who had lived in the city.
A recent report has shown that there has been an increase in the number of recorded anti-Semitic incidents in Switzerland.
The report by the CICAD, a Geneva-based organization that coordinates the fight against anti-Semitism and defamation, shows that the number of anti-Semitic acts increased by 28 percent in 2011, totaling 130 cases, as opposed to 104 the previous year.
---
NORWAY |
Breivik's victims commemorated
Tuesday, 24 July 2012, 20:51 | Source: vepsen |
We shall overcome
Tor Bach reports from Oslo
A year after last July's terror attacks by Anders Breivik, the people of Oslo gathered again outside the city hall. Between 50- and 60 000 defied pouring rain to mourn our dead and to celebrate democracy and tolerance.
Present were Norway's PM, Jens Stoltenberg, His Royal Highness Crown Prince Håkon, Princess Märta Luise and several members of the government.
A 90-minutes long programme, broadcast directly on national television in all Nordic countries, moved the audience to tears several times. In particular, it was very touching when some of the survivors from the Utøya massacre and the bombing of Oslo's government quarter told of their dreams for the future.
Several well-known Norwegian artists, such as Lillebjørn Nilsen, Bjørn Eidsvåg, Halvdan Sivertsen and the rap duo, Carpe Diem, performed with songs about Breivik's killing spree.
The biggest surprise of the evening, though, were Bruce Springsteen and Little Steven entering the stage, to perform We shall overcome, while tears were pouring amongst the audience in sharp competition with the rain.
The show ended with the City Hall bells, in a duet with the Norwegian Broadcasting Orchestra, performing the famous resistance poet of the Second World War, Nordahl Grieg's, famous work Til Ungdommen (To the youth)
As several of the speakers and performers pointed out the continued need for more democracy, more openness and more tolerance, it became clear to many of us that this cannot be stated often enough.
This summer's public debate on Roma from East Europe coming to Norway, living as beggars, deprived of everything, has shown that hatred still thrives in Norwegian society.
Online debate fora have been filled with calls for killing Roma, for forced deportations in a way that lacks parallels in post-war Norway. While the tone of the debate on Islam has become less heated, Norway's newest and poorest minority, the Roma, are taking more than their share of hatred. According to a newly published survey, 55 per cent of Norwegians would not like to have a Roma as a neighbour.
---
USA |
The neo-nazi National Alliance now considered 'a joke'
Tuesday, 24 July 2012, 16:05 | Source: AlterNet |
Ten years after the death of its founder, the Alliance has turned into tiny band of small-time propagandists, criminal thugs and attention-seeking losers.
Last year, a balding, 46-year-old man slipped quietly into the men's rooms of three Orlando, Fla., area biker bars, where he warily pasted "Bring Our Troops Home" stickers on washroom mirrors. From there, his secret mission took him to an upscale Irish pub and a seafood restaurant, where he again made his way to the men's rooms and pasted up that sticker and another, "Stop Immigration!"
A few days later, Wendell Duke Witten detailed his daring exploits to fellow members of the neo-Nazi group he'd joined seven months earlier, and on whose behalf he had been propagandizing. "I will check [the stickers] in a week to see how many are still where I placed them," he earnestly assured his comrades.
Welcome to the new National Alliance, once America's leading hate group. Ten years after the death of founder William Pierce — a former university physics professor and radical intellectual with a major following both here and in Europe — the Alliance has been transformed from the nation's radical-right powerhouse into a tiny band of small-time propagandists, criminal thugs and attention-seeking losers. Recruitment and income are dismal, and the group rarely makes the news. Its leader, fresh from a withering divorce from his stripper wife, is widely disrespected by his followers and does not even live at the group's West Virginia headquarters.
And the revolutionary activities of the Alliance, which seeks to build a fascist state peopled solely by whites, have been reduced to a few bathroom stickers.
Not that the group isn't dangerous. In the last decade, the organization that once prided itself on the quality of its members has been distinguished by the pure thuggery of its people. Since Pierce's death, four Alliance recruits have been convicted or accused of having carried out at least a dozen murders. And that's not all. Even many more humdrum members are distinguished by their criminality.
Take Wendell Witten, who battles for the Aryan race with stickers pasted in the men's rooms of seedy bars and chain restaurants. Witten, who goes by the name Edmond W. Duke on the Alliance's Resistance Web forum, is a registered Florida sex offender with convictions for aggravated assault and sexual battery that go back more than 20 years. His many tattoos include one that reads, "No Mercy."
Ten years ago, the Alliance had 1,400 carefully selected and clean-cut members, a paid national staff of 17, and great respect in radical-right circles in America and abroad. Its publications, including a newsletter and a journal, set the standard on the extreme right, and its leaders regularly met with their counterparts in Europe. In Florida, it bought radio time and billboard ads. Between dues and income from its white-power music label, it was bringing in almost $1 million a year.
Today, the National Alliance is widely viewed as a joke.
"It's a shame watching yet another organization collapse," one poster lamented in a long thread about the group on the racist Stormfront Web forum this March. "There are hundreds of White 'Nationalist' organizations in the US — [but] not one is taken more serious[ly] than a street gang in LA. And most not even that serious[ly]. … Even the lowly negroid eclipses our best attempt at organization."
'Freaks and Weaklings' Redux
Not long after the July 23, 2002, death of founder William Pierce, the Intelligence Report published excerpts from Pierce's last speech, given on April 20 of that year. In his talk at one of the Alliance's "leadership conferences," Pierce mocked the white power movement, saying there was no such thing, and denigrated members of other neo-Nazi groups as "hobbyists, freaks and weaklings."
Those words, which increasingly describe the Alliance's own poorly screened recruits and hapless current leader, are coming back to haunt the group today.
Remarkably, Pierce's handpicked successor, Erich Gliebe, has managed over the last 10 years to hold on to power through a series of internal revolts, splits and personal attacks on him for his extremely weak leadership. But he has also taken the Alliance to a place where it has a membership of fewer than 75 people, has not published a magazine in recent memory, and is in desperate need of funds.
And Gliebe has been humiliated throughout. First, it was the series of splits that saw most of his membership disappear into other organizations. Then it was the revelation, exposed in the Report, that his calendar of supposed Aryan beauties was actually replete with photos of women from a stripper bar frequented by Gliebe and his one-time deputy. Next, Gliebe broke up with his wife, a once and future stripper who in 2009 publicly accused her soon-to-be former husband of "deviant sexual behavior" involving enemas and Catholic schoolgirl uniforms, closet homosexuality, regular philandering, and an inordinate interest in a particular 5-year-old girl. The title of her blog, later taken down by court order, was "I Married a Freak."
Things came to something of a head in 2010, when Willis Carto, a longtime anti-Semite who had feuded with 1960s ally William Pierce for decades, was invited to one of the Alliance's leadership conferences. Carto gave a speech sharply criticizing Gliebe and arguing the Alliance was failing because of his leadership.
Members who were there describe Gliebe as almost paralyzed during the attack and say he did not respond or try to defend himself. Instead, Jim Ring, a longtime member who some see as the group's real leader, took Carto aside later and ordered him and his entourage off the group's West Virginia compound.
Many were shocked Gliebe had even invited Carto, who is not an Alliance member, and Gliebe later claimed he had not done so. But that was contradicted by the pre-printed program for the conference, which included Carto's name.
Gliebe, despite frequently suggesting that he is writing from the Alliance's headquarters, has not been back to West Virginia since — and the group never held the 2011 edition of its annual leadership conference there. (As a matter of fact, no one at all lives at the compound near Mill Point any more. A couple of members visit weekly to deal with the mail and other necessary tasks.) He lives in North Royalton, Ohio, near his mother, and reportedly works a few hours each night as a poorly paid custodian at a local product development and manufacturing firm.
He is now widely seen, to use Pierce's word, as a "weakling."
Pierce also despised what he called "hobbyists" or "Hollywood Nazis," routinely mocking those who dress up in faux Nazi outfits. But Gliebe has been more forbearing — or perhaps just less attentive. This March, a man named Sean Michael Woodcock joined the Alliance, where, using the name Sean K98, he posted photos of himself at an event hosted by the Aryan Nations, one of the competing neo-Nazi organizations Pierce had belittled by name. He also posted pictures of his collection of World War II uniforms and memorabilia, along with hundreds of boxed dolls and toys from the Star Wars movies. "Don't mind the Star Wars stuff," he wrote.
That kind of "hobbyism" isn't limited to Sean Woodcock. Another member, Joe Ross, reportedly left the Alliance $10,000 when he died around 2003. But a photo has since surfaced of Ross posing in full-blown Nazi regalia, sieg-heiling before a flaming swastika at Nordic Fest, an annual white-power concert long put on by the thuggish Imperial Klans of America I at its Kentucky compound.
Even Jim Ring, the California Alliance leader and longtime member who is the group's most dedicated remaining activist, held a 2009 party to celebrate the führer's 120th birthday. Two years later, he posed with his son, Connor Ring, who had just joined the Alliance, while brandishing a Nazi SS officer's dagger and a thick, gold necklace chain incorporating the Alliance life rune symbol — just the kind of garish display that Pierce despised and routinely attributed to black "ghetto" culture.
The Alliance has devolved into something Pierce would have been appalled to see. But its failings today are not limited to its members' low-rent activities. It has also become known for the murderous nature of many of its people.
Crime and the New Alliance
Last year, after a lengthy investigation, federal agents arrested a Washington state man named Kevin Harpham, who that January had planted a deadly anti-personnel bomb laced with rat poison on the route to be taken by about a thousand Martin Luther King Jr. Day marchers in Spokane. (The bomb was discovered and dismantled before it went off.) When the Southern Poverty Law Center said it had evidence that Harpham had joined the Alliance several years before, Gliebe hotly denied that the man had any affiliation with his group. But after Harpham pleaded guilty, drawing a 32-year prison term, prosecutors entered Harpham's Alliance membership card into evidence as part of a sentencing memorandum.
Shortly after Harpham's attempted mass murder, federal agents arrested a former Arizona Alliance member, Jeffrey Harbin, for manufacturing pipe bombs and grenades that were apparently intended for use against Latino immigrants. They had been designed, a prosecutor said later, so as to "maximize human carnage." Harbin's father, Jerry Harbin, had for years been the Alliance coordinator in Phoenix. This February, the younger Harbin was sentenced to two years in a plea deal.
But that just begins to cover Alliance-related criminality. Consider:
•In October 2002, Alliance member Samuel Compton was one of three men who attacked an innocent bystander who was watching the men in a bar fight in Phoenix. Compton, a 20-year-old with "White Pride" tattooed on his back, and the other two stomped to death 20-year-old Cole Bailey, who was himself white, with the steel-toed boots favored by racist skinheads. After accepting a plea agreement, Compton was sentenced to 22 years in prison.
•In March 2006, Alliance member Jason McGhee and two other men stormed into a farmhouse frequented by young people in Cumming, Ga., and stabbed or shot four people to death and wounded three others. Officials say the men apparently were responding to an insult that one of them had suffered at the house earlier. McGhee pleaded guilty last December and was handed four consecutive life sentences plus 100 years. The local district attorney said she believes McGhee, who has agreed to testify against his alleged confederates, did all the shooting and stabbing. (In 2001, McGhee and another man were arrested for yelling racial slurs and firing guns at a group of schoolchildren but were not prosecuted because the victims would not testify.)
•In February 2008, former Alliance member Jim Leshkevich, after writing that he was depressed over learning that his wife was having an affair, murdered her before killing himself in the couple's West Hurley, N.Y., home. Officials say that Leshkevich, 52, beat and strangled his 55-year-old wife, Deborah, in their bedroom before hanging himself in their attached garage.
•In July 2010, former Alliance member William Dathan Holbert and his girlfriend were arrested in Nicaragua while trying to enter illegally and returned to Panama, where authorities say they killed at least six people. Officials in Panama said the couple kidnapped other U.S. expatriates, killed them, and then stole their property. Holbert confessed to five of the killings.
These cases weren't the only evidence of the propensity of today's Alliance members and associates to criminality. Still another came up in October 2010, shortly after Gliebe's humiliation by Carto at the last leadership conference.
On the Alliance's Resistance forum, Gliebe lauded a speech at the conference by Michael David Carothers, who uses the alias Michael Weaver and who Gliebe had named the Alliance's 2008 "Activist of the Year." Gliebe said Carothers had delivered a "truly inspirational, high energy speech" and predicted that he would be invited back the next year — to the leadership conference that never happened.
Seven weeks after delivering that speech, Carothers drove a car up alongside a black man in Columbus, Ga., and attacked him with pepper spray. Last November, after a judge ruled that a jury could hear about a 1999 case in which Carothers had threatened three times to kill a 15-year-old girl, he pleaded guilty and was sentenced to one year of prison, to be followed by nine years of probation.
Gliebe's response was to say privately that Carothers was being "railroaded." But he never commented publicly or offered any help to his one-time friend.
Winding Down
The Cleveland unit of the National Alliance, which Gliebe originally formed and still leads, reflects the general disarray into which the group has fallen. What was once a monthly meeting held in a large restaurant meeting room attended by dozens of members has diminished to half a dozen members, at most, gathering at a single table at Dimitri's Restaurant in a rundown area of West Cleveland.
The meetings today are marked by complaining and bickering. One local member, David Daams, was attacked for not donating enough money. Another, Kurtis Kreit, has been ridiculed for his weight and not giving enough. Gliebe, who generally collects about $30 in donations at these meetings, has criticized others, including his ex-wife and North Carolina coordinator Robert Arnett, for a variety of reasons. A man who was Gliebe's first recruit in the unit, Donald Myers Jr., recently began attending the meetings again, but mainly to complain about the state of the group. "The white race," Myers now laments, "is not worth saving."
When Pierce died in 2002, the Alliance was taking in about $18,000 a week in dues, donations, book and music sales. Today, sales at Resistance Records and National Vanguard Books are down to about $500 a week. The group's Resistance music magazine has not been published in five years, and its National Vanguard flagship publication has not appeared in three. Gliebe has been promising for 10 years to publish Pierce's last book, a collection of essays titled Who We Are, but has not done so — despite the threat that a major bequest to the Alliance will not be released by the estate's executor until Who We Are finally goes to press.
And then there are the trees. Pierce, who originally bought the group's West Virginia property, long treasured the ancient oaks, hickories and red maples that grew there, even forbidding his followers to cut trees to stoke the wood-fired stoves that heat the buildings on the compound. But now Gliebe has begun to sell those trees to a logging company that has already cut over the property twice.
It's not clear how long the Alliance and its besieged leader can hang on in this atmosphere. But what is certain is the group is nothing like the tightly organized entity that William Pierce founded in 1970 and built into a real power.
"I was a member up until 2009 and believe me I held out as long as I possibly could," wrote one poster on the Stormfront thread entitled "Erich Gliebe RUINED The National Alliance." "Erich, you should really ask yourself why it is the NA is a mere shadow of its former self. You should be ashamed of what you have done to the legacy of William Pierce. … Why the hell would anyone join the NA in its current state? … Now all I can hope for is that everyone keeps his memory alive."
Mark Potok is the editor of the Southern Poverty Law Centre's Intelligence Report.
---
SWEDEN |
Sweden's 'racist sniper' found guilty of two murders
Tuesday, 24 July 2012, 15:55 | Source: AFP |
A Swedish court has today found a man guilty of two murders and four attempted murders after he terrorised the southern city of Malmö with a shooting spree targeting immigrants.
Malmoe district court said in a statement it had found there was "convincing evidence that Peter Mangs has committed 13 (of the 20) crimes he was charged with, including two murders, four attempted murders."
Mangs was found guilty of killing Kooros Effatian, a 66-year-old Iranian immigrant, in the victim's apartment in June 2003, and Trez West Persson, a 20-year-old Swedish woman who was shot while sitting in a parked car next to a friend of immigrant origin.
The 40-year-old Swede was however acquitted of the murder of Firas al-Shariah, a 23-year-old man reportedly of Iraqi origin who was shot outside his front door in July 2003.
Mangs was arrested in November 2010 after a massive manhunt following a string of shootings against people of immigrant origin that gripped Sweden's third largest city with fear.
On Tuesday, he was also found guilty of four of the 12 counts of attempted murder he had been charged with, after having fired numerous shots with his Glock 19 pistol at homes, businesses and cars as well as out in the open, seriously injuring a number of people and coming close to killing many others.
And he was found guilty of three counts of aggravated threats.
The court said Mangs would now undergo a psychiatric exam to determine whether he should be sent to prison or a closed psychiatric ward, and that his sentence would likely be announced during the first half of September.
---
FRANCE |
French promise crackdown on anti-Semitism
Monday, 23 July 2012, 18:36 | Source: news.co.au |
President Francois Hollande has led ceremonies marking the 70th anniversary of the largest roundup of Jews in World War II France, and promised to crackdown on anti-Semitism in a country reeling from killings at a Jewish school in March.
Some 13,000 Jews were deported by French police on July 16 and 17, 1942, many of whom were first holed up in harsh conditions at Paris's Winter Velodrome stadium.
Thousands of men, women and children were eventually taken to the Nazi's Auschwitz death camp, where they were killed.
Speaking from the site of the former stadium near the Eiffel Tower, Hollande on Sunday told a gathering, which included Jewish leaders, that the crime "was committed in France by France".
"Not one German soldier, not one was mobilised during this entire operation," Hollande said.
Hollande invoked the memory of a killing of three Jewish children and a rabbi at the Ozar Hatorah school in the southern French city of Toulouse in March.
"Four months ago ... children died for the same reason as those in the Vel d'Hiv - because they were Jewish," said Hollande.
He said the security of the Jewish community is the business of the whole country, and there will a crackdown on anti-Semitic acts.
The president of France's leading Jewish group CRIF, Richard Prasquier, also spoke at the ceremony of the need to remain vigilant.
"The anti-Semitism that's risen up in our country with extraordinary violence is a daily reality," said Prasquier, whose organisation believes that anti-Semitic acts have risen in France since the Toulouse attacks.
Hollande paid tribute to the "courage" of Jacques Chirac - the last French president to lead a ceremony there in 1995 - who, for the first time, acknowledged the state's role in Jewish persecution.
---
GERMANY |
Intel fiasco 'scuppers neo-Nazi party ban'
Monday, 23 July 2012, 14:25 | Source: thelocal.de |
The shredding of secret service files on the German far-right scene could well have ruined any hope of banning the neo-Nazi National Democratic Party (NPD), a government party spokesman said on Monday.
Hans-Peter Uhl, domestic policy spokesman for the Christian Social Union (CSU), said the destruction of files by the Verfassungsschutz had probably made it impossible to launch another attempt to ban the NPD on constitutional grounds.
"The material that the Verfassungsschutz would now present to the Constitutional Court in an NPD ban is of course more vulnerable to attack than it used to be," Uhl told Monday's Berliner Zeitung newspaper.
He said that the NPD's lawyers would use the numerous recent scandals about the secret service's handling of the investigation into far-right terrorism to undermine the authorities' credibility. Uhl said this would be difficult to dispute.
"It makes the challenge even more unlikely than it was already," he added. "It's virtually a dead duck. No-one is seriously proposing it at the moment anyway."
The chaos currently surrounding the federal domestic intelligence agency claimed the career of another senior figure on Monday - Vice-President Alexander Eisvogel resigned as a result of the file-shredding scandal, news magazine Focus reported.
Eisvogel had been considered a possible successor to Heinz Fromm, the agency president who resigned earlier this month. He was responsible for supplying files to the parliamentary investigative committee on the secret service failings.
The committee is currently trying to find out why the secret service failed to prevent the National Socialist Underground, a trio of neo-Nazi terrorists, from going on a decade-long killing spree.
Now anonymous parliamentary sources have suggested Eisvogel was involved in destroying the files. They added that this would explain why he was overlooked for promotion to the head of the agency in favour of designated new chief Hans-Georg Maaßen.
Disciplinary investigations are currently under way into three secret agents accused of destroying files on the neo-Nazi informants in the state of Thuringia.
It also emerged last week that telephone surveillance files on extremists who had contact with the NSU were destroyed in November and December last year and April and May this year - at the behest of the interior ministry.
The parliamentary committee has called on the authorities to stop destroying files immediately. The interior ministry defended the file-shredding as "a routine measure," since telephone surveillance files come under special privacy restrictions.
---
USA |
National Alliance has withered, says Southern Poverty Law Center
Monday, 23 July 2012, 14:23 | Source: SPLC/Cleveland Plain Dealer |
A civil rights organization says in a new report that the National Alliance, once one of the nation's most powerful white supremacist groups, has virtually collapsed under the decade-long leadership of North Royalton resident Erich Gliebe.
The report, posted online today by the Southern Poverty Law Center, says the National Alliance has "become the joke of the neoNazi movement ." The law center, a Montgomery, Ala., organization that monitors hate groups, says alliance membership has fallen from 1,400 a decade ago to about 75 -- "a tiny band of small-time propagandists, criminal thugs and attention-seeking losers."
Gliebe, 49, took over the National Alliance after leader William Pierce, author of the 1978 race-war novel "The Turner Diaries", died in 2002. Pierce, a former physics professor, led the alliance since the early 1970's and had a large following in the United States and Europe.
Since his death, the group has been splintered by internal revolts and failed leadership, said Mark Potok, editor in chief of Southern Poverty Law Center publications, who wrote the report.
"Gliebe's extremely poor leadership and lack of charisma have dramatically led to the decline of the National Alliance," Potok said in an interview.
Gliebe did not respond to requests for comment. A person who answered his cell phone Friday said he was Gliebe's friend and he would take a message. "I don't think he'd be interested in talking to The Plain Dealer," the man said.
Gliebe is a former pro boxer and 1981 graduate of Normandy High School in Parma, according to earlier Plain Dealer stories. He's been described by a Seattle publication as a suit-and-tie-wearing neo-Nazi.
The Southern Poverty Law Center once ranked him as a rising star of the "radical right." Gliebe had been a spokesman for the alliance and distributor of white power music through Resistance Records, the group's label.
Gliebe had formed the Cleveland chapter of the alliance, which is headquartered near Hillsboro, W. Va. Cleveland became the group's biggest and most important chapter, according to Potok. But the Cleveland unit now "reflects the general disarray into which the group has fallen," the report says. "What was once a monthly meeting held in a large restaurant meeting room attended by dozens of members has diminished to half a dozen members, at most" who meet at a West Side restaurant.
The report says Gliebe works as a part-time custodian at a local company. It contains scathing details of his divorce, describing his wife as a former stripper who in 2009 accused him of "deviant sexual behavior" involving Catholic schoolgirl uniforms.
The report also links the alliance to a number of violent crimes over the past 10 years, including a 2011 attempt to detonate a bomb laced with rat poison along the route of Martin Luther King Jr. Day marchers in Spokane, Wash. Kevin Harpham, who was sentenced to prison for the crime, had ties to white supremacist groups. The Southern Poverty Law Center said he had been a member of the alliance, but Gliebe at the time denied Harpham was a member.
Though leadership voids have caused the alliance and some other dominant hate groups of yesteryear to splinter, Potok said, the threat from extremists remains high. The number of radical hate groups, in fact, has been on the rise the past 11 years, the law center said in a March report.
"As a general rule, these groups often grown more dangerous when they are led poorly or not led at all," Potok said. "When you have strong leaders, it tends to keep the criminal violence in check."
---
HUNGARY |
Hungary Neo-Nazis offer cash for info on Jewish protesters
Sunday, 22 July 2012, 20:46 | Source: Jerusalem Post |
A neo-Nazi Website in Hungary is offering money for information about protesters that called for the arrest of a suspected war criminal, it emerged on Sunday.
Kuruc.info promised 100,000 Forints ($450) to anyone who provided data on demonstrators who called for trial of suspected Nazi collaborator Laszlo Csatary outside his house near Budapest last week.
"We will distribute 100,000 forints among those who send us the most useful information about the [participants]," a text appearing on the Website read. "75 thousands forints have been offered by our Comrade Bela Varga who lives in America. Good hunting!"
The Website, which is full of anti-Semitic imagery, including a Nazi hammer crushing a Star of David, accused gatherers at the rally organized by a Jewish student group of conspiring to "kill Hungarians."
"They complain about various crimes when they are responsible to corrupt our country into communism and later into capitalism," the text read. "They are responsible for the death of many thousand Hungarians, for the emigration of hundreds of thousands, for the killing of six million fetuses, for the selling of the country not to speak about the genocide in Palestine and the other crimes against humanity."
---
NORWAY |
Norway remembers Ut°ya and Oslo victims, one year on
Sunday, 22 July 2012, 13:36 | Source: BBC |
Jens Stoltenberg: 'Let us honour the dead'
Norway is commemorating one year since 77 people were killed and 242 hurt in gun and bomb attacks in Oslo and on the island of Utøya.
PM Jens Stoltenberg has laid a wreath in Oslo and is expected to be joined by hundreds of people on Utøya, including the families of those who were killed.
Anders Behring Breivik, who has admitted carrying out the two attacks, remains on trial.
"The killer failed; the people have won," Mr Stoltenberg said.
As Prime Minister Jens Stoltenberg addressed the crowds gathered outside the still devastated government headquarters in Oslo, a long day of remembrance began.
Watched by hundreds of people who had gathered in the city centre, and many more still watching on national TV, Mr Stoltenberg laid down a wreath in red, white and blue - the colours of the Norwegian flag.
Many had come carrying red roses, the symbol of the Labour Party, but also a symbol of the love and tolerance with which many people here say they want to confront the horror, rather than with anger. One survivor of the bomb told BBC News she felt the wreath-laying was a worthy ceremony, allowing people to remember those who died but also to start looking forward.
Later, she and many others are also taking part in another event - at Utøya island, where Anders Breivik killed 69 mainly young people. A special memorial service also took place in Oslo cathedral - one of many places holding such services.
Most of the dead were young activists with the Labour Party who had been staying on Utøya as part of a summer camp.
Church services, a concert and other events are being held around Norway.
"It's been a very heavy year for all of us. Not a day has passed the tragedy has not filled the room," Mr Stoltenberg said at a wreath-laying ceremony in Oslo.
"The bomb and bullets were aimed at changing Norway. The Norwegian people responded by embracing our values," he said.
"Let us honour the dead by being happy about the life they had, and the life we share."
Mr Stoltenberg is to give a speech to Labour Party youth on Utøya before laying a wreath there at 18:45 - the time a year ago when Breivik was arrested.
In the evening there will be a national memorial concert with mainly Norwegian musicians.
Hundreds of relatives and survivors held a private service on Utøya on Sunday morning.
Christin Bjelland, the mother of a survivor of the shootings, said the commemorations were especially important for the bereaved.
"What happened here is so huge, there were so many affected, that I think it means a lot to come together for those who wish and feel the love and care between all the affected," she said.
Many of the buildings that were damaged in the bomb attack have not yet been fully repaired.
The prime minister's office and the ministry of health buildings are still covered in plastic.
The attacks, regarded as the worst act of violence in Norway since World War II, sparked a national debate about the nature of tolerance and democracy in the country.
Breivik, who has been on trial for three months, has tried to justify the attacks by claiming he was trying to stop Muslims from taking over Norway.
But the government, and much of the population, have actively promoted tolerance and openness to counter Breivik's views.
"I think that people thought it a bit naive to cling to these values of openness in a situation like that," said Vegard Groeslie Wennesland, a Labour Party activist who survived the attack.
"But I think it's more naive to think that brutal police, or more restrictive policies will bring you a safer society."
Judges are to announce next month whether Breivik is sane or insane, and therefore whether he will be given a long prison sentence or be sent to a secure psychiatric ward.
---
CHILE |
Chilean nazi paramilitary group training denounced
Friday, 20 July 2012, 09:57 | Source: Prensa Latina |
The Chilean Movement for Homosexual Integration and Liberation (Movilh) has denounced the presence of neo-nazi groups receiving paramilitary training in the country.
Local radio stations AND Radio Chile said Movilh delivered the National Intelligence Direction a video tape and pictures and asked for a rigorous investigation.
Mvilh told the press that the evidence was taken to them by someone unidentified and the photos are identified with the names of people who sympathize with the neo-nazis
On March 3rd a group beat and tortured a homosexual named Daniel Zamudio, 24 years old, who finally died after a long agony.
Zamudio was left in a park in Santiago, and his attackers left him with three Swastikas on his body.
This brutal murder fostered the approval of a law that was archived for more than 6 years in the Chilean Congress.
---
SPAIN |
Anti-fascist Spanish miners in fight to the finish
Thursday, 19 July 2012, 23:58 | Source: Hope not hate |
A report from Graeme Atkinson in Madrid
Madrid, Wednesday 11 July, was a sight for tired anti-fascist eyes: the awesome spectacle of burly striking miners and the women of the mining community ferociously ripping down and trampling the posters that the fascist Republican Social Movement (MSR) had sneaked out at the dead of night to plaster on junction boxes and sellotape to trees along central Madrid's posh boulevard, the Castellana.
The nazis scrappily produced posters fraudulently proclaimed MSR "support" for the miners, an argument the miners were in no way buying.
The Spanish miners have had a special role in the fight against fascism historically and reserve very special venom for its exponents today.
In 1934, the miners of Asturias rose up in an armed rising to forestall the installation of a "legal" fascist government. The rising lasted two weeks before is was put down by the General Lopez Ochoa and the later fascist dictator Francisco Franco who had the army, the air force and navy at their disposal.
According to Hugh Thomas, the noted historian of the Spanish Civil War, 1,500 miners were killed in combat, 200 coldbloodedly executed and many more jailed and tortured in the repression that followed.
Afterwards, hundreds of women in the pit villages were raped by the occupying army, the government suspended Constitutional guarantees, most of left's newspapers were closed as punishment for supporting the uprising and elected local town councils were disbanded.
Asturias 1934 was a dress rehearsal for the Civil War that was to rage from 1936 to 1939, a war in which miners also formed the biggest occupational group to serve in British battalions of the International Brigades that flocked to Spain to fight Franco's fascist hordes.
During that conflict, the miners of Asturias and León waged a bitter struggle against Franco's coup, resisting for more than a year before being subjected to renewed bloody repression. Many miners took to the mountains to maintain sporadic guerrilla warfare into the 1940s against the fascists and their murderous regime.
1934 and 1937 were not the end of the Spanish miners' mass engagement against fascism. In 1962, the pitmen and their communities went on "illegal" strike against sackings and victimisations but the fight rapidly escalated into a battle for higher wages that the fascist dictatorship were forced to grant despite again subjecting the miners to mass arrests, forced deportation, imprisonment and torture. Backed up with massive public support in which food was provided by farmers and shopkeepers, the miners won, hammering a large crack in the edifice of Franco's dictatorship.
Their organisations, the "workers commissions" were also crucial, evolving into the main trade union and working class opposition to Franco and developed into today's main trade union federation, the CCOO which, together with FITAG-UGT, is leading the current strike.
The evening before they trashed the fascists' posters, a column of about 200 miners from the northern coalfields of Aragon, León and Asturias had completed a gruelling 18-day trek of almost 460km to the Spanish capital where their caplamp-lit march was greeted almost half-a million cheering, applauding jubilant people supporting the miners' strike for their collieries, unions, communities and families.
The next day, a totally peaceful, indeed carnival atmosphere, 100,000-strong anti-austerity demonstration in scorching heat and under cloudless skies by other trade unionists but led by the miners was smashed – there is no other word – with extreme violence by police, beating people down with batons and indiscriminately firing rubber balls and plastic bullets, within view of Real Madrid's Bernabeu stadium. It was one of the most terrifying scenes I have ever witnessed and left many people shaken.
The miners' strike is not for more wages. It is against a raft of cuts by the right-wing conservative Rajoy government which has broken promises made to the miners last year and slashed subsidies to coal mining by 63%. These cuts, if implemented, will spell the end of Spain's 42 pits and the remote mountain communities that depend on them.
The dispute is now in its eighth week and in the coalfields the Spanish State is waging veritable war against the miners, firing rubber balls and plastic bullets at women and children and attempting to secure Civil Guard occupation of their villages. They are meeting fierce resistance as the miners blockade roads with trees, coal tubs and burning tires and fire home made rockets, tactics that have caused the Spanish far-right to spit with rage.
The Spanish miners and their families are deeply mindful of the consequences of Thatcher's near 100% closure of the UK's pits: mass unemployment, social deprivation, the spread of antisocial behaviour and drug abuse by a generation that has never known work and for whom no proper jobs are available. And they don't want these consequences.
They also remain relentlessly and bitterly hostile to fascism as they made plain in Madrid.
They have always supported anti-fascists in Spain and internationally.
Now, it's payback time
They have the full support of Spanish anti-fascists and need the support of anti-fascists everywhere.
For more information on the Spanish miners' strike:
https://www.facebook.com/SpanishMinersSolidarityCommittee
http://periodismohumano.com/temas/resistenciaminera
---
GERMANY |
Interior Ministry Ordered Destruction of Intelligence Files
Thursday, 19 July 2012, 21:55 | Source: Spiegel |

Germany's domestic intelligence agency has admitted to destroying even more files relating to the right-wing extremist scene -- this time on orders from the Interior Ministry in Berlin. The ministry denies the files contained any clues about the murderous National Socialist Underground trio.
Germany's Office for the Protection of the Constitution (BfV), the country's domestic intelligence agency, has admitted to destroying additional files related to investigations on the right-wing extremist scene. A new agency report discloses that six files from secret wiretapping operations were destroyed in response to a Nov. 14, 2011 order from the Federal Interior Ministry in Berlin. The order came just days after revelations that the right-wing terror cell known as the National Sociialist Underground (NSU) was responsible for the murders of nine small businessmen of Turkish and Greek origin.
The new incident once again exposes the seemingly chaotic state of the investigation into the murderous right-wing trio. For weeks, the BfV has been under public scrutiny after it became known that a senior agency official had shredded seeveral fileson his own initiative relating to informants in the right-wing scene just days after the NSU cell was discovered. The episode, referred to in the German press as the "Confetti Affair," has cost agency head Heinz Fromm his job.
The BfV says that the two incidents are unrelated and that the deleted files were of no great importance. According to three agency reports, all of which have been obtained by SPIEGEL ONLINE, none of the lost data contained information relating to the NSU trio. The reports say that the files concerned separate investigations into the right-wing scene. Still, the admission and the timing of the deletions are likely to raise new questions about the agency's professionalism and the effectiveness of its leaders.
Germany's Interior Ministry, which oversees the BfV, claims that the destructions of the files were routine and justified the act as being in adherence to rules governing the length of time that surveillance files are allowed to be kept. That the files were destroyed so soon after the NSU trio was uncovered, the Ministry says, is mere coincidence -- a claim seemingly substantiated by the fact that the Interior Ministry informed the parliamentary committee investigating the Confetti Affair about the deletions of its own accord at the beginning of this week.
Deepest Crisis in its History
The new agency reports are to be discussed at a special session of the parliamentary committee on Thursday morning. Interior Minister Hans-Peter Friedrich is scheduled to brief the committee on the destroyed files. Friedrich repeated on Wednesday his commitment to an extensive investigation into the BfV's handling of the right-wing terror case. Months of revelations uncovering serious BfV errors during its investigation of the murder spree -- which lasted from 2000 to 2007 -- have plunged the agency into the deepest crisis in its history.
According to agency documents, the destroyed files related to six surveillance operations in the right-wing scene. One had to do with the formation of a right-wing group to target political opponents in the eastern state of Brandenburg. Another focused on a separate group established to distribute right-wing propaganda. And still another related to a possible presentation by right-wing extremist talking head Horst Mahler, who planned to read from a manifesto at the former concentration camp in Auschwitz in the summer of 2003. The NSU trio did not play a part in any of the surveillance operations.
BfV research also sheds light on the circumstances surrounding last week's sudden resignation of Reinhard Boos, head of domestic intelligence in the eastern state of Saxony. Boos had asked to be replaced by August 1 after it emerged that transcripts of telephone conversations within the right-wing scene wiretapped by his agency in 1998 had recently come to light. The transcripts put enormous pressure on Boos, who had previously guaranteed Saxony's state parliament that the responsible state investigative committee had been provided with all relevant documents.
The documents in Saxony include 163 pages of transcripts from BfV wiretaps of conversations between suspected members of the neo-Nazi rock bank "Landser," the first band to ever be classified as a criminal organization by Germany's Federal Court of Justice. The conversations were recorded between June 1998 and April 1999. But, for six months, surveillance activities also focused on Jan W., who was briefly suspected of having provided the terror trio with weapons. However, BfV officials said that they hadn't found any evidence pointing toward involvement with the NSU and that they were only able to determine that W. had been selling outlawed Landser CDs.
Increasingly Embarrassing
As part of their eavesdropping operations, investigators were interested in gathering information on the underground NSU trio, which would later go on its murder spree across Germany. After receiving an informant's tip from their intelligence colleagues in the state of Brandenburg that Jan W., a Chemnitz-based neo-Nazi, might be in contact with the three extremists who had slipped off the radar, officials in Saxony decided they wanted to eavesdrop on W. as well.
Then, however, they learned from BfV officials that W. was already under surveillance because of his affiliation with Landser as part of an operation known as "AO 774." Federal officials supplied their colleagues in Saxony with several transcripts of their eavesdropping activities.
For intelligence officials, investigations into the files have become increasingly embarrassing. The documents make clear just how chaotic the situation related to purging and exchanging files had become. This has resulted, for example, in discrepancies between the list of files that BfV officials sent to Saxony and the list of those that have now turned up there.
These new reports might very well lead the parliamentarians on the investigative committee to wonder whether additional files with possible relevance to the NSU trio have also been destroyed. One list itemizing the deleted files indicates that a comparatively large number of dossiers related to right-wing extremism were destroyed after the terror cell had resurfaced. The itemization says that there were seven cases of document destruction in November 2011, 12 for December and seven more in early 2012.
For its own part, the BfV doesn't view these newly discovered cases of document destruction as mistakes. Instead, it presents them as completely routine instances of file purging. In a document signed by Fromm, the outgoing head of the BfV, the organization points out that, given Jan W.'s potential tie to the NSU trio, it had sent two additional unredacted transcriptions to the state of Thuringia with hints pointing toward a possible secret hideout for the trio. The document gives no indication as to how or whether these potentially significant clues were followed up on.
For the time being, the BfV has put a halt to destroying any more files relating to similar surveillance operations. In his brief on the new findings, Fromm writes that, on July 4, 2012 and "on its own initiative," his office ordered a halt to the destruction of any dossiers related to investigations into right-wing extremists.
---
GERMANY |
German far right bucks European trend
Thursday, 19 July 2012, 10:07 | Source: BBC |
While far-right or right-wing populist parties have won seats in national parliaments in countries such as France, Italy and the Netherlands, no similar breakthrough has occurred in Germany despite a relatively favourable electoral system.
The latest annual report by the German domestic intelligence agency confirms a decline in the membership of "right-wing extremist" parties over the last few years.
However, it also reports a growing neo-Nazi scene, and evidence of widespread racist and anti-Muslim sentiments means that an upsurge in support for such parties cannot be ruled out.
Who are the main players?
Germany's biggest far-right party is the neo-Nazi National Democratic Party of Germany - The People's Union (NPD). The party, which was founded in 1964, promotes a racial kind of nationalism and calls for Germany's borders in 1937 to be reinstated.
In its annual report for 2011, published on 18 July 2012, the Office for the Protection of the Constitution says the NPD "strives to overcome the current political system in Germany". However, in 2003 a government-led attempt to ban the party failed.
Another player, the German People's Union, merged with the NPD in 2011.
The NPD fared better in the former East Germany than in the West in 2009
A right-wing populist party, the Republikaner, was represented in three state legislatures in the nineties but is no longer a significant force at state or national level.
A more recent addition to the far-right political landscape is the anti-Muslim Pro Movement, which started in Cologne in 1996 and has spread beyond the city since 2005.
The intelligence agency report says the Pro Movement's North Rhine-Westphalia branch aims to "restrict rights guaranteed by the constitution, such as religious freedom".
How have they fared in recent elections?
Germany's voting system is based on proportional representation but parties must obtain at least 5% of the vote in order to win any seats in state or national elections.
The NPD has managed to do just that in two east German states in recent years. In Saxony it won 9.2% in 2004 and 5.6% in 2009. In Mecklenburg-Vorpommern it won 7.3% in 2006 and 6.0% in 2011.
Other parties, such as the Republikaner and Pro Movement parties, have scored less than 2% in recent state elections.
The combined far-right vote in the 2009 federal election was just 2%. The NPD, which obtained 1.5%, achieved markedly better results in the former East Germany than in the former West Germany.
Why is the NPD stronger in the east?
Media commentators believe the high level of support for the NPD in parts of the east is the result of a widespread feeling of injustice combined with the presence of a significant base of loyal voters in some areas.
Some analysts have also argued that the accession of East Germany to the West in 1990 was underpinned by racial ideas about the German nation. It may thus have fostered a racial sense of national identity among the new citizens, as advocated by the NPD.
Why are there more neo-Nazis?
Political parties are merely one manifestation of a wider far-right scene in Germany.
The latest intelligence agency report records a fall in the membership of "right-wing extremist" parties from 14,200 to 7,300 between 2007 and 2011. But it notes an increase in the number of "neo-Nazis" from 4,400 to 6,000 in the same period.
The intelligence agency attributes the rise to the "action-oriented nature" of the neo-Nazi scene, which it says appeals in particular to young right-wing extremists.
A nail bomb attack and a series of murders carried out between 2000 and 2007 have been attributed to a neo-Nazi group which was only uncovered in November 2011. The intelligence agency warns that "comparable radicalisation processes" among other groups "cannot be ruled out" and that the number of right-wing extremists ready to use violence has gone up from 9,500 in 2010 to 9,800 in 2011.
Are far-right parties doomed?
The intelligence agency report records an overall fall in the number of people linked with right-wing extremism from 31,000 to 22,400 between 2007 and 2011. The main driver behind this development is the fall in the membership of far-right parties.
However, a study published in 2011 by the Friedrich Ebert Foundation suggests that "widespread" racist and anti-Muslim attitudes in Europe are no less common in Germany than in countries such as France, Italy or the Netherlands.
There is thus a greater potential for German far-right parties to succeed at the ballot box than recent election results and party membership figures might suggest.
On the other hand, there is renewed debate in Germany about the possibility of banning the NPD, and there is currently no far-right contender likely to match or surpass that party's electoral appeal in the short term.
---
USA |
American Front arrests part of broader FBI domestic terrorism probe
Wednesday, 18 July 2012, 21:32 | Source: Orlando Sentinel |
The investigation of the American Front neo-Nazi group in Osceola County grew out of an FBI domestic terrorism investigation of ties between Florida motorcycle clubs and white supremacy groups in North America and Europe, according to court records released this week.
The small neo-Nazi group in Holopaw had aspirations of becoming dominant force in the nationwide skinhead movement about two years ago when an informant infiltrated its ranks, records show.
No stranger to crime, the informant was a mid-level drug dealer who hung out for years with bikers across Central Florida.
In late 2009, he started dealing ounces of cocaine every month to St. Cloud members of the Kavallerie Brigade, another neo-Nazi group of bikers under surveillance by the federal, state and local law enforcement, records state.
Those records do not state when or why the drug-dealer became an informant but the most common reason involves getting arrested and being given an opportunity to work off charges by assisting law enforcement. Whatever the reason, the unidentified informant began sending weekly and sometimes daily reports to the FBI Joint Terrorism Task Force.
His undercover work included attending Murder City Hammerfest 2010, a music festival in Detroit billed as "The biggest, baddest skinhead event in North America." While there he developed contacts with white supremacists from Germany and reported back to the FBI.
The records released this week focused on his work infiltrating the American Front. But numerous references were made to collecting information on the alleged white supremacy activities of the Outlaws and the Warlocks, two long-standing Florida motorcycle clubs.
"You would not be able to tell that most of these people are part of a Nazi group," the informant wrote about the St. Cloud Kavallerie Brigade members armed with AK-47s, short-barrel shotguns and numerous handguns. "Most of them do not have (Skin Head) and most had regular jobs."
While gathering information that helped the FBI arrest six bikers in March in St. Cloud and Chicago on drug and bomb-related charges, the informant also joined the American Front as full member, records state.
His reports on American Front leader Mark Faella hosting white supremacists from across the U.S. and Canada helped the FBI to turn some of those visitors and group members into informants.
One included a member of the Missouri National Guard who first contacted the American Front while serving a second tour in Iraq in 2009-2010 and provided combat training to the group before quitting to become a " 'lone wolf' Skinhead," records show.
The hundreds of pages of reports released this week are part of a pre-trial process known as discovery to show defendants and their lawyers the evidence collected against them.
Records indicate the evidence includes numerous video clips secretly recorded by the informant with a "pen" camera.
So far, 14 accused members of the American Front have been arrested on charges of illegal firearms possession, participating in anti-government paramilitary training, conspiracy to commit a hate crime and planning to attack an undisclosed target.
The most recent arrest happened June 9 when Luke Legar, the head of the American Front's California chapter, was picked up in California on charges of conspiracy and participating in paramilitary training in Holopaw.
---
GERMANY |
Germany at risk of neo-Nazi 'copycat killings'
Wednesday, 18 July 2012, 17:35 | Source: Daily Telegraph |
Heinz Fromm, head of the Office for the Protection of the Constitution (BfV), the German equivalent of MI5, said that there was an increasing risk of violence by far-right extremists inspired by the actions of the National Socialist Underground (NSU).
The three-person gang murdered nine men of immigrant background and a policewoman between 2000 and 2006 along with carrying out a string of bombings and bank robberies in Germany's worst outbreak of home-grown terrorism since 1980.
Presenting an annual report into national security prepared by his agency, Mr Fromm said "individuals could take these acts as an inspiration, and act in a similar manner," adding that "great vigilance was needed".
The report also stressed that there is an increasing risk of violence "by self-radicalised individuals or small groups" from the far right.
Mr Fromm's warning comes amid mounting concern in Germany over the threat posed by neo-Nazi extremists.
Initial astonishment in Germany over the extent of NSU's actions and the total failure of the police and intelligence services to catch them, has been compounded by recent scandals that have fuelled conspiracy theories that the group enjoyed the protection of some in the intelligence community.
Earlier this month it was revealed that the BfV had shredded key case files on NSU, and that a secret agent may have been present at one of the murders but failed to take any action.
---
GERMANY |
Neo-Nazis Go on a Rampage at the Opening of a Painting Show at Kunsthaus Erfurt
Wednesday, 18 July 2012, 17:31 | Source: artinfo.com |
Eight members of a far-right extremist organization attacked the opening of "Miss Painting" at the Kunsthaus Erfurt on Friday, the institution announced Sunday.
In what sounds like a scene out of a Western, the accused individuals entered the exhibition, shouted a series of Neo-Nazi slogans while throwing beer bottles indiscriminately into the crowd, and brutally attacked members of the Kunsthaus's staff.
Exhibition curator Dirk Teschner's nose was broken during his beating. Meanwhile, an unidentified woman had her head smashed into a car hood as she was walking away from the scene with her child.
Kunsthaus Erfurt director Monique Förster had a full beer bottle broken over her head, though specifics of any resulting injuries have not been reported.
Though the perpetrators were arrested, resulting in injuries to one officer, the police later freed them pending further investigation regarding the extent of the injuries sustained by exhibition-goers who had been hit by the bottles or harmed by other means. Authorities would only confirm that the eight arrested persons did have ties to an extreme-right cell operating in the region.
"Miss Painting," on through August 25, features works by Katja Brinkmann, Franziska Holstein, Kristina Schuldt and Anne Vorbeck. It is hard to fathom why the extremist group chose this particular exhibition to attack.
One could point to Ms. Förster's position as Cultural Committee director for the Erfurt segment of the Green Party as a possible motive — though, in that case, it is unclear why the indiscriminate violence targeted Teschner and the other exhibition goers.
Regardless of motivations, the attack does nothing to help Erfurt, a small city in the center of Germany best known fo the 2002 school shooting that left 17 dead.
---
ESTONIA |
Human rights group slams Estonian Defense Minister over Nazi sentiments
Tuesday, 17 July 2012, 01:35 | Source: RT |
The Estonian Anti-Fascist Committee claims that the country's Defense Minister was justifying neo-Nazi sentiments in his recent speech before the congress of Estonian Waffen-SS veterans.
The comment was issued after Defense Minister Urmas Reinsalu spoke at the congress of "freedom fighters" – the veterans of the 20th Waffen SS division and other Estonians who fought on the Nazi side in WWII.
The country's authorities refer to those people as "freedom fighters". The minister said then that the input of these fighters "saved the honor of the Estonian people" and also that it was "of decisive importance" for the Estonian Republic.
"Defense Minister Urmas Reinsalu again, speaking on behalf of the Estonian State, demonstrated to the whole world that Nazi ideology can be justified and those who followed Hitler's orders can become national heroes," reads the statement of the Anti-Fascist Committee.
"The reason for such negligence to the norms of law and morals is based on only one thing – the higher echelons of power in the European Union are turning a blind eye to neo-Nazi sentiments and refuse to pay attention to the falsification of history and the making of Nazi criminals in Europe into heroes," it continues.
The committee also reported that it had sent an invitation to Russian Senator Mikhail Margelov, who represents the Pskov Region which borders Estonia, to personally witness the upcoming event dedicated to Waffen SS veterans that will take place in Estonia's village of Sinimae.
This is not the first time Estonian authorities have been subject to criticism for glorifying Nazi collaborators. The Anti-Fascist Committee and other HR organizations have blasted the country's authorities for organizing marches of former SS legionnaires as well as other events, such as the international competition of special troops named after the Nazi Erna raid.
Earlier this year, the Estonian authorities issued a visa ban on two Russians – a researcher and a reporter – who planned to take part in an international conference on WWII and Estonia's role in it.
---
HUNGARY |
Most wanted Nazi found in plain sight in Hungary
Monday, 16 July 2012, 15:28 | Source: thejc.com |
Ladislaus Csizsik-Csatary, 97, the world's most wanted Nazi war criminal for his role in the movement that sent 15,700 Jews to their deaths at Auschwitz, was found yesterday in Budapest, Hungary, living a normal life amongst unassuming neighbours, 15 years after his whereabouts were last known.

Csizsik-Csatary, who was tracked down by campaigners at the Simon Wiesenthal Centre, adamantly denied allegations about his past when questioned at his front door and turned journalists away, having previously been watched and followed for four hours as he took a leisurely stroll through the city he now calls home.

He was a police commander in charge of a Jewish ghetto in Kassa, Hungary, and reports reveal that Csizsik-Csatary both oversaw and personally conducted the whipping of women and instigated a shoot-on-sight policy if they tried to escape.

After the Allied victory was declared in 1948, Csizsik-Csataray fled Kassa after being sentenced to death for war crimes and his location was not known until 1997, when he surfaced as an art dealer in Canada. Consequently, the Canadian government revoked his citizenship, but before deportation plans could be finalised, Csizsik-Csatary fled once more and since then, authorities had failed to track him down.

Prosecutors in Hungary are now reviewing the evidence in front of them.
---
ITALY |
Official wants school renamed after Mussolini
Monday, 16 July 2012, 09:52 | Source: news24 |
An Italian municipal councillor has sparked an uproar by suggesting that a school in a northern villagebe re-named to honour fascist dictator Benito Mussolini, reports said on Saturday.
Giovani Iotti, of the People of Liberty party founded by former prime minister Silvio Berlusconi, made the proposal for the school in Pieve Saliceto, where Mussolini briefly taught in 1902 before his rise to power.
It should be renamed, said Iotti, "not to exalt the head of the Fascist Party, but to remember the teacher in our primary schools," ANSA news agency reported.
"The elderly in the country, the children and grandchildren of his students, remember him as a strict teacher who prepared his lessons well," he told the Resto del Carlino regional daily, ANSA reported.
The deputy mayor of the village, Francesco Villani, dismissed the idea, saying Mussolini was a dictator.
Mussolini became prime minister in 1922 and set up a totalitarian state that went on to ally itself with Nazi Germany during World War II.
He remained in power until he was overthrown in 1943 as the tide of the war turned against him.
In 1945, he was captured by partisans as he tried to flee to Switzerland and shot, his body strung up in a public square.
A 1952 law has banned any apology for fascism, but in April of this year, an association of Italian fascist veterans unveiled a plaque outside the house where the dictator was executed.
Mussolini still enjoys a cult following among Italy's far-right groups and his tomb in Predappio receives thousands of visitors every yea
---
GERMANY |
Neo-Nazi acquitted after driving into leftists
Sunday, 15 July 2012, 20:21 | Source: thelocal.de |
A German neo-Nazi who drove into a group of leftists, leaving one with a brain injury, has been acquitted of attempted manslaughter. The judge found he was acting in self-defence.
The incident happened last October at a neo-Nazi event in Riegel am Rande in the southern German state of Baden-Württemberg.
The 29-year-old accused was sitting in his car in a car park when he was approached by a group of left-wing extremists, who had their faces covered. The neo-Nazi reacted by starting the ignition and driving into them at speed, hitting a 22-year-old.
The young man suffered a severe head injury and haemorrhaging, and continues to suffer from a speech impediment and motor dysfunctions.
But a Freiburg court acquitted the neo-Nazi of all charges, the Süddeutsche Zeitung reported on Friday. The judge ruled that he had acted in self-defence while trying to escape, and that the prosecution had failed to prove that he was deliberately trying to harm anyone.
"Justice is not biased," the judge said in her closing statements, adding that the trial had not been about political views, but whether a crime had been committed. She argued that the principle of "innocent until proven guilty" also applied to neo-Nazis.
The state is now obliged to pay damages to the neo-Nazi for taking away his driving license following the incident.
A court press statement said that the left-wing activists could easily have got out of the car's way, and that although the accused could have taken another route to avoid a collision, the judge could not rule out that he had panicked and not noticed this alternative.
The court also disregarded the prosecution's evidence that the accused had posted a message on Facebook shortly before the incident, saying that he would love to be in a situation where he could "get" a leftist.
---
LEBANON |
Rights group vows to fight racism in Lebanon resorts
Sunday, 15 July 2012, 15:20 | Source: alarabiya.net |
The Anti-Racism Movement in Lebanon called on Friday for an end to discrimination at beach resorts which deny entry to foreign workers and domestic staff, according to Lebanon now blog.
It singled out 10 very well-known beach and pool resorts for their unabashedly racist policies.
Incidents of racism at Lebanon's popular beach clubs have been reported before; some are known for their bias in entry policies despite tourism ministry's effort to ban resorts from discriminating on the basis of race, nationality or disability.
According to a report in The Daily Star in May, the tourism ministry issued a circular letter to all owners of resorts in which they were warned against any form "of discrimination in terms of race, nationality or ... special needs" and how it would not be tolerated.
A ministry spokesperson told the newspaper that it will conduct spot checks of resorts, and those who fail to conform will be issued warnings and fines, or will be forced to close their establishment.
Resorts owners have informed the ARM that migrant domestic workers may be allowed to enter their establishments, but they may not be allowed to swim. However, the group plans to continue its activism until it "compiles a comprehensive list of violators".

In 2010, the ARM had released a video that disclose a black woman being denied entry to Beirut's Sporting Club.
Following this incident, the group posted a clip featuring a club's public relations manager Walid Abu Nasser rejecting all accusations of racial discrimination, saying that the establishment is a private facility, which has the right to grant entrance.
---
REPUBLIC OF IRELAND |
Racists cut Nazi/KKK slogans into kids' play area after attacks
Sunday, 15 July 2012, 15:17 | Source: an Phoblacht |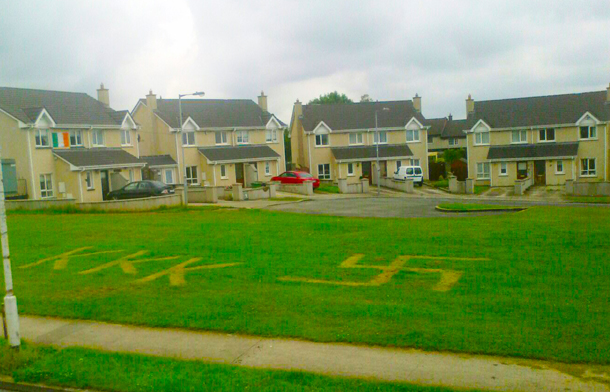 Racist graffiti cut into the children's grass play area
RACISTS responsible for two separate attacks which left two men injured in recent weeks may have cut a large Nazi swastika and the initials of the Ku Klux Klan into a children's grass play area in Finglas on Dublin's northside.
The Nazi/KKK slogans appeared in the past week near the Tolka Valley Road, alongside one of the Dublin suburb's main bus routes.
Local Sinn Féin Councillor Anthony Connaghan told An Phoblacht:
"A member of Sinn Féin Republican Youth spotted the racist vandalism early on Thursday morning and contacted me. I immediately got on to Dublin City Council to have the offensive slogans removed.
"The decent people of Finglas are disgusted and appalled by these incidents. There is absolutely no place in society for this type of racism and intolerance."
Local residents have raised their concerns about racist attacks in the area with local elected representatives and the Garda at a recent meeting of the Finglas Safety Forum.
Anyone with information about the attacks or any other racist activity are urged to contact the Garda directly and without delay.
---
ITALY |
Top fascists gather in Milan
Friday, 13 July 2012, 01:00 | Sources: Various |
The Alliance of European National Movements (AENM) met in Milan on 6 and 7 July, hosted by the Italian extremist Movimento Sociale –Fiamma Tricolore.
Attending the junket were British National Party boss Nick Griffin and AENM treasurer and Hungarian MEP from the nazi Jobbik Movement, Béla Kovács, as well as Marco Santi of Democratie Nationale in Belgium, Marc Abramsson of the Nationaldemokraterna in Sweden, Peter Frade of the National Renewal Party of Portugal and Jordi Font of the Republican Social Movement in Spain.
They were joined by the Slovenian National Party, in the shape of its president, Zmago Jelincic, and top Hitler fan Norman Lowell, the head of the hardcore loony nazi and viciously antisemitic Maltese movement, Imperium Europa.
Also treading the boards with this motley crew of racists and Jew-haters was the president and founder of the Alliance, the veteran French fascist Holocaust denier Bruno, Gollnisch, a Front National MEP.
---
GREECE |
Far-right drive for "Greek" blood bank angers medics
Friday, 13 July 2012, 00:40 | Source: news.terra.com |
A drive by the far-right Golden Dawn party to get Greeks to donate blood only for their fellow citizens has outraged doctors and medical authorities, who have slammed the initiative as racist and inhuman.
Golden Dawn, which enjoyed unprecedented success in last month's election after promising to rid Greece of all immigrants, put up posters in Athens calling for volunteers to donate blood "only for Greeks who need our help."
"All the bottles of blood we collect will be handed over to patients we choose and to no one else," the party said in a statement. "This right to choose belongs not just to Golden Dawn members, but to all volunteer blood donors."
The party, which denies it is neo-Nazi, said it had managed to get such a blood bank up and running at a state hospital in Athens.
But health officials said this would be illegal, and the hospital's manager, Yiannis Stefanou, said there would be no discrimination as the rules required all blood donations to be made available to all patients who need them.
One of the biggest doctors' unions in Athens said the Golden Dawn initiative was an "insane, unscientific, illegal and racist action" and promised to do everything necessary to protect the "sacred procedure of blood donation".
"This would be inhuman. If someone needs blood, he or she should have every right to get it no matter who they are," a health ministry official said.
Golden Dawn, which won seats in parliament this year for the first time, has been flaunting its success by pushing increasingly prominent anti-immigrant initiatives in recent weeks.
Five years of recession linked to the euro zone debt crisis have fuelled increasingly virulent anti-immigrant sentiment in Greece, which has long struggled to cope with an influx of illegal migrants from Asia and Africa.
---
GERMANY |
German Officials Believe They Have Uncovered New Far-Right Group
Monday, 9 July 2012, 23:24 | Source: spiegel.de |
Over the weekend, police in Germany carried out raids into a possible right-wing extremist group in the states of Brandenburg, Berlin and North Rhine-Westphalia.
Police in Germany carried out raids in three German states at the homes of suspected neo-Nazis. Officials believe they may have been in the process of creating a new armed, right-wing extremist group.
The radio message that reached a police patrol in the eastern German state of Brandenburg on the evening of March 22 sounded at first like a routine incident. A man had been found unconscious in his bed in a hotel in Herzberg, a village around 60 kilometers (40 miles) northwest of Berlin.
By the time the officers entered room number 15 at the "Weisses Haus" ("White House") pension, a doctor had already confirmed that the guest was dead. There were no signs of violence on the man's body. He had apparently died of a heart attack.
With no evidence of foul play, it looked like an open-and-shut case -- except for one small detail. The police also found a military backpack in the room containing an arsenal of weapons. It contained three guns, including a 7.65 mm pistol and a converted American submachine gun with a telescopic sight, as well as about 300 cartridges for various calibers of weapons. The identity of the dead man also proved to be highly interesting. He was Jörg Lange, an activist in the far-right scene with a police record, who was born in 1966 in the northeastern state of Mecklenburg-Western Pomerania.
Three months later, the authorities are trying to answer several questions. What was the man planning to do with the weapons? How did the arsenal come to be in his room at the guesthouse? And, most explosively of all, had a new militant neo-Nazi group formed close to the German capital, just months after the discovery of the Zwickau cell, which is believed to have murdered at least 10 people?
On Saturday, police took action, carrying out raids in the states of Brandenburg, Berlin and North Rhine-Westphalia, where they searched private homes and the premises of a far-right mail order company. A total of 56 officers were involved in the operation, which was led by the Brandenburg State Office of Criminal Investigation and the Neuruppin public prosecutor. The raids were targeted at five suspects who are accused of illegally possessing weapons and forming a militant group. During the raids, the police seized computers, documents, an air gun and starting pistols. They did not find any more dangerous weapons, however.
The discovery of the corpse in the Weisses Haus has long been common knowledge in Herzberg, population 660. According to locals, right-wing extremists wanted to set up a far-right training center in the guesthouse.
In the spring of this year, a woman had leased the 4,500-square-meter (48,500 square feet) property, which includes offices, meeting rooms and guest rooms. She reportedly told the unsuspecting owners that she wanted to offer computer courses and seminars on alternative lifestyles.
Investigators believe, however, that it was actually the new tenant's boyfriend who was interested in the property – and that he had very different plans for the guesthouse. The man, Meinolf Schönborn, has been regarded as a key figure in the German neo-Nazi scene for over three decades. Schönborn was also one of the five suspects targeted in Saturday's raids.
In the early 1980s, Schönborn held high-level positions in the far-right National Democratic Party of Germany (NPD) and its youth organization, the Young National Democrats (JN). He later led the Nationalistic Front (NF), which was banned in 1992 because of its plans to establish paramilitary units.
Schönborn currently runs a far-right mail order business. Its website proudly lists his brushes with the law ("68 house searches, multiple prosecutions and a 27-month prison sentence"). In addition to far-right clothing and ornamental weapons, his online store also sells extremist propaganda leaflets from the far-right group Neue Ordnung ("New Order"). Several of these pamphlets name Jörg Lange – the dead man from the guesthouse – as the person responsible for the publication under German press law.
According to witnesses, Lange apparently checked into the guesthouse, which is in a quiet location, about three weeks before his death. He reportedly needed to make himself scarce from his Berlin apartment. Public prosecutors repeatedly had him in their sights on suspicion of inciting racial hatred.
In an office in the guesthouse that Lange used, investigators discovered "New Order" leaflets, files which mentioned the former far-right terrorist Manfred Roeder, a bulletproof vest, batons and a dagger decorated with Nazi symbols.
Investigators have discovered that Lange met with other right-wing extremists just a few days before his death. They include Jan G. from Berlin, who Lange knew from the old days in the Nationalistic Front. G. is listed as a "right-wing criminal" in official records. G. claims that he had arranged another meeting with Lange five days after his first visit. When Lange did not open the door, G. broke it open, discovered the lifeless body and called the emergency services.
One of Meinolf Schönborn's right-wing publications has since published an obituary to the late Lange, who apparently spent time in a prison run by the East German secret police, the Stasi, as a young man and later became a "committed Nazi." According to the obituary, Lange went on to fight as a volunteer in the Yugoslav war on the Croatian side. The right-wing extremist is praised as "an excellent graphic designer, computer expert and leader." His death, the text continues, is not only a "personal loss" but also represented a severe "organizational and political" setback for the project to develop the training center.
Indeed, the discovery of the weapons and the subsequent investigation is unlikely to have gone down well in the far-right scene. The planned training center in Herzberg will not happen. After learning of the background to the lease, the owners have cancelled the contract. The property is now up for sale.
In the garden, someone has hoisted a tattered flag of the state of Brandenburg. It is flying at half-mast.
---
GERMANY |
German neo-Nazis lure youth with music
Sunday, 8 July 2012, 22:39 | Source: Toronto Star |
FROM "BLOOD MUST FLOW"The murky footage from a new documentary In a dark seedy club, tattooed skinheads face the stage. In unison, they raise their arms in a Nazi salute and sing along, "Adolf Hitler come down from heaven and govern Germany again. We raise our hands to the Fuehrer."
This frightening scene is one of many from a new documentary created out of six years of secret recording in neo-Nazi clubs. Shot in more than 50 underground venues, the murky footage is a window into the hateful scene of extremist right-wing rock.
Blood Must Flow: Undercover Among Nazis, by TV-documentary veteran Peter Ohlendorf, looks at the persistence of the neo-Nazi scene through the proliferation of its music, proving that extremist rock is a way to lure youth culture into the fold and radicalize it.
"The concerts are a gateway for young people to enter this neo-Nazi scene," said Ohlendorf. "There are no clubs for young people in the countryside. So these concerts offer a place where they can gather and do whatever they want. And this is where the neo-Nazis get their big chance to make impressions."
On an investigative road trip, Ohlendorf follows journalist Thomas Kuban (an alias) on his journey across Germany, as well as parts of Austria and Hungary, to revisit venues where Kuban had secretly filmed wearing his "fascist pig getup," basically a bomber jacket outfitted with tiny cameras and audio recording equipment.
Kuban's horrifying footage is cut between scenes of their trip and interviews with locals. In several clips, singer and fans chant racist obscenities and the anti-Semitic "Blood Must Flow," a favourite anthem among the scene, seducing impressionable minds to join them in the slander and violence.
Martin Langebach, featured in Blood Must Flow, is a sociologist who has been researching right-wing extremism for 20 years, in particular its implications on youth culture.
According to Langebach, some bands become popular because they play a more "indie" type of Nazi rock with simple melodies, while others gain notoriety for having extremely racist and cynical lyrics.
More than 100 Nazi rock CDs are released each year in Germany, from around 30 different record labels. "The merchandising has grown enormously in the last years," said Langebach. "The special feature of the German scene is that is has a number of original clothing brands."
Apart from selling T-shirts and CDs at underground shows, merchandise sales are common through online shops, some of which Langebach says are quite professional.
Blood Must Flow uses Kuban's findings to create a larger argument, which is that public authorities and state officials are dismissing a very real and dangerous problem.
Stranger still is the fact that police are often aware of these illegal neo-Nazi concerts, sometimes waiting outside the club in case violence erupts. In fact, publicly inciting hatred in both lyrics and speech is a criminal offence in Germany. Yet Kuban's footage is riddled with evidence.
However, state officials were forced to react last November, when a series of murders of Turkish and Greek immigrants were attributed to the National Socialist Underground (NSU), a far-right German terror group.
"The NSU has made it clear that this issue still exists," said Ohlendorf.
Premiering at the Berlin Film Festival last February, Blood Must Flow is currently on tour across Germany, screening to packed audiences. Ohlendorf is still looking for television distribution for his film.
---
NETHERLANDS |
Former Wilders' councillor active on nazi Stormfront website
Saturday, 7 July 2012, 08:13 | Source: Dutch News |
A former councillor for the anti-immigration PVV in Noord Holland has close ties to the neo-nazi group Stormfront and submitted 2,200 items to the organisation's website, the Noord-Hollands Dagblad reported on Friday. Monica Nunes is one of three provincial councillors who left the PVV earlier this year to go it alone. In her writings on the site, which ended around three years ago, Nunes says all Muslims should be sent back to their country of origin and 'Jews have a good nose for money', the paper said.
Nunes used the name Doubt while active on the site. Her role was uncovered by anti-facist research group Kafka. In a statement, Nunes said she had been a member of the Stormfront website, but with the aim of persuading other members to think differently. 'I might have been stupid to join a debate with these nazis,' she said. 'But I argued against their most insane racial theories and always defended the Jewish community and existence of Israel.'
Two parliamentarians for the PVV resigned on Tuesday, just moments after the publication of the anti-immigration party's manifesto for the September general election. Marcial Hernandez and Wim Kortenoeven said they were leaving with immediate effect because of the dominant role in the movement played by its founder Geert Wilders. 'Everything revolves around Geert Wilders and he does not take anyone else into account,'
Hernandez told a news conference. 'He chooses and plays with the future and lives of the people around him.' The PVV is due to publish its list of candidates for the election on Friday. 'I suspect some people are acting in anticipation of the list,' Wilders is quoted as saying by news agency ANP.
The PVV's strategy for the general election is to focus on 'everything connected to Europe,' Wilders said at the presentation of the party's plans. The manifesto, entitled Hún Brussel, óns Nederland (their Brussels, our the Netherlands), is a declaration of independence, Wilders said. 'We are pragmatic and patriotic'. The EU flag which waves above the parliamentary complex is an 'indignity' and should be removed as soon as possible, Wilders said. Other points in the manifesto include a commitment to keep the state pension age at 65. The party also wants to keep the current unemployment benefit system and make no changes to redundancy law.
The PVV aims to meet financial targets by reducing the size of the government, slashing spending on development aid, limiting child benefit and increasing the extra tax on banks. Despite the renewed focus on Europe, Islam remains an important issue, Wilders said.
---
GREECE |
Nazi Golden Dawn party rides wave of xenophobia
Saturday, 7 July 2012, 08:06 | Source: Metro News Canada |
He doesn't walk alone. Not to his convenience store in the morning. Not to his apartment at night. Not anymore. When Tipu Sultan Mirza Mohamed moves, three or four fellow immigrants from Bangladesh move with him.
The Bangladeshis of Athens now travel in packs because the thugs travel in packs. In the last month, supporters of Golden Dawn, the virulently anti-immigrant far-right party whose logo is a modified swastika, have beaten, among many others, an Egyptian fisherman sleeping on his roof, two Algerians sleeping near a beach, a Pakistani man and Bangladeshi man walking in a subway station, and an Albanian standing on the street. None of this — nor an assault this month by a Golden Dawn MP on a Communist female MP on live television — has appeared to do anything to dampen the party's popularity.
After Golden Dawn earned 6.97 per cent of the vote in the May federal election, up from 0.23 per cent in 2009, some leftists dismissively argued that this was a one-time protest statement. But Golden Dawn got 6.92 per cent in the election on June 17. The party, which uses slogans like "rid this land of filth," was a fringe movement from its founding in 1980 until three years ago.
Then came the economic crisis that sent unemployment skyrocketing to 23 per cent and forced Greece to submit to other European countries' humbling austerity demands. Next, under ideal breeding conditions for ultranationalism and fascism, came the wave of xenophobia and violence that has Mohamed and his compatriots living in fear.
"Nobody here safe now," Mohamed, 42, said in halting English, the day after the election in his store in the poor immigrant neighbourhood of Omonia. "Nobody. When I come here in 2004, I go alone to the square in the night, nobody stop me. Now in the day I'm afraid to go alone. They come to me, they ask, 'Why you come here? When you go back to your home? Why don't you leave?' I don't know why they ask this. We are in Europe. Europe is human rights. Where go human rights? Where? If I can't walk on the road, where go human rights?" He doesn't look like a brown shirt.
In fact, he wears a blue-collared shirt that says PepsiCo above the breast pocket. The 40-year-old man, who says he can't give his name because of his job, is a well-coiffed Pepsi salesman in stylish jeans. He is also an enthusiastic supporter of Golden Dawn. The attacks on immigrants? "I'm not sure if what the media says is 100 per cent true, but even if it is, this has an impact on the immigrants. They're more afraid. So things are more calm, and there is less violence against Greeks. If the police isn't doing its job, someone else has to." Slapping another politician repeatedly on TV? "What people took from that was that Golden Dawn will do the same thing to the entire political system."
Golden Dawn's vehement stand against the country's bailout agreements — its 55-year-old leader, Nikos Michaloliakos, calls them "slavery" — appeals to the same anger against austerity and old-guard politicians that has propelled the sudden rise of a new leftist party, Syriza. Like many extremist parties, Golden Dawn is especially popular with young men. Half of the country's under-25 population is unemployed; Golden Dawn offers poor youths with few prospects an easy scapegoat for their financial troubles, a social institution in which they can feel important, and a salve for their wounded national pride.
"Local guys can't go to the square because of the immigrants. They're scared," said Stavros Tsouis, 18, a house painter and Golden Dawn supporter in the Athens suburb of Markopoulo, which has also seen an immigrant influx. "If other parties cannot get rid of them, there is no other way. It (violence) is not a proper way, of course, but . . . " He trailed off. "I'm thinking of my 7-year-old brother and his future." The Pepsi salesman sat under a cafe tent last Wednesday in the Athens neighbourhood of Agios Panteleimonas. The neighbourhood, known as such for the grand Orthodox church of the same name, has become a hotbed of anti-immigrant sentiment and Golden Dawn support.
The church's priest provides food and guidance to hundreds of the poor illegal immigrants who live in the dingy apartment buildings nearby. In apparent retaliation, Golden Dawn loyalists wrote a party slogan — "Foreigners out of Greece. Greece belongs to the Greeks" — in chalk in front of the church steps. They have also locked the gate to the playground on the church grounds to prevent immigrant children from using it.
A local senior, who also wouldn't give her name, said Golden Dawn members have endeared themselves to neighbourhood Greeks by volunteering to accompany the elderly on their errands. Before then, she said, they were regularly robbed by South Asians.
A major spike in immigrant crime has aided Golden Dawn's rise. The problem of immigrant crime, in turn, has been fuelled by both the economic crisis and Greece's dysfunctional immigration system.
An EU agreement allows countries to send illegal immigrants back to the first European country they set foot in — which is Greece more than 50 per cent of the time, because it offers a land crossing through Turkey. Greek political leaders, joined by human rights groups, have complained bitterly about their disproportionate burden.
They have also failed to unilaterally solve the problems they have the power to address. Greece, a country of 11 million, grants refugee status to almost nobody: 11 of 15,928 claimants in 2009. It also provides almost no support to new arrivals, many of whom live in squalid conditions, and takes years to process refugee claims; there is a backlog of more than 30,000.
Without documents, Human Rights Watch has reported, immigrants "spend a great deal of time unemployed or in exploitative work situations," have little contact with Greeks, and "often live in dire poverty with inadequate food, health care and shelter." The vast majority of Greece's million-plus immigrants were Albanians until four years ago, when the Turkish crossing overtook the boat routes to Italy and Spain as the most popular gateway to Europe.
Tens of thousands of unskilled, non-Greek-speaking Africans, South Asians and Arabs have since made their way to Athens. Just as the economy collapsed, swaths of the city that had seen few non-white residents for centuries became ghettos for dark-skinned Muslims. Few of the new arrivals have experienced anything but misery.
Hali Sip, a lanky 26-year-old former youth soccer player from Senegal, is one of dozens of Africans who try to sell knock-off clothing, luggage, sunglasses, watches and trinkets on the sidewalk outside the Athens University of Economics and Business. His visible inventory consists of four bags. As of last Tuesday, he had not had a customer in a week. To pay the rent, he said, he also collects discarded bottles to return for a wretched €1 per kilogram.
He came to Greece in pursuit of "the European dream": "To become somebody, to become a man, somebody who is respected. " He would now return to Senegal if he could afford it. "Dying in Africa is better than dying here," he said. "Because we fled death there, and we came here, and there's death here, too. It's better to die back there with dignity." Hundreds of Africans used to hawk their wares outside another university down the block from the business school.
In May, a month before the election, the chaotic improvised market, which had undercut and infuriated established shopkeepers, was shut down by riot police. Bored-looking officers with shields and helmets now patrol the empty street three hours a day. Asked last Tuesday if the crackdown was political, one of them said, "Obviously political."
The former socialist government launched a United Nations-aided immigration reform effort in 2010. But the socialists, too, have since attempted to capitalize on anti-immigrant resentment — issuing warnings about foreign prostitutes, approving a 12.5-kilometre fence on the Turkish border and campaigning on a pledge to build 30 new detention centres.
New Democracy, the centre-right party that won, talked even tougher, pledging to repeal a 2010 law that allows the children of illegal immigrants to obtain citizenship. And Golden Dawn now has 18 seats in parliament. The party promised to plant landmines along the border with Turkey, deport all illegal immigrants, and conduct raids on hospitals and kindergartens to forcibly evict immigrant children.
Though it denies that it is a neo-Nazi party — the Nazis occupied Greece during World War II — its members make Nazi salutes at rallies, Mein Kampf has been displayed at its headquarters, and its leader, Michaloliakos, denies the Holocaust. "Golden Dawn is not another political party.
This is an openly neo-Nazi party, a fascist party, and in the long term it will have grave consequences on Greece, on its society, and on its image abroad. Democracy is based on tolerance for the other," said Sotiris Methenitis, the centre-right mayor of Markopoulo, who issued an unusual pre-election plea "begging" constituents to vote for anyone else.
"In Greek mythology, the most important god, Zeus, was the protector of the foreign. Greece has a long history of paying particular attention to the significance of the foreign person coming here. He has to be treated with respect. This has been a feature of modern Greece. Up to very recently." Sip's group of African peddlers keeps wooden sticks and jagged chunks of tile at the ready, tucked in beside the university gate, in case racists show up looking for trouble.
Shopkeeper Mohamed watches his back and thinks about returning to Bangladesh. Neither thinks Golden Dawn is going away. Neither does Golden Dawn. "The time for fear has come for those who betrayed this homeland," Michaloliakos said to conclude his post-election speech in May. "We are coming! That's all I have to say."
---
ITALY |
Milan's Jews condemn meeting of right-wing movements
Friday, 6 July 2012, 14:04 | Source: JTA |
Milan's Jewish community has condemned a meeting of European extreme right-wing movements due to be held at a Milan hotel Friday and Saturday.
In a statement, the Milan Jewish community expressed "alarm" at the meeting, which was to include representatives of Hungary's Jobbik party, the French Front National, and Britain's British National Party, among others.
They all form part of an alliance of "national" parties across Europe. Host for the meeting was Italy's far-right movement the Fiamma Tricolore (Tri-color Flame).
"These organizations want to turn back the clock to the darkest period of European history," the statement said. "The democratic institutions in the city must prevent it."
It called on Italian authorities to see if there were provisions under Italy's anti-racisim and anti-incitement laws to "cancel this worrying gathering, even at the last minute."
The national "Italy-Israel Association" issued a similar statement, and the Jewish member of Parliament from Milan Emanuele Fiano presented a note to the Interior Minister expressing concern that Milan would be the scene of a"meeting of European neo-fascist forces that, as always in history, try to take advantage of the difficult social situation to propagate their ideologies of hatred and death."
---
USA |
Trial set for boy who killed Nazi dad
Friday, 6 July 2012, 11:25 | Source: The Press-Enterprise |
A Riverside judge set an October trial date Thursday for a 12-year-old boy who has pleaded not guilty by reason of insanity to murdering his Neo-Nazi father.
The boy did not appear in a Riverside courtroom Thursday because he was undergoing psychological evaluations. The boy's grandmother sat in the back of the empty courtroom.
Riverside County Superior Court Judge Jean Leonard set an Oct. 22 trial date at the Riverside Hall of Justice. The boy is not being named because he is being tried as a juvenile.
The boy, who was 10 when he was arrested May 1, 2011, admitted to police that he shot his father, Neo-Nazi leader Jeff Hall, as he slept on their living room couch. He cannot be tried as an adult because he is under 14 and is being held at Riverside Juvenile Hall.
Judge Leonard said the trial is expected to last three weeks. It will be left for the judge, not a jury, which is common in juvenile cases, to decide the boy's fate on murder charges and to determine if he's insane based on doctors' reports and testimony.
In order to be found not-guilty by reason of insanity the defense must prove that the boy was "incapable of knowing the nature of the act or was unable to distinguish right from wrong at the time of the crime."
But that rarely happens, Chief Deputy District Attorney Mike Soccio said.
"There will be a trial. I don't think he's insane," Soccio said. "This case is going to be capacity. Is a child capable of committing murder?"
The judge granted a defense request for the boy to be dressed out of his jail uniform for trial, but ordered his feet to remain shackled. The boy's attorney is still waiting for the two psychological reports evaluating the boy's sanity, commissioned by Riverside County for $1,200 each and estimated to be more than 2,000 pages in each report. The defense may also seek an MRI.
The boy was ruled competent to stand trial and pleaded not guilty during his last hearing, meaning he can understand the charges and assist his attorney.
If convicted, the boy can be held in juvenile detention until he is 25. If he is found to be insane, he could be held in a psychological facility.
The boy's attorney, Deputy Juvenile Public Defender Matt Hardy, could not be reached following the hearing.
Even if two doctors' reports do come back concluding that the boy is insane, prosecutors plan to contest the findings during trial.
The boy told police that his father had been abusing him and his stepmother, causing him to fear that he may have to choose between his stepmother and father if they were to divorce. Social services officials visited the home about two dozen times to investigate reports of abuse, but never took action, according to social services records.
The boy said he grabbed his father's .357 Rossi revolver and pointed it at Hall's ear as he slept. The boy fired, then hid the gun under his bed before police arrived.
Prosecutors said Hall's political activities with the neo-Nazi faction of the National Socialist Movement may have contributed to the boy's behavior. The boy said his father took him target shooting and took him to anti-immigration rallies on the U.S.-Mexico border.
Five other children who lived in the home, including a 2-month-old baby at the time, are now living with relatives.
The boy has continued to have behavioral problems while in custody at Juvenile Hall and has a history of emotional problems, Soccio said.
"We have to ask does a 10-year-old understand death and can a child have the intent to kill?" Soccio said. "It's really a societal problem. Where do we put him and what do we do when a 10-year-old kills?"
---
RUSSIA |
Anti-Semites Deface Jewish Agency Building in Russia
Friday, 6 July 2012, 11:21 | Source: Arutz Sheva |
Swastikas and anti-Semitic epithets were found scrawled on a building used by the Jewish Agency in St. Petersburg in Russia. Among the epithets was one that read "All Jews should go to Buchenwald," naming the death camp in Poland where hundreds of thousands of Jews were murdered during the Holocaust.
The scrawlings were discovered Sunday, and apparently were drawn late Saturday night. The building is located in a central neighborhood of the city. Besides the Jewish Agency, the building houses a number of other Jewish and Israeli institutions, including the Jewish University, a local effort.
There are about 100,000 Jews in St. Petersburg, Jewish Agency officials say, and they enjoy a rich cultural and communal life. Numerous Jewish and Israeli organizations, including Hillel, the Joint Distribution Committee, ORT, Chabad, and others operate in the city, and there is also an Israeli consulate located in St. Petersburg. The Jewish Agency has been in the city for two decades, providing services to tens of thousands of clients, the organization said, stressing that its role in the community was to increase the connection and identification of St. Petersburg Jewry with Jewish communities in Israel and the Diaspora.
A Jewish Agency official condemned the action, and expressed hope that police would quickly round up the perpetrators of what the official called "a hate crime directed at Jews, both in St. Petersburg and around the world."
---
HUNGARY |
Hungary rabbi rejects debate challenge from neo-nazi apologist party Jobbik
Thursday, 5 July 2012, 22:42 | Source: The Algemeiner |
Rabbi Shlomo Koves, the Hungarian Chabad Rabbi who was challenged to a debate this week by Gabor Vona.
In an interview with The Algemeiner, Rabbi Shlomo Koves, the Hungarian Chabad Rabbi who was challenged to a debate this week by Gabor Vona , leader of Jobbik, a Hungarian nationalist, Neo-Nazi apologist party, has outright declined the request.
"Here is a party which makes openly anti-Semitic comments," he said, "what is there to debate about."
"They say they want to have an open talk, but in every debate you need a point of agreement, I cant have a mathematical debate if you don't agree that 1 and 1 is 2 and 2 and 2 is four," he continued, "they consider certain extreme ideas as facts than what should I debate them on?"
"Why should I respond and give them a platform to say that 'the rabbi says they are not anti-Semitic'" he concluded.
Koves implied that he would be open to the idea of discussion, if the party publicly expressed regret for anti-Semitic comments that have been made in its name, and resolved to cease from bigoted statements in the future, "If they send a letter that says that they regret their anti-Semitic comments from before, then there may be something to discuss," he said.
The party has denied public accusations of Antisemitism. "Jobbik has never had and will never have any program point, proposal or idea which discriminates between Hungary's inhabitants on the grounds of ethnicity and religion," party leader Vona told the Hungarian political news site Politics.hu.
But the rabbi says these claims are irrelevant, "they say anti-Semitic comments" and they make people hate me because I am a Jew, it makes a difference to me what they say."
He also added that his general feeling is, that Hungary is not a particularly bad place for Jews to live, "on the street level," he said, "The climate in Hungary for Jews is not bad, and isn't worse than any other European country, I am not going to get hit on the street as a Jew, and there are no laws against shechita or circumcision."
He did however find the direction of public discourse to be displaying troubling signs, "the fact that there is an extreme right wing party and a lot of anti-Semitic ideas in public discourse is concerning." "It didn't start today" he added, "but in the last five to ten years."
Koves also confirmed to The Algemeiner that he has not received any communication from Jobbik or any of its representatives now or in the past, "I still didn't get an official letter or request," he said, "they wrote about the challenge in their paper and held a press conference to announce it."
Last week, the Algemeiner reported that Csanad Szegedi, a leader of the notoriously anti-Semitic party, found out that he has Jewish roots.
---
GERMANY |
German intelligence grants access to files in neo-Nazi probe
Wednesday, 4 July 2012, 10:52 | Source: Deutsche Welle |
Germany's domestic intelligence agency has given a parliamentary committee access to files relating to a high-profile neo-Nazi probe. It comes a day after the agency's head resigned over the handling of the probe.
Germany's domestic intelligence agency has offered the parliamentary committee access to 25 files relating to "Operation Rennsteig," which was aimed at recruiting informants in right-wing circles in the eastern state of Thuringia between 1997 and 2003.
The operation involved the federal domestic intelligence agency, the regional agency in Thuringia and, according to the committee, the military intelligence service MAD.
The files are expected to reveal that the authorities were working with informants from the so-called National Socialist Underground (NSU), an extremist group that is believed to have killed 10 people with non-German backgrounds over more than a decade before their cover was blown earlier this year.
Last week, it became apparent that some of the files relating to the operation were shredded by the federal intelligence agency last year. On Monday, the head of the agency, Heinz Fromm, resigned his post.
On Tuesday, Fromm's counterpart at Thuringia's intelligence agency, Thomas Sippel, also stepped down in connection with the revelations. He will go into early retirement.
The chairman of the parliamentary committee, Sebastian Edathy, also urged the MAD to release their files, while the MAD insists it is cooperating. It also said on Tuesday that it does not have "Operation Rennsteig" files.
The parliamentary committee will focus its investigation on whether the intelligence agencies tried to recruit or even used NSU members as informants.
Also on Tuesday, Interior Minister Hans-Peter Friedrich promised to clear up the mistakes of the intelligence agencies. He told German public radio that "we will take a long, hard look at how we can reform and change the way domestic intelligence agencies operate."
Parliamentarians from all parties are calling for a reform of the system. Suggested measures include closer cooperation between federal and state agencies and stronger control mechanisms.
---
CANADA |
White supremacist can seek help online in attempt to prove racist claims
Wednesday, 4 July 2012, 10:51 | Source: National Post |
Terry Tremaine who founded the neo-Nazi National-Socialist Party of Canada is facing 11 criminal charges of wilfully promoting hate against identifiable groups.
The Regina-based neo-Nazi leader has been given a judge's permission to go back online to white supremacist websites for help in proving that the anti-Semitic and racist comments are true.
The court order gives Terry Tremaine permission to ask for information from denizens of online forums, some of which are notorious for virulent messages of intolerance, suggesting his eventual criminal trial could become a controversial marathon like Ernst Zundel's and Jim Keegstra's attempts to prove the Holocaust was a fraud.
Mr. Tremaine, a former maths lecturer at the University of Saskatchewan, faces 11 criminal charges of wilfully promoting hate against identifiable groups after prolific postings, including messages saying Jews are a "parasitic race," that "blacks are intellectually inferior to whites" and "Hitler was a lot nicer to the Jews than they deserved."
Police raided Mr. Tremaine's Regina home in 2007. He is head of the National-Socialist Party of Canada, which uses the Nazi swastika and pictures of Adolf Hitler to promote itself.
"They are holding Mr. Tremaine accountable for thousands upon thousands of thousands of statements of fact, statements of opinion, statements of mixed fact and opinion," Doug Christie, Mr. Tremaine's lawyer, said in an interview.
"Some of them — some of them — not all of them [but] certainly some of the facts are verifiable," he said.
"Consequently, there are many possible defences," including truth.
The relaxing of bail conditions to allow for a 'search for truth'? You can label it that, but it is basically a search for propaganda
Mr. Christie sought changes to Mr. Tremaine's bail restrictions to allow him to seek information from "any website" to plan his legal defence. He had previously been banned from such communication.
Saskatchewan's Court of Queen's Bench Justice Frederick Kovach consented, signing an order on June 27 allowing Mr. Tremaine to once again post messages on controversial web sites such as Stormfront, a U.S.-based white supremacist web forum run by former Ku Klux Klansman Don Black, where the original contentious posts were made.
Judge Kovach, however, imposed some restrictions.
Mr. Tremaine may only post questions "pertaining to research for the preparation of his defence," the order reads, and each message must first be vetted by the Crown prosecutor in the case. A notation of the court order must precede all messages and conclude with: "Please address only the question if possible, as I cannot engage in discussions of any other nature."
His specific questions have not yet been submitted.
The court order further requires Mr. Tremaine to use his real name in the postings without pseudonyms, including "Mathdoktor99," his former online alias.
Even with the restrictions, Judge Kovach's order could hand Mr. Tremaine a platform to further spread his "hateful view of the world," said David Matas, senior honourary legal counsel for B'nai Brith Canada, a Jewish advocacy group.
"I find it troubling," said Mr. Matas. "The relaxing of bail conditions to allow for a 'search for truth'? You can label it that, but it is basically a search for propaganda to justify his own prejudicial beliefs.
"If you allow the court to become a platform [for hateful views] and you combined it with low penalties, it actually becomes an incentive for propagandists to go to court rather than a disincentive."
Mr. Tremaine previously elected trial by a judge and jury rather than judge alone. A date is not yet scheduled.
He faces the same charge as Jim Keegstra, a former Alberta school teacher convicted in 1984 for teaching his students that the Holocaust was a fraud and Jews are "treacherous." Mr. Keegstra argued truth as his defence but had his conviction confirmed by the Supreme Court of Canada.
Ernst Zundel was charged with spreading false news for publishing "Did Six Million Really Die?" that denied the genocide of Jews by Nazi Germany. He faced two trials in 1985 and 1988 that drew intense attention to his views. He was found guilty at trial but later had his conviction overturned by the Supreme Court.
If you allow the court to become a platform [for hateful views] and you combined it with low penalties, it actually becomes an incentive for propagandists to go to court
Mr. Christie represented both men.
He said Mr. Tremaine's use of the Internet differentiates this case.
"The Keegstra case was vastly different in that Mr. Keegstra was speaking to a captive audience of students who had no choice but to listen. The Internet does not communicate, in my respectful opinion, it makes available. It does not transmit to anyone who does not seek it. It is a different situation," Mr. Christie said.
Previously, a Federal Court of Canada judge declared that Mr. Tremaine was "a white supremacist" who was "virulently anti-Jewish" and "has particular enmity for blacks and Canada's aboriginal peoples."
"Mr. Tremaine thinks — or perhaps just wishes — he is better than others because of the colour of his skin. He is a white supremacist," wrote Justice Sean Harrington last year in a separate case stemming from his online postings.
---
NETHERLANDS |
Two PVV parliamentarians quit as party manifesto is published
Wednesday, 4 July 2012, 09:35 | Source: Dutch News |
Two parliamentarians for the PVV resigned on Tuesday, just moments after the publication of the anti-immigration party's manifesto for the September general election.
Marcial Hernandez and Wim Kortenoven said they were leaving with immediate effect because of the dominant role in the movement played by its founder Geert Wilders.
'Everything revolves around Geert Wilders and he does not take anyone else into account,' Hernandez told a news conference. 'He chooses and plays with the future and lives of the people around him.'
The PVV is due to publish its list of candidates for the election on Friday. 'I suspect some people are acting in anticipation of the list,' Wilders is quoted as saying by news agency ANP.
The PVV's strategy for the general election is to focus on 'everything connected to Europe,' Wilders said at the presentation of the party's plans.
The manifesto, entitled Hún Brussel, óns Nederland (their Brussels, our the Netherlands), is a declaration of independence, Wilders said. 'We are pragmatic and patriotic'. The EU flag which waves above the parliamentary complex is an 'indignity' and should be removed as soon as possible, Wilders said.
Other points in the manifesto include a commitment to keep the state pension age at 65. The party also wants to keep the current unemployment benefit system and make no changes to redundancy law.
The PVV aims to meet financial targets by reducing the size of the government, slashing spending on development aid, limiting child benefit and increasing the extra tax on banks.
Despite the renewed focus on Europe, Islam remains an important issue, Wilders said.
---
GERMANY |
Agency 'shredded neo-Nazi documents
Tuesday, 3 July 2012, 13:55 | Source: Deutsche Welle |
Reports indicate that Germany's domestic intelligence agency shredded documents relating to neo-Nazis and ignored intelligence tips on neo-Nazi terrorism from Italian authorities, as the agency's head steps down.
After a remarkable series of missteps in investigating neo-Nazi terror cell the National Socialist Underground (NSU), the president of Germany's domestic intelligence agency resigned his post on Monday. Heinz Fromm, 63, submitted a request for early retirement at the end of this month, reported Interior Minister Hans-Peter Friedrich.
Fromm is regarded as one of the most experienced security experts in Germany, and stood at the head of the country's intelligence agency for 12 years.
The chief reason for his resignation: a neo-Nazi terror cell that operated for more than a decade undiscovered by security authorities, which murdered 10 people, including nine of non-German heritage and a German policewoman.
Of the NSU trio, only the woman is still alive - the two men apparently committed suicide
Last Wednesday, reports emerged that Fromm's office, the Federal Office for the Protection of the Constitution, destroyed records after the terror group was uncovered. Those documents might have exposed how members of Fromm's office collaborated with Thüringer Heimatschutz (Thuringia Homeland Protection), a neo-Nazi group affiliated with the NSU.
By Thursday of this week, Germany's Office of the Interior will evaluate an initial report from the domestic intelligence agency on the shredded documents. Interior Minister Friedrich will then report to the German parliament.
Aside from destroyed documents, it has now been announced that German intelligence authorities received notice of a network of right-wing terror cells as early as 2003. German daily Berliner Zeitung reports that this exchange was confirmed by a December 2011 document from Italian domestic intelligence agency AISI, addressed to Germany's intelligence authorities.
The Italian intelligence office also informed authorities in Cologne about a meeting of European neo-Nazis in the Belgian town of Waasmunster in November, 2002. Italian intelligence reports suggested that a network of militant European neo-Nazis was discussed at the meeting, and that German and Italian terrorists plotted potential attacks against businesses run by non-Europeans.
The political opposition in Germany is not satisfied with the removal of Heinz Fromm from the head of the Federal Office for the Protection of the Constitution, calling him a pawn whose resignation does nothing to clear up the scandalous series of events. The Social Democrats, the Greens and the Left Party have called for a fundamental reform of Germany's intelligence offices.
Klaus Schröder, an expert on right-wing extremism with Berlin's Free University, shares their view. Schröder told DW that controls must be installed that will help make the work of intelligence authorities more transparent to both politicians and citizens. And under certain circumstances, he believes a commission should be created to confidentially evaluate the work of intelligence agencies.
Further, Schröder believes the NSU case demonstrates that closer cooperation between the police and the Federal Office for the Protection of the Constitution is necessary.
"This cooperation did not exist with respect to the NSU. In Germany, we have reasons drawn from history for dividing up the police and the intelligence office, but that cannot be allowed to lead to a loss of cooperation," Schröder said
But he added a warning: "It is a very complicated affair. If you declare someone a left- or right-wing terrorist too fast, then you're creating a baseless scandal. But if you shut your eyes too long and something emerges, everyone will ask why you didn't see it coming. There are no cut-and-dry answers. Intelligence officers and those who work with them must be trained to be able to deal with anything."
Though the Federal Office for the Protection of the Constitution was perhaps best positioned to uncover the deeds, it's also the case that many other groups, including the media and anti-Nazi associations, also overlooked the links between the murders committed by the terror group.
Schröder made the observation: "It's hard to imagine that this was the deed of just a few individuals - that two men and a woman who were able to commit such crimes for years, without supporters and conspirators, and go uncaught."
Which is why the many remaining open questions must continue to be looked into, he said.
---
GREECE |
Neo-Nazi MPs in Greece briefly detained after attack
Tuesday, 3 July 2012, 00:52 | Source: Times of Malta |
Two freshly elected Greek MPs from the neo-Nazi Golden Dawn party and its leader's daughter were among six people briefly detained after an attack on a Pakistani immigrant, a police source said yesterday.
The two lawmakers, Ilias Panagiotaros and Ioannis Vouldis, as well as leader Nikos Michaloliakos's daughter, were taken into custody but released for lack of evidence after the incident in Athens late on Friday, the source said.
The 31-year-old Pakistani man needed hospital treatment after being assaulted by a group in helmets taking part in a motorbike demonstration "that started off from the headquarters of a political party," police said in a statement.
The source confirmed this party was Chryssi Avgi (Golden Dawn), which sent shockwaves through Europe by winning seats in parliament in May 6 elections for the first time since the end of Greece's military junta in 1974.
Michaloliakos, who has said there were no gas chambers at Auschwitz and has questioned the number of Jews killed in the Holocaust, is hoping to match or beat the party's score of 6.9 percent in fresh elections on June 17.
Another Golden Dawn candidate, Themis Skordeli, has been accused of beating up, together with two other Greeks, three Afghan immigrants in Athens a year ago. A court case was recently postponed for the sixth time.
Three Greek non-governmental organisations meanwhile welcomed a report by the UN Committee against Torture (CAT) calling on Greece to act against what it said was a rising level of racism and related violence.
"Greece should strongly combat the increasing manifestations of racial discrimination, xenophobia and related violence," the three groups, including Greek Helsinki Monitor, cited the CAT report as saying.
It called on Athens to condemn publicly all intolerance and violence and send "a clear and unambiguous message that racist or discriminatory acts, including by police and other public officials, are unacceptable."
A report that 18 NGOs released in March had said that racist attacks in Greece mostly go unreported and unpunished.
---
GERMANY |
German spy chief quits in neo-Nazi files scandal
Monday, 2 July 2012, 20:22 | Source: Reuters |
The head of Germany's domestic intelligence service resigned on Monday after admitting that his agency had shredded files on a neo-Nazi cell whose killing spree targeting immigrants rocked the country late last year.
Heinz Fromm's resignation is the latest in a series of embarrassing setbacks for Germany's security services over their handling of the "National Socialist Underground" (NSU), which went undetected for more than a decade despite its murder of 10 people, mostly ethnic Turkish immigrants.
An interior ministry spokesman confirmed that Fromm would quit his post, which he has held since 2000, at the end of July.
German lawmakers said there was no suggestion that Fromm had ordered the destruction of the files but that he was taking responsibility for others' failures.
"Fromm was no firebrand but a solid custodian in the defense of the constitution.. He was no James Bond," Wolfgang Bosbach, a member of Chancellor Angela Merkel's ruling Christian Democrats, told Die Welt newspaper.
He and other lawmakers called for a swift and thorough investigation into the matter.
German media have said an official working in the intelligence agency is suspected of having destroyed files on an operation to recruit far-right informants just one day after the involvement of the NSU in the murders became public.
Fromm told the Spiegel weekly that the shredding of files in the case had done "grave damage to the reputation" of his agency, known in Germany as the Federal Office for the Protection of the Constitution.
Despite his resignation, Fromm is expected to appear as a witness in the NSU case before a parliamentary committee later this week, lawmaker Sebastian Edathy said.
Germans, burdened by their Nazi past, were mortified by last year's news that three neo-Nazis had been behind the killings of eight ethnic Turks, an ethnic Greek and a police officer in a period running from 2000 to 2007.
The NSU cell's culpability only came to light after two of the neo-Nazis committed suicide following a botched bank robbery last autumn. A third member was later arrested.
Chancellor Angela Merkel publicly apologized to the families of the murder victims for the catalogue of neglect and errors that allowed the NSU cell to operate with impunity for so long.
---