World News
GERMANY |
Football club nabs neo-nazi with help of new camera
Thursday, 30 August 2012, 08:25 | Source; Spiegel |
Several German football teams have a problem with hooliganism among their fans. Now, league champion Borussia Dortmund has installed a new, high-tech surveillance system to combat the problem -- and nabbed a neo-Nazi on the season's opening day.

It is no secret that violence and hooliganism is a part of soccer in Germany and elsewhere in Europe. Right-wing extremism likewise frequently makes an appearance in stadiums across the continent.

But this off-season, reigning German league champion Borussia Dortmund decided to take even greater steps to address the problem. The club, located in a city that has spent years battling a problem with right-wing extremists, invested €250,000 ($310,000) in extremely high-resolution surveillance cameras that can take close-ups of violent fans from up to 60 meters (200 feet) away.
And it didn't take long for the new system to prove its value. During the team's home opener against Werder Bremen over the weekend, a fan unfurled a banner in support of a recently banned neo-Nazi group. Images taken of the scene allowed authorities to quickly identify the man and he now faces potential legal proceedings for supporting a banned extremist group.
"Our new camera is worth every penny," said Borussia President Hans-Joachim Watzke. In a statement on the team's website, Watzke said that, when it comes to racism "we pursue a zero-tolerance policy and will dry out this swamp."

The incident in question involved a 27-year-old Dortmund local displaying a banner reading "Solidarity with the NWDO," a reference to the neo-Nazi group Dortmund National Resistance, which was among a trio of right-wing extremist groups targeted by police last week and subsequently banned. The raids were carried out as the groups were busy mobilizing supporters for marches on Sept. 1 to mark the anniversary of the Nazi invasion of Poland.

While German stadiums have long been outfitted with video surveillance, the new cameras installed by Dortmund are able to provide law enforcement officers with detailed photos in sharp focus from a great distance. The technology enables rapid identification, particularly in the case of offenders already known to the police, as was the case with the neo-Nazi nabbed over the weekend.
The cameras also keep all of the stands under permanent surveillance, allowing several officials to have access to the images they need at any one time. Images of suspects can also be sent to the mobile phones of officers in the stands as needed.
Senior Borussia official Christian Hockenjos told German tabloid Bild earlier this month that the team was finally convinced to invest in the technology following a match last October against Dynamo Dresden. During the match, fans set off fireworks in the stands and the referee was forced to suspend play three separate times during the game. Such incidents have been a frequent problem at football matches in Germany in recent years.
Dortmund has long had one of the most active neo-Nazi scenes in western Germany. Recently, the city has begun to make a concerted effort to combat right-wing extremism and launched a support group for victims of neo-Nazi violence last autumn.
Like many football clubs in Germany, Borussia Dortmund has had a problem with right-wing fans. Indeed, a group calling itself the Borussenfront was one of the most notorious extremist fan groups in the country in the 1980s, though it has since largely disappeared.
The team this week has once again emphasized its intolerance of right-wing extremism. "Borussia Dortmund sharply condemns all forms of right-wing radicalism and racism and together with the police will use all methods at its disposal to take action against those behind the current incident and other similar incidents," read a statement posted on the team's website.







---
USA |
20 years after Ruby Ridge siege, extremists fewer in northern Idaho but still remain
Tuesday, 28 August 2012, 13:05 | Source: AP |
About 15 neo-Nazi and Ku Klux Klan demonstrators showed up outside Atilano's Mexican restaurant in this resort town of 44,000 in May carrying signs that said: "Keep Coeur d'Alene White."

"My staff was in tears," recalls 22-year-old restaurant manager Patricia Gonzales. She became frightened when she noticed a holstered handgun on the hip of one skinhead.

"Trust me, you don't want that kind of people in front of your place," she says. "It's amazing that in 2012 people still do that."

The May 19 protest ended in a scuffle between the white supremacists and restaurant patrons, some who carried anti-KKK signs and threw eggs at the demonstrators. Police ended up arresting one of the counter-protesters on charges of assault and intimidation.

It's been 20 years ago this week since the siege at Ruby Ridge 70 miles to the north of here and 12 years since Richard Butler was forced to sell his notorious Aryan Nations compound in the adjoining Idaho panhandle community of Hayden Lake.
But the white power movement lives on. Extremists are fewer these days, but their presence still contrasts jarringly with the lighthearted vacationers who come to swim, boat and relax under pastel hanging flower baskets in Coeur d'Alene's sidewalk cafes.

Butler sold his 20-acre Aryan Nations and Church of Jesus Christ Christian compound after losing a $6.3 million civil rights lawsuit in 2000, brought by a Native American mother and son who were harassed at gunpoint by his followers. He died four years later at age 86. A local fire department burned the compound's buildings for practice.

Likewise, nothing remains of white separatist Randall Weaver's plywood shack near Naples, Idaho, in Boundary County. It was there that the deadly gun battle and 11-day siege raged in August 1992 and claimed three lives.

Winter snows in the Selkirk Range have flattened the Weavers' unpainted two-story cabin and the lumber has been trucked away, leaving nothing to mark the place where the standoff occurred.

Today, northern Idaho's neo-Nazis and white supremacists have scattered.

"There is kind of a Nazi Diaspora going on," says Coeur d'Alene attorney Norman Gissel, spokesman for the Kootenai County Task Force on Human Relations. The group brought the lawsuit that forced Butler to sell his compound. "They don't have a homeland or a place."

Butler's estimated 200 followers dispersed, migrating to Florida, Alabama, Pennsylvania, upstate New York and the Midwest, Gissel says.
---
GERMANY |
Borussia Dortmund investigate far-right banner
Tuesday, 28 August 2012, 12:58 | Source: Soccernet.espn |
Borussia Dortmund and police are investigating a group of people who displayed a banner proclaiming solidarity with an outlawed right-wing group on the Westfalenstadion's huge Sudtribune terrace.
The banner displayed the words "Solidariät mit dem NWDO" ("Solidarity with National Resistance Dortmund"), Der Westen reported. The NWDO, which had strong ties to Germany's right-wing NPD party, was recently outlawed.
Dortmund's fan liaison officer, Sebastian Walleit, said the club had "good video footage" of the banner and those holding it, and had already identified two of them. A spokesman for the city's police told Der Westen: "We have opened investigations."
According to Dortmund Radio 91.2, those identified would be banned from stadiums throughout Germany. Bans would also be imposed on people wearing T-shirts displaying slogans in support of the neo-Nazi Borussenfront faction of supporters.
The banner incident is the second in two competitive matches for Dortmund this season. Before the club's 3-0 cup win over Oberneuland, a Dortmund hooligan group held up a banner reading; "Rico Malt - never to be forgotten."
Malt, who died in 2007 at the age of 32, had strong ties to the right-wing scene, according to Der Westen.
---
USA |
Republican Congressional Candidate Says 'Holocaust Never Happened'
Monday, 27 August 2012, 21:08 | Source: oaklawn.patch.com |

A congressional candidate running as a Republican in the upcoming Illinois primary says the "Holocaust never happened."

Arthur Jones, 64, a Lyons, IL, insurance salesman who organizes family-friendly, neo-Nazi events around Adolf Hitler's birthday, hopes to be the Republican candidate chosen to run against Democratic Congressman Dan Lipinski in Illinois' 3rd Congressional District.

"As far as I'm concerned, the Holocaust is nothing more than an international extortion racket by the Jews," Jones said. "It's the blackest lie in history. Millions of dollars are being made by Jews telling this tale of woe and misfortune in books, movies, plays and TV. "The more survivors, the more lies that are told."

A member of the Nationalist Socialist Party in his younger days, Jones took part in the Nazis' march on Chicago's Marquette Park in 1978. While he doesn't deny nor repudiate his "past affiliations," he says he votes Republican "90 percent of the time."

"Philosophically, I'm a National Socialist," Jones said. "Officially, I don't belong to any party except my own, the America First Committee."

Jones hopes three's a charm after blowing his retirement savings on two prior congressional runs. He hopes to win the Republican primary and go on to challenge Lipinski this November. The 3rd District covers portions of Chicago's South Side and a large swath of the south suburbs.

Part of the reason he's jumping in again is what he describes as Lipinski's strange affiliation with the American Israel Pro Israel Affairs Committee.

"(The committee) was bragging on their website how (Lipinski) is 'spearheading' the effort in the House of Representatives with a Jewish congressman from Virginia named Frank Wolf," Jones said. "The two are spearheading an effort in the House to get tough with Iran, including closing off any oil exports to China that could lead to World War III."

While Jones said Wolf was Jewish, he is Presbyterian.

Jones compares today's conditions in the United States to Germany following the end of World War I.

"Our country is falling apart economically, politically, culturally, militarily," he said. "We are going down."

A veteran of the Vietnam War with all of its modern horrors, he sees the same betrayal in the "so-called War on Terrorism."

"These war-mongering fools in congress like Rick Santorum and Newt Gingrich and Mitt Romney — we can't let Iran have one nuclear weapon but we let Israel have all the nuclear weapons they want," Jones said. "This is ridiculous."

Jones is on the ballot against Jim Falvey and Richard Grabowski in a district that has sent a conservative Democrat to Congress for decades. The district includes sizable ethnic populations, primarily the descendants of Irish, German, Polish and Czech immigrants.

In his Patch candidate questionnaire, Jones submitted that he's not been convicted of a felony but has been arrested for "minor street skirmishes with Leftists."

---
GERMANY |
German policeman allegedly betrayed information to neo-Nazi group
Monday, 27 August 2012, 15:04 | Source: todayszaman.com |
A German policeman from Thüringen, who is suspected of having sympathized in the late 1990s with Nazis from Thüringen, apparently revealed official secrets to right-wing extremists from the neo-Nazi group National Socialist Underground (NSU), a German terrorist-group, which was uncovered in November 2011 for having murdered nine immigrants -- eight of whom were Turks.
According to a secret memo from the Federal Office for the Protection of the Constitution from July 30, 1999, the Cologne federal agency had sent to their state colleagues in Erfurt, an official named Sven T., who had joined meetings of the Thüringen-based neo-Nazi group "Homeland Security" (Heimatschutz) and sympathized with the right-wing extremists.
According to a source report, neo-Nazi Enrico K., who belongs to the Homeland Security Group, received important information from Sven T. about planned police actions. Sven T. had told him to operate carefully in order not to the draw attention of others about being a ringleader. Uwe Mundlos, Uwe Böhnhardt and Beate Zschäpe, the three responsible figures for the killings, once belonged to Homeland Security, until their escape in 1998. Those three later called themselves the NSU and allegedly killed 10 people.
The terrorist cell was not uncovered until November 2011, at which time the documents were reviewed systematically, and it was found that police officer Sven T. worked in a public office and even led undercover agents.
"In the files there were no indications whether and how the Thuringia authorities had followed the warnings of two agents from the Federal Office for the Protection of the Constitution, classifying T. as a sympathizer of the neo-Nazis, interior expert of the Left Party of Thüringen Martina Renner told DPA.
Renner, who is also a member of the NSU-commission of inquiry, said, "We want to clarify in the commission as soon as possible whether that public office has forwarded the information to the masters, i.e. the Home Office/Department of the Interior."
Spiegel, a German weekly news magazine, reports that despite the information, the official T. built a professional career. He initially was promoted from the Police Department Saalfeld/Rudolstadt and became an employee at the state criminal office and was there entrusted with the prosecution of drug offenses, noted Tagesschau, a news and public affairs programme.
In 2010, T. was then delegated to the Thuringian intelligence service as a temporary agent in defense of the constitution and got promoted as a permanent one a year later. Finally he was transferred.
The Süddeutsche Zeitung, the largest German national subscription daily newspaper, reported that it is possible that right-wing sources have denounced the officials. Some of the sources' messages have proven to be false. If the suspicion that policemen informed right-wing extremists about investigations is proven to be true, then it could be an affair of state.
---
GREECE |
Golden Dawn threatens to deploy party 'stormtroopers'
Monday, 27 August 2012, 14:59 | Source: Athens News |
Golden Dawn leader Nikos Michaloliakos on Sunday attacked the institution of parliament and lashed out at Public Order Minister Nikos Dendias, after the latter's statement that "stormtroopers will not be tolerated".
The leader of the ultra-nationalist party addressed supporters from around the country in front of the monument to Spartan King Leonidas and his 300 Spartans in Thermopylae.
"Dendias came out with a smug smile to say that we (the government) shall crush the stormtroopers. We are here, let them come and crush us ... You are the stormtroopers of Golden Dawn," Michaloliakos told hundreds of uniformed supporters.
Michaloliakos said "there are traitors everywhere", while also stepping up his attack on the institution of parliament: "We feel uncomfortable in there. If they want, we'll abandon it at any moment; we'll take to the streets ... then we'll see what storm troopers are."
He went on to say "we are waiting for the time to be strong enough to claim Greeks' just cause ... at some point the struggle will be waged."
---
GERMANY |
German neo-nazis making millions on racist music and promotional materials
Monday, 27 August 2012, 14:54 | Source: dpa |
Deutsche Presse-Agentur reports that the neo-Nazi National Democratic Party of Germany (NPD) is making millions through the sale of clothing, promotional materials and recorded music featuring hateful, racist content. Last year their receipts from the sale of such promotional materials even exceeded the amount of financing they receive from the state.
German experts say the part of the music scene dominated by neo-Nazi groups in Saxony, to which the NPD has ties, made EUR 3.5 million last year. That amount is more than the annual contribution received by the NPD from Germany's federal budget, which is roughly EUR 3 million.
In addition to music with hate content, experts say the NPD is also making money through the sale of clothing, jewelry and other items used daily that feature symbols linked to neo-Nazism. Experts say these sales serve two purposes; in addition to increasing income, they serve as propaganda for the ultra-right party.
The NPD, which has roughly 6 000 members, is currently represented in the state-level parliaments of Mecklenburg - Western Pomerania and Saxony. However, the party has long struggled with low levels of financial support. Its situation has also been complicated by a high fine assessed against it by a court in 2009 for mistakes in a accounting report.
In the Czech Republic, the Workers Social Justice Party (Dělnická strana sociální spravedlnosti - DSSS), the successor to the dissolved neo-Nazi Workers Party (Dělnická strana - DS) is in close contact with the NPD. The DSSS regularly invites German right-wing extremists to its demonstrations, such as to this year's 1 May action in Prague, which was attended by two German neo-Nazis.
One of those special guests was Karl Richter, the vice-chair of the NPD who has been active on the neo-Nazi scene since the 1980s. During his career Richter has made no secret of his admiration for Hitler's Third Reich and has publicly lobbied against anti-Nazis, ethnic minorities, migrants, and sexual minorities. One episode illustrative of his activity was his giving the Nazi salute at the town hall in Munich when he took the oath of office as a town councilor there. He was elected to the town council in 2008, representing the "Bürgerinitiative Ausländerstopp" group (Citizens Initiative to Stop Foreigners), which won 1.4 % of the vote.
The other neo-Nazi who came to Prague was Simon Preisinger, district chair of the NPD for Beirat and Tirschenreuth (Upper Palatinate). Preisinger also leads the neo-Nazi group Freies Netz Süd (Free Network South - FNS). He has strong ties to the structures that grew out of the ruins of the Czech neo-Nazi National Resistance group (Národní odpor - NO) in the Karlovy Vary region and from the NO in Krušnohoří, currently led by DSSS activist Lukáš Stoupa, who was convicted of a brutal attack on a Romani minor.
The DSSS has concluded a cooperation agreement with the NPD. Together, the parties are focusing on propaganda against immigration and on cross-border collaboration at the municipal level.
Udo Voigt, a former NPD chair, was invited to the Czech Republic by the DSSS last year. Four years ago, Voigt questioned the extent of the murder of Jewish people during the Second World War. He has also demanded the return of territory lost by Germany after 1945, including part of the territory of the Czech Republic, the Sudetenland, which Hitler attached to the Reich. Both NPD members and persons sympathetic to them have been tried several times in Germany for their revisionist speeches and statements bordering on Holocaust denial.
---
HUNGARY |
Counter-demonstrators detained at Hungarian Guard rally on Heroes' Square
Monday, 27 August 2012, 13:58 | Source: politics.hu |
Participants of a commemoration for the anniversary of the banned paramilitary Hungarian Guard (Magyar Garda) and anti-fascist demonstrators clashed near Budapest's Heroes Square on Saturday afternoon, MTI's correspondent reported from the site.
Four counter-demonstrators have been detained, the press office of Budapest police headquarters said.
The demonstrators against the Guard, who numbered about 100, chanted "Nazis, go home!" on nearby Andrassy boulevard after some 130 members of the Guards held a commemoration of the 5th anniversary of their foundation in the square. Many of the attenders were dressed in uniforms and marched in formation. Another two hundred people attended the event holding up banners and flags associated with the far right.
The event was secured by about one hundred police officers.
The counter-demonstrators tried to enter Heroes' Square but police prevented them. Police also had to interfere when some of the counter-demonstrators were pushed and it was reported that some of them were spat on.
The Hungarian Solidarity Movement, the leftist opposition Democratic Coalition, several Roma organisations and facebook groups attended the anti-Guard demonstration.
One of the counter-demonstrators, a young man speaking in Hungarian who called himself anti-fascist, tried to attack one of the people attending the Guard event. He was taken into custody by police and handcuffed. Three females, foreign nationals, were also detained by police.
Gabor Vona, leader of the radical nationalist Jobbik party, addressed the commemoration. He said Hungary was currently facing many problems, including dependence on the European Union, social uncertainty, a lack of jobs and "gypsy crime" which he called a "problem of demography".
He said the Hungarian Guard could always count on Jobbik's support as they shared the same goals.
Aladar Horvath, the leader of the Roma Civil Rights Foundation, said that while the government had condemned the Guard event, an independent court had granted permission for it and thus legitimised the operation and existence of the banned organisation.
In a statement sent to MTI, the opposition Socialist Party voiced indignation at the Guard-associated event, and called on the government not to allow room for extremist manifestations. The party also demanded that the government draft legislation to prohibit "marches staged by organisations advocating racist ideas".
According to the Socialist statment, the Guard commemoration in Budapest is a "disgrace for the whole of Hungary".
On Friday, the government spokesman's office said in a statement that the government had to respect a recent court decision which obliged police to allow and secure a commemoration on Saturday marking the fifth anniversary of the Hungarian Guard. At the same time, it stood determined to protect plural democracy against all ideologies and actions that promote exclusion and hatred, it added.
---
GREECE |
Rassoulis' Daughter To Golden Dawn: Don't Use His Songs
Sunday, 26 August 2012, 15:10 | source: Greekreporter.com |
Rassoulis' Daughter To Golden Dawn: Don't Use His Songs
The use of the late singer-songwriter Manolis Rassoulis' songs by the neo-Nazi Golden Dawn party, which clashed with police while trying to prevent immigrants from being housed at a Corinth military base, has upset his daughter, Natalia, so much she doesn't want them to do it anymore.
One of Rassoulis' best-known songs, Ah Ellada S'agapo, (Oh Greece, I Love You) is a favorite of the arch right-wingers and they play it, much to Natalia's unhappiness. She said she heard it being played by Golden Dawn and sent an open Tweet trying to ban them from continuing the practice.
"Me, as the official administrator of this song's rights, ban EMPHATICALLY Golden Dawn from using the Ah Ellada S'agapo song at their war meetings," she wrote. She said she didn't want his music tied to what she said was the party's extremist political views and anti-immigrant sentiment. "Any use of this specific song from this organization is totally dangerous and ethnically deceitful," she added.
Supporters of Golden Dawn, which won 18 seats in the Parliament at the June 17 elections, have been accused of beating immigrants in gang attack against lone individuals, and earlier this week battled police who were trying to bring immigrants rounded up in a sweep to Corinth, where part of the military base would be used as a detention center.
While the extremists were trying to hit immigrants, as well as anti-racist protesters opposed to Golden Dawn, a local mayor turned off the water supply to the base for several hours and Rassoulis' song sounded.
---
HUNGARY |
Hungary's far-right calls for zero tolerance against Roma
Sunday, 26 August 2012, 14:56 | Source: Reuters |
Hungary's opposition far-right Jobbik party called on Saturday for zero tolerance against what it called Roma crime and parasitism, and said any member of the large minority who did not conform should leave the country.
Tensions between the 500,000 to 700,000 impoverished Roma and other Hungarians in the country of 10 million have risen at a time when Hungary is mired in its second recession in four years and unemployment is stuck in double figures.
"We need to roll back these hundreds of thousands of Roma outlaws. We must show zero tolerance towards Roma crime and parasitism," Jobbik chairman Gabor Vona told a rally of several hundred people in Heroes' Square in central Budapest.
"If they do not want to go, we will seek help from Brussels," said Vona, whose party - the second biggest opposition group in parliament - wants to steer Hungary out of the European Union.
"We must ask them to adopt several hundred thousand of our citizens for a few years and try to educate them in European culture. Once they have succeeded, we can welcome them back."
The Roma minority in Hungary suffers from frequent discrimination in the labor market.
On Friday, the government condemned the rally, which was staged to celebrate the fifth anniversary of the foundation of the banned paramilitary Hungarian Guard movement, a Jobbik ally.
---
SWEDEN |
'Ban Islam in Sweden' says Sweden Democrat
Sunday, 26 August 2012, 14:55 | Source: thelocal.se |
"Ban Islam in Sweden and deport those who persist in believing in the religion", said Pär Norling, group leader of the Sweden Democrats (SD) in Bollnäs, in an interview with national broadcaster Sveriges Television (SVT).

The neo-nazi Swedish Resistance Movement (Svenska Motståndsrörelsen) marched in the central Swedish town of Bollnäs earlier this summer, after a controversial rape case had rocked the community.
On Saturday they marched again and anti-racist protests were held nearby.

Swedish Democratic Norling said he disapproves of Nazism, but by and large considers it a by-product of immigration. He also agrees with the neo-nazi movement that Islam has no place in Sweden.

"That can exist elsewhere but in Sweden it doesn't fit in," he said to Sweden's national television SVT.

When asked what ought to be done with those who still want to believe in the religion, despite it being banned, Norling responded:

"Then the solution is deportation."

This is the second time in just days that Swedish Democratic politicians have landed themselves in hot water.

On Friday, the Swedish Democrat Sven-Erik Karlsson commented on the harassment Somalian families have been suffering from teens in the town Forserum, in southern Sweden, saying that all Swedish municipalities ought to have gangs to harass refugees.

After the furore that followed, Karlsson resigned his position on Saturday.
---
HUNGARY |
Hungarian far-right celebrates anniversary of militia group
Saturday, 25 August 2012, 23:38 | Source: AFP |
Hundreds of extreme-right activists celebrated Saturday the fifth anniversary of the creation of the Hungarian Guard, a now-banned paramilitary branch of the ultra-national Jobbik party.
Organisers had expected at least 2,000 people to attend the event, but only a few hundred turned out as temperatures neared 40 degrees Celsius (104 Fahrenheit).
The Hungarian Guard was banned in 2009 after it staged regular marches through Roma settlements with violent speeches defending the Hungarian nation.
Since then, former members have formed other groups with names such as the National Regiment and the New Hungarian Guard.
Police initially banned the demonstration, but organisers appealed to the courts and eventually won the right to gather.
About 200 demonstrators wore Hungarian Guard uniforms, resembling those of Hungary's Nazi Arrow Cross Party during World War II.
Dozens of anti-fascist activists staged a counter-protest but the demonstration passed without incident.
In 2010 elections, Jobbik garnered 17 percent of the vote to become the Hungary's third-biggest party.
---
GERMANY |
Clamping down on right-wing associations
Saturday, 25 August 2012, 19:19 | Source: Deutsche Welle |
In western Germany, authorities delivered a strong blow to the neo-Nazi scene by banning three groups in one day. But still around 150 right-wing "comradeships" remain active throughout the country.
They are "xenophobic, anti-Semitic, and a danger for peaceful coexistence." That's how Ralf Jaeger, interior minister of the state of North Rhine-Westphalia (NRW), explained his ordered actions against three right-wing organizations.
On Thursday (23.08.2012), a total of 900 police officers took action against members of the "Kameradschaft Aachener Land" (Comradeship of the Region of Aachen), the "Nationaler Widerstand Dortmund" (National Resistance Dortmund) and the "Kameradschaft Hamm" (Comradeship Hamm). The police officers searched buildings, apartments and club headquarters in more than 32 cities in NRW, confiscating fire arms, batons and switchblade knives.
Confiscated material from the "Kameradschaft Hamm" group
Jäger said that neo-Nazi groups had been considerably weakened by the manoeuvre.
The NRW internal security agency estimates the number of right-wing activists in the state at between 400 and 600. The city of Dortmund is reputedly a new center of their activity, said Fabian Wichmann of the Gesellschaft für Demokratische Kultur (Association for a Democratic Culture). The association oversees a program that supports right-wing individuals who want to leave the scene; and in Dortmund, too, they want to open up an office.
"In a sense, the city is a logistical hub for right-wing activists," Wichmann said, noting the example of a web hosting company seated there. "If their servers were shut down, a large number of German comradeships' websites would be gone."
An online social network for members of the scene, not unlike Facebook, also has its office in Dortmund. "All of these activities need to be looked into now," Wichmann said.
Connected throughout Europe
According to intelligence authorities in the state of Lower Saxony, the so-called comradeships originated in the 1990s. In the wake of arson attacks that claimed many lives, authorities there banned several neo-Nazi organizations. So neo-Nazis began looking for loopholes that would led them "try to organise activities through loosely-structured comradeships, thereby escaping law enforcement by the police. Internally, however, these organizations do have a rather rigid structure and an individual in charge," said Wichmann.
The "comradeships" are often closely networked with each other
Eastern Germany has long since ceased to be the only region making headlines with right-wing incidents. One example is a case from April 2011: Back then, 14 neo-Nazis violently pursued immigrants in the southwest German state of Baden Wuerttemberg. Now there are a total of about 150 known comradeships spread across Germany.
"It's a myth that right-wing extremism is an eastern German problem," Wichmann said. He added that, although there are a number of particularly aggressive groups of neo-Nazis in the area around Saxony, those were structures that had actually been created by the "cadres" from the West, after reunification.
"They realized there were many people whom the fall of the wall left without any orientation - and they simply exploited that fact," Wichmann said.
Members of the comradeships today aren't just the stereotypical skinheads in combat boots and bomber jackets.
"Nowadays this covers a broad spectrum - from the socially weak to well-integrated members of society," Wichmann said. Women are part of the scene, too, and "all are united in the pursuit of nationalism and their reverence for Hitler."
The comradeships are linked with each other across the country, usually via the internet: "Especially with the Dortmund-based groups we even see connections into the Czech Republic, Holland or Bulgaria - well-maintained ties used to exchange ideas," Wichmann said.
Networked with political parties
In its internal security report for 2011, the Federal Ministry of the Interior notes a moderate increase in acts of violence by right-wing extremists. At the same time, the number of people affiliated with the right-wing has gone down slightly. One reason for that is the decreasing number of right-wing party members. In 2011, just before its merger with the National Democrat Party (NPD), the Deutsche Volksunion (DVU), counted a mere 1,000 members. And the NPD, too, continues to see members turn their back on the party.
Little room for interpretation remains about the connection between comradeships and right-wing political parties: During their search in Dortmund, the police found 1,000 advertising posters for the NPD.
"It shows the close links of this right-wing extremist party with the violent neo-Nazi scene in NRW," Interior Minister Jaeger said of the find. One of the posters even bore the original signature of the former NPD chairman Udo Voigts.
The coordinated action against the three groups in NRW is part of a comprehensive series of actions against the neo-Nazi scene. Already in March, April and May, the NRW authorities had banned several right-wing extremist groups.
For years, the racist murders of the NSU trio went unnoticed
At the end of 2011, the existence of the right-wing terrorist group "Nationalsozialistischer Untergrund" (NSU) became known. News broke that the three group members had systematically murdered 10 people based on racist motives over a number of years. Although the trio appears to have carried out their crimes independently, the NSU was thoroughly connected with the extremist scene.
Wichmann believes this is one reason why German authorities are now rigorously clamping down on remaining right-wing networks.
"Dortmund has been trying to address that problem for a while already, but the NSU murders were most likely the last straw," Wichmann concluded.
---
GERMANY |
Demonstrations mark 20th anniversary of racist riot
Saturday, 25 August 2012, 16:47 | Source: Deutsche Welle |
Demonstrators in the northeastern German city of Rostock are marking the 20th anniversary of a mob attack against asylum seekers. The outbreak of anti-foreigner violence in 1992 was the worst in German post-war history.
At least 1,000 demonstrators took to the streets of Rostock in the northern state of Mecklenburg-Western Pomerania on Saturday, where they brought a memorial plaque to city hall, in remembrance of the anti-foreigner riot in the district of Lichtenhagen.
In 1992, the port of Rostock saw some of the worst xenophobic violence in post-war Germany, when a mob of young people attacked a building housing asylum seekers. The incident had serious consequences for the country. (22.08.2012)
The organizers of Saturday's demonstration, called "The Problem is Racism," said that some 4,500 people had shown up for the memorial event. They said that racism was "not a fringe phenomenon" and that in 1992 it had spread to "the middle of society" and was "fuelled by middle class parties and media."
Worst xenophobic outbreak since WWII
Just two years after German re-unification in late August 1992, hundreds of people threw stones and firebombs at a building - called the "Sunflower House" - used by asylum seekers, most of them Sinti and Roma. Bystanders cheered on the assailants, yelling "foreigners out."
Local authorities did not respond decisively to the attacks, with reinforced riot police moving in to stop the violence a day after it had started. The reinforcements from Hamburg withdrew, believing they had the pacified the area. Assailants then returned, setting a neighboring hostel on fire with at least 100 Vietnamese guest workers still inside. The Vietnamese residents were only able to make a rooftop escape at the last minute. No one was hurt in the fire.
Memorial plaque dedicated
The overcroweded Sunflower House could not provide proper facilities for its residents
The memorial plaque was a replica of one that a French-Jewish group had tried to hang there in the fall of 1992, shortly after the anti-foreigner attacks.
The "Sons and Daughters of the Deported Jews of France," led by Franco-German journalist Beate Klarsfeld, had sought to memorialize the attacks as well as the 3,000 Sinti and Roma killed at the Auschwitz-Birkenau concentration camp in 1944.
Police detained the group as they tried to hang up the original plaque, which the authorities subsequently removed. The plaque has been lost. Current Rostock Mayor Roland Methling made the decision to dedicate the new replica plaque.
---
GREECE |
Immigrants march in Greece against racist attacks
Saturday, 25 August 2012, 00:28 | Source: Chicago Tribune |
Thousands of immigrants marched in Athens on Friday to protest police sweeps and a rash of racist attacks in Greece as the country struggles to pull itself out of a huge debt crisis.
Greece is a major gateway for mostly Asian and African migrants trying to enter the European Union. They face increased hostility as the country struggles through its deepest post- World War Two recession and record unemployment, propelling the ultra-nationalist Golden Dawn party to parliament for the first time since the fall of a military junta in 1974.
About 5,000 protesters marched to parliament holding banners reading "No Islamophobia" and "Neo Nazis out!" in one of the biggest anti-racism marches in Athens in recent years.
Tensions between immigrants and Greeks have risen sharply in recent months and the demonstration was held a day after police detained hundreds of undocumented immigrants in the western city of Corinth as part of a nationwide sweep and held them in a former army camp.
The move enraged local authorities and residents who rallied outside the army camp to protest against its conversion into an immigrant detention center.
"We will do everything possible to prevent such a disaster," Corinth's mayor Alexandros Pnevmatikos told Skai TV. "We don't want the camp, which is in the centre of the city, close to densely populated neighborhoods, to become a holding center".
Far-right protesters and supporters of Golden Dawn clashed with police at the entrance of the camp on Thursday and hundreds of protesters, including small groups of ultra-nationalists, returned to protest on Friday. Some hurled bottles of water at a conservative deputy visiting the camp.
Police this month launched a sweep operation called "Xenios Zeus" after the ancient Greek god of guests and travelers. They have so far arrested hundreds of illegal immigrants.
Racist attacks against immigrants have increased in Greece since the economic crisis flared in 2009, according to pro-immigrant groups which accuse the police of turning a blind eye.
Human Rights Watch said in a report last month that it had interviewed 59 people who suffered or escaped a racist incident between August 2009 and May this year. But the advocacy group added that the true extent of xenophobic violence in Greece was not clear given many victims do not report the crimes.
---
GERMANY |
Racism and Xenophobia Still Prevalent in Germany
Friday, 24 August 2012, 19:36 | Source: Spiegel |
Twenty years ago, a neo-Nazi mob attacked a hostel for foreigners in Rostock, one of several similar crimes in the early 1990s. Today, however, Germany is still plagued by a significant level of racism and right-wing extremism in both the east and the west. For far too long, officials seemed content to ignore the problem.

Christian Berntsen is nothing if not enthusiastic. An activist with Bunt statt Braun, a group dedicated to combating right-wing extremism in the northern German city of Rostock, Berntsen has been instrumental in helping plan and stage events dedicated to commemorating the xenophobic, 1992 assault on an asylum-seekers home in the city quarter of Lichtenhagen. The list of activities is long: films, podium discussions, international cooking courses in local schools and presentations by local and regional politicians of all stripes.

"The city is working hand-in-hand with us when it comes to the remembrance program," Berntsen says ardently. "And the events have been extremely well received and well attended."
The effort in Rostock is indeed impressive. The city has gone out of its way to ensure that the kind of hateful violence that flared up two decades ago does not make a reappearance. But elsewhere in Germany, particularly in the east, the situation offers decidedly less cause for optimism. There are, to be sure, myriad groups pursuing goals similar to Bunt statt Braun, but entire regions remain where foreigners are afraid to venture, towns dominated by neo-Nazi thugs and repeated attacks against those who look different. Twenty years after the despicable Rostock violence, Germany's xenophobia problem remains daunting.

"There is an atmosphere of distrust when it comes to foreigners in Germany, and an absence of normality in dealing with them," says Cornelia Schmalz-Jacobsen, who was the federal commissioner in charge of issues relating to foreigners from 1991 to 1998 and is now deputy director of Gegen Vergessen -- Für Demokratie, a pro-democracy group founded in the wake of the xenophobic attacks in the early 1990s. "In the United States, people are used to the fact that some have foreign-sounding names but are Americans nonetheless. Here, if someone is called Özdemir, they are asked 'when are you returning home?'"

A Spate of Attacks

The attacks in Rostock marked the moment when any euphoria leftover from German reunification two years earlier evaporated completely. Hundreds of right-wing extremists and local thugs spent four days in late August of 1992 throwing rocks and firebombs at a building used to house asylum-seekers, most of them Sinti and Roma, in the outlying Lichtenhagen district. Thousands of others stood by and cheered on the attackers, shouting "foreigners out!" and other hateful slogans. The orgy of xenophobia ended when rioters set a neighboring building on fire housing dozens of workers from Vietnam and their families. With police and fire officials having retreated from the violent mob, victims -- including small children -- were forced to find their own way to safety by escaping onto the roof.

Rostock was not an isolated event. The previous year saw similar attacks against a refugee hostel in Hoyerswerda, which resulted in 32 injuries. In November 1992, a neo-Nazi arson attack on the house of a Turkish family in Mölln killed three. A further five lost their lives in a similar arson attack in Solingen in 1993.
The events were a shock to the newly reunified country. Schmalz-Jacobsen recalls specifically the horror government officials felt at the attacks in Rostock-Lichtenhagen and subsequently "traveling around the country like an itinerant preacher talking about integration, citizenship and anti-discrimination."

But for all the myriad groups focused on combating racism and right-wing extremism that have sprung up around Germany in the last 20 years, anti-foreigner hate and violence remains prevalent in the country. Hardly a week goes by without new reports of swastikas being daubed on gravestones at Jewish cemeteries, bricks being thrown through the windows of Turkish restaurants, immigrants being beaten up or even mobs chanting "foreigners out" as they chased eight Indians across a town square.

While a worrying number of the attacks take place in western Germany -- indeed, statistics from the Federal Office for the Protection of the Constitution, Germany's domestic intelligence agency, show that the frequency of right-wing violent crimes in the west is similar to that in the east -- eastern Germany, a region of 15 million with a foreigner population of a mere 6 percent, remains ground zero of the country's extremist problem.

Latent Racism

"Eastern Germany is extremely thinly populated with foreigners. And that vacuum is immediately filled with xenophobic slogans," says Dimitri Avramenko, the politician in charge of immigrant issues for Schwerin, the capital city of the state of Mecklenburg-Western Pomerania, where Rostock is located. "There is also a huge amount of latent racism in the population."

It is a statement that is backed by recent election results in the region. The right-wing extremist National Democratic Party of Germany (NPD) has managed to clear the 5 percent hurdle for representation in state parliaments in Mecklenburg-Western Pomerania and Saxony during the past two elections there and is also well represented in municipal governments across the region.

Away from the political stage, recent surveys have found a significant level of latent prejudice not just in eastern Germany, but in the country as a whole. In 2011, the latest edition of the long-term study on racism and xenophobia begun by the Institute for Interdisciplinary Research on Conflict and Violence at the University of Bielefeld found that 47.1 percent of Germans agree that "there are too many foreigners in Germany." Just short of 30 percent believe that foreigners should be sent home if jobs become scarce.

Perhaps, then, it should come as no surprise that, in addition to worrying levels of right-wing violence, many victims of extremist crimes complain of official inaction or unwillingness to see a racist crime for what it is.

The case of the Jewish restaurant Schalom in the city of Chemnitz is hardly out of the ordinary. For years, owner Uwe Dziuballa's establishment has been a target, with swastikas painted on the walls, lamps broken outside and countless threatening phone calls. Once, a pig's head labelled with the word "Jude" -- Jew -- was left in front of the restaurant. Dziuballa says that the authorities have often been unresponsive, to the point that he has even stopped reporting incidents to the police. "It is unbelievable what the right-wingers can do here without facing any consequences," Dziuballa recently told the Amadeu Antonio Foundation, which focuses on working against neo-Nazi violence and racism.

Appalling Failure

Many others have similar complaints. In a recent investigation for the foundation, the product of dozens of interviews across the country with people on the front lines in the battle against right-wing extremism, political scientist and journalist Marion Kraske found widespread resistance among officials when it came to pursuing right-wing crimes and identifying them as such.

"I found the magnitude of the state's failure appalling," she said in an interview. "These are not individual cases we are documenting here, it is a pattern. The political crimes and their backgrounds -- the right-wing extremist ideals behind them, or in some cases the anti-Semitism -- are not taken seriously. They are disputed or trivialized."

A case at the end of February this year in the small town of Mücheln in the eastern German state of Saxony-Anhalt is telling. Neo-Nazis attacked the owner of a small Turkish restaurant in town and threatened to kill him if he didn't close up shop by April 20, Adolf Hitler's birthday. When the police arrived, they gave the restaurant owner a breathalyzer test, told him he didn't need a doctor even though he was bleeding out of one ear from a shard of glass and reported the crime as a "conflict over the smoking ban." It was only after the victim got the Turkish consulate in Hanover involved, who then contacted the Saxony-Anhalt interior minister, that officials began taking his case seriously.

"Victims initially face a wall of rejection," Kraske says. "Their stories are doubted and sometimes they themselves are suspected of criminal activity."

The Neo-Nazi Terror Cell

As if to illustrate her point, Germany has been rocked in recent months by revelations that a neo-Nazi terror cell, called the National Socialist Underground, was allowed to operate freely for years from 2000 to 2007, a period during which the trio of extremists murdered nine people of foreign descent and a policewoman. Throughout the crime spree, officials failed to make connections between the crimes and consistently operated under the assumption that the victims, all of whom operated small businesses, were somehow associated with drug dealing or other mafia-like activities. Worse, once the story broke last November, officials at the Federal Office for the Protection of the Constitution destroyed documents relating to the case.

"I find it horrifying, really horrifying," says Schmalz-Jacobsen, referring to the apparent unwillingness of officials to look into potential racial motivations for the crimes. "It would seem to be self-evident. It shows that people, bureaucrats and politicians alike, simply don't have it on their radar."

There is some hope that change might now be in the air. German officials from the federal government on down are taking the problems revealed by the NSU case seriously. Soon after news of the trio hit the headlines, the German parliament passed a unanimous resolution stating: "The context of this inhuman crime, which has now been revealed, proves in a distressing fashion that the structures of security agencies on both the federal and state levels must be urgently examined." The parliamentarians also pledged to redouble efforts to combat right-wing attitudes and crime.

But political scientist Kraske has her doubts. "Of course it is praiseworthy that there is finally a cross-party consensus on the issue, and that certainly is progress," she says. "But the fact is that it's not happening. The resolution isn't doing anything for the people on the ground who are having to deal with the daily terror posed by right-wing extremists. The victim counseling and citizens initiative groups have all told us they are having financial problems and that ... each year they don't know how they will continue their work."

Some experts believe the problem goes well beyond such initiatives and that it can only be tackled if countries address a gap between rich and poor which has been growing dramatically in Europe in recent years, particularly in Germany. Michael Privot, director of the European Network Against Racism, says that xenophobia is a significant problem across the Continent, and that frequently, socio-economic problems are to blame. "Our analysis shows that the expression of racist sentiment is definitely linked to the economic situation and social context in which people are living."

'Part of the History of Rostock'

Governments, he says, must do more to do more to increase the standard of living across all of society. Without that, he says, intercultural sensitivity efforts won't help much. "It is needed, but it is definitely not enough. What is the point? Let's all be poor but happy? I'm sorry but people want to have a different life."

Privot's sentiment would seem to be born out in the strength of right-wing parties in several of Germany's neighboring countries – the kinds of anti-Islam populist groups which have not attracted much support in Germany. Many xenophobic parties have seen their poll numbers increase as the euro crisis has become worse.

But given the troubling situation in Germany, Schmalz-Jacobsen warns against such comparisons. "Racism has indeed been on the rise in countries like Denmark and the Netherlands, but it exists here too and we have to address it here," she says. "It isn't enough to just say yuck and criticize the right-wing. You have to strengthen those who are courageous enough to do something about it. Unfortunately, there are plenty who don't have that courage because they are afraid of being threatened or attacked."

Christian Berntsen and his colleagues at Bunt statt Braun (which roughly means diversity instead of Nazis) aren't among them. Their calendars are full of events year round, arranging for immigrants to speak – or even cook -– at local schools, getting children involved in political activities early and even holding public demonstrations of Tai Chi at public parks in Rostock, all as a way to ensure that attacks such as those that occurred in the city 20 years ago can't happen again.

"It is the job of the state, its institutions and schools to say yes we have the responsibility to keep the memory alive," he says. "We have to recognize that this is a part of the history of Rostock."



---
NORWAY |
Waiting for the verdict
Thursday, 23 August 2012, 22:13 | Source: Hope not hate/vepsen |
From Tor Bach at Vepsen in Oslo
The verdict in the case against Anders Behring Breivik, the mass murderer who killed 77 people on 22 July last year will be issued tomorrow by the Oslo District Court.
After a long trial, where every stone has been turned, there are no questions about what happened or who committed the gruesome massacres in the Government Quarter in Oslo and at the Labour Youth camp at Utøya.
The court, as well as the entire Norwegian public, has heard detailed and bloodcurdling testimonies from police officers, court medics and survivors. We have also heard the terrorist, so obviously in love with himself and so blatantly oblivious to the trivial character and lack of originality of his own political "thinking", trying to justify why he pitilessly killed innocent youngsters, pleading for their lives.
The court also heard a long sequence of testimonies about the heroism of the young people at Utøya, giving or risking their lives to save their comrades, about the young boy who single handedly launched a counter attack on the heavily armed Breivik, by throwing stones at him. These stories have parallels, in the armed resistance against the Nazi occupation during the Second World War, and deserve a similar position in the history of our nation.
The whole story is so far removed from Norwegian political tradition, culture and history that, at the same time, it all seems bizarre and unreal. Breivik's crimes are of the kind one usually reads about in novels or in news wires from other continents – it simply does not belong in a harmonious country built on Social Democratic values.
This is probably why there is only one question about the outcome of the trial that causes public excitement: Is Breivik criminally sane or not?
His lawyers have claimed sanity, while the prosecutors have claimed that he is insane. According to the defence, it is more important to Breivik to be found sane than the punishment he receives. On the other side, one out of several psychiatric reports claims that Breivik is psychotic and cannot be held accountable for what he did.
The debate has raged since the first psychiatric report found him insane, a report met with massive criticism. According to the prosecutors, this is enough to create the doubt necessary to declare the terrorist mad.
It is easy to understand how someone can come to the conclusion that Breivik has to be insane, exactly because of the un-Norwegian character of his deeds. Norwegians, unless they are stark raving mad, do not do things like this. The terror committed on 22 July last year has a so alien character that it has to have been committed by a madman. Strangely enough Breivik and his defence lawyers agree with the 80 per cent of the Norwegian population that believes that Breivik is, if not normal, at least legally sane.
Now it is up to the judges. During the trial they have behaved in an incredibly professional manner and given the legal proceedings the necessary dignity to show the supremacy of democracy over its enemies. It is already clear that they will see to it that Breivik stays behind bars.
The easy way out for the judges would probably be to rule that Breivik is sane and give him 21 years in a high security prison. Most people would support them, and probably neither Breivik's lawyers nor the prosecutors would appeal against such a verdict. The brave thing, however, would be to deem him psychiatrically inadequate and send him to a closed mental hospital. This would cause massive criticism and also, probably, a new round in court.
Tomorrow, we will all see the outcome of the trial but not by any means the end of the debate.
---
GERMANY |
German state raids neo-Nazi homes, clubhouses in crackdown on far-right
Thursday, 23 August 2012, 15:23 | Source: Washington Post |
More than 900 police officers raided homes and clubhouses of suspected neo-Nazis in a crackdown in a western German state on Thursday, seizing far-right propaganda material, computer hard drives and a wide variety of weapons, the region's top security official said.
The raids to collect evidence came after North Rhine-Westphalia state interior minister Ralf Jaeger banned three local neo-Nazi groups.
"These groups are anti-foreigner, they are racist and they are anti-Semitic," Jaeger said at a news conference.
The crackdown in North Rhine-Westphalia comes amid a greater focus nationally on the far right in Germany. That was sparked by the revelation last year that a small group of neo-Nazis apparently managed to kill nine minorities and a police officer over a seven-year period while remaining off the radar of the country's intelligence services.
The existence of the National Socialist Underground group only came to light in November, when two of its three core members were found dead in an apparent murder-suicide after a failed bank robbery. The third alleged core member, Beate Zschaepe, is in custody pending trial.
In a report released last month by Germany's domestic intelligence agency, officials estimated that the wider membership of neo-Nazi groups in Germany fell to 22,400 last year from 25,000 in 2010, but the number of far-right extremists prepared to use violence grew to 9,800 from 9,500.
While a lot of the attention has been focused on states in former East Germany, where the far-right National Democratic Party holds seats in two parliaments, the raids on Thursday focused on the western cities of Dortmund, Aachen and Hamm.
Authorities raided a total of 146 buildings in 32 North Rhine-Westphalia cities and towns, Jaeger said.
At the headquarters of one of the groups in Dortmund, officials found 1,000 election posters for the National Democratic Party, which federal officials are currently trying to decide whether to ban, Jaeger said.
"This shows the close interlacing between this right-extremist party and the neo-Nazi scene in North Rhine-Westphalia," he said.
The raids also netted a variety of weapons, including firearms — though it is still being determined whether they were functional — switchblade knives, baseball bats and brass knuckles.
The interior ministry said there had been no arrests, though criminal prosecutions of some of the members of the neo-Nazi groups had helped form the basis for the ban, and some were already in prison.
The state has seen a rise in far-right crimes this year, and had already conducted widespread raids in April and May.
"We have dealt the neo-Nazi scene in North Rhine-Westphalia a hard blow," Jaeger said of Thursday's raids. "We have ripped a big hole in the neo-Nazi network."
---
GERMANY |
Rostock residents dread 20th anniversary of neo-nazi racist riot
Thursday, 23 August 2012, 01:40 | Source: Spiegel |
This weekend marks the 20th anniversary of one of the darkest episodes in the history of postwar Germany, when hundreds of rioting neo-Nazis set ablaze an asylum-seekers' hostel in Rostock. Locals are tired of the onslaught of media attention, but many still live in fear of right-wing violence.

The journey to Lichtenhagen takes 40 minutes by tram. That's how far the district is from the center of the northeastern German city of Rostock.

Lichtenhagen is home to the so-called Sunflower House. Twenty years ago, this 11-story apartment block housed the so-called "central reception center" for asylum-seekers in the state of Mecklenburg-Western Pomerania. Most of the people staying there were Sinti and Roma from Romania, and Vietnamese workers who had come to eastern Germany on temporary work assignments when it was still a fellow communist state.

On Aug. 22, 1992, the building was attacked by a mob, who threw stones and Molotov cocktails at the high-rise. The crowd of up to 3,000 people was made up of both curious onlookers and rioters, including many people from Rostock, according to eyewitnesses. For five days, the area was gripped by a pogrom-like atmosphere. Images of enraged youths, burning buildings and retreating police officers circled the globe. It was the most violent xenophobic riot in the history of postwar Germany. There it was again, this other Germany, the dark one.

Today, area residents claim that the crowd had been made up of "outsiders." They say these people harassed the Sinti and Roma who were camped outside the high-rise due to overcrowding. Residents also say that it was "outsiders" who threw the Molotov cocktails at the tower block, trapping 150 people -- mostly Vietnamese -- inside. In their defense, they add that they had always lived on good terms with the Vietnamese.

The Blame Game

From these statements, it is clear that, two decades after the clashes, the residents of Lichtenhagen continue to view themselves as victims of external forces. They also play down their own role in the pogrom. But not all of them. For 20 years, Wolfgang Richter has been trying to explain what happened. "It started as a Rostock affair," he says.

At the time, Richter was working for the city authority in charge of handling foreigners. He was one of the people trapped in the tower block and witnessed the riots from the very beginning. He says that it wasn't until Sunday, Aug. 23, that the first right-wing extremists arrived and started directing the violence. "The Nazis had jumped onto a moving train," he says.

While still trapped in the apartment block, Richter swore to himself: "If you make it out of here alive, you have to do everything possible to make sure that the politicians responsible are held accountable." Richter is convinced that officials could have prevented the clashes if they had reacted to the warnings, worries and complaints of area residents.

At the time, Roma and Sinti were camped outside the Sunflower House and not being let into the shelter. They were forced to live under balconies and relieve themselves in the bushes. It was a hot summer, and the area reeked.

Conditions had become unbearable, says Erika Müller, who lives in the building today. "Politicians had abandoned us," she says.

Müller is one of the few local residents who will speak openly and allow her name to be used. She's fed up. Others prefer to play the issue down and remain anonymous. "But that was so long ago," says a woman on the street. "We don't need to talk about this anymore."

Trying to Keep the Memories Alive

The woman also doesn't know what to think about the tent standing on the lawn behind the former shelter. The tent is a kind of temporary memorial erected for the anniversary by "Bunt Statt Braun," a Rostock-based association promoting intercultural understanding and tolerance.

The tent, which is used to host workshops for children and youths, looks out of place between the complex's high-rise towers. It will be joined by several stages throughout the area for the main day of commemoration, which will be held on the weekend. Among the speakers will be German President Joachim Gauck, who was born and raised in Rostock himself.

Many locals would maybe prefer to forget about the episode, but the city and country want to continue talking about it. On and around the anniversary, Rostock is holding a number of events on racism, xenophobia and tolerance. Teachers in the high school in Lichtenhagen are trying to "sensitize" their students to such issues. "Our oldest student was born in 1994," says school superintendent Olaf Meyer -- in other words, two years after the pogrom. "Many kids don't have any idea about what happened back then."

Lenkeit is a 60-year-old Vietnamese immigrant who prefers not to have her last name published. On Friday morning of last week, Lenkeit was sitting in Son Ca, an Asian food market in Lichtenhagen, taking a break after making her morning purchases. Twenty years ago, Lenkeit was one of the people trapped in the Sunflower House. She only made her way to safety after she and some others broke open a door leading to the roof.

"I'm still afraid whenever I think about it," Lenkeit says in broken German. "But whenever new people arrive, we talk to them about it." By "new people," she means other Vietnamese people who settle in Rostock -- and their children. They explain to newcomers what happened back then. But either they don't explain it well enough, or the young people just don't care.

Trâng Tran, 21, doesn't look like she would give the matter much thought. She scurries through the market, zipping back and forth from the shelves to the checkout counter, passing frozen shrimp and golden Buddhas. "I think this Sunflower House was on fire," she says. "But I've also never really understood how that happened."

Fear and Shame

Lenkeit is afraid again. She's worried about the coming weekend. "Maybe NPD comes, dangerous," she says, referring to the far-right National Democratic Party (NPD), which has gained a strong foothold in the state. Described by the German domestic intelligence agency as "a racist, anti-Semitic, revisionist" party, the NPD scored 6 percent of the total vote in state elections in September.

Outside, a local resident is passing by the tent on her way to the supermarket. "Write that I'm scared stiff of the extremists," says the women, who declines to give her name. Her voice gets louder when the conversation turns to the tent. "I never go there. I'd just start complaining again. If they try to blame all of that on the local population again I'll explode!"

Two bored men are sitting inside the tent. They set up the tent and now have to guard it. They say that local residents sometimes come inside to look around. Some of them even ask with concern whether the tent belongs to the NPD and if it's been set up for the anniversary.

All of Germany has its eyes on Lichtenhagen these days. It wants to remember and commemorate the terrifying things that happened here 20 years ago. But many locals just want to be left in peace. They are repressing the events of 1992. "It will still be a while before many people can talk about it," says Meyer, the school superintendent. "Because they're ashamed of what happened."
---
HUNGARY |
Roma-Gárda conflict in Cegléd as far-right groups demonstrate against "Gypsy crime"
Wednesday, 22 August 2012, 18:26 | Source:politics.hu |
Some 400 people organised by far-right groups gathered in Cegléd, central Hungary on Sunday night after a conflict developed between local Roma and the Új Magyar Gárda (the paramilitary Hungarian Guard).
Some 70-80 police officers cordoned off houses inhabited by Roma.
A "spontaneous demonstration" against "Gypsy crime" was held in Cegléd with Jobbik and Gárda participation last Tuesday.
Far-right websites said Roma attacked "peaceful Gárda members" in the courtyard of a private house, and that is why a "nationwide mobilisation" was ordered and larger groups went to Cegléd on Sunday.
The town's Fidesz mayor László Földi said Monday that there are "problem people" among the 20 Roma families who live on the outskirts of Cegléd, and the town is doing all it can within legal regulations to enforce order.
Looking to explain Sunday's events, he recalled that the rumour spread a week ago that he wants to move 40 Roma families to the suburbs.
He said it is also possible that some were annoyed because a park was opened on Sunday aimed at symbolising Hungarian-Roma co-operation.
Three Jobbik MPs were among the demonstrators, who came to Cegléd from all parts of the country, Földi noted.
Ten Roma groups condemned the situation in the town in a joint statement.
Jobbik complained in a Monday statement that "attempts were made in several distorted reports to tarnish patriots who lined up to protect the Hungarian population, which is exposed to crime."
Pest County police announced that a considerable police presence will remain in Cegléd to ensure law and order.
LMP – Hungary's Green Party – expects an answer from Interior Minister Sándor Pintér as to how long he intends to "look on helplessly as self-appointed paramilitary groups hold intimidating demonstrations in the provinces," spokeswoman Katalin Csiba said.
LMP also expects Prime Minister Viktor Orbán and Roma authority leader Flórián Farkas to speak up, Népszava reports.
---
GERMANY |
Small German town fights back against neo-nazis
Wednesday, 22 August 2012, 14:00 | Source: Deutsche Welle |
Bad Nenndorf, site of annual neo-Nazi marches since 2006, stands to become a central gathering place for extremists. But townspeople are doing their best to fight back, organizing colorful counter-protests every August.

Neo-Nazis can be thrown off kilter by the simplest of things, like laughing people and joyous music. That is exactly how people in the small town of Bad Nenndorf in Lower Saxony took a stand against neo-Nazis as they held an annual march earlier this month.

The neo-Nazis' so-called funeral march in Bad Nenndorf has become a fixture for the country's right-wing extremists, who come from all over the country to attend.

But the neo-Nazis had to conduct their march along a mile-long path that counter-demonstrators turned into a colorful party zone. Every year, the route represents a gauntlet for the extremists. Residents position themselves along the neo-Nazis' path to disturb the march and provoke the extremists.

Residents of Bad Nenndorf have good reason to put up a fight, as the right-wing extremists under neo-Nazi activist Matthias Schulz have registered to hold their rallies until 2030.

Long-term menace

The first time the march was held, in 2006, just a few dozen neo-Nazis came to Bad Nenndorf. In the years that followed, the number that came increased rapidly. Record attendance by extremists since then reached some 1,000 people, while the number showing up for this year's march was down to about 450.

Even if the number of neo-Nazis who come to the march is decreasing, "the prospect of having to endure the spectacle until 2030 is a catastrophe for us," said Gitta Matthes, chair of the parents' association at Bad Nenndorf high school.

Lower Saxony's Office for the Protection of the Constitution - the domestic intelligence agency - is also following developments with concern. In 2009, a march commemorating the death of Hitler's deputy Rudolf Hess was banned in the Bavarian town of Wunsiedel. Bad Nenndorf stands to become the next major location for Germany's far right, with potential ripple effects on the rest of the country. Hans-Werner Wargel, president of Lower Saxony's Office for the Protection of the Constitution, said neo-Nazis need such events like the "funeral march." "They get inebriated on them," he said. Hundreds of neo-Nazis gathered at Wincklerbad, site of World War Two-era abuses that critics say extremists have taken out of proportion

Re-writing history

Right-wing extremists' falsification of historical events is transparent. Experts like Wolfgang Benz, former head of the Center for Research on Antisemitism in Berlin, talk of an effort "to qualify the crimes of the Third Reich." One example involves an internment camp called Wincklerbad that the British army established for captured Nazis at Bad Nenndorf after the end of World War Two. Occasional abuse of prisoners took place, but the infringements have been redressed on the legal and political level for decades.

However, speakers at the "funeral marches" draw a direct comparison between the abuse at Wincklerbad and the mass murder perpetrated during the Third Reich. One such speaker was neo-Nazi activist Ricarda Riefling, a Lower Saxony native who currently lives in the western German town of Pirmasens.

"One day, schools will no longer visit the concentration camp at Bergen-Belsen," she said, "but they will come here to Bad Nenndorf to mourn what was done to the German people."

Delayed reaction

In the first years of the "funeral march," Bad Nenndorf did not work hard to give an answer to such cynical speeches. Many in the town preferred to look away when the neo-Nazis came. Among them was Sigrid Bade, deputy chairman of Bad Nenndorf's sports club.

"I would not have believed that, out of these people with bald heads and bomber jackets, there could come a serious political threat," she said.

After she heard their speeches, though, it became clear to her that the demonstrators "are trained people who are really dangerous."

Cheery streets

Today Bade is among the most active counter-protesters against the right. Many members of her sports club are right beside her. There is also now a large alliance called "Bad Nenndorf is Colorful." A colorfully adorned street in front of the town's main train station greets neo-Nazis whenever they come for the "funeral march." That's the handiwork of the hometown alliance.

"We will not let these Nazis dictate how, when and where we can party," said local pharmacist Jürgen Übel. Foremost of the counter-demonstrations in past years, however, have been the protest parties along the route of the neo-Nazi march.

Neo-Nazis silenced

The protest parties managed to make so much noise that the drums of right-wing marchers got completely swallowed up by the music. In that respect at least, the people of Nenndorf have managed to ridicule the neo-Nazis to the desired effect: immediately after the march, the extremists dejectedly left the place.

But they still plan to come back next year. Bad Nenndorf though, will be prepared: having protested those past years, the citizens will be ready to stand up to the extremists the next time as well.

"After the last march comes the next march," is their motto. To that end, the town will discuss democracy throughout the year - as well as the danger that right-wing extremism poses for it.



---
SWEDEN |
Swedes Stage Solidarity 'Kippah Walk' in Malmo
Wednesday, 22 August 2012, 12:25 | Source: JTA |
Several hundred kippah-wearing Jews and non-Jews have marched in Sweden as a sign of solidarity with Malmo's Jews. About 400 marchers gathered Saturday outside the synagogue in Malmö and walked to Möllevångs Square, a part of Malmö with many Muslim immigrants from the Middle East.
Speakers included Brigitta Ohlsson, minister for European Affairs; Willy Silberstein, head of the Swedish Committee Against Anti-Semitism; Social Democratic Politician Lucian Astudillo; and Jehoshua Kaufman of the Jewish Community of Malmo. "The idea is to show ourselves and others that we refuse to be afraid or hide our Jewish affiliation," Fredrik Sieradzki, director of communications for the Jewish community of Malmo, told JTA before the march.
Earlier this year, a rabbi from Malmo was physically assaulted. In 2010, Malmo's mayor, Ilmar Reepalu, said that a group of Jews in Malmo who were attacked by Swedish Muslims during a peaceful protest in support of Israel brought the violence upon themselves for not distancing themselves from Israel and its actions during the month-long Gaza War in 2008-09.
The first walk began in Malmo in January when members of the local synagogue decided to keep on their kippot upon exiting their synagogue. Reports about the march on Facebook helped draw more marchers in. Saturday's walk was the fourth such event in Malmo, a city with a population of approximately 1,800 Jews.
It was the first time that a kippah walk was organized by Stokholm's much larger Jewish community. On Aug. 17, the newspaper Sydsvenskan ran an op-ed by Sweden's minister for European Affairs, Brigitta Ohlsson, in praise of the kippah walk. Sieradzki wrote that members of the community were being regularly harassed "predominantly but not exclusively" by young members of Malmo's large population of residents of Muslim or Middle Eastern background.
Anti-Semitic incidents involving members of the community who are visibly Jewish can occur on a daily basis, he said. "The statement is that Jews should be free to walk in Malmo without fear, and that is sadly not the case right now," Lena Posner-Korosi, president of the Council of Swedish Jewish Communities, told JTA. "Many Jews are frightened to show their affiliation. We in Stockholm are having a kippah march in solidarity with the Malmo community, but for our own sake as well. Its a signal which says,We are here, we don't harm you so don't harm us.'"
Anti-Semitism in Malmo first drew international attention in 2009, when riots broke out due to the presence of Israeli tennis players in the city, which hosted the Wimbledon Cup.
---
GREECE |
Street murder highlights Greek hate culture
Wednesday, 22 August 2012, 12:20 | Source: EUobserver |
The mayors of Athens warned against the increase in racist attacks against minorities and immigrants on Thursday (16 August) as Greek authorities continue to round up and arrest undocumented migrants throughout the country. "When fellow human beings are being stabbed on an almost daily basis, society has to be alert and the state has to lead the perpetrators to justice," said Athens Mayor Giorgos Kaminis, reported Greek daily Ekathimerini.
On Sunday, a 19-year-old Iraqi man died of stab wounds after being attacked by five men in central Athens. Witnesses told police the gang had attempted to attack a Moroccan and a Romanian but both managed to flee before the five men unleashed their brutality upon the Iraqi. "Such attacks are unacceptable and the authorities must do all within their power to stem their rise," deputy Europe and Central Asia programme director at Amnesty International, Jezerca Tigani, said in a statement on Wednesday.
A spokesperson for the UN agency for refugees (UNHCR) in Athens told this website on Friday that the attacks are now almost a daily occurrence. Those that carry out of the attacks, she said, "work almost undisturbed" as police have failed to convict anyone linked to the violence. Small gangs on motorcycles typically carry out the attacks. "They [migrants] are really scared to go [and] report and press charges because they may be arrested if they do," said the spokesperson. She said police dissuade victims from pressing charges by telling them they have to pay €100. She also noted that victims and witnesses are offered no protection. In another incident, two Pakistani men were attacked in their home on Sunday evening after being beaten by unidentified men. Both ended up in the hospital. Fifteen men in motorcycles belonging to an extreme right-wing group, reportedly tossed flares into a prayer room for Muslim worshippers on Thursday in Pireus.
The mayor of Topeiro, near Xanthi, said thugs are now targeting the Muslim community. "We warn this small group of dangerous, idiotic thugs that we will stand in the way of their plans. We will find them and stop them," he said. Greek authorities launched a round up of undocumented migrants earlier this month. The on-going campaign named after the Greek god of hospitality - "Xenius Zeus" – has so far detained around 8,000 people. Those without proper identification are arrested and deported.
Some 1,660 have been arrested and placed in administrative detention, said the Greek police on Wednesday. A report by the NGO Human Rights Watch out in July documented dozens of attacks against migrants in and around Athens. The NGO recorded 300 assaults in Athens in the first half of 2011. The Athens police, for its part, recorded only 9 incidents of hate crime for the whole of 2011.
---
GERMANY |
18 Holes Against Hate: Golf tournament raises money for anti-nazi projects
Wednesday, 22 August 2012, 12:13 | Source: Spiegel |
Germany's eastern state of Mecklenburg-Western Pomerania has a longstanding reputation as a hotbed of xenophobic activity. Recently, a number of projects have sought to burnish the region's tarnished reputation. The latest is a golf tournament that raised thousands of euros to be given to groups that combat extremism in youth.

The Golf and Country Club Fleesensee in Germany's famous lake country offers an idyllic stretch of lush green fairways and glistening ponds. At first glance, it doesn't seem like an obvious frontline in the battle against right-wing extremism. On Saturday, though, the site hosted 70 golfers from across Germany and Switzerland, who had gathered for the country's first "Golf gegen Rechts," or Golf against the Far-Right, tournament to remember past extremism and stop future acts in the northeastern German state of Mecklenburg-Western Pomerania.
Organizers held the fundraiser in commemoration of the 20th anniversary of a xenophobic attack that took place in the port city of Rostock in 1992 and generated headlines from reunified eastern Germany that shocked the world, coming as they did just a few years after the fall of the Berlin Wall. The tournament also served as a reminder that, two decades on, there remains an acute need to fight extremism in the region, organizers said. This became all the more apparent after it appeared the event itself had become the subject of a hate attack.
Around 3:30 a.m. on the morning of the event, the organizers said that anonymous vandals had spraypainted the word "death" on signs advertising the tournament. "This shows us that we're here for the right fight," said Detlev Fricke, the event's co-organizer and CEO of Fleesensee, which is located in the tiny municipality of Göhren-Lebbin and claims to be the largest golf club in Northern Europe. "This is the first tournament, and we'll continue having one every year until extremism in this area isn't a problem anymore," he said.
A Far-Right Stronghold

In recent years, Germany's far-right National Democratic Party (NPD) has gained a strong foothold in Mecklenburg-Western Pomerania, a largely rural state with around 1.6 million residents where the unemployment rate hovers around 12.5 percent. Described by the German domestic intelligence agency as "a racist, anti-Semitic, revisionist" party striving to form a Fourth Reich, the NPD scored 6 percent of the total vote in Mecklenburg-Western Pomerania in state elections in September.
In some towns, as many as 25 percent of voters cast ballots for the party. Mecklenburg Western-Pomerania isn't the only state where the NPD has done well in elections. The party is also represented in the parliament of the eastern state of Saxony. Other parts of the former communist east have also seen a rise in far-right violence as immigrants became scapegoats for the region's economic decline following unification.
"It's important to have events like this in this community," said local Franka Stahl de Castrillon, who snagged first place in the women's division despite her limited golf experience. When traveling outside the region, she said the people she meets tend to associate Rostock, her hometown, with racist events of the past. It's high time, she said, to refurbish not only the city's image, but also that of the state.
Golfers each paid €100 to participate in the fundraising tournament, money that will be funneled directly to two local projects that seek to educate youth and eradicate extremism. At a dinner following the tournament -- whose participants included Patrick Döring, general secretary of the Free Democratic Party, which is the junior partner in conservative Chancellor Angela Merkel's government, and Göhren-Lebbin Mayor Peter Becher -- organizers handed the two non-profits a check for €7,500. The event itself is part of a wave of new efforts in the state to combat right-wing extremism.
In recent months, a local resident created a successful satirical campaign against the NPD and xenophobia in the region under the name Storch Heinar, a play on the Thor Steiner label of clothing that is popular with neo-Nazis. And, more recently, the mayor of a small city in the state generated headlines with his efforts to halt a major rally of neo-Nazis. The event went on in Pasewalk, attracting an estimated 1,000 NPD supporters, but the mayor managed to rally what one observer described as the "something approaching broad resistance" to the neo-Nazis.
Although many came from other parts of Germany, an estimated 2,000 people gathered to form a human chain and protest the event, including a person dressed as Storch Heinar, which has since become the mascot of the mainstream anti-Nazi movement in the state. The stork even made an appearance at the golf tournament.
Mecklenburg-Western Pomerania, with its sandy beaches and picturesque coastline, has become a magnet for tourists in recent years -- from elsewhere in Germany and abroad. Residents appear to be growing aware of the fact that the strength of the far-right in the state could become a drag on this needed boost.
'A Dangerous Place To Be for Minorities'

The state has been on the international radar since August 1992. For several nights between Aug. 22-24, far-right thugs hurled stones and Molotov cocktails at a dormitory that had been home to Vietnamese and Roma asylum seekers. If the terror itself hadn't been enough to land the city in the international headlines, then the fact that hundreds, if not thousands, of locals stood by and cheered the violence on certainly had been. Xenophobic local residents by far outnumbered regional police, who struggled to quell the chaos.
Even today, parts of the state remain "a dangerous place to be for minorities," warned Professor Hajo Funke, a prominent analyst of the far right at Berlin's Free University. Funke said violence against ethnic minorities, who comprise only around 1 percent of the state's population, is widespread. He also accused officials of not doing enough to stop extremism. Now it seems that locals like the golfers at Fleesensee are stepping up to fix the image problem.
"We still have a problem here with the Nazis, especially in the areas of Mecklenburg located near the Polish border," said Peter Marx, the Mecklenburg-Western Pomerania correspondent for Germany's Deutschlandradio, a national public radio station. Marx himself conceived the idea for the tournament and organized the event.
His experiences alone are symbolic of the resistance that can be faced by people who go public with their opposition to far-right sentiment in the area. Marx said he received angry and sometimes threatening emails and calls from locals in the weeks leading up to the event. "Many people told me it was a crazy idea and that they hated it," he said. "They told me that there should be a tournament against the left and not the right."
Those hostilities seemed to be forgotten on the golf links on Saturday. As golfers toiled for five hours in the 32-degrees Celsius (almost 90 degrees Fahrenheit) heat, Amri Habimana played drums in a booth situated near the entrance to the club. Habimana emigrated to nearby Neubrandenburg in 1994 after fleeing the deadly unrest in Rwanda. Today, he is a musician with ProVie Theater, one of the two benefactors of the fundraising effort.
As part of the program, he travels to schools in the region, where he shares African music and encourages students to play along with the instruments he has brought -- introducing them to multiculturalism along the way.
Habimana said that when he first arrived in Germany, people would often glare at him. Now, though, he says, "everybody knows who I am and things have gotten better." "We have racist people here because they don't know anything about other cultures," said Habimana. "But after our performances, we often receive calls from parents or kids asking more questions about Africa."
---
RUSSIA |
Moscow resident charged with inciting hatred of nationalist skinheads
Tuesday, 21 August 2012, 20:08 | Source: themoscowtimes.com |
Investigators have opened a criminal case against a 27-year-old Moscow resident accused of inciting hatred against nationalist skinheads more than a year ago.

The suspect, identified by the BBC's Russian Service as Andrei Ivanov, encouraged hostility toward the nationalist group by showing a video urging violence against them in a Vladimir cafe in June 2011, investigators said in a statement Monday.

Ivanov, who investigators said supports the Antifa movement, faces up to two years in jail if the charges are proved. In the statement, investigators cited "skinheads" as the social group Ivanov offended.

Svetlana Sidorkina, Ivanov's lawyer, told the BBC that "Russian Anti-Racist Skinheads," the video Ivanov showed, is not included in the government's list of banned extremist content.

Sidorkina described watching the film as informative and said it explained the development of the skinhead subculture in Russia.

Ivanov himself told Dozhd TV that he was bemused by investigators actions.

This is not the first time that authorities have pressured anti-fascist groups before. Police arrested anti-fascist environmental activists Alexei Gaskarov and Maxim Solopov, accusing them of storming an administrative building for the Moscow town of Khimki in July 2010.
---
GERMANY |
In Eastern Germany, the neo-nazis are winning
Tuesday, 21 August 2012, 20:05 | Source: Spiegel Online |
Twenty years ago, an asylum-seekers hostel in Rostock was set ablaze by rioting neo-Nazis as thousands of ordinary people watched and cheered. Today, much of eastern Germany remains a no-go area for foreigners, say commentators. Authorities have failed to tackle the problem and society remains indifferent.

Germany is marking the 20th anniversary this week of a racist riot against immigrants and asylum-seekers in the eastern port city of Rostock. Between Aug. 22 and Aug. 26, 1992, hundreds of right-wing extremists hurled stones and firebombs at a high-rise apartment block where asylum-seekers, most of them Sinti and Roma from Romania, and Vietnamese workers were being housed.

Several thousand people stood by and applauded the attackers. At one point police and fire department officials retreated from the scene, abandoning the burning building and the people trapped inside. It was a miracle that no one was killed in the riots which first focused national and international attention on the growth of neo-Nazis and xenophobia in the former communist east.

Fast forward 20 years, and Germany still has a far-right problem. Media commentators say the police and government authorities have not done enough to combat right-wing extremism, which has festered especially in depopulated rural regions of the east where neo-Nazis sit on town councils, organize local sports festivals and youth activities and are even trying to staff kindergartens.

Many believe that unchecked hatred in some eastern German states of the sort seen in Rostock created an atmosphere that allowed the terrorism of the National Socialist Underground, the neo-Nazi cell uncovered by chance last November that murdered and bombed immigrants, to happen. But yet again, critics lament, there's no big push in German society to root out the problem. Unlike the left-wing terrorism of the Baader-Meinhof gang that plunged the country into a national trauma in the 1970s, the threat of the far-right has not become a major theme in the public debate. Society, politicians and the police are once again turning a blind eye towards everyday racist violence that has turned much of the east into a no-go area for people who aren't white, say German media commentators.

Center-left Süddeutsche Zeitung writes:

"The 10 neo-Nazi murders were uncovered nine months ago. Politicians and security authorities have returned to normal astonishingly quickly. The outrage over the crimes of the NSU has died down."

"Sometimes one remembers all the uproar that engulfed the whole of society after the Red Army Faction (Baader-Meinhof) murders and one is surprised about the general calm today."

"The everyday violent racism in Germany hasn't turned into a big issue. Meanwhile, those citizens who confront the neo-Nazis still don't get much help."

"The murders committed by the NSU haven't made authorities more sensitive. There are no orders to go all out in the fight against neo-Nazis. There are no new priorities in politics or the domestic security apparatus. There is no sign of new verve, new decisiveness, new courage in the fight against right-wing extremism. We're pretending that the NSU murders are one thing -- and that everyday violence against foreigners is something completely different."

"But it cannot and must not go on like this, the way it started 20 years ago. Twenty years ago this outrageous government indolence first became visible. Twenty years ago the backdrop of threat was created which led to eastern Germany being largely free of foreigners today. For 20 years, since the days and nights of the xenophobic attacks in Rostock-Lichtenhagen, foreigners know it's better for them not to live in eastern Germany. The backdrop of threat still exists: In eastern Germany non-white minorities make up just one percent of the population. Eastern Germany, excluding Berlin, is largely free of foreigners. The biggest success of the neo-Nazis in Germany is not their presence in regional parliaments but this fact: Among immigrants, eastern Germany is seen as a no-go area. The state and the police haven't managed to change the climate in two decades."

"The security authorities and the politicians have done so much wrong in the last 20 years. It is time for them to take action to redeem themselves."

The leftist Berliner Zeitung writes:

"The most harrowing aspect of the events of August 1992 was that the police had to temporarily leave the area to the far-right mob. That was disastrous, not least because of its symbolic impact, and one can assume that a lot of effort since then has gone into devising police strategies for dealing with public violence. But the optimistic view of state prevention of right-wing violence has received a dampener since the extent of the failures of the domestic intelligence service against the activities of the National Socialist Underground has become increasingly evident."

"It's no coincidence that the alleged terrorists of the NSU were radicalized at the same time as the events in Rostock and elsewhere. One can describe the years after unification as a wild phase of a new right-wing radicalism that largely escaped state control."

"One shouldn't just leave it at outrage over the state's failure in the face of the far-right danger. Calls for a clear positioning of state institutions must go hand in hand with a high level of awareness in civil society for all forms of racism."

"In addition to ostracizing racism, we need intelligent support programs for people who want to quit the scene."

The Berlin daily Der Tagesspiegel writes:

"They are images that burned into one's memory: people who wanted to set fire to other people, flames, refugees running for their lives. Not somewhere far away, but here: Rostock, in the north of eastern Germany, in the hurriedly unified Germany."

"No, eastern Germany isn't right-wing extremist. Yes, people in the western towns of Solingen and Mölln also set fire to buildings inhabited by Turks, the Ruhr region too saw fear, hatred and one's own limitations trigger violence against different people and those with different views. But it's a sad fact that relative to the number of people living here, there are more xenophobic attacks in the old east than in the old west. And the terrorism of the National Socialist Underground also emanated from the (eastern state of) Thuringia to draw its murderous trail across the country, under the closed eyes of the security authorities."

"But above all, Rostock-Lichtenhagen has burned itself into the collective memory because the baying mob consisted of ordinary citizens. Society stood by and watched the flames."

"Unfortunately, the reaction of many eastern Germans to these painful events hasn't been to turn inwards and question themselves but to turn outwards and be outraged. (∑) there is above all this one reaction: Eastern Germany isn't a far-right place. But that's not what it's about. Eastern German civil society, which is still in its infancy, provides space which the NPD party uses -- and not just to organize sports festivals."

"Many rural regions remain structurally weak, and many people still stick to the silence they learned in the days of the GDR."

"Ordinary citizens still often look away when someone gives the Hitler salute on the village green and calls for a 'Nationally Liberated Zone.' By remaining silent, they are relinquishing their own hard-fought freedom."


---
GERMANY |
Germany marks worst racist violence since war
Monday, 20 August 2012, 18:45 | Source: Gulfnews.com |
Germany begins commemorations to mark 20 years since its worst post-war racist violence Wednesday, as it grapples with an active neo-Nazi movement that has a political foothold in the former East.
President Joachim Gauck is due to attend events in the northern city of Rostock where a mob of racist extremists besieged and attempted to burn a hostel for asylum-seekers for five days running in August 1992.
The burning building was occupied by Vietnamese who had to be evacuated amid shocking scenes in a country in the throes of reunifying, and shone a spotlight on racist extremism in eastern Germany.
"Everywhere neo-Nazis appear, there will be 10 times more of us than them," Gauck, who hails from the former communist East, has said. He will travel to the Baltic port city Sunday.
As the main port of former East Germany, Rostock was hard hit economically in the aftermath of the fall of the Berlin Wall in 1989 and German reunification a year later, causing the jobless queue to rise daily.
Cut off from the West for four decades, East Germany had scant experience of immigration — those occasional foreign workers who came from fellow socialist regimes were isolated from the local population.
"It was a very particular era just after the fall of the Berlin Wall. Society was in complete upheaval," Dierk Borstel, an expert on the far-right at Bielefeld University, told AFP.
Germany was also gripped at the time by a debate on the right to asylum, Borstel said, as the war in the former Yugoslavia sparked an exodus of asylum-seekers whose numbers in Germany reached a record in 1992.
Refugees, many of them Roma from Romania, quickly piled into the centre in Rostock, which became overcrowded with dozens of families forced to camp on a garbage-strewn lawn with insufficient facilities.
It was against this backdrop that Rostock made international headlines when on August 22, 1992 a gang of neo-Nazis, to the applause of local onlookers, attacked the centre for asylum-seekers and Vietnamese migrant workers.
Days of violence in the Lichtenhagen district saw several thousand people chanting "Germany for Germans, Foreigners Out!" in ugly scenes not seen in Germany since the Nazi era.
Carrying beer, the skinheads lobbed stones and Molotov cocktails into the immigrant centre while police were under-equipped and disorganised in having to face them and politicians remained silent.
Just two years after reunification, "the worst memories of Nazi pogroms were revived", the regional NDR TV channel said in a documentary dedicated to the riots.
The asylum-seekers were only evacuated after the third night of violence but 120 Vietnamese remained stranded inside the building and only just escaped after it was set on fire by Molotov cocktails.
The photo of a man wearing a tracksuit and the national football team's shirt doing a Nazi salute and standing next to another man, widely smiling, was splashed across the international press.
Since German reunification in 1990, 58 people have died as victims of racist crimes, according to the interior ministry, although German media puts the figure much higher at 149.
The National Democratic Party of Germany (NPD), a neo-Nazi political party, has made inroads into the political landscape of eastern Germany where it has members in two regional parliaments.
And the revelation last year of a trio of neo-Nazis, blamed for 10 murders, mainly of Turkish-born shopkeepers between 2000 and 2007, prompted a scandal over the botched probe of the deaths and questions about why officials failed to take the theory of a racist motive more seriously.
Activists from a far-right group rallied Saturday outside a Berlin mosque reputed to be a hotbed of the radical Salafist community carrying a placard reading "Stop Islamisation" and a caricature of the Prophet Mohammad (PBUH).
The protest by some 50 militants of the Pro-Deutschland group went ahead after a court ruled the cartoons — blasphemous for Muslims — were protected as "artistic freedom" and could not legally be considered as abuse of a religious group.
---
UKRAINE |
For daring to defend himself, Nigerian student faces life imprisonment in Ukraine
Monday, 20 August 2012, 15:34 | Source: Information Nigeria |
5 November 2011 will forever remain evergreen in the heart of Olaolu Sunkanmi Femi a Nigerian student studying in Ukraine. On that unfortunate day, Olaolu and his yet to be identified Nigerian friend (also a student) were physically molested and attacked in front of their apartment by a gang of Ukrainian racists.
Eye witness accounts say Olaolu and his friend who were hurled to the ground and racially abused all this while, was able to get up and grab hold of a piece of glass from a broken bottle to use in self-defense. According to a Nigerian Embassy staff in Ukraine who is aware of the case said "it was while he was defending himself that police arrived at the scene and the Nigerian was subsequently arrested and charged with attempted murder of five people thus becoming an accused in a case that has gone on to be one of the most celebrated in Ukraine".
Olaolu Sunkanmi Femi Behind Bars
Olaolu has since been remanded in detention by the Ukrainian police who refused to take the case to court citing unavailability of the police to get an interpreter for him. However, Nigerian students in the Ukraine are not taking this lying low as they have been protesting his arrest calling it an act of racism. The Nigerian students' community in Ukraine under the leadership of Osarumen David-Izevbokun, a Phd student in international relations has been working tirelessly to ensure justice for the Nigerian by organizing protests as well as drawing the attention of the human rights groups in Ukraine to the plight of Femi who has spent almost seven months in jail without trial.
Olaolu And Ukrainian Police Officers
David-Izevbokun told African Outlook that he alongside other Nigerian students in conjunctions with some members of the Ukrainian human right groups staged a protest on April, 9 outside the Leninsky District Court in Luhanski demanding the release of Olasunkanmi.
The actions, according to David-Izevbokun has put the Ukraine police on the spot as the case came up for hearing on May 3. "We had a lot of media coverage on the protest " David-Izevbokun said, noting that he was sure the attention given the case may have prompted the May 3 court appearance of the suspect.
David-Izevbokun who was at the May 3, court hearing told African Outlook that Olasunkanmi appeared depressed when he showed up in court.
In almost typical fashion, the Nigerian embassy sent a representative to visit Olasunkanmi in jail once and thereafter, never returned.
But an embassy spokesperson who pleaded anonymity (because he is not authorized to comment on the case) told African Outlook that the Nigerian consulate had not abandoned the Nigerian to his fate "We are in torch with the Ukrainian authority and we have been doing everything to ensure the boy is released unconditionally using diplomatic channel" he said, adding that the Olasunkanmi was being charged for attempted murder, an offense which under Ukrainian law is not bailable.
"There are ways in which we handle cases like this so that we would not appear to be hostile or criticizing our host countries' laws" the embassy staff said while assuring that he was confident Olasunkanmi would be released soon.
When asked if the embassy has been able to secure the service of an attorney for the Nigerian student, the embassy staff said: "It is not within our mandate to pay for attorney's fees for any Nigerian in distress, you may check this out with other Nigerian embassies abroad, but we have been working with the Nigerian community leaders here to ensure that we do everything within our means to help Olasunkanmi in time of his need" the staff added hinting that the representative of the embassy was at the May 3 hearing.
This is one case too many of Nigerians facing jail terms in various European countries over phantom allegations and even more disheartening is the role of the Nigerian government via its embassies in such countries.
Visit the "Free Olaolu" page on facebook and show your support at facebook.com/FreeOlaolu
---
GERMANY |
26 men go on trial in Germany for allegedly forming nazi group
Monday, 20 August 2012, 13:56 | Source:dpa |
A group of 26 German alleged neo-Nazis thought to have mounted a campaign of violence against leftists went on trial under tight security Monday.
Prosecutors charged 20 of the men with establishing a criminal group, while the other six were accused of helping its activities.
Police broke up the group with raids in four states earlier this year.
The group, which called itself the Mid-Rhine Operations Office, was anti-democratic and extremist, the indictment said.
The group collected names and addresses of possible leftist victims and secretly monitored them, prosecutors said. Some of the men, aged between 19 and 54 were accused of taking part in physical attacks.
The trial, in the western city of Koblenz, is expected to continue into next month.
---
GERMANY |
German President Gauck challenges far-right
Monday, 20 August 2012, 12:39 | Source: Deutsche Welle |
President Joachim Gauck has urged Germany to resist far-right extremist without fear. His remarks foreshadow the 20th anniversary of anti-foreigner rioting in Rostock that shocked Germany shortly after its reunification.
German head of state Gauck told the Ostsee Zeitung newspaper on Monday that at next weekend's remembrance in his home city he would show that Germany had "trained" really hard to develop a "defensive culture" against far-right extremism, and that "we will remain active."
"We won't hand over our fear as a present to the far-extremists; we won't let them prevail," Gauck said on Monday.
Germany has learned to resist the far-right, says Gauck. In late August, 1992, hundreds of far-right extremists, applauded by several thousand spectators, surrounded and attacked a high-rise apartment block in Rostock-Lichtenhagen used as a central hostel for asylum-seekers in the former communist East German port city.
Some 150 inhabitants, including Vietnamese who had previously been contract workers in East Germany, were forced to flee when rioters fire-bombed the building while local police held back. The incident during nationwide debate on asylum policy ranked as the worst anti-foreigner rioting in post-war Germany.
Gauck told the newspaper on Monday that the rioting was inexcusable but its roots lay in under-developed climate of civic debate in former East Germany where authorities proclaimed and enforced their version of "truth" by violent means. In 1992 asylum-seekers were forced to flee Rostock's hostel
In the early 1990s, Gauck said, many eastern Germans lacked employment and orientation. Some were susceptible to misguided "black and white" thinking, he said.
In another interview, Gauck told the Leipziger Volkszeitung newspaper on Monday that any fresh application by federal authorities to Germany's Constitutional Court to ban the far-right National Democratic Party (NPD) must be "very thoroughly" prepared.
In 2003, the court in Karlsruhe rejected a previous prohibition application on the grounds that evidence had been tainted by the authorities' use of informants. Germany's constitution sets high hurdles for the banning of political parties.
Calls for a NPD prohibition have surged since the detection last year of a neo-Nazi gang that had murdered nine immigrants, mostly of Turkish origin, and a policewoman between 2000 and 2007.
Starting Monday, Gauck, who is normally based in the capital Berlin, will spend four days in Bonn, Germany's former post-war seat of government. The German head of state's second official residence is located in Bonn's Villa Hammerschmidt on the banks of the Rhine.
---
GREECE |
Tunisian Immigrant Stabbed to Death in Thessaloniki
Sunday, 19 August 2012, 02:10 | Source: Greekreporter.com |
Another immigrant has been stabbed to death in Greece, the second in a week. The victim, a 25-year-old Tunisian, was found outside the entrance to a building in Thessaloniki a little after midnight on Aug. 14, stabbed in the neck. A 19-year-old Iraqi was stabbed to death in Athens, one of a growing spate of attacks against immigrants as the government conducts a sweep to round up foreigners living unlawfully in Greece.
The Tunisian victim was found by a passing delivery boy. Police said they were looking for two other Tunisians believed to have had a quarrel with the victim and rejected that it was a racist attack. It came at time of growing tension and violence against immigrants in Greece, stoked by the neo-Nazi Golden Dawn party, which won 18 seats in Parliament on a platform to rid Greece of all immigrants.
---
HUNGARY |
Poster boy of Hungary's fascist right quits after Jewish roots revealed
Friday, 17 August 2012, 00:58 | Source: Independent |
His vociferous anti-Semitism made Csanad Szegedi a popular politician in Hungary's notorious far-right Jobbik party – until he discovered that he has Jewish roots and his grandmother was a survivor of the Nazi Holocaust.
Now, a repentant Mr Szegedi has announced that he is to pay a visit to the site of the infamous Auschwitz death camp where his relative was imprisoned and several other family members may have been murdered.
Mr Szegedi, who disclosed his Jewish background in June, informed the Hungarian Rabbi Schlomo Koves about his Auschwitz plans.
"He wants to pay his respects to the Holocaust martyrs," Rabbi Koves told the Jewish news service JTA. The 30-year-old politician is also reported to have apologised profusely to the Hungarian Jewish community.
Just six months ago, Mr Szegedi was a star Hungarian far-right politician and Jobbik was proud to have him represent the party as an MP in the European parliament. As a leading member of the anti-Semitic party, he appeared at political rallies where he accused Jews of "buying up" Hungary and desecrating national symbols.
Mr Szegdi had plenty of far right credentials to join Jobbik. In 2007, he founded the neo-fascist Hungarian Guard. Its members paraded in black uniforms aping the pro-Nazi Arrow Cross party, which ruled Hungary at the end of the Second World War and was responsible for the deaths of many of the 550,000 Hungarian Jews killed in the Holocaust. The courts banned the Hungarian Guard in 2009.
But since owning up to his roots, the former anti-Semitic agitator has been forced to give up all his positions and resign from Jobbik. Its leadership, which claims his exclusion from the party has nothing to do with his Jewish background, has also demanded that he give up his seat as a MEP. Mr Szegedi says he wants to keep the post.
Rumours of Mr Szegedi's Jewish origins emerged in 2010 during a secretly taped meeting between the politician and an ex-convict called Zoltan Ambrus, who confronted him with evidence of his Jewish roots. In the recording, Mr Szegedi sounds surprised and then appears to offer Mr Ambrus cash and favours to keep quiet.
Jobbik has since claimed that this was why it decided to expel Mr Szegedi from the party. Mr Szegedi has denied the claim and said the tape was deliberately doctored. He said that after his meeting with Mr Ambrus he had a long conversation with his grandmother who spoke at length about the family's past and orthodox Jews.
"It was then that it dawned on me that my grandmother really is Jewish," he said in a recent Hungarian television interview. "I asked her how the deportations happened. She was in Auschwitz and Dachau and she was the only survivor of an extended family," he added.
His experience is far from unique. During Hungary's decades of communist rule the Holocaust was virtually taboo. Many survivors chose not to talk about their ordeal for fear of further repression.
Mr Szegedi was brought up as a Presbyterian. But Rabbi Koves said his maternal grandparents were both Holocaust survivors who had an Orthodox Jewish wedding after the war. "They decided to keep it all a secret from their children and grandchildren and they succeeded for more than six decades," he said. "Their descendants have only recently discovered their Jewish roots," he added.
---
PERU |
Peru's Nazi party leader believes even the conquistadors were Jews
Friday, 17 August 2012, 00:54 | Source: Guardian |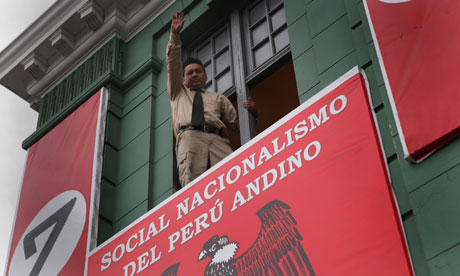 Peruvian Nazi party leader Martín Quispe Mayta salutes from his headquarters. Photograph: Dan Collyns
Martín Quispe Mayta frowns imperiously from behind a desk adorned with portraits of Adolf Hitler, a copy of Mein Kampf, and a collection of toy cars. Draped on the wall behind him is a large red, white and black flag bearing a symbol that looks suspiciously like a swastika.
This is the headquarters of the Andean Peru National Socialism movement, a far-right group that is currently attempting to gather enough signatures to be registered as a political party. Quispe Mayta, the group's 38-year-old founder, calls himself an admirer of Hitler and openly advocates the expulsion of Peru's tiny, well-integrated Jewish population.
Fewer than 5,000 Jews live in a country of nearly 30 million people: they seem an unlikely scapegoat in a Peru racked by its own race and class inequalities. Political and economic power remains largely in the hands of a minority white elite while indigenous Peruvians are at the bottom of the socioeconomic scale.
But then Quispe Mayta is an unlikely Nazi. His Quechua surnames indicate he belongs to one of Peru's most disadvantaged and oppressed castes. The youngest of eight children whose parents were migrants from the Andes, he was selling fruit on the street before he had finished primary school. "Why? Because the Jews controlled the world economy," he spits.
Henry Ford's antisemitic text The International Jew and Hitler's Mein Kampf, both discovered in a secondhand book market, became the inspiration of his life when he was a teenager. Since then he seems to have swallowed every antisemitic conspiracy theory going – and invented a few of his own.
He claims to have carried out research that reveals Winston Churchill, Theodore Roosevelt, Fidel Castro, Che Guevara, and Abimael Guzmán, the leader of Peru's Shining Path terror group, all had Jewish roots. He even claims that Francisco Pizarro – the illiterate goatherd who led Spain's brutal conquest of Peru – was also Jewish. "The Jew Pizarro and his band of genocidal Jews killed millions of native Peruvians in their mission to possess our gold," he said. He feel particularly aggrieved because of his own Inca heritage, he claims. He shares his second surname with the Inca emperor Mayta Cápac.
Quispe Mayta strikes an odd, almost comic figure in his khaki uniform and black tie (which he didn't know how to tie himself) but the Jewish Association of Peru said in a statement that it rejected his "open expression of antisemitic racism" and had "appealed to authorities to take the necessary measures to halt the incitement to racial and religious hatred".
---
NORWAY |
Norway police chief quits over Breivik report
Friday, 17 August 2012, 00:42 | Source: BBC |
Norway's police chief Oeystein Maeland has resigned after an inquiry found that mass killer Anders Behring Breivik could have been stopped last year.
Mr Maeland took up his post days before Breivik murdered 77 people in a bombing in Oslo and a gun attack on a summer camp on Utoeya Island.
The independent report said on Monday the bombing could have been prevented.
It also criticised the "unacceptable" amount of time which police took to respond to the shootings.
The tone of the inquiry was also markedly different from an earlier police report which concluded that none of the officers on duty had hesitated in carrying out their duties.
The resignation of Mr Maeland was revealed by Justice Minister Grete Faremo during a TV debate late on Thursday.
Mr Maeland said later that he could no longer continue in the job without the minister's confidence.
"If the ministry and other political authorities do not clarify this matter unequivocally, it will become impossible for me to continue," he said in a statement.
Among the most damaging of the report's conclusions is that a two-man local police team reached the lake shore first, but chose to wait for better-trained colleagues rather than find a boat and cross to Utoeya themselves.
Prime Minister Jens Stoltenberg said shortly after the report was published that he deeply regretted the mistakes that had been made and took responsibility for what happened.
But he stopped short of saying there would be ministerial resignations.
Breivik, 33, admits carrying out the murders on 22 July last year but denies criminal guilt.
His 10-week trial ended in June and a verdict is due to be announced on 24 August.
The panel of five trial judges will have to rule on Breivik's sanity when they deliver their ruling.
Their conclusion will determine whether he is given a long prison sentence or is sent to a secure psychiatric ward.
The attacks, regarded as the worst act of violence in Norway since World War II, sparked a national debate about the nature of tolerance and democracy in the country.
---
POLAND |
Book backed by Foreign Ministry perpetuating Polish anti-semitic stereotypes?
Wednesday, 15 August 2012, 18:14 | Source: Poland the News |
Poland's foreign ministry has stuck to its guns after being accused of perpetuating negative stereotypes about Poles during the Second World War.
The accusations came after the Foreign Ministry distributed an electronic version of the English-language book Inferno of Choices: Poles and the Holocaust, to Polish cultural institutes, embassies and consulates. The editors of the book, Sebastian Rejak and Elzbieta Frister, claim that the collected essays and documents highlight that "for every example of a negative attitude, there is an example of a positive one," and that cases of "bestiality, indifference," and "ordinary human help" to Jews occurred alongside those of "Polish heroism for which some of them paid the price of life."
Right-wing daily Rzeczpopolita has noted that the publisher of the book, Marian Kotarski, is former communist secret police officer Major Marian Pekalski, who had masqueraded as an opposition activist in the 1980s. The paper claims that "the dominant theme of the book is our anti-semitism."
Marcin Bosacki, spokesman for the Foreign Ministry, rejected the criticisms: "This is a selection of texts of outstanding historians, as well as materials and documents of the Polish Underground State presenting the historical context in which the extermination of Jews in German-occupied Poland was carried out," he told the paper. Wartime crimes committed by ethnic Poles against Jews went largely unexplored during the last decades of communist rule in Poland.
However, in 2001, Neighbours, a book by Princeton academic Jan T. Gross, shone a light on a massacre of Jews by Poles in the village of Jedwabne in 1941. The book sparked a public debate, as well as an apology to the Jewish nation by the then president Aleksander Kwasniewski. Polish-Jewish relations are currently a widely debated theme in the Polish media.
---
FRANCE |
Dédiabolisation; Women are flocking to Marine Le Pen
Wednesday, 15 August 2012, 18:10 | Source: Economist |
Marine Le Pen has been in a litigious mood lately. In early July the far-right National Front leader's defamation suit against Caroline Fourest and Fiammetta Venner, authors of a critical book on the Le Pen family, came to trial in Paris.
It was predictably embarrassing for Ms Le Pen as a lot of familial dirty linen was being aired. Undeterred, Ms Le Pen recently launched two other lawsuits. One is against Bernard-Henri Lévy, a celebrity-writer, for suggesting that an assault on three Jewish youths occurred because the National Front fosters anti-Semitism.
The other is against Madonna, a pop singer, for superimposing a Nazi swastika on an image of Ms Le Pen that featured in a background video at a concert in Paris. Ms Le Pen's increased sensitivity to her public image stems from attempts to rebrand herself and her party over the past few years. The often virulent anti-Semitism and chauvinism of Jean-Marie Le Pen, the former leader of the National Front and Ms Le Pen's father, has been dispensed with in a self-conscious process of dédiabolisation (decontamination).
In the recent presidential and legislative elections, the phalanx of skinheads who often accompanied her father to campaign rallies have been replaced with family-friendly faces. The nostalgic sentiments for Vichy or a French Algeria that once helped galvanise the extreme right have similarly been jettisoned. Whereas Mr Le Pen faced calls for his prosecution in 2009, after he described the Nazi death camps as a "detail of second world war history", his daughter says the Holocaust represents the "summit of human barbarism".
Ms Le Pen's more moderate course is working—in particular with women. In a forthcoming study of voters undertaken after the recent presidential elections, Nonna Mayer, a professor at Sciences Po, argues that the increase in support for the National Front can almost entirely be put down to a shift in the allegiance of working-class women.
The ordinary National Front voter remains "ethno-authoritarian" in outlook, typically expressing a profoundly nativist resentment towards immigrants and a belief that the state should take more concerted action towards clamping down on foreigners. Now, however, that voter is almost as likely to be female as male.
One group in particular has taken to Ms Le Pen. Approximately 30% of women working in routine non-manual professions (largely sales reps and shopkeepers) voted for her in the first round of the presidential elections. Just 13 % of women in the same category voted for her father in 2007.
An increased electoral appeal to women voters might help the National Front break the traditional glass ceiling of around 15% that it has struggled to breach in national elections. By minimising the gender gap among its working-class base, the National Front could claim the support of over 20% of the overall electorate, according to Ms Mayer. New and younger candidates have also helped Ms Le Pen.
Marion Maréchal-Le Pen, a 22-year-old law student and niece of Ms Le Pen, was one of two National Front candidates elected to the National Assembly. Florian Philippot, who looks after the front's communication strategy, is a thirty-something graduate of the Ecole Nationale d'Administration, an elite school, and just the sort of egghead insider whom the party used to decry.
For all Ms Le Pen's efforts, voters might eventually wise up to the front leader's willingness to change her position if it is politically expedient. Her stance on reproductive rights is a salutary warning. Despite having vowed that she would not reduce public funding for abortion if elected to power, Ms Le Pen still seeks to rally pro-life voters in a Catholic country by decrying women seeking "comfort abortions". Jean-Marie Le Pen remains a nuisance, popping up recently to suggest that his daughter's moderation on certain issues is a result of her petit-bourgeois upbringing in the family mansion in a rather posh suburb of Paris.
His daughter will need to retain the support of the party's old guard. The National Front has split before, notably in 1998 when Mr Le Pen's long-serving deputy, Bruno Mégret, left to start his own group. The front claims to have recruited many new members since Ms Le Pen took over. Will they manage permanently to banish the anti-Semitic and chauvinistic front of Le Pen père?
---
ITALY |
Italy memorial to Fascist hero Graziani sparks row
Wednesday, 15 August 2012, 15:59 | Source: BBC |
A political row has erupted in Italy after a memorial was opened to fascist commander Field Marshal Rodolfo Graziani, a convicted war criminal.
Graziani was honoured with a mausoleum and memorial park, built at taxpayers' expense, in a village south of Rome.
He was notorious as Benito Mussolini's military commander in colonial wars in Ethiopia and Libya where he carried out massacres and used chemical weapons.
Italy's main leftist party has protested against the commemoration.
"Is it possible to allow, accept or simply tolerate that, in 2012, we dedicate a park and a museum to the fascist general and minister Rodolfo Graziani?" asked Esterino Montino, head of the Democratic Party in the Lazio region.
He pointed to the "crimes against humanity committed by Graziani in Ethiopia in the 1930s", La Repubblica newspaper reports.
Graziani was sentenced to 19 years' imprisonment for war crimes in 1948 but was released from jail after serving only two years, and died in 1955.
The BBC's David Willey, in Rome, says that the cult of fascist heroes remains alive in certain parts of Italy despite the outlawing of the fascist party in the country's postwar constitution.
He adds that it is curious, however, that there has been no formal protest that a crypto-fascist mayor of a small town near the capital can, in 2012, publicly honour a man who brought death to thousands of Africans and dishonour to his own country.
The mayor of the village of Affile attended the opening ceremony on Saturday, together with a representative from the Vatican.
Although almost unknown to modern generations of Italians, the Fascist military officer was known as the Butcher of Fezzan for the executions of Libyans he ordered while military governor of Cyrenaica in North Africa, our correspondent says.
He used poison gas and chemical weapons against Ethiopian tribesmen during Italy's colonial war in what was then called Abyssinia.
Towards the end of the war, Graziani was appointed defence minister by Mussolini in the short-lived Fascist Republic of Salo.
He commanded Italian troops alongside the Germans at the Battle of Garfagnana in December 1944, one of the last military victories of the Axis forces.
According to La Repubblica, the mausoleum in Affile cost 127,000 euros (£100,000; $157,000).
About 100 people attended its inauguration, the paper adds.
Mayor Ercole Viri was quoted as saying the memorial was of national importance and dismissing criticism as "idle chatter".
Photos of the opening ceremony were posted in a gallery on the village's website, which lists Graziani as one of the village's "famous sons". Engraved on the mausoleum are the words "Fatherland" and "Honour".
There is another side to Italy's often schizophrenic attitude to its recent history, our correspondent adds.
Another ceremony was held the same weekend marking the anniversary of a tragic massacre of 560 Italian men women and children by German SS troops as a reprisal in a small town near Lucca, in Tuscany.
Martin Schulz, the German Social Democrat and president of the European Parliament, was present in Sant'Anna di Stazzema on Sunday.
He said: "I am a German and the language I speak is the same of those who committed those crimes. I shall not forget that."
---
FRANCE |
French city of Amiens rocked by riots
Wednesday, 15 August 2012, 04:58 | Source: Guardian |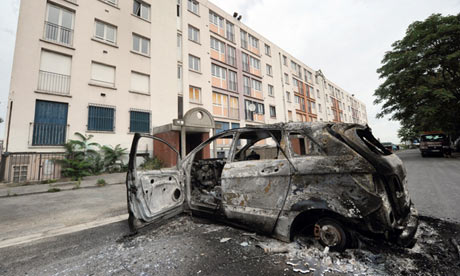 A burnt out car in Amiens: overnight violence has reopened the fraught political debate about France's troubled housing estates. Photograph: Philippe Huguen/AFP/Getty Images
Violent clashes between youths and riot police in the northern French city of Amiens saw 17 officers injured and several public buildings set on fire in some of the worst rioting in the area for years – reopening the political debate about France's troubled housing estates.
Rioting broke out on deprived estates in the north of the city at 9pm on Monday and continued until 4am. About 100 youths set fire to cars, a nursery school and a youth centre as well as firing buckshot and throwing projectiles at police officers, who filled the streets with teargas as reinforcements arrived from neighbouring areas.
"The confrontations were very, very violent," the mayor of Amiens, Gilles Dumailly, told French television network BFM, describing "a scene of devastation". One officer was in a serious condition, Dumailly said.
There had been unrest among youths on housing estates in Amiens-Nord earlier this month and again on Sunday night, apparently triggered by resentment over spot checks by police on residents.
The French media reported that violence broke out between local residents and the police following a check on a driver said to be driving dangerously, near to the spot where the family and friends of a 20-year-old who died in a motorbike crash on Thursday had gathered for a memorial ceremony.
As the unrest grew police fired teargas and rubber bullet rounds, which some residents considered excessive.
The poor relationship between police and local youths has often been the source of conflict on housing estates across France. The northern area of Amiens in the Somme is classed among the 15 most troubled neighbourhoods in France. It was recently included in a list of the government's "priority security zones", which will get a reinforced police presence.
There were riots in Amiens during the nationwide disturbances in 2005 across France's housing estates. The city has often experienced unrest, but the prefect's office said there had never been violence "as serious as this".
Public buildings including a nursery school and sports centre were destroyed by fire, causing an estimated €1m (£800,000) in damage.
A group of about 100 young men jeered and jostled the French interior minister on Tuesday when he met officials in Amiens.
"Calm down! Calm down!" Manuel Valls yelled as the crowd bumped him while he entered the town hall surrounded by bodyguards.
He told a news conference inside that a minority of people were terrorising the community. "Firearms! Can it be considered normal that people turn firearms on police? It's unacceptable ... law and order must be restored," Valls said.
The president, François Hollande, said: "Our priority is security, which means that the next budget will include additional resources for the gendarmerie and the police."
The far-right Front National party immediately seized on the unrest in the rundown neighbourhood to link insecurity in France to the issue of "massive immigration".
---
GERMANY |
Masked neo-nazi 'Immortals' storm Germany - and the web
Tuesday, 14 August 2012, 17:34 | Source: New York Daily News |
The Immortals, a new German neo-Nazi group, storm the streets by the hundreds at night, brandishing torches and carrying banners decrying multiculturalism.
They hide their identities with creepy white masks, but the Immortals aren't shy about putting videos of their demonstrations – complete with dramatic music – on the Internet.
The eerie clips can garner tens of thousands of views, CNN reported. They often end with the chilling message, "Your short life: Make it immortal."
The high-tech mob organizes their marches via text message so authorities don't know where they'll turn up next.
The homes of more than a dozen known neo-Nazis have been raided by police in hopes of finding the group's central leadership – if there is any.
Dr. Hajo Funke, a professor at the Free University of Berlin, said the Immortals are hoping to attract young people to their cause with the dramatic and viral displays.
"It's a very simple idea: Put masks on your faces and represent the danger to the people," he told CNN.
Read more here: http://www.nydailynews.com/news/world/masked-neo-nazi-immortals-storm-germany-web-article-1.1135968#ixzz23XTqLx00
---
NETHERLANDS |
Neo-nazi faces community service for anti-foreigner demo
Tuesday, 14 August 2012, 17:30 | Source: DutchNews.nl |
The chairman of Dutch neo-nazi party Nederlandse Volks-Unie should get 40 hours community service and a two-week suspended jail sentence for his role in an anti-foreigner demonstration in 2011, the public prosecution department told a court on Tuesday.
Constant Kusters and three others face charges of insulting foreigners and discrimination at the rally in the southern city of Enschede. During the demonstration they chanted 'the Netherlands for the Dutch, own people first,' and carried White Power flags, the NRC reported.
While the right to demonstrate and freedom of expression are important, in this case the boundaries of free speech were overstepped, the public prosecutor said.
The demonstration in May last year ended in a fight with 250 anti-racist protestors.
The NVU was founded in 1971 and is considered the only 'classic extreme right-wing party' left in the Netherlands, the NRC said.
---
GREECE |
Golden Dawn suspected of stabbing 19-Year-Old Iraqi man to death
Monday, 13 August 2012, 15:30 | Source: IBT |
A young Iraqi man has been stabbed to death in Athens by five men on motorbikes, the latest in a series of attacks against foreigners in Greece.
The 19-year-old died in hospital of injuries sustained from a sharp object. A police spokesman said the assailants had earlier tried to attack a Romanian and a Moroccan in the same area.
Greece's minister of public order, Nikos Dendias, pledged to punish the perpetrators "no matter what pretext they used".
The murder comes during a nationwide campaign of migrant expulsion , organised by the government, and follows a violent assault by members of the neo-Nazi Golden Dawn party on a police vehicle carrying a Pakistani murder suspect.
Golden Dawn, which first gained notoriety in 1991 by attacking Albanian immigrants and participating in the massacre of Muslims in Bosnia, has seen a steady rise in support during Greece's economic crisis. Its share of the vote has risen from 0.46 to 7 percent in three years.
The party's main policy is to rid Greece of all illegal immigrants. Its members have previously committed several attacks on Afghani and Pakistani immigrants, often on motorbikes.
---
NORWAY |
Norway police 'could have stopped Breivik sooner'
Monday, 13 August 2012, 14:41 | Source: BBC |
Norway's police could have prevented the bombing of central Oslo and caught mass killer Anders Behring Breivik faster, an official report says.
The independent inquiry says his subsequent shooting spree on Utoeya Island could have been halted earlier.
Breivik has admitted killing 77 people and wounding more than 240 others when he bombed central Oslo and then opened fire at a youth camp on Utoeya.
The police have been criticised for taking too long to reach the island.
A verdict in Breivik's trial is due on 24 August. He claimed he was trying to stop Muslims from taking over Norway.
Existing measures
The inquiry, headed by lawyer Alexandra Bech Gjoerv, came up with 31 recommendations but most damning were its findings that
▪ The attack on the government complex in Oslo could have been prevented by effective implementation of security measures that were already in place
▪ A more rapid police operation to protect people on Utoeya Island was a realistic possibillity and the gunman could have been stopped earlier on 22 July
▪ More security and emergency measures to prevent further attacks and "mitigate adverse effects" should have been implemented on 22 July
In the aftermath of the attacks, the police were criticised for their failure to use a helicopter once alerted to the shootings, and for the bungled attempt to reach the island on an inflatable boat.
The intelligence co-operation between the police and other security bodies is also under scrutiny. Many Norwegians have asked why the police failed to monitor Breivik's activities before the attacks.
▪ 8 people killed and 209 injured by bomb in Oslo
▪ 69 people killed on Utoeya island, of them 34 aged between 14 and 17
▪ 33 injured on Utoeya
▪ Nearly 900 people affected by attack
Most of the dead were young activists who were taking part in a summer camp on Utoeya run by the governing Labour Party.
The special commission said that although Norway's domestic intelligence agency, the PST, could have become aware of Breivik before 22 July, it did not contend that the service "could and should have stopped the attacks".
There was also praise for the government's communication with the public and the report said it was satisifed that health services had responded effectively.
The attacks, regarded as the worst act of violence in Norway since World War II, sparked a national debate about the nature of tolerance and democracy in the country.
The panel of five trial judges will have to rule on Breivik's sanity when they deliver their verdict.
Their conclusion will determine whether he is given a long prison sentence or is sent to a secure psychiatric ward.
Breivik's 10-week trial was marked by harrowing testimony from witnesses about his shootings. Some victims were shot in the head at point-blank range. In the meticulously planned attack, Breivik wore a fake police uniform and methodically hunted down victims on the island.
He refused to plead guilty, evoking the "principle of necessity". He accused the Labour Party of promoting multiculturalism and endangering Norway's identity.
---
GERMANY |
Germany admits neo-nazi threat was overlooked
Monday, 13 August 2012, 09:11 | Source: Fort Worth Star Telegram |
Until the discovery last year that a string of unsolved killings had been perpetrated by a ring of neo-Nazis, few in Germany considered far-right extremism a major threat.
After the Sept. 11 attacks in the United States, security agencies around the world poured energy and funds into fighting Islamist terrorism, and Germany did so with special urgency because several of the hijackers had lived in Hamburg. The shift led to the neglect of other types of home-grown violence, critics now say, allowing a neo-Nazi scene to flourish.
While resources were being concentrated on Islamist extremism, a small cell of neo-Nazis went undetected while it killed 10 people, nine of them with immigrant backgrounds, over seven years.
Police never suspected a right-wing connection -- they found it only after the neo-Nazis dropped into their laps after a bungled bank robbery.
Last week, Germany installed a new head of its equivalent to the FBI. He has sworn to overhaul the country's intelligence services.
Keeping an eye on Islamist terrorism and knowing when to act on other threats can be a difficult balance in any country, with the shootings at a Sikh temple in Wisconsin only the latest reminder. There, police say Wade Michael Page, with ties to "white power" groups, killed six people before turning his gun on himself.
In Germany, "our institutions didn't have right-wing terrorism on their screens," said Sebastian Edathy, a member of Germany's parliament who is leading an inquiry into the intelligence failures.
The string of killings continued as Germany turned its attention away from neo-Nazis.
The focus had shifted so thoroughly by last year that a 473-page annual intelligence report by Germany's Federal Office for the Protection of the Constitution, roughly equivalent to the FBI, said that "no structures of right-wing terrorism were detectable."
As for the killings, police said that they were likely part of an underworld dispute among Turkish crime gangs. The final victim was police officer Michele Kiesewetter in April 2007. Polilce said she may have been killed for her weapon.
The gang is also alleged to have committed more than a dozen bank robberies and the bombing of a hair salon in an immigrant neighborhood of Cologne. But until the dramatic discovery of weapons in the neo-Nazis' burned-out home in southeastern Germany that linked them to the killings after a bungled bank robbery in November, police had not zeroed in on a racist motivation for the killings.
"There was no political will" to go after neo-Nazi groups, said Hajo Funke, a professor at the Free University of Berlin.
---
USA |
Shooting puts neo-nazi music in the spotlight
Saturday, 11 August 2012, 12:43 | Source: VoA |
The murder of six worshippers at a Sikh temple in the American midwest has put the spotlight on a violent type of music embraced by racist groups around the United States. Experts say the music, which glorifies the white race and heaps hate on other ethnic groups, is used to attract new members and spur them to violent action.
"It's the chief recruitment tool of the entire movement," said TJ Leyden, who spent 15 years in the white-power movement but now works to counter its influence. "It's what hooks the kids. That's how powerful music is."
The racist skinhead movement is just one type of white supremacist group. Others include the Ku Klux Klan, neo-Nazis and academic white supremacists. According to the Anti-Defamation League, there are probably 100,000 active white supremacists in the U.S., but the number of racist skinheads is hard to count.
Skinhead music has its roots in the hardcore punk scene of the late 1970s and early 1980s. It is usually loud and aggressive, and the angry lyrics are often violent and filled with racist messages.
Wade Michael Page, the shooter who killed six Sikhs at a temple in the midwestern U.S. state of Wisconsin, was heavily involved in the racist skinhead music scene. Page led a band called End Apathy, whose lyrics talked about genocide against Jews and other minorities. He also played in a band called Definite Hate, whose album "Violent Victory" featured a "gruesome drawing of a disembodied white arm punching a black man in the face," according to the Southern Poverty Law Center, a nonprofit civil rights organization in Montgomery, Alabama.
In a 2010 interview, Page told a white supremacist website that he became active in white-power music in 2000, when he left his native state of Colorado, and started End Apathy in 2005 in Nashville, North Carolina.
Whether music can spur actions such as the August 5 mass shooting is hotly questionable but there's no doubt it plays a crucial role in the racist skinhead movement, said Marilyn Mayo, the co-director of the Anti-defamation League's Center on Extremism.
"White power music has always been the focal point of the skinhead movement," she said. "The white power music scene hasn't changed in all these years. It promotes ideology, brings them together from all over the country, and the music has a violent subtext. It has always been a culture with a lot of violence."
Targeting Teens
Leyden said teenagers are prime targets for recruitment into white power groups, often because they're seeking a connection. Music, he said, is a very effective tool because it's more appealing to kids than written material or speeches.
"Think about how often you get a song stuck in your head," he said. "Think if that song was talking about racism. That gets stuck in your head. That's what these guys hope for. They're hoping to attract one of those kids into the movement."
Band members freely allude to recruitment as one of their goals. In a recent interview posted on the pro-white power Label56 website, "Josh," of the band 96 Brigade, said the following about his band's music: "It's fast, mean, and aggressive. I didn't hold back any punches with any of the content. My hopes are that it might allow a young skinhead, or even just some kid somewhere, the ability to make a more educated decision on politics."
Leyden added that music is also something kids can easily hide from their parents, as some of it is available on iTunes, a popular music download service.
"They can go around their parents," he said. "They don't have to have a CD, and as a parent, you may never find out what your kid is listening to."
The music is also available for free on the Internet via numerous streaming radio stations. According to the Anti-Defamation League, in 2005 a station called RadioWhite maintained six different 24-hour music feeds, with more than 5,000 songs on its playlists. The site is defunct, but has since been replaced by others.
Call to action?
One of the best known white supremacist record labels is Resistance Records, located in Hillsboro, West Virginia. Sample songs from the bands the label distributes are available on its website. Many of the lyrics are racist and profane.
"The message is consistent," said Mayo "They usually attack and dehumanize blacks, Jews and other minorities."
The lyrics are also overwhelmingly depressing.
According to Leyden, the end-of-the-world rhetoric is a call to action.
"They're trying to make it look like everything is falling apart, that the world is on the verge of collapse," he said. "Here's the problem. There's only one solution: To act."
Distancing Themselves
Erich Gliebe, the CEO of Resistance Records, the self-proclaimed "musical branch" of the white-supremacist group the National Alliance, said in an email statement that his company "distributes a wide variety of pro-White music for purposes of education and entertainment, and to provide a rationale for the alienation young Whites experience today."
The statement noted that Page was not a member of the National Alliance. It did not condemn the shootings.
Label 56, the company that distributed Page's music, did not respond to requests for interviews, but said in a statement on its website that all "images and products" for Page's band End Apathy had been removed from the website.
Mayo called the responses of Resistance and Label56 typical.
"The modus operandi is to distance themselves from the incident," she said. "They claim they are not promoting violence, but when you look at the ideology, there is an undercurrent of violence."
---
GREECE |
Golden Dawn neo-nazi thugs assault police van carrying Pakistani murder suspect
Thursday, 9 August 2012, 12:30 | Source: IBT |
Members of the neo-Nazi Golden Dawn party have assaulted a police vehicle as it left a ferry in Piraeus harbour, carrying a Pakistan man who has been accused of attempted murder.
Local media report that the far-right activists waited until the ferry had docked, and intercepted the vehicle as it came down the disembarkation ramp. Around 20 activists attacked the van, with a further 50 shouting slogans a short distance away.
The van managed to get off the ramp, although its windshield was broken in the attack.
The Pakistani suspect, 21, has already confessed to assaulting and raping a 15-year-old Greek tourist on the island of Paros. The girl remains in a critical condition in hospital.
The suspect said he beat the girl's head on some rocks when she refused to hand over her cell phone, which he was trying to steal. She was found with the bottom of her bathing suit removed.
The Golden Dawn attack comes as the New York-based Human Rights Watch (HRW) has called on Greece to stop its massive round-ups of immigrants which the organisation claims are based on "little more than their physical appearance".
HRW warns that the campaign against suspected illegal immigrants, which resulted in more than 6,000 people being detained by police in just over a week, violates international standards.
More than 1,500 illegal immigrants have been arrested for illegal entry during the round-up campaign, and are now poised to be deported, according to Greek police.
Left-wing opposition parties have criticised the mass expulsions, but the far-right Golden Dawn party, which stood in the last election on a platform of blatant xenophoboia, is likely to welcome the move - having recently orchestrated a campaign of food donation, restricted to those who could prove they were Greek.
---
DENMARK |
Leader of Danish anti-immigrant party steps down
Thursday, 9 August 2012, 12:26 | Source: Euronews |
The leader of the opposition Danish People's Party, Pia Kjaersgaard, is stepping down as head of the anti-immigrant and euro-sceptic populist movement she built, a party spokesman has confirmed.
Kjaersgaard informed her parliamentary group she would step down as leader at the party's conference in September, but would keep her seat and stand again for election to parliament, the spokesman said.
She has designated member of parliament Kristian Thulesen Dahl, one of the party's leading MPs on economic policy, to succeed her, the daily Berlingske, which broke the story of her departure, said in its online edition.
During her 17 years at the helm, Kjaersgaard transformed what started as a fringe protest movement into a powerful force in Danish politics, even though it never joined a government.
Elected to parliament for the first time in 1984, Kjaersgaard, 65, gained leverage by backing successive centre-right minority coalition governments from 2001 to 2011 that relied on her party's support to pass legislation.
She bartered that support for influence, including on immigration policy, forcing the governing parties to adopt some of the strictest immigration curbs in Europe and symbolising Danish opposition to the European Union and the euro currency.
---
ROMANIA |
Romania appoints Holocaust denier to post
Wednesday, 8 August 2012, 23:13 | Source: JTA |
The appointment of a Romanian lawmaker who denied his countrymen's complicity in the Holocaust "seriously concerns" Romanian Jews, a community leader said.
Dan Sova was appointed minister for parliamentary affairs on Monday. In March, Sova was filmed saying that Romanians never participated in the persecution of Jews. The Social Democrat lawmaker added that only 24 Jews, not thousands, had died during the violent Iasi pogrom, which he attributed to the German army.
Sova later retracted his statements. In an interview for the Romanian B1 television network on Monday, Aurel Vainer, president of the Federation of Jewish Communities of Romania, said that Sova's appointment made him "want to wear a black armband" as a sign of mourning. Historians say some 15,000 Jews from Iasi were murdered in the streets or asphyxiated in "death trains" in June and July of 1941. Some 250,000 Romanian Jews were murdered by 1945.
Romania has a Jewish population of a little over 6,000, according to the European Jewish Congress. Sova's promotion "raises questions" in light of his past statements, Vainer said. "It is hard to accept that a young, educated man would claim the Holocaust never happened in Romania," Vainer, himself a Romanian lawmaker, added. Vainer also said Sova's promotion "did not send the correct message to young people."
---
GREECE |
Greece arrests thousands in mass migrant sweep
Wednesday, 8 August 2012, 23:11 | Source: AP |
Athens police staged a mass sweep of undocumented migrants over the weekend, questioning some 6,000 people and pledging to deport nearly 1,600. A conservative government minister described the country's influx of foreign nationals as "an invasion".
Authorities in Greece are rounding up thousands of suspected illegal immigrants in a large-scale deportation drive to combat what a government official compared to a prehistoric invasion. Greece has long been Europe's main entry point for illegal immigrants from Asia and Africa seeking a better life in the West.
But Greece's severe economic problems and high unemployment are making the problem worse than ever. Police said Monday that 6,000 people were detained over the weekend in Athens in a massive operation incongruously named after the ancient Greek god of hospitality, Zeus Xenios.
Officers across the city were seen stopping mostly African and Asian people in the street for identification checks. Most were only briefly detained, but about 1,600 were arrested for illegally entering Greece and sent to holding centers pending deportation. Left-wing opposition parties criticized the crackdown, while the Office of the United Nations High Commissioner for Refugees voiced concern that migrants from war-torn countries and genuine asylum-seekers could be denied the right of protection.
Some 100,000 illegal immigrants are estimated to slip into Greece every year, mostly from neighboring Turkey, and up to a million are believed to live in Greece, which has an official population of about 10 million. The uncontrolled influx, which coincided with a recent spike in crime, contributed to the sharp rise of an extreme-right political party which uses aggressive rhetoric against immigrants.
Once beyond the pale of Greek politics, the extreme right Golden Dawn gained nearly 7 percent of the vote in parliamentary elections six weeks ago. Mainstream parties also pledged to curtail immigrant flows. Public Order Minister Nikos Dendias said Monday the rounding-up of illegal immigrants would continue, arguing that their unchecked entry has brought Greece "to the brink of collapse." "The country is being lost," he told private Skai TV. "What is happening now is (Greece's) greatest invasion ever. Since the Dorian invasion some 3,000 years ago, the country has never received such a flow of immigration."
Ancient tradition linked the invasion of Greek-speaking Dorian tribes with the end of the heroic Mycenaean age, although historians believe that the Mycenaean palatial civilization was brought down by financial and social unrest. Dendias said arrested immigrants will be temporarily held at police academy buildings in northern Greece, which are closed for the summer, and at a detention center outside Athens.
He claimed that by the end of the year Greece will be able to detain up to 10,000 people. "Whoever is arrested will be held and then deported," he said.
The Greek office of the U.N. High Commission for refugees said that while Greece has the right to carry out checks on immigrants, it should ensure that vulnerable groups do not suffer. "People who truly need protection must be able to request it," said Petros Mastakas, associate protection officer at the UNHCR office in Athens. "It is very difficult, practically impossible, for asylum seekers to apply for protected status, and we are concerned that among those arrested there may be people who want protection but were unable to submit their requests because access to the relevant authorities is practically impossible,'' he said.
---
USA |
Revealed: Neo-nazi ex-girlfriend of Sikh temple gunman arrested after police find gun at her home
Wednesday, 8 August 2012, 16:53 | Source: Daily Mail |
Misty Cook - a convicted felon - charged with being in possession of a firearm
Wade Michael Page shot dead six people and injured there more on Sunday
Couple broke up in June
Not known if she had anything to do with Wisconsin Sikh temple shooting

Page would try to enlist neo-Nazis on internet forums to 'take action' for the cause

Stepmother said military may have had an impact on his behavior

Became lead singer in neo-Nazi punk band after leaving military
The neo-Nazi ex-girlfriend of Sikh temple shooter Wade Michael Page has been arrested after police found a gun at her home.
Misty Cook, 31, from Milwaukee, has been charged with being a felon in possession of a firearm, according to a brief statement released by the South Milwaukee Police Department.
The nursing student is also said to be a white supremacist and police released pictures of her in a Volksfront T-shirt.
Volksfront is a racist anti-Semitic group formed in 1994, that has become the most active neo-Nazi group on the West Coast. It maintains close alliances with many other hate groups.
Felon: Misty Cook, the former girlfriend of Wisconsin Sikh temple shooter Wade Page, has been arrested after police found a gun at her home
Violence and hate: Wade Michael Page, 40, was a white supremacist skinhead known to the Anti-Defamation League for several years as the leader of End Apathy, a white power music band affiliated with the Hammerskins
On Sunday, Wade Michael Page, her ex-boyfriend, gunned down six members of the Sikh Temple of Wisconsin in Oak Creek, south of Milwaukee, before a police officer killed him.
The 40-year-old U.S. Army veteran also wounded three people, including a police officer.
Cook and Page lived together in South Milwaukee before breaking up in June, according to neighbors.
It is as yet unknown if Cook had any connection to Sunday's shooting. She was previously convicted of fleeing and eluding police in 2005, according to court records.
Federal authorities said they were treating the attack as a possible act of domestic terrorism. Page was involved in white supremacist groups and was a member of skinhead rock bands.
Volksfront has denounced the killings at the Oak Creek temple and in a statement on Monday said that Wade Page 'has never been a member of, or associate of our organization'.
Its North American chapters do not accept women as members, but evidence suggests Cook is an associate of the group, according to an Anti-Defamation League official.
Hate group member: Misty Cook was arrested yesterday, she is a nursing student at the University of Milwaukee
Scene: When police searched Misty Cook's Milwaukee home they found a gun and subsequently arrested her and charged her with being a felon in possession of a firearm
Member: Volksfront, a virulently racist and anti-Semitic group, has become the most active neo-Nazi group on the West Coast and maintains close alliances with many other hate groups
It was revealed yesterday that federal investigators had 'looked at' Page on more than one occasion due to his links with right-wing extremists and supremacy groups.
They also suspected he was providing funding to a domestic terrorist group but determined there was not enough evidence to open an investigation, a senior U.S. law enforcement official told the LA Times.
It was unclear when this took place and by which agency.
Meanwhile his former stepmother gave a tearful interview about what she thinks happened to Page, who she described as a 'sweet, precious little boy.'
Laura Page told ABC: 'The last time I saw Wade was at Christmas time 2001 and he was very happy with the military at that point.
Laura Page told ABC: 'I can't imagine what could have gone through his mind for him to do something like this, or anyone to do something like this. You can't be functioning normally obviously. But we'll never know why.'
Early years: Wade Page's former stepmother said he was a sweet and gentle child and she has no idea what would make him do what he did
'Now I greatly question that direction. I don't know if the military was good for him. I don't know. I wish I had some answers. And we're not going to have answers because he's dead.
'I can't imagine what could have gone through his mind for him to do something like this, or anyone to do something like this. You can't be functioning normally obviously. But we'll never know why.'
Ms Page spoke on the same day the frantic 911 call was released from Sunday's shooting, when Page walked into a Sikh temple with a 9mm handgun and opened fire, shooting dead six people and critically injuring three.
The chaos and wide-spread panic is evident throughout the call and correspondence with the dispatcher as people on the scene try to figure out how many shooters there are and the number of victims.
At one stage a man can be heard screaming for an ambulance saying: 'We have an officer down, I need an ambulance, an officer has been shot.'
The officer - Lt Brian Murphy - was shot eight or nine times but was able to kill Page before he could claim any more fatalities.
The 40-year-old gunman played in a number of white supremacist heavy metal bands and posted frequent comments on Internet forums for skinheads.
His comments would repeatedly exhort members to act more decisively to support their cause, saying things like: 'If you are wanting to meet people, get involved and become active.
'Stop hiding behind the computer or making excuses.'
Page pictured right: The band's MySpace page states that End Apathy's 'music is a sad commentary on our sick society and the problems that prevent true progress'
Band members: Wade Michael Page, left, with his band End Apathy gave an interview to a white supremacist website two years ago talking about why he started up the band
Page was known to civil rights groups as a member of two racist skinhead bands – End Apathy and Definite Hate. He was also believed to have been a low-level member of a national white supremacist group called the Hammerskins.
Racist skinhead bands and record labels have been known by law enforcement to raise money for extremist groups in the U.S.
Both the Anti-Defamation League and the Southern Poverty Law Center had tracked Page for several years.
The nonprofit organizations collect publicly available information on hate groups from Web forums, pamphlets and other sources.
But the FBI is prohibited under federal law from collecting information on U.S. citizens not suspected of committing a crime.
In order to open a domestic terrorism investigation, FBI agents must believe a suspect has threatened violence, has broken federal law and is trying to advance a political or social agenda.
Last respects: Members of the Sikh community take part in a candlelight vigil in Brookfield, Wisconsin
Comfort: Amardeep Kaleka ,center, son of Satwant Singh Kaleka, president of the Sikh temple, hugs relatives after the mass shooting at the Sikh Temple in Oak Creek
This sets the bar high for opening a domestic terrorism case before someone has made a specific threat of violence or committed a crime.
The mayor of Oak Creek told CNN on Sunday that he was unaware of any signs that Page had been casing the temple in advance of the shooting.
'This happens a lot where somebody will come to your attention and you do a preliminary investigation of the guy's activities and nothing pans out,' said Bob Blitzer, a retired FBI agent who was the domestic counterterrorism chief for the FBI from 1996 to 1998.
Blitzer led the investigation into Timothy J. McVeigh after the 1995 bombing of the Murrah Federal Building in Oklahoma City, which killed 168 people, including 19 children.
'Some private groups collect a lot of information, but they can,' Blitzer said. 'Law enforcement can't.'
Detectives cautioned they might never know for sure. But the picture of Page that began to develop on Monday — found in dark corners of the Internet, in records from a dodgy Army career and throughout a life lived on the margins — suggested he was a white supremacist who wanted to see his beliefs advanced with action.
He described himself as a member of the 'Hammerskins Nation', a skinhead group rooted in Texas that has branches in Australia and Canada, according to the SITE Monitoring Service, a Maryland-based private intelligence firm that searches the Internet for extremist activity.
Between March 2010 and the middle of this year, Page posted 250 messages on one skinhead site and appeared eager to recruit others.
In March 2011, he advertised for a 'family-friendly' barbecue in North Carolina, imploring others to attend.
In November, Page challenged a poster who indicated he would leave the United States if Herman Cain was elected president.
'Stand and fight, don't run,' he implored.
Watched: Page was said to have been 'looked at' by an unknown federal agency because of his links to right wing extremists groups
Home: Page moved recently to a duplex in the 3700 block of E. Holmes in Cudahy which was cordoned off for a time on Sunday night as officials investigated inside, and residents were evacuated from their homes
In an April message, Page said: 'Passive submission is indirect support to the oppressors. Stand up for yourself and live the 14 words,' a reference to a common white supremacists mantra - 'We must secure the existence of our people and a future for White Children'.
After leaving the military, he became active in the obscure underworld of white supremacist music, playing in bands with names such as Definite Hate and End Apathy.
Still, Oak Creek Police Chief John Edwards cautioned on Monday that investigators might never know for certain what motivated the attack on the Sikh Temple of Wisconsin in suburban Milwaukee.
So far, no hate-filled manifesto has emerged, nor any angry blog or ranting Facebook entries.
'We have a lot of information to decipher, to put it all together before we can positively tell you what that motive is — if we can determine that,' Edwards said.
Mark Potok, a senior fellow at the Southern Poverty Law Center, a nonprofit civil rights organization in Montgomery, Alabama, described Page as a 'frustrated neo-Nazi' whose bands' sinister-sounding names seemed to 'reflect what he went out and actually did'.
Their lyrics talked about genocide against Jews and other minorities.
Prayers: Wisconsin Sikhs attend a memorial for victims of the shooting on Monday evening
Crowd: The Sikh community has responded forcefully to the brutal mass killing in Oak Creek
Participation: Wisconsin Governor Scott Walker is fitted with a head covering at a Sikh temple in Brookfield
It also emerged yesterday that Page was kicked out of the U.S. Army for drunkenness, and even while he was in the military, he harboured white supremacist views.
He would also rant about a 'racial holy war', according to an old friend of his from the time.
Christopher Robillard, another former soldier, told CNN that Page was his 'closest friend' in the military, but that even then he had troubling political beliefs.
The future killer was 'a very kind, very smart individual' who 'loved his friends', according to Mr Robillard, who added that Page was 'one of those guys with a soft spot'.
But Mr Robillard said that his friend was 'involved with white supremacy,' and continued: 'He would talk about the racial holy war, like he wanted it to come.
'But to me, he didn't seem like the type of person to go out and hurt people.
'I never pictured him as someone who would do anything. I thought maybe he was just saying it for attention.'
After Page was discharged from the Army in 1998 for turning up drunk at parade, he apparently moved to Denver, where he 'was basically living on the streets'.
During this difficult time, according to Mr Robillard, Page became more involved in the supremacist movement, joining his first racist band - but the group kicked him out after his girlfriend left him for a bandmate.
Mr Robillard began to lose touch with his fellow veteran, and could not understand the increasing violence of Page's political views.
'I asked him why he was aligning himself with this stuff,' he said. 'He really didn't answer. He would duck it.'
Page bought a brick ranch house outside Fayetteville, North Carolina, in 2007 with help from a Veterans Administration mortgage.
But on Monday the home was boarded up with knee-high weeds in the yard. A notice taped to the front indicated the home was in foreclosure and had been sold to a bank in January.
Page's former stepmother said she was devastated to learn of the bloodshed.
'He was a precious little boy, and that's what my mind keeps going back to,' said Laura Page, of Denver, who was divorced from Page's father around 2001.
Gunman: Former solider Wade Michael Page is said to be a frustrated neo-Nazi who had been the leader of a racist white-power band called End Apathy
Suburban Milwaukee police had no contact with Page before Sunday, and his record gave no indication he was capable of such intense violence.
The FBI was leading the investigation because the shooting was considered domestic terrorism. The agency said it had no reason to believe anyone other than Page was involved.
Page entered the temple as several dozen people prepared for Sunday services. He opened fire without saying a word.
The president of the temple died defending the house of worship he founded.
Satwant Singh Kaleka, 65, managed to find a simple butter knife in the temple and attempted to stab the gunman before being shot twice, his son said Monday.
Amardeep Singh Kaleka said FBI agents hugged him, shook his hand and told him his father was a hero.
'Whatever time he spent in that struggle gave the women time to get cover' in the kitchen, Kaleka said.
Federal officials said the gun used in the attack had been legally purchased. Page had been licensed to own weapons since at least 2008, when he paid $5 each for five pistol-purchase permits in North Carolina.
The six dead ranged in age from 39 to 84 years old. Three people were critically wounded, including a police officer.
Online records show Page had a brief criminal history in other states, including pleading guilty to misdemeanor criminal mischief after a 1994 arrest in El Paso, Texas, for getting drunk and kicking holes in the wall of a bar. He received six months' probation.
Page also pleaded guilty to driving under the influence in Colorado in 1999 but never completed a sentence that included alcohol treatment, records show.
He was arrested on suspicion of drunken driving again in 2010 in North Carolina after running his car off the side of a highway. The case was dropped a year later for lack of evidence, according to court records.
The band's MySpace page says their music is a 'sad commentary on our sick society and the problems that prevent true progress'. Song titles include Self Destruct and Submission
Page's mother Laura Lynn told the MailOnline that she has had no contact with her son since she and his father Jesse Alvin Page divorced.
She said: 'He was such a precious little boy, that's all I can say, he was a very fun-loving, typical little boy. He was just a very soft spoken, gentle young man.'
Asked if the army had changed her son, she said: 'I have no idea I had not been in contact with him that much. Actually in the last 12 years I have not been in contact with him at all since his dad and I divorced.
'I just found out this morning when another newspaper called me. Of course I'm devastated.
'My heart goes out to all the people who lost their loved ones, that's all I can say, I am so sorry.'
Wade Michael Page was kicked out of the army in 1998 after serving six years, first as a missile system repairman at Fort Bliss in Texas and then at Fort Bragg where he was in Psychological Operations.
Victim: The president of the temple, Satwant Kaleka, was shot by the gunman as he tried to tackle him to the floor with a knife
Loss: Mohan Singh Khatra, who lost his uncle Subeg Singh Khatra, 84, right, in the Wisonsin Sikh temple shootings, speaks to the media outside the Sikh Cultural Society in the Queens borough of New York
Hero: Lieutenant Brian Murphy shot dead Wade Michael Page at the Sikh temple, despite himself being shot eight or nine times. He is currently recovering in hospital
He was given a less-than-honorable discharge from the army in October 1998 following a 'pattern of misconduct' including being drunk on duty and going AWOL sources said.
He had been demoted from sergeant to specialist during his service and was deemed ineligible for re-enlistment.
While in the Army, Wade - originally from Colorado - served as a sergeant, and later as a specialist based in Ft Bliss in Texas and at Ft Bragg in North Carolina.
According to the Examiner, Page was an E4 psychological operations specialist. He was awarded the Army Commendation Medal, Army Achievement Medal, Army Good Conduct award, the National Defense Service Medal, Humanitarian Service Medal and Parachutist Badge.
The Anti-Defamation League had been tracking Wade since 2000 when he first appeared on the white supremacist music scene.
Grief: Harpreet Singh and Amaradeep Kaleka mourn during a press conference on August 6, 2012, in Oak Creek, Wisconsin about the shootings Sunday at the Sikh Temple of Wisconsin
Remembrance: Seven people were dead and dozens injured after the shooting at a Sikh temple in Oak Creek, Wisconsin
Love and support: People light candles during a vigil to honor victims of Oak Creek in downtown Milwaukee
AUDIO: 911 records reveal the panic and devastation at the scene
Video: Police statement describes scene after shooting
WHO ARE VOLKSFRONT?
Volksfront, a virulently racist and anti-Semitic group, has become the most active neo-Nazi group on the West Coast and maintains close alliances with many other hate groups.
One of Volksfront's primary goals is to establish an autonomous whites-only living space in the Pacific Northwest and, to this end, the group claims to have purchased several acres of property in Oregon and Washington State.
Founded in 1994 by Randal Krager, the group holds hate rock concerts, publishes hate literature, and produces a white power radio show on the Internet. While Volksfront presents itself as a non-violent 'pro-white fraternal association', many of its members have been convicted of violent hate crimes.
Source: Anti-Defamation League
---
USA |
Tattoos on Gurdwara gunman's body hid racist codes
Wednesday, 8 August 2012, 16:31 | Source: Jagran Post |
The neo-nazi gunman who killed six innocent people at a Wisconsin Gurdwara had adorned his body with tattoos that hid secret racist codes and symbols showing allegiance to white supremacist beliefs.
Wade Michael Page, 41, the Army veteran who was killed on Sunday after gunning down the six people at the Gurdwara, left behind a startling trail of clues detailing his descent into hate in the tattoos that marked his body and in his music.
Many of the tattoos covering his arms and torso, Marilyn Mayo, Co-Director of the Anti-Defamation League's Centre on Extremism, said contained specific racist codes and hidden symbols that showed his allegiance to white supremacist beliefs and to a specific skinhead group.
The ADL maintains an on-line database of racist symbols. "Symbols are an important part of this culture," Mayo said.
"It allows others to know you're part of the skinhead movement and is used as a way of intimidation. Getting a tattoo is permanent and it comes with a serious commitment. It means you're a member, you're part of this club and have been initiated," he said.

Tattoo on Gunman's right arm
Page, 41, had a tattoo on his right arm below his shoulder with the number "838," which Mayo said is a coded symbol indicating membership in the Hammerskins, a skinhead group whose members have been accused of multiple violent crimes, including murders, since the 1980s.
The number 838 corresponds to the letters H, C, H, an acronym for the group's motto "Hail the Crossed Hammers," a reference to the group's logo, the ABC News reported. "The tattoo is indicative of membership in the Hammerskins," Mayo said.
"Only a member would have that tattoo." The ADL believes that he was a prospective member as recently as early 2011, but that his membership became official in late 2011.
A former soldier, Page, was demoted from sergeant to specialist before leaving the Army in 1998. His body art would have been banned under Army policies outlawing extremist and racist tattoos.
In the years following his discharge, Page posted dozens of photos of himself on-line that show the ink on his body. On the back of his hands, he had tattooed the letters "W" and "P," which Mayo said is an acronym for White Power.
On his left shoulder appeared a Celtic cross, a cross inscribed inside a circle. "The Celtic cross is a symbol of white pride and is one of most popular symbols for neo-Nazis and White Supremacists," Mayo said.
Within the circle on Page's arm was the number 14, which corresponds to the number of words in the supremacist motto: "We must secure the existence of our people and a future for white children."
---
GERMANY |
An Eastern German mayor stands up to the neo-nazis
Wednesday, 8 August 2012, 16:28 | Source: Spiegel online |
Rainer Dambach has grown a lot more cautious these days. Before pressing through the gate, he looks both ways -- to the neighboring house on the left and to the idyllic alley on the right. Then the mayor makes his way onto the property.
Once inside, he sees a Reich flag flying in the wind, traces of soot on a brick wall and a sign that reads: "In the daytime you babble about tolerance and at night you set the house on fire." It also greets what its maker calls a "phoney, cowardly rabble." The poster is a reference to a recent arson attack on the building.
Dambach says: "They like to play the role of the martyr." He places his hands on his hips and says: "They are the rabble. And I am not afraid of them at all." The tone is raw these days in the town of Pasewalk. Someone tried to set the stable on fire and Dambach, the 60-year-old mayor of the city in the eastern German state of Mecklenberg-Western Pomerania, has been preoccupied by the property for weeks now. The stable is located just a few kilometers away from the center of Pasewalk, a city of 12,000 which has achieved some international notoriety for being the place where Adolf Hitler was recovering from mustard gas injuries when World War I came to an end.
Germany's far right National Democratic Party of Germany (NPD) intends to hold a massive summer party in the farm's former pig stalls. That may sound funny to some, but nobody in Pasewalk is laughing. The so-called "Press Festival" of the NPD newspaper Deutsche Stimme, or German voice, scheduled for this Saturday at a site is one of the biggest events being staged this year by neo-Nazis in Germany. Even if fewer people are expected this time around, organizers attracted some 2,000 right-wing extremists the last time they held it. According to the event's program, major NPD party figures plan to hold speeches and neo-Nazi singers and groups will provide entertainment.
A Hotbed of Neo-Nazi Activity
As uncomfortable and embarrasing as the event may be, the political party behind it is a legal one in Germany. A past attempt to ban the NPD failed despite the fact that Germany's Office for the Protection of the Constitution, the domestic intelligence agency responsible for monitoring extremist activity, has described the party as being "racist, anti-Semitic and revisionist." Politicians continue to debate a possible ban today.
The event in question itself also partially reflective of the Western Pomerania region, a well-established stronghold of neo-nazi activity in Germany. The NPD holds seats in the state parliament and so-called Freie Kameradschaften ("free comradeships") – small, loose-knit groups of right wing extremists who are not officially organized, but are still often supporters of the NPD – can be found throughout the region. In the nearby village of Koblentz, population 236, one in three voters cast ballots for the NPD in last year's state election. And even the property where the festival is to be held is owned by a local NPD party branch in nearby Viereck.
Günther Hoffmann, an expert on right-wing extremism in Germany who lives in the nearby city of Anklam, says: "The neo-Nazis believe they have complete control of the area."
'Something Approaching Broad Resistance'
But things may be changing -- at least slowly. This time around, local residents aren't willing to allow the NPD to hold its event without putting up a fight. City administrators have used every trick possible to try to prevent the gathering. An anti-NPD alliance has been formed and the group plans to converge on Saturday to create a four-kilometer (2.5 mile) long human chain in protest of the far-right event. Officials with the party, however, are unimpressed, and are continuing to promote what they say will be "our peaceful press festival." Still, Hoffmann says the fresh opposition marks a watershed moment for the community. "This is the first time something approaching broad resistance has materialized," he says. That is due in no small part to the activities of Mayor Dambach.
Dambach is laid back by nature. He wears frameless glasses and jeans and a sliver necklace over a black T-shirt. Trained as a landscape planner, he originally comes from southern Germany and first came to the northeast corner of the country after a stint in Berlin. For the past 10 years, he's served as mayor here. When people congratulate him on his term in office, he often answers: "You should also commiserate with me." But Dambach, despite his laconic nature, has had enough.
An arson attack in July on the site of the neo-Nazi festival was only the latest episode to set him off. The singed building won't interfere with the ability of organizers to hold the party, and Dambach even says it is possible the extremists set the fire themselves in order to set the mood. But the NPD itself is blaming "leftist terrorists" and has offered a €8,000 ($9,868) reward for the capture of the perpetrators.
A Mayor Fears for His Towns Reputation
The pig stalls, which are located just inside Pasewalk city limits and are thus under its administration, have been a thorn in the mayor's side for some years. It has served as the site of multiple extremist rock concerts that have been disguised as private birthday parties. "We need to put an end to this for once and for all," he says.
What Dambach fears now is no less than his town's reputation. "If we don't do anything," he says, "then people everywhere will say that Pasewalk is a place where Nazis can celebrate anything they want." And, he warns, vacationers and businesspeople will say there are too many neo-Nazis in the region to make it palatable for business or travel. In a state located on the coast where tourism is an important part of the economy, Dambach believes his city's future at stake.
"We can no longer afford to just look the other way," Dambach says. A few years ago, when the extremists planned to stage a neo-Nazi parade through town, he asked the city council what could be done. The majority told him they would simply ignore it. Others, he says, said "yes, we actually should do something about it," but they didn't take any action. He says anyone who tried to take action against right-wing extremists was usually left feeling completely alone.
He himself has done his part to protest the "press festival." Together with representatives of other agencies, he tried to find problems with the security planning presented by the NPD members, with fire safety or with the lack of access roads in order to stop the event. The effort proved to be in vain. Then Dambach tried to encourage the residents of a neighboring property to lodge a formal complaint about the event disturbing the peace. That was before someone told him the neighbor "was one of them."
Fear 'They Will Key My Car or Kill My Pets'
Of course, not all supporters of the NPD are open about their radical sympathies. At the same time, opponents of the right-wing extremists aren't always keen to show their faces either. Dambach says some local residents oppose the event but are reluctant to go public with their concerns.
One resident agrees to meet with a reporter in a parking lot outside the town. He doesn't want to be seen publicly with someone from out of town. He says he fears that Pasewalk and Viereck might share the same fate as a place like Gorleben in the western German state of Lower-Saxony. Gorleben is the site where Germany's nuclear waste is stored, a toxic reputation for the city. "When it comes to Gorleben, people all say, 'Oh, nuclear waste'." Someday, he fears, they might say: "Viereck? Oh, the Nazis."
The man says he fears retaliation if he goes public with his efforts to oppose the neo-Nazi event. "I'm afraid of the mini-terror," he says, "that they will key my car or kill my pets."
There seem to be three kinds of people in Pasewalk and its surroundings. There are those who say: "Oh, just let the extremists have their party." There are those who want to take discreet action against the neo-Nazis. And then there are people like Dambach who say they will not allow themselves to be intimidated by the Nazis.
Dambach says he is now moving to take more decisive action. He says he is trying to create an alliance against right-wing extremism with other mayors in the region and he also meets weekly with the citizen's group formed to combat right-wing extremism in Pasewalk. Dambach is also a member of the district council with the center-left Social Democratic Party. But the same district council also has six members of the NPD sitting on it. Despite this, Dambach says he has never been intimidated. "Those who always clearly express their opinion," he says, "are not put under pressure."
NPD Strikes Back
Now, however, it seems that NPD have begun targeting Dambach. After he posted a notice on city hall's homepage soliciting people to join his alliance against right-wing extremism, he began getting letters. A lawyer for the national leaders of the NPD threatened legal action. In addition, an administrative court in nearby Greifswald ordered the mayor to stop promoting the anti-neo-Nazi alliance. The court ordered that the move had violated the mayor's legal duty to remain neutral to political parties and forbade him from "any assessment" of parties before forcing him to pay €400 in legal fees relating to the court proceedings.
Dambach now finds himself in the tough position of having to find a balance between neutrality as a mayor and the role of being an active citizen who wants to drive back the right-wing extremists. It will be tough, though, given that other activists address him as "Mr. Mayor" at every meeting. When asked how he can reconcile these diverging positions, he responds: "I don't know."
Still, he says he wants to do everything possible between now and Saturday to spoil the neo-Nazi's pig stable festival. "Otherwise this annoyance will start again fresh next year," he says. Dambach says he's ready for a fight and won't give up easily. He wants the days in which the region is a hotbed of neo-Nazi activity to be numbered.
---
USA |
Sikh temple shooter said to be white supremacist
Monday, 6 August 2012, 17:47 | Source: Boston Globe |
The gunman who killed six people at a Sikh temple in Wisconsin before he was shot to death by police was identified Monday as a 40-year-old Army veteran and former leader of a white supremacist metal band.
First Assistant U.S. Attorney Greg Haanstad in Milwaukee identified the shooter as Wade Michael Page. Page joined the Army in 1992 and was discharged in 1998, according to a defense official who spoke to The Associated Press on condition of anonymity because he was not authorized to release information yet about the suspect.
Officials and witnesses said the gunman walked into the Sikh Temple of Wisconsin in suburban Milwaukee and opened fire as several dozen people prepared for Sunday services. When the shooting ended, seven people lay dead, including Page. Three others were critically wounded in what police called an act of domestic terrorism.
Page was a ''frustrated neo-Nazi'' who led a racist white supremacist band, the Southern Poverty Law Center said Monday. Page told a white supremacist website in an interview in 2010 that he had been part of the white-power music scene since 2000 when he left his native Colorado and started the band, End Apathy, in 2005, the nonprofit civil rights organization said.
He told the website his ''inspiration was based on frustration that we have the potential to accomplish so much more as individuals and a society in whole,'' according to the SPLC. He did not mention violence in the website interview.
End Apathy's biography on the band's MySpace page said it began in 2005 and was based in Nashville, N.C. It said their music ''is a sad commentary on our sick society and the problems that prevent true progress.''
Joseph Rackley of Nashville, N.C., told the AP on Monday that Page lived with his son for about six months last year in a house on Rackley's three acres of property. Wade was bald and had tattoos all over his arms, Rackley said, but he doesn't remember what they depicted. He said he wasn't aware of any ties Page may have had to white supremacists.
''I'm not a nosy kind of guy,'' Rackley said. ''When he stayed with my son, I don't even know if Wade played music. But my son plays alternative music and periodically I'd have to call them because I could hear more than I wanted to hear.''
Page joined the military in Milwaukee in 1992 and was a repairman for the Hawk missile system before switching jobs to become one of the Army's psychological operations specialists, according to the defense official.
So-called ''Psy-Ops'' specialists are responsible for the analysis, development and distribution of intelligence used for information and psychological effect; they research and analyze methods of influencing foreign populations.
Fort Bragg, N.C., was among the bases where Page served.
Police in the temple's hometown of Oak Creek, Wis., planned to release more information about their investigation Monday. Oak Creek Police Chief John Edwards said the FBI was leading the investigation because the shootings are being treated as domestic terrorism, or an attack that originated inside the U.S.
Satpal Kaleka, wife of the temple's president, Satwant Singh Kaleka, was in the front room and saw the gunman enter the temple, according to Harpreet Singh, their nephew.
''He did not speak, he just began shooting,'' said Singh, relaying a description of the attack from Satpal Kaleka.
Kaleka said the 6-foot-tall bald white man — who worshippers said they had never before seen at the temple — seemed like he had a purpose and knew where he was going.
''We never thought this could happen to our community,'' said Devendar Nagra, 48, of Mount Pleasant, whose sister escaped injury by hiding as the gunman fired in the temple's kitchen. ''We never did anything wrong to anyone.''
Late Sunday, the investigation moved beyond the temple as police, federal agents and the county sheriff's bomb squad swarmed a neighborhood in nearby Cudahy, evacuated several homes and searched a duplex. Bureau of Alcohol, Tobacco, Firearms and Explosives agent Tom Ahern said warrants were being served at the gunman's home. Residents were allowed to return to their homes Monday.
During a chaotic few hours after the first shots were fired around 10:30 a.m., police in tactical gear and carrying assault rifles surrounded the temple with armored vehicles and ambulances. Witnesses struggled with unrealized fears that several shooters were holding women and children hostage inside.
Edwards said the gunman ''ambushed'' one of the first officers to arrive at the temple as the officer, a 20-year veteran with tactical experience, tended to a victim outside. A second officer then exchanged gunfire with the suspect, who was fatally shot. Police had earlier said the officer who was shot killed the suspected shooter.
The wounded officer was in critical condition along with two other victims early Monday, authorities said.
Tactical units went through the temple and found four people dead inside and two outside, in addition to the shooter.
Jatinder Mangat, 38, of Racine, a nephew of the temple's president, said when he learned that people had died, ''it was like the heart just sat down.''
Balginder Khattra of Oak Creek, said Monday that his 84-year-old father, Suveg Singh Khattra, was among the six people police said were killed. Khattra says his father didn't speak English but loved living in America.
Sikhism is a monotheistic faith founded more than 500 years ago in South Asia. It has roughly 27 million followers worldwide. Observant Sikhs do not cut their hair; male followers often cover their heads with turbans — which are considered sacred — and refrain from shaving their beards. There are roughly 500,000 Sikhs in the U.S., according to estimates. The majority worldwide live in India.
The Sikh Temple of Wisconsin started in 1997 with about 25 families who gathered in community halls in Milwaukee. Construction on the current temple in Oak Creek began in 2006, according to the temple's website.
Sikh rights groups have reported a rise in bias attacks since the Sept. 11, 2001, terrorist attacks. The Washington-based Sikh Coalition has reported more than 700 incidents in the U.S. since 9/11, which advocates blame on anti-Islamic sentiment. Sikhs are not Muslims, but their long beards and turbans often cause them to be mistaken for Muslims, advocates say.
The shootings also came two weeks after a gunman killed 12 people at movie theater in Colorado.
Hope not hate's US correspondent, Eric O'Neill adds: Page was also in Max Resist and Blue Eyed Devils, both of which were racist, white power bands.
---
USA |
Mass Shooting at U.S. Sikh Temple
Monday, 6 August 2012, 10:06 | Source: Hnh/Eric O'Neill |
From Eric O'Neill in Washington D.C.
As anti-Muslim leaders Pamela Geller and Robert Spencer from the United States plotted a "worldwide counter jihad alliance" with their European counterparts in Sweden, gun shots rang out at a Sikh Temple in Oak Creek, Wisconsin. While it will be several days before exact details are known, witnesses report a bald headed armed male in his late twenties or early thirties murdered six individuals at a local Sikh Temple before being shot by law enforcement. While the official motive is unknown, a committee member of the temple, Ven Boba Ri, told the Journal-Sentinel that "It's pretty much a hate crime." He confirmed to the newspaper that the killer was not a member of the temple. The nightmare began as the gunman walked up to the temple and shot a priest standing outside. The killer then entered the temple and shot others.
This is not the first hint of hate motivated activity directed at the Sikh community in Oak Creek. Nearly one year ago to the day, elected officials and law enforcement visited the temple in response to racially motivated attacks and vandalism at local Sikh businesses. Sikhs, often confused for Muslims, are frequently the targets of anti-Muslim hate crimes in the United States. In the days following the Al Qaeda terror attacks in New York City and Washington D.C. three Sikhs were murdered across the country in reactionary hate crimes. The Sikh Coalition reports that over 700 acts of bigoted violence have been directed at the community since September 11th. According to the Federal Bureau of Investigation, hate crimes against Muslims spiked 1600% in the aftermath of the terrorist attacks and have failed to return to pre-September 11 levels.

Anti-Muslim rhetoric by American elected officials and supposed "anti-Jihadist" activists continues to create an environment that dehumanizes adherents of the Muslim and Sikh faiths. The consequences are deadly. In September 2011 two Sikh men in California were gunned down during their daily stroll. Law enforcement officials have yet to make an arrest but suspect anti-Muslim bias. Both men died from their wounds.

In recent weeks Congress member Michele Bachmann has fueled anti-Muslim bigotry. Bachmann has publicly accused the Muslim Brotherhood of infiltrating the highest levels of the United States government. Bachmann has gone as far as to falsely accuse Huma Abedin, a top aide to Hillary Clinton, of being part of this fantastical conspiracy. Romney, who is increasingly boxed in by increasingly extremist constituencies within the Republican Party, refused to condemn these bigoted conspiracies. Bachmann and four other Congressional Republicans are now calling for an official investigation. This is unsurprising. A poll released by the Pew Research Center in July found that the number of conservative Republicans who falsely believe President Barack Obama is a Muslim has doubled (from 16% to 34%) since the 2008 election.

In the wake of September 11th Republican President George W. Bush and then Attorney General John Ashcroft spoke out forcibly, clearly condemning attacks and bigoted statements directed against Muslims and Sikhs. Their courageous statements played a significant role in decreasing hate crime incidents at the time. Today's Republican leadership is ominously quiet. Into the void have stepped courageous organizations such as the Sikh Coalition and innovative networks such as the Security and Rights Collaborative (SRC). SRC is made up of traditional civil liberties organizations such as the American Civil Liberties Union and Center for Constitutional Rights with Muslim, Arab, and South Asian institutions including Muslim Advocates, South Asian Americans Leading Together, and the Center for Intercultural Organizing to name a few. It is these emerging networks that provide rapid response and long term education and advocacy.

Oak Creek Mayor Steve Scaffidi expressed deep sadness regarding the tragedy and rightly voiced the "outraged" his community feels at the violence that took place. Scaffidi along with SRC and the Sikh Coalition are providing the leadership so sorely needed at a time when so many public and civic leaders choose to turn a blind eye to the consequences of anti-Muslim bigotry in American society. It's time for the rest of us to stand and be counted or to be complicit in future acts of violence. Let this tragedy be the final warning that it is time to draw a clear moral barrier against anti-Muslim bigotry.

The very lives of our friends and neighbors depend upon it.
Update:
It appears that the individual involved in the temple shooting is former army and held white supremacist beliefs.
For more background on the violent face of the US far-right, see Eric O'Neill's article Armed and Dangerous in the latest edition of Hope not hate magazine.
---
GERMANY |
Bus drivers, locals spoil neo-nazi day out
Sunday, 5 August 2012, 13:48 | Source: thelocal.de |
Neo-Nazis planning to march through the town of Bad Nenndorf had to set off on foot earlier than expected, after demonstrators blocked their train – and at least one driver of the replacement bus service refused to take them.
Around 700 people from the area gathered to show their opposition to the march, while more than 200 left-wing activists chained themselves to the station platform, delaying the arrival of the neo-Nazis' train by more than an hour.
The bus drivers were less than cooperative, forcing many of the neo-Nazis to walk into town. Their rally was several hours late and accompanied by loud protests nearby.
Bad Nenndorf in Lower Saxony has been the focus of neo-Nazi marches every year since 2006, because it was where the British army set up an interrogation centre for Nazis after the war.
Jürgen Trittin, head of the Greens' parliamentary party, spoke at an anti-Nazi rally there on Saturday, and said the protests were trying to make victims out of the perpetrators, which he called a "grandiose falsification of history."
Sebastian Edathy of the Social Democratic Party (SPD) said, "We are neither ready to hand over our streets and our squares, nor the hearts and minds of the coming generation, to these enemies of humanity."
He said far-right extremism was a reality in Germany but should never be accepted as normal.
At least 2,000 police officers were in the town, while a surveillance drone flew over the more than 450 neo-Nazis. Last year around 580 showed up while in 2010 the number was more than 1,000.
The neo-Nazis had planned to go to Hannover, around 35 kilometres away, after their march in Bad Nenndorf – but cancelled this themselves, a police spokeswoman said. They are now planning a torch-lit march through Hannover at a later date.
Several hundred left-wing demonstrators gathered in Hannover in anticipation of the planned neo-Nazi march, and some clashed with the police. Around 50 people were briefly held, but no arrests were reported.
---
GREECE/TURKEY |
Greek neo-nazi party calls for boycott to Turkish soap operas
Sunday, 5 August 2012, 13:46 | Source: Hurriyet.com.tr |
The leader of Greece's far-right Golden Dawn party has called on the nation's citizens to boycott Turkish soap operas while barring his MPs from watching them, daily Hürriyet reported today.

"I call on deputies of Golden Dawn and its supporters not to watch Turkish series," party leader Nikolaos Michaloliakos was quoted as saying. He also recommended not watching the commercials that run during the airing of Turkish shows.

Michaloliakos said it was a "shame" that Turkish shows were being aired in Greece, which had a "unique" cultural heritage and said friendly relations between Turks and Greeks was against the well-being of Greece and its citizens.

The neo-Nazi leader said they would bring the issue of the popularity of Turkish soap operas to the Greek Parliament's agenda and would ask the Greek broadcasting authority to intervene.
---
ISRAEL |
Israeli paper blasts anti-Ethiopian racism
Sunday, 5 August 2012, 11:47 | Source: Jerusalem Post |
Editorial:
Israel's social activists should embrace anti-racism, not only regarding immigrants but also Ethiopian citizens, as a cause.
On July 24, a Jewish woman of Ethiopian origin reported that she was subject to racist abuse while trying to help an elderly Ethiopian immigrant couple board a bus in Beersheba.
The elderly couple did not have the small change that the driver demanded and when the woman tried to help negotiate she reported that he called her a "stinking Ethiopian" and cursed her.
The Metrodan bus company defended the driver. "What's baffling is that the driver allowed the elderly couple to board the bus, so why would he go through all the trouble?" Metrodan operates buses under a state license to provide public transport to people in the Beersheba. Under Israeli law people do not have to have exact or small change to board a bus. It is not uncommon, as many Israelis or visitors to the country can attest, that bus drivers get into altercations with the public that result in cursing and shouting. However this incident, if the accusations are accurate, is part of a wider pattern of racist abuse that is all too common in our country.
In a 2011 case, an Egged bus driver was accused of racially abusing an Ethiopian Jewish student by telling her he didn't let blacks ride the bus. "Ethiopians are stupid people who don't belong in Israel," he told Yadena Varka. Luckily in this case the Rishon Magistrate's Court found in favor of the victim and ordered her to receive NIS 60,000 in compensation. Egged roundly condemned the racist comments.
In 2009, an Egged bus driver was fired after telling an Ethiopian security guard at the Hebrew University's Mount Scopus campus, "Perhaps you should drink milk and be white like me."
In 2005, another driver at Mount Scopus refused to let an Ethiopian security guard enter the bus, saying, "Hey, cushi [a pejorative term for blacks], you're nothing, who put you here?" The abuse directed at Ethiopians by bus drivers crosses ethnic and religious lines. The bus driver accused in the Beersheba incident is a Beduin and one of the bus drivers at Mount Scopus was an Arab.
This points to a wide pattern of acceptance of racist attacks on the public and security workers. The list of incidents is longer than presented here and it can be assumed that many other incidents go unreported because the victims either do not know the verbal attacks could result in legal actions against the perpetrators or choose not to speak up.
Bus companies, such as Egged, and courts are starting to take notice and punish this kind of racism. But more can be done.
In January, thousands of Ethiopians took to the streets in a mass anti-racism rally after it became known that a group of homeowners in Kiryat Malachi had signed a letter not to rent to Ethiopians. However, this protest was never supported by the mainstream Israeli public.
Elias Inbar, an activist, said at the time that "the [social justice] protests were very middle class and they don't want to reach down into the lowest layers of society, where Ethiopians are."
In May, when anti-African-immigrant protests and attacks broke out in south Tel Aviv, some of the public was mobilized against racism, but they were interested only in the racism directed at immigrants. The local Ethiopian community exists in a public blind spot. When Ethiopians set up a tent protest outside the Prime Ministers Residence it was ignored for months.
Organizing the Israeli public also demands educating the public about what the Ethiopian community finds offensive. It is still incredibly common to hear the word "cushi" on television and in the street, despite the fact that Ethiopians find it highly offensive.
Ziva Mekonen Degu of the Israel Association for Ethiopian Jews says that the term can be considered like the n-word for African-Americans, "it derides people as if they are slaves and harms them grievously."
On the reality singing show The Voice Israel, judge Shlomi Shabat, who since apologized, described one of the contestants as singing "like an American cushi from Harlem."
In the Hebrew subtitles to the film Scary Movie broadcast last week on YES, the word "black man" is translated as cushi. This mainstreaming of offensiveness demeans Israeli society.
Israel's social activists should embrace anti-racism, not only regarding immigrants but also Ethiopian citizens, as a cause. Legal aid organizations that help Ethiopians, such as Tebeka, should be encouraged through government and private financial support to provide more tools and awareness for members of the Ethiopian community, particularly the elderly who often cannot read and sometimes may not know Hebrew well.
As the civil rights movement learned in the American South, recourse to the courts can
---
GERMANY |
'KKK cops' scandal uncovered amid German neo-nazi terror probe
Friday, 3 August 2012, 13:21 | Source: RT |
Two German police officers were former members of a Ku Klux Klan spinoff, officials revealed. The scandal broke amid a probe into killings allegedly committed by a neo-Nazi terror cell.
One of the officers serves in Germany's Bundespolizei. The other is a squad commander for riot police in the southern state of Baden-Württemberg. Both were members of the European White Knights of the Klu Klux Klan (EWK), the state's Interior Ministry confirmed Wednesday.
The EWK operated in Germany between 2000 and 2002, and is estimated to have had 20 members at it peak. The two officers' membership became known to police in 2003, and both were subject to a police disciplinary probe, German newspaper Die Tageszeitung reported. The link was discovered after the search of an EWK leader's apartment.
At the time, the officers claimed that they were unaware of the organization's white supremacist agenda, and left its ranks after learning the truth. One of the officers said he was oblivious of the EWK's mission for six months. Both men were allowed to stay on as police officers after the investigation concluded.
The officers' membership in the KKK-affiliated group came under question again when a possible link was discovered between them and the National Socialist Underground (NSU), a separate neo-Nazi terror cell allegedly responsible for the murder of a female police officer, Der Spiegel reported. One of the officers was a direct superior of Michèle Kiesewetter, one of the nine victims alleged to have been murdered by the NSU.
The NSU is suspected of targeting mainly small businessmen of Turkish descent from 2000 to 2007. The NSU's role in the killings was not discovered until 2011, and the revelation came as a considerable embarrassment to German police forces.
No direct connection between the officers' EWK membership and the murder of Kiesewetter has been established. There is speculation, however, that the NSU received inside information from police sources.
The presence of KKK-affiliations amongst police officers has sparked a scandal in Germany. "Civil servants who are or were members of a decidedly anti-democratic, extremist organization must be removed from the police force," said Sebastian Edathy, head of a parliamentary investigative committee on the NSU's crimes.
"Whether there was a connection between their Ku Klux Klan membership and the murder of police officer Michèle Kiesewetter remains to be seen," Edathy said. "But membership in such an organization must be an absolute no-go for employees of German security agencies."
---
GERMANY |
Germany ditches Olympic rower over 'neo-nazi lover'
Friday, 3 August 2012, 13:19 | Source: thelocal.de |
A female rower on Germany's Olympic team has left London after rumours surfaced that she was in a relationship with a neo-Nazi.
Nadja Drygalla, 23, left after a long conversation with German Olympic officials about the allegations that her boyfriend was a leading member of the "Rostock National Socialists" and had fought a state election for a neo-Nazi party.
"Ms Drygalla declared at the end of our conversation that she would leave the Olympic village in order not to be a burden for the Olympic team. The German Rowing Association welcomes this decision," said Michael Vesper chef de Mission of the German Olympic Association.
The rumours had also led to Drygalla leaving her training position with the police,Die Welt newspaper reported on Friday.
Vesper said the rower had distanced herself from far-right ideas during their 90-minute conversation with the rower, which he described as very emotional.
And although he was not fighting for her to remain, Die Welt reported that Vesper said what was important was her position, not that of anyone else. "I have no doubts that she not only stands for the German constitution but also Olympic values," he said.
"She explained things from her point of view. I made clear to her the problem. We spoke intensely about the whole development and also discussed her opinions," he said.
And he stressed that it would be unfair to define people by those around them. It was not his job to investigate the relationships of athletes, he added – but welcomed Drygalla's early departure from the Olympics.
---
GREECE |
"Neo-Nazi Party Gives Free Food to Greek Citizens Only"
Thursday, 2 August 2012, 23:11 | Source: Greek Reporter |
The Greek extremist party Golden Dawn is giving free food to Greek citizens only in downtown Athens. How can they be sure that people gathered around them are Greek, you ask? They are asking for the recipients' ID cards to prove their nationality.
According to the far-right party's officials, the unemployed and the families with many children were served first. More than 200 people showed up, according to witnesses.
One woman in the queue told the BBC channel that the initiative made "Golden Dawn much more attractive".
Moreover, Golden Dawn spokesman Ilias Kasidiaris said the food, which included potatoes, pasta, milk and olive oil, came from Greek firms and Greek producers only in a bid to avoid previous 'mistakes' in past when soup kitchens offered items bought from German supermarkets.
The Greek state and police officials reacted to the party's decision to give free food at Syntagma Square, just right in front of the Greek Parliament. They ordered them to leave the Square since "Syntagma, the capital's most famous square, is not available for such actions." But the Golden Dawn members ignored orders.
MP Ilias Kasidiaris described Mr Kaminis, mayor of Athens, as "mayor of illegal immigrants" and concluded in a clearly insulting language that Golden Dawn will keep flouting Greek officials' decisions exactly like Greek citizens do.
"Athens mayor Giorgos Kaminis does not mind when illegal immigrants and anarchists use the square," said Mr Kasidiaris according to Ekathimerini website.
Another Golden Dawn member, Mr Ilias Panagiotaros, stressed the fact that the party bought the food items with state money. "Our slogan is state money returns to citizens," concluded Mr Panagiotaros.
---