HOPE not hate can exclusively reveal that the principle figure behind the government-proscribed group National Action is preparing to launch a new organisation, which will still be tied to the same dangerous, racist and quasi-terrorist ideology.
Ben Raymond, who created National Action in February 2013 and describes himself as the former "media manager" of the far-right group, had been plotting and planning a new organisation in anticipation of the proscription that was announced on 12th December last year.
HOPE not hate's findings come as Home Office figures reveal terror arrests of suspected right-wing extremists and neo-Nazis more than doubled last year amid fears of a growing threat of political violence from far-right groups.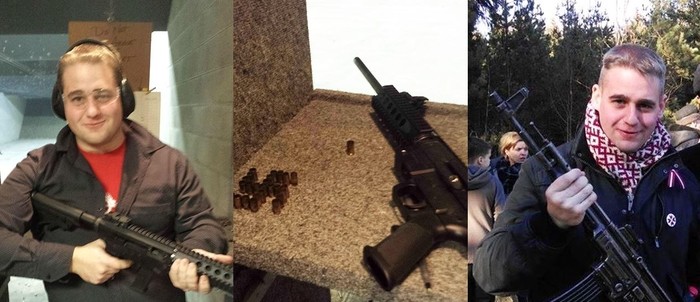 Raymond announced that National Action had complied with a government order to disband the next day, on 13th December last year. The name of the new group will be "National Socialist Network" with the task of fomenting a 'Nationalist Revolution'.
Raymond has been working since the proscription on convincing a small group around and still loyal to him that he can circumvent the 2000 Terrorism Act under which National Action was proscribed, simply by making the new organisation a fluid part of the wider "movement" and not a specific entity.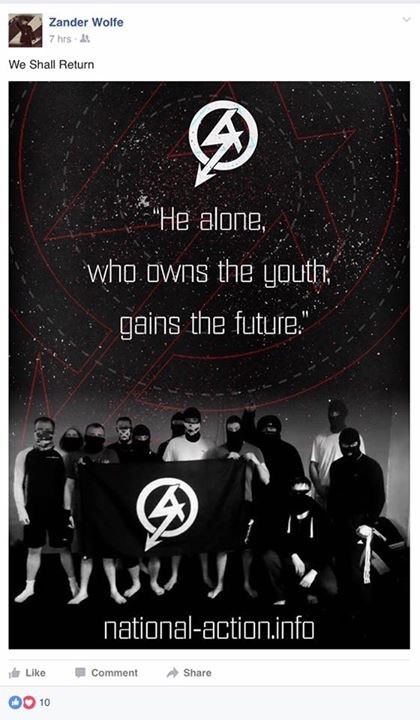 In selling this idea, Raymond has cited Anjem Choudary's previous ability to flout banning orders against his Al-Muhajiroun network and form new groups after various government proscriptions. In conversations with disillusioned but bitter followers, Raymond has spelt out that he (Choudary) was not sentenced to prison for anything other or less than inviting support for a proscribed organisation, namely the Islamic State of Iraq and the Levant, under the Terrorism Act 2000.
Raymond believes this is how the new group and specifically himself will also avoid prison. To reiterate his assertions, Raymond has been offering a series of internet lectures in which he explains his reasoning for believing the proscription of National Action will not work – but has avoided publicly mentioning that a new group has already been named and decided upon.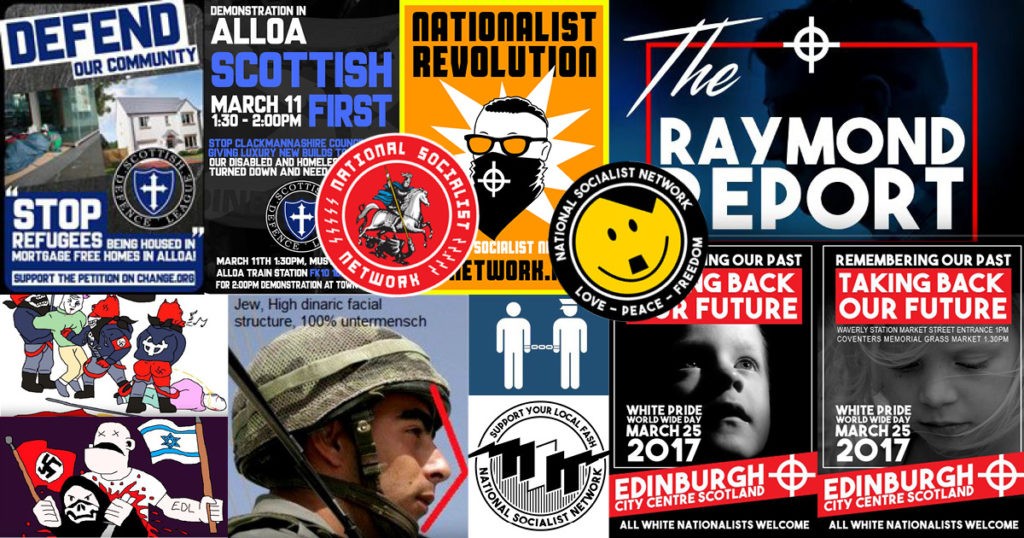 In a tiresome and contradictory video blog published late in February, Raymond expanded on his belief: 'We [National Action] had no property, membership lists, constitution, banks accounts… and copyright.'
His belief is that the ideas and intentions of National Action are now so fluid and entrenched among followers that the "National Socialist Network" can merely act as an inspiration while recruiting to the wider "movement", and cannot therefore be proscribed.
National Socialist Network's website has been registered since the 28th January of this year through an online domain retailer. A Panamanian front company has been used to hide the rest of the registration details.
Whether Raymond is aware of the Terrorism Act 2000 amendment number 3 that came into force last year, covering the "Choudary" get-out clause, is unclear. Raymond has become notorious for his misplaced belief and confidence in his own intellectual abilities; he assures viewers that he ('I alone') had the intellectual capacity to realise this.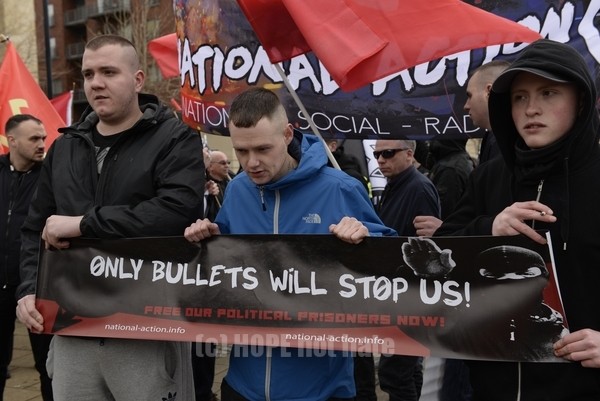 Raymond has acknowledged that even the rest of the far-right accepts that National Action's proscription was for activities likely to encourage terrorism, but he entirely refutes that analysis himself. He believes that people are expecting and have been expecting him to launch a new group. In response he has assured followers that he is 'not defeated,' and 'neither are my friends.'
A "new" National Action will not be the same as the old one. Raymond has always maintained that National Action was nothing more than a 'youth movement' that used art to cultivate legal anger and cutting-edge activism in young people. The 27-year-old has now moved from his address in Bognor Regis to nearby Arundel, also in West Sussex. It was in Bognor Regis that Raymond dreamt up the group and began cultivating a life of lies, most notably proclaiming (lying) he is orphaned.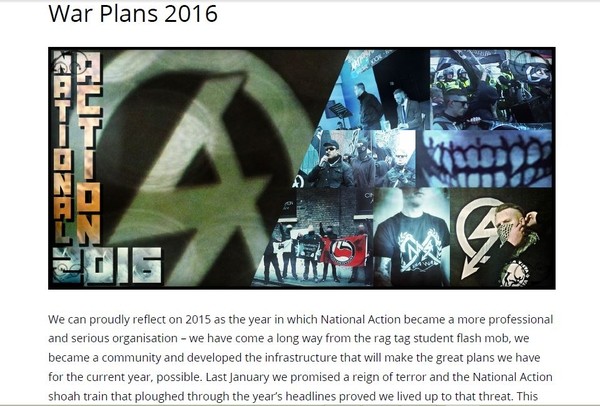 Months before the government's proscription of National Action last year, HOPE not hate had been aware of a schism that had developed within the organisation. While Raymond maintains that all National Action was engaged in was witty, cutting-edge satire and that the Government had mistaken the group's response to the murder of MP Jo Cox, the Government's decision to ban National Action was actually much clearer:
"It [National Action] has been proscribed following an assessment that it is 'concerned in terrorism'. The group's online propaganda material, disseminated via social media, frequently features extremely violent imagery and language. National Action also promoted and encouraged acts of terrorism after Jo Cox's murder."
HOPE not hate believes and contends that National Action had been actively engaged in such activities long before Cox's murder. The group had made a number of disturbing threats against MPs (most notably 'Operation Filthy Jew Bitch' directed at Liverpool MP Luciana Berger for which a Liverpool man was imprisoned), but also threats made in private about other members of Parliament.
HOPE not hate is aware that at least one MP has been warned by the police since Cox's murder that there was a threat emanating from within the group that she too should be murdered. Members of the organisation had both in open and close source advocated the murder of MPs and individuals from the Jewish community. One leading member of the group was even recorded on two occasions encouraging others to harm or 'eradicate' Jews.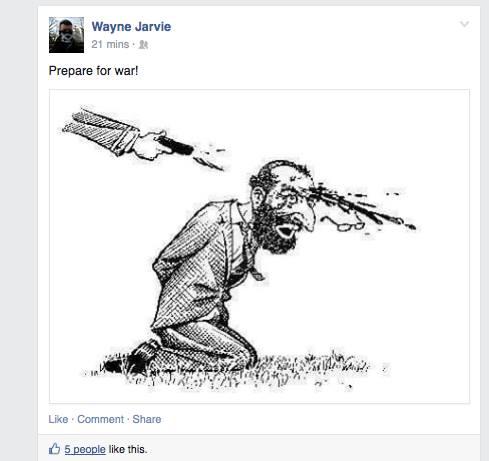 Raymond contends that it was solely for a tweet the group made (he actually and specifically blames Wayne Bell, the Castleford-based former "Regional Organiser" of National Action) for what he protests was simply just one incident of 'satire', that led to the group's proscription.
Yet it is quite clear from the government's own record of the proscription and the growing and mounting evidence that the threat of real violence, and even murder, persisted long before the group was banned. Put together, it was clearly not just a case of isolated incidents. Raymond, in preparing to announce his new organisation, is clearly in denial of this.
And this is where Raymond's and what was National Action's schisms and problems are most apparent. HOPE not hate has had access to nearly 4000 art images and "things of interest" that Raymond keeps hidden but accessible online. It is a morbid, perverted and disturbing series of images and "memes" that Raymond has been creating and collecting over a number of years.
Even in his videos where he proclaims his and his former group's innocence of all charges, Raymond uses a collage of his own art depicting racial and political violence as well as vile 'sexual' acts directed at his political opponents.
For a long period, National Action protected one of its most senior members who had a conviction for a sex attack against a vulnerable teenager and who continued to boast of his own predatory behaviour. In Raymond's personal collection of things that interest him are a large number of images depicting males raping other males, hardcore pornography or of males being forced into sexual acts.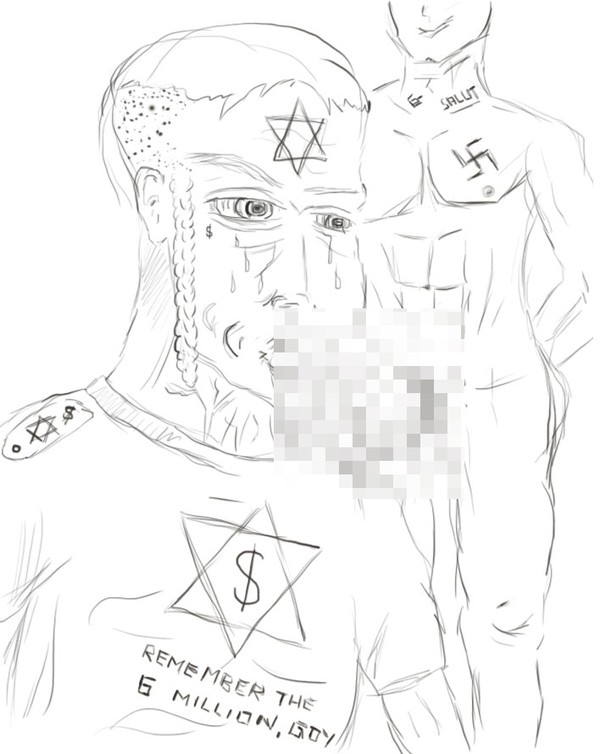 Raymond cultivated in National Action, and seems to be keen to do so again, a group around him that revels not just in violence, but violent, sickening and sexualised fantasies.
Inside Raymond's personal "art" files we found he has a particular penchant for degrading acts against political enemies. He is also on record calling for a 'genocide' to happen in this country. He did so while publishing a photograph of himself holding an automatic firearm.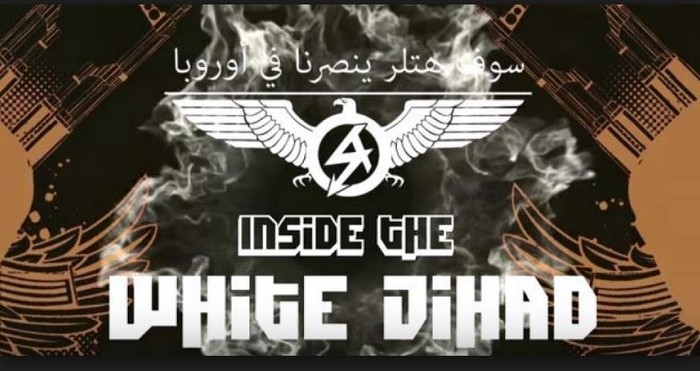 This has become one of the issues that has split part of what was National Action. Raymond created a "youth" group that embraced his violent and sexual fantasies. Yet in the case of north Wales attacker Zack Davies, who tried to behead an Asian man in a supermarket in January 2015, Raymond claimed that it was all a 'joke' and that Davies was nothing to do with the group – despite members of National Action regularly communicating with him online.
Raymond also asserts in his defence, as he prepares to launch his new group, that at the time of National Action's ban no members of the organisation were before the courts for anything like 'sharing bomb making knowledge'. Again, this is a clear lie and another case of Raymond excusing himself from the worst and obvious consequences and excesses of his own behaviour.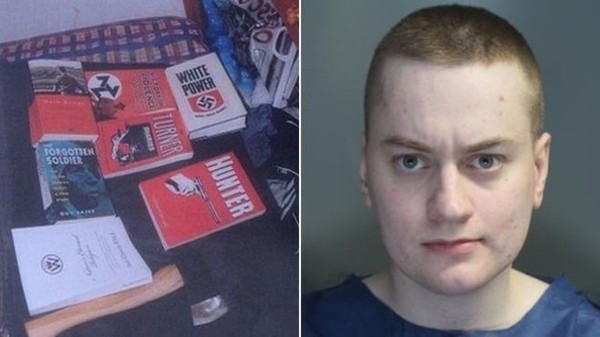 There were and are still a number of terror-related cases ongoing involving National Action personnel and supporters all known to Raymond (they cannot all be named for legal reasons). One we can mention is Lawrence Burns, a National Action member from Cambridge who expressed 'vile and offensive sentiments' towards people he thought of as 'sub-human' and who has been found guilty of stirring up racial hatred. Burns believed and wanted a 'real holocaust'.
Then there is the case of a 17-year-old from Bradford who made a pipe bomb at home after actively engaging both on- and off-line with National Action members. And last month, Sean Creighton, a National Front member from London with links to National Action, was sentenced to five years in prison for having a 'bomb recipe' among other nasty materials.
There are now those who were in National Action, like Wayne Bell and the violent Polish skinhead group National Rebirth of Poland (NOP), who have moved on from Raymond's art project. Bell and others have tired of Raymond pushing the group to the edge and then running away again. In one reference that is believed to be about Bell and a few others, they are described as just 'cynical opportunist[s]' as he plans to build another movement of youngsters.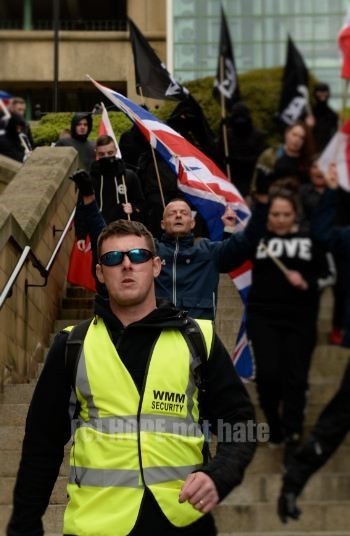 There are those that were inside National Action that believed Raymond was always too willing to use the excuse that he (allegedly) has autism and so cannot be held responsible for his actions: an excuse he had practiced to desert those around him when the going gets tough. Those people, like Wayne Bell, are no longer teenagers and no longer want to be part of what Raymond protests was 'the most successful (art movement) in history'.
Raymond was expected to launch the new group either in Alloa (Scotland) on the weekend or later this month in Edinburgh, Scotland, at the "White Pride World Wide" event that in recent years National Action has made its own. Former members of National Action were both in Alloa on Saturday for an anti-immigrant activity and also in Bakewell in the Derbyshire Dales undergoing 'training'.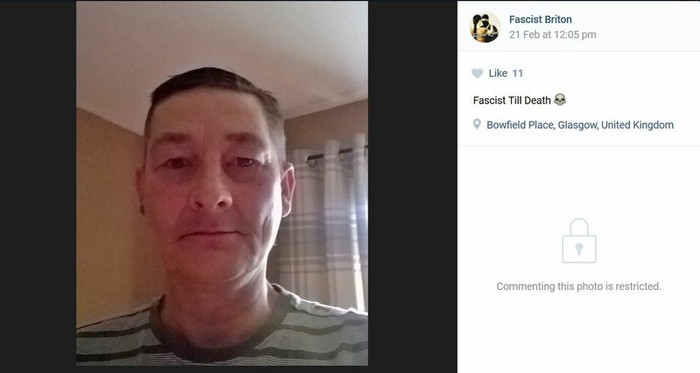 Alexander Agnew from Glasgow, an active supporter of National Action has in the last fortnight been sending out on social media images of National Action with the slogan 'we'll be back'.