The end of term for our Education Unit is always hugely busy, with tonnes of bookings, as schools go off timetable after exams, and teachers have a chance to cover material beyond the curriculum. Now that our Education team has had a chance to breathe, they've put together our School Report, and I don't know about you, but based on the figures below, I would give them an A* (Or maybe that should be a '9' now!).
Quick Figures
Schools visited: 127
Pupils delivered to: 18116
We almost doubled the number of teachers trained this year!
Here's a nice graph showing our growth (blue is last year, orange this year)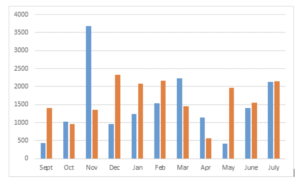 In other good news, our average number of students delivered to in each school last year was 170. This year that has fallen to 143, which shows that we are reducing the number of whole year group talks and moving more towards classroom-based workshops. This is a great indicator of how schools value our work, as taking a whole year group off timetable to be delivered to in small groups is a lot more work for the school, but has a far greater impact on those students who we engage with.
Looking to the academic year 2019-20, we've got some really exciting plans in store. First off, our educators have been working on a brand new CPD (teacher training) session around the danger the Manosphere and Incels pose to young people. We'll continue to expand the quantity of CPD training we run this year, with many schools re-booking and referring us on, as they find our material so vital in today's classrooms.
We also have some very exciting projects lined up, working on a new project on integration and identity in faith primary schools, and another with students attending supplementary schools.
Finally, we'll be working with Facebook on a great project in two areas where school students have little exposure to diversity. The project will give pupils the chance to visit Facebook HQ and Parliament, among other things.
Our calendar is filling up fast, but if you're interested in booking our educators for your school, or in booking some training for teachers, DSLs and other adults working with children, do be in touch, we would love to hear from you.