3 minute read. - 12 04 17
When former UKIP leader Nigel Farage was snapped having dinner with President Trump and his family by a fellow diner in late February, it caused a flurry of interest from the British media. What was not reported, but of far more significance, was the meeting Farage had earlier that afternoon.
Farage gatecrashed dinner with Donald Trump because he was in the area. In fact, he had just spent three hours at the White House with the President's chief strategist, Steve Bannon.
The pair had a lot to catch up on. They had a lot to discuss and plan.
As this report shows, Bannon and Farage have got to know each other well over the last few years.
UKIP had been identified by Bannon's Breitbart operation several years ago. Bannon launched Breitbart London to help UKIP ahead of the 2015 General Election. Breitbart's key funder Robert Mercer supplied Farage's anti-EU campaign, Leave.EU, with the data tools that helped secure the Brexit vote and the UK's departure from the European Union.
In turn, Farage's Brexit success provided Bannon, and his political master Donald Trump, with the inspirational story of the underdog defying the political establishment.
This report shows that Breitbart is not a news website or a media outlet in any ordinary sense and its staff are not mainstream journalists. Breitbart is a political project, with a specific political agenda, staffed by willing propagandists.
It distorts and fabricates news to deliberately incite anger in its supporters and fear in others. It pollutes the political space and demonises and vilifies its opponents.
Breitbart is just one part – albeit a vital part – of a wider political project that set Britain on a path to leave the European Union and got Donald Trump elected to the most powerful job in the world.
Unfinished business
But even with Trump in the White House the project is not yet complete. Steve Bannon and Robert Mercer have far bigger plans which they will seek to execute over the next few years. Bannon will use his clearly strong influence over the President to carry out his aggressive nationalism and strong anti-Muslim views at home and abroad. Mercer will use his financial muscle and data analytics to sway elections and shift opinion.
Breitbart intends to expand its operations into more countries in the hope of assisting more far right leaders gain power and laying the ground for what they consider is an inevitable conflict with Islam.
And in Britain, this operation will be at the heart of a new political venture, likely to be launched in a matter of months, to create a new far right party and run by multi-millionaire Arron Banks and Nigel Farage.
Based on the social movement model of Italy's Five Star movement but with the nationalist and populist politics of Trump, this new party will sweep aside UKIP and hope to capitalise on the uncertainty and compromise that will undoubtedly accompany Brexit.
While Banks and Farage will lead this new party, it will be Breitbart that provides the engine power.
It was this that Farage was discussing with Bannon at the White House.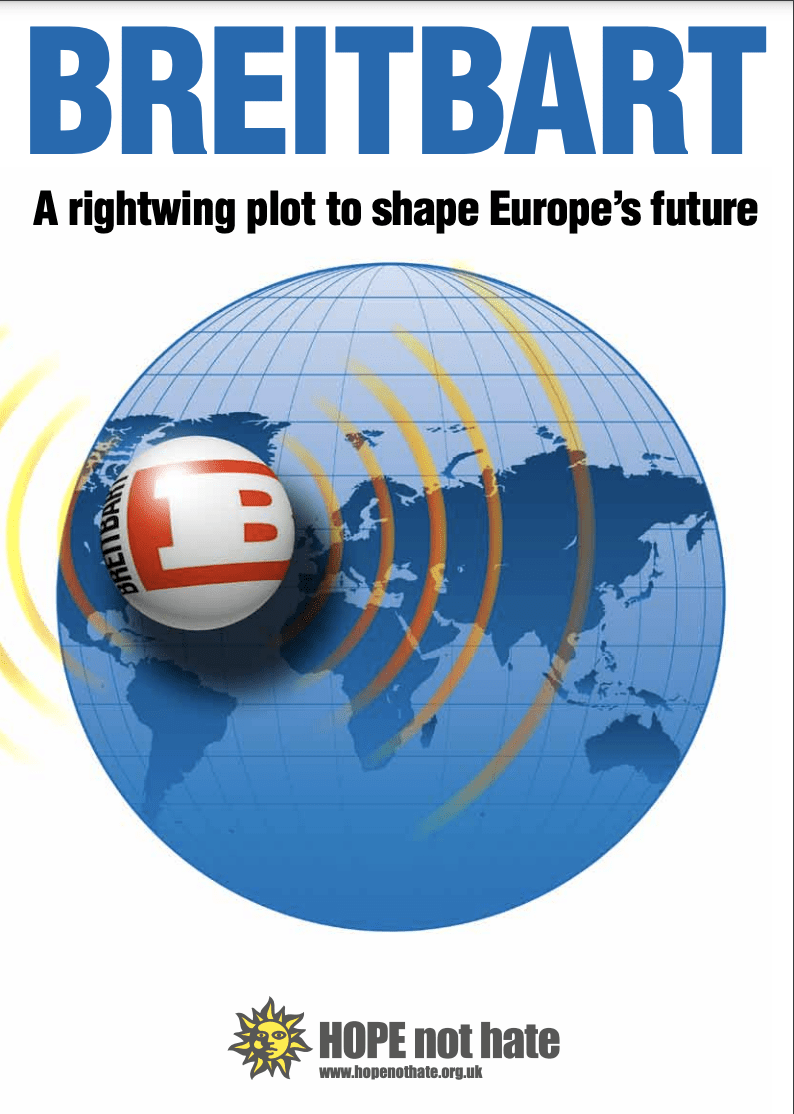 Breitbart: A rightwing plot to shape Europe's future
Download the full report.