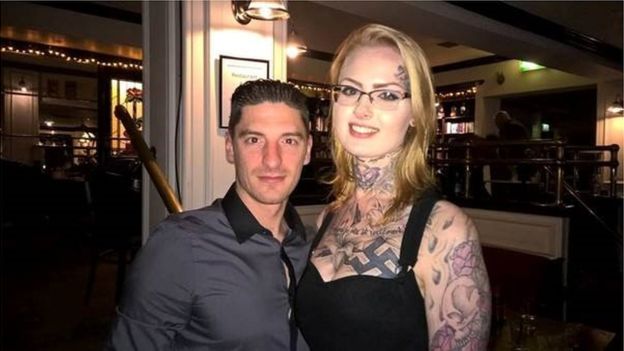 Mark Collett's had more public humiliations than most British fascists. The boy just cannot help himself. You can follow the hyperlinks embedded here and here to most of them.
For the last two years Collett has been trying to reinvent himself as a serious thinker, a man that can lead the British far right out of the doldrums. Along the way he took some sort of oratory empowerment course which has not worked. Well, he's certainly still monotone and unconvincing.
He has been one of the loudest critics of everybody else on the far right and taken little in the way of advice about his own behaviour. And he really should do that.
After all, at the height of the British National Party (BNP), which he was destined to one day lead, he got entangled in some kind of murder plot against Nick Griffin, over Griffin pissing Collett's financial and political inheritance up the wall.
Since the demise of the BNP, Collett has hung out everywhere that will allow him, including with the nazi terror gang National Action and the moth-eaten London Forum.
Earlier this month he bored 70-odd [very odd] potential backers at a John Tyndall memorial meeting in Preston with his vision of a new, white Britain. Apparently this country he wants to lead will involve wearing a string vest outdoors and sun glasses in doors, because it has to look cool.
Over the weekend Collett took himself  down to London to a meeting of the Traditional Britain Group where he had to play almost second fiddle to the likes of Jack Buckby and Anne Marie Waters.
When Collett met Buckby it may well have been a case of who was most horrified at meeting the other. No two greater and flawed self-promoters could ever have been in such a small space at the same time ever before.
Collett wins the contest however, as he has posted more pictures of himself in a state of undress on social media than any other British fascist in history.
But rumours are now rife that Collett has won the backing of those behind the London Forum to launch his party, with himself as leader, as soon as he sees fit.
We really do look forward to that.