Safya Khan-Ruf exposes how far-right activists are attempting to exploit antimigrant tensions.
Margaret Thatcher made this inflammatory remark in 1978. Fears over migration are not a new phenomenon in Britain. Forty-four years later, British Prime Minister Boris Johnson is still promising the country will not return to "uncontrolled immigration". Meanwhile Home Secretary Priti Patel's controversial Nationality and Borders Bill attempts to criminalise people who manage to reach the UK irregularly. The same Bill could theoretically also enable the deprivation of the citizenship rights of minority-ethnic Britons.
The Bill came into parliament as concerns grew over the number of people making the treacherous journey aboard small boats to the UN from the Continent, via the English Channel. More than 28,300 people used this route in 2021 – triple the number of the year before, according to Home Office statistics, but still a tiny number when compared to many other European countries. The highest number of arrivals in a single day was 1,185 (compared to 416 in 2020). Despite this increase, the UK's small boat arrivals are a fraction of the number of migrants arriving in Europe, with more than 120,000 people coming to Europe via the Mediterranean by land and sea in 2021, according to data from the UNHCR.
Despite the comparatively small number of people, migration remained a national story for much of the year, often discussed in discriminatory and alarmist terms. Optimistic Brexit assurances about reducing migration have not materialised – and the daily drip feed of anti-migrant content in major newspapers such as the Daily Mail has contributed to a hardening of attitudes.
Unsurprisingly, immigration has also been a central issue for the British far right and supporters have been active in this area. It is also now attracting attention from far-right groups who had not seriously engaged with the issue before now. Far-right anger has been directed towards migrant accommodation, too, with a rising number of filmed visits to suspected migrant housing.
Several events during 2021, such as an attack by a failed asylum seeker in Liverpool or a planned resettlement scheme, have been seized on by the far right to serve their anti-migrant and dehumanising narratives. Social media content is regularly posted by anti-migrant "citizen journalists", filming migrants arriving on boats or harassing hotel staff where they suspect migrants are being housed. Far-right groups have also dropped banners in certain locations, calling for an end to immigration and doing their best to stir up community tensions.
Dover remains one of the key areas for migrant arrivals and therefore one of the most popular destinations for anti-migrant activists. For several in the far right, filming the arrival of such migrants makes up the bulk of their online content. This is then shared widely on various messaging boards, accompanied by hundreds of angry and racist comments.
Interest and mobilisation across these groups surges after certain events. One such example was a demonstration in Dover on 29 May 2021, which received support from more extreme segments of the far right, including the British Nationalist Socialist Movement. Just 60 people attended the actual event, but the organisers declared it a success after they managed to bring the roads around the port area to a standstill for several hours.
FLASHPOINTS
The far right often justify their hatred of immigrants by citing attacks. These incidents serve as flashpoints that increase online far-right activity and self-reinforce their narrative about 'violent foreign males' supposedly ruining the United Kingdom.
When Emad Al Swealmeen blew himself up with a home-made bomb in a taxi, he was the ideal perpetrator for such mythological far-right narratives. An Iraqi-born failed asylum seeker who converted to Christianity, his attempted attack (which failed after he blew himself up inside a taxi) in Liverpool last November was quickly linked by the far right to the influx of people arriving in Dover. The fact the Al Swealmeen lied when trying to claim asylum confirmed every far-right suspicion. Within the scramble of misinformation post-attack, asylum seekers were all tarred with the same brush on far-right social media platforms.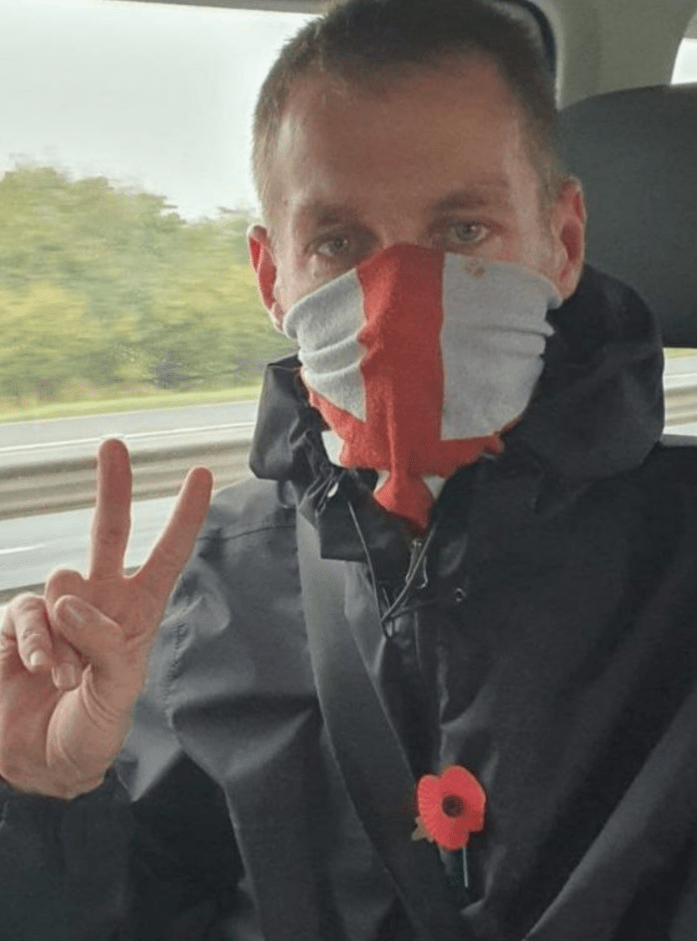 Perhaps the best-known of the self-proclaimed 'migrant hunters' is Alan Leggett (aka Active Patriot). Leggett regularly demonises arriving migrants. He tried to capitalise on the botched Liverpool bombing by attempting to film the house of the suspected attacker – he was blocked by police – and also confronting journalists reporting on the issue. A video of him going on an anti-immigrant, anti-Muslim rant was widely shared across far-right and conspiratorial online spaces.
More generally in the far right, the linkage between migrants and terrorism has been framed in three ways. First, as a warning of how dangerous migrants arriving in small boats can be – homogenising a desperate community with the actions of an attacker. Second, as a criticism of the government for its failure to remove asylum seekers whose claims have been rejected (despite this government's relentless efforts to create a more hostile environment for those seeking asylum). Third, as highlighting the perceived dishonesty of the BBC and other mainstream media outlets over their reporting of the attack – discrediting reputable news sources is a recurring tactic for the far right.
Failed asylum seekers are not the only targets for the far right. When Sir David Amess MP was stabbed to death by Ali Harbi Ali, a British man of Somali origin, Somalis in the UK were targeted by threats and abuse. Steve Laws, another 'migrant hunter' known for his filming of arriving migrant boats, was one of the many who "othered" the killer and likened him to an invader.
Laws ran (and lost) as a UKIP candidate in Amess' former seat. Since then, he has continued to push associations between terrorism and asylum seekers – trying to whip up outrage that asylum seekers continue to arrive in the UK despite raised terror threat levels. He supports the 'Great Replacement' conspiracy, a white nationalist belief that states ethnic white populations are being demographically and culturally replaced with non-white, and specifically Arab and sub-Saharan Muslim populations, through mass migration and demographic changes.
General Islamophobia is also rife across Laws' Telegram channel and he has repeatedly used degrading language such as "invaders" and "swarm" to describe migrants. He also helped organise an anti-migrant demonstration in Dover in May 2021 and is mostly known for his video content filming migrants arriving in Dover, which has been shared online by many far-right groups.
The fact that Sir David Amess' murder was followed a day later by the anniversary of Samuel Patty's death further inflamed the far right. Patty, a French schoolteacher, was stabbed and beheaded by a refugee from Chechnya in 2020 for having shown cartoons of the Prophet Muhammad in a class on freedom of speech. Many anti-migrant far-right figures used Patty's death to claim why new migrants were dangerous.
More generally, though, the far right in the UK have exhibited simmering resentment towards the French. Anti-migrant activists have become adept at using ship-tracking software to trace French and British vessels engaged in policing and rescuing migrant boats. This has led to increased anger towards the French, who they claim are being given millions of pounds by the British government while escorting migrant boats into British waters.
Another clear source of anger for the far right has been the Afghan citizens' resettlement scheme, which was designed to offer sanctuary for up to 20,000 "vulnerable" people after the fall of Kabul to the Taliban in 2021. The primary messaging from groups such as Britain First and For Britain has been the cost to British taxpayers. In doing so, they are reviving and refining similar attacks used during the Syria crisis, using Islamophobic narratives of a "Muslim takeover of Europe" and framing refugees as potential terrorists or sexual predators. For Britain focused on the unemployment migration would cause and criticised the Conservative government's Operation Welcome that would supposedly "bring in tens of thousands of undocumented Afghans". Meanwhile, the nazi group Patriotic Alternative has pushed a "Write to your MP" action for its followers, to express concern about the proposed resettlement of Afghan migrants in the UK.
Nigel Farage also unsurprisingly waded in to claim a failure by the Home Secretary, saying: "You may as well put a sign on the White Cliffs of Dover saying everybody welcome and you won't be deported." He used his platform on GB News (new TV network) to make alarmist claims about waves of Afghan refugees, and thousands of others making bogus claims to be Afghans, all descending on the UK.
Farage represents a midpoint between the mainstream and the far right. Migration has become one of his main talking points and on one occasion he hired a boat and sailed into The Channel to film migrant vessels. He received some pushback after unwisely criticising the RNLI (the charity which provides lifeboats and crews across the UK) for its work helping some of those vessels in distress. This became a national news story and, following a campaign by HOPE not hate and others, led to a great increase in donations to the organisation. However, within the far right it is worth noting that Farage's claims are widely accepted and promoted, and expertly packaged to promote indignation and anger.
HOTELS
In addition to general anger against migration, there is a more focused opposition to the housing of migrants in hotel accommodation around the UK.
According to official statistics there are currently up to 16,000 asylum seekers in temporary accommodation, including hotels, hostels and disused military barracks across the UK, while they await longer-term housing. The overall number of people staying in asylum-related facilities has tripled in the past 10 years to 64,000. Anti-migrant activists have attempted to generate outrage by comparing the accommodation provided to "foreigners" with the situation of homeless British people, especially military veterans.

Tracking and analysis by HOPE not hate has found at least 125 hotel visits by anti-migrant figures in 2021 and this could even increase in 2022. It is important to note that while the official aim of these videos is to confront and harass migrants, less than 15% of the recorded visits in 2021 included a confrontation. The activists often just filmed hotel buildings while mouthing monologues, or sometimes attempted to enter and were stopped by security guards.
Amanda Smith, an anti-migrant activist going under the name "Yorkshire Rose", is by far the most prolific YouTuber here. Her channel (with just under 2000 subscribers) mostly consists of videos where she films herself visiting hotels she suspects are housing asylum seekers, then harasses staff, security guards and anyone she suspects of being a migrant. In January 2021, she and Alan Leggett ("Active Patriot") were arrested for causing alarm and distress during one such incident, and she claims they were banned from the area as part of their bail conditions.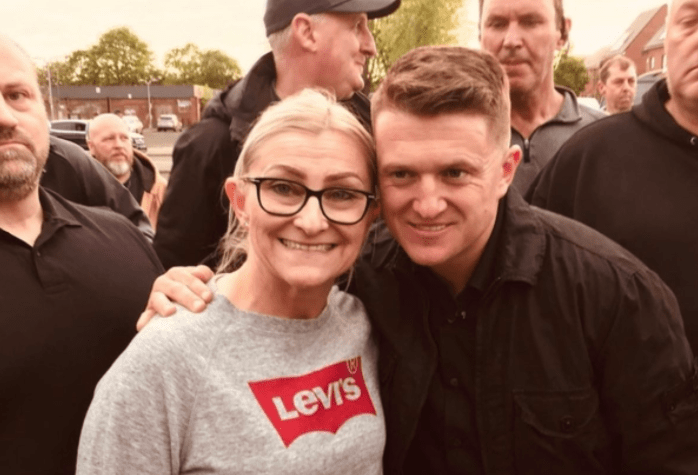 A Britain First activist, James White, was also convicted of assaulting a security guard at a hotel housing asylum seekers. The incident occurred on 29 August 2020 and came during one of the many protests and hotel "invasions" carried out by Britain First. White was found guilty of assault in his absence in 2021, after failing to attend his trial.
Britain First has often used the issue of hotels in this context to promote its other divisive messages, for example around grooming scandals. Britain First supporters held a small protest in September last year at the Britannia Hotel in Standish near Wigan. They made allegations that male refugees at the hotel were sexually harassing schoolgirls, claims that police said were baseless. It is not the first time the far right has made such false claims. Stephen Yaxley-Lennon (aka Tommy Robinson), the former leader of the English Defence League, has also pushed out the issue. He posted a video on 10 September saying: "All that matters is our children's safety," which was viewed over 30,000 times.
Leggett has also pushed the 'migrants are sexual predators' narrative. He released a documentary in December 2021 about so-called "Muslim grooming gangs" (Steve Laws helped edit it), which he toured across seven northern towns. From the start of the tour in Rotherham to its end in Rochdale, there were few audiences for the film, which Leggett broadcast via a portable screen in public locations. However, his subsequent filming of his actions and of the screen on his Telegram channel were then widely shared in far-right circles.
Other content-creators regularly covering the migrant issue include Christopher Batt (aka Tyrant Finder UK) from the West Country and Chris Johnson whose videos are widely shared, including by Stephen Yaxley-Lennon.
COUNTERING ANTI-MIGRANT ACTIVISTS
Several of the anti-migrant activists have been taken to court over their actions in 2021, with mixed success. The largest case was brought against Steve Laws, Tracey Wiseman (aka XxTWxX), Alan Leggett and Nigel Marcham (aka Little Veteran) by Dover Harbour Board. The latter two signed an undertaking stating they would not intimidate asylum seekers or enter the docks without permission, under the penalty of jail time and a fine. Marcham, who was a key player in the anti-migrant scene in 2020, announced in December 2021 that he was tired of confrontations with Dover police and that he would now only be focusing on his real passion, which was helping homeless veterans.
Leggett on the other hand did not seem fazed by the ruling, while Steve Laws refused to sign the undertaking and his case will continue in 2022 (Laws has been to court several times in 2021 including being found not guilty of breaching the peace in January, and being found guilty for stealing and joyriding a dinghy that had originally been used by asylum seekers to cross The Channel – although he has appealed the latter and the case will resume in 2022.)
Most anti-migrant activists film themselves before and after court, giving monologues about their brave actions, as well as painting themselves as victims being persecuted for protecting their country. This is often accompanied by details of how supporters can donate to their cause.
The issue of cross-channel migration will likely continue to garner headlines and cause debate and discussion. However, it is vital that the hysterical and prejudiced voices of the far right are not legitimised or normalised in this delicate and difficult issue. When the mainstream media interviews an anti-migrant and far-right activist, for example, they should reveal his affiliations and should merely describe him as a "commentator" – as was the case for Steve Laws when he was interviewed by talkRadio last year.
Far-right citizen journalists repeatedly claim to be telling the "real truth". In the age of alternative facts and the crumbling of political integrity, this rhetoric is seductive and increasingly dangerous. It must not become the new norm.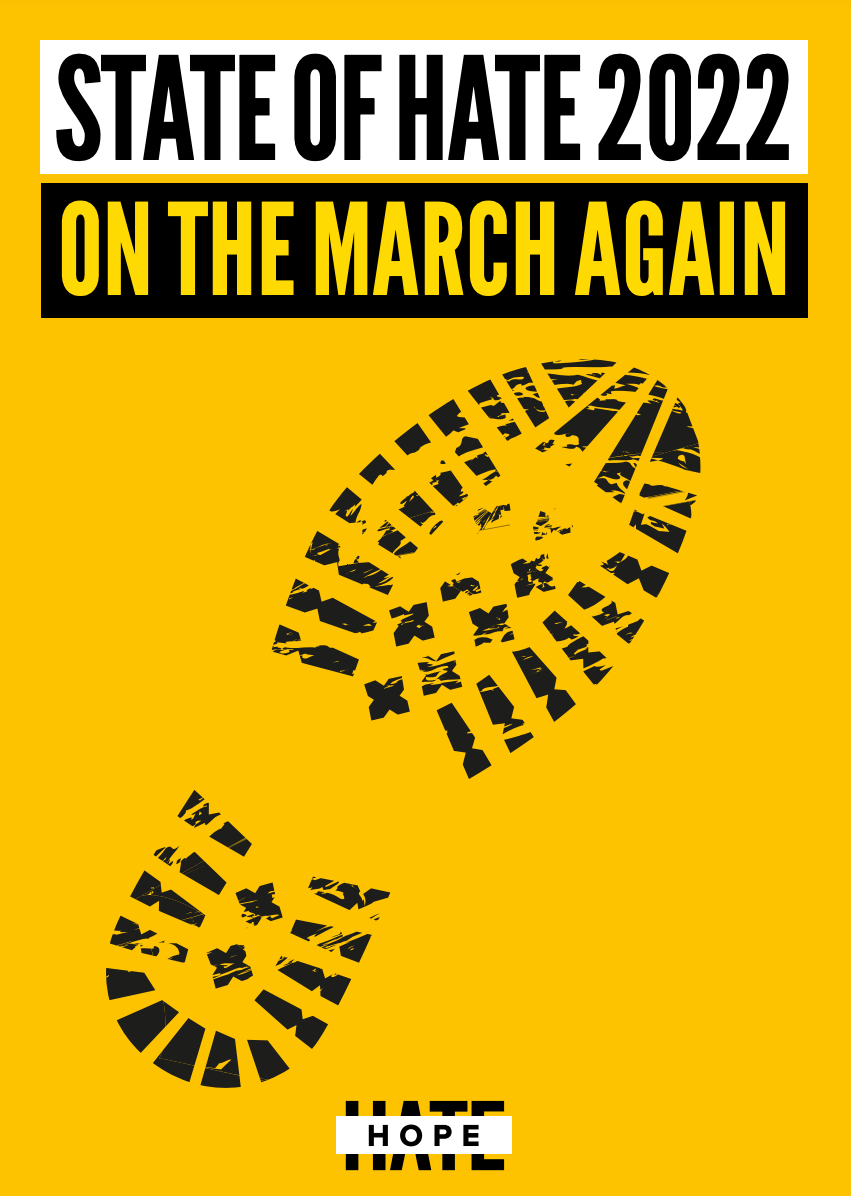 State of Hate 2022
Download the full report below.