This article was first published in March 2019.
The Brexit Party, registered in February by UKIP's former Economics spokesperson Catherine Blaiklock, has the dubious honour of being the new political vehicle of former UKIP leader Nigel Farage. Blaiklock's party has attracted numerous ex-UKIP figures after a mass exit in December, ostensibly over the far-right and anti-Muslim focus of the party under current leader Gerard Batten, and the increasing influence of the extremist Stephen Yaxley-Lennon (AKA 'Tommy Robinson').
However, Blaiklock has been forced to resign after HOPE not hate revealed that she has made numerous anti-Muslim statements on her now-removed Twitter account, including claiming that Islam is "incompatible with liberal democracy" and that "Islam = submission – mostly to raping men it seems".
She has also – on dozens of occasions – retweeted or quote-tweeted posts made by former leading British National Party (BNP) figure and neo-Nazi Mark Collett, including his claims that there is a "white genocide" taking place in Britain. Blaiklock has also reposted content from numerous other far-right figures. The revelations are the latest in a series exposing Blaiklock's preoccupation with the religion.
Farage stated last month that The Brexit Party "has my absolute full support", and that he would represent it if the UK participates in the May European Parliamentary elections due to any Brexit delay. Seven other former UKIP MEPs have also joined the new organisation, giving it more MEPs than UKIP.
Anti-Muslim Statements
Among the many statements made on Blaiklock's account about Islam is a 27 May 2017 post, which states: "Islam is a non democracy ideology that is incompatible with liberal democracy". A 3 June 2017 post reads: "Islam = submission – mostly to raping men it seems. #ukip" (in response to a post by David Vance, founder of the far-right website AltNewsMedia), and in a post the following day she claims that: "Islam = submission, slavery, Western thought = critical thinking freedom".
A post on 11 December 2017, accompanied by a Breitbart article, reads: "I want my country back. I want seaside donkeys on the beach and little village churches, not acid attacks, mobs and mosques", and a 2 December 2017 post says:
"Islam – Threat to women, gays, whites, non Muslims, Blacks, Indians, Chinese – aggression to everyone but themselves. The great multicultural threat –their very own socialist parents are importing And [sic] this multiculturalism is all imported with good, albeit misguided, intentions."
On 1 December 2017, she wrote:
"Got of [sic] at Mornington Crescent yessterday [sic] afternoon. 8 people waiting for lift, 5 Muslim girls, 1 black, 1 other Asian Chinese, 1 white. Immediately outside saw a drug deal take place. Looked like Turkey."
In yet another post on 1 December 2017, replying to tweet that read "Muslims live their lives according to their religion. Leave them be!", Blaiklock wrote:
"Wonderful so long as: 1. They obey the laws of the land they live in. No FGM honour killings, child brides. 2. They do not rape young girls 3. They do not murder and kill infidels ie other non Muslim natives. 4. One law for all."
Retweeting a Neo-Nazi
Perhaps most worryingly, Blaiklock also retweeted 19 posts and quote tweeted 26 posts from Mark Collett – most recently on 10 January 2019. Collett is a former BNP figure who has attempted to reinvent himself as a commentator for the white nationalist alt-right. Collett has regularly collaborated with David Duke, a former grand wizard of the Ku Klux Klan and a dedicated Holocaust denier. Collett himself has described the Holocaust as "the alleged extermination of six million Jews".
Posts promoted by Blaiklock include Collett alleging that a photo of a school class with a high proportion of non-white students was evidence of a "white genocide". White genocide is a term long-used in racist circles to refer to a deliberate campaign of mass immigration, integration and miscegenation conducted by sinister (and often Jewish) elites, and is a phrase used in the manifesto of the gunman who killed 50 worshippers at a mosque in New Zealand on Friday.
Another of his posts retweeted by Blaiklock contains the phrase "Diversity is a code word for anti-white", a white nationalist slogan, and another retweet contains his claim that "The end result of multiculturalism is clear, it is the replacement of the indigenous European people".
Collett has long extolled the virtues of Nazism, writing in his book that "National Socialism is an ideology of discipline and order that seeks to establish a perfect homogenous society that is centred on national unity", and that "Discipline, order and excellence made National Socialism one of the few true threats to the enemies of the West".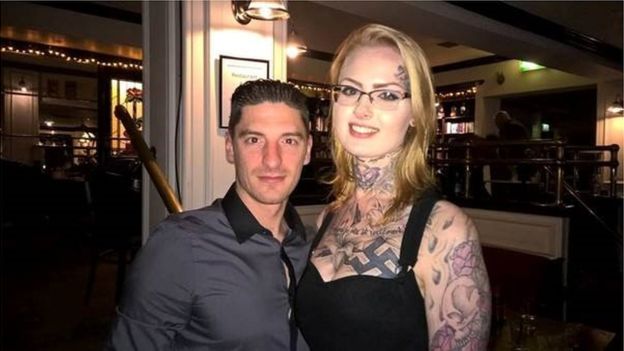 Far-Right Figures
Other figures retweeted by Blaiklock include the Traditional Britain Group (TBG), a far-right organisation that has hosted white nationalist Richard Spencer as a speaker. The head of the TBG, Gregory Lauder-Frost, has called for the "assisted voluntary repatriation" of those "not of European stock" from the UK to their "natural" homeland.
She has also retweeted five posts, and quote tweeted two posts, from Lennon, the influence of whom on UKIP was stated by Farage as a major reason for his defection. She also retweeted 13 posts and quote tweeted eight posts from far-right conspiracy theorist Peter Sweden, and retweeted 44 posts and quote tweeted 29 posts from Paul Joseph Watson, editor-at-large of the conspiracy theory website InfoWars. Amongst numerous instances of fake news, Media Matters have reported Watson's claims that liberals are anti-science for not accepting that African and Middle Eastern people are more aggressive because they have lower IQs.
She also retweeted the following 6 December 2017 tweet from the account @sendumback: "Well in our country you don't rape kids! So go do one back to your 3rd world cesspool & rape your own women & girls!"
Catherine Blaiklock
Prior to founding The Brexit Party, Blaiklock was best known for taking a photo of her black husband to a hustings in 2017, reportedly telling VICE that "I sleep with somebody who is black, who is, you know, of Jamaican origin! So I am 100 percent not racist".
Last month BuzzFeed reported that Blaiklock had made other anti-Muslim statements. She has also argued that young black men are more prone to violence due to high testosterone levels, in a since-deleted article entitled "Baby mamas, gangs and testosterone".
Farage has previously claimed that the party was "Catherine's idea entirely – but she has done this with my full knowledge and my full support. If the government goes back on its word and betrays the millions of people who voted for Brexit then we need a party prepared to stand up and fight for it".
Blaiklock said in a comment to The Guardian:
"The out of character comments that I made on social media some time ago were unacceptable in tone and content. After speaking to Nigel Farage, I realise that my comments fall well short of what is expected in any walk of life.

I have accordingly tendered my resignation as party leader."