The anti-Muslim For Britain Movement, which is standing 60 council candidates on 6 May, continues to deny that it is "far right", despite having been exposed by HOPE not hate for having fielded Nazis at previous elections and for hosting a Holocaust denier at a conference, among other links to extremists.
Among those troubling the ballot under the party's banner this May is Frankie Rufolo in Exeter, best known for burning a Quran; James Quail in Southend-on-Sea, previously a supporter of the now-defunct Generation Identity UK, which advocated for a form of racial separatism; and Ian Baxter in Swindon, who has promoted the antisemitic "Kalergi Plan" conspiracy theory to other For Britain members.
Notably, former members of the fascist British National Party (BNP) have flocked to the party, with at least ten representing the party on 6 May. This includes:
Former BNP councillor Graham Partner, for Leicestershire County Council (Coalville North ward);
Former BNP councillor Lawrence Rustem, in Maidstone (Shepway South ward);
Former BNP candidate Terence "Tex" Oakes, in St Helens (Town Centre ward);
Former BNP candidate Gary Bergin, in the Wirral (Cloughton ward).
It also includes Christopher Bateman, representing For Britain in Basildon (Laindon Park ward), who was active in the Basildon BNP only last year. In March 2020, Bateman claimed he planned to represent the BNP in the May elections, which were subsequently postponed, but has exchanged parties in the intervening year.
For Britain's status as a vehicle for the ex-BNP elements is most evident in its Epping Forest branch, where its four district council candidates and sitting councillor are all former-BNP, and have long histories in the far right.
Below we delve into the history of For Britain's representatives in Epping Forest.
Eddy Butler, Epping Forest District Council (Loughton Broadway ward)
Eddy Butler, For Britain's National Organiser and Campaign Manager, has been a prominent figure in the British far right for decades, helping to shape the BNP during the 1990s and 2000s.
Butler joined the National Front in the early 1980s, becoming its organiser in Tower Hamlets, but in 1986 left for the BNP. During this period the party was led by two hardline, notorious nazis, John Tyndall and Richard Edmonds, and was pushing for the forced repatriation of non-whites. It had also earned a reputation for racist violence. Butler was quickly appointed to East London organiser, and spearheaded the party's "Rights for Whites" campaign, which won the BNP its first councillor in 1993.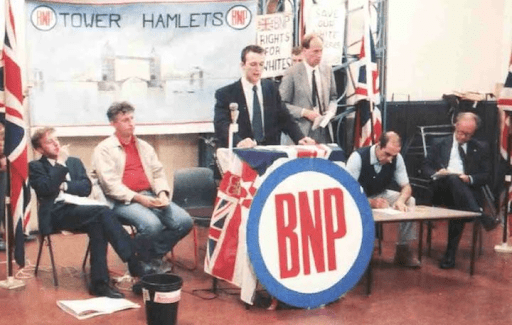 In 1992 Butler helped to establish a BNP "stewards" group, made up of skinheads and hooligans, to act as "security" against antifascists. This group became Combat 18, a nazi terror squad that engaged in a brutal campaign of violence and harassment against minorities and left-wing activists in the 1990s. The gang turned on the BNP, and Butler was attacked with a knife.
During his time at the BNP, Butler and Tony Lecomber, a man who had previously served prison time for attempting to bomb a left-wing group, formed a "modernising" faction within the party, hoping to downplay its more overly fascistic and thuggish elements for a more mainstream image.
After a period outside the party Butler returned to the BNP in 2003, spearheading the "modernisation" of the party, despite the extremism that remained rife within it and the leadership of the Holocaust denier Nick Griffin. Butler helped turn the BNP into an increasingly efficient electoral machine, and the party scored a number of election victories that decade, until suffering electoral wipeout in 2010 following a concerted campaign from antifascists. Butler launched a failed attempt to snatch the leadership from Griffin, and was subsequently kicked out of the party.
Butler moved on to the English Democrats, a minor far-right party that became a home for numerous former BNP members, until the launch of the For Britain Movement, when he joined another minor far-right party swamped with former BNP members. He has become an influential force within the party.
Julian Leppert, Essex County Council (Waltham Abbey ward)
Leppert is one of For Britain's two sitting councillors, winning his seat in 2019 in the Waltham Paternoster ward. However, Leppert has previously served as a councillor for the BNP, elected in the Hainault ward of Redbridge in 2006.
Leppert joined the BNP in 2002, standing as its London Mayoral candidate in 2004. According to Searchlight, during his time at the BNP Leppert attended a meeting of the London "New Right" group addressed by Holocaust denier Michele Renouf, and described Lawrence Rustem, a BNP councillor (now also standing for For Britain), as "OK" because he was only "half wog".
Leppert left the BNP in 2011, and in 2013 joined the British Democratic Party (BDP), a new BNP splinter led by Andrew Brons, as its London organiser. The BDP quickly faded into obscurity.
Resurfacing in For Britain, his 2019 election was heralded as "one of the best nationalist election results ever" by the fascist magazine Heritage & Destiny, a publication to which Leppert is a current subscriber. Leppert is also a fan of the conspiratorial work of Nick Kollerstrom, recommending Kollerstrom's Who Did 9/11: A view from across the pond as his "favourite" book that he had read in 2020. Kollerstrom is best known as one of the UK's foremost Holocaust deniers.
Leppert has recently recounted his fond memories of Richard Edmonds, the hardline nazi and former leading member of the BNP. On Edmond's death in December 2020, Leppert wrote: "Richard was the very best of British. A gentleman and a patriot. R.I.P. Comrade", and elsewhere described him as a "nationalist legend". The nazi had helped Leppert campaign whilst representing the BNP in the 2000s.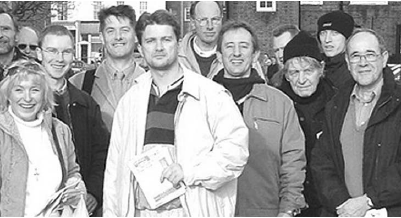 As a For Britain councillor, Leppert has been slammed in the local press for admitting that he would "ideally" like Epping to be a whites-only enclave. He now hopes to represent the party in Essex County Council as well.
Patricia Richardson, Epping Forest District Council (Waltham Abbey Honey Lane ward)
Patricia Richardson first attracted attention as the BNP's first Jewish candidate, tasting electoral success in Epping Forest in 2004, and again in 2008, and becoming the leader of the BNP group on the council.
In February 2009, Richardson represented the BNP at the white nationalist "Preserving Western Civilization" conference in Baltimore, Maryland, alongside a group of "academic" racists. Organised by Michael Hart, the conference delved into topics such the "threat" of Islam and the alleged link between race and IQ, with speakers including race "scientist" Jean-Philippe Rushton and Peter Brimelow, who would go on to be influential on the alt-right. Richardson gave an Islamophobic address on the "Colonization of Britain", and, as reported by Searchlight, told her audience that if Muslims are not "plotting and planning unrest, they're planning how to get your money".
During her time at the BNP, Richardson was roundly condemned when, denying that BNP members firebombed the home of a Muslim community leader, she said: "Firebombing is not a British method. A brick through the window is a British method, but firebombing is not a way of showing displeasure."
Richardson represented For Britain in Epping Forest in 2019, coming second with 23% of the vote.
Lawrence "Jim" Searle, Epping Forest District Council (Waltham Abbey South West ward)
Searle stood as the BNP's Hammersmith candidate in the 2010 General Election, receiving a dismal 0.9%.
Since leaving the BNP, Searle has remained active in the far right, for example attending an "alt-right social" in London in 2016, organised by a former BNP figure. We have previously exposed Searle for being photographed with a number of extremists, including Tony Martin, current leader of the fascist National Front, the neo-nazis Eddie Stampton and Piers Mellor, and anti-feminist zealot Claire Khaw.
We have also exposed him for having promoted material on the Kalergi Plan conspiracy theory, which claimed that there are plans afoot for a "deliberate ethnocide" via "enforced mass migration to create an undifferentiated, homogenous mass of serfs to be dominated by a wealthy self-electing elite".
Susan Butler, Epping Forest District Council (Waltham Abbey North East ward)
Susan Butler (née Clapp) was elected an Epping Forest councillor for the BNP in the Debden ward in 2006. The long-term partner of Eddy Butler, Susan Butler has been active in far-right politics for years, including when the BNP was a more overtly extreme outfit then it later became.
According to Searchlight, during her time in the BNP Clapp was attended the aforementioned London New Right meeting, addressed by Holocaust denier Michele Renouf, alongside Leppert.
More recently, Clapp attended demonstrations headed by anti-Muslim street group Britain First in 2017, by Stephen Yaxley-Lennon (AKA Tommy Robinson) in 2018, and a conspiracy theory-driven, anti-lockdown rally in London addressed by David Icke in 2020.