Stephen Lennon (AKA Tommy Robinson) has pushed Russian misinformation about the war in Ukraine. It's time to ask questions about his long history of pro-Putin statements, support from Russian media, Kremlin-linked misinfo campaigns and who is this contact in the Russian Embassy we've heard about?
Since Russia's illegal and brutal invasion of Ukraine, the British far right has been divided in their reactions. For some, President Putin's authoritarianism and anti-liberalism has long made him a figure of admiration and so support for the war has been wholehearted, while others have viewed the invasion as an affront to the West, and slipped quickly back into old Cold War Russophobia.
Due to this division, some of Britain's best known far-right figures, such as Stephen Lennon (AKA Tommy Robinson), have refrained from vociferously picking a side in the war, instead retreating to the comfort of common ground, namely by arguing that whatever side you support you cannot trust the Western mainstream media's reporting of events.
Broadly Lennon has insinuated that while "Western powers and Russia are equally to blame for this mess", the war is actually part of a wider conspiracy to distract us from the ongoing erosion of our rights during the pandemic. "Ask yourselves this question…. Why wasn't this mess avoided????" he posted on Telegram, "Who's forgotten about or got totally distracted from the CHY-NA virus medical apartheid our own governments enforced???"
Frankly, Lennon's public reaction to the war has been confused, perhaps as a result of his social media being run by a team of people with differing views; his close aid Craig Fowler (aka Jack Dawkins) is especially pro-Putin. His various channels have published a diverse range of takes on the war, which are sometimes contradictory but are always conspiratorial.
However, dig a little deeper into Lennon's statements and a clear pro-Russian pattern emerges. He portrays widespread support for Ukraine as the result of media propaganda akin to that supposedly used to indoctrinate the public with pro-vaccine and pro-lockdown policies. He has amplified Russian claims about US biological experiments in Ukraine, simplified Western nations positions as "supporting former IDF soldiers, Neo Nazi's [sic] and Islamists fighting for Ukraine," and published pro-Russian news reports by Fox News host Tucker Carlson, as well as videos of pro-Russian demonstrations from numerous countries. He has even gone as far a posting disinformation from the Russian state-owned outlet Sputnik News that claims Ukraine is purposedly bombing its own civilians and blaming Russia.
He has also supported Putin shutting down Twitter, the BBC and Facebook, saying, "The world would be a better place if everyone followed suit", while simultaneously defending the rights of Russia's state-controlled TV network RT to continue broadcasting in the UK. "That's 'freedom of the press' for you", he hypocritically moaned.
Lennon's Trip to Russia
For anyone who has followed Lennon's career closely over the last decade, this pro-Russian, pro-Putin position will come as no surprise.
In February 2020, Lennon travelled to Russia for a short trip, visiting both Moscow and St Petersburg for a series of talks, meetings and media appearances. On the trip, he spoke to a large Libertarian conference and gave a press conference at the headquarters of newspaper Komsomolskaya Pravda. While at the event he met with Alexander Malkevich, who had previously been sanctioned by the US in 2018 for election interference.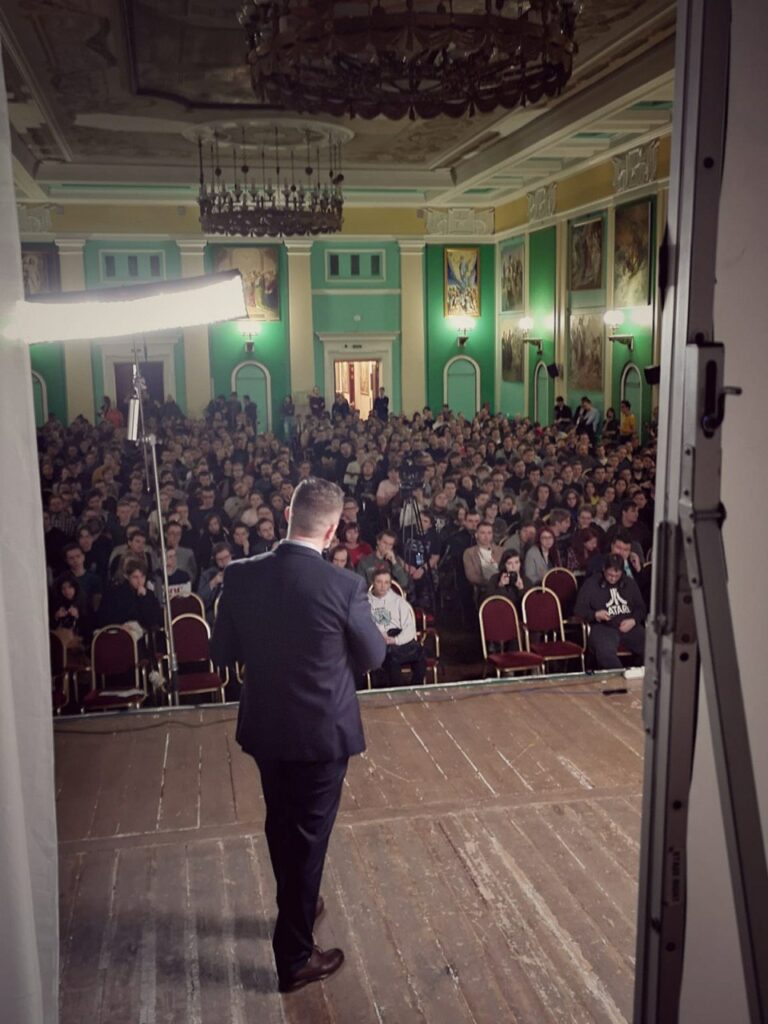 Having regularly appeared on RT, he gave a 30-minute interview for the outlet, as well as a video with a Russian YouTuber during which he said "I truthfully believe the Assad chemical attack was total propaganda for a war in Syria, to get the public support to go to war."
He also gave an interview to a Russian news website called Vechernyaya Moskva, which later published an article titled "British Politician Robinson: Let's Break Up the European Union Together." During the interview Lennon denied Russian involvement in the Skripal murders, saying "if Russia needed to remove him, they would do it quietly, without unnecessary noise, without the use of Russian chemical weapons. It was stupid."
When asked if he would like to meet Putin, he replied:
Of course, I'd like to meet. I would say: "Let's drink a glass of beer, Vladimir." He is the strongest man in the West. I would ask Putin to fight against the censorship and propaganda that is being used against his country as well. I would ask you to provide me with a TV show on Russian television.
These were not the only pro-Putin comments he made on the trip. At the press conference he said, "Russians see Putin as the defender of their country. He is a strong politician. The West doesn't have enough strong men. Western politicians are emasculated." Similarly, during an interview with a Putin sceptic he said, ""We see an image of Putin as defending Judeo-Christian values."
Follow The Money
While portrayed as merely a media tour by Lennon himself, it has been claimed by The New York Times that the trip was actually a front for his real purpose, which was to seek out Russian bank accounts where he could hide his money.
According to the newspaper, which claims to have three sources to corroborate the story, Lennon was acting on the advice of Britain First leader Paul Golding and even paid a local accountant in Dartford to advise him on how to move some assets offshore.
The Times also managed to speak with Edvard Chesnokov, Lennon's chaperone on the trip, who, "confirmed that Mr. Robinson had discussed the possibility of opening bank accounts." While there is plenty of strong evidence that Lennon explored the idea of hiding money in Russia it remains, at present, unproven that he has actually done so.
However, further investigation by HOPE not hate into Lennon's financial affairs has subsequently thrown up some fascinating further information. According to an aviation security expert, it is believed that money has been brought into the UK, through Luton Airport, from Eastern Europe on Wizz Air flights. This begs the questions whether this is a possible way Lennon brings back money to the UK should he have successfully set the accounts up in Russia.
Advertising the "For Truth" Party
One of Lennon's most intriguing links with Russia is his support for the political party Za Pravdu (For Truth). In February 2021, Lennon made a video in which he welcomed the party's formation:
Hello. This is Tommy Robinson and I'm a patriot from the UK and I welcome the new Za pravdu political party. Our nations once stood together in the Second World War against a world-wide evil. That evil has returned. We see conservative voices being deplatformed, being silenced. We stand for the same values. I look forward to reaching out and interacting with you to protect our freedoms, to protect our family values, and to protect our boundaries, most of all. Good luck in your new endevour, we look forward to working with you.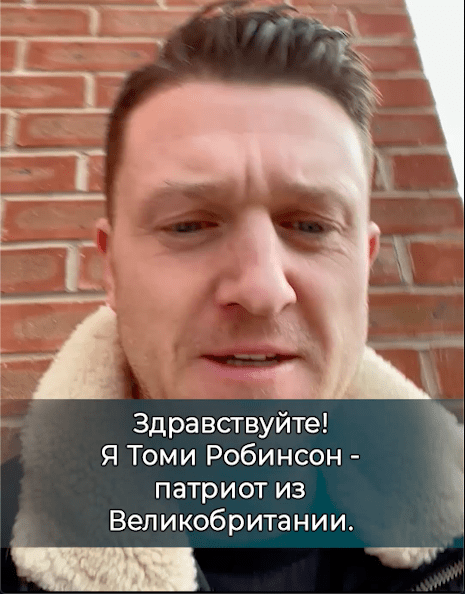 Unlike his usual off the cuff videos there is no doubt this was scripted, marking it out from his usual social media content.
The For Truth party was founded by the Donbas war veteran Zakhar Prilepin, and has called for the annexation of eastern Ukrainian territories for years. In May 2020 the party was added to the list of parties that can participate in elections by the Ministry of Justice, leading to some describing the party as part of "the Russian parliament's loyal opposition parties."
Since the video, Lennon has not mentioned the group again, making his scripted advert for them an intriguing anomaly.
Russian Support for Lennon
While he has always denied receiving financial help there is no doubt that Lennon has received other forms of support.
During a recent HOPE not hate investigation we also spoke with a police source who said that it is known within relevant law enforcement circles that Lennon had, or has, a contact at the Russian Embassy in London, though there are no further details about the nature of this relationship.
What is certain is that he has long received support from Russian state media and Kremlin-linked social media manipulation campaigns.
The most obvious example of this is the disproportionate amount of coverage he has received from Russian state media. HOPE not hate have covered Lennon's public appearances for over a decade and have long noticed that almost all, no matter how small or fleeting, are livestreamed by the Russian state-owned news agency Ruptly. There are currently 98 livestreamed videos of Lennon and his supporter's events on the Ruptly website. This includes coverage of major far-right demonstrations but also tiny gatherings and most of his legal cases, with Lennon livestreamed arriving and leaving the courthouses. Ruptly's support has not gone unnoticed, with Lennon once saying "Even Ruptly, if we want a fair broadcast of ourselves, we have to look to Russian news."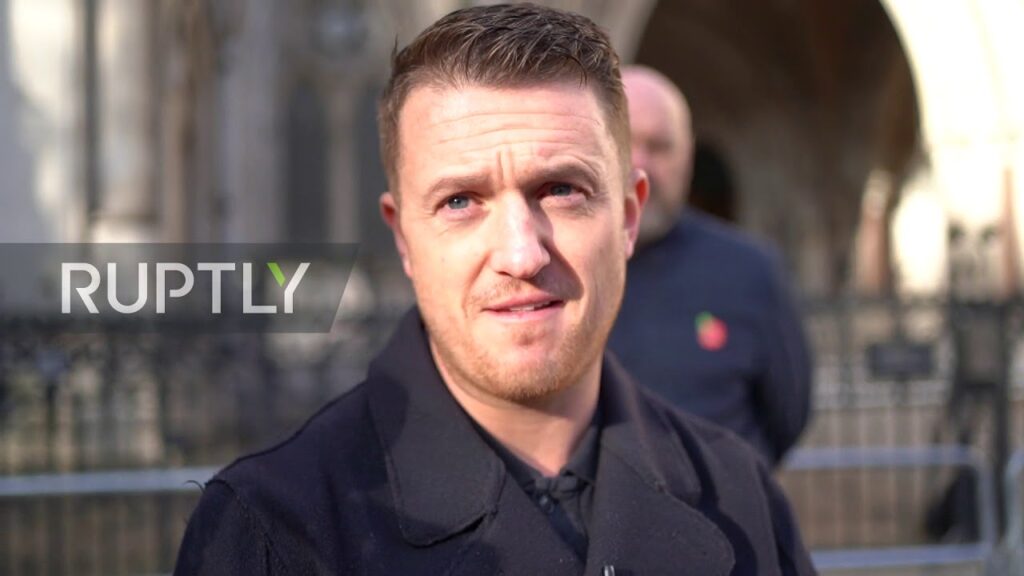 Lennon has also appeared regularly on the state-controlled news network RT as a guest, and the outlet has published a large number of articles about him, admittedly not all positive, though often designed to amplify his message that freedom of speech is under attack in the UK.
In addition to broadcast media, it has also been proven the Lennon has been the beneficiary of Russian backed social media campaigns. For example, analysis by the Alliance for Securing Democracy (ASD) found that a significant number of the 600 twitter accounts they analysed, which were either directly tied to the Russian government or closely aligned with its propaganda, had "tweeted prolifically in Robinson's defence." Speaking to The Guardian, Bret Schafer, a social media analyst at ASD, said, "The clustered focus on the Tommy Robinson case in late May suggests that Russian-linked accounts saw his arrest as a clear opportunity to amplify political divisions both in the UK and abroad."
Research into Russian influence campaigns in the West has found that they are more about spreading disinformation and increasing societal polarisation than promoting a particular political position. Evidence suggests that in the UK Lennon has been one of the beneficiaries of this tactic, with his content being spread and amplified.
Putin's Useful Idiot?
As is so often the case when investigating Russian influence campaigns and far-right links to the Kremlin, there is, in the case of Stephen Lennon, no smoking gun. However, there is no doubt of his long history of vocal support for President Putin, that he has received and benefited from support by the state-aligned media and influence campaigns, that he has at least explored hiding money in Russia, and has a raft of intriguing links to the country.
Lennon has always denied receiving any financing from Russia and no one has yet proved otherwise, though rumours of a link to the Embassy in London require further investigation. However, instructed or not, he has amplified the Kremlin's line during the current war in Ukraine, begging the question: if he's not being paid, is he just Putin's useful idiot?