After Finsbury, the far-right must acknowledge their role
Just after 12:20am this morning a van hit pedestrians outside Finsbury Park mosque following prayers, in an incident the police are treating as terrorism. One person died following the attack and 11 were injured, all of whom the police report were Muslim.
The van driver, 47-year old Darren Osborne from Cardiff, described as a "large white man" by witnesses, reportedly shouted "I'm going to kill all Muslims". He has being held on suspicion of terror offences.
The Response from the Extreme Far Right
Predictably, those from the most extreme fringes of the far-right celebrated the attack. In Stormfront, the largest neo-Nazi online forum in the world, one user endorsed the attack as a "protest against these disgusting pigs", while another said it was "a shame there wasn't more victims". Others said the attacker should have used a 20 tonne truck", that "Muslims are crazy. They like to blow themselves up", and sarcastically proclaimed "Awww what a shame".





Interestingly, members of the forum also discussed mainstream far-right figures, with one user trying to suggest that there was no reason to blame the right-wing press and the likes of Katie Hopkins, Nigel Farage and Tommy Robinson (Stephen Lennon).

For those in an extreme far-right community to dismiss the possibility that there exists a climate of hate cultivated by such figures, and which contributes to anti-Muslim sentiment of the sort that seemed to motivate the attacker in this occasion, is telling. This is, after all, a climate that they would wish to see grow.
What this exhibits, however, is an ignorance that is shared as much by the fringes as it is by the mainstream of the far right.
Response from the wider far right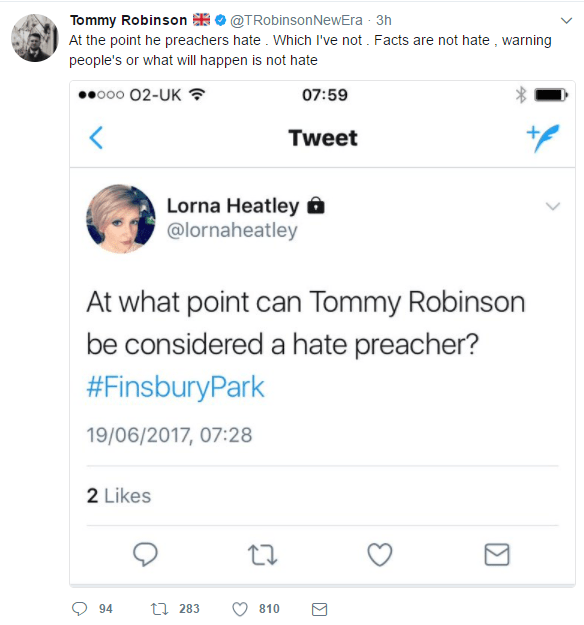 Tommy Robinson AKA Stephen Yaxley-Lennon, former EDL co-founder and now contributor for the far-right Canadian Rebel Media platform, responded in a manner that is indicative of this ignorance.
Lennon did condemn the attack, stating in a tweet that: "I genuinely hope the innocent people targeted tonight outside the mosque are ok." Furthermore, in a Periscope livestream, he added: "[…] the man who committed this is a terrorist, it's a disgusting act".
Yet, Lennon was also dismissive of the possibility that he contributed in any way to a climate of hate, despite having only recently created a video for Rebel Media following the London Bridge terrorist attack in which slated perceived inaction by the British government:
"[…] will only facilitate the creation of a disgruntled and angry population who will end up cleaning out this Islamic problem."
Robinson's vague reference to an "Islamic problem" highlights the issue here. While Robinson does not advocate the violence or level of hatred many of his critics thinks he does towards Muslims, to assume that he doesn't contribute to a more insidious and accumulative climate of hatred is naive in the extreme.
Absolving responsibility

The tweet above highlights a perception that the 'mainstream' far right relies on to downplay the reality of anti-Muslim hatred. By pointing to the organised nature of Islamist extremism, the "network, or visiting religious place preaching hate, [or] training", Lennon and others can blur such infrastructures with the infrastructure of Islam as a whole – its organisations, places of worship, figures, and so on.
In addition to falsely and dangerously conflating the two, such networks, speakers and training have long existed within the far right too. Moreover, as far-right groups have coalesced online – existing across fringe forums like those above, to the hate-filled social media bubbles found across Twitter and Facebook which Lennon and others reside in – they have not disappeared but have rather grown and become more identifiable.
Evidence of this ecosystem of hate online in response to the attack came from many key figures. Infowars and Prison Planet conspiracy theorist and British far-right commentator, Paul Joseph Watson, went to Facebook to dismiss the threat of far-right hate: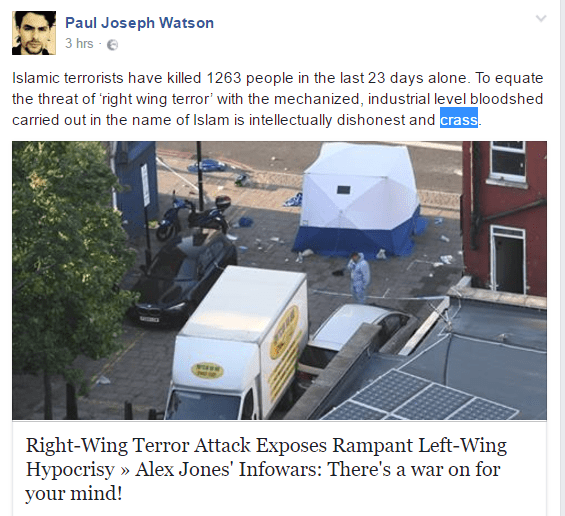 Like Lennon, Watson also attempted to shift the narrative so that only those who called for violence could be blamed for contributing to a climate of hate.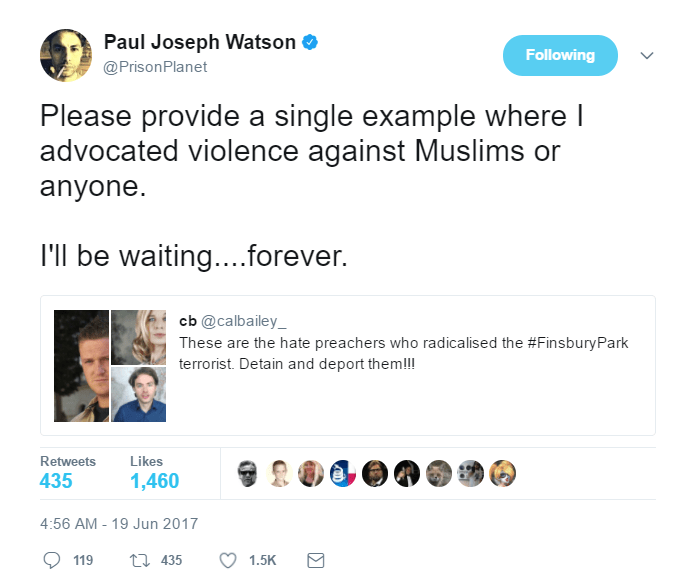 Furthermore, Paul Golding, leader of Britain First, likewise tried to absolve responsibility in a video following the attack. He stated that:
"It is the government and the left they create the policies, which create this kind of thing."
Continuing to list the "real" reasons for the attack, Golding added:
"The situation is to blame. Government establishment policy is to blame. Mass immigration is to blame. Multiculturalism is to blame. Muslim appeasement is to blame… Government establishment policy has put us in this position. […] This is the end result."
Lennon's associate, founder of Sharia Watch UK and former leader of the anti-Muslim street movement Pegida UK, Anne Marie-Waters added: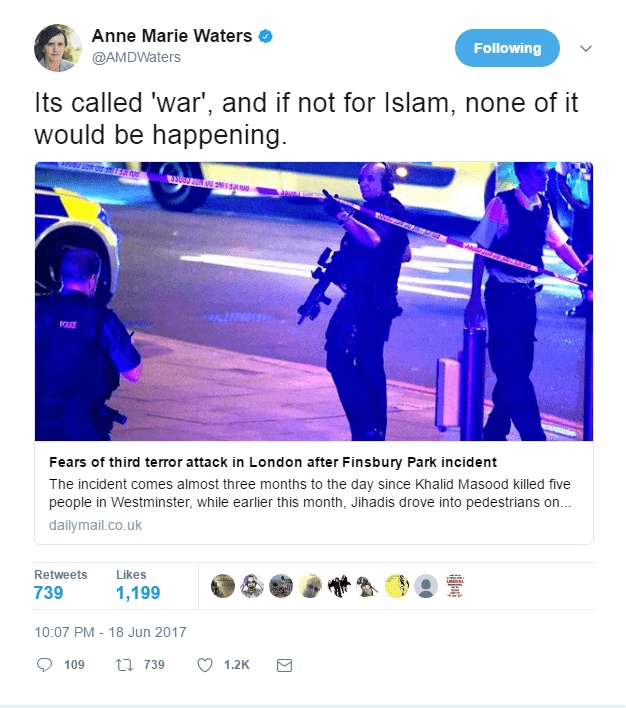 Britain's Climate of Hate
The likes of Lennon, Watson, Marie-Waters, Golding and others often talk about speaking out for what they claim many believe but are afraid to say.
Yet when their voices lead to a climate of hate, that speaks only to an online community that already believes in their divisive message, they are not restoring democracy. Instead, they undermine it through emboldening those who wish to silence or, more tragically, destroy the lives of others.
Many supporters of Lennon and others' on the far right will not want effective, measured, and non-violent responses to the threat of Islamist extremism. Rather, they will be looking for anti-Islam voices who, they feel, legitimate their desires to carry out attacks such as that seen in Finsbury Park.
The climate of hate that such individuals feed on includes the likes of Lennon, whether or not he chooses it. Furthermore, for many the "Islamic problem" Lennon refers to, as well as the response to it, may be far more extreme than Lennon calls for.
Following the attack in Finsbury Park, both Lennon and Watson asked those criticising them online for evidence they were inciting, or had ever incited, hatred. In doing so, they ignore an equally important issue: namely, the issue of how those within this hateful ecosystem receive these statements. For Watson, Lennon and others, this responsibility is much harder to absolve.
Farage's spin doctor poses with far-right conspiracy theorist
Jukes, who began handling communications for the former UKIP leader in January, tweeted a photo of him standing side by side with Watson in front of the map backdrop the conspiracy theorist uses for his videos. Jukes has since "pinned" the tweet to the top of his profile.
Fake News
Watson creates content for his own YouTube channel and for the Prison Planet website, as well as for the fake news site InfoWars.com. InfoWars is run by the right wing firebrand Alex Jones, described as "the most prolific conspiracy theorist in contemporary America" by the Southern Poverty Law Center.
Watson himself has made a career of promoting conspiracy theories around US government involvement in 9/11, the existence of chemtrails and the link between vaccines and autism. He first attracted widespread attention in 2016 for his key role in popularising the "Is Hillary Dying" hoax, suggesting the presidential candidate Hillary Clinton might have syphilis, brain damage, a tumor, a degenerative disease, autism and Parkinson's disease. He also claimed she was a drug abuser. His videos on the topic were viewed millions of times and were even picked up and discussed by Fox News.
The selective nature of the conspiracies promoted by Watson are motivated by a far-right position. Specifically his commentary emphasises a Western chauvinist, conservative, and right-libertarian political stance, and criticises left-liberal positions (primarily) on gender, Islam, race and immigration. Watson eschews interaction with mainstream media for frequent interactions with key "alt-light" figures such as Mike Cernovich, Lauren Southern and Gavin McInnes, although Watson describes himself as "new right".
Also snapped with Watson this weekend was Caolan Robertson of the alt-light "counter-jihad" website The Rebel Media. Robertson has recently gained a degree of notoriety as the sidekick of Stephen Yaxley-Lennon (aka Tommy Robinson). Jukes has also recently begun interacting with Robertson on social media.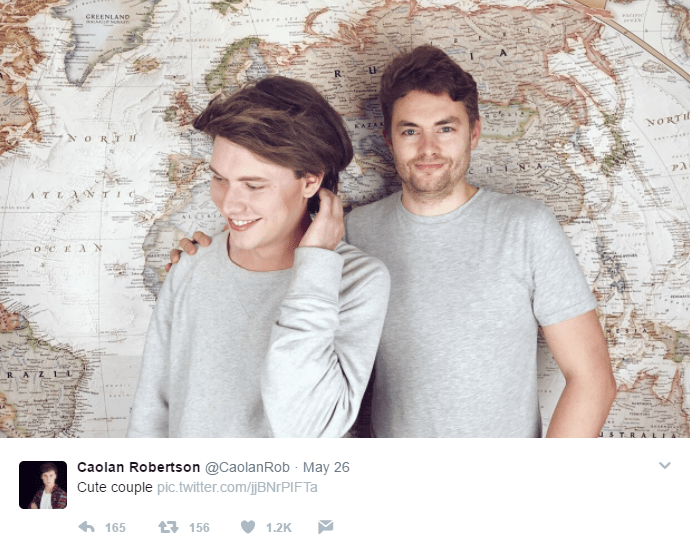 Dan Jukes
Jukes is a rising star within UKIP, having held the post of Elections Officer for UKIP's Young Independence (YI) youth wing, a group tarnished after the common use of antisemitic, racist and sexist trolling and the use of alt-right terminology on the group's Facebook page was revealed. Jukes then became UKIP's Digital Manager, playing a key role in honing the party's public image.
Jukes was also involved in Leave.EU, the unofficial Brexit campaign run by UKIP's former financial donor Arron Banks with Farage as its figurehead. Leave.EU mercilessly exploited fears around immigration with Trump-style aggressive, emotional campaigning and an open disdain for facts.
The fact that Farage's spin-doctor is openly associating with far-right fake news pushers such as Watson should be considered deeply worrying for anyone concerned with veracity in politics.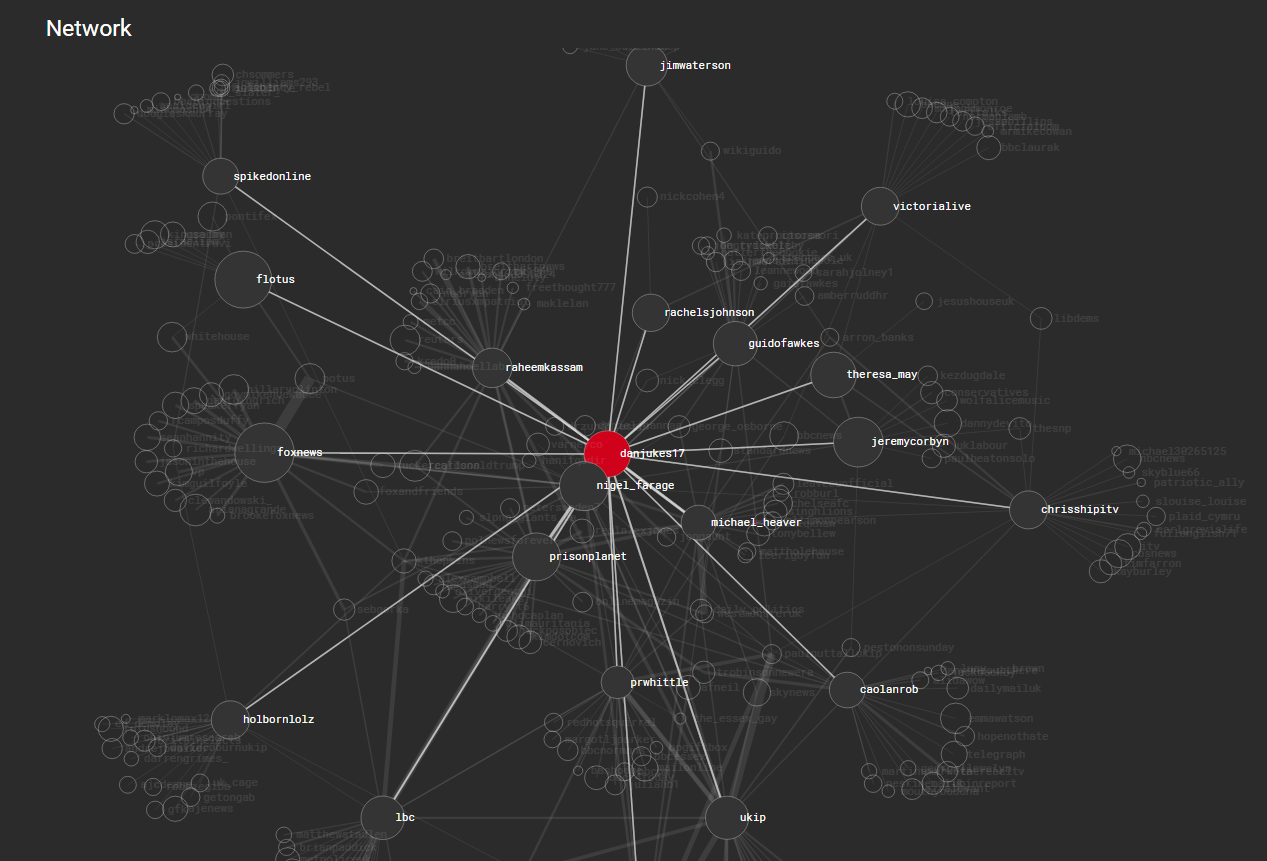 Tommy Robinson is back and just as extreme as ever
In October 2013, Stephen Yaxley-Lennon (aka Tommy Robinson) quit the English Defence League (EDL) at a highly-publicised press conference alongside Maajid Nawaz of the Quilliam Foundation.
At the time Nawaz declared that: "As well as being a very positive change for the United Kingdom, this is a very proud moment for Quilliam" and that:
"We have been able to show that Britain stands together against extremism regardless of political views and hope to continue supporting Tommy and Kevin [Carroll] in their journey to counter Islamism and neo-Nazi extremism."
It has since emerged that Yaxley-Lennon was paid by Quilliam in what the Huffington Post called "a deal the anti-extremism think-tank coordinated so they could take 'credit' for his resignation."
Now, after a brief period of contrived penance and moderation and a failed bid to launch a UK version of the German anti-Muslim street movement Pegida, Yaxley-Lennon is back to his very worst, engaging in controversial anti-Muslim activity not seen from him since his days leading the EDL.
Having been out of the public eye for a while, Yaxley-Lennon made waves again recently with a video filmed in the immediate aftermath of the Westminster attacks. Filmed by the far-right Canadian media outlet Rebel Media and featuring his new sidekick, Caolan Robertson of the marginal right-wing website The New Brit, Yaxley-Lennon's vlog was the most viewed video concerning the attack in the whole of the UK.
As HOPE not hate recently reported, off the back off the success of this video, Yaxley-Lennon is now part of Rebel Edge, a more extreme branch of Rebel Media.
However, this development is just one among a number that show Yaxley-Lennon is back to his worst.
Muhammad cartoon
This week, Yaxley-Lennon appeared on the American fake-news conspiracy channel InfoWars, hosted by the British far-right vlogger Paul Joseph Watson, and appeared alongside a racist cartoon of (Prophet) Muhammad with a bomb in his turban (a version of the controversial Jyllands-Posten Muhammad cartoon). Yaxley-Lennon had scribbled the words 'Mo-Ham-Head' over the cartoon.
Yaxley-Lennon has appeared on InfoWars a number of times and when recently asked where he gets his news he replied: "If I look for the news, I look for InfoWars, I look for Paul Joseph Watson, I look for his take every time."
Watson is a prominent right-wing commentator who creates content for his own YouTube channel, as well as for the Prison Planet website and the American fake news website InfoWars.com, run by the conspiratorial radio host Alex Jones. Watson is known for his confrontational style, creating conspiracy theories and his willingness to fabricate stories and manipulate facts.
Intimidating critics
This week Yaxley-Lennon drove hundreds of miles to Crewe, accompanied by sidekick Caolan Robertson, to confront Tim Fenton of the Zelo Street blog for a new Rebel Media feature called 'Troll Watch'.
According to a blog published by Fenton, Yaxley-Lennon arrived at 10pm and proceeded to bang loudly at the front door and shone high-intensity lights in his face. It seems the confrontation was halted when the police arrived.
While driving to the altercation Yaxley-Lennon made a Facebook Live video threatening his critics, stating: "Guess where I am on my way to? If you've been talking shit online. If you've been trolling. If you've been lying about me. I could be about to land at your front door."
Similarly, yesterday Yaxley-Lennon then proceeded to storm the offices of a South Wales newspaper alongside George Llewelyn-John of The New Brit and Rebel Media. Llewelyn-John has published a short clip of them entering the newspapers offices and accusing the journalists of "lying about the British public" and has subsequently tweeted, "We went bigger with #TrollWatch 2! Watch @TRobinsonNewEra storm mainstream media offices & confront a lying journalist only at @TheRebelTV".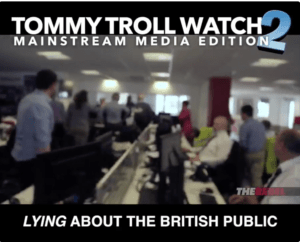 The full video of either confrontation are yet to be properly released by Rebel Media.
Building bridges with Britain First
Recently, Yaxley-Lennon has even begun to build bridges with one of Britain's most extreme anti-Muslim street group Britain First (BF), best known for its controversial 'mosque invasions'. Pictures have emerged of him and Caolan Robertson having drinks with Britain First leaders Jayda Fransen and Paul Golding.
It seems that, rather than for any concern over the extreme tactics deployed by BF, Yaxley-Lennon's previous reticence to cooperate with the group was the result of his "beef" [quarrel] with former BF leading member Jim Dowson. In a recent Q&A video he called Dowson "a grass" [informant] and then turning to the camera and addressed him directly said: "If you are watching this you are a wrong 'un mate, an absolute snake."
With Dowson no longer involved with Britain First, Yaxley-Lennon now seems willing to cooperate with this highly controversial anti-Muslim group.
These recent examples show that despite leaving the EDL and professing a desire to engage in wider counter-extremism work alongside Quilliam, Yaxley-Lennon has lost none of his anti-Muslim venom. After several recent spells in prison and a period out of the limelight, he seems set for a return to prominence on the UK far right.
Far-Right voices falsely blamed Muslims for Dortmund bus bombing
German police have charged a 28-year-old German-Russian national, identified as 'Sergej V.', on suspicion of carrying out the attack on the Borussia Dortmund football team on 11 April.
Three explosives were detonated that evening as the team was en-route to the home stadium, resulting in wounds to one player and a policeman who had been escorting the bus.
As news of the attack broke around the world anti-Muslim activists were quick to pounce and spread unsubstantiated rumors that the perpetrator was Muslim. Based on no evidence whatsoever they took to social media to spread their prejudiced assumptions.
However, it has now emerged that rather than being an Islamist the attacker's intention was likely to lower the club's share value, so as to profit from options on the club's stock which he had purchased prior to the attack.
While letters suggesting the attacks had an Islamist motive were found at the site of the attack, their authenticity was doubted by state prosecutors; doubts that anti-Muslim activists willfully ignored.
Paul Joseph Watson, the British-based vlogger and editor-at-large for US fake news and conspiracy site InfoWars, tweeted the following tying the attacks to Islamic refugees: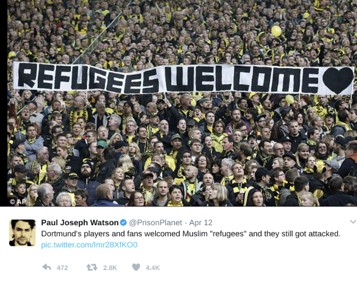 Leave.EU, whose founder Arron Banks was a major UKIP donor and is a current general election candidate for Clacton, shared the following image clearly attempting to maintain the attack had an association to Islam: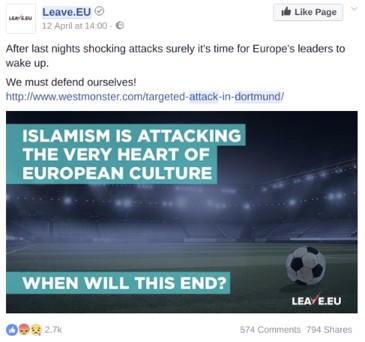 Similarly, Pamela Geller, a leading American anti-Muslim activist, predictably leapt on the attack and published a fake-news story titled 'Jihad link to football team bus bombing: "In the name of Allah"'.
It opened:
"In case you missed the bombing in Dortmund, and if you aren't reading Geller Report, you missed it because the enemedia censors, whitewashes, and under reports acts of jihad terror and Islamic attacks."
Meanwhile the leading 'counter-jihad' website Gates of Vienna offered a conspiratorial explanation for the attacks, positing that they could have been an "elaborate false flag operation […] designed to revive the flagging fortunes of the CDU" (Chancellor Merkel's party) and to justify a crackdown on the anti-Muslim AfD party.
These are just a few examples of the many available and offer a valuable insight into the modus operani of the anti-Muslim movement. They presume based on prejudice first and have a willful disregard of contradictory evidence. These activists are driven by a desire to attack Muslims not by the truth.