Sellner, the face of the Europe-wide far-right youth movement Generation Identity (GI), became a celebrity on the international far right for leading "Defend Europe" in 2017, the failed mission of European identitarian activists to impede the life-saving search-and-rescue missions of NGOs in the Mediterranean.
There have long been concerns about far-right tendencies within YI, which previously attempted to host Sellner in September at a meeting that was cancelled due to fear of protests.
With UKIP in crisis and Sellner's Generation Identity growing, he is likely out to recruit new members at the event.
The Austrian is due to speak to young UKIP activists on "Free Speech, Generation Identity & The Great Replacement". The so-called "great replacement" is a phrase widely used by GI and others in the far right to refer to the supposed "Islamification" of Europe by migrants and refugees, threatening "indigenous" (white) Europeans.
The use of such terminology on official UKIP advertising is unprecedented, providing further proof of the party's continued spiral into the far right margins.
Generation Identity
GI is a pan-European far-right movement, originating in France in 2012 as the youth wing of the far-right party (now association), Bloc Identitaire. GI is known for its provocative stunts, usually directed against Muslims and immigrants.
The movement follows the ideology of "identitarianism", rejecting liberal values and multiculturalism for "ethnopluralism", the idea that different ethnic groups are equal but ought to live in separation. In practice this means segregating people along racial lines.
The ideas, tactics and imagery of GI – especially thanks to Sellner's status as its spokesperson – have become increasingly influential amongst the white nationalist alt-right, with which it enjoys a symbiotic relationship. Notorious alt-right figurehead Richard Spencer also describes himself as "identitarian" and recently launched an explicitly identitarian activist organisation.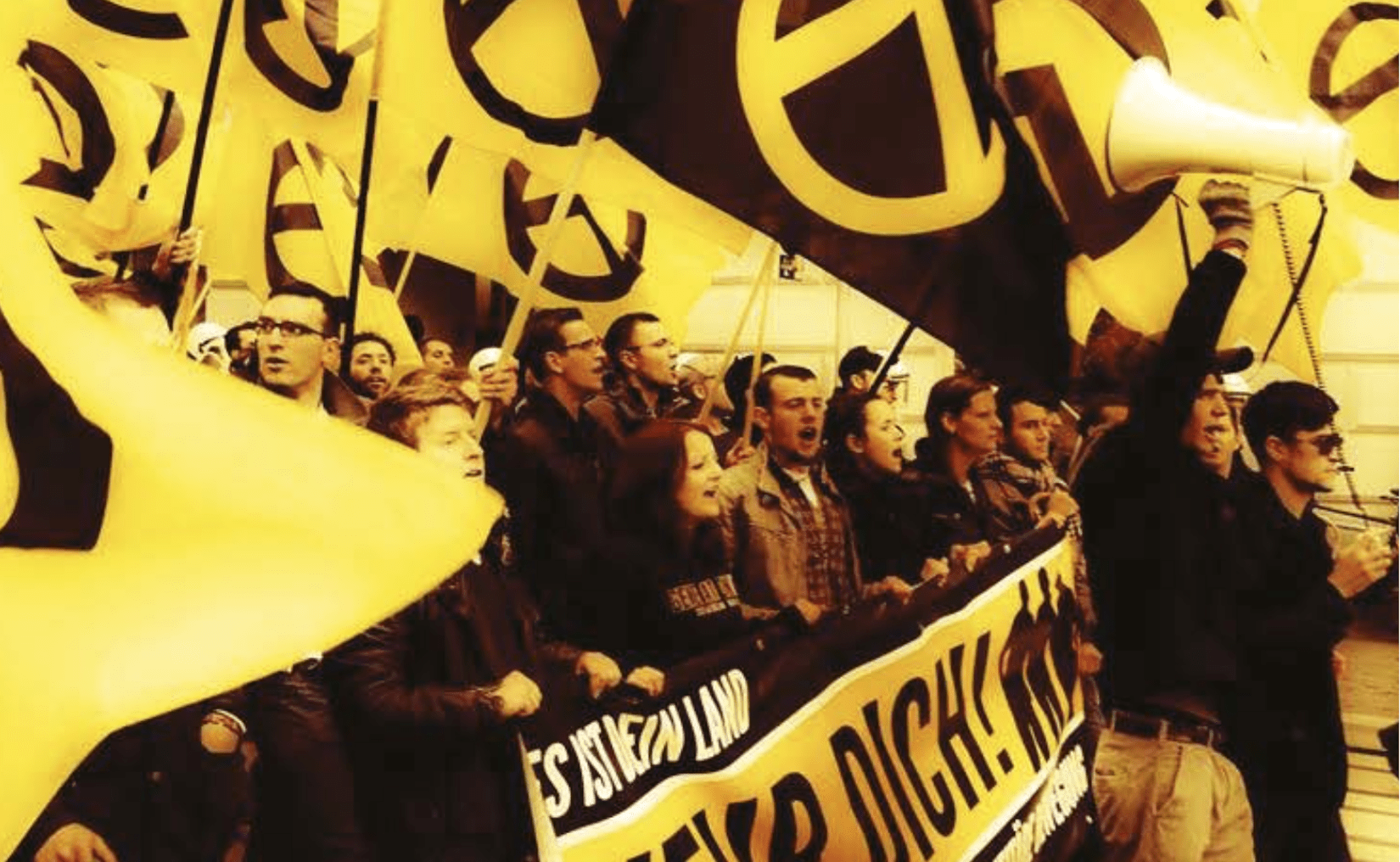 GI UK
The UK branch of Generation Identity was launched by Sellner following a banner drop on Westminster Bridge and his appearance at the annual conference of the far-right Traditional Britain Group (TBG) in October 2017.
Sellner and the UK GI suffered embarrassment when it was revealed that ITV, with the help of HOPE not hate, had infiltrated the burgeoning group and secretly filmed their activities, catching Sellner using racist language and discussing the "Jewish Question".
Despite this, GI's UK branch has become increasingly active in recent months, and the European-wide GI plans to hold a major conference in London in April.
Young Independence
Sellner's planned speaking engagement has again affirmed longstanding concerns about far-right tendencies within YI.
The YI group was tarnished after the use of antisemitic, racist and sexist trolling and alt-right terminology was revealed on the group's official Facebook page. A leading member of YI was also exposed by HOPE not hate as having shared white nationalist propaganda online.
YI's July 2016 conference, at which the youth Chairman of the far-right Swedish Democrats made disgraceful xenophobic jokes, was described as having been taken over by a "far-right lynch mob" by the party's then-Parliamentary spokesperson, Suzanne Evans.
Given the apparent prevalence of extreme ideas within YI, it forms a potentially fertile recruiting ground for the UK branch of GI. This is especially true as UKIP members abandon ship in the wake of numerous recent scandals.
The Event
Currently down as "attending" on the publicly advertised Facebook event are Michael Brooks and Jack Hadfield, a pair exposed by HOPE not hate to have been running a secret right-wing "free speech" Facebook group populated with Holocaust jokes, antisemitic conspiracies and nazi and alt-right material.
Brooks, a moderator of the group, was revealed to have made a series of noxious racist comments on the page and referred to himself as "14 and 88", an infamous white supremacist slogan. Hadfield, an administrator, was subsequently dropped from his writing post at Breitbart News Network.
Do you know where in Milton Keynes the event will be taking place? If so email us at [email protected]