We can reveal that Knights Templar International (KTI), the organisation created and housed in Hungary by far-right svengali and Britain First founder Jim Dowson, attempted last year to ship bullet proof vests and radios to Serbian groups on the ground in Kosovo.
Though the equipment was supposedly turned away, a Serbian parliamentarian has accused Dowson and KTI of supplying arms to Serb militias in Northern Kosovo, a charge that Dowson (who was named in the Serb parliament) refutes and claims he is taking legal action against.
KTI and Dowson have made no secret of their interests in "defending" the Serb, Christian minority in Kosovo. The vests and radios were similar to the gifts they made to Bulgarian militias of other protective military equipment.
Along with former BNP boss Nick Griffin, we can also reveal that Jim Dowson has been visiting, speaking to and recently helping train Serbian far-right parties since 2016.
The 'invisible' man?
Jim Dowson, the man who raised the necessary millions of pounds that saw the British National Party (BNP) take two seats in the European Parliament in 2009, is rarely out of the news.
He's previously brought Christmas shopping in Belfast to a standstill, been banned from owning a mobile phone and even banned from entering the centre of Belfast. Not shy, Dowson's invaded gay weddings, harassed young women seeking family planning advice and even tried his damnedest to influence a US presidential election. 
Most recently, Dowson was thrown out of Hungary by the nation's secret services, tired of the fact that all trails to his activity led there.
Oh yes, he is also the man who formed and funded the hate group Britain First, the leadership of which is currently languishing in jail.
We've had the dubious honour to meet Jim Dowson on occasions before. Once in the back room of an Irish boozer, where he swore blind he was giving up his life of hate in Britain First, because he did not like them being nasty to Muslims. 
On another occasion, in the Hungarian capital he popped in to say hello with his (now) close friend Nick Griffin, surrounded by threatening looking militia men at a conference that had potentially dangerous and far-reaching consequences.
Jim Dowson has been described previously as "the evil genius" of Britain's far right. In the 10 years we have been following his trials and tribulations, there has been no more apt description. 
Since that sobriquet, however, Jim Dowson has spread his wings from the little industrial estate in Loyalist East Belfast where he made his lucre, to Catholic Poland and Hungary and Orthodox Serbia and Russia.
Mr "Midas" as he describes himself can both giveth and take away the means and access to riches whom he bestows on people.
Today, the BBC is broadcasting its most forensic look ever at his antics. 
The lure of Eastern Europe
Together, with a cast and ensemble of some of the most vicious fascists and racists to ever 'grace' the British far right, Jim Dowson is the self-declared saviour of Christianity in the East and Central European states.
In May 2017 we ran a major investigation into Dowson, Nick Griffin, Roberto Fiore and the 'Knights Templar International' attempting to buy and sell land and people's lives in the Hungarian capital Budapest.
Operating in and through properties supplied and gifted by churches, the success of KTI in ingratiating itself with the polite far right in Hungary was impressive.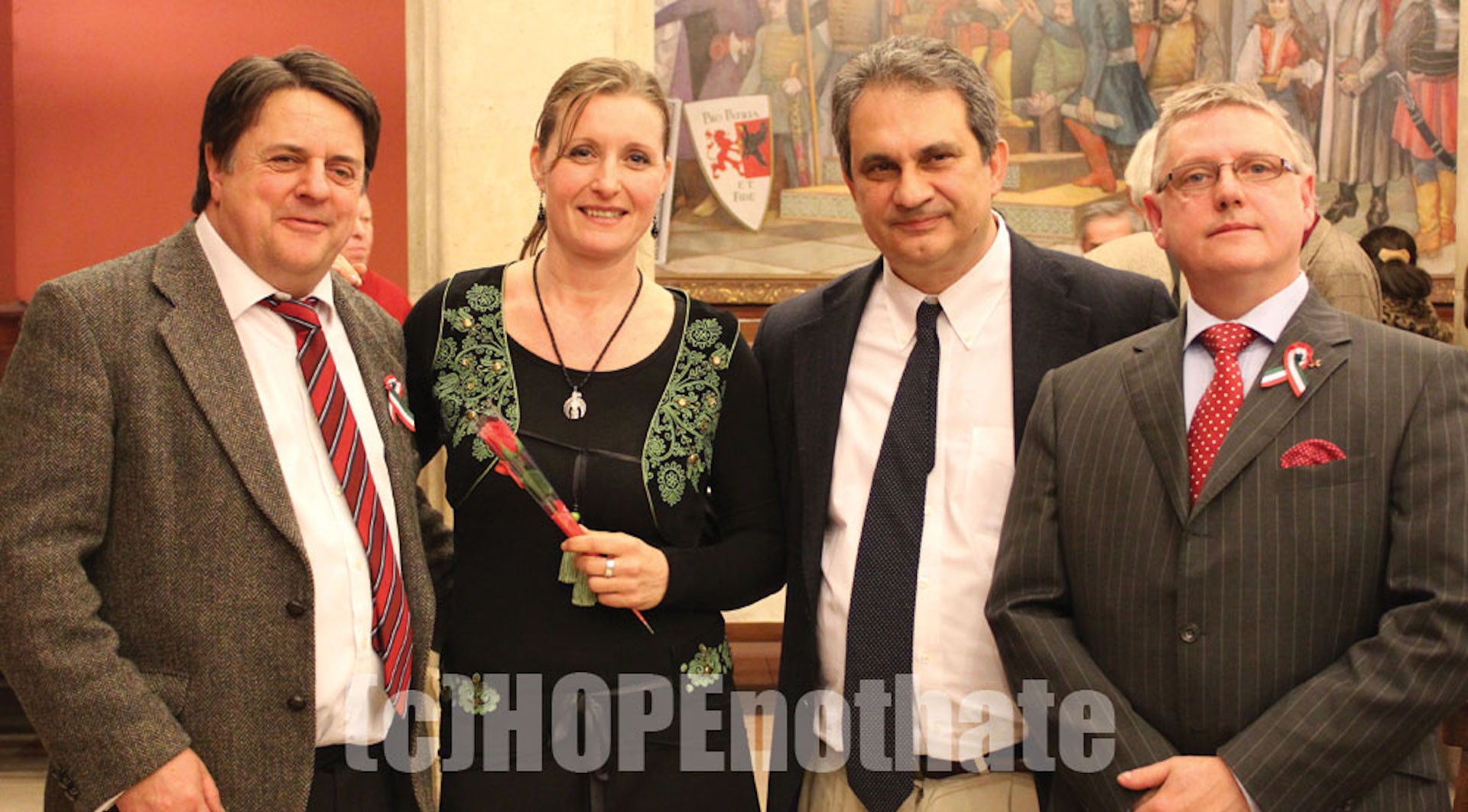 Fiore and Griffin, both former fascist MEPs representing the European Parliament funded Alliance for Peace and Freedom (APF), were hot on Dowson's coat-tails in fomenting already-disturbing levels of anti-Muslim and anti-western sentiment on the polite fringe of Hungarian far-right politics.
Dowson himself has been visiting Hungary since the collapse of Communism in 1989. A rabid Protestant firebrand at home, he gave support to resurgent religious groups close to the Catholic and Calvinist churches desperate to stamp on any liberalising of either abortion or laws pertaining to homosexuality. 
In 2015 he moved much of his fundraising operation to Budapest. In the Hungarian capital he found a willing workforce and access to the internet that at the same time opened a gateway to Russia and beyond.  
It was at a time where both Dowson and the APF were heralding Russia as the new front against liberal democracy. Both attended a notorious conference held in St Petersburg in March 2015 where Griffin claimed Russia would save "Christendom".
Both Griffin and Dowson also threw themselves behind the Syrian regime and from there it was no small leap to find them later hanging out in Bulgaria helping track down Syrian refugees, one assumes, at the behest of the Syrians.
Knights Templar International
Throughout their times in Hungary, Russia and Bulgaria both Griffin and Dowson have hid somewhat behind the laced and lined capes of the KTI, the quasi-religious sect that Dowson founded as company in 2013. KTI has since been used to fundraise on behalf of militias and anti-Muslim activists in eastern and central Europe.
Dowson's offices in the upmarket end of Budapest became known across the world as a hub for far-right extremists in a country that could become the centre of the "new rebellion" against the EU and the disease that they saw as western liberal democracy.
It was at this hub and under his watchful eye that a punishing number of websites and Facebook pages spread a message of urgent decline in Christian birth-rates, rising abortion and rates of homosexuality in the West contributing to the eventual and inevitable domination of Western Europe by 'Muslim invaders'.
Having taken his aborted baby Britain First to over one million 'likes' there has never been any doubt that Dowson's 'Midas Touch' has been the ability to manipulate not just the algorithms of social media. 
Through Facebook in particular Dowson was also attempting to distort and manipulate the hearts and minds of those that attached themselves to social media search engines in the search of a defining truth to the condition that is modern and chaotic life.
In 2016 there were some two dozen websites, news sites and Facebook sites linked to Dowson and KTI's hub in Budapest. So much distorted and disorientating news did Dowson and KTI push, questions were raised in both New York and Washington as to Dowson's links to the American presidential election.
Described as a Putin fan, the New York Times described how Dowson's website Patriot News "appeared out of nowhere and pumped out pro-Trump hoaxes tying his opponent Hillary Clinton to Satanism, paedophilia and other conspiracies."
Speaking from Belgrade to the newspaper, Dowson bragged:
"After 40 years of the right having no voice because the media was owned by the enemy, we were FORCED to become incredibly good at alternative media in a way the left simply can't grasp or handle.

"Bottom line is: BREXIT, TRUMP and much more to follow."
In March 2017, Dowson bragged to HOPE not hate that he would employ the same tactics should there be another Scottish referendum on Independence.
Two months later the Hungarian government announced:
"Dowson is an unwanted individual in Hungary who has been banned from the country by the immigration and asylum office.

"The authority also issued a prohibition of entry and residence order against him. Immigration measures have been conducted on the recommendation of the counter-terrorism centre."
Serbia & Kosovo
In 2016 Dowson and Griffin began operations in Serbia with the idea to open a series of news sites in Cyrillic script, the basis of Eurasian alphabets. In April 2016 Griffin addressed a meeting of the Serbian Radical Party in Belgrade decrying "blatant anti-Serbian bias in international court cases arising from the CIA-incited Yugoslavian civil war."
Griffin and Dowson have been entertained in Belgrade, the Serbian capital, by a host of far-right extremists. Griffin and Dowson have both found willing ears and partners in spreading their pro-Putin, anti-western, anti-EU and anti-NATO messages.
Griffin has addressed meetings of the ultra-hardline Serbian Radical Party on the issue of the supposed "Muslim occupation of Kosovo" and in defence of Kosovan Serbs who Griffin and Dowson believe are under threat of a Muslim-led genocide.
Kosovo is currently seen as volatile with border and nationalism issues not just between Serbs living in Kosovo, but also issues on the Montenegrin border between Kosovo's, Serbs and Montenegrins.
Since Serbia withdrew its forces from Kosovo in 1999 and Kosovo declared its independence in 2008 there has been no small amount of tension between the two sides. Serbia still sees Kosovo as province of historical importance that has been robbed from it by the United Nations.
To Dowson and Griffin, the self-declared defenders of Christian faith in the fight against encroaching Islam, the pain of Kosovan Serbs would now appear to be their 'Christian duty'. There are real issues around the Serbian minority remaining in the country they believe is theirs and which Serbia still claim as a region. 
Orthodox Christian Serbs make up around five percent of Kosovo's population. The Serbian population has diminished dramatically since 1999 when the now-minority faced terror attacks and murder by Kosovan Albanian guerrillas. United Nations forces (including British soldiers) are in Kosovo ostensibly to keep the peace, but mainly to protect Serbs living there.
KTI and Dowson have made no secret of their interests in "defending" the Serb, Christian minority in Kosovo. Similar to the gifts they made to Bulgarian militias of bullet proof vests and other protective military equipment, KTI attempted last year to ship bullet proof vests and radios to Serbian groups on the ground in Kosovo. These supplies, travelling from within the EU to Serbia were supposedly turned away.
Of all places in Europe, neither Serbia nor Kosovo should be short of such equipment. KTI's partners in Serbia however, The Order of the Dragon, did deliver such "protective" materials which KTI claims is so that Serbian farmers can protect themselves and their properties. However, a Serbian parliamentarian has accused Dowson and KTI of supplying arms to Serb militias in Northern Kosovo, a charge that Dowson (who was named in the Serb parliament) refutes and claims he is taking legal action against.
KTI claims its overwhelming activities in Kosovo are humanitarian and include fundraising to help restore a monastery and dig wells. 
Inside Serbia both Griffin and Dowson present themselves at important political activists from the West acting in solidarity with the Serbs in the face of NATO aggression. Griffin in particular is a regular writer of militant blogs about the injustice of Serbian land being handed to Muslims. The greatest hope many Serbians living in Kosovo believe they have is that the mighty Russia will tire of NATO forces close to their own interests and intervene in protecting them – even forcibly restoring Kosovo to Serbia.
This may explain why Leonid Savin, the right hand man of the notorious but influential Russian fascist Alexander Dugin, is often seen with Griffin and Dowson in Serbia. 
In January this year Dowson spoke at the launch of the New Right Party in Belgrade. Despite a downturn of fortunes in his Facebook and social media empire since both Facebook and the Hungarian government took umbrage with his operations, Dowson is now offering his Midas Touch to the Serb far right.
At the moment he says this is just about improving their communications and helping them build their membership.
Listening to and reading the endless and militant oratory of his partner in crime Nick Griffin and the endless pandering by the pair to Russian masculinity, one wonders to what extent simple communications could ever be the simple extent of their input into the region.
As the BBC uncovered in its investigations, Dowson himself says "right now we don't need AK-47s, right now we need technology, the AKs will come later."
For the 10 years we've followed him one thing has always been certain with Jim Dowson: The Midas predicts one war after another.