Across Europe and America, the immigration debate has shaped our political landscape. Britain's vote to leave the EU, the election of Donald Trump in the US, the rise of populist right parties across Europe have all been driven by a politics that weaponised migration to divide.
Over the past few years, my work at the HOPE not hate Charitable Trust has sought to better understand how to shift the immigration debate. We've carried out focus groups, polling and conducted the biggest ever public consultation on immigration. We found that the debate isn't as polarised as we might think, and that consensus on immigration is possible.
But we also found that the debate is uneven, and often concerns about immigration are a reflection of broader resentments, and that tensions are often highest in areas which have had little previous experience of immigration, have experienced rapid population change.
In 2019, I was fortunate to be given a Churchill Fellowship to learn more about how to stem the tide of anti-immigrant sentiment in places struggling with decline of population and capital or experiencing rapid diversity; how to shape the debate and challenge prejudice, while supporting newcomers in their new home in places where resources for doing so are scarce. I travelled to the US and Germany to learn from those on the frontline of the immigration debate, working to support new arrivals and challenging hostility towards immigration in towns and post-industrial communities.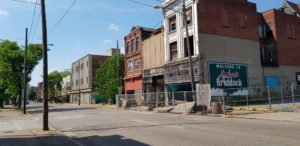 From Marxloh, a German suburb used by the media and politicians as a symbol of "many of the country's problems – with migration, with structural change" to depopulating towns in rural Alabama, I found a shared vision to drive an inclusive agenda forward on immigration.
Those I met understood that inclusion and integration were not just about immigration, because living well together is the responsibility of everyone. They were working to level the playing field of opportunity by bringing together inclusion work with community economic renewal and addressing broader cultural divisions between urban cores and rural areas, towns and smaller cities sometimes become manifest as antagonism.
I saw how well supported refugee resettlement programmes had revived shrinking towns in upstate New York, and how community organisers in rural Michigan were winning the immigration debate by identifying space for solidarity and shared solutions between migrant and non-migrant groups.
I learned that it's not always possible to bring people together across difference, but that doesn't need to be a barrier to building inclusion. I saw the importance of good leadership, engagement and communication to ease anxieties, and learned how crossing divides is most effective when it builds on assets and pre-existing relationships, the anti-bodies in the system.
And I saw how getting the small things right locally, addressing points of tension and investing in local infrastructure to meet the needs of new communities, sometimes makes the biggest difference in the local area and beyond.
While there is no one-size-fits-all blue print for building inclusive communities in challenging contexts, I found practical solutions for some of the biggest political questions we face on both sides of the Atlantic.
You can read the full report here.
Rosie Carter, Senior Policy Manager