Prime Minister Boris Johnson's announcement that he and his government are going to be tougher on violent criminals was obviously a week too late to take into account the two violent neo-Nazis who attacked the office of a female Labour MP.
Last month we reported how associate of banned terror group National Action Colin Dodds was sent to prison for the attack on the office of Labour MP Helen Goodman's constituency office in Bishop Auckland.
Low and behold, Dodds and his accomplice Alan Dent, appealed their sentences and found themselves successful enough to be granted early releases.
Dent, 50, was jailed for eight weeks and Colin Dodds, 44, handed 12 weeks in prison after "deliberately targeting" the Bishop Auckland MP's office earlier this year. But after an appeal the pair (both well-known far-right activists) will be released from prison three and two weeks early, respectively, after defence lawyers branded those sentences "excessive".
Of all the windows in all of the world (well Bishop Auckland, at least) these two thugs-apparently the worse for wear after a heavy drinking session, smashed Goodman's office windows. This was concerning to antifascists because of Dodds being an associate of a group that celebrated the murder of one female Labour MP and plotted to kill another.
Reducing their sentences, Judge Deborah Sherwin acknowledged politicians were increasingly "having a hard time" but concluded "There was very little planning in this offence but we think it was motivated by a general animosity by the MP's politics and position over Brexit."
So, the judge knew it was not a coincidence at least. "But we are not sure whether it was planned or motivated by membership, affiliation or support of right wing groups" Sherwin concluded. The court had previously been shown pictures of Dent on far-right activities.
There is no mention that Dent's co-defendant, Colin Dodds, was also an associate of a terrorist organisation with a penchant for targeting female Labour MPs. Dodds was a steward in Newcastle in March 2015 when the now imprisoned (for terror offences) Matthew Hankinson, one of the National Action leaders he was charged with protecting, bellowed:
"A war is brewing it is inevitable. We will be the ones fighting it… we must be ruthless and if innocent people are cut down in the process then so be it….Blood must be shed, the blood of traitors and our enemies."
Judge Sherwin's sympathies for MPs will be duly noted, no doubt. As for Dent and Dodds, they'll be available to attend the "reunion" of the North East Infidels Nazi drug gang being planned for 24th August at The Don Bar, Stockton.
The arguments as to who is Nazi enough to lead the revival of the interests of white nationalism rumble and rumble on. Certainly, on this front at least, 2019 looks like being the year God smiled on Britain's race haters. Or, according to some, maybe it is the work of 'ZOG', the supposedly 'Zionist Occupied Government'.
Yes, when fascists and Nazis fall-out or disagree with or about one another, even the most sanguine could be forgiven for reaching for a tin foil hat. And there is certainly a theme continuing and growing amongst their own numbers that the fact they survive at all, proves Britain's far-right may well be central to some kind of Jewish plot.
Britain First's rise like the proverbial Phoenix from the ashes has been most impressive. Despite that nasty stuff in a pub in Manchester where everyone was an apparent drug dealer, burglar and "nonce" there were also allegations of domestic abuse and a hefty fine from the Electoral Commission this year.
Despite all of this trouble and endless strife, Herr Golding, the party's self-appointed lead-preacher in a bin-bag, has risen and made his new centre of operations Manchester. This is after being advised he was better off not being in Northern Ireland any more.
In keeping with his new obsession of mimicking the IRA, Golding has appointed Andrew Edge, the original holder of the gone and unlamented English Defence League's brain cell as his "Chief of Staff".
What with piss-up's in breweries being the optimum of patriotic endeavour for Britain First, it's probably not the worst of appointments. However, those wannabe 'Biffers' who take the sacred oath to defend Paul Golding from Islam, Communism and Swine Flu should be aware that it is Edge who is entrusted with not just your training but also 'de-briefing' you when he decides he wants to bully someone in a darkened, locked room.
These (recorded) 'de-briefing's' are apparently rather like an episode of Mastermind but instead of being asked questions on your chosen subject by John Humphrys, a drunken Edge parrots verbal threats and demands to know who you fancy. Nice, eh?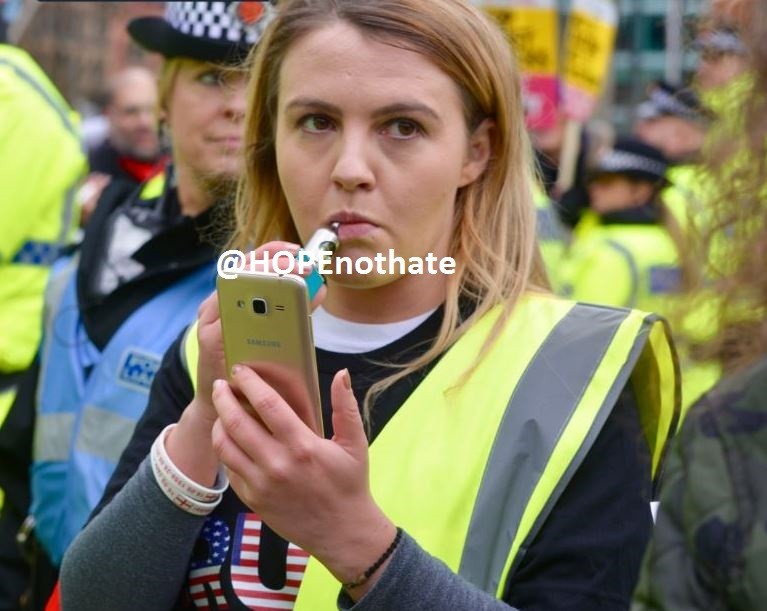 Britain's First's decision to set up shop in the North West came with a swathe of fancy appointments and disappointments for the already ensconced 'North West Patriots' who were a mixture of Biffers in bin bags, For Britain 'Tommy Robinson' fans and the DIY's Yellow Perils'.
Golding's appointment of Ashley Robyn (real name Ashlea Simon) as his 'Public Relations' officer is more than just a fancy title. For more than a few months she was the apple of James Goddard's fixations- he could barely do one of his begging vlogs without her by his side.
Whatever happened there is a mystery and we had assumed any business he subsequently undertook in Stockport was his own, private, business. We've not been dominated by any gossip his former associates attempt to feed us on that matter.
All is not otherwise entirely lost for Goddard, however. Jailbird Jayda Fransen looks set to redress his imbalance by working with just about anyone that is not Paul Golding. So incestuous and combustive is the 'scene' in the North West that it has come as little surprise that she recently joined Goddard for one of his painful piece's to camera about the state of the country and democracy and other stuff beyond his heartfelt comprehension.
A new payment system has recently been devised for Britain's 'PayPal patriots' to get bladdered for Britain without the social finding out. Devised in Newcastle, the scheme involves the lazy beggars buying-in and getting paid out in tokens for their patriotism, as long as people are watching them talk about the state of the county.
Never before in the field of human history and sacrifice has patriotism come with such excessive demands for beer tokens and luncheon vouchers. Some of us are old enough to remember the unholy outrage when Nick Griffin paid his mother for posting some envelopes. The modern British fascist won't even get pissed these days without a sponsor.
Even Earl Turner would have a positively Aryan migraine organising a orgy of patriotic sacrifice amongst this lot.
The reappearance of Fransen on the computer screens of Britain's far-right has caused much consternation with the Hitler lovers. Those doing nothing but waiting for Stead Steadman to pull his shorts up and re-start the London Forum are already upset that Anne Marie Waters is taking her 'West Brit' comedy act to the United States to meet Stephen Lennon associate Pam Gellar.
Peter Hollings who recently gave up trying to reunite the errant brain cells of the Nazis in this country described Waters' proposed trip as "an agenda being played out in direct opposition to the core beliefs of many of us within the nationalist movement – the racial nationalist movement that is." The problem for he and others is that Gellar is Jewish and her movement, the 'Counter Jihad' movement.
Continuing the common theme about the likes of Stephen Lennon, Anne Marie Waters and Pam Gellar, Hollings continues: "They claim to represent us in opposing the islamisation (sic) of the West". Apparently the counter-jihad movement is "promoting the interests of Israel in the Middle East and around the world and furthering the ambitions of war hungry multi-billionaires in America and Britain."
Seriously, she's only going to beg a few Yankee dollars, Peter. But the idea Jews have poisoned the white man's sacred water does not end there. The lack of Nazism among the fascists is now quite a common theme of complaint for the aged and incompetent. There is simply not enough Antisemitism in the endless conspiracies they peddle. There is also potential that Fransen's reappearance may even be the work of the global Jewish conspiracy.
Despite Fransen having a bit of history with Jew haters, her reappearance started a whole discussion on social media about, of all things, the size of her nose! And this one went to the very top of the tree. Fresh from being told she was not welcome in France, even Alison Chabloz weighed in. Sadly, there is simply just not enough room to put up the entire rant against Fransen, Goddard and others of the PayPal generation. Yes, Max Musson is Larry Nunn. Why he persists with calling himself Max Musson is anyone's guess.