---
THE HEADLINES after 2016's bitterly-fought US presidential election were dominated by warnings of Russian interference. While that remains a potential threat, most efforts to suppress the vote in America today are homegrown.
Voter suppression has become a white-hot issue at the centre of the ugly struggle between incumbent Donald Trump and former Vice President Joe Biden. America's arguably most divisive leader has made no secret of his contempt for the likely voting methods that could well lead to his unseating, generating considerable unease about the smooth progression of events on 3 November and after.
With the election almost upon us, large parts of the electorate are considering mail-in (postal) voting amid the threat of a rampant Covid-19 virus: a virus which has claimed well over 200,000 American lives. With his numbers tanking, Trump has made the (very small) potential of postal voting fraud a key platform of his campaign. He has even suggested that the presidential election should be delayed.
At his first election debate with Joe Biden, and just before he was hospitalised with a coronavirus infection, Trump said he "can't go along" with a result tallied up from millions of mail-in ballots, which will mean "fraud like you've never seen before". He called on his supporters to mobilise for a long struggle over the election results. And he confirmed he was expecting the Supreme Court to help invalidate countless legally-cast ballots.
Some see such criticism as a form of voter suppression in itself – an accusation that the Trump administration has denied.
Trump's claims
In the final segment of the contentious presidential election debate between Trump and Biden, Trump launched into an extended argument against postal voting, claiming without credible evidence that it was ripe for fraud and suggesting mail ballots might be "manipulated".
"This is going to be a fraud like you've never seen," the president said.
"Trump's riff was laden with misstatements and inaccuracies," said Associated Press after the debate.
Voter fraud is rare in the United States. An analysis by the Brennan Center for Justice found Americans were more likely to be struck by lightning than to commit voter fraud.
During this debate, Trump variously accused Philadelphia election officials of inappropriately keeping his campaign's poll monitors from observing voters filling out mail ballots at a voting centre (there is no such legal right under US law) and cited a small number of other examples, such as a case of military ballots being thrown away, which traced to a single contract worker (Pennsylvania's secretary of state, Kathy Boockvar, said this was a "bad error … not intentional fraud").
This has led many to fear that Trump will contest the election's result, particularly if it delivers his rival a victory via mail-in votes several days after Trump's potentially better performance at the ballot box.
In fact, Trump has doubled-down repeatedly on his claims, which now appear to be a central part of his election strategy, even as judges across different states (including Pennsylvania, Montana, Nevada, and New Jersey) strike down his and Republican Party challenges to mail-in plans.
The rather stark reality is that voter suppression is alive and well, but rather than target Republican-voting whites, has often been used to deter Black Americans and other minorities from voting.
The ugly reality
After the Civil War, three amendments – the Thirteenth, Fourteenth, and Fifteenth Amendments, part of Congressional Reconstruction – were passed, designed to ensure equality for Black Americans in the South.
The 13th Amendment, ratified in 1865, abolished slavery and indentured servitude.
The 14th Amendment, ratified in 1868, gave African Americans "equal protection under the laws." However, it wasn't until the 15th Amendment, ratified in 1870, that states were prohibited from "from disenfranchising voters 'on account of race, color, or previous condition of servitude."
Tennessee was actually the last state to formally ratify the amendment in 1997. Voting rights were also denied for those convicted of crimes through felon disenfranchisement laws. In fact, according to the American Civil Liberties Union (ACLU), only two states, Maine and Vermont, give everyone the uninhibited right to vote. Three states currently disenfranchise felons from voting permanently: Iowa, Kentucky and Virginia.
Southern states also previously enforced rules commonly known as the Jim Crow laws, which mandated segregation in public places, particularly between white and Black Americans. 'Poll taxes' discouraged those who could not afford to pay from voting and were a prerequisite to register to vote in Jim Crow states.
Such taxes disproportionately affected Black voters and continued in various states well into the 20th century (and still existed in several states until abolished in 1964).
Literacy tests were also brought in to stop people participating in the voting process. They were administered at the discretion of voter registration officials and often discriminated against Black Americans. Until 1915, those white men unable pass the tests were permitted to vote because of a "Grandfather Clause" (they could vote if their grandfathers voted had voted by 1867). Literacy tests were eventually outlawed under the Voting Rights Act of 1965.
Before the Voting Rights Act, the 19th Amendment was the first amendment that assured women the right to vote, stating "the right of citizens of the United States to vote shall not be denied or abridged by the United States or by any state on account of sex."
However, when ratified 100 years ago, the 19th Amendment did not guarantee Black women the right to vote. Many recorded later being turned away at polls.
Gerrymandering
Another form of voter suppression, gerrymandering also has an inglorious history in the US.
In Maryland for example, according to the Brennan Center, after the 2010 United States Census 'redistricting' took place, which left the state's Sixth District overpopulated by nearly 17,500 people. Democratic map drawers moved a total of 711,162 people into or out of the district, which was "… more than 40 times the number needed to meet population equality requirements."
The Center for American Progress released a report earlier this summer which focused on how partisan gerrymandering has limited voting rights.
In the Republican-controlled legislature in the state of Wisconsin, gerrymandering "shifted control of the state Assembly outright in 2018, from Democrats who won a majority of the statewide votes to Republicans who fell short of a majority. In the Senate, Democrats fell 1% short of a majority of the vote, likely because of aggressive voter suppression targeting communities that disproportionately support Democrats."
---
The Electoral College
When Americans cast their ballots for the US president, they are actually voting for a representative of that candidate's party, known as an elector. There are 538 electors who then vote for the president on behalf of the people in their state.
Each state is assigned a certain number of these electoral votes, based on the number of congressional districts they have, plus two additional votes representing the state's Senate seats.
---
Gutting of the Voting Rights Act
The Voting Rights Act of 1965 was designed to end historical gerrymandering and voter suppression, but a 2013 landmark Supreme Court decision – called Shelby v. Holder – ended the requirement that states and districts with a history of discrimination needed to get permission to make changes to voting requirements.
Among these 'preclearance states' were Georgia, where then-Secretary of State Brian Kemp, a Republican, purged over 300,000 voters in 2017. A year later, Kemp became governor. His margin of victory was 54,000 votes.
Beyond the wholesale purges of registration rolls, voter ID laws have been easily manipulated to target young voters and people of colour. Texas has one of the most restrictive policies, where a state-issued college ID is not valid, but a state-issued gun license is allowed.
In 2019, a federal judge temporarily halted North Carolina's voter ID law because it targeted certain districts. An earlier attempt in 2013 was rejected by the Fourth Circuit of the US Court of Appeals in a ruling that said the law targeted Black Americans with "almost surgical precision".
The final obstacles are the polling places with long waiting times and technical problems that, particularly during the pandemic, could create anger, health risks and frustration. Recently Jefferson County, Kentucky, which includes the state's largest city, Louisville, had one polling location for 600,000 people. Videos posted during recent polling showed voters locked out despite being in line before the polls closed.
It's already happening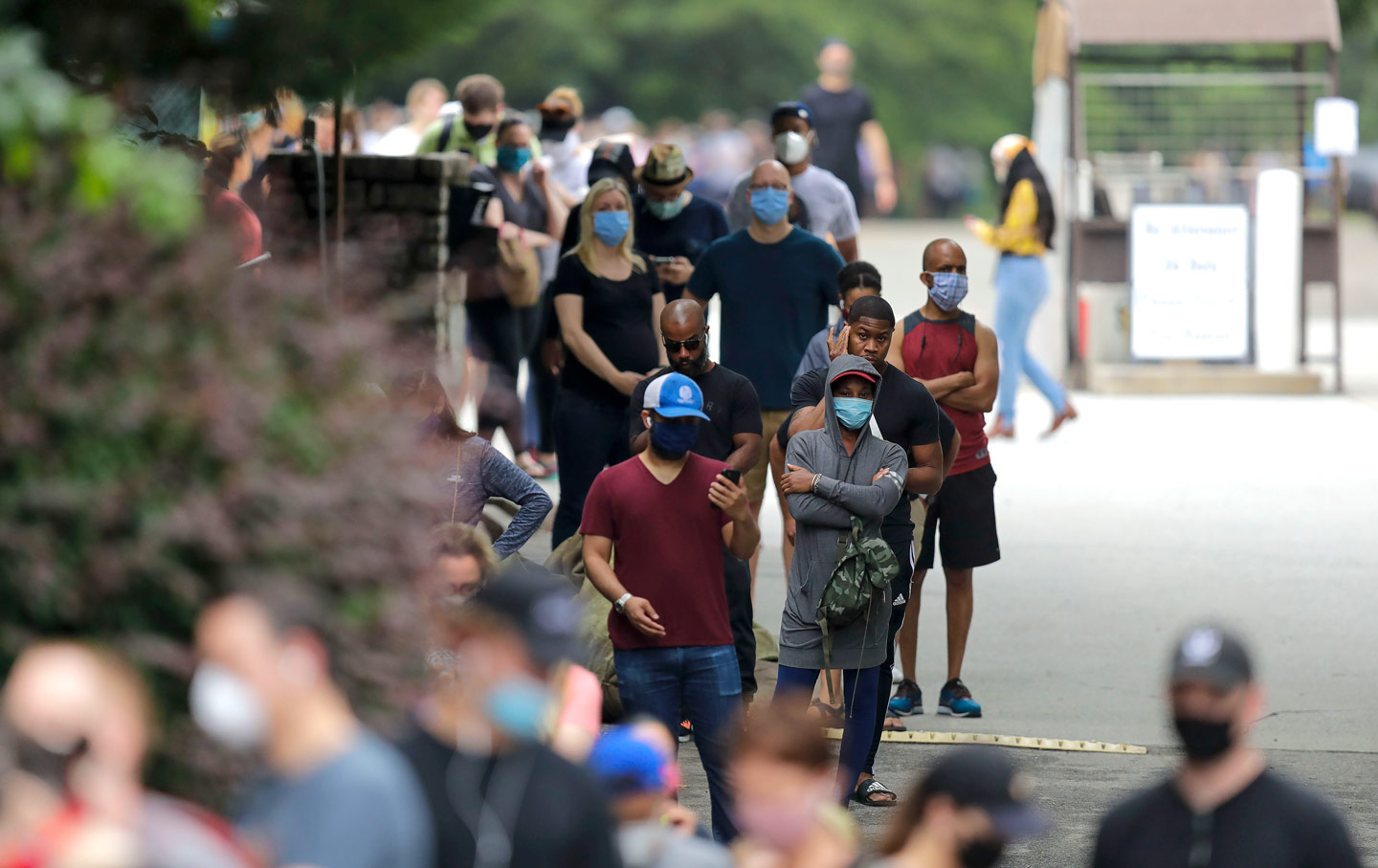 For voting rights activist Latosha Brown, voting in Georgia's primary election in June laid bare the challenges Black Americans face when trying to vote.
Speaking to ABC News, Brown said she waited three hours to vote at her polling station in south Atlanta. There were no chairs set up by people waiting in line, no water was handed out and no tents were available to provide shade – unlike at a primarily white polling site on the northern side of the city where she went afterwards. There also weren't any lines.
This year marks the 150th anniversary of the ratification of the 15th Amendment, making it illegal to deny someone the right to vote based on their race. In Georgia's primary, though, polling sites in predominantly black and brown neighbourhoods saw a disproportionate amount of problems, including faulty voting equipment, long lines like those in south Atlanta and overwhelmed poll workers.
Now the ACLU of Georgia has released a report by the Palast Investigative Fund, Georgia Voter Roll Purge Errors, which said the state had likely removed nearly 200,000 citizens by claiming that they had moved from the address on their voter registration application. However, none of these people had actually moved, according to Advanced Address List Hygiene. Unsurprisingly, the state's removals likely affected the most vulnerable: young voters, those with low income, and from groups that have been denied their right to vote in the past.
It wasn't supposed to be like this. The Civil Rights Movement of the 1950s and 60s brought about monumental change for Black Americans, culminating with the Voting Rights Act of 1965.
Andrew Young, a civil rights leader who marched with Martin Luther King Jr. and later became ambassador to the United Nations, marched in the protests between Selma, Alabama, and the state capital of Montgomery.
"We were willing to die because we knew this country needed the Voting Rights Act to empower each and every citizen to express the will of the people," he said. Since the passing of the Voting Rights Act, he said Black Americans' ability to vote, particularly in the South, had come under attack again.
"These have taken many forms in recent years, including voter suppression laws, felony disenfranchisement and also the purging of voter rolls," Williams said. "Many would argue today that it is still precarious for African Americans to be able to exercise the right to vote … because of some of the irregularities and political chicanery that still goes on at the polls."
Reaction elsewhere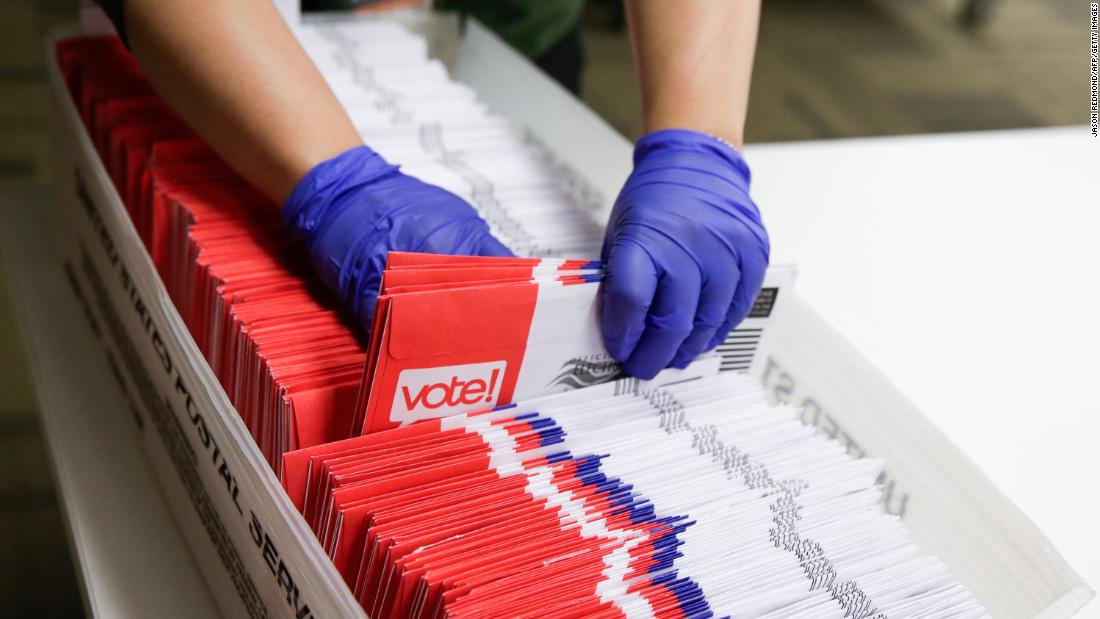 Many other voices have been raised in shock at what's been going on. Former US President Barack Obama has sharply criticised what he described as Republican attempts at voter suppression, saying people in power were "attacking our voting rights with surgical precision" and calling for wide reform.
Obama singled out the vital role of the US Postal Service (UPS) in delivering postal votes during the coronavirus pandemic: Trump has so far refused to authorise additional funds for the UPS, as it would boost mail-in voting he claims in turn would help Democrats.
In August, he told Fox Business Network: "They want $3.5bn for something that will turn out to be fraudulent. That's election money, basically."
Obama suggested that all Americans should be automatically registered to vote, that the vote should be given to former prison inmates who had "earned their second chance", while new polling stations should be created and early voting expanded. He also said that election day should become a national holiday, allowing those who couldn't get time off work a chance to vote.
Trump's "deterrence" campaign
It's certainly a massive challenge ahead for campaigners.
Recent revelations from Channel 4 News have suggested that Donald Trump's 2016 presidential election campaign engaged in a huge voter suppression effort in order to deter 3.5 million black people from voting.
The targeting of Facebook ads in this way may have been crucial to the result. In the key swing state of Wisconsin, 2016 turnout among Black voters plunged by 19%, with the Trump campaign spending £44 million on Facebook ads alone during 2016. Many were 'dark posts', which could vanish from feeds once the campaign stopped paying for them.
Jamal Watkins, Vice President of the National Association for the Advancement of Colored People (NAACP) said: "The thing that's shocking slash troubling about this is that there's this category of suppression."
Right now, things look grim. Trump has urged supporters to "watch" the voting "very carefully," which many see as a sign of voter intimidation.
"The chances are really high that we're going to see militia members, armed groups or Trump supporters who are armed at the polls," says Cassie Miller, senior researcher with the Southern Poverty Law Center. "Not only are these people willing to participate in voter intimidation, but they're hoping to create this chaotic moment. There's an unwillingness to accept anything but a Trump victory."
Certainly it seems that matters could end before the Supreme Court – just as Trump nominates his appointment, Amy Coney Barrett, to cement a conservative majority on the bench.
---
Voter mobilisation
Amid the calls for police reform and an end to police brutality, others within the protest movement are working to get out the vote.
Draymond Green, power forward for the Golden State Warriors basketball team, recently partnered with Lebron James and other athletes and entertainers to create More Than A Vote, a nonprofit dedicated to fighting voter suppression and educating black youth about the voting process to increase turnout.
In Atlanta, Lloyd Pierce, head coach of the Hawks basketball team, is trying to make sure the issues experienced in Georgia this summer don't happen again.
"Polls are open, machines are broke. Not enough volunteers and not enough technicians to come out when the machines break, and so, the lines get longer and people get impatient," he told ABC. "People have to work. I have to go back to work. You know, we've had to extend hours pretty much in every county to allow voters to get through. But how many walked away after seeing issue after issue that we can't count?"
"I think we need to increase polling places and we need to increase the capacity of the polling places," he said, suggesting that every NBA team could open up their arenas for voting.
But that won't be much help to some minorities: Native Americans have only had nationwide voting rights since 1957, for example, and Lauren Bernally, an attorney with the Navajo Nation Human Rights Commission (NNHRC), said recently: "Mail voting just does not work for the Navajo Nation."
Tribal advocates estimate that somevoters have to drive anywhere from 40 to 150 miles roundtrip to pick up their mail from the Nation's Arizona reserve. An Arizona lawsuit points out that the 27,425 square miles of the Nation's reservation is covered by just 24 post offices and 15 postal service providers. The slightly smaller state of West Virginia has roughly 10 times the population, but it's covered by 725 post offices and postal service provider sites.
---