Laurence Fox's party have warmly welcomed the defection of a bigoted former Tory councillor.
The Reclaim Party, the new culture wars-obsessed political party set up by actor Laurence Fox, announced on Monday that it had a bombshell revelation ahead of the North Shropshire by-election: "Top local Tory councillor Anthony Allen defects to The Reclaim Party just 10 days before polling!"

Two problems: he's not a top local councillor, and he's definitely not someone that anyone should be glad to have in their party.
Anthony Allen, a town councillor in Market Drayton, cannot be described as a "top" councillor by any definition. First elected just seven months ago and to a tier 3 local authority, Allen is very much at the entry level of councillor status.
Far worse, it appears that neither the Conservative Party nor Reclaim have done much vetting of Allen before allowing him to represent their party. If they had, they would have found a Facebook profile littered with vile anti-Muslim sentiment and abusive messages.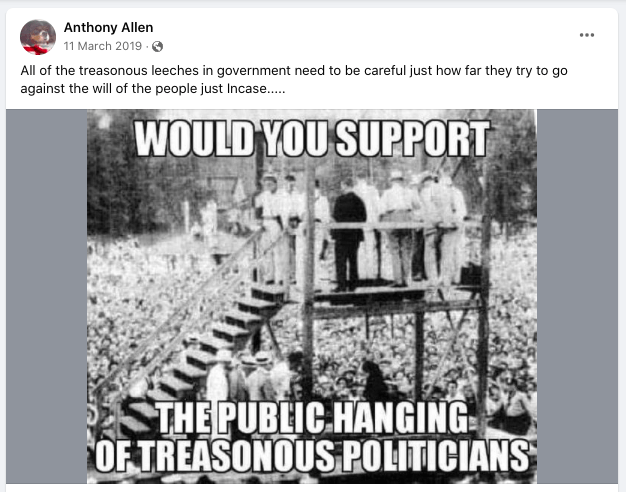 Allen clearly holds some deeply unpleasant views. In the replies to a post in which Allen referred to former Prime Minister Theresa May as a "vile leech", he described his preference for someone with "hardline Christian values" to stop the "Muslim take over", while in another he said that "we may as well change the name of the country to Englandishtan".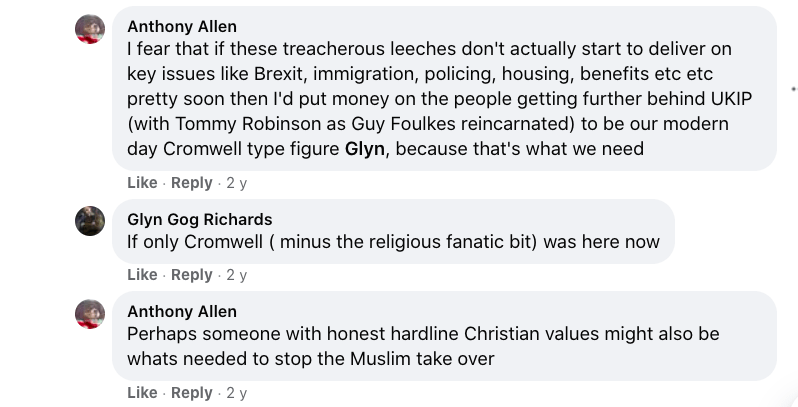 Allen appears to idolise the anti-Muslim activist and convicted thug Stephen Yaxley-Lennon (AKA Tommy Robinson), in one post declaring "TOMMY FOR PM!", while in another he said "Go on Tommy lad! It's about time someone rattled the birdcage at Westminster and gave those vultures something to really squawk over".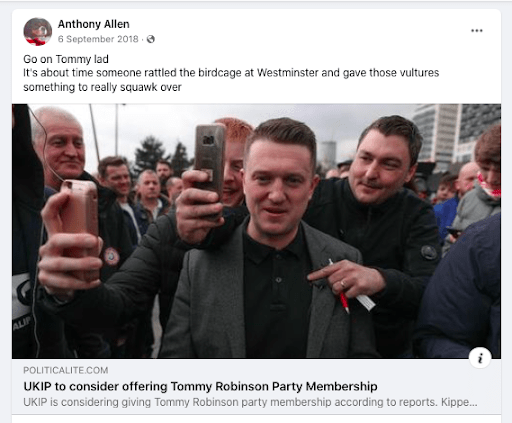 In June 2020, Allen added the caption "I have no idea if this is a genuine letter…(but if not, it bloody well should be…)" to a fake letter purporting to be from Oriel College, Oxford, to its black students, which included the sentence:
"And what were your ancestors doing in that period? Living in mud huts, mainly. Sure we'll concede you the short lived Southern African civilisation of Great Zimbabwe. But let's be brutally honest here. The contribution of the Bantu tribes to modern civilisation has been as near as damn it to zilch."
In another comment, Allen endorsed the far-right 'Great Replacement' conspiracy theory, which holds that a deliberate plot to "replace" Europeans via immigration is underway, a notion that has inspired a number of terrorist attacks over the past five years.

It remains to be seen whether Allen is the sort of person that the Reclaim Party would like to have representing them, but there is no doubt that his views and abusive comments will disgust the majority of voters. Both the Conservative Party and Reclaim should reflect on why such a man might want to represent them.