After several years of legal woes, incarcerations, extended holidays, injunctions and bankruptcy, Stephen Yaxley Lennon (aka Tommy Robinson) has made his return to the streets.
The demonstration, held in Telford, was hugely hyped by Lennon over the past month so the relatively small turnout will be a real disappointment to him, and the main organiser Danny Tommo. At its peak there were approximately 1300 people in the town centre car park which, judging by the enormous sound system was far fewer than they had expected.
The centre piece of the day was a screening of his self-made documentary 'The Rape of Britain", about the issue of on-street grooming allegedly perpetrated by Muslim men of South Asian heritage in the town.
The documentary included some genuinely heart-breaking survivor testimony though it failed to hold everyones attention with many drifting off from the demonstration during the screening.
While the issue of on-street grooming by gangs is indeed an awful problem, Lennon has long sought to use the issue of child sexual exploitation to push his racist and Islamophobic agenda. In this instance it was used as an opportunity to try and relaunch his political career and, unsurprisingly, raise funds.
The event started with crowds gathering at Telford Central train station at 2pm before a short march over a bridge and into the town centre. The day was livestreamed by Lennon's helper Tom Fury, though the feed and microphone often didn't work and Fury primarily seemed to film people's shoes.
Once in the carpark there were a series of speeches by Lennon, Danny Roscoe, Danny Tommo, Peter Mcilvenna from Hearts of Oak and Richard Inman. The leader of For Britain, Anne Marie Waters, gave a bizarre speech about being sent to Westminster as an MP while a clearly embarrassed Lennon watched on, barely mustering a clap at the end.
The crowd included numerous old EDL supporters, some ex-Generation Identity activists and a smattering of For Britain figures. Jake Bewick, formerly an activist of the now banned neo-nazi terror group National Action and now prominent figure in the racial nationalist Patriotic Alternative was also present, flanked by a group of skull mask wearing friends.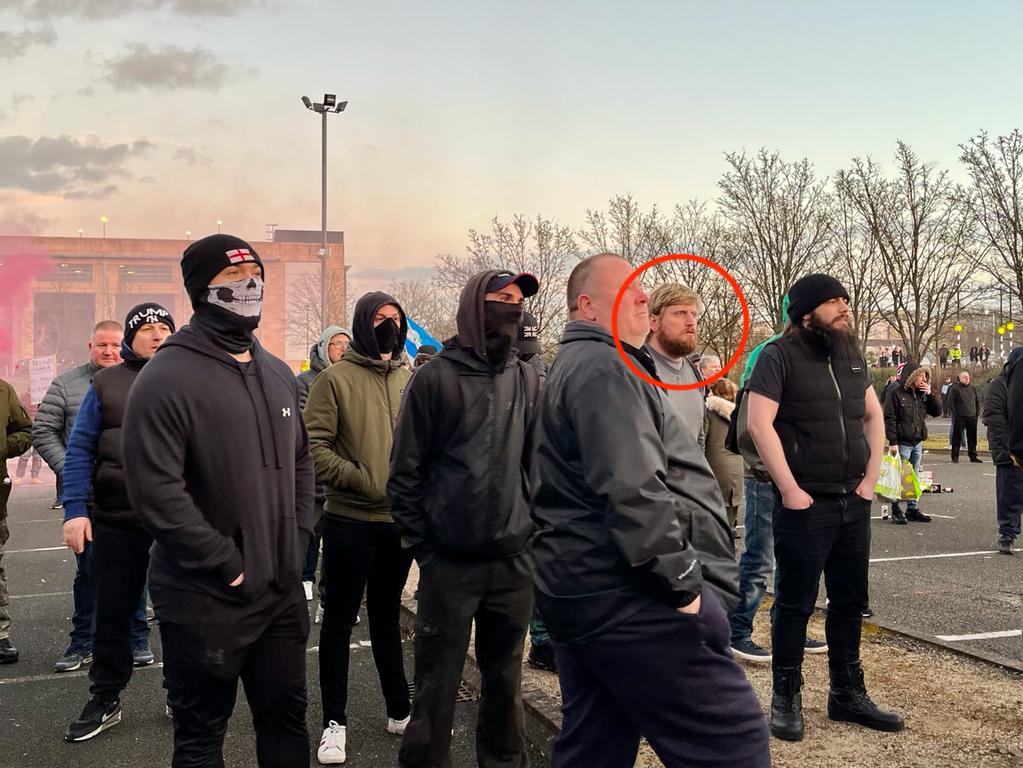 The event was wrapped up by 5pm after another short speech from Lennon where he told the crowd he was broke and asked for more donations.
According to Lennon this was the first in a series of documentaries and demonstrations he is currently planning meaning we may see him back on the streets again soon. While these events are divisive and damaging, Lennon will likely be disappointed with the turnout and wondering if there is requisite enthusiasm amongst his dwindling supporter base for future events.
Child sexual exploitation reaches across all communities, and these sickening actions involve men from all ethnic backgrounds. Lennon's relentless exploitation of others' pain is an insult to survivors and to those who work tirelessly to demand justice and build real support services for them.