Last night, former English Defence League leader Stephen Lennon (aka Tommy Robinson) announced that he is joining the far-right anti-Muslim political party For Britain.
The announcement, made on GETTR, has come off the back of a period of increased activity by Lennon. After several years of relative obscurity, dogged by legal issues and prison sentences, he returned to the streets in January this year with a demonstration and screening of his documentary The Rape of Britain.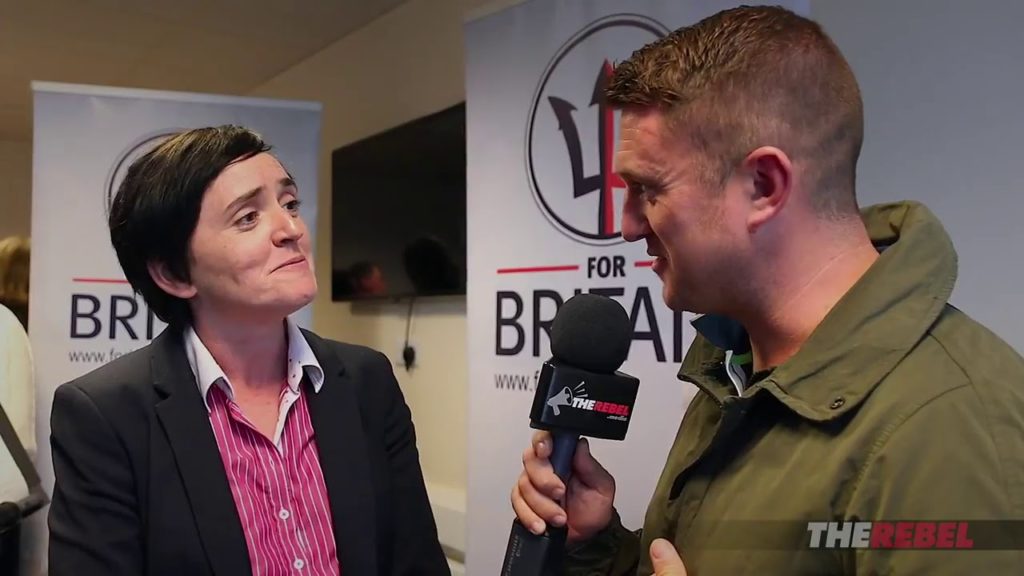 He has now officially joined For Britain, saying that "If we want to strike fear into the heart of the establishment there is only one way to do that, and that is politically."
Anne Marie Waters, leader of For Britain, will no doubt be hoping that Lennon can convince his sizeable supporter base to join and campaign for the struggling political party, but the move isn't uncomplicated. The pair have a long history of failed collaborative ventures, are known to be erratic and both have big egos making it unlikely that either will want to play second fiddle to the other.
So far, both Lennon and Water's electoral careers have been disastrous, and while this move will breathe some life into the beleaguered far-right party, it is far from certain that this move will be a success.
Lennon's Electoral Record
Despite being best known for organising street protests, his union with For Britain is by no means Lennon's first foray into electoral politics.
He famously started his far-right career with a brief spell in the British National Party in 2004. Then, in 2012, while leader of the EDL he became Deputy Leader of the comically unsuccessful British Freedom Party, founded by Paul Weston.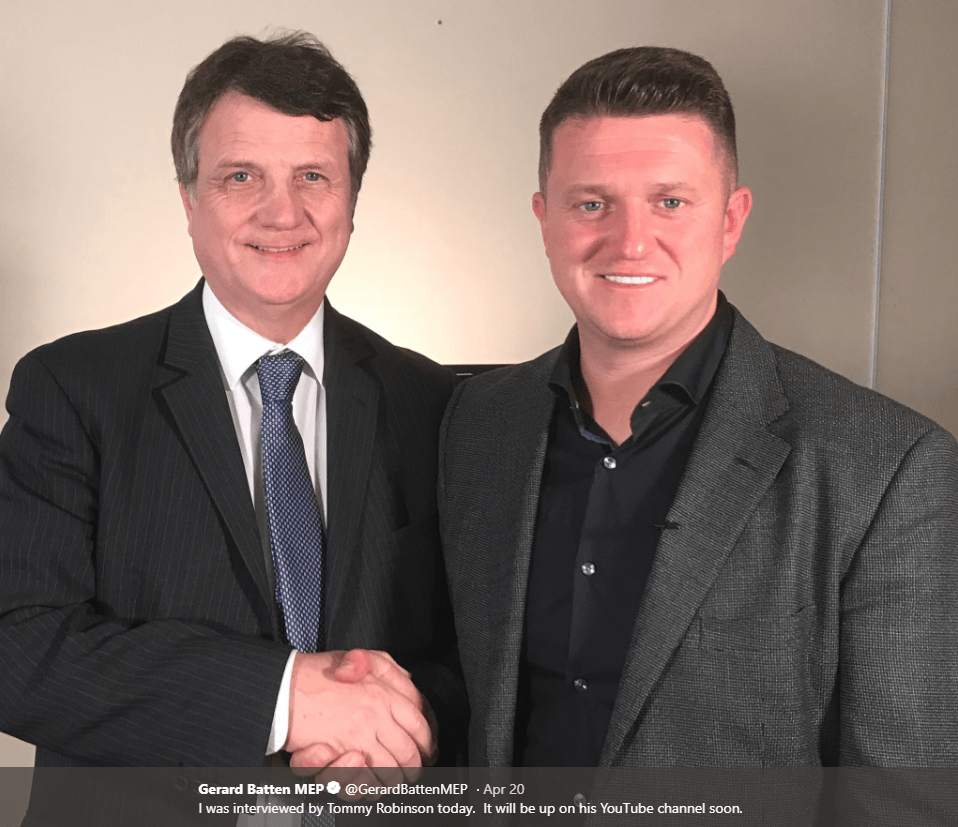 In 2018 he became an advisor to UKIP and Gerard Batten, during a period when the party free-fell towards political irrelevance.
He finally stood as an independent candidate himself at the 2019 European elections but despite an extensive campaign finished with a humiliating 2.2% of the vote.
Long Time Collaborator
His decision to join Anne Marie Waters is by no means a surprising one. The pair are long time collaborators with both being prominent figures in the UK anti-Muslim movement for years. Over the last decade Waters has regularly attended and spoken at Lennon-organised events and vice versa.
In January 2016 the pair jointly launched a UK branch of German far-right group PEGIDA. The venture was a disaster from the off. The journalist Jamie Bartlett attended the recording of the launch video for and later wrote how Waters had "failed to remember the date of the demo. Her head lolled, her words were slurred, and she appeared to almost fall asleep while Tommy was speaking. After ten minutes it all ground to an uneasy halt. Anne Marie was drunk." Things went downhill from there and after several disappointingly attended demonstrations the whole project was shut down.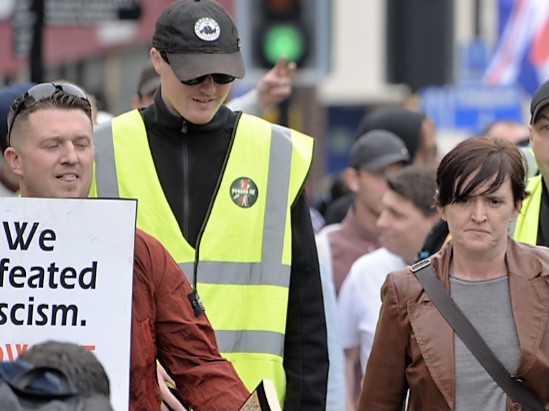 Since then, the two have continued to infrequently collaborate and Waters has spoken at numerous pro-Lennon events during his spells in prison. However, many in For Britain felt this loyalty has been one way, especially after he failed to provide his promised help during Waters' doomed Batley and Spen by-election campaign in 2021 where she finished an embarrassing twelfth place with just 0.3% of the vote. He mysteriously failed to turn up at a planned campaign event despite vocal promises beforehand.
Who is Anne Marie Waters?
Waters spent many years as a Labour Party member, but in 2013 she shifted dramatically to the right and became heavily involved in the so-called 'counter-jihad' scene, a broad international ideological movement based around the idea that western civilisation is under attack from Islam.
In 2014 Waters launched Sharia Watch UK. While the now-dormant blog primarily functioned as an internet resource, it was also one of the key players in organising the cancelled Muhammad cartoon exhibition in London in September 2015, which was set to feature the notorious anti-Muslim politician Geert Wilders as a speaker.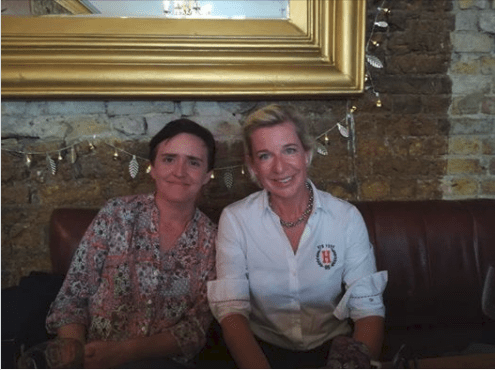 Waters soon moved into street politics, first with Mothers Against Radical Islam and Sharia and then in January 2016, in the aforementioned Pegida UK.
In June 2017, Waters announced her run for the UKIP leadership at a disorderly demonstration in Manchester organised by Yaxley-Lennon, telling the crowd that "Islam is a killing machine". Waters promised that under her leadership, the party would "publicly acknowledge that Islamic culture is simply not compatible with our own". Waters and her followers were lambasted for their extremism by numerous party figures including Nigel Farage, though she still managed to finish second with 21% of the vote.
For Britain
As a result of this failure she launched the For Britain Movement in October 2017. The party soon attracted activists from the more extreme wing of UKIP and then subsequently large numbers of former BNP activists and even a number of high profile neo-nazis. In 2018 HOPE not hate exposed one For Britain candidate as having been a former member of the banned terrorist organisation National Action.
As former BNP activists flooded into For Britain, with some quickly climbing to leading positions in the party, Waters' language has become increasingly conspiratorial and fixated on race. How this will sit with Lennon who still publicly eschews open talk of race remains to be seen.
Since launching the party has performed abysmally in national and parliamentary elections though they have secured the odd council seat over the years. Whether Lennon will be able to reverse these fortunes ahead of the forthcoming local elections in May is a big question.
However, the major issue now faced by Water's is going to be holding together this broad far-right coalition within her party. Many of her core and most prominent activists are well known ex-BNP activists who openly push racial politics and have been vocal opponents of Lennon. Meanwhile, he has long criticised and attacked BNP supporters and sought to distance himself from such characters, publicly at least. He has also come to enjoy his freedom outside the constraints of a proper organisation so won't be able to control.
Whether Water's can keep these opposing factions together long enough to grow For Britain into a force on the British far right remains to be seen.