Long time Antifascists will no doubt recall the self-declared genius and Jew hater, Simon Sheppard. Sheppard made international news headlines when he fled to the United States in 2008 in an attempt to claim political asylum for his anti-Jewish and far right activities.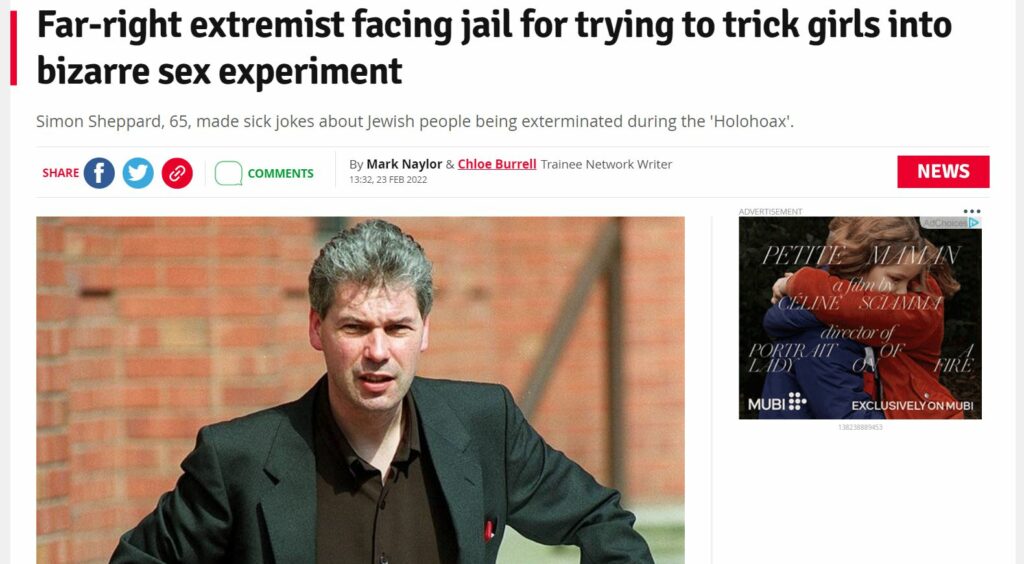 Even by far right standards, Sheppard was odd and aloof; a thoroughly creepy and unpleasant individual. Inasmuch, he was of course lauded for his 'bravery' in fleeing to America- a country he often railed against because of its perceived 'Zionist' (meaning Jewish) influences. He was sent home from the United States, asylum request denied , (probably by Zionists) to face the music and do his bird like the nasty little fellow he is.
Since then, the grubby creature that he is, Shepperd has paraded himself around the country as some kind of intellectual 'martyr' for exposing all manner of things that he didn't like; Jews, mainly.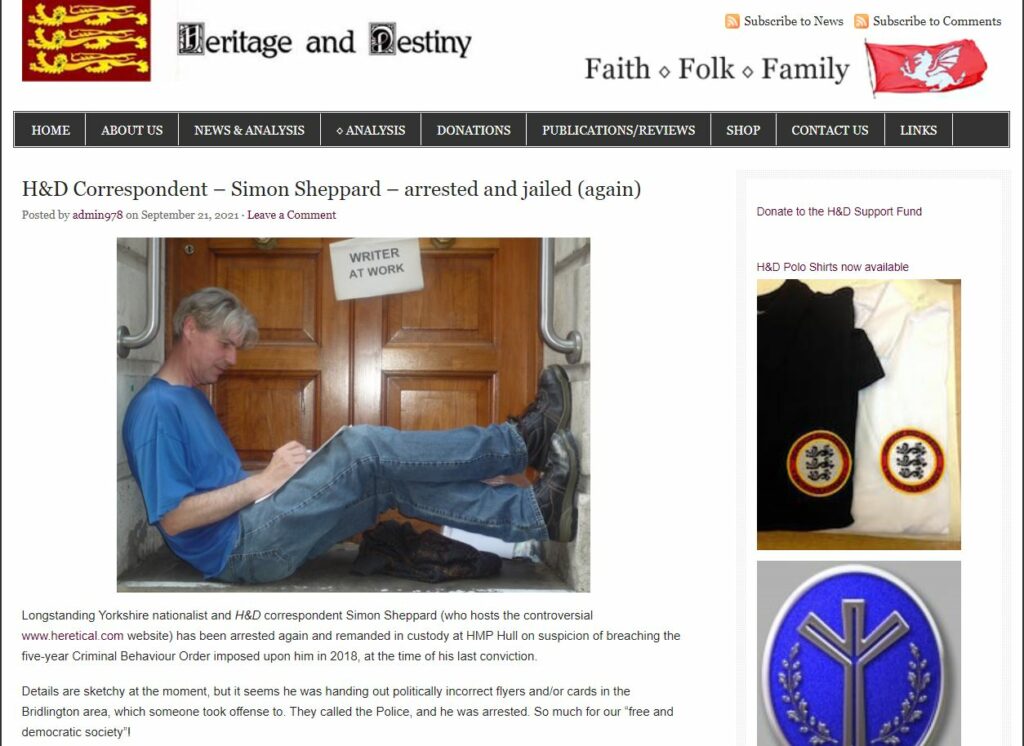 For a number of years he has been a regular contributor, 'correspondent' for the Nazi hate rag 'Heritage & Destiny' where he was highly regarded for his intellect and strange tastes. In their November-December issue the magazine reported that "author and publisher" Sheppard was another in a list of far right heroes – "high profile movement personalities" in fact, being prosecuted. The magazine threw in the names of a few other "high profile movement personalities" including Ben Raymond of National Action who were also at that time being prosecuted. Heritage & Destiny made Sheppard's prosecution appear to be linked to the supposedly draconian anti-terror laws that keep locking their readership up. They even encouraged their readers to write to their hard done by hero.
Why the not-so wise men at Heritage & Destiny tried to link Shepperd with the likes of Ben Raymond and Sam Melia (of Patriotic Allotment) is a mystery. They should have instead, linked him with another one of their former martyrs, Jack Renshaw the convicted terrorist and paedophile.
You see, rather than a victim of the Jews and their draconian anti-terror laws, Shepard was later convicted (earlier this month) for trying to trick troubled young girls into a bizarre sex experiment. He was not as Heritage and Destiny intimated another one of their race martyr's but instead, another one of the movement's high profile perverts.
Sheppard, aged 65, was on trial at Hull Crown Court accused of two offences involving attempting to engage in sexual communication with a child in Bridlington in August of last year. The court heard he gave four 14-year-old children a card inviting them to take part in a "sexperiment" which would have involved them having sex with him.
Some of the other details of Sheppard's disgusting behaviour are probably not for reporting here, suffice to say, they are characteristically disgusting, demeaning and degrading. It seems despite his age, Sheppard is fully in touch with and up to date with at least half of the current trends of Britain's far right – terrorism and paedophilia.
As of yet we are still not aware of any far right protest at the court demanding he be flogged in public or hanged. He is after all, white. Apparently the far right don't get so upset when it is one of their own.
Vanilla Isis have themselves a brawl in Widnes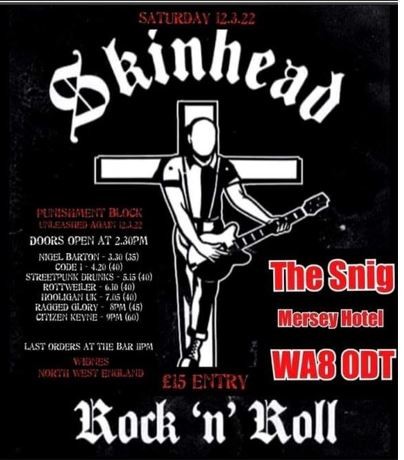 Late last week we became aware of a nasty festival of hate in the offing at the Mersey Hotel in Widnes. We took it upon ourselves to warn the Hotel, which puts on a lot of Northern Soul and Ska gigs, that they had been duped and were in fact, hosting a neo-Nazi festival. The hotel refused to budge and so last Saturday, 159 Nazis from all over Britain descended on the hotel to raise their right arms in the air. The festival was organised by 'Punishment Block' one of a series of splinter groups from the old C18/Blood and Honour Network. Punishment Block have recently been putting up nasty Antisemitic stickers which the Hotel could have seen for themselves if they had checked.
Despite being warned and told who and what was about to descend on them, for reasons best known to the Mersey Hotel's management, they still gave the gig the go-ahead. What happened next was predictable enough. After twelve hours (and more) of boozing, the Nazis soon turned on each other. Glasses were smashed and objects thrown as brawling erupted inside and outside of the venue. The local community was also plastered with horrific racist stickers. One Nazi even battered his female partner- and later had the audacity to claim she had instead, been "jumped by HOPE not hate."