Britain First was founded in Northern Ireland in 2011 by Jim Dowson and Paul Golding, who were both based there at the time. Since then, the organisation's activity and activist base in the region has dropped significantly, but Northern Ireland plays an important part in the organisation's history and it remains an important part of the country for the group.
Britain First report
This article was included in the report: Britain First: Dysfunctional, Dangerous and in our Communities. Download the full report here.
Part of this relates to what Britain First believes is a strong degree of support for its cause amongst Loyalist communities in Northern Ireland. Former Deputy Leader Jayda Fransen described in an interview in 2019 how coming to Northern Ireland was "overwhelming for a patriot. It is paradise" because of the visible presence of Union Flags in Loyalist areas. However, Britain First has not received the amount of support that it had expected, amassing only a small activist base and achieving only momentary successes, instead leaving a trail of conflicts in its wake.
As a new organisation, it did however find early success in Northern Ireland. Less than a year after the founding of Britain First, the flag protests of 2012 broke out in Belfast after the council voted to limit the number of days the Union Flag was to be flown over Belfast City Hall. Loyalist communities, including parts of the paramilitary UVF and UDA, took to the streets and held protests against the decision for several weeks.
This flashpoint was exploited by Britain First, who used it to rally activists to its new organisation. Jim Dowson became a regular speaker at the demonstrations and heavily promoted the protests online. Dowson agitated the crowds and, after a gunman targeted police in East Belfast, he showed support for paramilitary violence when he wrote on his Facebook "well, if you attack innocent Loyalists, our fighting men will respond."
Loyalist Paramilitaries
Britain First has, like many other far-right groups in the UK, an admiration for Loyalist paramilitaries, evident in the organisation's use of military titles, marches and uniforms. Due to this admiration, mimicking the paramilitary style and being seen to have connections with these groups is important for Golding. Britain First's actual links with paramilitary groups was, however, primarily through Dowson. Dowson had links to paramilitaries in the 80s and 90s, before joining the British National Party, and he brought the connections with him to Britain First.
At the flag protests of 2012, Dowson often appeared alongside Loyalist activists Jamie Bryson and Willie Frazer, both of whom are alleged to have links to Loyalist Paramilitaries. All three were charged with organising illegal protests, of which Dowson, who was represented by Bryson in the courtroom, was found guilty.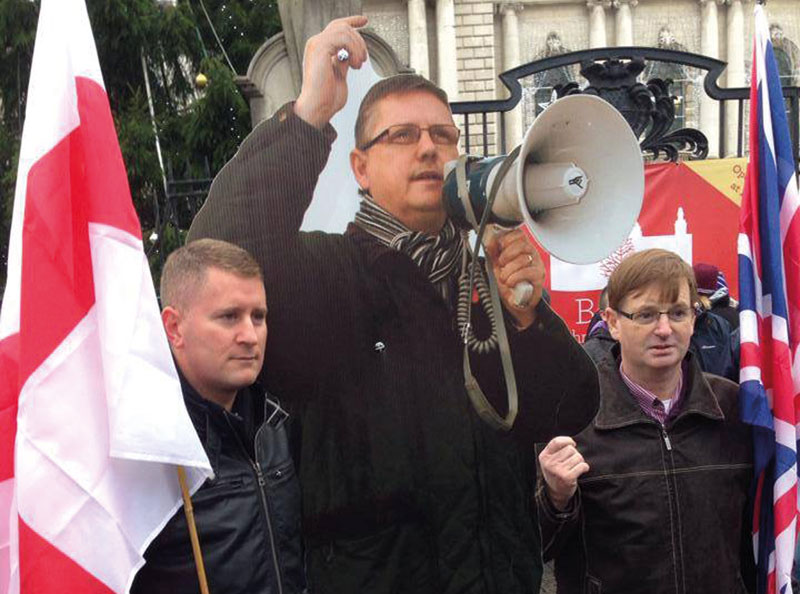 Golding has targeted Loyalist areas and met with Loyalist paramilitaries in the hopes of recruiting members, but with limited success. Several Loyalist paramilitary factions have distanced themselves from Britain First, in part because of its explicit racism.
However, Golding has made a limited number of connections to individuals with paramilitary credentials and he uses them to give the impression of close ties to Loyalist Paramilitary groups. Golding and Fransen have met and photographed themselves with former UDA Brigadier and former National Front member, Johnny Adair. Adair was the leader of a battalion within the Ulster Freedom Fighters, a cover name used by the UDA, in the early 1990s.
The Royal Ulster Constabulary estimated that his unit killed up to 40 people during his time as leader. He was forced to leave Northern Ireland in 2003 after an internal power struggle. Andy Frain, currently one of the organisation's most active members, also has Loyalist credentials and connections to East Belfast UDA.
In some cases Britain First has shown itself to be exceptionally forgiving of criminal and paramilitary pasts and has recruited individuals who have been disgraced by the paramilitary groups. Desmond Lundy from Belfast was arrested during during police anti-terror raids in September 2016 targeting the North Belfast UDA. According to the Belfast Telegraph, Lundy admitted to possessing materials in preparation for an act of terrorism and that he was recruited in 2016 into the Belfast UDA to "make up numbers" after splits had left the group decimated. Lundy also has criminal convictions which include threatening to kill his ex- girlfriend, stamping on her head, and choking her with a shower hose. Lundy posted pictures of himself in front of Britain First banners as late as September 2020.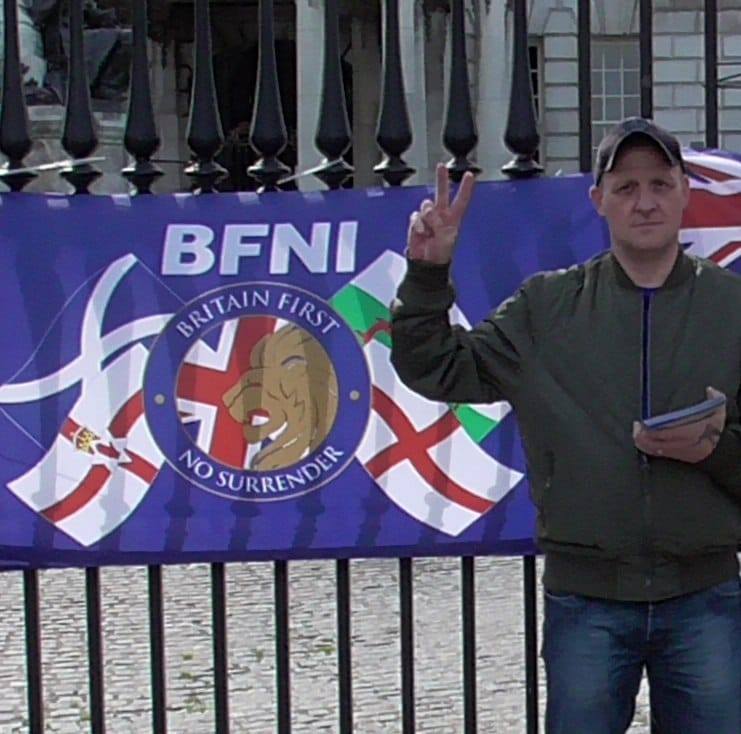 Conflicts
Today, the most prominent member of Britain First living in Northern Ireland is Sam Cochrane, who runs Britain First Defence and is technically the co-leader of the regional branch, alongside Davey Fisher. Both of these men have strained relationships with Loyalist paramilitary groups. Cochrane had prior links with Loyalist paramilitaries but was, before joining Britain First, accused by a faction of the UVF of being an informant.
Fisher fell afoul of the UDA much more recently when he protected convicted rapist Gerald Verner in 2018. Verner was jailed for seven years after a violent rape, kidnapping and assault and threatening to kill a 20-year-old woman. An UDA source was quoted in Sunday World at the time, stating that "I rather have a nice family from anywhere in the world to live beside me […] that [sic] a violent rapist."
Conflicts are not just limited to paramilitary organisations. Golding has fallen out with other former allies in Northern Ireland too, most prominently Jolene Bunting. In 2017, Britain First started working closely with Bunting, an independent Loyalist councillor. Golding stated that Britain First was going to renew its focus on Northern Ireland, including promising that it would forward candidates in local elections. Both Golding and Fransen spoke at the anti- Muslim "Northern Ireland Against Terrorism" rally organised by Bunting outside Belfast City Hall. Bunting promoted the organisation and defended its presence at rallies when many Loyalist factions critiqued this presence.
The relationship came to an abrupt halt in 2018 when Bunting was accused by Golding of theft. Bunting then threatened to sue Golding for "reputational damage." In early 2019, Jayda Fransen left Britain First, referencing the group's violence and corruption in later interviews, but also violent abuse by Golding towards herself. Bunting took the side of Fransen and has continued to regularly post negative comments about Britain First and Golding on social media.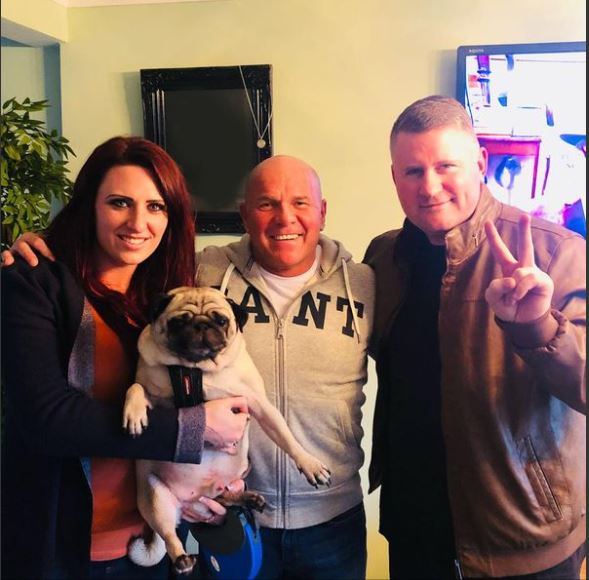 Legal Reasons
There were also far more practical reasons for Britain First making Northern Ireland its base of operations for various periods. In 2018, Britain First's hugely successful Facebook page, which had close to two million followers, was removed from the platform. In an attempt to get the page reinstated, the group launched a bid in the High Court of Northern Ireland. The lawsuit relied on political anti-discrimination legislation provided under the Good Friday Agreement which states that, in Northern Ireland, organisations cannot be discriminated against because of their political beliefs. Golding hoped that moving the organisation's base of operations to Belfast would strengthen the case against Facebook.
Britain First was also met with increasingly difficult challenges by law enforcement in England and Wales. In 2016, the Bedfordshire Police requested an injunction to forbid Britain First to enter any mosque in England and Wales. Golding and Fransen were also temporarily banned from entering Luton. Facing this increasingly challenging environment, the organisation hoped that basing itself in Northern Ireland would give it protection under the political anti-discrimination legislation there.
Conclusion
Britain First's relationship with Loyalists and Loyalist paramilitaries in Northern Ireland is not as straightforward as the group would like to portray. While there was acceptance and even some level of collaboration early on, most of this has dissipated. Even Fransen, who described her first visits to Northern Ireland as a "paradise" for patriots, noticed over time that Britain First's "patriotism" was not welcomed by most of the Unionist community. She told the BBC in 2019 that "there is a level of hijacking going on with Britain First and it doesn't sit right with me." Compared to its central role at flag protests in 2012, the group is now almost invisible in relation to the recent Protocol demonstrations, which otherwise involve many of the same organisations.
This does not stop Golding from continuing to give a false impression of a close relationship to paramilitary groups. Britain First's Telegram channel, now its main social media outlet, regularly posts pictures of Loyalist marches in Northern Ireland and of Golding in front of Loyalist murals. The organisation remains active in Northern Ireland and has especially focused on hotels housing migrants, but despite it launching recruitment drives in 2020 and 2021, it struggles to attract more than a handful of activists to its actions and when it does, many these travel over from England.