HOPE not hate can reveal that Alek Yerbury, a former soldier involved in organising recent anti-migrant protests, has made threatening messages about MPs. He has also called for the use of firearms on migrants in Belarus, and the internment of his political enemies in forced labour camps.
In recent weeks, a series of protests have swept the UK targeting hotels used to temporarily house asylum seekers. While these sites have been a flashpoint for the organised far right for years, there has been a sharp increase in 2023 against a backdrop of swelling anti-migrant sentiment and scapegoat politics. While some protests have been small, others have been hundreds strong, with locals with no prior history of activism rubbing shoulders with opportunistic far-right campaigners from outside the area.
One activist attempting to capitalise on this moment is Alek Yerbury, a Leeds-based former soldier who helped organise a march in Skegness, Lincolnshire last month, and is heading an upcoming rally in Hull, Yorkshire this weekend "against the sabotage of society by a treasonous, Marxist and parasitic government". Until recently, Yerbury was a key public speaker for Patriotic Alternative (PA), the UK's most active fascist organisation, but split from the group last month in the hopes of spearheading his own street protest movement.
Now, HOPE not hate can expose Yerbury's fixation with political violence. Yerbury has repeatedly expressed his disturbing fantasies online, including appalling statements about the murder of Jo Cox, a Yorkshire MP assassinated by a neo-Nazi in 2016, and outlining his desire to see his enemies "annihilated" in detail.

Alek Yerbury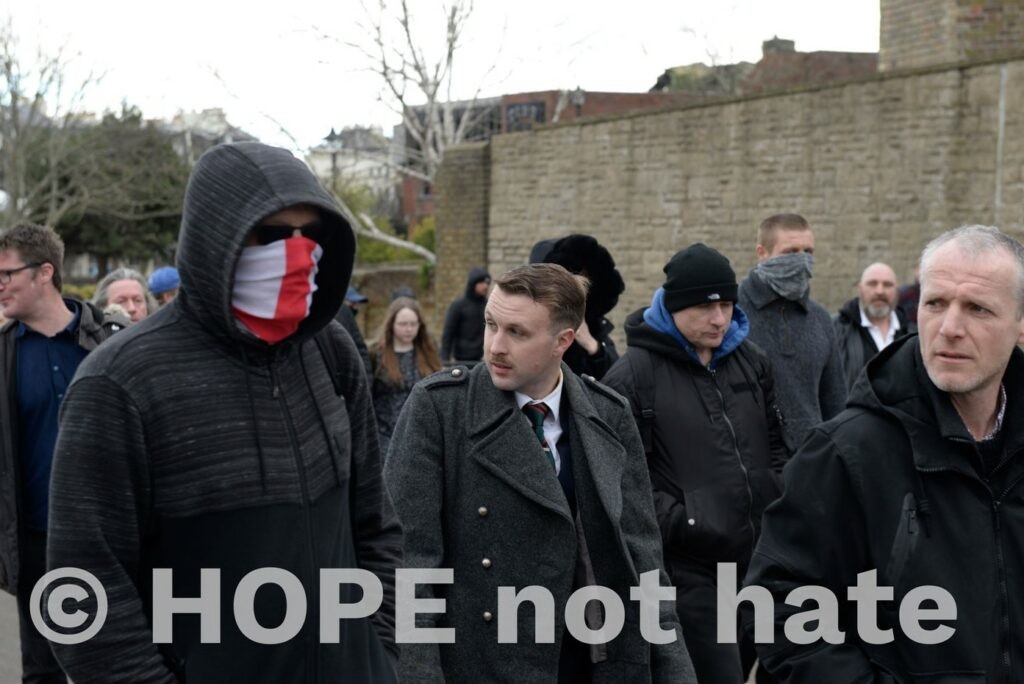 Yerbury was privately educated in Adelaide, Australia before serving in the British military. He joined PA in the autumn of 2021 and quickly emerged as a prominent public-facing activist in the Yorkshire branch, which is home to the group's leadership.
Yerbury became a regular public speaker for PA, earning him the praise of the leadership as "a terrific example of what a modern ethno-nationalist should be". His role in organising and fronting anti-migrant demonstrations has also gained the attention of the press, which focussed on his resemblance to Adolf Hitler.
Yerbury split with PA in February and has allied himself with a circle of far-right activists based in Yorkshire, many of whom loathe PA leader Mark Collett. He has voiced his desire to launch what has been described as a "new EDL", a reference to the English Defence League, the anti-Muslim street movement that brought violence and disorder to town centres across the UK in its heyday in the early 2010s.
While Yerbury may appear an unlikely figure to lead such a movement, and it is unclear exactly what shape it might take, he has received a degree of support, for example the Leeds-based activist Scott Pitts jokingly describing him as "our General".

Against Politicians
Yerbury harbours an intense hatred for politicians and left-wingers, a fact evidenced by the posters for his upcoming event in Hull, which take aim at "political parasites" and "treacherous Westminster criminals and their Global-Marxist agenda".
However, Yerbury's online output is more threatening. For example, on a January 2021 video concerning Boris Johnson's vaccine policy, he wrote:
"Remember a few years ago when that MP got her head blown off in public? Clearly the other MPs have learnt nothing from that, and are still just as ignorant and selfish as ever."
Yerbury was referencing the murder of Jo Cox, MP of the Yorkshire constituency Batley-and-Spen, by Thomas Mair in 2016.
On a May 2021 video, he wrote "I have never hated anyone or wanted to see someone suffer physical harm as much as Hancock, Johnson and the entire cabinet", later adding: "Where's Thomas Mair when you need him?"

In reference to the Government's chief medical advisor Chris Whitty: "This man needs to leave planet Earth. Don't care how." In reaction to another video warning "Terrorists could use deadly bioweapons to attack Britain, warns Tony Blair", he wrote: "Can they do us a favour and release the weapons in parliament please".
In yet another disturbing comment, he wrote:
"For the rest of my life, I will only ever vote for parties whose goal is to annihilate the system AND the people in it. The more extreme the better, because the more likely they will be to actually carry out the action."
There are other similar comments.

Against Migrants, Black Lives Matter and the Left
Yerbury's violent preoccupations have also focussed on migrants. For example, on a November 2021 video titled "Polish troops guard barbed wire perimeter as Belarus migrant crisis worsens", he wrote:
"Need to start using firearms on them. Nothing else is ever going to stop it."
More recently, after a far-right activist attempted to petrol bomb a migrant centre in Dover in October last year, he said:
"In order for me to think of it as terrorism I would have to be afraid. I am not afraid whatsoever if people go round petrol bombing migrant centres. For legal reasons, I will not say that people should, but I'm certainly not afraid of people doing it."
Elsewhere, Yerbury has suggested the use of tanks against Black Lives Matters (BLM) protestors, and in reaction to video of a car ploughing into a crowd of BLM supporters in New York City, wrote: "Pity it wasn't a lorry".
In reference to Ben Hannam, a police officer convicted of membership of the banned neo-Nazi organisation National Action in 2021, Yerbury wrote: "I'd rather have this man as a police officer than any of the ones who went around kneeling at the feet of communist BLM protestors", a sentiment he repeated elsewhere.

Yerbury has repeatedly stressed the need for eradicating left-wingers, which he believes to be controlling the political mainstream. To take one example of many:
"My whole life experience has convinced me that left-wing people, Communists, Marxists, liberals, are the definition of evil, and as like a cancer, as long as a single one exists, the human race will never be safe."
He later stated:
"One day soon people will awaken to the deadly danger that Marxists pose. They are a threat to life and if left untreated they will kill us all. A world free of Marxism and those who spread it is the only future in which the British people are alive."
In December 2021, he had the following to say:
"what this county needs is a series of internment camps whereby the kinds of people disposed to commit these offences (which you can determine by their ideology and worldviews) can be put away BEFORE they strike. Such facilities to be financed by the forced labour of the people in there of course."
In replying to a user who wrote "When you see every lamppost with strung up traitors for miles , that's scary enough", he stated:
"I've always been of the view that the best way of beating someone isn't simply to defeat them, but to utterly destroy them. Whilst public spectacle is certainly satisfying, what is more satisfying is to quickly and effortlessly do the deed, then just erase every trace of them ever having existed. The best fate for them isn't to end them, but rather to make it so no one even realises that they ever lived."
Yerbury has continued to make such statements, for example writing on Facebook last month:
"When it comes to the hard left, do you understand now why Franco and a certain Austrian did what they did to those sort [sic] of people?"

Dangerous Rhetoric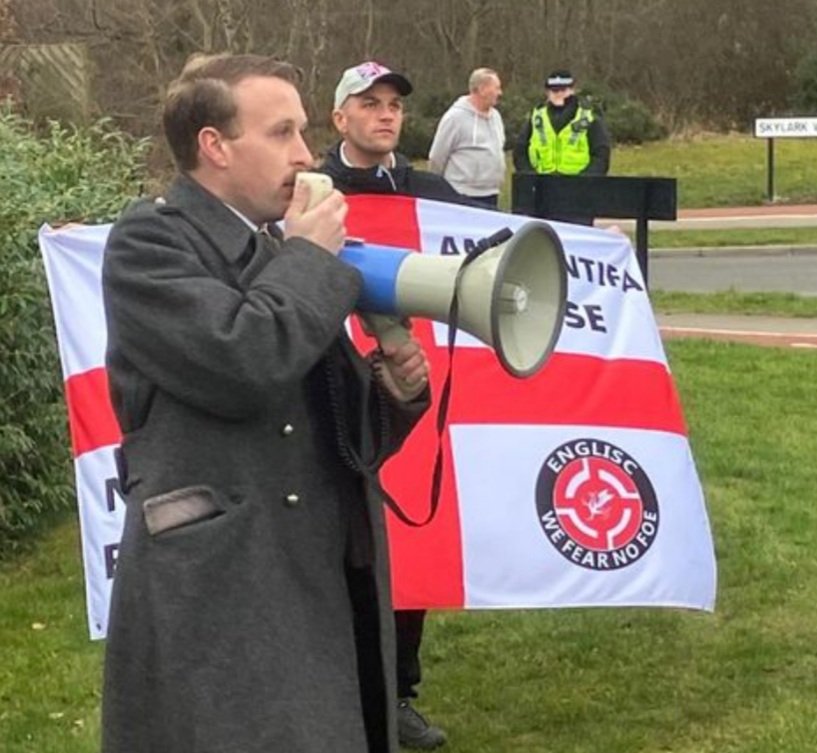 By organising protests, such as the upcoming event in Hull, Yerbury hopes to steer anti-migrant sentiment towards overarching far-right conspiracy theories, portraying immigration as "a symptom" of the "Marxist agenda" being pushed by the sinister "caste" in power.
Yerbury's repeated posting of his violent fantasies on the internet is both contemptible and dangerous. A militant current runs through the UK's far-right fringes, and must be treated seriously.