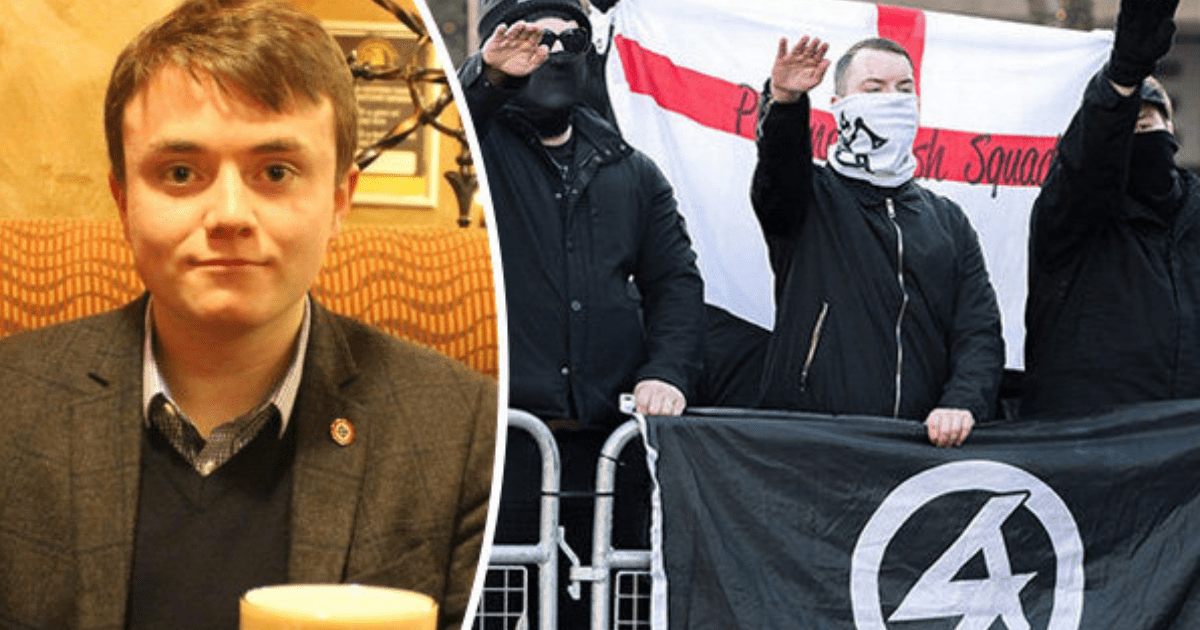 Robbie Mullen had only been a mole inside neo-nazi group National Action since April 2017. He had joined the group in 2015, impressed by what he had seen of it in the media, and in the search for friends.
From the very moment he made contact we treated him with kid gloves. We had to establish over long and delicate communications that he actually was who he said he was: unlike many activists in National Action he was completely unknown to us.
National Action had been threatening HOPE not hate from almost from the moment it was founded in 2013, and we knew we were still getting under its skin in 2017.
In March 2017 – three months after it was banned by the Home Secretary, because the group publicly venerated the killer of Jo Cox MP – we exposed National Action's efforts to regroup and reform under new names but with even more violent intent. NA members were furious with founder Ben Raymond for being so careless and being exposed in this way.
A source inside
After several weeks of negotiations with Robbie and with us checking and re-checking the information disclosed in every email he sent, and in the cordial but nervous phone calls between us, we agreed to meet Robbie Mullen in London in mid-May 2017. It was one of the biggest security operations HOPE not hate had ever mounted.
Even down to making sure he got the train we told him to get and that he was sitting in the seat we had booked for him, we wanted to make sure everyone left the meeting as they arrived: safely.
It was tense. The government had only recently been assured by the police that National Action was finished, that the banning order against the group the previous December had ended its operations and closed down its networks. We knew otherwise.
Mullen had been struck by National Action's hatred of HOPE not hate and by our equally dogged attitude in pursuing them. His problem was that he wanted to leave the group, which felt like an impossible task to do on his own. National Action had become akin to a cult and he had little or no life outside the organisation.
We are used to meeting with members of far-right groups who want to pass on information or become 'informers'. Not everyone passes the test, and it is not something we advertise very often. Those that do come to us, like Mullen, are treated with dignity and respect and we get to work on an exit plan for them. For Mullen, we envisaged that the process would be relatively simple. One day he would be able to walk away or stop taking their phone calls once we had unsettled and disrupted National Action's activities. And, if need be, we'd vanish him to another part of the country to carry on his life as part of 'normal' society.
A complex, underground terror cell
National Action was complex. The person we, and everyone else, had thought was the leader of the gang, its co-founder Ben Raymond, had been ostracised. The group had simply outgrown his cowardice and self-promoting neuroses.
So, before we met with Mullen, we had put together a fairly accurate picture of the group's new dynamics. More than anything, we were impressed by the sheer extent to which the group had gone underground and how sophisticated it had been in doing so. National Action was becoming more and more like a cult and Christopher Lythgoe, the previously unheard of leader, controlled almost every living and breathing part of its apparatus.
What Mullen had realised very early on after the government ban, as had some others who had literally "fled" the group or who were told they were no longer wanted, was that National Action was planning for what we would come to know as "white jihad" and that it had become an ever more a likely eventuality.
A baby-faced violent extremist…. with a dark secret
In 2016 Jack Renshaw had replaced Ben Raymond as the group's "mouthpiece". Despite his boyish demeanour, Renshaw was harsher than Raymond when he spoke about immigrants and, in particular, Jews. Christopher Lythgoe had also replaced co-founder Alex Davies and Ashley Bell as the group's leader, but had managed to do this without either his identity or this shift becoming common knowledge.
HOPE not hate had written at the time that National Action was operating as if there had been a schism within the group. We opined that there were those within it who had tired of Ben Raymond's ability to drag the group to what looked like the brink of terror, then drag it back again within the parameters of the law. But we had no idea at that time just how severe the schism was becoming or how little Raymond seemed aware of it.
In January 2017, Jack Renshaw was arrested for two horrendous speeches he made in public the year before, one in Blackpool and one in Leeds. During both speeches he described Jews and immigrants as vermin. During the Leeds speech, to a branch of the notorious 'London Forum', he actively encouraged people to hunt Jews down and eradicate them.
Disposing of Jews had long been one of Renshaw's favoured themes. While a member of the British National Party (BNP) and a student at Manchester Metropolitan University, he wrote an article called 'The Enemy.'"These are the instigators of World Jewry, or to put it simply, the Jew," he wrote;
"World Jewry is the disease, whilst its product ideologies are just the symptoms. Beat the symptoms and they'll return or be replaced – but – beat the disease and you'll eradicate the symptoms."
Renshaw was later informed by the police officers investigating his hate speech that they had found evidence on his mobile phones that suggested he was grooming young boys for sex. (He would later claim, when convicted of that crime in June 2018, that HOPE not hate had hacked his phones as part of a Jewish conspiracy against him. Independent experts rubbished the notion that this was even possible).
Time was running out for Renshaw. The noose tightened when in May last year he was told he was likely to be charged with sex offences as a result of the investigation into the content on his phone, and he was bailed. One of the investigating officers was Victoria Henderson, who would later feature in Renshaw's murder plot.
While on bail, Renshaw continued to offend and attempted to groom young boys and search the internet for websites that catered to his sick fantasies. By this time he was not even bothering to try to cover his tracks. Previously he had used a series of different SIM cards to hide his identity; now he used his own phone and even posted under his own name.
Renshaw had seemingly given up caring and his mood changed accordingly. He repeatedly told the group that the police were persecuting him and he voiced his fears about going to prison. He admitted to others that he was under investigation for grooming, but claimed that this related to him recruiting boys to the cause. Attempts to make him look like "a paedophile" were merely a smear by the police. Leading NA members bought his lies.
A plot unfolds
Now worried that he would go to prison for grooming and be forever remembered by the far right as a sex offender, Renshaw began plotting. He bought a 19-inch machete and began researching the police officer, Victoria Henderson, who was investigating both his racist speeches and the grooming offences. Determined to make a mark, he even went onto Google to research the slowest and most painful methods of murder. It is interesting to note that Henderson was not the officer in charge of the case, but she was a female officer working on the case, something that made her a justifiable target in Renshaw's sick version of reality.
Meanwhile, National Action continued to train and recruit. Key activists even moved around the country in the hope of evading police scrutiny of their activities. The group had made plans for a 'white homeland' in West Yorkshire, where they could all move and live together as an active, highly-trained fighting unit.
In preparation for the coming 'race war', in December 2016 Christopher Lythgoe used the money refunded by Paypal (after the group was banned) to rent a gym and office near his home in Warrington. As the leader of the group, he also drew a small salary. Members were told they had to contribute to the new gym and Lythgoe's upkeep. They were also instructed to travel to and train at the gym. Christopher McCartney, a taxi driver from Huyton, oversaw Lythgoe's personal security and everyone else's travel arrangements.
The training Lythgoe ran was bloody and brutal. After each session, he would hold court upstairs at the Friar Penkreth pub in Warrington where he would outline to members his blueprint for the group's descent into terrorism. It was these conversations and their increasing intensity that saw Robbie Mullen come to HOPE not hate. Mullen and I began meeting regularly and in secrecy. We were well aware that if our relationship was discovered, Mullen would almost certainly be murdered by the group.
The race to foil a neo-nazi 'spectacular'
On 1 July 2017 I was on holiday when I received a message late at night from Mullen, telling me to contact him "ASAP".  What unfolded was a story that was to change his life forever.
Earlier that evening, Jack Renshaw had attended a meeting in the Warrington pub to declare his intention to murder his local MP, Rosie Cooper. Unbeknown to the group, Renshaw had been told that he was to be charged for child sexual exploitation. He had decided that if he were to be charged with grooming children, instead of becoming known as a "nonce" he would murder an MP.
Renshaw told the gathered group that he had bought a machete and claimed to have even tested the 19-inch blade on a pig in Oldham. The Gladius Machete he had purchased was well known for its strength and cutting power. It is often referred to as a sword.
Renshaw had settled on killing Rosie Cooper, the MP for West Lancashire, a constituency that covers Renshaw's home in Skelmersdale. After killing Cooper, Renshaw would lure the police officer, Victoria Henderson, to meet him and then kill her too. Having murdered both women, he would force the police to shoot him, donning a fake 'bomb vest' similar to those worn by suicide bombers attached to groups like ISIS. Like a jihadi terrorist, Renshaw said he would make a video to be played after his death. He would kill in the name of "white jihad". Surely, he thought, news of his child grooming would be forgotten amid the sheer sensationalism of an MP and a policewoman being slain.
The phone call I had with Mullen that night while away on holiday was tense. Renshaw was due to report to his local police station on 3 July to find out whether he would be charged with grooming offences. Rosie Cooper could only be days away from being attacked. I made a call to pass the information to Nick Lowles, who in turn contacted Labour MP Ruth Smeeth. Ruth had previously worked for HOPE not hate, and understood our work, including the sensitivity of protecting our sources.
Smeeth relayed the shocking news to Rosie Cooper, and she in turn contacted her local police, along with the Deputy Speaker of the House, Lindsay Hoyle, who has responsibility for security and safety issues for MPs.
A sense of urgency gripped us after we saw a number of posts Renshaw had made on Facebook on the evening of 3 July.
"The Blackpool speech and the Yorkshire speech apparently incited terrorism," he wrote angrily. When told by a far-right friend that the case would collapse, Renshaw simply replied: "I'm past caring. I'm too tired." A Yorkshire-based National Action activist then commented: "Pushing someone to the point of not caring anymore, that'll help keep the public safe, well done CTU."
"I'll laugh last but it may not be for the longest," came the reply.
Robbie Jones invited Renshaw out for a drink at the weekend, but he had other plans. "I'm spending time with my family. I've put them through enough shit, I owe them that much. It will all be over soon."
With genuine concern that Renshaw was about to put his plan into action, events began to move very fast. On the morning of Tuesday 4th July Nick Lowles sat down with the police and told them what he knew. Immediately after the meeting, the order was made to arrest Renshaw.
With doors being put in, and suspects bundled away, our focus now turned to protecting our source, Robbie, keeping him safe, and preparing for the inevitable high profile trial…
Finishing off National Action was expensive, and the threat of the far right is not going away.
We're asking our most committed supporters to become members of the HOPE Action Fund by signing up to a regular monthly contribution of £5 or more.
Are you in? Set up your membership today.