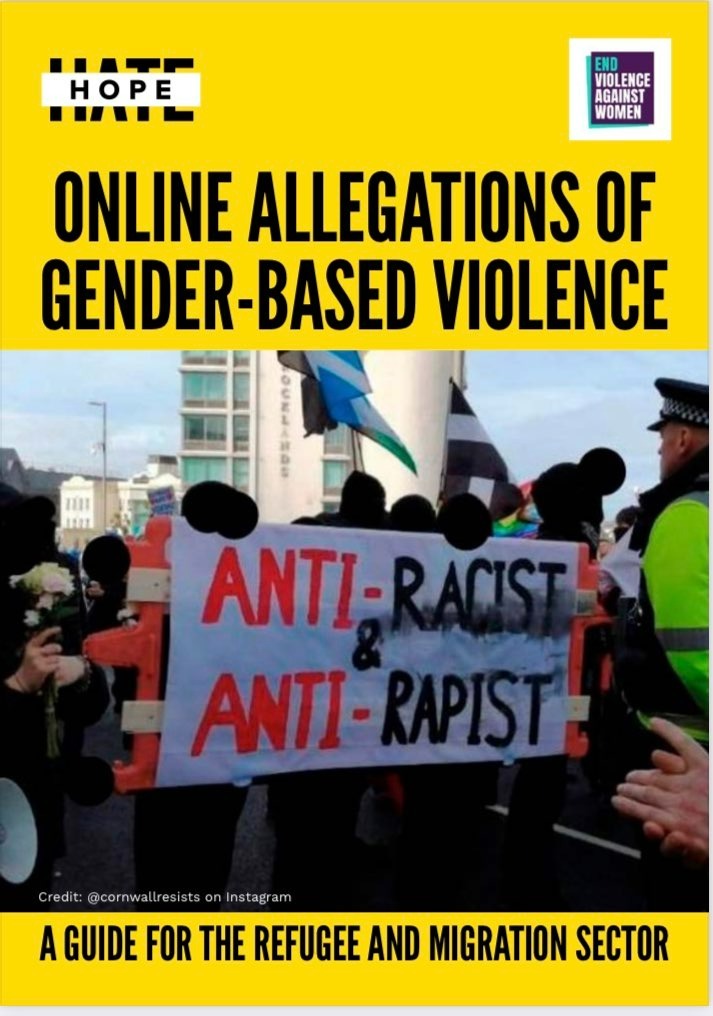 HOPE not hate hosted a webinar to bring together perspectives on gender-based violence (GBV), misinformation and far-right activity. The basis for discussion was a new resource produced by HOPE not Hate and the End Violence Against Women coalition, which offers an overview and practical advice on handling the issue of asylum seekers in the community being accused of perpetrating GBV, which can eventually lead to wider community hostility towards all migrants.
Key Takeaways
1
Your messaging should draw a wedge between far-right actors and people who have genuine concerns about the victim and want to end GBV. Many far-right groups have ignored multiple cases of GBV and child sexual exploitation in their ranks. Help people in the community to see that they don't care about justice.
2
Have counter narratives prepared to tackle online misinformation. It can be helpful to have pre-prepared text that identifies misinformation which can be quickly copied and pasted in online groups to help people understand when their concerns are being weaponised.
The speakers were:
• Anki Deo, Community Response Coordinator at HOPE not hate
• Janaya Walker, Public Affairs Manager at the End Violence Against Women coalition. 
• Zlakha Ahmed, Chief Executive of Apna Haq, a support organisation for Black and minority ethnic women and girls in Rotherham, South Yorkshire. 
• Ciarán O'Connor, Senior Analyst at the Institute of Strategic Dialogue, an independent NGO that researches online hate, extremism and disinformation.

The conversation fell under four main themes, summarised below:
Why GBV is targeted by the far right for weaponisation
Anki talked about a fundamental misogyny in far-right worldviews which means that men, and many women who have internalised this, believe that women need to be protected and defended. Misogyny and racism then interact: asylum seekers, or eventually any migrants in the community, are branded as dangerous "others" on purely racial grounds, and this heightens community suspicions and hostility towards them. Janaya pointed out that in fact, many women are not safe from GBV in their homes, schools and workplaces, and the excessive focus on "stranger danger" of the far right ignores steps that could actually be taken to improve women's safety in favour of making a racist ideological point. Ciarán added that playing on people's concerns for women and children is a way for the far right to activate the outrage and indignation of a wider population that might have disagreed with their other extreme views.
Victim blaming and the impact of GBV on victims
Zlakha provided a much-needed perspective on how the weaponisation of GBV diverts attention away from the needs and experiences of victims. She gave the example of how in Rotherham 10% of victims of child sexual exploitation were from Pakistani Muslim backgrounds, but this was sidelined because it did not serve the weaponised racial rhetoric. Despite frequent conversation and supposed concern, victims are often unable to access the help they need. Janaya emphasised that in any actions taken to tackle the weaponisation of GBV, there must be a concerted effort to avoid blaming the victim for what happened or assuming that allegations are false. Anki added that weaponisation happens irrespective of objective truth: tackling it means tackling a maliciously constructed narrative, not trying to understand whether the case of GBV happened or not. Assuming that victims lie about experiences of GBV is damaging on an individual and societal level.
The spread of misinformation in communities
Ciarán analysed a case study from Finglas, a suburb of Dublin, as an illustration of the spread of misinformation. He pointed out that images which purportedly show an act of violence which get shared around a few smaller accounts are often picked up by prominent "aggregator" accounts, who share such posts indiscriminately with little editing, sometimes even deliberately creating disinformation by assuming the identity of the attacker as an asylum seeker. Smaller media outlets will report on these social media posts in an attempt to position themselves as truth-tellers who tread where no one else will, and this will also be picked up by "citizen journalist" content creators who incite rage and hatred. Ciarán emphasised that this cycle of suspicion, misinformation and hostility serves the far right because they can fill a void of perceived inaction by authorities with calls to action. In some cases, this has even translated to real life harm being caused to migrants and asylum seekers.
The role of social media companies
Janaya argued that when it comes to tackling misinformation, social media companies play a role because they often prioritise engagement and numbers over removing harmful content and moderating accounts which spread misinformation. Ciarán emphasised that in the long term, dealing with the impact of misinformation on social media required investment into education and digital literacy for people of all ages, to help them understand and question the information presented to them. Janaya also raised an interesting point about the future of the weaponisation of GBV – the emergence of AI and deepfake technology could make it a lot harder for people to discern whether they are being shown a real incident or misinformation, which makes it all the more important for the industry to take action and regulate the use of these technologies.