A Magna Carta-inspired uprising to overthrow the government has predictably ended in failure and acrimony. But the violent fantasies of group members – including the sharing of bomb-making manuals – illustrate the danger that lurks beneath these outlandish plans.
For the past few weeks, a social media post from a previously little-known group of anti-vaccine, anti-5G and pro-Common Law conspiracy theorists has been widely shared on the Telegram messaging app, promising that August 31st would see a confrontation in Parliament Square between police and an army of veterans. This climactic event would culminate in the overthrow of the British Government by means of Article 61 of the Magna Carta:
"On August 31st from 6 am we shall be uniting with thousands of ex military personnel from all over the United Kingdom to Rise up and Take our Country Back From the unfit for purpose Government and all opposition parties invoking ARTICLE 61 of Common Law.
…
We intend to Stop them from Entering the Houses of Parliament by any means necessary so please come equipped to FIGHT FOR YOUR FREEDOMS."
The post was clear that this event would be physical in nature, insisting that this was "NOT A PROTEST/RALLY or MARCH" and recommending that attendees bring "Protective Articles for self defense (Such as Shields Batons Etc)"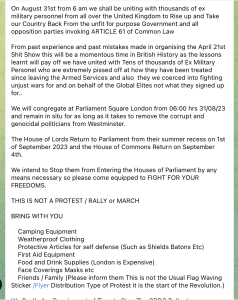 The plan was so ill-thought out that it raised eyebrows even amongst other extreme conspiracy theorists including anti-vaccine activist Michael Chaves, who posted a video denouncing what he called a "Pied Piper mentality" on his own channel: "You're going in to Central London now, you're masked up, you're weaponed up – does anyone other than me see the problem here?!"

Fortunately for us all, the day ended in a different kind of disaster: barely anyone showed up. Despite the promise of "tens of thousands of ex military personnel" on the day and the organiser claiming to be arranging coaches to bring them to London, turnout ended up at a reported 60 people in attendance, many of whom immediately fell into a traditional round of bickering and blame that led to the resignation of the group's anonymous leader.
Bombs
But HOPE not hate can reveal the group's Telegram chats show a more dangerous side to the group's plans, one which illustrates a threat that does not depend on invoking the Magna Carta and a mythical army of angry veterans. Two days prior to the demonstration, some of the group's most active members engaged in a discussion about bomb making, following a suggestion that they should seek out a terrorist training manual on the dark web.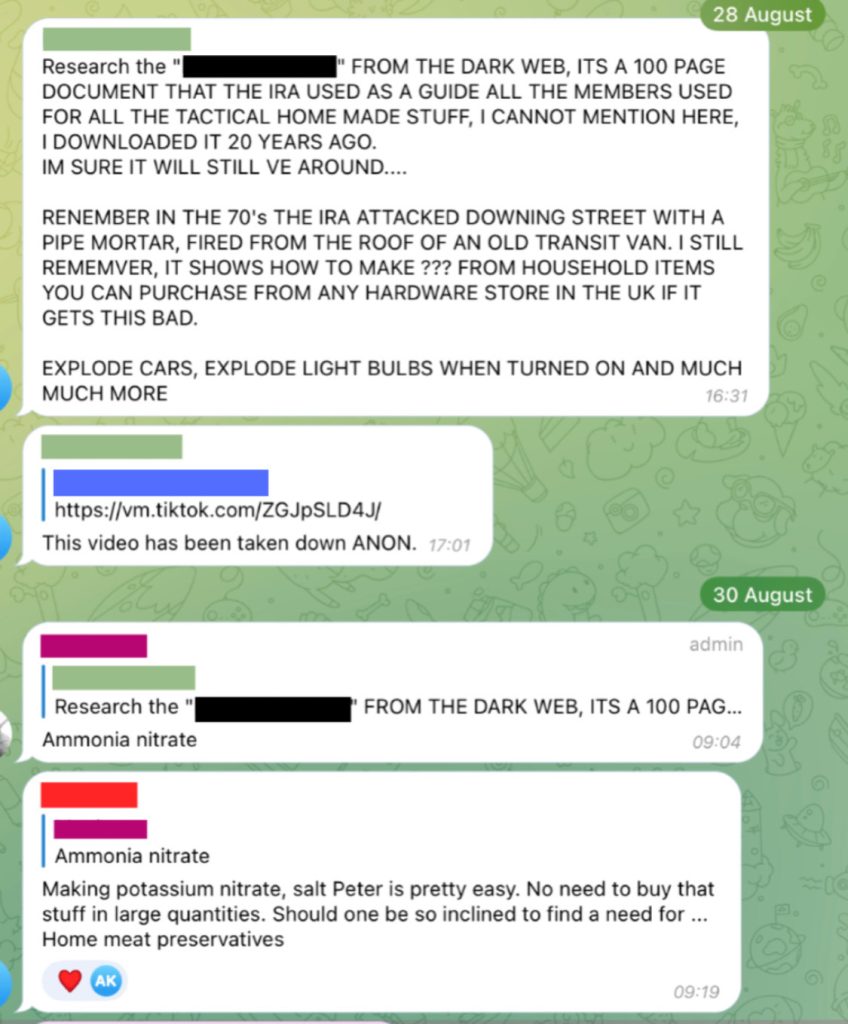 In the messages that followed, which we will not reproduce here, another group member then gave instructions on how to produce the necessary ingredients for bomb making from household products, before the first member went on to actually post the PDF of a bomb making manual in the group's main chat, advising members to save a copy in a safe place: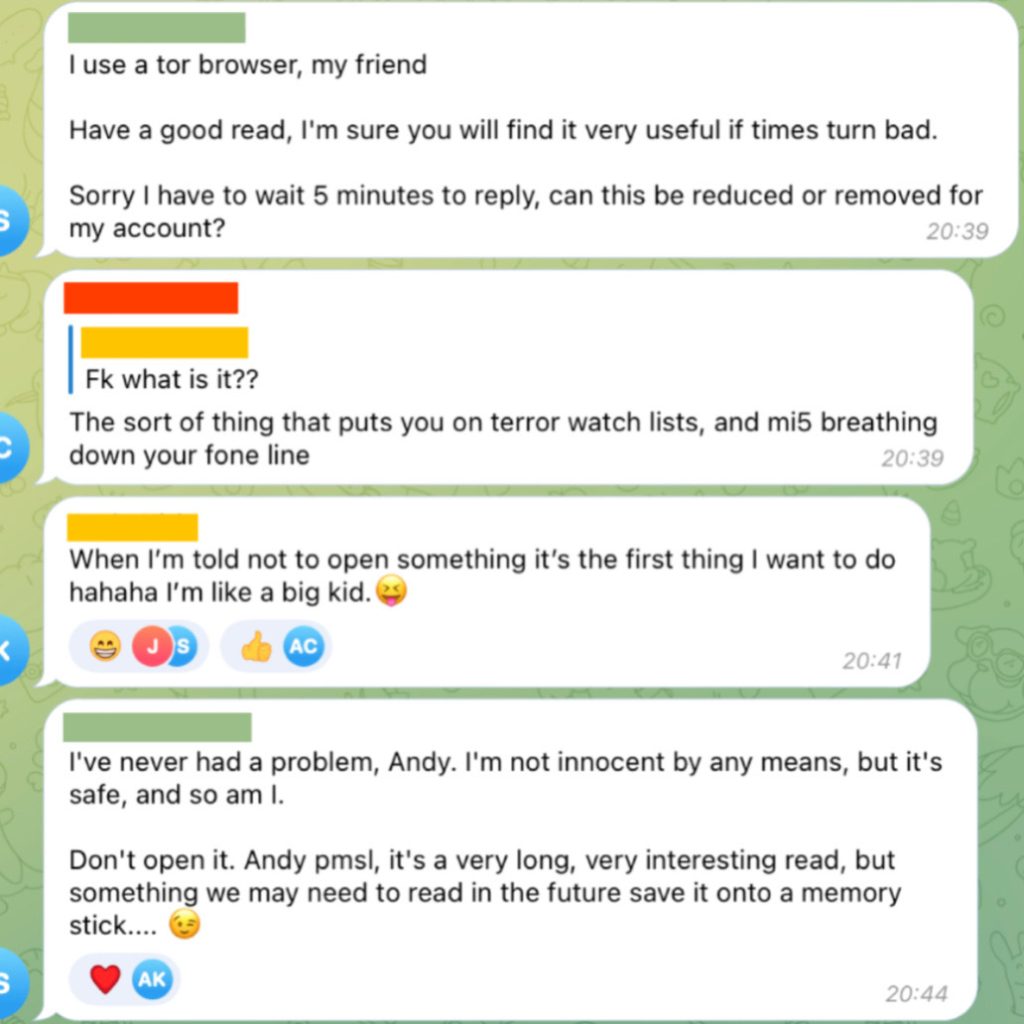 The user who posted the explosives manual has made other alarming posts that require police intervention. Despite his claims that the manual that he shared was merely for future use, he has twice made reference to having "built up an armoury" and that he's "thinking of options the kind that I don't give a fuck about myself"
"I'm getting really fucked off now and I've been building up an armoury 😡😡
Yeah I will sacrifice myself if I take down 10 with me I could scream with anger right now"
Heavy Machinery
Explosives were not the only violent fantasy emerging from the group over the past few weeks. Other users discussed the prospect of raiding building sites for heavy machinery, for an unspecified destructive intent: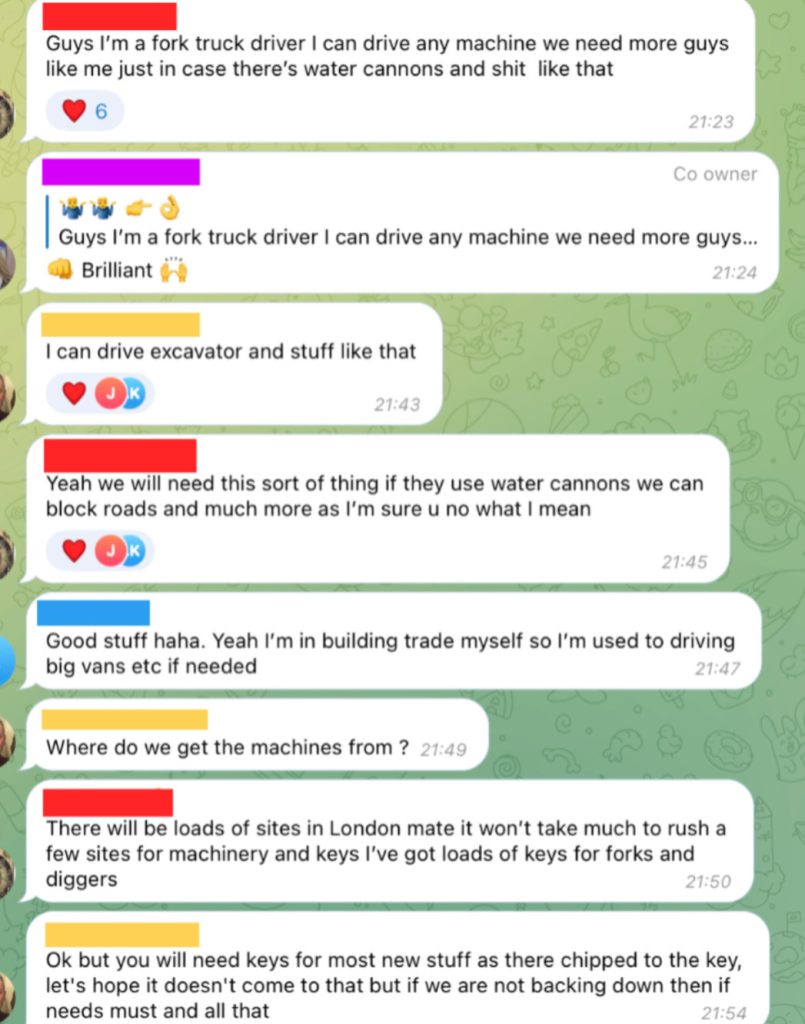 HOPE not hate has passed the details of relevant individuals in this article to the police, and it seems unlikely that the group will be organising another coup attempt any time soon. 
Yet the milieu from which it emerged will continue to constitute a threat. The radicalised and angry rump of the conspiracy theory-scene that dwells in these kinds of Telegram chats is an community in which the posting of terror training manuals and calls for violent insurrection are treated as understandable responses to the society as they see it. A more competent group or individual with the same motives and desire for violent upheaval could pose a threat in the years ahead.