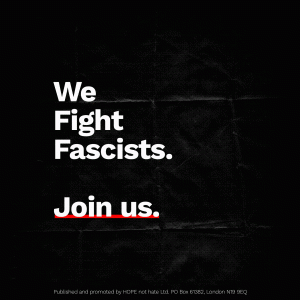 Reports to: Campaigns and Communications Director
Salary: £36,000 to £38,000 dependent on experience
Benefits: Pension, 25 days annual leave ( We are also currently trialling a 9 day fortnight at full pay!)
Based in: London office. (We are willing to consider remote working within the UK, with regular in-person meetings in London, for the right candidate.)
Application deadline: Tuesday 29th August 2023 at 9am.
---
Why this role is important – and why you'll make a difference doing it:
HOPE not hate is the UK's leading anti-fascist organisation. Our mission is simple – to monitor and challenge the far right, to engage in the communities that are susceptible to them and to address the issues and policies which give rise to them.
Our team includes researchers, educators, community activists and policy experts, as well as specialists with inside access to far right groups.
We realise our vision through challenging racism, hatred and extremism in all its forms. We always look to leverage hope – supporting and empowering people to build the stronger, more resilient, inclusive and hopeful communities they want to be part of, where the power of hope overcomes hate. We work to support powerful and effective local, national and international political, societal and economic ecosystems, and we challenge attempts by promoters of hateful ideology to gain public platforms, both online and in real life.
HOPE not hate is seeking a new Digital Lead to join our Campaigns and Communication team. You will take ownership of our digital fundraising, campaign and engagement targets. And you will implement a data-driven approach, driving up performance across our digital platforms to attract, engage and mobilise people against hate.
What you'll be doing in this role:
You'll be joining at an exciting time for the Campaigns and Communication team. We recently carried out a thorough audit of our digital channels and performance, and used this to develop a framework for improving our digital performance in the coming months and years. As Digital Lead, you will be responsible for taking this work forward.
Our priorities are attracting, engaging and mobilising more people against hate, drawing on the power of hope, solidarity and community.
Your role will include:
Leading HOPE not hate's digital strategy;
In collaboration with the Director of Campaigns and Communications, set targets for digital fundraising and email list growth, and establish KPIs and reporting processes to track progress towards these goals;
Working with staff and suppliers, plan and deliver a range of digital campaigns to attract new supporters, raise funds and / or increase our impact as an organisation that campaigns against hate;
Line managing the Digital Content Officer, ensuring there is a well planned and executed content calendar for our website, email and social media;
Manage relationships with suppliers including agencies that support our website and our ads, and our eCRM provider;
Develop processes and empower teams across the organisation to produce high-impact digital content;
Create processes for sharing digital success stories and results across the organisation.
As we are at the beginning of a new approach to this work there is considerable scope for you to shape the role, however based on our recent review we consider the following projects a priority: recruiting the Digital Content Officer; improving our email and action page templates; carrying out an SEO review and developing an action plan to improve this; and creating an always-on supporter attraction campaign to grow our email list. You will also play a key role in helping develop our plans for the upcoming UK General Election.
What we think you'll need to be able to do the job:
At least 3 years experience of working in digital for a campaigning organisation, charity or a political candidate/politician.
You'll have experience using digital activism tools like Engaging Networks and CMS systems like WordPress.
You'll have experience developing testing strategies and tracking performance online using tools like Google Analytics.
You'll have experience in successfully managing projects that engage and rely on staff, consultants and / or suppliers.
You'll have experience of managing staff or volunteers, or you will be able to demonstrate relevant skills such as problem-solving, listening or delegation.
You'll have an understanding of what a great campaigning and fundraising looks like and how your role as Digital Lead can enable that.
What else do you need to know?
We are looking for someone with the emotional resilience to work in a field that involves challenging content, good political judgement and awareness and the ability to work under pressure and reduced timescales.
We believe that our work will be at its best if it is created by people with a range of backgrounds and experiences. We are keen to interview people who will add diversity to our team. We are an antifascist organisation, which strives to be an effective ally in the wider fight against racism and inequity.
---
How to apply for this role
To apply, you'll need to answer three questions. Each answer has a character limit of 2,000 characters.
Please list the jobs you have done over the last five years, listing the organisation, your title and a brief summary of your responsibilities. You can also include any voluntary work.
Please outline why you are interested in becoming HOPE not hate's Digital Lead.
Please give a few examples of digital projects you have played a vital role in. What did you do? What was the result? Please include whether the project contributed to impact, engagement or income.
Then just send your completed answers to [email protected] with the subject line 'Digital Lead – Application'.
Application deadline: Tuesday 29th August 2023 at 9am.