One of the newest militant anti-vaccine groups has already been infiltrated by the far right, says DAVID LAWRENCE.
As an insurgent mindset has spread into sections of the UK's conspiracy theory-driven protest movement, we have witnessed the emergence of militant anti-vaccine networks that eschew street demonstrations in favour of radical direct action.
Foremost among them is Alpha Team Assemble (ATA), an outfit that has received much media attention in recent months for its combat training sessions and worrying statements of intent. As HOPE not hate can reveal, a number of far-right activists have also inveigled their way into the group, raising questions over its future direction.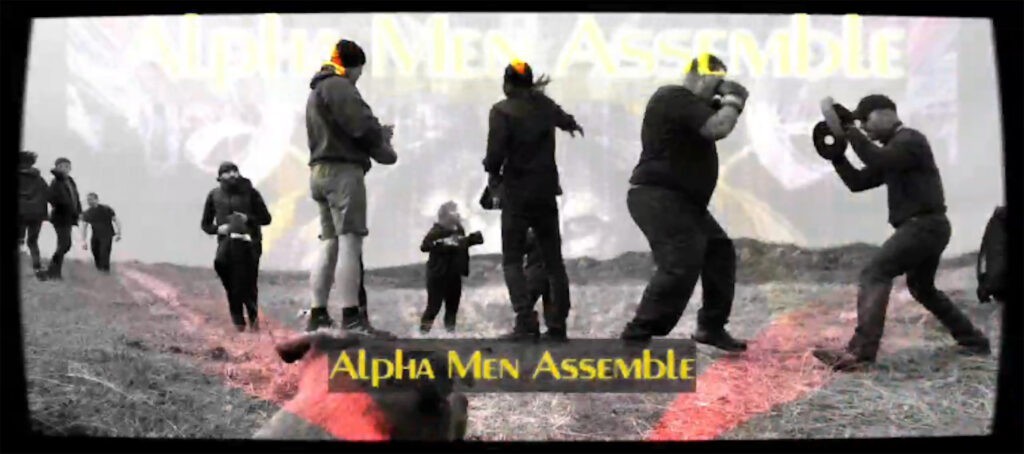 Alpha Team Assemble
ATA surfaced on Telegram in December 2021, adopting an alarmist tone and promising "no more words just pure unadulterated defiance", as well as a "global war against governments". It quickly amassed a sizeable following online, gaining over 8,000 subscribers on its Telegram channel, alongside 20 local groupings.
Instructing attendees to wear black clothing, ATA's first event drew several dozen activists for a "self defence training session" in a park in Leeds on 19 December. It was followed by a meeting nine days later in Littlehampton, at which roughly 100 individuals performed combat drills. The biggest meeting so far took place in a park near Walsall, on 8 January, at which an estimated 200 people gathered and were subjected to drills by Danny Glass, founder of the group and a former Royal Fusilier.
After extensive negative press attention, ATA has toned down its public rhetoric, voicing its intent to operate within the law and that any obvious displays of "racism, bigotry or hate" online would result in bans. Despite these words, however, some marginal far-right activists have successfully inserted themselves into the group.
Independent Nationalist Network
Among these figures is Richard Lumby, a former British National Party organiser and now the unofficial leader of the Independent Nationalist Network (INN), a small group that split away from Patriotic Alternative (PA) in 2021.
Lumby told INN members in January that the group's "main direction" would be "the resistance against the global cabals", promising to "get involved in the groups that are taking it to them, particularly on the vaccine issue, the COVID-passports etc." To this end, INN members including Lumby and former PA activist "Anglo Joe" attended the ATA meet in Staffordshire in order to "make connections".
On 15 January, Anglo Joe wrote in INN's small internal chat group that he had: "Just got off the phone with Danny Glass, really positive stuff", claiming that they had "agreed to move forward shoulder to shoulder". Glass subsequently joined INN's internal chat, stating that he was "not a political person at all but feel it's time for all of us to connect and support each other". After a series of friendly messages, Glass invited members to attend a future meet in the Midlands: "Be good to see the blokes that came to our last one and please bring some friends, and the honour you showed us by standing with us and saying what you did […]."
Such links are concerning in light of the unalloyed extremism of some figures associated with INN. For example, a recent addition to the group is the Dudley-based Andrew Barnes, who identifies as a lifelong National Socialist and has previously expressed support for a number of nazi terrorist groups, including Atomwaffen Division (described by Barnes as "the way forward") and National Action (described by Barnes as "excellent"), both of which have been banned in the UK under anti-terror laws. Barnes has also agreed that the Christchurch killer Brenton Tarrant is "a good lad" and has expressed support for the nazi-satanist network, the Order of the Nine Angles (O9A). In February, Barnes joined ATA chat groups and inquired about any forthcoming meet-ups in Dudley.
Whilst INN remains a tiny group, more significant far-right outfits are making overtures towards ATA. For example, ATA's East Midlands chat group has been repeatedly spammed with the propaganda of Patriotic Alternative, the largest and most active fascist organisation in the UK, including encouraging members to "get involved today".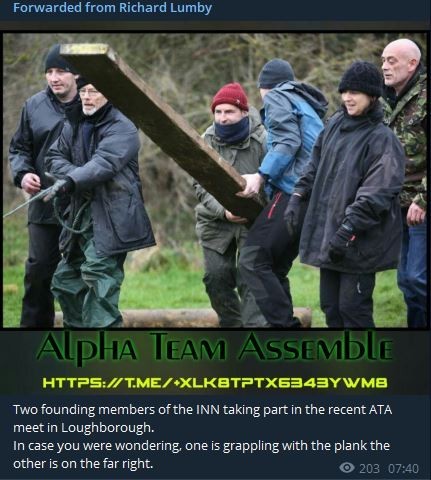 Far right affinities
More worryingly, a number of ATA figures attended a January demonstration in Telford organised by Stephen Yaxley-Lennon (aka Tommy Robinson), with a number of members of ATA Telegram groups writing supportively of both Lennon and the event. "Tommy Robinson is a friggin hero", stated one comment in ATA's West Midlands group, with another claiming: "He's the heart of England. Fuckin brave man."
Although it is unclear whether far-right elements will exert any meaningful influence on ATA, the group is still in its infancy and is currently aiming to establish small groupings of dedicated activists, rather than a mass movement. The evident far-right sympathies within ATA are concerning, especially as the group may yet morph into more clandestine – and potentially more dangerous – iterations.