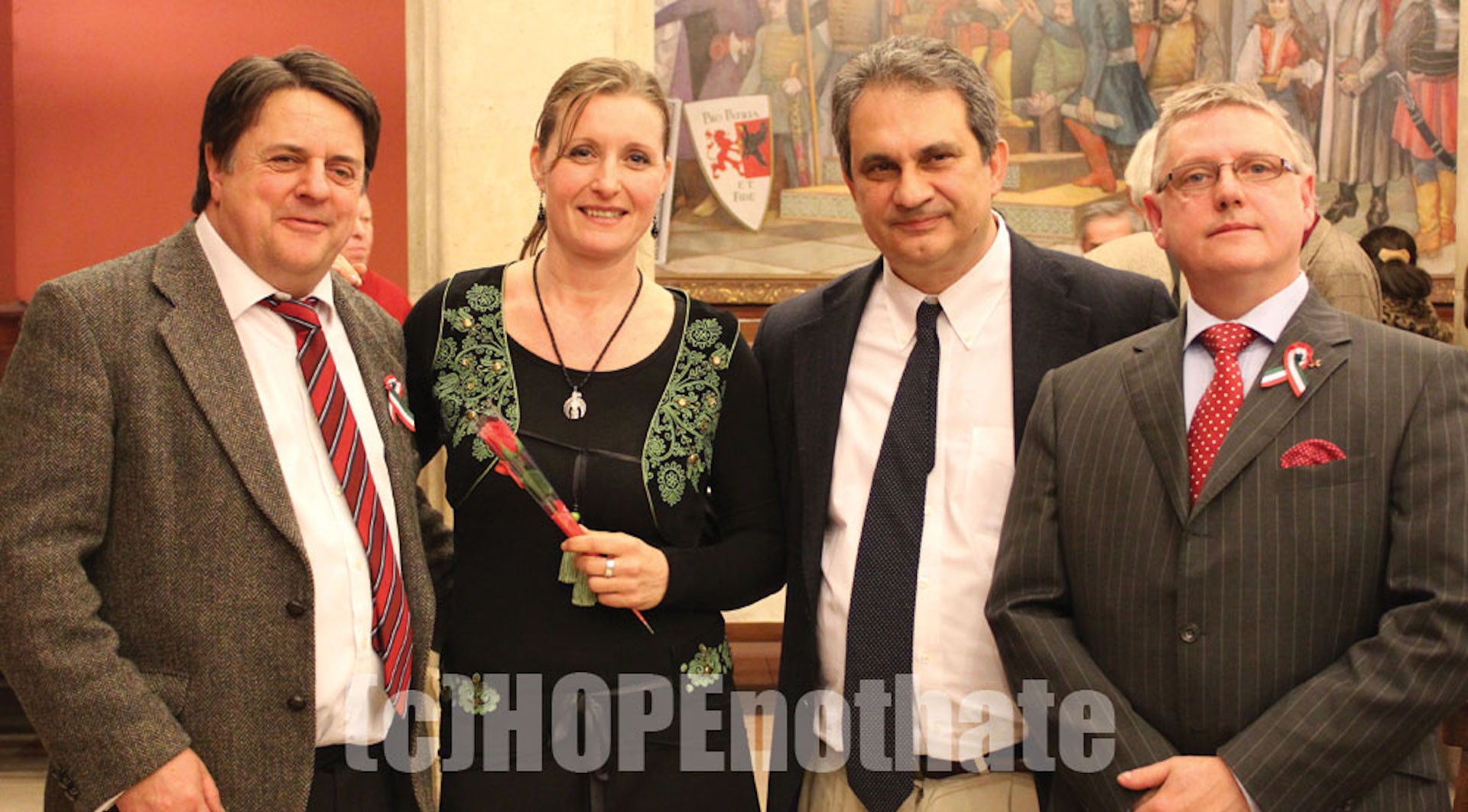 In a small doorway in Budapest's city centre, a man is getting overwrought and gesticulating defensively and angrily against prying eyes. He removes his hat to shield his face and starts cursing.
It's not in Magyar, the native tongue of Hungarians, however; it's in English … in a guttural Glaswegian accent. The man is Jim Dowson, the Belfast-based and paramilitary aligned anti-abortionist who once owned and broke the British National Party (BNP) before forming and then dumping (quite a few times) the radical hybrid Britain First.
This was September 2015 and despite the oppressive heat, Dowson was dressed like the country squire he so often fancies himself as. This is not a holiday for Dowson, however as he is almost a month into a fact-finding visit to the country and, the night before we innocently bumped into him, he had made a pompous entrance in a plush hotel to present an award to controversial Polish anti-abortionist Bogdan Chazan.
Dowson claimed he was in Hungary on "religious activities" yet he was actually juggling his waning relationship with his Britain First hobby, his own Knights Templar International (KTI) project and a not-unexpected rekindled relationship with his former friend and business partner Nick Griffin, failed former BNP leader and ousted former MEP.
During his month in Hungary not only had Dowson allegedly acquired some smallholdings formerly the property of the Calvinist church in the north of the country, he also presented an award on behalf of the previously unheard of "New European Family Forum" and was making a last ditch and final attempt to ingratiate the roughnecks of Britain First into polite society.
Returning in October, there was a series of meetings with Hungarian far right and minor church figures at which Dowson and Britain First boss Paul Golding attempted to cement a relationship between Britain First and the Hungarian fascist party, Jobbik.
Whilst Dowson wined and dined with Jobbik MPs in the Hungarian parliament, Golding and his deputy Jayda Fransen returned to Britain with their tails between their legs having signally failed to impress. Britain First had now become an expensive international embarrassment.
From Budapest, Dowson travelled to the small Hungarian village of Ásotthalom on the southern plain of the country. The village and its volatile mayor had become a beacon of hope to the European far right. László Toroczkai, the nazi mayor of the village which is set in some forty-seven square miles of dusty farmland, had instituted a paramilitary-style border patrol by men on horseback and in 4×4 vehicles to complement the government's own patrols along its infamous 25-mile anti-refugee fence.
Toroczkai was one of a number of nationalist loudmouths who rose to prominence in 2006 when the Hungarian capital descended into near-anarchy after waves of protests greeted a leaked conversation by the country's then socialist prime minister admitting he had lied to the electorate.
Since moving to Ásotthalom and being elected mayor in 2013, he has tried to revitalise a relationship between the Magyar, God and the Soil. Although he rules with an iron fist, the founder and former leader of the nazi 64 Counties Youth Movement (HVIM) has gained a cult following in Hungary.
He has also stoked up hostility between the Hungarian far right and the Serbian far right, previously having led an incursion into Serbia that led to violent clashes between rival gangs.
Dowson was introduced to Toroczkai by Hungarian notoriety Imre Téglásy, a hard line Catholic anti-abortionist and former university lecturer. Not only had Téglásy opened up polite society to his old friend Dowson, he now opened doors to the far right too. As a reward for his efforts, Téglásy was made KTI "Grand Prior" for all of Hungary.
From Hungary, Dowson went to Brussels where he took a business plan to Nick Griffin and Roberto Fiore the two most prominent fascists in the EU-funded Alliance for Peace and Freedom (APF) of which Fiore is president and Griffin vice-chairman.
The three had bonded again in St Petersburg six months earlier during a far right conference held in honour of Vladimir Putin's continued defiance of the West.
The ever-bankrupt Griffin was still living hand to mouth, travelling the world on handouts from far-right sympathisers and the Syrian regime. His home on the Welsh borders was for sale and he appeared far from keen to return there.
Dowson sold Griffin and Fiore on the idea of working together in Hungary – a perfect foil to the European Union.
The eastern and central regions of Europe, Dowson was convinced, would be very susceptible to radicalisation of its institutions, in particular the three main churches in Hungary where he had found a willing audience.
Further to that, both Fiore and Griffin had longstanding relations with the Hungarian opposition party Jobbik although it had not joined their European alliance.
The three agreed that the four 'Visegrad' countries of Hungary, Poland, Czech Republic and Slovakia were a perfect focus for saving white and Christian Europe and maintaining and building on their purported links to the Russians.
Griffin and Fiore had already laid the groundwork in Poland where both were preparing for a major conference in Wroclaw in November at which the APF was going to push their recently developed horror stories on bogus European demographics.
Griffin, getting ready to decamp, had already loudly aired his prognosis that the United Kingdom was little more than a failed state and little remained there for the indigenous people.
Dowson had begun developing KTI away from Golding and Britain First in mid-2014 around the same time he had also begun developing a range of potentially rival clothing and tat businesses to rival Britain First's.
Undeterred, Golding had taken it upon himself to jointly promote both Britain First and KTI through his own mass social media though, cautiously, Golding first had Dowson removed from the group's administration pages.
To further protect his own "investment" in Britain First, Dowson had accommodated and then scuppered potential merger talks between Britain First and EDL founder Stephen Lennon in mid-2015 but, at the same time, was rekindling his other previously lucrative relationship – the one with Nick Griffin.
Griffin had been pressuring Dowson to dump Britain First since the two met up in Russia and the two began hatching their moneymaking schemes again. The APF had been pestering Griffin to persuade Dowson to undertake its social media work and membership lists in the same way he had done with Griffin's BNP.
In exchange for this, Griffin duly provided an outlet for KTI and Dowson to present themselves to any potential American funder as involved in humanitarian work in Syria, even if the route into Syria for Griffin was via Hezbollah.
As one former employee in Dowson's office said: "He (Dowson) actually began hiding every time they phoned. He thought they could see him through his mobile phone."
In November 2015, Dowson took possession of a large building formerly owned by the Hungarian Reform Church. The anti-abortionist Téglásy, now KTI "Grand Prior", took possession of the building and Dowson again had to try and break the tie with Britain First.
That month he and Téglásy travelled to England to address Britain First's annual conference near Chesterfield. Having expected a uniformed fascist like themselves, many found Téglásy's sermon hard to stomach.
Back in Budapest, KTI's offices in the more upmarket "Parisian" part of the city were taking shape. A series of visitors from Sweden, France and Netherlands visited what was quietly becoming known as a far right hub. A Swedish fascist writer and publisher who set up base in the city commented warmly on KTI's large offices, its stained glass windows, conference room, meeting rooms and living quarters and, of course, Hungary's relatively cheap cost of living. KTI were reporting back on line, describing their racist hub quite differently, preferring to call it their "Chapter House."
As winter drew in, the bars and cafes around KTI's offices were a small but active hive of visiting and interested far right activists from across Europe. In December, Téglásy and Dowson hosted a KTI Christmas party in a smart restaurant beside the river Danube. Dressed in KTI robes, not too dissimilar to that of a Father Christmas costume, Téglásy produced a ceremonial sword heavily smeared in pig fat for the guests to kiss! KTI later reproduced a photograph from the dinner in their annual report, but unsurprisingly pixellated the faces of those there. As well as at least one Jobbik MP, KTI's fifty guests were drawn from the civil service, churches and the Hungarian far right and included Griffin and Fiore.
Notable at the table was not just the village mayor Toroczkai but also the notorious Hungarian fanatic György Budaházy who has been in preliminary detention and under house arrest since his group of radicals named the Hunnia Movement planned a coordinated series of bomb attacks in 2009. Budaházy is a close former associate of Toroczkai and the two were prominent together in the 2006 anti-parliamentary riots.
At the end of December, the same group of people, having familiarised themselves intimately with the infamous pork sword, trooped to Ásotthalom to inspect and admire the fence along the border with Serbia.
As we have reported earlier, former BNP member and South African secret service asset Arthur Kemp was on hand for the two-day conference. Griffin and Dowson's plan was now an open secret.
Between the two of them, they had devised a bizarre plan to ship Boer farmers from South Africa to Ásotthalom to work on farms there. Dowson had convinced Griffin he could get the support of Jobbik and the Hungarian churches (in particular the Calvinist church of whom the Boers are adherents) to support their plan. Dowson also secured the support of one of the Reform Church's bishops in Budapest for the project.
Arriving in Ásotthalom to discuss his own exactly similar plans, Kemp was made very unwelcome by his hosts. Undeterred, he was later to launch an appeal to bring members of the Transvaal Farmers' Union to Budapest to negotiate with the Hungarian government as to whether there was any way they would consider helping settle skilled foreign farmers in the country.
A Jobbik-aligned website reported that Kemp did indeed turn up to a meeting with the government but it was cancelled by the government at the last moment. Kemp did not have support from the churches by all accounts and this was made known to the government.
Dowson next made a fleeting appearance in Britain in January to speak at a Britain First rally in Dewsbury, after which it appears all communications and links with Britain First ground to a halt.
In the same month, Griffin delighted the UK by announcing that he was leaving the country, "possibly to Poland." No longer in dire financial straits all of a sudden, Griffin was also delirious as he believed he had found a buyer for his family home to the tune of £400,000.
In February, Dowson's KTI issued a video promoting white flight to Hungary. KTI claimed it would do everything to help people settle in the country. It went as far as offering even to find homes and accommodation for people.
This was later to be followed by two videos Dowson issued in May, one an appeal to let Boers settle in Hungary and the other a puff piece on the town of Ásotthalom with mayor Toroczkai happily obliging with a tour of the town and an anti-Communist rant to explain its depopulation.
In March of this year, Griffin and Fiore travelled to Budapest to address a meeting at the Reform church. A small group of protestors outside the meeting were confronted by the unsettling site of members of the racist Hungarian biker gang Betyársereg standing guard outside the church.
It was the third such conference KTI had staged to warn Hungarians they were in danger of being invaded by "hordes of foreigners" (i.e Muslims.) Griffin, posing as some kind of European statesman, warned the meeting "The whole of Europe – including Britain – is in the early stages of a population collapse three times worse than the Black Death." The message was clear: turn your back on the EU and encourage white flight.
By now, the KTI hub in central Budapest was up and running and, from offices inside their building, Dowson had a small gang of followers pumping out his literature under the watchful eye of "Grand Prior" Téglásy.
We have traced five websites back to the KTI offices in Budapest: the European Press Agency, Arabic Press Agency, Visegrad News, Jesus is Lord and This is Hungary, all run and updated by members of the KTI now working in Hungary where there are laws allowing foreign businesses to avoid employer taxes.
The group also pumped out highly emotive propaganda messages in support of the "Leave" campaign during the UK's European Referendum, though deep down, Dowson and Griffin were hoping for an "in" vote to increase the urge for white flight.
The current fee for "resettlement" is apparently around £7,000 according to callers to Dowson's offices in Belfast. The poor Boers meanwhile, remain looking for a benefactor to help them escape their supposed post-Apartheid hell. Arthur Kemp's efforts have so far raised even less than the £700 he needed just to get to Budapest.
Writing in April, a Hungarian former employee at the US embassy in Budapest wrote in the Hungary Today journal: "Tens, possibly hundreds of thousands of German, Dutch, French, Belgian, and other western European citizens may opt to move to Hungary in the next 20–30 years and settle there in the wake of the migration crisis."
So far, the Hungarians have not been consulted on this.