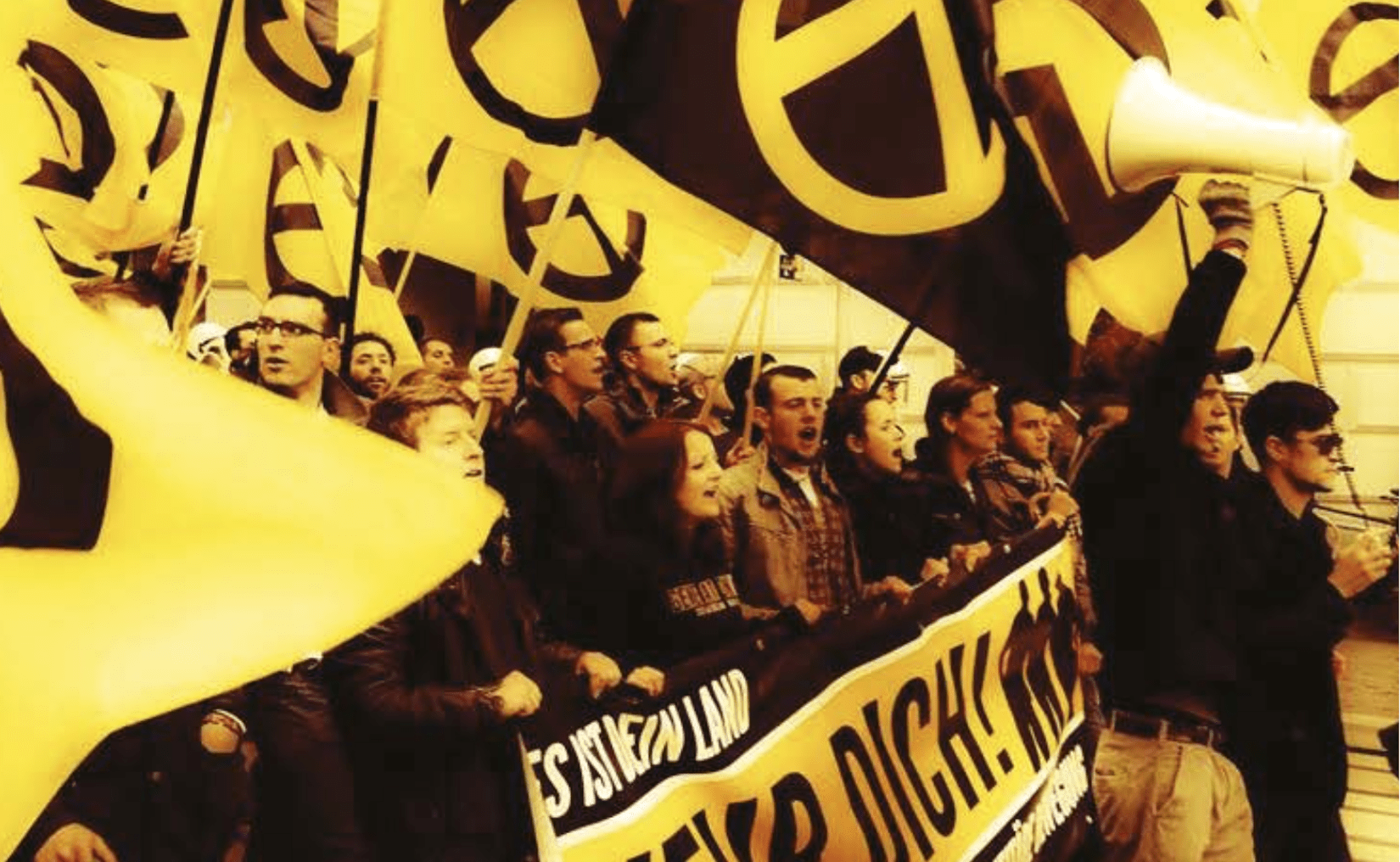 What is Generation Identity?
The international Identitarian movement started in France with the launch of Génération Identitaire (Generation Identity, or GI), the youth wing of the far-right Bloc Identitaire. It has since spread across the continent with affiliated groups, the most prominent of which in addition to France are based in Germany, Italy and Austria.
In the summer of 2017 leading Identitarians from across Europe came together to launch Defend Europe, a mission to hamper the work of NGOs saving the lives of refugees crossing the Mediterranean. The project raised over €200,000, primarily from American far-right activists, enabling them to rent a ship.
Due to the work of HOPE not hate and others, the mission was dogged by setbacks and mishaps and ultimately failed in terms of its original stated objectives. However, it did serve to raise the profile of Generation Identity which it has subsequently used to expand further across Europe. This includes launching a new branch here in the UK.
What do they believe?
In essence the movement is a reaction against the '68ers and their perceived left-liberal dominance of society. One of the movement's key activists, Markus Willinger, rails in a foundational text for GI against political elites who 'disgust us'.
Martin Sellner, de facto spokesperson for the movement, talks of the need to preserve "ethno cultural identity" which extends back to an ancient European heritage ("30,000 years" according to Sellner) that not only includes their cultural heritage but also their biological heritage.
Indeed, this is put far more explicitly in the UK Generation Identity's own recommended reading, such as Guilliame Faye's Why We Fight – a book in which Faye claims that "Identity's basis is biological; without it the realms of culture […] are unsustainable".
Generation Identity in the UK
Britain's first taste of GI came back in 2013 when Markus Willinger came to London to address a meeting of the far-right Traditional Britain Group. However, besides a video called 'Generation Identity UK: A Declaration of War From The Students of Britain', nothing emerged.
However, in July 2017, at the height of the Defend Europe project, a Facebook page for Generation Identity Great Britain and the Republic of Ireland was launched, billing itself as the "newest branch of the pan-European Identitarian movement".
Since the very start of the new GI UK project HOPE not hate has been receiving information from inside, allowing us to track their progress as it happened.
In late July Jordan Diamond, co-leader of the UK branch, travelled to London to meet Austrian and Norwegian activists to discuss the development of GI in the UK. Later there was a social in London where the handful of existing UK activists got together.
Initial offline activity was confined to putting up stickers and posing for pictures with the movement's black and yellow lambda flag. However, it was clear from the start that the leadership of Generation Identity in Europe had high hopes for the UK branch, seeing it as a wider gateway to the English speaking world.
In a video from the US in late September Sellner directed American and Canadian viewers to the slick and professional website launched in conjunction with the UK branch. Despite having UK leaders the new branch took direction from the Austrian and German leaders and much of the site's content was directly translated from the German GI site.
After having a planned appearance at a UKIP Youth Rally in Sheffield cancelled, partly due to pressure from HOPE not hate, Sellner finally made it to Britain in October. Sellner arrived in the UK alongside the American far-right content creator Brittany Pettibone on the Friday evening (20th) and left the following Thursday. While in London he addressed a meeting organised by the far-right Traditional Britain Group alongside anti-Muslim activist Anne Marie Waters.
We reported from inside the meeting where Sellner said he was planning to turn up at the HOPE not hate offices but no visit materialised.
After the conference, GI activists headed to the Ye Grapes Pub in Shepherds Market, Mayfair, where more threats were made against HOPE not hate. However, Sellner didn't stay long, leaving for a dinner meeting with racial nationalist Nick Griffin, former leader of the British National Party (BNP), where the issue of funding was discussed.
The following day, GI activists reconvened at a large rented flat in Beaufort Gardens, Norbury, to receive guidance from Sellner and to plan their upcoming stunt (a banner drop) and launch. Jonathan Rudolph, from Identitäre Bewegung in Swabia, Germany, was also in attendance.
HOPE not hate will reveal more information on this day-long training session, including footage, at a later date.
After the day's training they went and practised dropping their Generation Identity banner off a road bridge in preparation for their stunt on Westminster Bridge the following day. Early the next morning, to no fanfare and very little press interest, they dropped their banner reading 'Defend London: Stop Islamisation'. This marked the official launch of Generation Identity in the UK.
Interestingly, before flying home, Sellner went to Stephen Lennon (aka Tommy Robinson), former leader of the English Defence League (EDL). Some within GI leadership see Lennon as the possible leader here in the UK, especially considering that Sellner was not impressed with Jordan Diamond and Seb Seccombe (the UK co-leaders).
Sellner's existing concerns will have only been compounded over the last week as, since receiving warning that they will appear in a documentary exposing GI, both UK leaders have gone into panic, distancing themselves from Generation Identity.

Despite the growing success of the Identitarian movement in other parts of Europe, it remains to be seen whether the UK branch will ever really get off the ground.
At present they lack quality activists, which might explain why European Generation Identity leaders have been in touch with the Chief Operating Officer and Global Affairs Director of the far-right friendly social network Gab.ai, Utsav Sanduja, with a view to him possibly helping them develop their UK operation.
However, the embarrassing revelation that both ITV and HOPE not hate have had people inside from the very beginning will only serve to make European GI leaders skeptical of the chances of the new UK operation.

PROFILE: JORDAN DIAMOND (CO-LEADER)
Diamond, from Liverpool, has been involved since the start of GI UK and Ireland, having met with other Identitarians to help start the movement here.
Prior to helping leading GI, Diamond expressed his support for the anti-Islam movement Pegida UK, and uploaded a video to his YouTube account of Stephen Lennon AKA Tommy Robinson's speech at the event at their demonstration in Rotherham on 4 June 2016.
In June 2017 Diamond attended the 'UK Against Hate' march in Manchester alongside a cohort of UK anti-Islam activists including Jack Buckby of Rebel Media, previously the press officer of Pegida UK and press officer of the marginal, extreme anti-Islam party Liberty GB.
He also attended a Britain First rally in June and is pictured below with Britain First's Paul Golding and Jayda Fransen.
In June 2017 he joined UKIP to vote for the anti-Muslim leadership candidate Anne Marie Waters
More recently, he supported the explicitly anti-Muslim platform of Anne Marie Waters, attended the far-right gathering of the Traditional Britain Group on 21 October and attended Lennon's book launch in Manchester on 3 November.
Despite regularly tweeting Islamophobia – insinuating Muslims are paedophiles and using the hashtag #IslamKills – he admitted that he had never even read the Koran, tweeting on 28 July, "Just placed an order for my first ever #Koran, thanks @TRobinsonNewEra !".
He also expressed his support for GI's thinly-veiled racist notion of 'ethno-nationalism', which as HOPE not hate recently explained, relies on a fundamentally racial and racist conception of nationalism. On 20 June he tweeted, "ethno-nationalism is the true champion of global #diversity."
He has likewise bought into the conspiratorial, debunked and no-less thinly veiled racist Identitarian idea that there is a 'Great Replacement' threatening "indigenous" Europeans.
Diamond expressed his support for the alt-right during the Charlottesville Unite the Right rally in which anti-fascist activist Heather Heyer was killed. On 12 August he retweeted a tweet stating: "There's absolutely nothing wrong with us Whites loving, supporting, & helping our own race. #UniteTheRight #Charlottesville".
However, perhaps most revealingly, Diamond deleted a retweet of a tweet which suggested that jailing members of the proscribed neo-Nazi 'National Action' group in September for plotting to kill an MP was indicative of a hypocritical attitude towards extremism.

PROFILE: SEBASTIAN SECCOMBE (ALIAS SEB JAMES)
From Lanchester in the North East of England, Sebastian Seccombe is one of the leading figures in the UK GI branch.
He was involved in the 'Don't Fund Terrorism' campaign based around a shop in Sunderland and the 'Justice for Chelsey' campaign, alongside Stephen Lennon (aka Tommy Robinson), formerly of the English Defense League.
According to his LinkedIn he works as a 'Referral Specialist' at the European IT services company Atos, which specializes in, among other things, cybersecurity.
Generation Identity is racist and extreme.
Help prevent them from recruiting and taking root in our society.
Support our work.