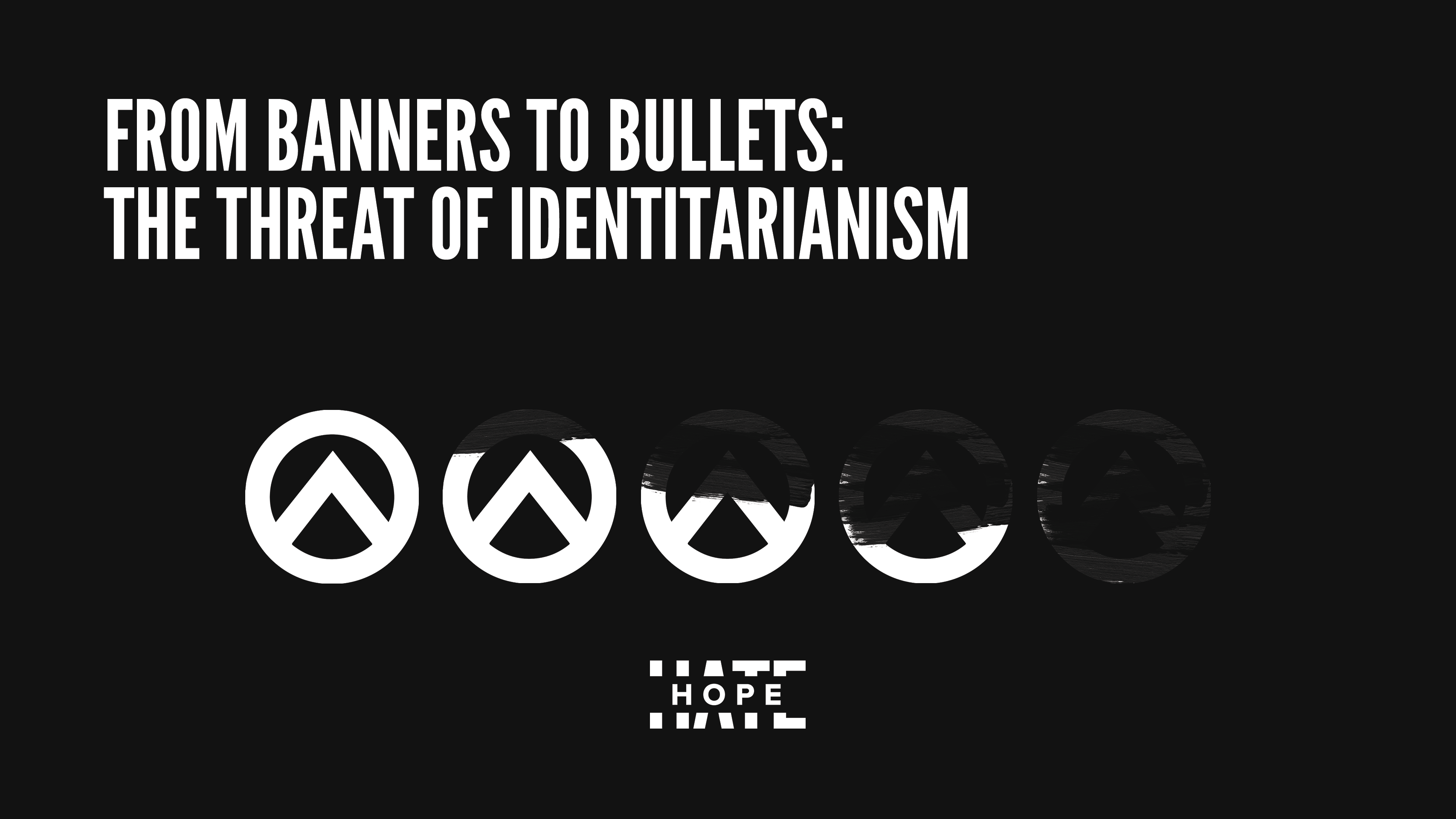 In the autumn of 2012, a video was published online. A succession of young faces, captured in monochrome close-ups, took turns to speak slowly over a dramatic backing track of rising strings. They bemoaned the "total failure of coexistence and forced mixing of the races," lamented society's rejection of tradition", rejected the "Global Village" and the "Family of Man", claimed their heritage from their "land, their "blood", their identity", and promised to "march on the streets", paint slogans on the walls, cry out through loudspeakers and to fly their "Lambda flags high". As the strings reached a crescendo and the drums built, a bearded figure looked straight into the camera and said in French, "Don't think this is simply a manifesto. It is a declaration of war." With that, Generation Identitaire (Generation Identity) was launched.

Seven years later, on 15 March 2019, a man armed with two semi-automatic rifles, two shotguns and a lever-action firearm, entered the Al Noor Mosque and the Linwood Islamic Centre in Christchurch, New Zealand during Friday prayers. The declaration of war that was made online had been acted on, and the result was 51 dead Muslims.
At the time of writing, this offensive has tragically continued, with the motivations of mass shooters targeting minorities in the US – against Jews in Poway, California in April 2019, and against Hispanic people in El Paso, Texas in July 2019 – matching those of the Christchurch killer. In both cases their manifestos cited him as an inspiration, whilst the Poway killer added that the "only viable option for [the] survival' of white people and the "European race" is violence, and the El Paso killer said they were "defending [their] country from cultural and ethnic replacement".

The road between these events in Europe earlier in the decade and the wider world today was by no means a straight one. In the intervening years, what started as a French far-right youth movement spread across the continent, building a formal network of branches that today is just one part, albeit the largest, of an international and varied identitarian scene.

The movement has now spread beyond Europe and found adherents around the world, be that obscure and tiny groups in Russia, South America and Australia, or its growing influence in North America amongst the alt-right. Identitarianism has gone global.
With the dangerous links identitarianism has to violence and extremism, it remains vital to monitor them
In the UK, the movement's activists are truly the runts of the litter. Yet, with the dangerous links identitarianism has to violence and extremism, it remains vital to monitor them. This report includes an exclusive exposé of the UK branch of Generation Identity (GI) based on an infiltration by HOPE not hate. The investigation reveals extremist ties, including to the proscribed neo-Nazi terrorist group, National Action. It also reveals that UK GI activists are active in the British Navy. HOPE not hate also captured discussions revealing extensive infighting between the UK and European branches of GI.
While anti-racist activists and scholars of fascism and the far right had been keeping a watchful eye on the movement since its inception, it was not until the summer of 2017 that identitarianism came to wider international attention. This was due to the so-called 'Defend Europe' mission organised by what was now the various partnered branches of GI across the continent. In May that year HOPE not hate broke the story that three members of GI, accompanied by the Canadian far-right journalist Lauren Southern, were detained by the Italian coast guard after they used a small boat and tried to block the 'Aquarius', a vessel operated by the NGO SOS Mediterranee, from leaving the port of Catania, Sicily.

However, this was just the start, and on 26 June GI announced they had secured the funding necessary to charter a ship in the Mediterranean to hinder the efforts of NGO rescue missions. Despite failing to achieve any of their stated aims, undermined in part by the actions of HOPE not hate and other anti-fascists across Europe, the mission attracted widespread international press coverage that significantly increased the profile of GI and raised their reputation in the eyes of the international far right. The year that followed Defend Europe saw the expansion of the network, including the creation of a branch in the United Kingdom.

Christchurch Murders
It was in 2019 that GI garnered the most attention in the wake of the tragic Christchurch terrorist attack. The killer's manifesto was openly rooted in identitarian ideology. Its very title "The Great Replacement" is the central, alarmist idea perpetuated by identitarians. Coined by French writer Renaud Camus in 2011, it rebranded an old far-right fear of white Europeans being "replaced" by immigrants. Another of the manifesto's core demands "ethnic autonomy" likewise corresponds to the identitarian desire for "ethnopluralism" (the idea that ethnic groups should live separately to "preserve" them). These ideas are explored and explained at length in this report. However, in the months that have followed the attack information has emerged that showed that the killer was not just inspired by identitarian ideas, but had actually been in touch with GI's de facto leader Martin Sellner and donated significant sums to GI's branches in Austria and France.

Understandably the revelation of links to terrorism have prompted many to reconsider what threat GI truly pose. In March 2019, Sebastian Kurz's government in Austria considered dissolving the country's identitarian movement (Kurz's People's Party were at the time in coalition with the Freedom Party, who were revealed in April to have at least 48 links to the identitarian movement). In April a French GI spokesperson was summoned to a parliamentary inquiry investigating the movement. In July, the German domestic intelligence agency increased its observations of the groups after it has concluded that it has "exceeded the suspicion stage" and is now classified as an "extreme right movement", a belief borne out by a raid on a German football hooligan network in April that found identitarian propaganda alongside weapons and nazi material.

This comes in the wake too of social media companies beginning to clamp down harder on identitarianism's promotion on their platforms, primarily, through banning GI's presence on their sites. Whilst there has been some success in this regard, with many GI branches appearing to have lost their presence on Facebook or Instagram, they have often simply blurred out their logos, or carried on under different names which merely nod more subtly to their GI links whilst still espousing identitarianism (details of which are outlined in the country profiles in this report). Beyond this GI have, like many on the far right, found continued refuge on platforms that are more willing to leave them be, such as VKontakte, Telegram and Gab.
Size: Online and Offline
Putting the question of the nature of their threat aside for a moment, pinning down GI's size and scope is a difficult enough task. In May 2019 the Institute for Strategic Dialogue's (ISD) conducted a census of identitarian channels online, focusing on GI, and identified 70,000 followers of official accounts on Twitter, 11,000 members of Facebook groups, 30,000 members of Telegram groups and 140,000 subscribers on YouTube. While a useful insight into the movement's online reach, these numbers are exponentially larger than the networks actual activist base.
Identitarian metapolitics focuses on shifting the accepted topics, terms, and positions of public discussion so as to create a social and political environment more open and potentially accepting of its ideology
Take for example GI in Germany: While the Twitter account has over 23,000 followers, official German figures state there are just 600 activists. Similarly, while the Twitter account of GI Austria has nearly 17,000 followers, the Austrian Office for the Protection of the Constitution and Counterterrorism estimated in December 2018 that they had just 550 members, whilst GI themselves placed the number even lower, admitting that while there are 20,000 people on their mailing list they have just 300 active members across the country. In the UK the difference is even more stark with the Generation Identity England Twitter account, for example, having over 6500 followers while the whole UK branch has less than 50 truly active members.

However, one can never judge the threat of a far-right movement by its scale alone. It only takes one radicalised person to plant a bomb or attack a mosque, and when it comes to exploring the threat posed by GI, one has to go beyond the number of activists it musters for demonstrations and stunts and explore the reach and influence of its ideas. Indeed, their modus operandi is influencing public debate through media-savvy campaigns and actions, an approach to activism they term "metapolitics". Identitarian metapolitics focuses on shifting the accepted topics, terms, and positions of public discussion so as to create a social and political environment more open and potentially accepting of its ideology. It comes from a belief that this is required before electoral and policy support for their views is possible. GI will often not focus on campaigning in support of parties, opting instead to try and inject coded terms like "remigration" into public life. A July 2019 report from the ISD found 540,000 tweets using the term "remigration" between April 2012 and April 2019, 150,000 of which came in 2018 alone. This goes to show how successful they have been at amplifying their actions and ideas online.

However, while GI are by some margin the best known identitarian organisation, the movement is much broader than this single network. Identitarianism is a far-right ideology, built on longstanding far-right ideas that well predate GI, and as this report shows, there is a whole host of other groups, think-tanks, websites, newspapers, bars, boxing clubs, clothing labels, publishers, ideologues and much else that adhere to identitarianism independently of GI.

While the online aspect of identitarian activism is important, to truly understand the movement one has to explore where it exists and how it operates not just on Twitter, Telegram and YouTube but also offline, both in Europe and beyond. Through a combination of short profiles, longer articles, maps and an undercover expose, this report goes country-by-country, giving an unprecedented overview of the whole identitarian movement, including GI. What emerges is a worrying picture of a far-right ideology on the rise, that is crossing borders and influencing existing far-right movements as well as radicalising new activists around the world.

FROM BANNERS TO BULLETS: READ THE FULL REPORT
Identitarianism is a dangerous ideology which has inspired acts of terrorism. This report explains exactly why this ideology is a threat.