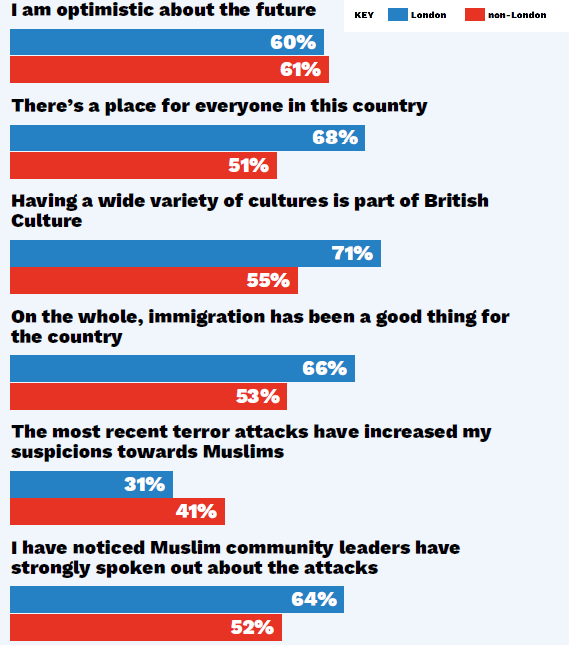 Attitudes towards race, faith and belonging are shifting, and as a whole we are becoming a more open and tolerant country. But this does not mean that the fight is won. Instead, the battleground is changing and fears are becoming more targeted towards Muslim communities.
Overall, England has shown resilience to the recent terror attacks and there is no sign that these tragic events have fundamentally changed the outlook of society.
The majority (80%) of Britons welcomed the acts of unity after the attacks and want communities to come together. Encouragingly, the vast majority (77%) stand firmly against the conflation of extremists' actions with an entire religion.
However, while religious discrimination and Islamophobia reduced between our 2011 and 2016 reports, much of this progress has been set back.
Suspicion
42% of English people say that they are now more suspicious of Muslims as a result of the London and Manchester terrorist attacks. Attitudes towards Muslims and Islam have worsened overall, particularly among the more hostile sections of society.
Muslims are regarded as uniquely different from the majority British public. Just 10% of the public feel that Muslims are similar to themselves, a view prevalent even among those most confident about multiculturalism.
51% of white respondents do not know anyone who is Muslim. The population as a whole are likely to overestimate the proportion of Muslims in Britain, too. 39% do so, while just 13% estimate the correct 5% and only 4% of Muslims accurately estimated the number of Muslims in Britain.
There is a sizeable percentage of the population (52%) which agrees that Islam poses a serious threat to Western civilisation, although this percentage has decreased by 4% since 2016.
A quarter of English people also believe that Islam is a dangerous religion that incites violence, and among the most hostile identity 'tribe', seven out of 10 agree.
Extremism, Islamophobia
The English are deeply divided over the association of Muslim communities in Britain with extremism. 84% of the most liberal section of society reject this, while 83% of the most hostile group agree that Muslims should be associated with terrorism and violence.
Older people are more prone to Islamophobia but the trend spreads across generations, painting a worrying set of views which will require significant effort to address.
There is an appetite across England for initiatives to improve community relations and for an increased understanding of Muslim practices in receiving communities.
51% thought a high profile campaign against anti-Muslim hatred would improve integration and the same proportion of people thought a more positive coverage of Islam and Muslim communities was key to improving community relations.
However, the majority of English people prefer stronger law and order and authoritarian solutions to more community-focused alternatives. Asked which initiatives would best encourage the integration of Muslims into British society, 79% choose the need to ensure that all Muslims spoke English and 71% wanted closer monitoring of faith schools, in Muslim faith schools.
Integration, Islam and security have become the next big challenge. If progressives cannot engage with concerns around integration and security, these issues are unlikely to result in a rational and balanced conversation and will instead become dominated by those with an interest to make it divisive and toxic.
If HOPE is to win over hate, we not only need to challenge islamophobia but we need to find a way to do so that does not alienate those who feel differently to ourselves.