While much of our focus goes towards the explicitly far-right parties standing in the upcoming local elections, yet again we have to highlight the candidacies of bigoted and unpleasant characters selected to stand under the banner of mainstream parties.
Here are some of the most troubling "mainstream" candidates standing this year:

John Moss (Conservative)
Larkshill ward, Chingford
John Moss, a sitting Chingford councillor and candidate for Larkshill ward in the upcoming election, was suspended in June 2019 after a string of his Islamophobic tweets were revealed, including one in which he referred to Islam as a "death cult" and another in which he said:

"​​​​An 'Islamophobe' is by definition somebody frightened of Muslims. Maybe we should nominate every 11 year old girl?"
Despite promising to apologise to his local mosque as a condition of his suspension being lifted, it was later revealed that Moss had in fact sent a local campaigner to apologise on his behalf and did not make any effort to contact them himself.
While Moss has deleted the highlighted posts, there are a number of alarming tweets still visible on his profile, including repeated calls for the "carpet bombing" of civilian areas occupied by the Islamic State group in Syria and Nigeria, as well as a racist statement about native Americans: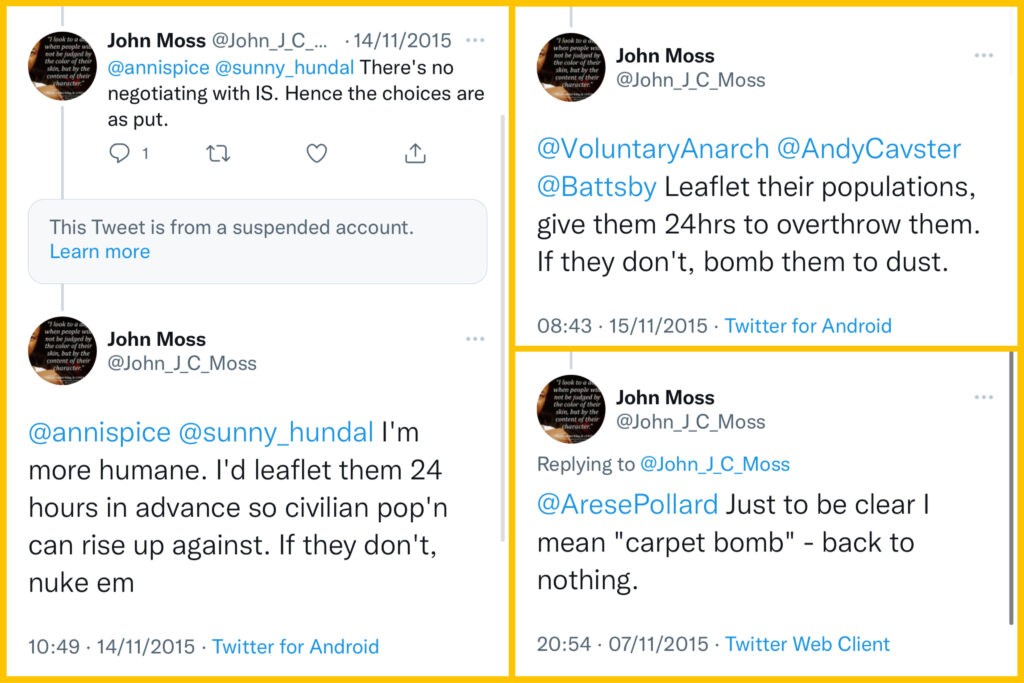 Stephen Savva (Conservative)
Brimsdown ward, Enfield
Repeat candidate Stephen Savva, who last stood in Enfield in 2014, has posted a string of deeply unpleasant tweets. In 2017 he posted a bigoted tirade about the "funny clothes" worn by Muslims, while in 2018 he claimed that the Great British Bake Off winner Nadiya Hussain "wouldn't suffer any [Islamophobic] abuse" if she "integrated more" and did not wear a hijab.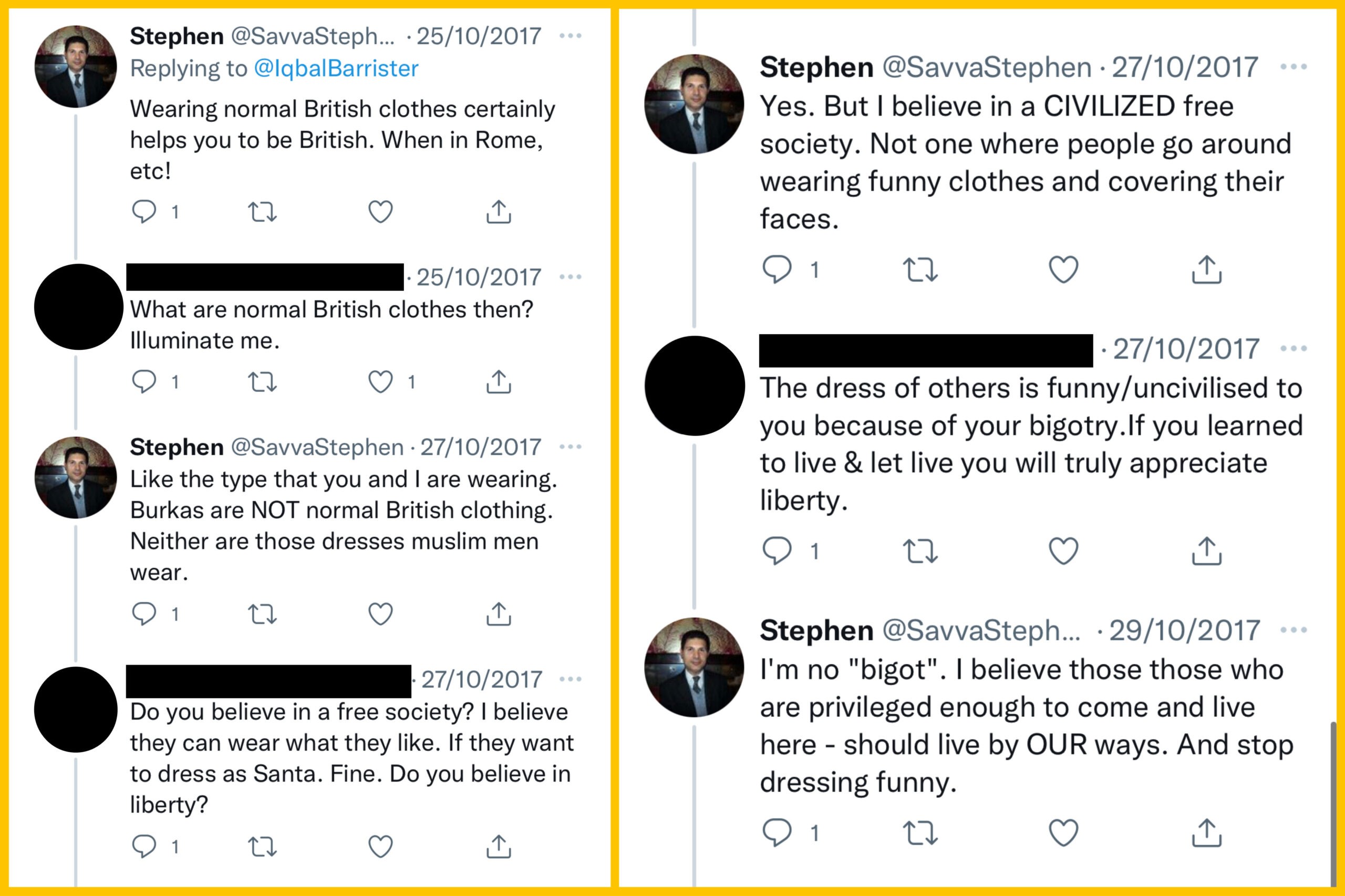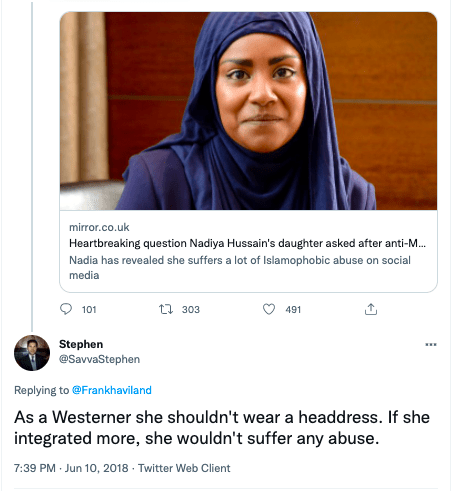 Joyce McCarty (Labour)
Wingrove ward, Newcastle
Sitting councillor Joyce McCarty was suspended by the Labour Party in early April after it was revealed that she had accused fellow Labour members of being part of a "Muslim plot" to deselect a fellow councillor and making threats of retaliation. Due to her papers having already been filed, the suspension does not prevent McCarty from appearing as a Labour candidate on the ballot.
David Dean (Conservative)
Raynes Park ward, Merton
Merton Councillor and former London Assembly candidate David Dean was suspended from the Conservative Party in May 2016 due to comments he made whilst campaigning on behalf of Zac Goldsmith. Dean allegedly told a voter that "as a white man, [Sadiq Khan] would treat him like dirt" and that "he'd be a pariah in his own town". Dean did not deny having made the comments, but dismissed them as "a bit of banter" that had been "taken out of context".
In January 2017, a party spokesperson apparently announced that Cllr Dean had been expelled from the party, yet just three months later he was back on Merton Council's Conservative group and has been re-selected to stand in this year's local elections.
Chris Joannides (Conservative)
Southgate ward, Enfield
​​Chris Joannides, former councillor in Enfield, was suspended for a Facebook post that likened people who wear the burka to bags of rubbish. Joannides' response was to reject the allegations as a "smear" and refer to the posts in question as "blokish banter."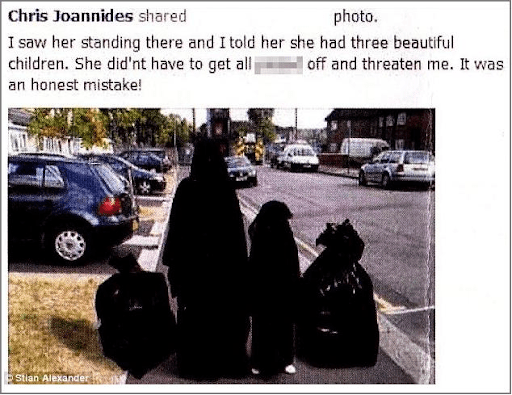 Yet despite his dismissive attitude, Joannides' suspension was lifted later became the chairman of the Tottenham Conservative Party before being selected as a candidate for Southgate ward, Enfield.
Read more about the local elections here:
https://hopenothate.org.uk/2022/04/07/local-elections-2022-what-we-know-so-far/