Over 200 nazis and skinheads plan to descend on The Snig, a live music venue in Widnes that is part of The Mersey Hotel, for a concert on Saturday 17 September.
The gig is being organised by Punishment Block, which is run by local man Chad Barrow, aka Chad Charles. Headlining the gig will be Oldham band Pressure 28, an Oi band whose lead singer is Kevin Gough, a well-known football hooligan and long-time supporter of the nazi terror group Combat 18. Gough was sent to prison for 8 months for his part in the violence that erupted at a far right demo in Dover in 2016.
Also playing will be Code 1. While the group claims only to be a nationalist Oi band, its band members have all been active in the Blood & Honour scene for many years.
Close Air Support, a well-known nazi band from Sweden, is also playing, along with Oi bands Citizen Keyne and Queensbury Rules.
The Leicester-based B-Squadron was supposed to be headlining but it pulled out at the last minute as the band members don't want to be associated with nazis. The band derives its name from the Baby Squad, the multiracial hooligan firm of Leicester City.
However, it is the gig promoter that causes HOPE not hate most concern. Chad Barrow/Charles is a hardened and quite public nazi who has been to prison in the past for distributing racist material. Chad also runs Patriot Streetwear UK via a closed Facebook page, which sells a wide selection of skinhead, nationalist and far right clothes, badges etc. They also sell Blood and Honour, Skrewdriver, nazi Tottenkopf (skull & crossbones) and 'Hitler was Right' t-shirts.
In any normal situation, HOPE not hate would contact the pub manager and explain the true nature of the booking and the people likely to be attending. However, in this case the manager, Peter Brady, is good friends with Chad and is fully supportive of the gig.
Brady has allowed Chad to put up a Patriot Streetwear UK stall in the beer garden, despite it selling overtly nazi merchandise. He has even used Patriot Streetwear UK to produce T-shirts and bags for The Snig.
Last March, there was another Punishment Block gig at The Snig. HOPE not hate tweeted out details of the gig in the hope Brady would cancel the booking, but he refused. The gig went ahead, with many of those attending giving nazi salutes. A fight broke out between furious locals and nazi skinheads.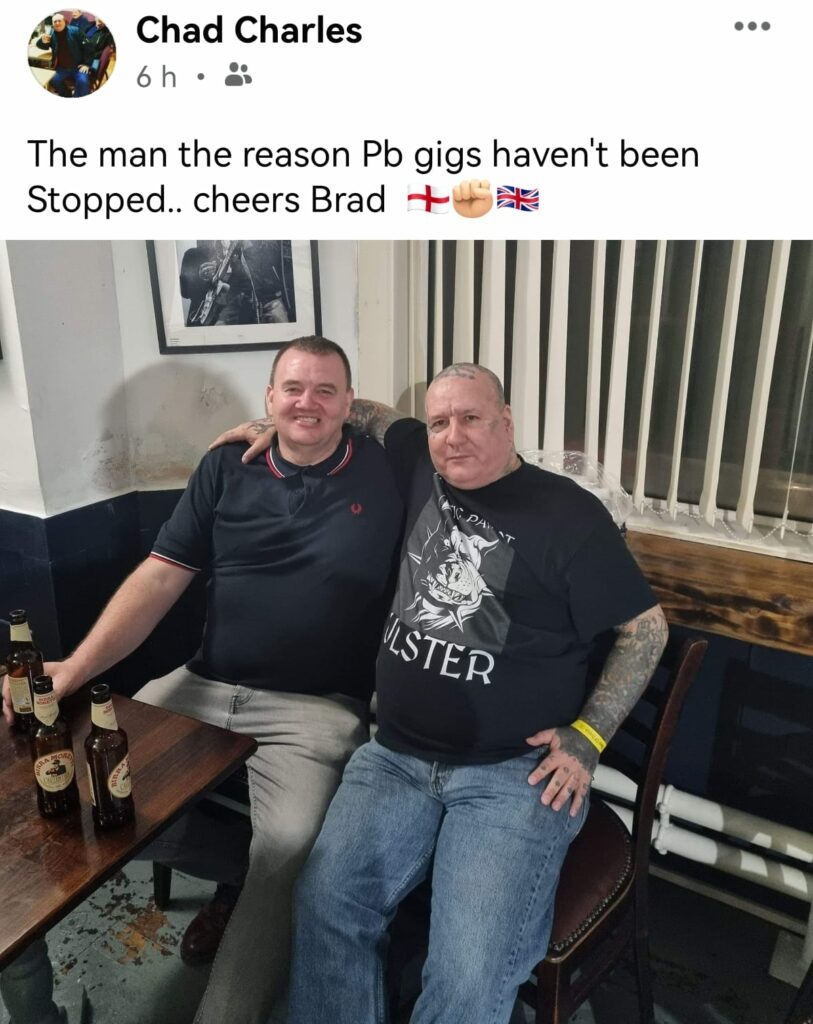 HOPE not hate is writing to the council, the Cheshire Police and Crime Commissioner and Derek Twigg, the local MP, asking them to intervene and get the gig cancelled. We are also asking the authorities to review Peter Brady's license.