Tommy Robinson claims he is bankrupt and cannot pay the Syrian refugee he libelled. A HOPE not hate investigation has found a huge home he owns.
In October 2018, a video went viral of Jamal Hijazi, a young Syrian refugee, being attacked in the playground of a school in Huddersfield. Stephen Yaxley-Lennon (AKA Tommy Robinson), the UK's best known anti-Muslim extremist, subsequently libelled the teenager, claiming that he was "not innocent and he violently attacks young English girls in his school". Jamal decided to defend his name and brought a libel case against Lennon.
As costs mounted and shortly before the main trial began, Lennon declared bankruptcy in an attempt to avoid paying legal costs and damages should he lose the case. A few weeks earlier, he and his wife got divorced, with all their assets in her name.
Stupidly, Lennon revealed that he had put everything he owns in other people's names in a March 2020 video, stating: "They're not getting paid ok. I don't own an asset. I'm asset … I'm a straw man."
Lennon decided to represent himself, which turned out to be a poor decision as he lost the case and was ordered to pay Mr Hijazi £100,000 in libel damages on top of legal costs, which now look likely to be as much as £1,500,000.
Lennon has claimed that he is unable to pay as he is bankrupt – and bankrupt people can't pay. However, a six month HOPE not hate investigation has identified assets totalling as much as £3 million in property and businesses linked to Lennon, including an enormous house in Bedfordshire.
The House
On 6 November 2020, Lennon bought a huge home in an expensive and picturesque mid-Bedfordshire town. The palatial home, which cost a staggering £705,000, is in his wife's name.
Despite already being a large 5-bedroom detached property, they have embarked on an enormous extension project. Planning permission building plans show a new two-story vaulted entrance hall off the front of the house, and a substantial two-story extension along the length of the back of the house.
When the work is completed, the home will include a large home gym and games room and a completely separate two-door garage to house his numerous expensive vehicles.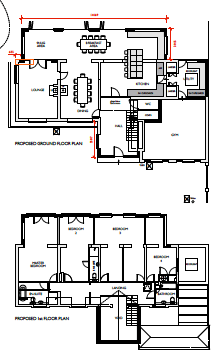 An independent building expert looked at the extension plans and explained that the work could easily cost as much as £200,000 – £250,000, and when completed it is likely that the home will be worth well over a million pounds.
Lennon may claim that this home was bought by his wife and that he is now divorced and bankrupt, but this will do little to alleviate his problems. The house was bought before they got divorced and from money derived from his other properties and political donations.
In addition, HOPE not hate surveillance has shown that Lennon has visited the property on numerous occasions to check on the progress of the building work, long after his supposed divorce. We also know that some of the people working on the property are family members and other close associates.
This is just one of numerous properties we believe Lennon owns, and our ongoing investigation will reveal more of his assets soon. All this will be in the 100-page dossier we will shortly be handing over to the Independent Insolvency Expert, who has taken over the investigation into Lennon's bankruptcy. This Insolvency Expert, acting as Trustee of Bankruptcy, will have the power to examine bank and company records, interview people under oath and even – potentially – apply for search and arrest warrants.
HOPE not hate has helped facilitate this action and worked with creditors to trigger a clause in the Bankruptcy Act which transfers the investigation from the Official Receiver's office to Independent Insolvency Expert. We have also agreed to under-write the investigation and associated legal costs. We are doing this because this is the only way Jamal will get any justice for the hurt and upheaval Lennon has caused him. It will also – hopefully – be a costly reminder to Lennon that hate speech comes at a cost.
Please join the campaign to make sure Tommy Robinson finally pays up by chipping in today.