HOPE not hate shines a light on a band of fascists who are travelling the country in a bid to win popular support and confront the left

Over the course of 2023, a series of anti-migrant protests have targeted hotels and other accommodation sites used to house asylum seekers across the UK. While many protests have been tiny, others have been hundreds strong and attended by both locals and far-right agitators from outside the area.
Perhaps the most active far-right figure attempting to exploit this trend is the oddball fascist Alek Yerbury, who has become an unlikely figurehead for a small but extreme group of activists mostly based in Yorkshire. Over the past six months, they have travelled to accommodation sites and town centres across the country in the hopes of spreading their anti-migrant, anti-left and anti-"elite" messages, but have so far found themselves largely ignored, avoided or opposed by locals.
In a bid for relevancy, the group has recently announced a shift towards electoral politics. However Yerbury, who has a history of violent statements, has also signalled his desire to confront left-wing activists and has founded his own tiny but militant street-oriented organisation, the "National Support Detachment" (NSD). Activists in his circle have also become more brazenly extreme in recent weeks.
Ahead of their plans to protest a future asylum accommodation site near Lincoln this weekend, we take a look at the key figures and their potential direction.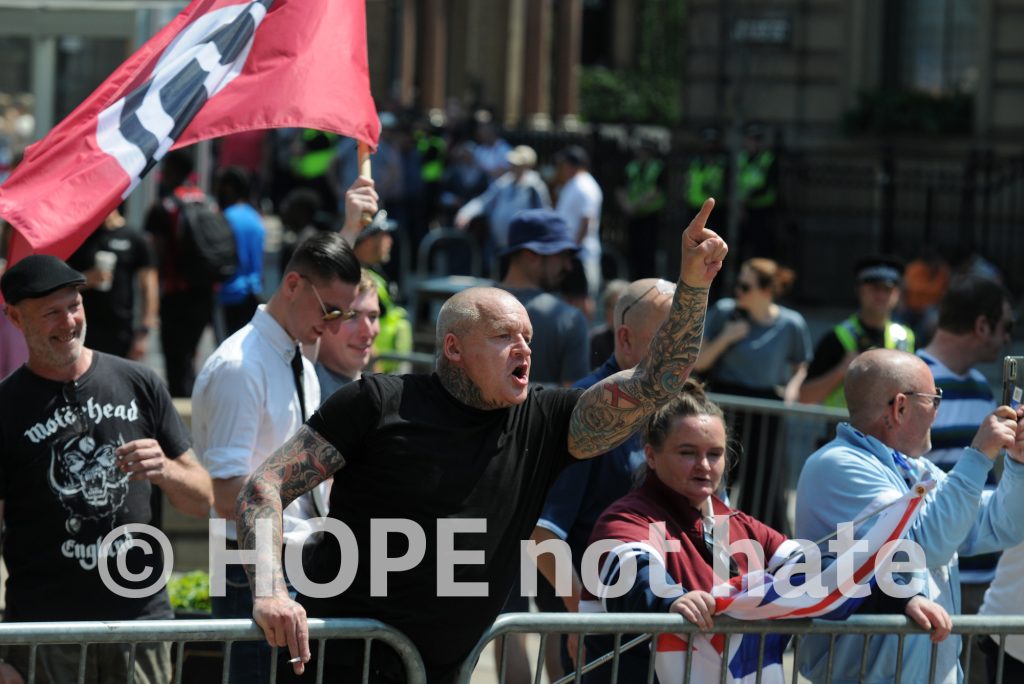 Alek Yerbury and the NSD
Yerbury was privately educated in Adelaide, Australia before serving in the British Army. Motivated by an intense hatred for politicians and believing migration to be "a symptom" of a Marxist conspiracy, he joined the Yorkshire branch of Patriotic Alternative, the UK's most active fascist group, in 2021. He took on public speaking duties for PA, resulting in a slew of negative press for his resemblance to Adolf Hitler.
Yerbury split with PA in February and allied himself with a group of hardened far-right activists in Yorkshire, expressing his desire to form a "new EDL" (English Defence League). He subsequently launched the National Support Detachment (NSD), a fringe outfit that aims to act as a "support to nationalism in Britain, through organised efforts to overcome the tactics of deplatforming, intimidation and suppression practiced by the hard left". The NSD is covered in further depth later in this article.
A close ally is Scott Pitts, the NSD's "Officer Commanding" in Lincolnshire, who has lent Yerbury a degree of credibility among far-right street activists. Pitts was involved in the EDL at least as far back as 2010 and was arrested for clashing with police at a Yellow Vests protest in Leeds in 2019. Pitts also picked up a 12-month driving ban last year for driving under the influence of drugs.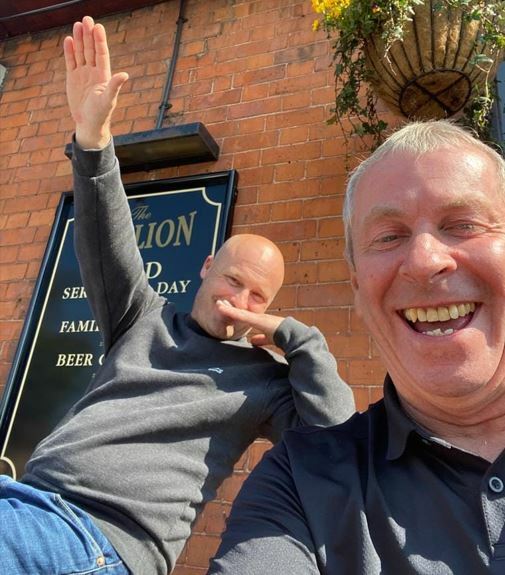 The Yorkshire Patriots
The pair work closely with Yorkshire Patriots, an EDL splinter, to the point where the line between the two groups is often unclear. Led by David Smaller (AKA David Sunderland), the Yorkshire Patriots were behind the 2018 "Free Tommy" protests in Leeds that brought hundreds to the streets to support Stephen Lennon during his most recent stint in jail. They have since failed to recapture such numbers, although have succeeded in costing taxpayers hundreds of thousands in police bills.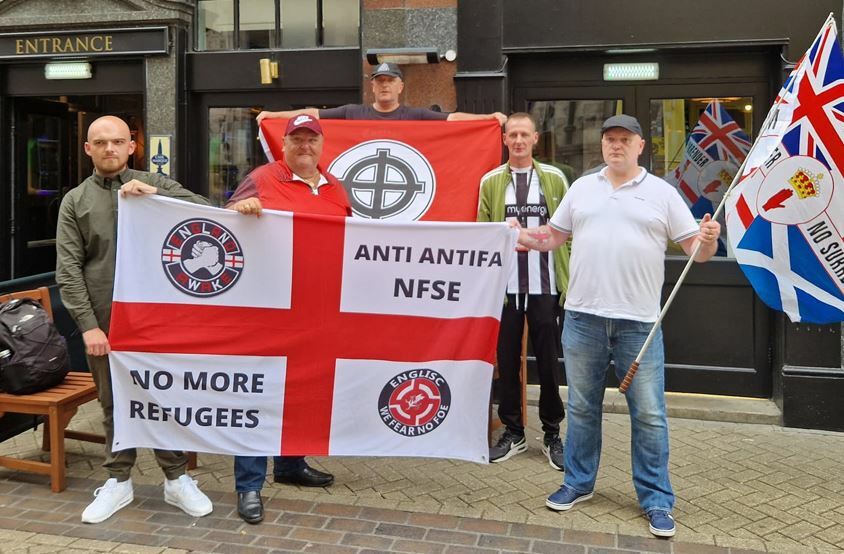 Also active in this circle is the Leeds hooligan Paul Leeming (AKA Anthony Leeming), who in March 2023 received a suspended sentence of 10 months for grievous bodily harm, having broken the leg of a "friend" whom he accused of "ruining his birthday" while drunk and under the influence of cocaine. At the time of his sentencing he had 10 previous convictions for 21 offences. Leeming has been central in the protests against the Britannia Hotel in Seacroft, which is local to him.
Also based in Seacroft is Simon Scott, who was involved in the EDL in the early 2010s before gravitating towards the openly nazi North West Infidels and National Front. He and his partner Sarah re-emerged in recent months as active members in this circle.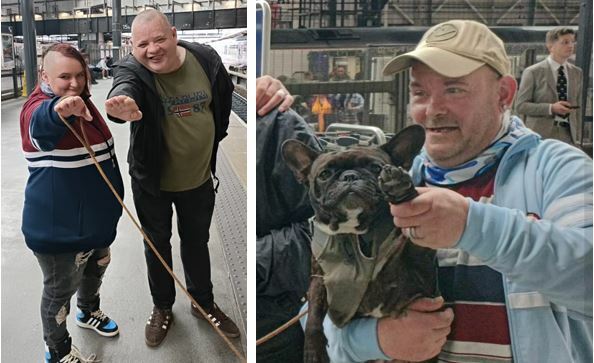 Yet another fascist ally is Haley Ellis, once a central figure in the Leeds EDL, who pled guilty to a Public Order offence in 2015 for her role in a violent disorder after an EDL march in Rotherham.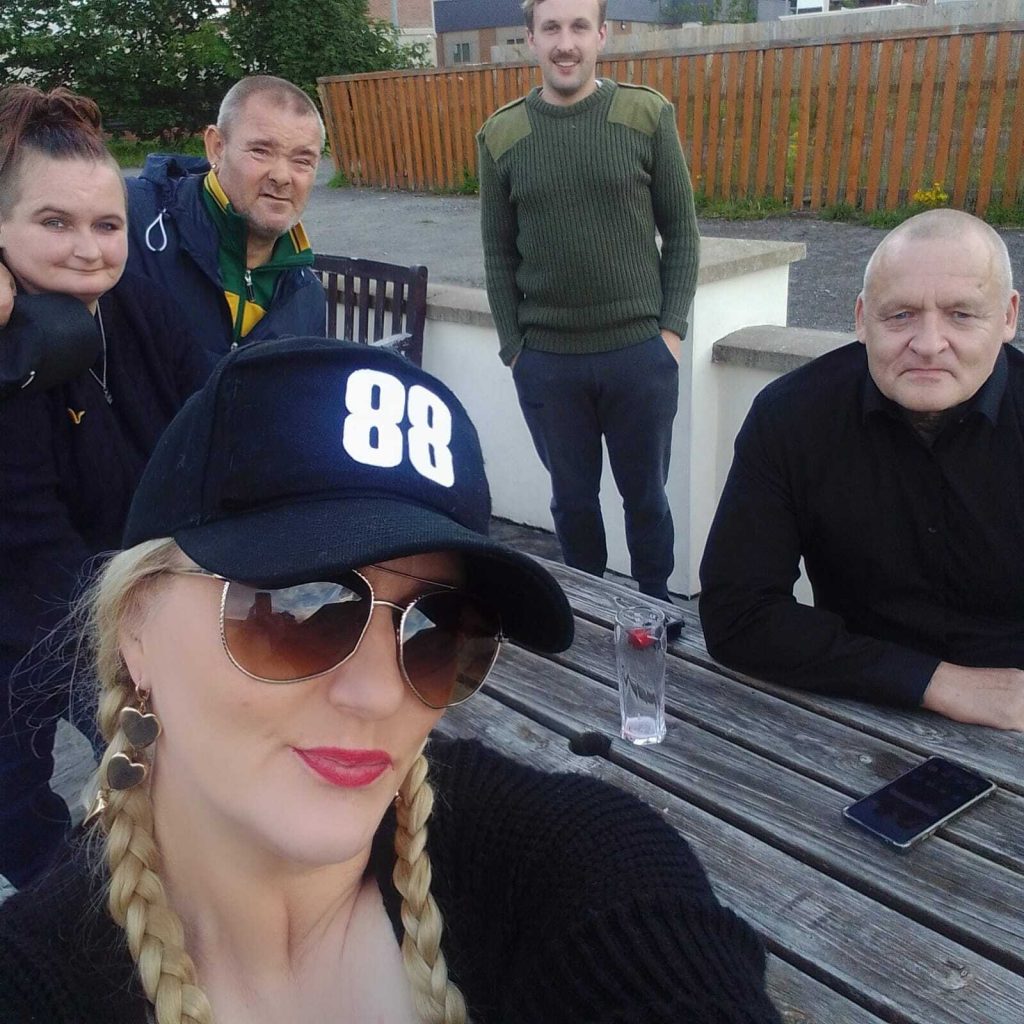 Anti-Migrant Organising: From Protests to Elections
Together, the Yerbury/Yorkshire Patriots grouping have organised or supported more than a dozen protests this year, mostly in Yorkshire and Lincolnshire, seeking to steer anti-migrant anger towards a wider far-right worldview involving the supposed "Global-Marxist agenda" of "parasitic" politicians. Yerbury has claimed that the purpose of the repetitive demos is to build an audience and gauge how many people can be mobilised in a particular town.
Among the largest was a 10 June demo that, after months of advertising, brought roughly 100 hardcore fascists and hooligans to the streets of Leeds. This included members of the PA splinter groups the Highland Division and the Independent Nationalist Network, alongside longer-standing nazi groups including the National Front, the British National Socialist Movement, Blood & Honour (B&H), Combat 18 and the "Infidels" network. Yerbury was photographed marching side by side with Tony McDonnell, a notorious Leeds hooligan and B&H nazi who has a conviction for manslaughter, having killed a postman during a row about littering in 1995.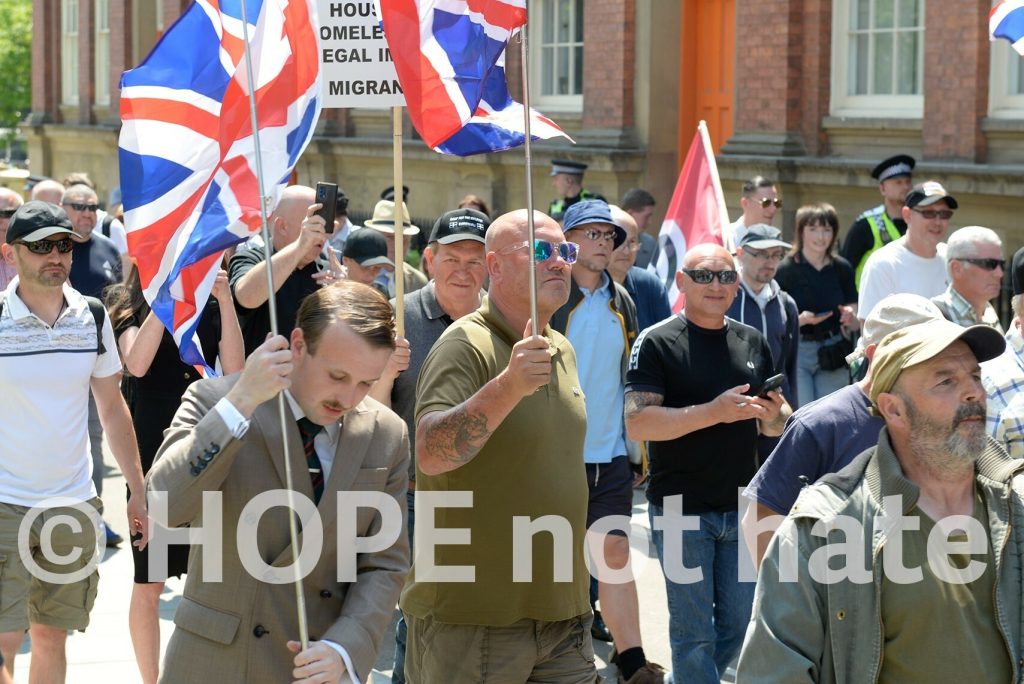 However, others have seen turnouts smaller than 50, largely composed of the same travelling far-right activists who are heavily outnumbered by counter-protestors. A particular low point was a protest organised by the tiny and openly nazi Highland Division in Elgin, Scotland. Fewer than ten activists materialised and Yerbury's speech was hopelessly drowned out by hundreds of counter-protestors, one of whom punched him in the face.
Turnouts have been disappointing even in Skegness and Lincoln, where Yerbury and his allies have made a concerted effort to insert themselves into local campaigns.
Following a broader far-right trend, he has waged a months-long attempt to co-opt the opposition to the housing of asylum seekers in RAF Scampton, the historic home of the Dambusters, playing up his own military background. However, the most recent public event in Lincoln saw just 50 materialise and the irony of Yerbury's speech, which invoked the RAF but was delivered in front of a neo-Nazi flag, was painfully obvious. He next plans to hold a camp at the site, mimicking the better-known anti-migrant campaign in Llanelli.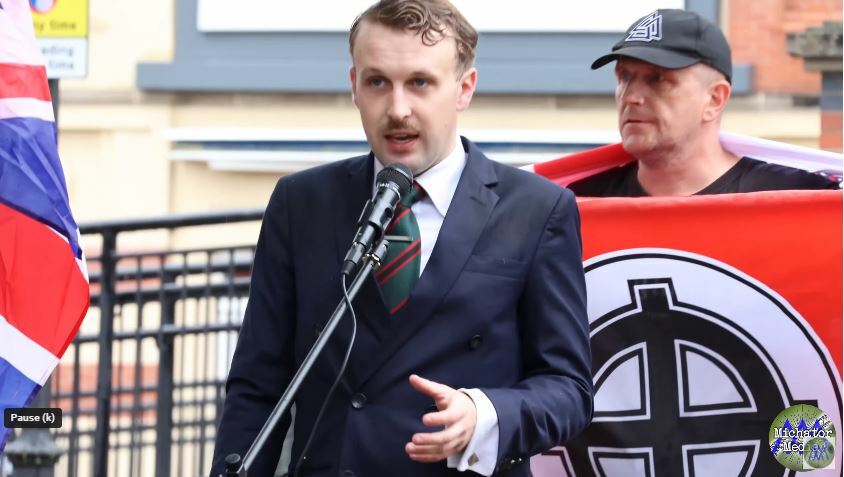 The group has signalled a shift in approach, hoping to hold regular meetings in Leeds and contest local and national elections. In June, Yerbury claimed to be in the process of registering a "nationalist" political party based on "the principle of racial, social and cultural unification, and the principles of a militarised society". However, this project seems destined to become just another far-right micro-party cluttering the ballots in the post-BNP era, a fact apparent to most observers on both the left and right.
Despite regularly lecturing his followers on strategy, Yerbury seems unable to grasp that dressing as a fascist stereotype, allying himself with open Nazis, praising notorious dictators and intoning grimly about "Marxist parasites" is unlikely to win popular support.

Potential for Violence?
While the NSD itself remains microscopic, there is reason to be concerned about the potential direction that Yerbury and his roving band of fascists may take.
Underpinning Yerbury's risible persona is an obsessive hatred of the left and a preoccupation with political violence. In March, HOPE not hate exposed Yerbury's appalling statements about the murder of Jo Cox, a Yorkshire MP assassinated by a neo-Nazi in 2016, and others in which he outlined his desire to see his enemies "annihilated" in detail, advocated the use of firearms on migrants and the internment of his political enemies in forced labour camps, among much else.


Yerbury openly promotes "militancy" and has sought to incorporate ludicrous faux-military trappings into the NSD, for example titling himself "Commanding Officer" and declaring that "NSD platoons, companies or units" should "practice behaviour such as drill (parading)".
NSD materials contain euphemistic passages about the need for "Physical courage", "sacrifices" and "the ability to do what needs to be done even in the face of personal reservations". One recent statement from Yerbury's Telegram channel reads:
"[…] death is inevitable and the most we can hope to do is control the manner of our death […] our enemies desire our total annihilation, and so in the fight against them there is absolutely nothing to lose. Once you accept these things, the fear of death will leave you, and your strength will be the strength of a thousand."
It seems clear that Yerbury wants to establish a cadre primed for confrontation with the left, and particularly the trade unions. This is concerning as some of his allies have recently become more brazen in their extremism, for example openly throwing Nazi salutes during a recent trip to Scarborough. They have also established links to a number of other extremist organisations.
It is unclear whether the alliance will last. Yerbury's eccentricities may alienate Pitts and the others, who may either dump him or drop out themselves. However, Yerbury's violent hatred of his political enemies is feeding into a dangerous form of politics that should be taken seriously.