The Daily Mail has reported (again) that another individual convicted of membership of the Nazi terror-group National Action (NA), is to possibly be released.
Adam Thomas was convicted, along with others, in 2018 and sentenced to six and half years for membership of the banned terror group. Thomas was living in Oxfordshire with his partner Claudia Patatas. They became somewhat of a media curiosity because the couple tried to name their son Adolf in honour of Adolf Hitler. After registrars refused the name, the child was given Adolf as a middle name.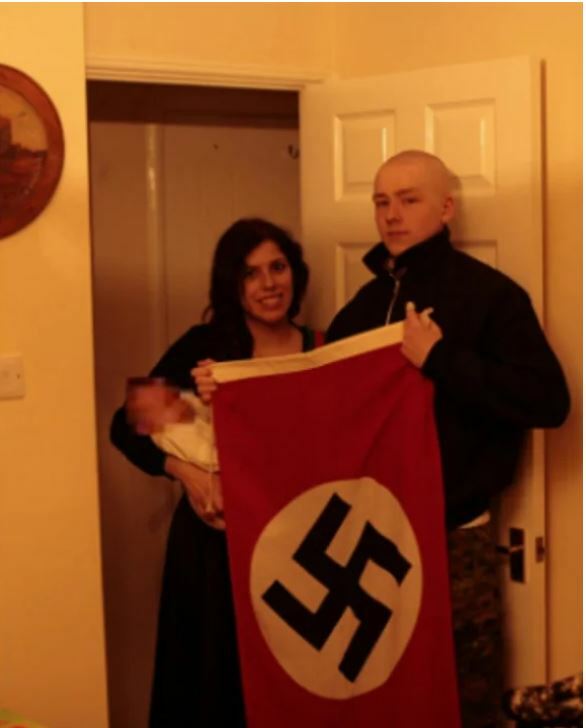 HOPE not hate has been aware that Patatas, a wedding photographer by trade who was sentenced to five years, has been free for the past two years. It is believed she left the United Kingdom and returned to Portugal without the child who was cared for by Thomas's grandparents.
Patatas and Thomas were somewhat of an odd couple. Almost twice the age of Thomas, Patatas was viewed with suspicion by many NA activists due to her darker skin colour. She made up for any doubts by assuming the role of matriarch in the continuity group 'Triple K Mafia' which operated in the midlands after the 2016 ban on National Action. She excelled further by volunteering to the group that she would kill mixed race children.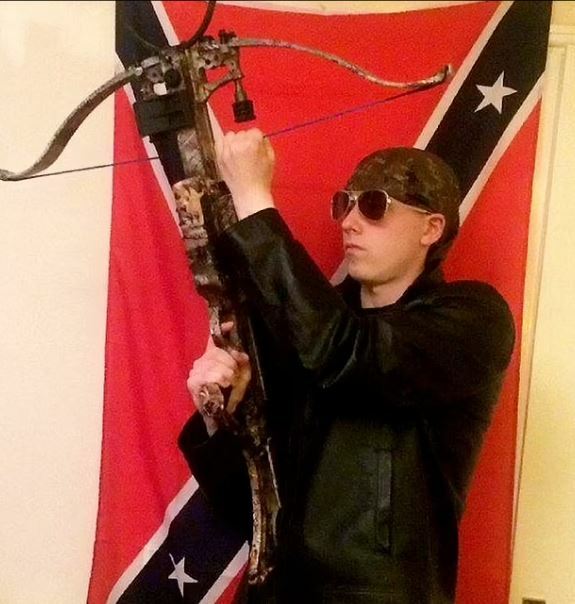 The home she built with Thomas and their son in Banbury was somewhat out of tune with the rest of the village. Almost every soft furnishing had a Nazi swastika emblazoned on it and Patatas held tea parties where she entertained people with cup cakes decorated with swastikas and fine bone china similarly decorated.
Thomas was introduced to Patatas by Garron Helm, the disgraced former member of the group whom they suspected of passing information to HOPE not hate. Patatas would tell police she met Helm whilst doing "Pagan stuff." It is more than likely she met Helm through doing Satanist "stuff" – by all accounts Helm roams around forests these days looking for animal skulls with which he can conduct his weird rituals. In October 2014, Helm was sentenced to four weeks in prison for tweeting a 'grossly offensive' anti-Semitic tweet to one of Liverpool's Jewish Labour MPs, Luciana Berger. The tweet showed a Holocaust-era yellow star superimposed on the MP's forehead. When police searched Helm's home they found Nazi memorabilia, including a flag bearing the SS symbol, materials from National Action and the Satanic Order of Nine Angles.
Using the name 'Sigrun', a Norse Goddess, Patatas dominated 'Triple K's' internal conversations and plans. Like a maternal hate preacher to the rest of the group, she'd often send directives or loaded suggestions they carry out attacks on random individuals.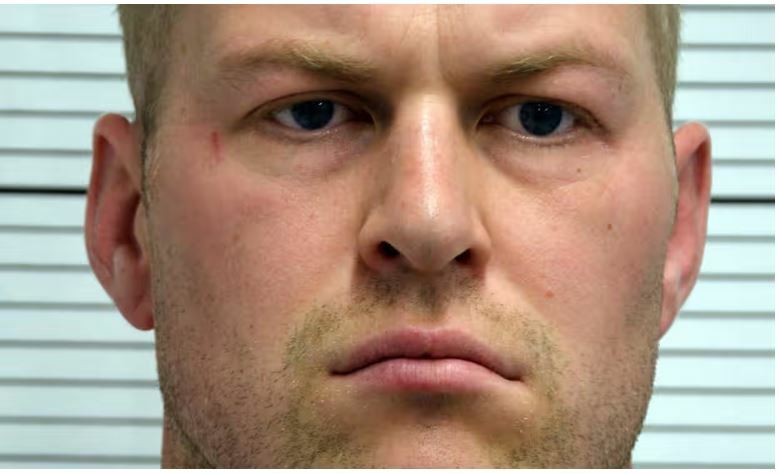 As well as Swastika doilies, the odd couple shared a love of knives and crossbows. When baby Adolf was born in November 2017, the happy couple donned Ku Klux Klan outfits along with their friend Darren Ferguson (formerly Stephens and Clifft), and posed with the baby whilst holding machetes and crossbows. The government's Prevent initiative had been to the home just before the baby was born because they had concerns Patatas may be an extremist.
The couple were arrested at home in January 2018. In court, it was alleged, their child had never been bathed in water. Instead the couple used baby wipes to clean him. The reason being that they allegedly believed the water supply was poisoned (by Jews) with fluoride. As they'd nervously awaited their arrest one of the pair Googled frantically for the address of HOPE not hate and asked the internet for advice on the best crossbow to use for 'Armageddon'.
Jurors in their trial were shown images of Thomas wearing Ku Klux Klan robes while cradling his baby, which he claimed was "just play".
He was also found guilty of having bomb-making instructions for which he was given a two and a half year sentence to serve concurrently. A police search of the home he shared with Patatas uncovered machetes, knives and crossbows (one kept just a few feet
from the baby's crib), swastika-shaped cutlery and swastika scatter cushions.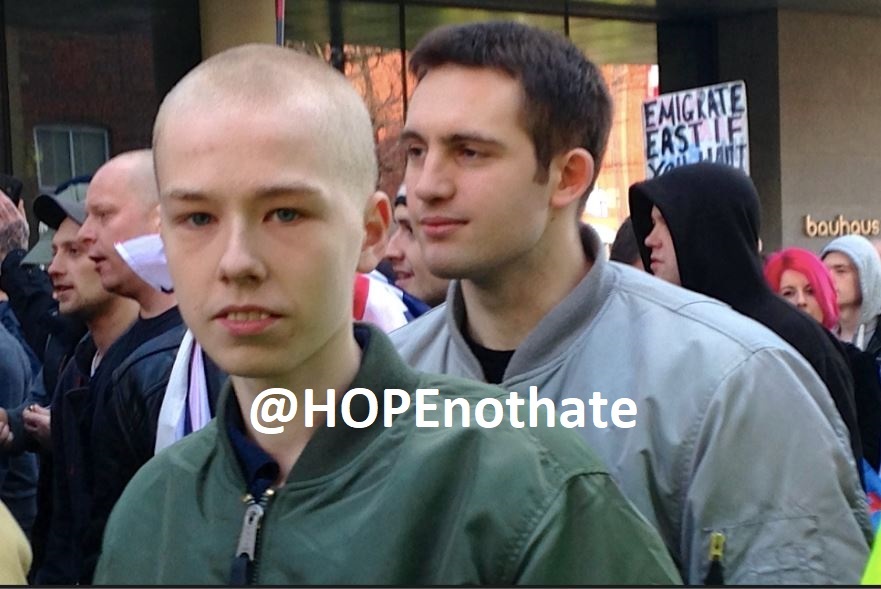 Thomas was a spectacularly sad individual. He first came to our attention in around 2011, when he surfaced on marches organised by the English Defence League (EDL). He was bullied and laughed at by others because of his looks and appearance, but he did have strong neo-Nazi credentials: his step-father had been a member of the Nazi rock band Skrewdriver. But before Thomas could realise his Nazi ambitions, he first went to Israel and tried to convert to Judaism. When that didn't work out (for whatever reason), he returned to the UK and found his way into National Action via the National Front.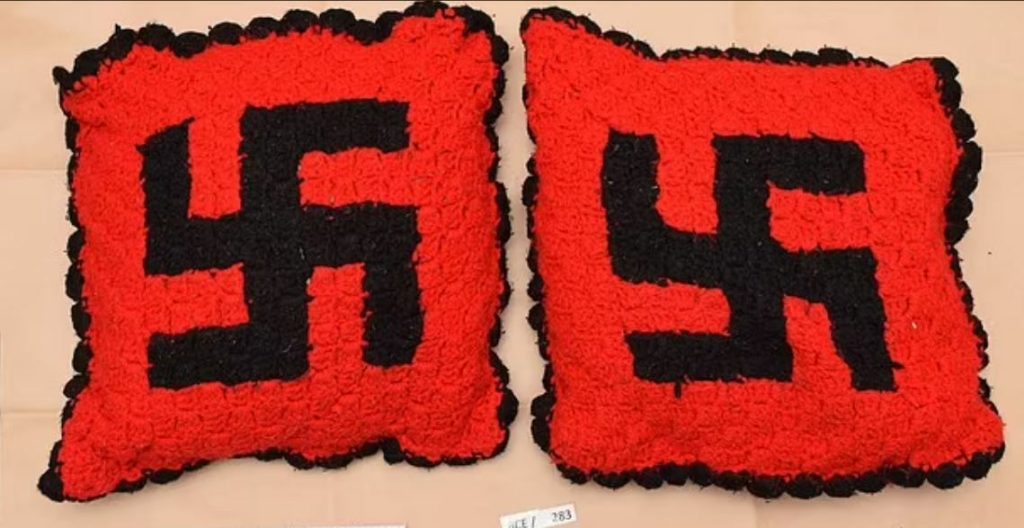 Believing there was stiff competition to win the affections of Patatas, waif-like Thomas sought desperately to join the military. Despite his own reservations, Corporal Mikko Vehvilainen (later sentenced to eight years for membership of NA) wrote Thomas a glowing reference, opining he exhibited an "exceptional display of patriotism which will positively influence his performance". He ended up working as a security guard for Amazon whilst in his spare time he continued dressing up in Ku Klux Klan robes and burning crosses – a notorious and hate – fuelled Klan ceremony.