Matthew Hankinson was 24 when jailed for membership of the banned terror group National Action (NA) in 2018. He was one of eleven people arrested in late 2017 as part Operation Harplike, an investigation launched by counter-terror police after HOPE not hate firstly revealed the banned terror group was still active and recruiting, and then, planning to murder a female member of parliament.
Hankinson has been released having served a full sentence. It is believed that Hankinson, who was held as a Category B prisoner, made and received no telephone calls during his time in prison; nor did he receive visitors or write or accept any mail during his time.
Whilst other prisoners linked to National Action have received shortened sentences and subsequent supervision since conviction, HOPE not hate understands that during his time incarcerated Hankinson resolutely refused to cooperate with rehabilitation initiatives and as such, having served a full sentence, he is free to live wherever he chooses without having to report in to authorities.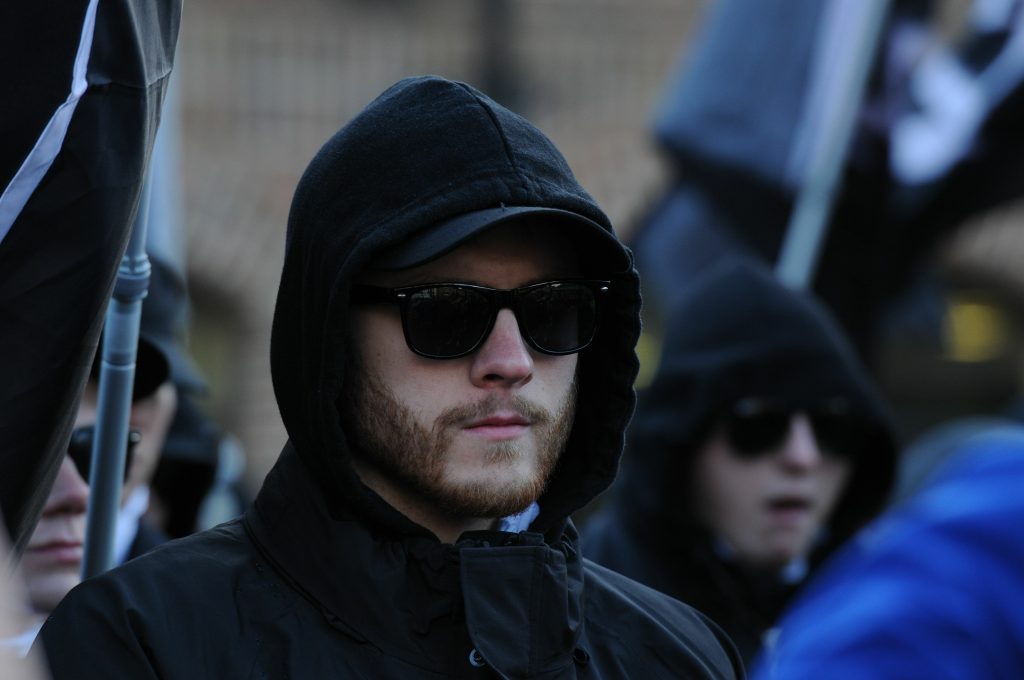 At the time of Hankinson's arrest in September 2017, National Action was firmly and for the first time, wholly in retreat. The group had been tipped off that one of their associates, the paedophile Jack Renshaw, had been arrested as he made preparations to murder the (then) Labour MP Rosie Cooper and a woman police officer. It was later alleged at The Old Bailey that Hankinson had urged Renshaw not to target the MP, but to instead, carry out an attack on a Synagogue full of worshippers. Whilst some present at the meeting raised objections due to the likelihood of children being in a Synagogue, Renshaw responded that Jewish children were still "vermin" and their ages mattered not.
Now warned that one of their number was a "grass," the North West unit of NA, of which Hankinson was a senior member, turned on itself. Renshaw had revealed his murder plot to the leadership above a pub in Warrington a few months earlier – before vanishing. Now armed with information that someone close to the leadership of NA had warned the MP and coupled with a series of illuminating stories published by HOPE not hate, the group discussed killing a fellow member they suspected of working for us.
Over a tense period of months, HOPE not hate had been right at the heart of National Action. Before the police executed their arrests under Operation Harplike, they also took out the Midlands unit of NA, who operated under the continuity name 'Triple K Mafia'. That unit, which included members of the military, had also discussed killing a female MP and also mixed race children.
University educated and from a comfortable middle class home in the market town of Newton-le-Willows, Hankinson cut a formidable and imposing figure. A talented amateur boxer over 6ft in height, he had a reputation for street brawling and extremism. During a 'White Man's March' and rally in Newcastle in 2015, Hankinson gave a speech to the group's supporters in which he said: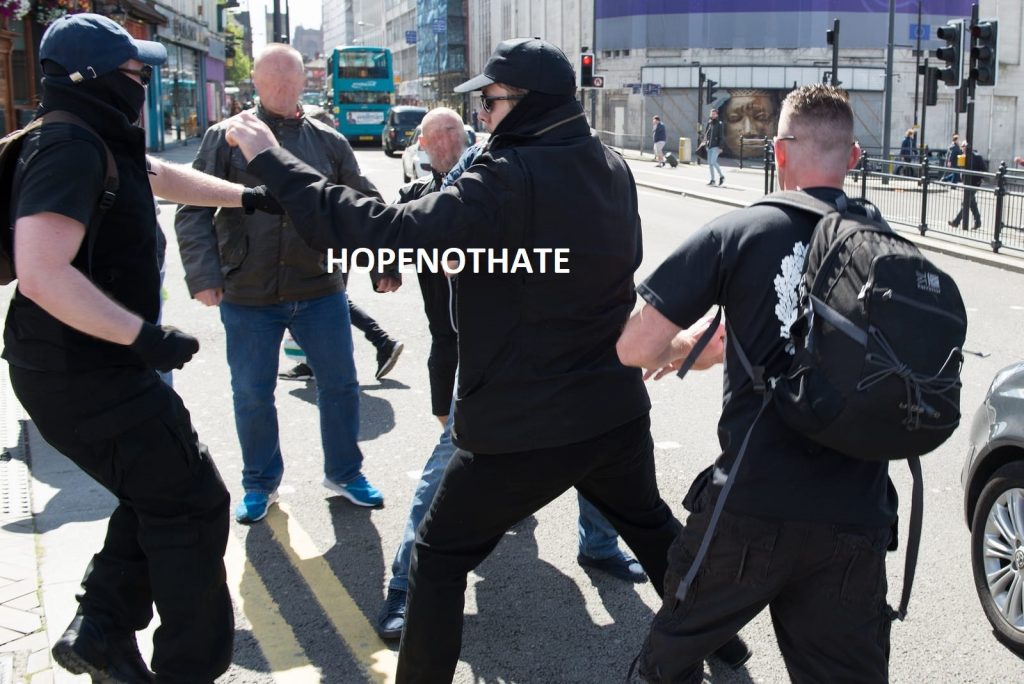 In late August 2017, Hankinson and others met to discuss murdering their suspect and burying his body in a barrel of acid. Fortunately for the suspect, HOPE not hate were privy to the discussions and able to divert the attentions of the paranoid and panicked leadership to other objectives. HOPE not hate conspired to engineer a further schism in the leadership. When realistically they should really have been dumping the mountains of illegal and incriminating materials which they held, Hankinson instead tried to launch a coup d'état against Christopher Lythgoe, NA's national leader and fellow plotter.
Lythgoe, who still has another year to serve in prison, had been NA's secret leader until exposed by HOPE not hate. Already suspected by the group's founders' of being a state asset, Hankinson rounded on Lythgoe, suspicious of the feeble excuses he offered for leaks of information. In one conversation, Lythgoe suggested HOPE not hate staff had climbed through his bedroom window in the dead of night and stolen his computer.
When questioned by police over his membership of the terror group legend has it Hankinson only ever spoke two words: the name of the HOPE not hate mole who bought the group down and saved the lives of an MP and a police officer. You can read more about National Action here.
Still in jail, still not happy..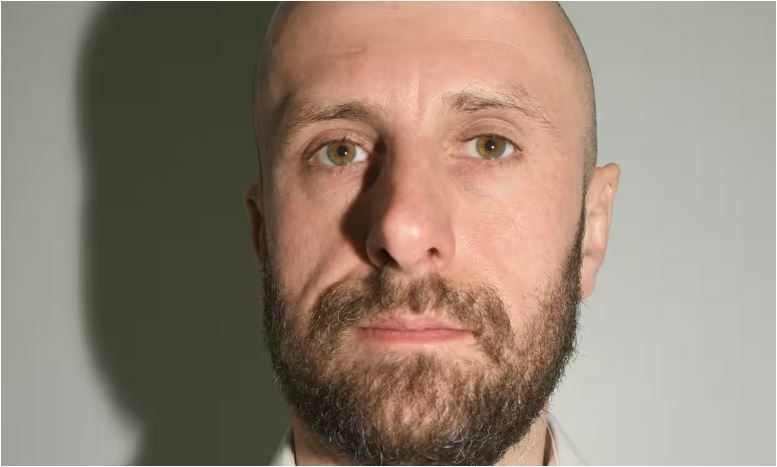 Another former National Action (NA) activist still in prison is the former prison officer Ashley Podsiad-Sharp. Sharp was jailed in September of this year for running a neo-Nazi fitness club and having an encrypted "murder manual". Like many former NA members and activists' Sharp was also a member of Mark Collet's 'continuity' NA group Patriotic Alternative.
Unsurprisingly, being a former prison officer, Sharp is getting short shrift from other prisoners. Trying to come to his aid is none other than another former NA member and now member of Patriotic Alternative, Sam Melia. Last month a GoFundMe for Sharp raised some £7000 before being taken down.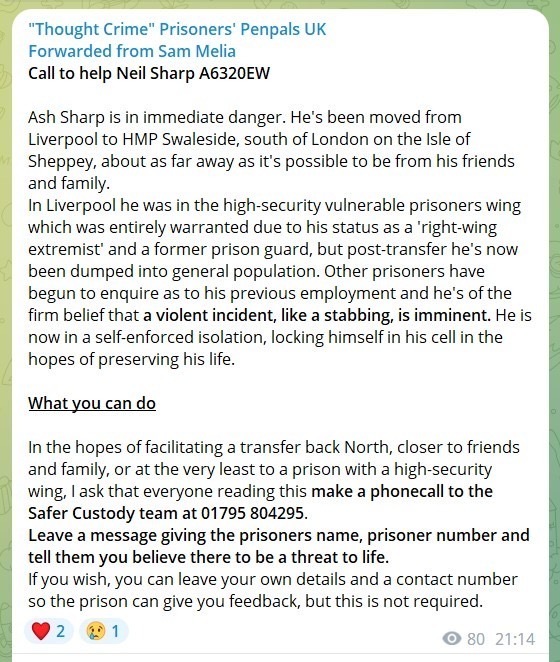 Sharp is an interesting character and it is somewhat of a surprise he managed to get a job as sensitive as a prison officer. When he lived in Cardiff during the noughties, Sharp went under a host of different names as he immersed himself in the local drugs scene. He was somewhat of a local celebrity given that he also played in a fairly successful band. As well as several name changes and absconding on flatmates, he was perhaps most infamous for turning himself into the local police station, under the influence of LSD, and claiming he had murdered his housemates!