The founder of National Action (NA), Alex Davies has been found guilty at Winchester Crown Court of membership of a proscribed terrorist organisation.
Davies, who is 27, becomes the nineteenth person convicted of membership of NA and its 'continuity' groups since it was proscribed by the Home Secretary in December 2016.
The court heard during a three week trial how Davies, from Swansea, founded NA in 2013 alongside Ben Raymond who was himself convicted of the same charge (and others) in November last year.
Davies's conviction for membership stems from the creation of NS131 (National Socialist Anti-Capitalist Action) which he set up in May 2017, five months after the proscription of NA.
The crown argued that NS131 (which was banned in September 2017) was one of several 'continuity' groups set up by former members of NA to attempt to circumvent their ban and keep recruiting for and promoting the aims of NA.
The court heard prior to NS131, Davies and others had attempted to set up another group named 'National Socialist Network' but this was discovered and then exposed by HOPE not hate (HNH) and had to be abandoned. According to Davies they were at the point of launching the proposed group and this exposure was seen as a major blow to their immediate post-NA plan.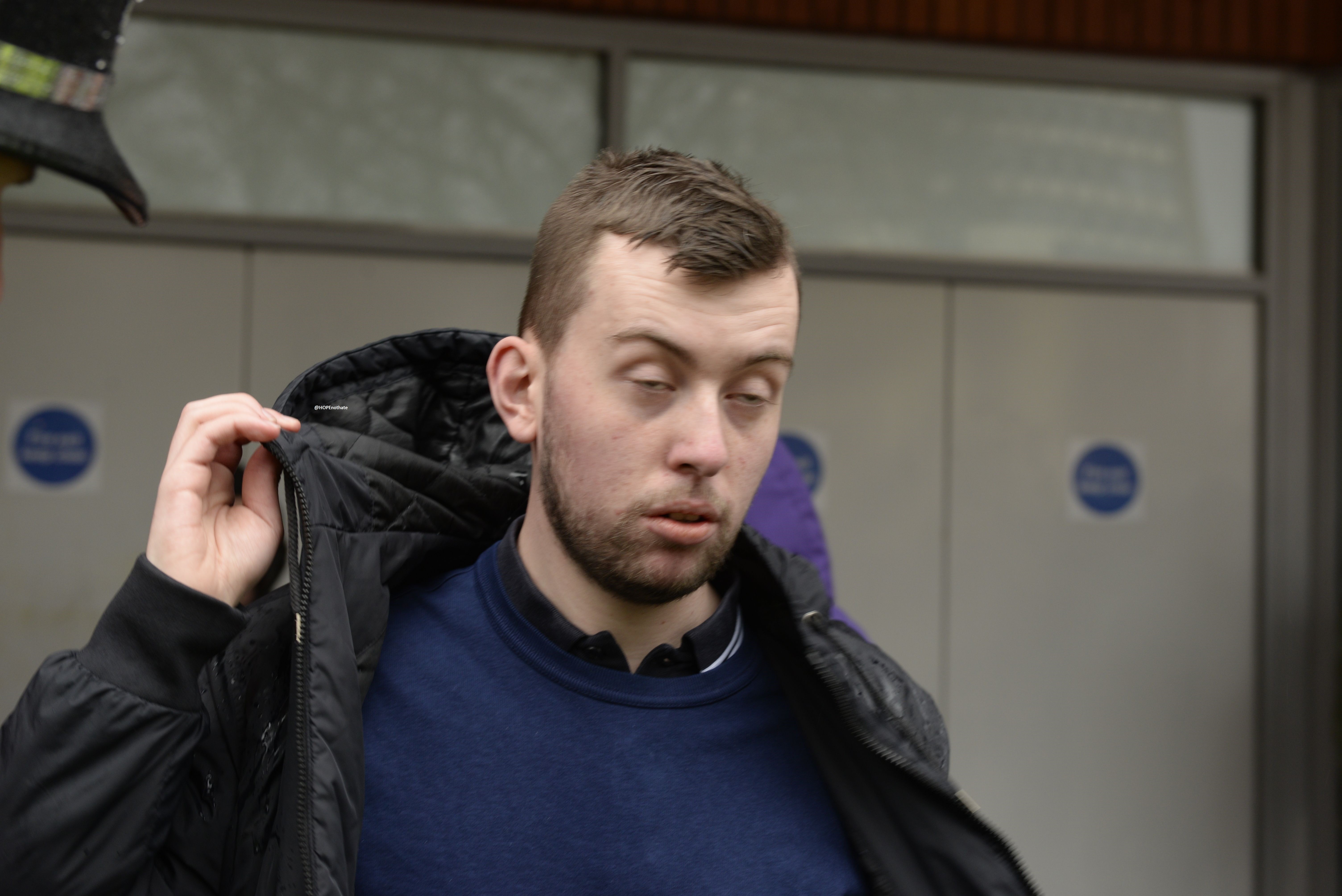 Throughout this trial and the many other trials involving alleged and convicted National Action members, HOPE not hate has been mentioned as a destabilising factor on NA and its continuity groups. Davies would claim at this trial that HNH used paid informants to undermine and even entrap Nazi terrorists. We strongly refute such a suggestion.
To the court, Davies would argue that NS131 was not a membership organisation but merely a 'webzine' to promote National Socialist (neo-Nazi) street art. He would also argue that his views and opinions about such things as fermenting a race war had altered drastically since 2013, when he first created National Action.
Over the days Davies gave evidence he did little to further his cause or case; not only was his demeanour arrogant, he was easily antagonised by the evidence against him and spent physically and mentally exhausting hours lecturing the court on the rights of his politics and the wrongs of others'.
Davies certainly preferred the sound of his own hectoring to that of the expert witnesses called to define his and his colleagues' descent into terrorism. At one stage of his cross examination an exasperated Davies demanded the prosecution listen to him and not follow their own "script." He also glibly described how he and some other neo-Nazis going for ice cream at the seaside was part of "the life of a terrorist." Nobody laughed.
Although there was a gallery of only one retired Nazi bus driver to impress, throughout his three days of giving evidence, Davies swung from unrepentant 'National Socialist' to an apparent class warrior and spoke of his attachment to many Anarchist ideals, as well as recounting his time as a hunt saboteur. The essence of NS131 and its interventions, he claimed, could be explained by his desire to distribute a leaflet in Swansea entitled "House Families, not Feminists" as part of the 'deformed class struggle' he felt he was then waging.
Davies would also (rightfully) complain that he should have been before the courts some five years before, when at least the minute details of his law breaking were fresh in his memory.
Aside from flirting online with Mark Collett's Patriotic Alternative, Davies has undertaken little political activity since being charged with membership of a proscribed organisation in May of last year.
Unfortunately for Davies the jury were rightfully unconvinced by his tetchy defence, mainly due to the large number of former (and some now later convicted) NA members who were involved in his venture. NS131 was simply a continuation of National Action's sickening hatred and ideology. It shared many of the same symbols and characteristics, even the same obsessions with style and choreography as NA. At the time of proscription Davies had even written privately to a supporter saying "we'll come up with creative ways to overcome the obstacles in front of us."
NS131, like 'National Socialist Network', 'Triple K Mafia', 'Scottish Dawn' and 'Northern Revenge' was simply another regional group of his creation and co-creation. It replicated the heady and carefree period from 2013-2015 when Davies and Ben Raymond ran the organisation with regional autonomies.
Davies's trial was of interest to anyone who has tracked the trajectories of the likes of himself, Raymond and NA's final and secretive Führer, Christopher Lythgoe.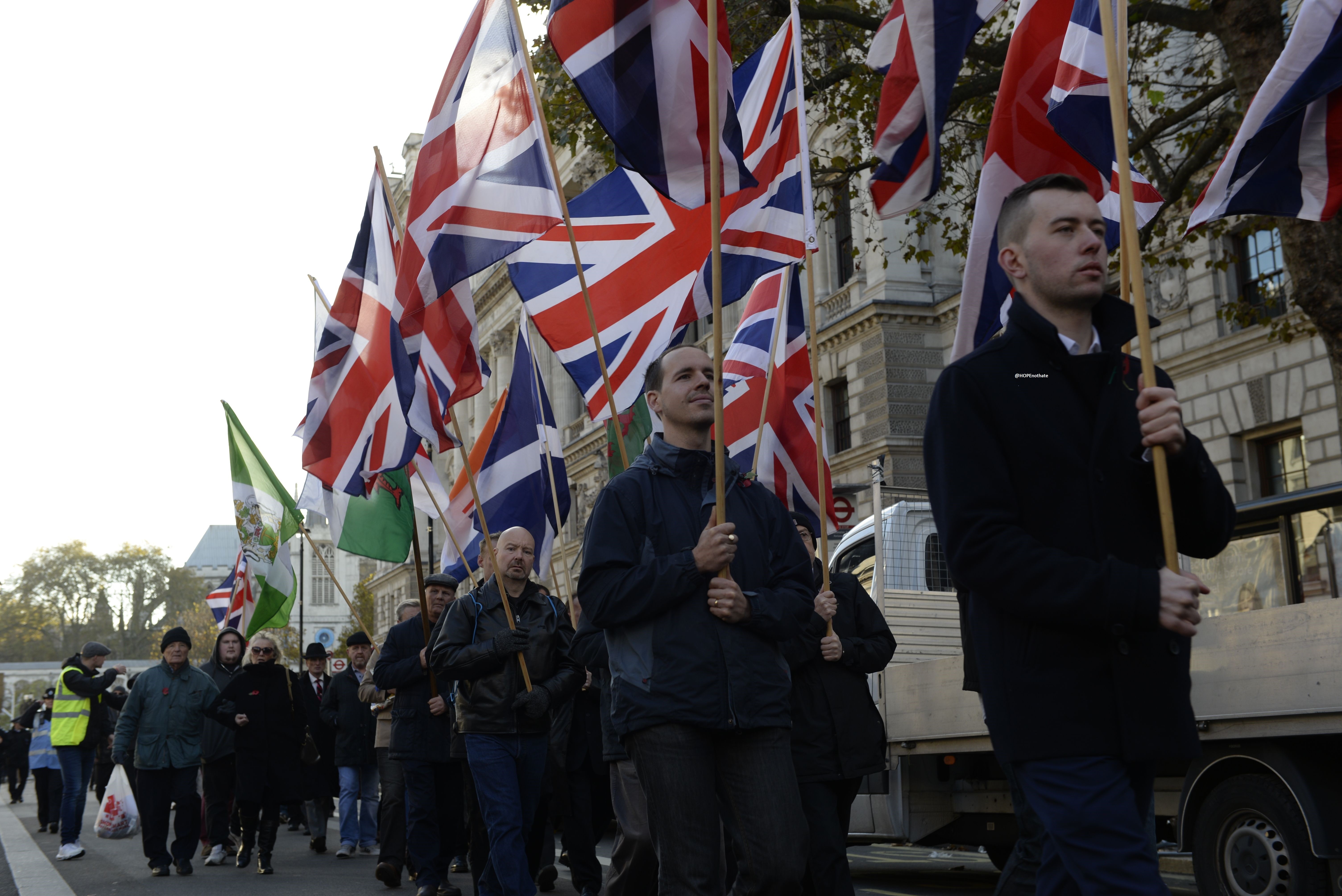 Whereas the case against NA co-founder Ben Raymond at his trial in Bristol late last year drew heavily on the documents, choreography and warped ideologies that weighted the group in terrorism, Davies's trial leaned heavily on both the ideological swings, personal hatreds and frayed relationships of a small number of highly dedicated race haters. Most notably, in the case of Davies, the vanity and obsessions of its most senior actors were clear to see.
National Action was, for a short time, an obsession amongst fascists and neo-Nazis world-wide, drawing high praise, condemnation and adoration on an equal scale. From it came the murderous mirror-image fan club Atomwaffen Division with whom NA's leaders cultivated strong and mutual ties.
In one post-proscription communique between Davies and American Vanguard, the American correspondent gushingly credited Davies with their radicalization. He (Davies) is, after all, "the most Nazi of the lot."
But many personal relationships closer to home failed to hold or survive once NA was proscribed and went (further) underground.
Old Friends
Alex Davies and Ben Raymond discovered each other online in 2012 and quickly developed a rapport promoting both Nazism and the ideals of a race war. They considered themselves somewhat of a dynamic duo; even moving in together for a period as the fortunes of NA flourished after they established the group in 2013. During this period the pair privately likened themselves to the formidable pairing of John Tyndall and Martin Webster who ran the "well-oiled Nazi machine" that was the National Front during the 1970s.
A self-declared Welsh Nationalist, Davies started his political life in the British National Party (BNP) but left the party in 2011 when it "imploded." It came as little surprise to hear in court that Davies quoted the former BNP leader Nick Griffin in personal correspondence. Griffin had been an early, indisputable influence on the founding of NA.
In defence of quoting Griffin's notorious "well directed boots and fists" comments, Davies would tell the jury that Griffin was a "legitimate politician."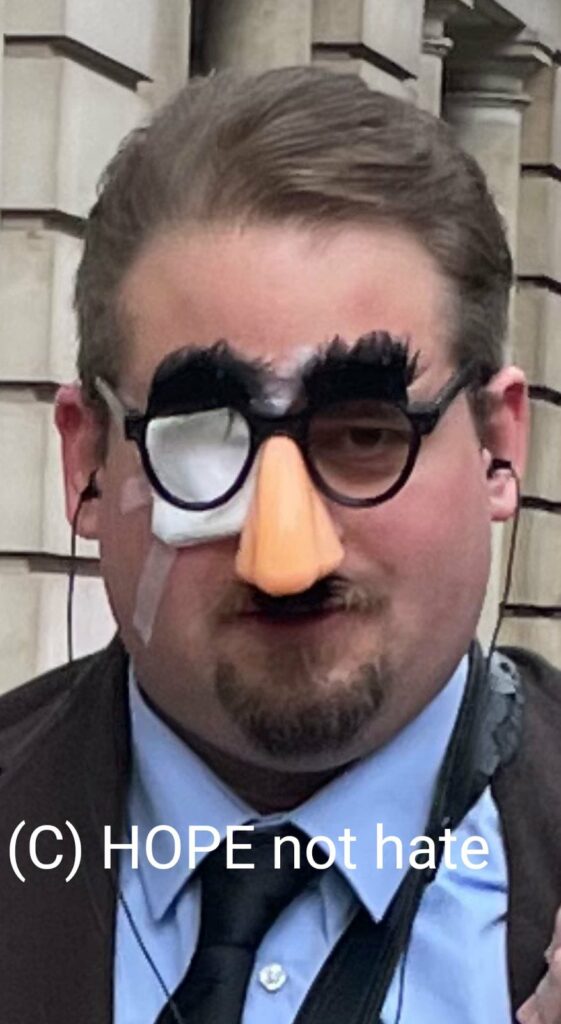 After first meeting Raymond and sharing their love of Hitler and hatred, Davies wrote to his new friend about how they should market their new group. Echoing Griffin's rejection of the democratic system, Davies wrote to his fellow traveller: "We want a revolution. We see no place for ourselves in this system or electoral politics."
During this same period Davies found himself referred to the government's PREVENT program. He told the court: "When I was 19, I went through a prevent channel. And after going through that I was discharged.
"They said 'alright, we can see you're not a threat', this was around 2013/14."
At this same time Davies opened a PayPal account to pay for and take delivery of thousands and thousands of stickers and other promotional materials for the nascent group. Despite being considered "alright" by PREVENT, Davies would be expelled from Warwick University after just one year of studying, for his disruptive, extremist activities.
A Growing Reputation
As NA developed a growing status, Davies cultivated for himself somewhat of a reputation for daring and bravery among their membership. He viewed himself as a romantic and revolutionary, working in soul destroying and low paying sales jobs, travelling on the cheapest available public transport and sleeping on floors around the country to help and encourage others to ferment revolution and race war.
And whilst Davies's star rose across the British far right, his co-founder Raymond's early reputation and ideological influence thinned and waned.
Raymond's unpopularity within NA was evident long before it was proven at Bristol Crown Court. The roots of this fall from grace were fuelled in no small way by Davies's growing dissatisfaction with Raymond's lifestyle, which Davies would portray to others as Raymond pontificating on an inheritance to sustain his diet of takeaways, Benson & Hedges and obscure political interests.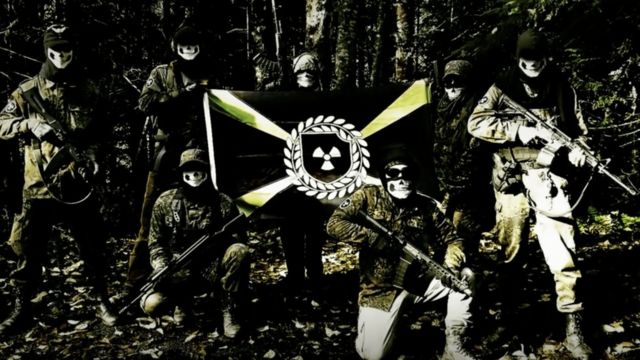 As NA grew and then plateaued, Raymond's obsession with the choreography and reputation of NA far out-weighed his physical commitment to their theory and practice. As NA headed towards proscription in 2016, Raymond was branded a coward for wanting the group to adapt to avoid the banning order rather than move onto the next, inevitable stage.
A common thread throughout all the trials of former and leading members of the group has been their tendency to besmirch each other's reputations as well as blame each other for the descent into terrorism. It is Raymond, the public face of the group from start to end, who has been the most blamed and besmirched by former comrades and associates.
As far back as 2018, at The Old Bailey, the group's chief-in-terror, Christopher Lythgoe, would decry Raymond as the one most hell bent on race war, and as the author of the 'White Jihad' doctrine. Whereas in fact, Lythgoe was one of the theory's most fevered devotees.
With Friends Like That
Asked in court about his friendships with and opinions of a number of former and jailed comrades, Davies described Raymond as being the sort of person Davies "wouldn't invite" to his birthday party.
Similarly, in evidence, it became clear Davies was no fan of Warrington's Christopher Lythgoe who took charge of NA in 2015 and set in motion preparations for terrorism.
Lythgoe took control of NA in a bloodless and secretive coup after the public and debilitating disaster that befell NA at Liverpool Lime Street in August 2015.
Despite Davies describing Lythgoe as "lazy" it would appear they conspired togehter to let the public believe Ben Raymond (still) led the group, affording them both, they hoped, exemption from blame over the group's increasingly perilous legal standing.
In giving evidence, Davies would disavow the terrorist direction NA took under "Lazy Lythgoe", but he still sent him over £1500 before proscription so Lythgoe could open the group's secret headquarters and gym in Warrington.
Davies would also cite Raymond as having often acted without his knowledge on numerous occasions during the period the group was legal. In particular, Davies said he had objected to the publication of a photograph of Davies and fellow convicted member Mark Jones visiting the Buchenwald concentration camp in May 2016.
Davies claimed to have regretted both the photograph and the Nazi salutes made at Buchenwald concentration camp. Davies claimed he was shocked and distressed that Raymon published a photograph of he and Jones giving Nazi salutes in the camp's execution room, where some of the more than 56,000 people who died at Buchenwald were executed. Davies claimed to have been "ashamed" to have done such a thing in a place where there had been so much suffering.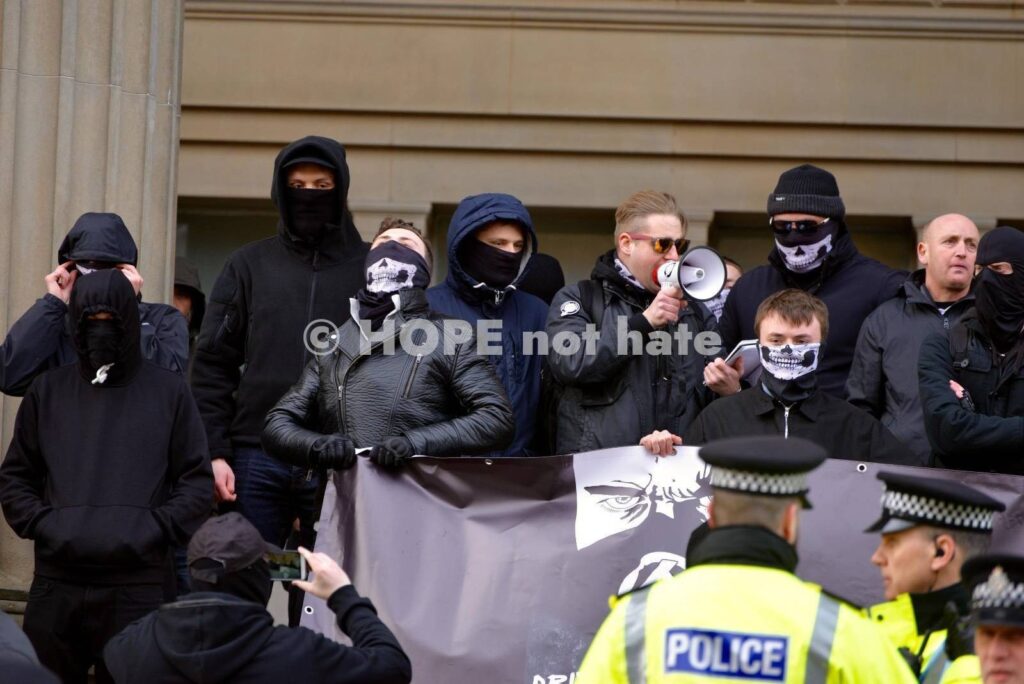 Hpwever, he would later reaffirm in court that he wanted all British Jews "deported back to Israel"– even Jews whose families had been in Britain for hundreds of years. Davies is, after all, 'probably the biggest Nazi of the lot.'
"Crazies and weirdos"
Other former NA associates were derided as being "crazies and weirdoes" or "mad", particularly those recruited by Lythgoe. In the case of the constant butt of all NA's internal hatreds, Garron "Gasser" Helm, he was described to court by Davies as an "egotist who caused drama." One after the other, Davies threw the reputations of his former followers under the proverbial bus. That is except for Mark Jones, who Davies first met in the BNP and felt was "more normal" than the others.
By the end of the three week trial, Davies often had his head in his hands as the trial was summarised for the court. He had made many impassioned and quite debilitating statements from the witness box.
Davies repeatedly defended his beliefs but as he continually reminded the court, he was not on trial for them. He was on trial for membership of a proscribed organisation, one he had first formed and then secretly reformed. His confidence in his own abilities was scorching, even if the effort to assert them were wasted and misdirected.
Dressed in a grey suit with crumpled shirt and carrying a small batch of notes in a side bag, Davies now appeared in court with the seemingly obligatory glasses of a far right defendant.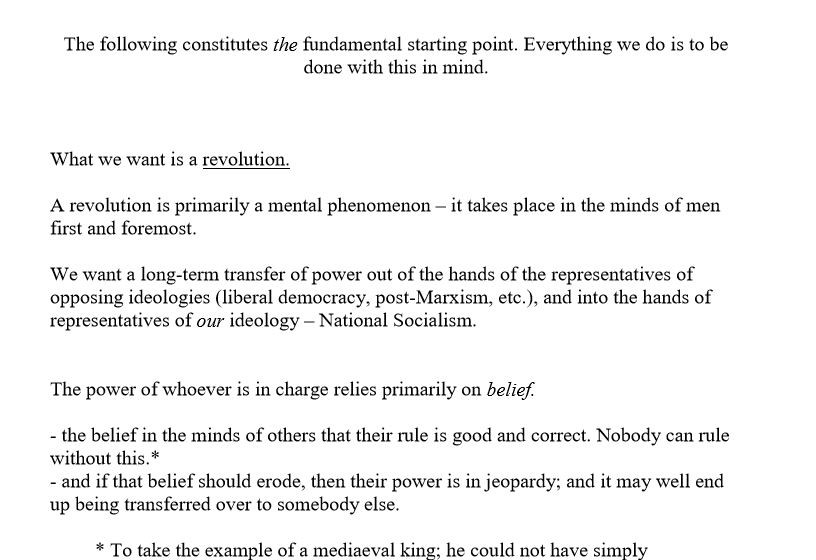 Davies spoke of his attempts to engage in the political process through the National Front and also his meeting with Mark Collett who later refused to return his calls once Collett had set up an organisation remarkably similar to how Davies described the banned, NS131.
It appears from a private conversation relayed to court, that Davies didn't particularly want to work with Raymond any longer and nor did he want Raymond to have any input in his activities other than to produce artwork ad designs for them.
Davies travelled extensively post-proscription as he obsessed on and agitated for the creation of a 'Nationalist Community' which was to be in Yorkshire, around Leeds or Huddersfield (as I mention in my book about National Action). He visited and guided all the continuity groups set up by NA members across the country and many times it appears they failed to impress him.
So important was this project of getting Nazis living next door to each other, that Davies even held a top secret meeting in the McDonalds in Leeds city centre to try to convince people to join him in building an all white enclave.
American Horror Story
Some things about Davies and his activities will continue to remain a mystery. Who was the mysterious woman, a 'Ms Whitcombe' in the United States for instance, who was sending Davies, her "most testing asset", money for research? Davies claimed he was researching cosmetics for the woman. Others may claim he was gathering information on American Nazis for her. We'll never know.
As with the conviction of his co-founder Ben Raymond last year, the jailing of Davies is most welcome, but far too late. He becomes the 19th Nazi jailed for membership of an organisation banned in 2016.
Davies argued many times in court that everyone is entitled to their own and personal political opinion. Yet Davies, Raymond and others often suggested murdering or harming those who did not agree with theirs. Their activities and ideology have inspired many young men to cross the line from political belief into terrorism. Violence and terrorism are the inevitable consequences of those vulgar political beliefs. How much could have been done to stop this scourge if, back in 2014, when Davies's views were scrutinised by PREVENT, the authorities had better understood how dangerous the views of all involved in NA actually were.