A COVID-conspiracy theory magazine, The Light, is spreading antisemitism and promoting far-right figures to a large audience.
Conspiracy theories are dangerous, in part, because they can provide pathways towards antisemitism and a wider array of far-right politics. Over the past two years, the UK's conspiratorial milieu has rallied around a COVID-sceptic, anti-lockdown and anti-vaccine agenda. However, whilst this loose conglomeration is politically mixed, its lack of ideological and organisational structure renders it vulnerable to the advances of the far right.
A notable example is The Light, a monthly self-described "truthpaper" that emerged in September 2020 in tandem with the UK's burgeoning anti-vaccine protest movement. Founded by "flat earther" Darren Nesbitt (AKA Darren Smith) and designed to mimic a traditional newspaper, the publication has quickly become a significant voice in the conspiracist alternative media, straddling the online and offline spheres.
A January 2022 post in an internal chat claimed a huge 250,000-copy print run of the most recent issue; whilst this is likely an exaggeration, and subscriptions appear to have dropped in recent months, activists continue to distribute copies at demonstrations and on high-street stalls, push them through letterboxes and leave stacks at newsagents alongside mainstream publications, to be taken free of charge. The Light also boasts a following of thousands on social media, maintaining a presence on Facebook and the messaging app Telegram.
It is therefore concerning that The Light regularly publishes and promotes antisemites and some of the UK's best-known far-right figures, introducing them to new audiences. Whilst its core focus remains the various theories that surround the pandemic, the outlet has also increasingly adopted a wider "culture war" outlook, for example taking aim at an "insane woke collectivist ideology" and incorporating anti-trans prejudice into its conspiratorial worldview.
The Light has been the focus of a campaign from local activists in Stroud, Gloucestershire, who are concerned about its contents. The Light has responded by labelling this counter-campaign an instance of "cancel culture" and denying charges of antisemitism as "absurd and scurrilous".
Below is an overview of some of the antisemitic contents of The Light, and its links to the far right.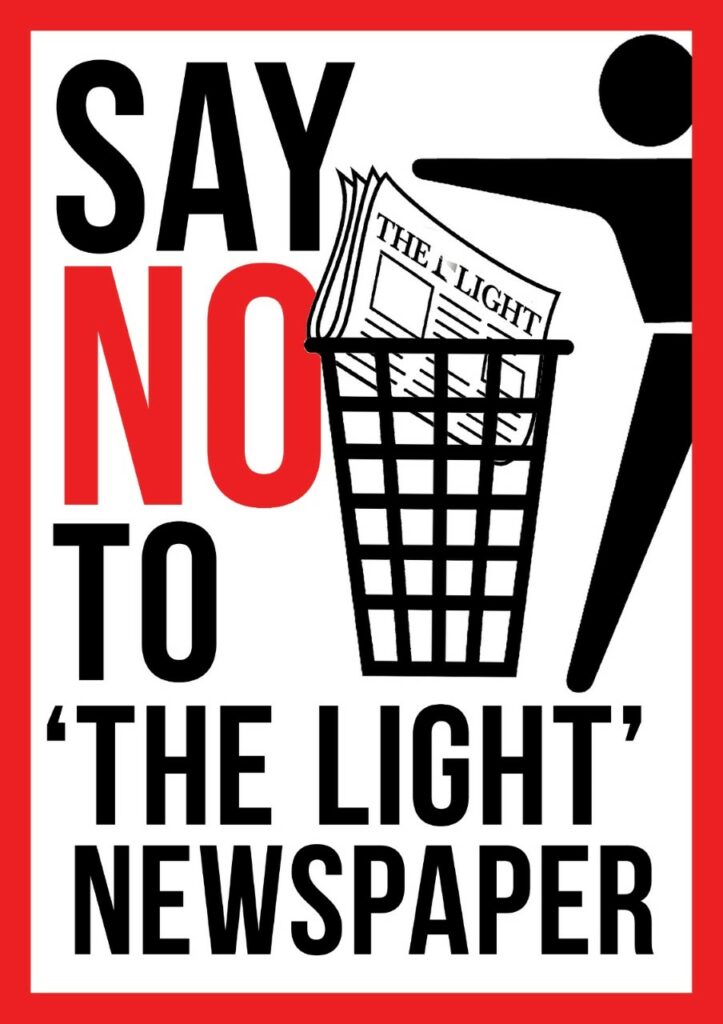 Antisemitism
Belief in a conspiracy naturally entails belief in sinister conspirators, and antisemitism has deep roots within many longstanding conspiratorial traditions, a number of which, such as the "New World Order", have been revitalised during the pandemic. For some, the role of the supposed Jewish conspirators is implicitly understood and does not need to be identified by name; others may ignorantly regurgitate antisemitic tropes unaware that they are racist, or turn a blind eye and deny such charges as a smear.
The pages of The Light are peppered with such tropes and, occasionally, more overt instances of antisemitism. For example, the May 2021 issue included an article penned by the pseudonymous Nazi blogger "Lasha Darkmoon", which suggested that people had been brainwashed by shadowy elites against questioning the Holocaust. The article included a link to her now-defunct website, which was rife with open Jew-hatred. Another issue carried two articles from the Holocaust denier John Hamer, including a piece praising Colonel Gaddafi, comparing his rule favourably to our "very tightly Zionist-controlled, indirect form of democracy" and the "puppet-criminals who run the country only for the benefit of the bankster-elite".
In April this year, the publication also included Hamer's antisemitic screed, The Falsification of History, among the two dozen titles in its "Recommended Reading" feature. Other recommendations included The Secrets of the Federal Reserve by Eustace Mullins, a white supremacist and dedicated antisemite elsewhere described as "a renowned author" by The Light; other titles penned by Mullins include The Biological Jew and Adolf Hitler: An Appreciation.
Perhaps most egregiously, the November 2021 edition featured a defence of the extreme Jew-hater Graham Hart, who was sentenced to 32 weeks imprisonment last year after pleading guilty to eight counts of producing a programme likely to stir up racial hatred. The Light claims that through his broadcast, Hart "aired his views, chatted with guests about a variety of subjects, questioned significant events throughout history and shared his research findings", asking: "While his opinions may seem radical, surely he is entitled to them? How does it harm anybody else for him to have a different view of history?"
The article failed to mention that during his broadcasts, Hart claimed that Jews were "filth", "like rats" and deserved to be "wiped out", and stated:
"If you're listening Mr Jew we're coming to get you. Let's get rid of the Jews, it's time for them to go. After Christmas I'm going to work, going on the attack because I've had enough. I don't want bloodshed but if that's what it takes to get it done."
He also reportedly asked his listeners to send him a gun.
A number of articles in The Light also reference the longstanding "Cultural Marxism" theory, which alleges that sinister left-wingers embedded in academic, cultural and political institutions are subversively working to promote progressive causes, brainwashing populations and undermining the West. The theory has roots in the flagrantly antisemitic campaigns against "Cultural Bolshevism" of the Third Reich, and represents a significant area of overlap between many relatively "mainstream" conspiracy believers and hardline neo-Nazis.
Online, The Light's official channel on Telegram, which has more than 20,000 subscribers, has also promoted the notorious Holocaust denial documentary Europa: The Last Battle, which claims that both world wars were part of a Jewish plot and exculpates the Nazi regime. The channel posted the video along with the hashtag "#GraspingTheBiggerPicture".
The underlying antisemitism in The Light jars with the self-identification of some of its writers as anti-racists and anti-fascists, perceiving themselves to be engaged in a fight against an oncoming, Nazi-esque totalitarian regime. For example, as highlighted by the Get The Trolls Out campaign, a recent issue included a cartoon comparing vaccination efforts to the Nazi death camp, Auschwitz-Birkenau; the image accompanied a piece advertising an exhibition by the artist. The use of Holocaust imagery in this way likens the perceived plight of those living under COVID-19 measures to that of Jews in Nazi-occupied territories, thereby trivialising the atrocity.
Promoting the Far Right
The publication has sought to downplay traditional left-right political distinctions, instead emphasising a shared populist worldview and outsider identity across the political spectrum. In an editorial, Nesbitt himself dismissed the label "far right" as a smear utilised by "The bankers [who] own all the major parties, all public discourse and all mass messaging and education".
It is therefore unsurprising that the outlet has featured contributions from some of the UK's best-known far-right activists, as well as advertising and promoting their political efforts.
For example, ahead of the 2021 local elections the outlet featured a friendly interview with Anne Marie Waters of the anti-Muslim political party, For Britain, as well as articles penned by Waters in its October and December 2021 issues. As highlighted by the Get The Trolls Out campaign, Waters most recently contributed an anti-immigrant outpouring in March this year, which suggests that Islam is motivating gang rapes across Europe.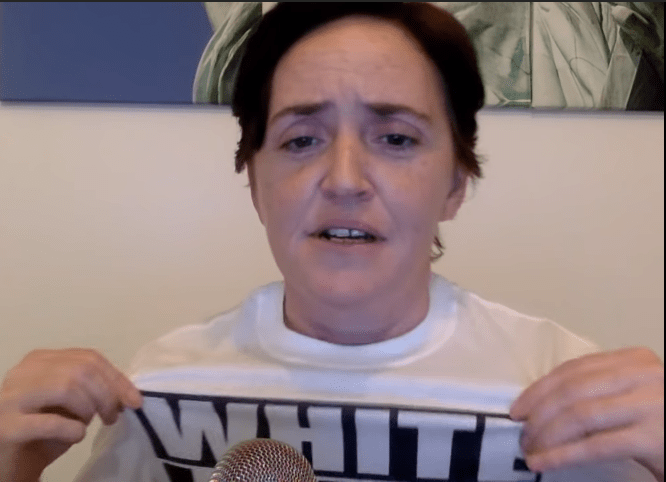 The Light has featured an article co-written by Robin Tilbrook, leader of the English Democrats, a far-right group known for its English nationalist, anti-immigrant and anti-Muslim attitudes. It also featured a full-page advert for the English Democrats' trade union, as well as a friendly interview and full-page advert from David Kurten, the former leading UKIP member who currently fronts the Heritage Party. Kurten has been a keen proponent of the Cultural Marxism theory for years.
Graham Moore (AKA Daddy Dragon), the QAnon-promoter and former English Democrats figure, has also penned an article outlining a supposed plot to "destroy and remove England as a country" and promoting his oddball English Constitution Party (ECP), a newly-found group that draws on "Sovereign Citizen" ideology. The ECP also ran an advert encouraging people to vote for it in the Southend West by-election.
Online, The Light's official channel has repeatedly promoted material from Mark Collett, one of the UK's best-known Nazis and leader of the fascist group Patriotic Alternative (PA); prominent figures from PA have also regularly spammed The Light's Telegram group with content.