HOPE not hate can reveal that Alex Davies, the recently jailed co-founder of National Action, has been active within Patriotic Alternative for more than two years.
On 7 June, Alex Davies, the Swansea-based co-founder and former co-leader of the nazi-terror group National Action (NA), was handed an eight-and-a-half year sentence for his role in perpetuating the group's existence after its proscription in December 2016.
What was only alluded to in court, however, was the fact that Davies' activism in the organised far right did not end with his role in the NA successor groups that led to his conviction.
Now HOPE not hate can reveal that Davies played an active role in Patriotic Alternative (PA) for over two years, including writing for the PA website and attending numerous events of its Welsh branch.
We have previously exposed numerous links between PA and NA. However, the details of Davies' involvement deals the biggest blow yet to PA's feeble denials of the relationship between the two antisemitic organisations.
Alex Davies and National Action
A former member of the British National Party's (BNP) youth wing, Davies founded NA in 2013 alongside Ben Raymond, who was also convicted of similar charges last year.
From the outset NA promoted an unflinching, Hitler-worshipping Nazism and extreme antisemitism, rejecting electoral politics and becoming increasingly militant and obsessed with the idea of an imminent race war over time.
The publicity-hungry group published photographs of Davies and a since-convicted fellow member, Mark Jones, Hitler saluting in Buchenwald concentration camp, and received press attention after a supporter attempted to murder a Sikh man with a machete in 2015.
"I don't want to say what I'd like to do to Jews – it's too extreme."
Davies speaking to the Sunday Mirror, 7 Jun 2014
After increasingly worrying signs – including studying Islamic State videos at training camps, and celebrating the Nazi who assassinated Jo Cox MP – NA was proscribed under anti-terror legislation in December 2016. Activists continued to organise in contravention of the ban, however, including Davies himself, who founded the continuity group National Socialist Anti-Capitalist Action (NS131) in May 2017, for which he would eventually be convicted.
Over the past decade, NA – and by extension, Alex Davies – has exerted an outsized influence on the extreme right fringes, their activities and ideology helping to radicalise many young men into militant Nazism and inspiring the formation of similarly terroristic organisations, both in the UK and overseas.
Involvement with Patriotic Alternative
Davies has been active within PA since at least the summer of 2020, less than a year after its launch.
Under the pseudonym "Defeat Apathy", he posted a series of articles to the PA website in July that year, including one titled "​​White Lives Matter – Activism Guide", in which he detailed the group's media strategy for its forthcoming day of action. The language used makes clear that Davies considered himself a representative of the group, using "we" and "our" in reference to its aims.
In the same month, he explained his reasons for joining up with PA – despite some reservations about the group – in a message posted to a far-right chat on the messaging app Telegram:
"I don't like everything about PA but I accept that nothing is perfect and that I'm not in charge. I lend my support because it's the best vehicle for promoting ideas I support and ultimately saving our people – simple as."
Davies would continue his activism with the group for the next two years, attending events throughout 2021 and 2022 with the Welsh branch of PA. Actions included unfurling a banner reading "Wales is not a migrant camp. We will not be replaced" outside a Swansea hotel suspected of housing migrants, and a similar stunt outside Caerphilly Castle.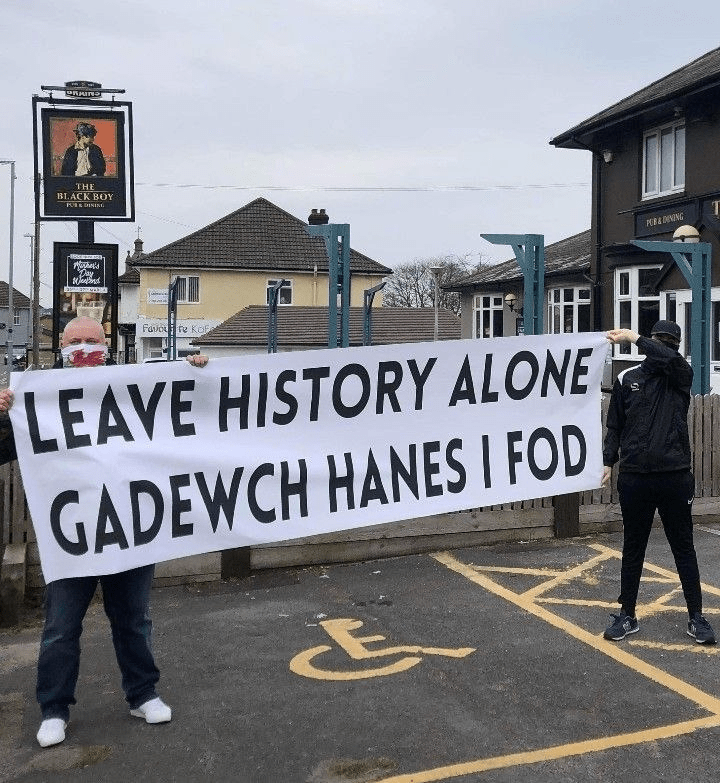 In October 2021, Davies took part in banner drops outside at least 10 different council offices, in the company of the then-Regional Organiser and convicted football hooligan Jeff Marsh (aka Joe Butler). Whereas at earlier events the group had made an effort to obscure his face completely in photos, by spring 2022 the group was posting photos in which Davies' face was recognisable, even behind a mask.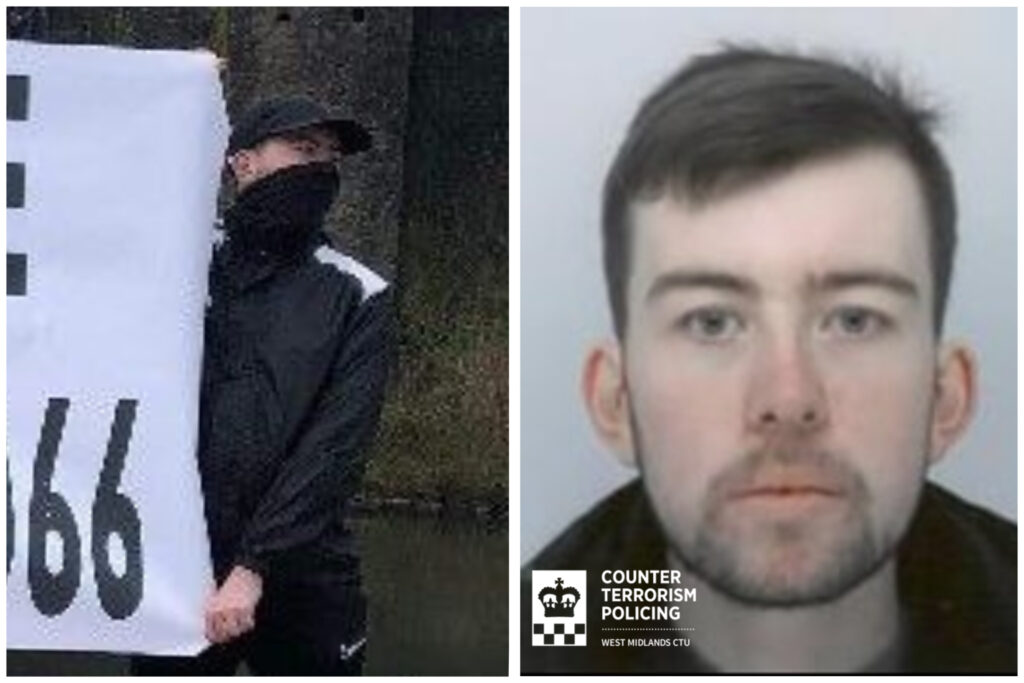 As Davies' trial ended, PA published an article which stated that although "NA was an unsavoury organisation which was rightly proscribed by the Home Office," Davies' conviction for the crimes laid out by the court would set a "very dangerous precedent if Alex is found guilty in the coming days for all nationalists and dissidents". It did not, however, reference the fact that Davies was a longstanding PA activist.
Yet another connection
Davies' involvement with PA is just the latest in a series of embarrassing exposés of the links between the group and a banned terror organisation.
HOPE not hate has previously exposed how Sam Melia, PA's Regional Organiser for Yorkshire and husband of Deputy Leader Laura Towler, attended a meeting in 2017 with Christopher Lythgoe, who is currently serving eight years for continuing to lead the terrorist group post-ban, and Mark Jones, described by counter terror police as a "lynchpin in the national structure" of NA. This was despite Towler's insistence that Melia had "never had a single conversation with anybody in NA".
Other NA associates who have links to PA include Kris Kearns (aka 'Charlie Big Potatoes'), a Spain-based nazi who claims he left NA "one minute before" the group's proscription and that he was "hounded out of the UK by the security services", and who served as PA's national "Fitness Officer". Another is PA Yorkshire's fitness officer Jake Bewick, who was also previously involved with NA.
Such revelations lay bare the contradictions at the heart of Patriotic Alternative. While endeavouring to present itself as the friendly face of the far right, with family picnics and baking competitions prominently highlighted in its social media output, the group has nonetheless recruited core activists from the remnants of the most disturbing and hateful group to emerge on the British far right for decades.