Last night an anti-migrant protest took place outside the Suites Hotel, near Kirkby, against the housing of asylum seekers in the hotel.
Reports suggest crowds of 400, with the event marred by clashes between protestors and police, with missiles thrown and a police van smashed up and set on fire.
At least three people have been arrested on suspicion of violent disorder, although no injuries have been reported. 
The violent scenes in Kirkby last night have taken place in a context of swelling anti-migrant hatred. The protests yesterday saw huge crowds drawn to protest the housing of people seeking asylum in a local hotel, where the far right had been active stirring up tensions over recent weeks. But they were also a product of rising anti-migrant hatred and scapegoat politics that has been repeatedly drummed through mainstream media. 

Who organised the suites hotel protest in Kirkby and were the organised far-right involved?
Although the protest does not appear to have been driven by organised far right groups, they had been active in stirring up tensions. Far-right groups like Britain First (BF) and Patriotic Alternative (PA) had made visits to the hotel in recent weeks,although the protest appears to have been largely locally-driven, rather than organised by far-right groups outside the area. Support for the demo was fuelled by video footage of a 25 year old man approaching a 15-year old schoolgirl asking for her details, despite her telling him that doing so is a crime in the UK. This video was widely circulated.
While only a few well-known far-right figures and groups actively promoted the demo in the run up, it was advertised in chats dedicated to the anti-Muslim extremist Stephen Lennon (AKA Tommy Robinson), BF and PA, and was also promoted by the so-called "migrant hunter" Amanda Smith (AKA Yorkshire Rose). Smith and "English Bulldog", another migrant hunter, appear to have been present at the event.
While the demonstration was not organised or officially promoted by PA, on the previous Saturday (4 Feb), a handful of PA activists, led by the Kirkby-based extremist James Mac (AKA James Costello), delivered leaflets in Knowsley bearing the slogan "5 Star Hotels For Migrants Whilst Brits Freeze", and stood with a banner outside of the hotel.
Mac, who was previously an associate of the now-banned terror group National Action, was present at the demo, producing a video in which he claimed that the van had been deliberately abandoned by the police in the knowledge that crowds would damage it, "to give the people of Kirkby a bad name".
On 23 Jan, BF filmed outside the hotel, claiming online:
"ANOTHER HOTEL IN LIVERPOOL FULL OF MALE ILLEGAL MIGRANTS ⚠️ The borough of Knowsley, on the outskirts of Liverpool, is the location of the Suites Hotel, a large accommodation filled with working-age illegal immigrant men. When our team visited the hotel, they could find no women or children anywhere."
The Suites Hotel also featured on a list of roughly 90 hotels alleged to be housing migrants that was shared widely in far-right spaces over the past few weeks.
Why are we seeing a rise in anti-migrant action?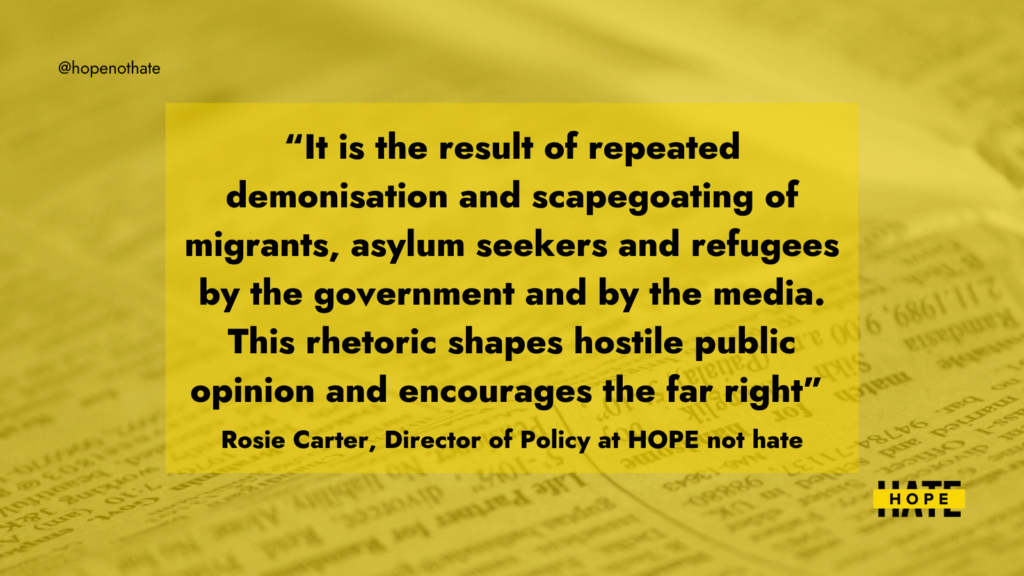 This terrible incident does not stand in isolation, but is the product of repeated demonising and scapegoating of people who are migrants, asylum seekers and refugees, as well as attacks on the organisations who support them.
Concern over asylum has increasingly been whipped up in the mainstream, where images of small boat arrivals on the Kent coast have been labelled an 'invasion', hate has been actively directed at Albanian nationals branded as 'criminals', and tropes about people claiming asylum as 'freeloaders' has fed far right interest in migration.
The use of hotel accommodation for asylum seekers has been a particularly potent issue. A shortage of housing and failure to address a growing backlog of asylum cases has meant that growing numbers of asylum seekers have been offered "contingency accommodation" which includes hotels or B&Bs. This accommodation is wholly unsuitable, conditions are often dire, yet the far right have leapt on the issue, generating outrage about the '5 star experience' given to asylum seekers while British people struggle.
We have seen hundreds of incidents at migrant accommodation sites over the last couple of years, with far-right groups and anti-migrant activists actively breaking into accommodation sites to harass residents. And only a few months have passed since a 66-year-old man threw petrol bombs at the walls of a migrant centre in Dover.
Yet so far very little has been done to put safeguards in place, and instead the Government continues to bang the immigration drum, employing dehumanising language and scare tactics to feed a narrative that conflates migration with criminality, terrorism and modern slavery, continually winding up the issue by repeatedly blaming a 'broken' asylum system. Indeed, this 'broken system', which wrongs so many, is the Home Office's own doing.
A failure to provide suitable community-based accommodation for people seeking asylum, all the while ramping up hostile language and fuelling enmity and division with an inhumane and unworkable system is a potent mix.
In a hostile climate, where people who are migrants and refugees have faced daily harassment and violent threats, we need to see far greater safeguarding and action to address the backlogs trapping people in unsuitable accommodation where they become targets for hate. Politicians and the media need to take real responsibility and drop their line of inflammatory language that incubates the far right.