James Mac, one of Patriotic Alternative's most active campaigners, has spent years pushing a militant white supremacist cult in the UK. He was also an associate of the now-banned Nazi terror group National Action, even delivering a speech at one of the group's rallies.
Over the past year, James Mac (AKA James Costello) has emerged as an energetic campaigner for Patriotic Alternative, the UK's most active fascist group.
This year, the Kirkby, Merseyside-based activist has taken part in numerous leafleting sessions, banner drops and protests in the North West region, as well as propagandising for PA online. Mac's activity for the group has even earned him praise from PA Deputy Leader Laura Towler, who has stated: "I really like James, I think he's a really good activist", with her husband Sam Melia, PA's Yorkshire Regional Organiser, adding: "I love him, he's great".
However, Mac is also a "Reverend" in the Creativity Movement, an extreme white supremacist cult that calls for "Racial Holy War" and claims that "Judaism must be destroyed". He was also an associate of National Action (NA), a now-banned Nazi terror group, having attended NA demonstrations, posed with a NA banner and even delivered the opening speech at an NA rally. He was also filmed training with former members and associates of NA at a secret training camp, months after the group was proscribed under anti-terror legislation.
While Patriotic Alternative is keen to downplay its links to National Action, Mac is just the latest PA figure to be exposed as a former member or associate of the now-banned group. Former NA activists have even been appointed to high-ranking positions within PA, explored in further detail below.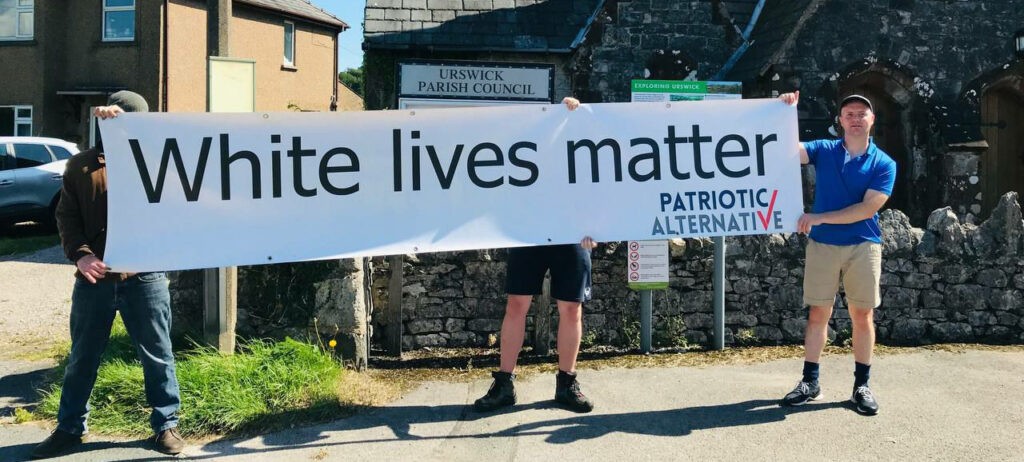 The Creativity Movement
Mac is best known for his attempts to spread the militant white supremacist ideology of "Creativity" in the UK.
The Church of the Creator was established in the USA in 1973, its founder Ben Klassen believing that white people are "embroiled in a racial war for survival", that "all mud races [non-white peoples] are our enemies in this war for survival" and that "the Jews are leading and orchestrating this war against us", using Christianity to weaken the white race.
Regarding Hitler as "the greatest leader the White Race has ever produced", Klassen coined the battle cry "RaHoWa!", an abbreviation of "Racial Holy War":
"RAHOWA! […] We gird for total war against the Jews and the rest of the goddamned mud races of the world – politically, militantly, financially, morally and religiously. In fact, we regard it as the heart of our religious creed, and as the most sacred credo of all. We regard it as a holy war to the finish – a racial holy war. Rahowa! is INEVITABLE. It is the Ultimate and Only solution." – Ben Klassen, 1987
The cult has been linked to a number of racist murders, terrorist plots and a spree killing in the USA, and was rebranded "The Creativity Movement" after Matt Hale, Klassen's successor, was sentenced to 40 years for soliciting the murder of a federal judge in 2005.
As a "Reverend" in Creativity, Mac has canvassed towns in the North West with the group's propaganda and delivered speeches at various fascist conferences and rallies, often accompanied by fellow "Creator" Jane Miller. Despite their efforts, the cult remains extremely fringe, consisting of just a handful of adherents in the UK.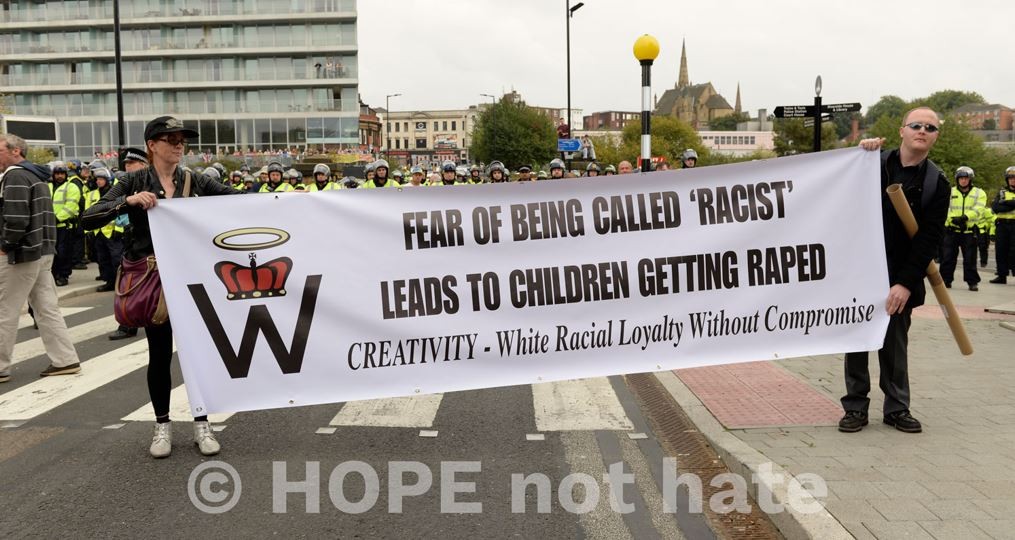 In January 2015, Mac addressed a hardcore Nazi protest that gathered outside the US Embassy in London to campaign for the release of Gary Yarbrough, an incarcerated member of The Order, a white separatist terror group. To a small crowd that included National Action members, he closed his speech with the rallying cry: "Free Matt Hale, total white victory, Delenda est Judaica!"
"Delenda est Judaica" is a Creativity slogan in Latin that translates to "Judaism must be destroyed". Mac has elsewhere expressed extreme racism:
"Why on earth do we want to help 'uplift' the 'blacks' in Africa or any other mud blood enemy? We will have the territory to develop for the benefit and prosperity of White people, yes. But help 'uplift' our racial enemies? What creature in Nature seeks to help and uplift its deadly enemy?" – James Mac, 2015
While the Creativity Movement is microscopic in the UK, its ideology remains dangerous. Creativity publications, alongside many other extremist materials, were found in the bedroom of Zack Davies, a National Action supporter who attempted to murder a man who "looked Asian" with a machete in a Flintshire supermarket, in 2015.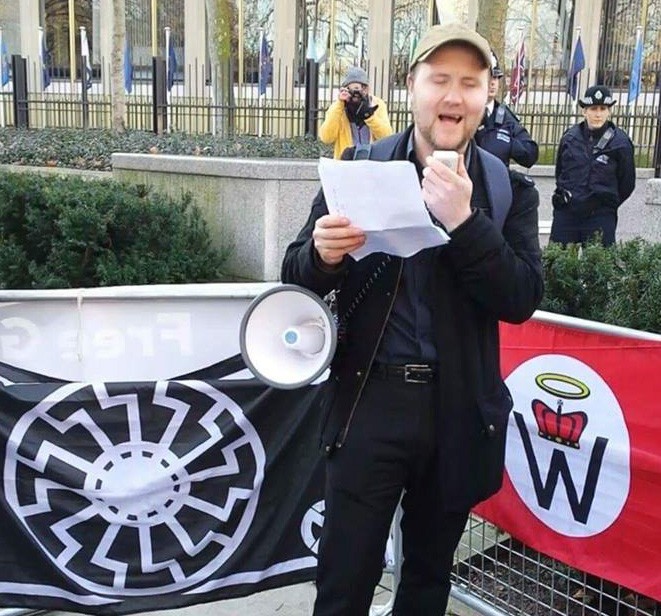 National Action
Mac was also an associate of National Action (NA), a Hitler-worshipping, extremely antisemitic group that became increasingly obsessed with the idea of an imminent race war. The group was proscribed under anti-terror legislation in December 2016. While Mac claimed in 2017 that he has "NEVER identified with 'NA' and never will", he collaborated with NA on a number of occasions prior to its ban.
In June 2014, Mac joined a core of NA activists for a small "flash" demonstration in Liverpool city centre, at which activists distributed leaflets reading "Cleanse Britain of parasites. The white man is on the march – white power". Mac held a NA banner while NA co-founder Alex Davies gave a speech; as we revealed in July, Davies went on to be active in Patriotic Alternative for more than two years. Mac later claimed he went to the demo as a "favour".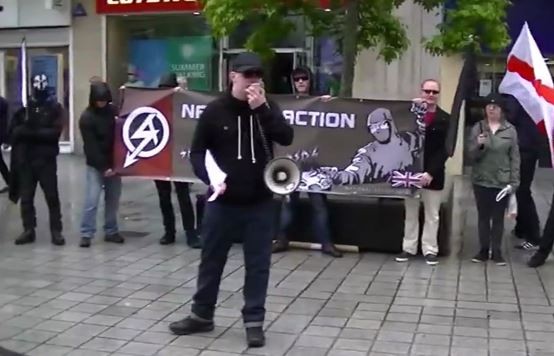 Notably, Mac delivered the opening speech at NA's "White Man March" in Newcastle, March 2015. The event saw extreme fascists from NA, Combat 18 and other groups throw Nazi salutes, chant "Hitler was right!" and hear speakers calling for race war. For his part, Mac delivered a Creativity "sermon" that was described on the NA website as "inspiring". The event culminated in the burning of the Israeli flag and a number of arrests.
Detained alongside NA activists was the veteran fascist Michael Woodbridge (all charges were dropped). Woodbridge is now also active in PA's Welsh branch.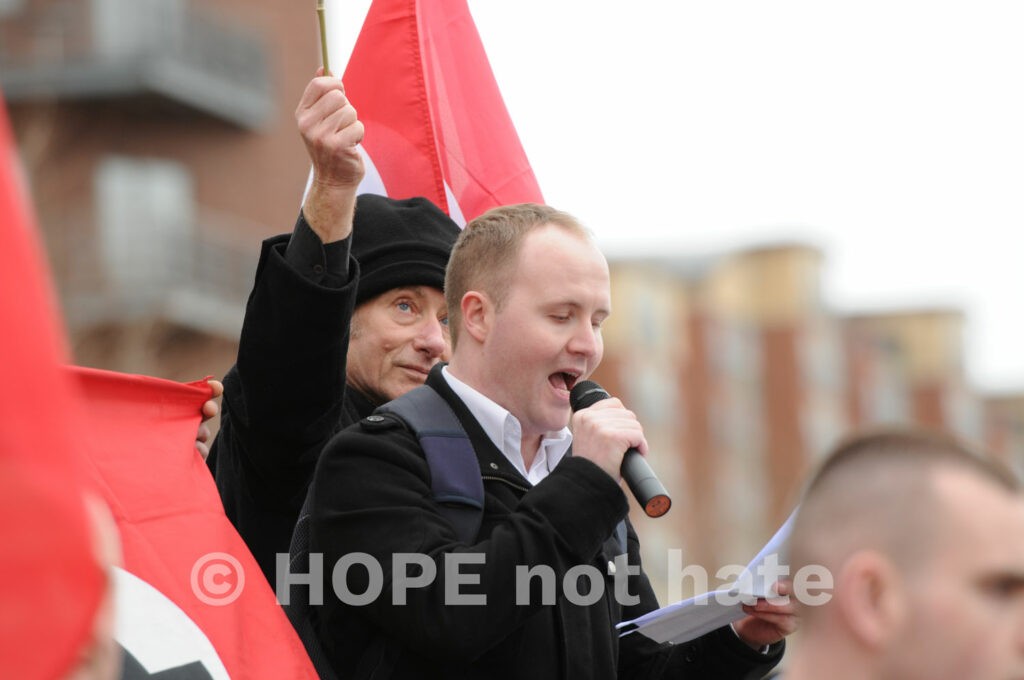 In July 2015, Mac and Woodbridge again teamed up with NA at a far-right demo in Rotherham that was marked by violence between NA and English Defence League activists. The pair stood side-by-side with NA and the Misanthropic Division as Matthew Hankinson, a leading NA figure currently serving six years for terror offences, called for "white revolution".
The same year, Mac made a friendly, 2-hour guest appearance on the radio show of Paul Hickman, then a key NA activist, during which Mac claimed that Jews behave in "parasitical ways" and repeated the Creativity slogans "RaHoWa" (Racial Holy War) and "Delenda est Judaica" (Judaism must be destroyed").
In March 2017 – months after NA was banned as a terrorist organisation – Mac and well-known former NA member Garron Helm were filmed at a "survival camp" in Derbyshire. The event was run by Legion, the martial arts and training group used by NA in its early days. The joint ITV and HOPE not hate exposé revealed Mac making antisemitic comments and pushing Creativity on an undercover reporter. Also present at the training camp was Mark Collett, the founder and leader of PA.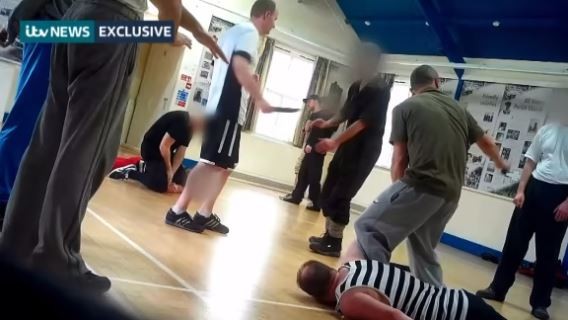 Now embedded within PA, Mac's Nazism remains undimmed, describing Hitler as a "good man" in February this year, continuing: "Adolf Hitler loved his people".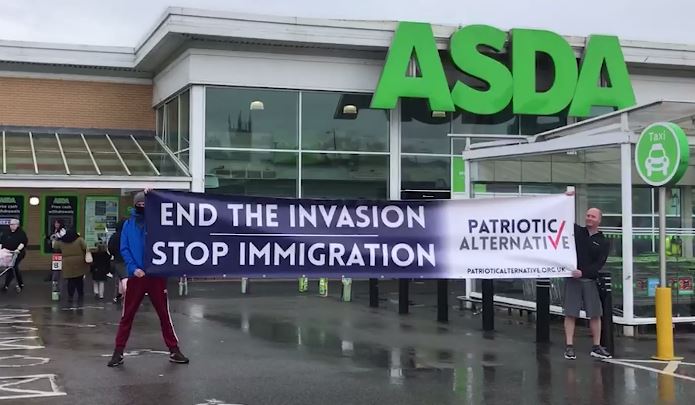 Yet Another Connection
Mac's involvement in PA is yet another blow to the group's shallow attempts to hide its Nazism from the general public. We have previously exposed many other Nazi extremists active in the group, as well as other links to NA.
For example, a former NA insider has gone on record to state that PA leader Mark Collett collaborated with the group prior to its ban, even attempting to take a leadership role.
In June, we revealed that Alex Davies, NA co-founder and co-leader, was active in PA's Welsh branch for over two years, attending numerous demonstrations and writing for the PA website.
In August, we also revealed that Sam Melia, PA's Yorkshire Regional Organiser and husband of Deputy Leader Laura Towler, had admitted to having joined the now-banned terror group. He was also photographed with key NA members months after the ban.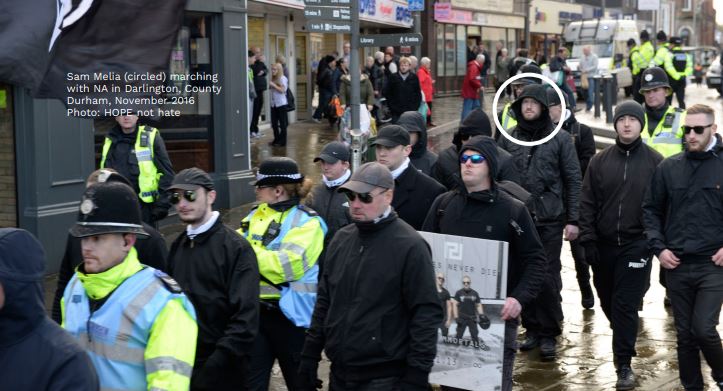 In addition, Kris Kearney (AKA Charlie Big Potatoes), formerly PA's national "Fitness Officer", was a NA member, claiming he left the group "one minute before" its proscription. Jake Bewick, who has been active in PA's Yorkshire branch, was also previously involved in NA.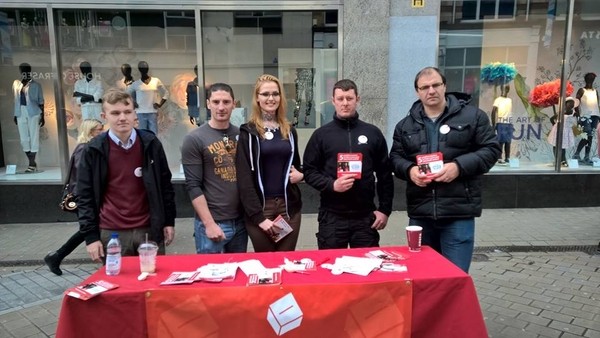 For more information on PA, read our report below.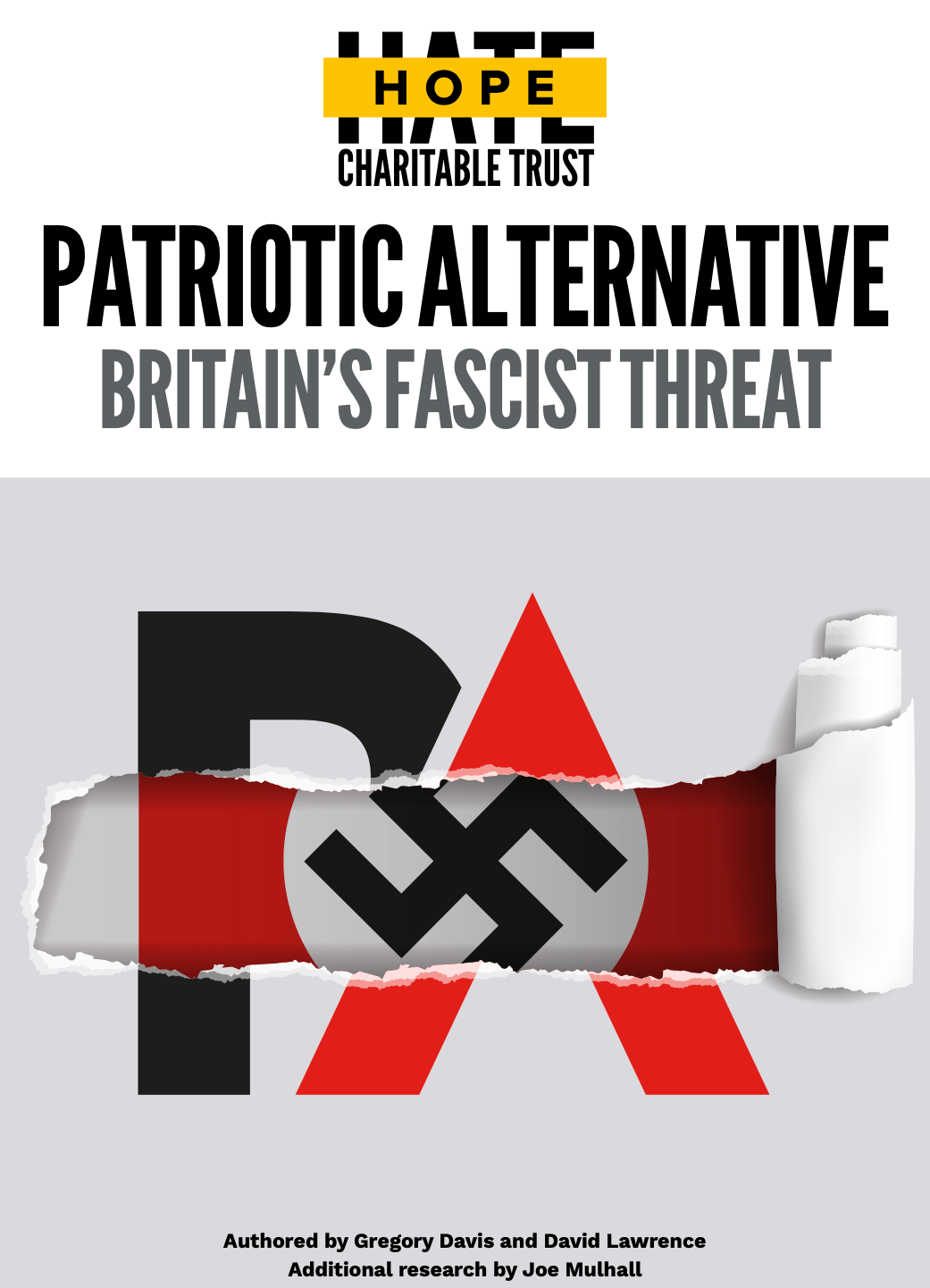 Read the full report