Paul Golding is the co-founder and leader of Britain First. Hailing from Dartford, Kent and now residing in Salford, Greater Manchester, Golding has spent over two decades in UK far-right politics and is the dominant personality in Britain First.
The British National Party
Golding first emerged into prominence in 1999 as a teenage member of the fascist British National Party (BNP), and was quickly appointed editor of the youth publication Excalibur. Given the title of Director of Publicity, Golding also briefly took the reins of the BNP's flagship magazine, Identity, having established a close relationship with then-leader Nick Griffin.
As a party propagandist, Golding pushed the BNP's brand of racial nationalism, seeking to cloak the party's fascism under a guise of false patriotism. As he later told a party meeting: "We have hi-jacked the Union Flag, now we must hi-jack the word 'British'".
Golding's exploits generated both internal rancour and bad press, however, and his rise in the party soon slowed. Notable instances included his drunken arrival at the Cenotaph on Remembrance Sunday with a pair of women's underwear on his head, and a violent altercation with future BNP councillor Lawrence Rustem. Golding was demoted in 2002, in part due to the manoeuvring of Mark Collett, the current leader of the fascist group Patriotic Alternative.
Golding re-emerged as a force within the party in the late 2000s, adopting the role of "projects coordinator". He was elected as a BNP councillor in Sevenoaks District Council, Kent in 2009, but within months was accused of having "done nothing" by residents in the local newspaper. Having helped to arrange the purge of various high-ranking BNP officials, Golding followed the influential party fundraiser Jim Dowson to Northern Ireland, belatedly quitting both the BNP and his council post in 2011.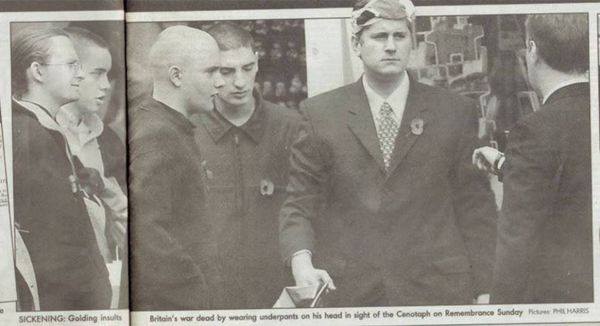 Britain First
In Belfast, Golding helped Dowson launch Britain First, returning to England in 2013 in the hopes of building links with the English Defence League and various splinters. Now at the helm of a confrontational new vehicle, Golding quickly gained notoriety for his extreme worldview, relentless fear-mongering and inflammatory actions, leading Britain First's "patrols" and attempts to intimidate opponents. Examples include threatening to bury a pig at the site of a planned mosque in Dudley in order to "contaminate" the land and prevent its construction.
Branded a "narcissist" by a prominent former member, Golding's temperament and tactics have been at the centre of many rifts within the group, including with Dowson, who quit the group in 2014, describing Golding's "mosque invasions" as "provocative and counterproductive", as well as "unacceptable and unchristian". 
Golding, who for a time was in a relationship with the now-former Deputy Leader Jayda Fransen, was recorded in December 2015 admitting to having violently attacked her, as well as another woman. Fransen told the BBC in 2019 that the abuse went on for five years, and "didn't take long to start" after she joined Britain First in 2014. She said: "There were incidents that could have gone so badly wrong. I could have ended up really hurt or worse. I guess that is where the fear came in because I thought I am going to end up dead".
Golding stood in the 2014 European elections in Wales, with he and Britain First's three other candidates receiving 0.9% of the vote, and also for London mayor in 2016, polling just 1.2% and attracting press coverage for turning his back during the victory speech of Labour's Sadiq Khan.
Legal Issues
Britain First's aggressive approach soon landed both Golding and Fransen in legal hot water. For example, in 2016 the pair were banned from entering Luton and all mosques in England and Wales. In December that year, Golding was jailed for eight weeks for breaching the injunction, having attempted to enter a mosque in Cardiff, temporarily handing the leadership of the group over to Fransen.
On his release in January 2017, six months after the MP Jo Cox's murder by a far-right terrorist, Golding released a startling video in which he claimed his time in prison had made him "even more angry, more determined and more bitter". He went on to issue a chilling threat to politicians and journalists who have committed "crimes against our nation", claiming they would "succumb to this movement eventually and endure a day of reckoning for your crimes", continuing:
"Every lie, every act of treachery, will be revisited on you tenfold. I can promise you, from the very depths of my being, you will all meet your miserable ends at the hands of the Britain First movement. Every last one of you."
In March 2018, Golding and Fransen were both jailed again for 18 weeks and 36 weeksrespectively for religiously aggravated harassment; the incident would play into Fransen's official resignation from Britain First in January 2019. Later that year, Golding, who was based in Belfast at the time, was sentenced to three months imprisonment, suspended for two years, for producing material intended to stir up hatred in Ballymena, Northern Ireland. In March 2020, Golding was charged under the Terrorism Act for refusing to provide access to his digital devices, following an arrest on his return from one of his trips to Russia in October.
By Britain First's own count, by October 2021 Golding had "been arrested twenty times, been in three different prisons and prosecuted ten times", as well as facing trial on further occasions. Golding has made his own feelings about the police clear, stating: "You've got to remember – the police are not on our side. They're a bunch of self-serving, corrupt, jobsworths. I've got no sympathy and no love for the police."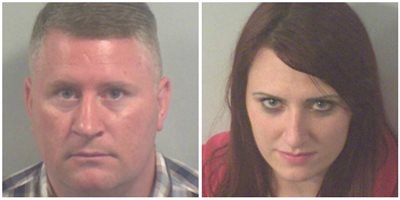 Last Man Standing
Golding is one of the few constants throughout Britain First's turbulent history, having led the group through numerous reorganisations, strategic shifts and splits. He continues to travel the country to speak at branch meetings, head protests, harass opponents, target hotels and undertake other inflammatory stunts.
However, whilst Britain First once looked set to occupy the space left by the BNP and the English Defence League, Golding's own gaffes and legal issues have overshadowed the group's victories. His leadership style and volatile character have burned numerous bridges, and he has been at the centre of a number of conflicts in the UK far right.
Despite his desperate attempts to keep the venture afloat, Golding bears a large amount of personal responsibility for alienating much of Britain First's potential activist base and driving the group further into the political fringes.
At the 2023 local elections, Golding is standing in Swanscombe ward in Dartford.
For more information on Britain First, check out our Britain First report.