HOPE not hate can reveal that activists of the Homeland Party, a far-right "community politics" organisation that splintered from Patriotic Alternative in April, were previously involved with the Scottish Nationalist Society, an extreme neo-Nazi group.
WARNING: THIS BLOG CONTAINS EXTREME AND OFFENSIVE LANGUAGE

In April this year, Patriotic Alternative (PA), the UK's most active fascist group, was torn apart by splits. Kenny Smith, the group's National Admin Officer, broke away to form the rival Homeland Party, taking with him the large majority of PA's Scottish branch and appointed officers across several other regions.
Homeland has sought to distance itself from PA's toxic reputation, adopting inoffensive branding and attempting to present a "community-friendly" face. However, its membership is made up of the same individuals, including those with pasts in hardline neo-Nazi groups.

HOPE not hate can now reveal that three individuals linked to Homeland's flagship Scottish branch were previously involved with the Scottish Nationalist Society (SNS), a tiny but extreme neo-Nazi group that emerged after the banning of National Action (NA) and its successor group Scottish Dawn.
Former SNS members James Munro (AKA Son of Burgundy) and Jordon Murphy have been photographed throwing Nazi salutes, and the former Scottish Defence League (SDL) activist Robert Bisset (AKA Paul Elliott) was photographed marching with the pair and holding a SNS banner at a fascist demo in Edinburgh in 2019.
All three have been active in the PA-turned-Homeland campaign to exploit anger against the housing of asylum seekers in Erskine, Renfrewshire. The effort in Erskine had been at the forefront of the Homeland's attempted foray into "community politics", a strategy through which it hopes to win popular support and council seats.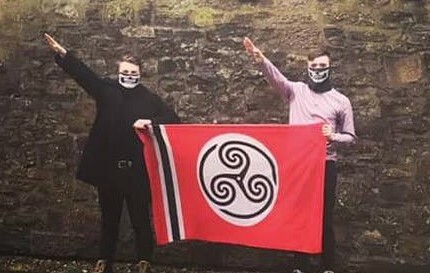 The Scottish Nationalist Society
The Scottish Nationalist Society (SNS) was a short-lived but extreme Nazi group that launched in November 2017. Initially forming under the name "Scottish National Socialists", the group officially emerged after the banning of both NA in December 2016 and its "continuity" group, Scottish Dawn, in September 2017.
Using the Celtic triskele symbol on a red background – designed to echo the Nazi flag – as its banner, the tiny group targeted universities with stickers and organised hikes and martial arts training for its members.
The SNS also attended street demos alongside other extremist groups, such as the Scottish Defence League (SDL), a street movement that emerged as a mirror of the English Defence League (EDL) in the 2010s. The SDL became more overtly fascistic over time, practising an open door policy towards hardline Nazi groups, including National Action, Scottish Dawn and the SNS at its protests.
The SNS disappeared in 2019, some of its activists eventually joining PA after the organisation's launch later that year.
Patriotic Alternative and Homeland
Among them was Jordon Murphy, a core SNS member who was photographed at an SDL demo in Glasgow in July 2018. Murphy's involvement in PA's Scottish branch stretches at least as far back as March 2021, and he attended the branch's inaugural conference that October.
That year, the hardline antisemite used the slogan "Juden Free Scotland!" on his Telegram profile and wrote that "nothing is hated more than the eternal juden" ("Juden" is German for "Jews"). He also posted pictures of Hitler, claimed that he "even named my dog after Erwin Rommel" (the Nazi military commander), and said of the now-First Minister of Scotland, Humza Yousaf: "Paki cunt should fuck off out of Scotland."
He has since thrown his weight behind Homeland.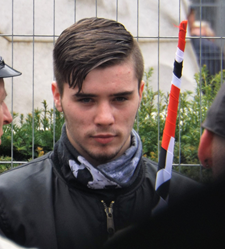 In March 2019, Murphy was photographed alongside James Munro at a SDL demo in Edinburgh. Clad in the skull masks popular among the extreme far right, the pair threw Nazi salutes while holding SNS flags aloft.
Munro, hailing from Dundee, joined PA in April 2021, adopting the pseudonym "Son of Burgundy" in an attempt to maintain his anonymity. He took part in numerous activities with the group, including several demonstrations in Erskine this year, delivering a speech at one such event through a megaphone. Munro also took on co-hosting duties for both PA's Young Scots and Dissident Cast shows, producing dozens of hours of audio content containing Holocaust jokes, noxious racial stereotypes and much else.
Munro is now an active member of Homeland and a regular co-host of the group's official public broadcast, "HomeTalk". He was also photographed alongside Homeland activists – including leader Kenny Smith – at the group's national camp in July 2023.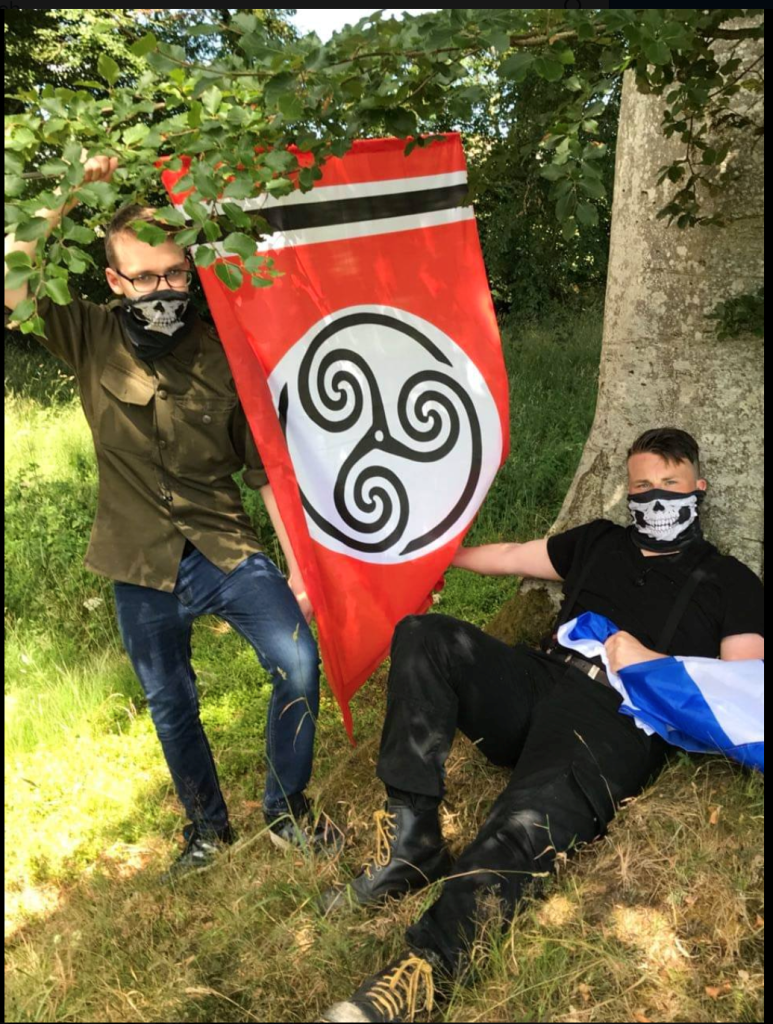 Robert Bisset, from Edinburgh, attended a SDL demonstration in Perth in September 2017 and was photographed marching with Munro and Murphy while holding an SNS flag in March 2019.

Bisset's involvement in PA stretches at least as far back as December 2021, when he accompanied other members in leafleting an anti-vaccine demonstration in Dundee. He has since become a regular campaigner at the Erskine demonstrations, under the PA and then Homeland banner.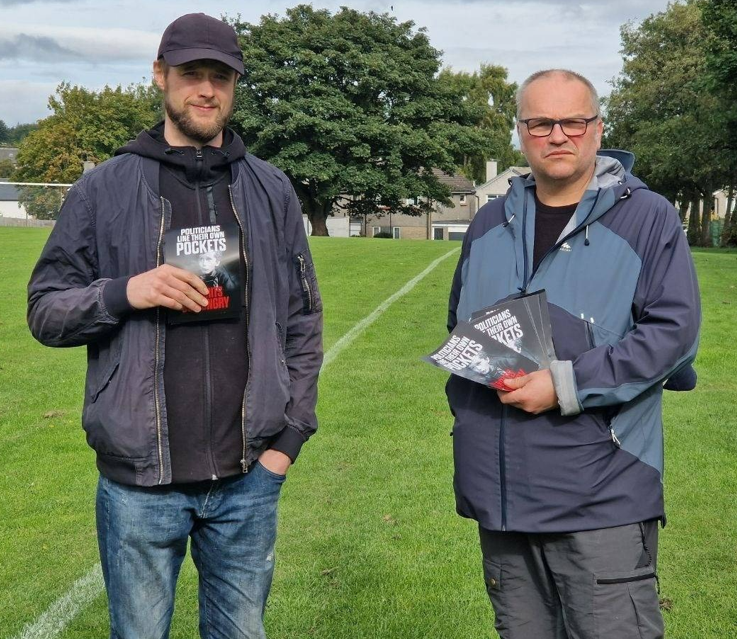 Don't be fooled
Homeland activists are attempting to infiltrate local communities, presenting themselves as citizens who share similar concerns to the residents. However, as we have previously exposed, the group is rife with extremism and a contempt for the beliefs of the British public.
For more information on Patriotic Alternative, read our report here. Stay tuned for more exposés on the Homeland Party.