HOPE not hate reveals the coalition of far-right groups and conspiracy theorists behind recent disturbing protests against children's story hours at public libraries
Over the past two months, an increasingly vitriolic campaign has been waged against Drag Queen Story Hour, a series of storytelling sessions for children organised at public libraries over the school holidays. The campaign has caused a number of the events to be postponed due to safety concerns.
A range of far-right groups, including the fascist Patriotic Alternative (PA) and its splinter group, the Independent Nationalist Network (INN), are targeting the events with defamatory leaflets, letter-writing campaigns, disruptive protests and abuse.
While many protests have been small and low-key, others have seen individuals infiltrating and disrupting the events. Sab Samuel, one of the drag queens involved in the events, has been abused with entirely unfounded accusations of grooming and paedophilia.
At Reading Central Library, two protestors managed to access the event and hurl abuse at the drag queen and attendees, while in Brighton two men confronted him in his car outside the venue to accuse him of "grooming children."
The homophobia and transphobia from the far-right groups behind these protests is far from new. However, the campaign is also drawing a worrying level of interest from conspiracy-oriented groups that emerged in the wake of the pandemic. These groups have previously focused on issues such as the rollout of 5G internet, COVID-19 lockdowns and vaccines.
While the campaign is motivated by genuine homophobia, groups such as PA are also hoping to use the protests to cut through to the public, inviting press to report on their activity.
However, rifts are already widening between PA, other far-right groups and the conspiratorial milieu, meaning that the future of this uneasy alliance is unclear.
Opportunistic Fascists
A key organising force in the campaign is Patriotic Alternative (PA), the UK's largest and most active fascist group. Led by neo-Nazis but presenting themselves as concerned members of the public, PA activists have delivered thousands of "Stop Drag Queen Story Hour" leaflets across the UK over the past two months.
The group has also been at the forefront of several recent protests, including in Crewe, Cheshire, and Bexleyheath, South East London.
Leader Mark Collett has publicly credited Jeff Marsh (AKA Joe Butler), a key Welsh activist, with launching the campaign. Marsh has decades of violent hooliganism and at least three convictions for violence under his belt, including for stabbing two men in a drunken brawl and another for throwing a female protester down a flight of stairs.
PA views Drag Queen Story Hour through the lens of its core "White Genocide" ideology, believing that Jewish people are promoting immigration and progressive causes, such as LGBTQ+ rights, in the supposed hope of weakening white communities and lowering white birth rates.
Hints of this conspiratorial narrative are evident in PA's leaflet, which confusingly conflates storytelling sessions in public libraries with sex education in schools, warning of the dangers of exposing children to "sexual ideologies" and "LGBT indoctrination sessions".
"We want to become a household name, and the only way to do that is to jump on these local issues"
– 'Martin', PA Regional Organiser for the West Midlands
PA's campaign is also highly opportunistic. Discussing the topic in a livestream on 29 July, Collett said little about the supposed harms of these storytelling sessions but instead spent over ten minutes gloating about the media coverage and supposed public support it had garnered for his fringe group of fascists. In Collett's eyes, the campaign serves to "put concerned individuals in touch" with PA and its "ethnonationalist" politics.
PA's regional organiser for the West Midlands, who led the protest in Crewe and canvassed the area beforehand, was even more transparent: "we want to become a household name, and the only way to do that is to jump on these local issues […] they mean much more to local people than general demographic replacement".
Other traditional far-right groups have followed suit, including the Independent Nationalist Network (INN), a marginal group largely composed of disgruntled former PA members, under the unofficial leadership of Richard Lumby, a former British National Party (BNP) organiser in Wolverhampton. INN has produced its own homophobic leaflet and letter writing campaign.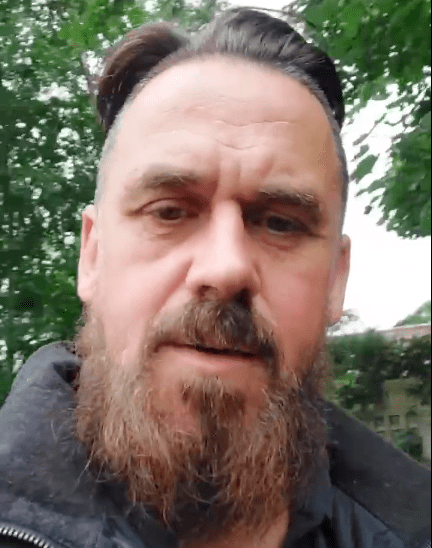 The group's efforts are being led in part by Shane Hennah (AKA Viking Celt) and Chris Mitchell, PA's former Eastern branch Regional Officer. Mitchell led a demonstration of 15 people in North Walsham, Norfolk, on 2 August, an event that was postponed due to concerns about "the safety of the attendants".
Mitchell received coverage in the local press that failed to mention his fascist politics or those of his fellow INN members, who were simply referred to as "protestors" in the article.
Activists from the British Democrats, a BNP splinter group, have also attended protests, while the British Freedom Party, led by former Britain First deputy leader Jayda Fransen, has also jumped on the bandwagon, alleging that children were being "groomed and sexualised by Drag Queens reading them stories".
Conspiracy Theorists
Worryingly, the campaign has also gained momentum among a number of conspiracy-oriented, lockdown sceptic and anti-vaccine activists. The loose coalition between race-obsessed fascists and COVID-denying conspiratorial groups has been two years in the making, with PA, INN and similar groups having made overtures towards the conspiracy protest movement throughout the pandemic.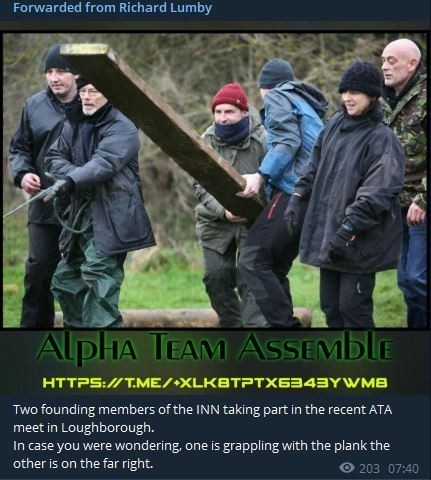 One such group involved in organising protests is Alpha Team Assemble (ATA), a radical anti-vaccine group that emphasises confrontational direct action. Earlier this year, HOPE not hate warned that the group had developed close links with far right groups including the INN. A leading ATA figure, Danny Glass, was among those who confronted Samuel in his car in Brighton.
Another key organiser is Michael Chaves, an anti-vaccine campaigner who has previously helped organise protests at vaccine centres and outside the homes of public figures that he believes to be part of a pro-vaccine media conspiracy.
Chaves is an admin of a channel on the messaging app Telegram established specifically to incite aggressive protests against Drag Queen Story Hour, including one post that shared "​tips for citizens arresting a drag queen who is sexualising children".
Rifts Widen
On 4 August, ATA and other key influencers from the conspiracy scene announced that they would no longer be attending protests in Leeds this weekend. The decision stemmed, in part, from the fear that standing side-by-side with PA activists would lead to the whole movement being tarnished by association.
The INN group, for whom the hatred of their PA rivals is a central plank of their identity, soon followed suit. The group explained: "​​Our involvement in the protests was only ever in support of the group of people who had initiated it […] Unfortunately, other groups seek a different agenda, turning the protests into a pantomime complete with villains for the press to lap up."
The unwillingness of conspiracy influencers to share a platform with PA may not be entirely one-sided. While Collett is a dedicated conspiracy theorist in his own right, he has previously warned against the dangers of becoming distracted by what he termed the "conspiracy nonsense" of the type propounded by "crackpots […] who think we're being injected with nano-machines and 5G is frying our brains".
However, the fact that PA's presence at such events is considered so toxic that it deters even groups like ATA, who have faced considerable media criticism of their own activity, is a damning indictment of PA's efforts to present a "respectable" face. As one INN supporter put it:
"I think there is another element to this which is just as important as Drag Queen Story Hour itself and that is networking and forming alliances. It's becoming obvious that PA are tainted and beyond redemption in the eyes of most other dissident factions…"