With many results now in, it looks as if the 2022 local elections have again been disastrous for the electoral far right, who have been roundly rejected at the polls.
This year, the far-right milieu sought bigger vote shares in fewer seats, with the anti-Muslim groups For Britain and Britain First concentrating their resources on a small number of wards. However, both parties have endured bruising results, with For Britain leader, Anne Marie Waters, only managing third place in her party's key target in Hartlepool and Britain First's hopes dashed in Salford, after a HOPE not hate campaign in both seats.
Elsewhere, populist right groups like Reform UK continue to fail in their quest for electoral viability, and the remnants of UKIP received a measly yield in the 28 seats it could find candidates to contest.
While we should take a moment to celebrate, it is important to remember that while the results mark a defeat for the electoral far right, the same is not necessarily true for the views they espouse. Far-right ideas continue to influence more mainstream political and media narratives, leaving less room electorally. Moreover, without a viable electoral route, the British far right has increasingly emphasised other forms of activism in recent years, posing different threats.
Below is an overview of the fortunes of the far right, populist right and conspiracy theorists in the seats we know so far.
For Britain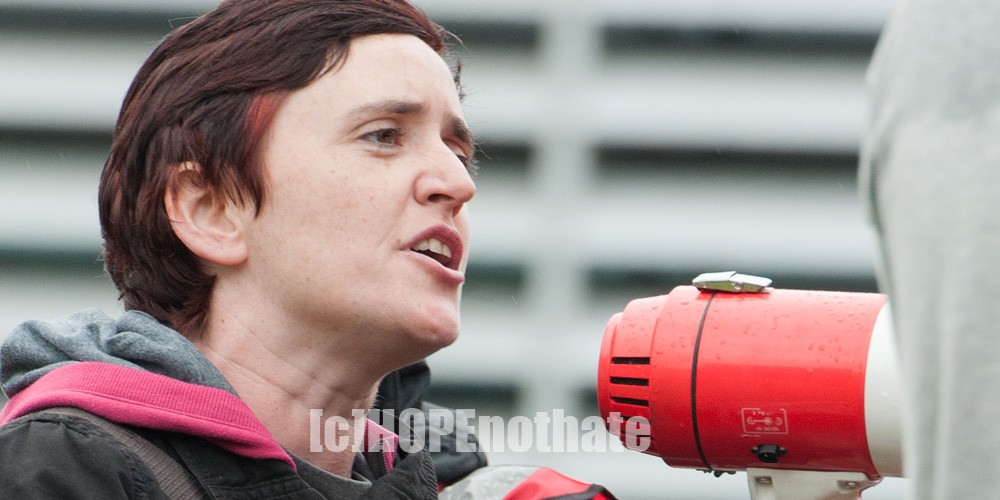 The anti-Muslim party For Britain, which remains one of the largest far-right groups in the UK today, has yet again suffered an abysmal failure at the polls. This year the group targeted just 14 seats, a drastic reduction from the 60 it stood in 2021, but still failed to exceed 50 votes in half of these.
The party hitched its hopes on victory in De Bruce, Hartlepool, the home ward of leader Anne Marie Waters, where it had won a council seat in 2019. Waters faced internal criticism from For Britain for her decision not to stand for MP in the 2021 by-election, but insisted that pursuing a council seat and working up from there was a better strategy. However, she placed third with 203 votes (14.5%), a crushing blow after years spent attempting to ingratiate herself to the electorate.
For Britain was also roundly rejected in Epping Forest, where the party won a candidate in 2019. This year Eddy Butler, the BNP's former elections strategist, gained a derisory 11 votes in the Loughton Alderton ward, and former BNP councillor Pat Richardson received just 16 in Loughton Broadway, despite both wards having elected BNP councillors in past polls. Butler has put on a brave face, writing "The result was obviously poor – but that was to be expected, and it doesn't dishearten or faze me in the slightest."
For Britain's repeated electoral disasters may encourage a shift in focus from elections and onto street demonstrations and other forms of activism. Last month, the UK's best known far-right activist, Stephen Yaxley-Lennon (AKA Tommy Robinson), joined the ailing party, although his promise to tour the country to drum up support during the campaign did not materialise. Waters will likely play an active role in Lennon's attempts to relaunch the UK's anti-Muslim street movement, having spoken alongside Lennon at the Telford demonstration in January, and having done so many times previously at rowdy demonstrations across the country over the years.
Britain First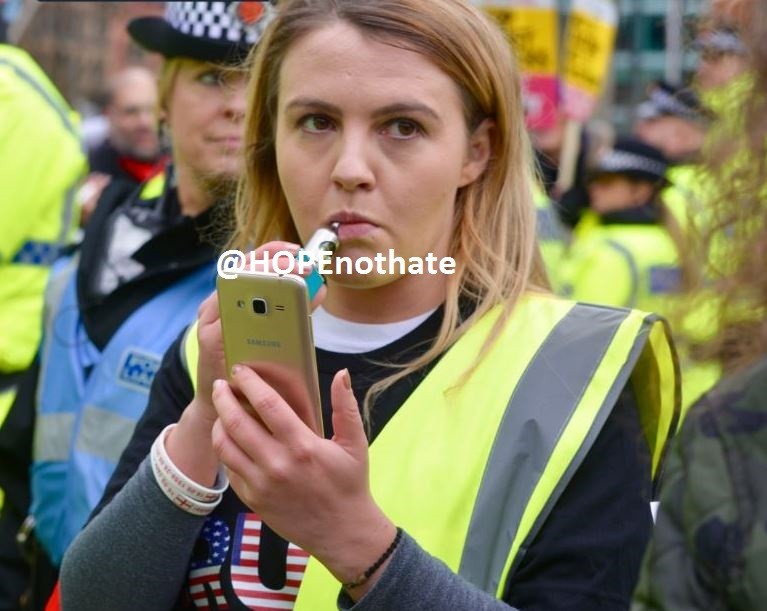 The anti-Muslim group Britain First, which re-registered as a political party last year, stood just three candidates, who were variously exposed by HOPE not hate for antisemitism, conspiracy theorising and past membership of fascist groups.
Britain First's key focus was Salford (Walkden North ward), where the group's Chief of Staff, Ashlea Simon, placed second with 508 votes (21.6%), losing out to Labour's 51%. Simon, who believes that "English people can't be black, English blood is white", is a core figure in the anti-Muslim party and was accompanied to the vote count by Andy Frain, a notorious football hooligan with a conviction for slashing the throat of an off-duty police officer.
Whilst Simon polled decently, the failure to capture the seat was hardly the "narrow" defeat that Britain First has claimed, a fact that will be especially disappointing given the months of effort and resource the group has channelled into the ward.
In Greenwich (Eltham Page ward), Nick Scanlon came sixth of seven, with 255 votes. Scanlon is an extremist who has cycled through a number of far-right groups, including the fascist BNP and the racial separatist group Generation Identity, and was exposed in the local press for his vile racism during the campaign.
In Rhondda Cynon Taf (Brynna And Llanharan ward), Carl Burgess came in last place, beaten handily by all of the other seven candidates. HOPE not hate revealed posts by Burgess in which he claimed that "Jews wanna take over the world" and shared Holocaust denial documentaries, as well as content promoting anti-5G and New World Order conspiracy theories.
Clearly disappointed with the results, Britain First took to their Telegram channel to offer entertainingly conflicting narratives for their defeat: their failure in Eltham Page was due to the ward being "around 40% ethnic/immigrant populated", while the problem with Brynna and Llanharan was that "it is 100% Welsh, no immigration, no crime, no problems or issues."
The Populist Right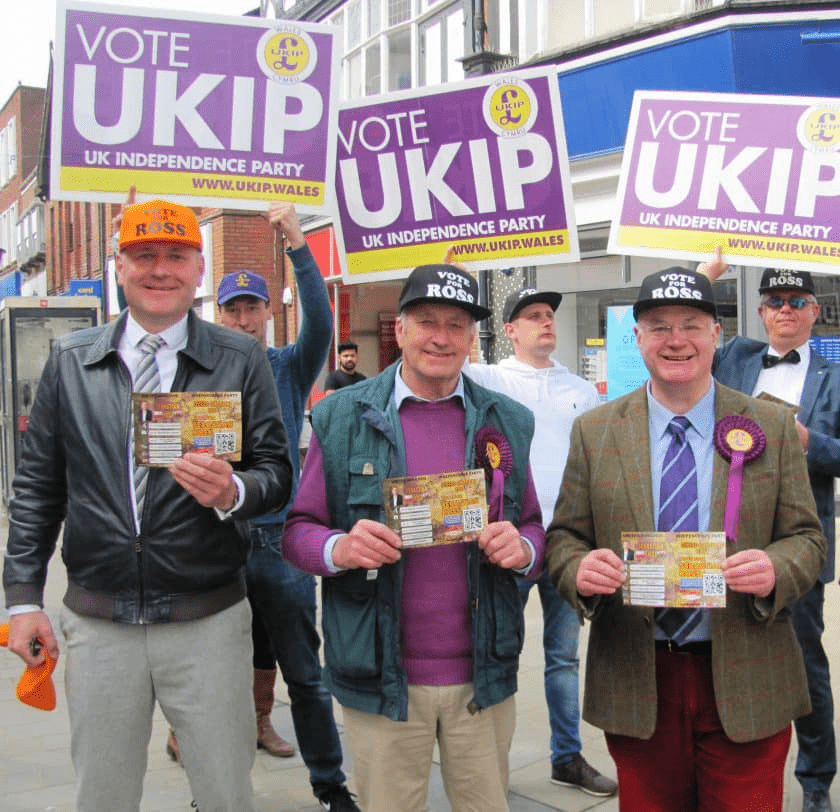 It was a depressing night for Reform UK, the re-badged Brexit Party successor, which failed to achieve any gains despite concentrating its efforts on just 125 seats this year. The party had pinned its hopes on its full slate of candidates Bolton and Derby, but aside from retaining the two seats that it already held in Derby it was a washout across the board, including losing their sole existing seat in Bolton to the local microparty One Kearsley. The picture was no better nationally, with its small cluster of candidates in Stockport achieving between 1-3%.
Meanwhile, UKIP's long death spiral appears to be reaching the final throes. The party fielded just 28 candidates for these elections, a stunning collapse for an outfit that came in third place nationally in 2014. Of the results published at time of writing, their best performer is UKIP youth leader Jordan Gaskell, who managed to rustle up 231 votes in Wigan's Hindley ward (but still came in last place).
The Extreme Right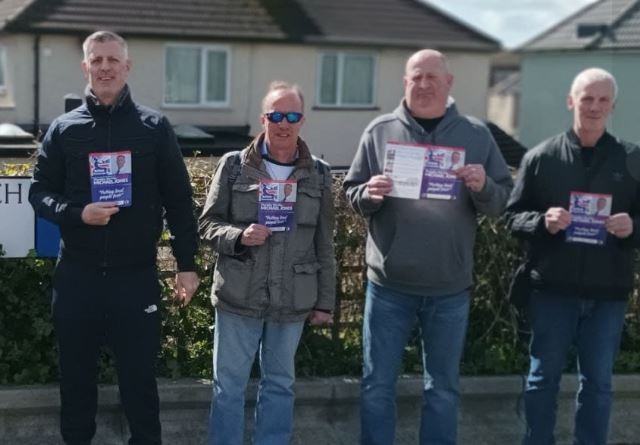 Results for the UK's dwindling electoral traditional far right were, unsurprisingly, abysmal. The long obsolete National Front's two candidates, who stood in Amber Valley (Langley Mill and Aldercar ward) and Calderdale (Todmorden ward), received just 28 and 101 votes respectively.
Elsewhere the British Democrats, an exhausted BNP splinter, ran four candidates, including former BNP organiser Michael Jones, who received 253 votes (2%) in Bexley, and former For Britain candidate Christopher Bateman, who received 100 votes (5%) in the Laindon Park ward of Basildon. Party Leader Jim Lewthwaite fared better with 214 votes (7%) in Wyke in Bradford, improving on last year's tally by a single vote. Lewthwaite appears to have some residual support in Wyke from his days as a BNP councillor there.
Lewthwaite again received aid in his campaign from the UK's largest fascist group, Patriotic Alternative, which last month was rejected once more by the Electoral Commission, this time on the grounds that its "constitution and financial scheme were not compliant with the law".
The Conspiracy Theorists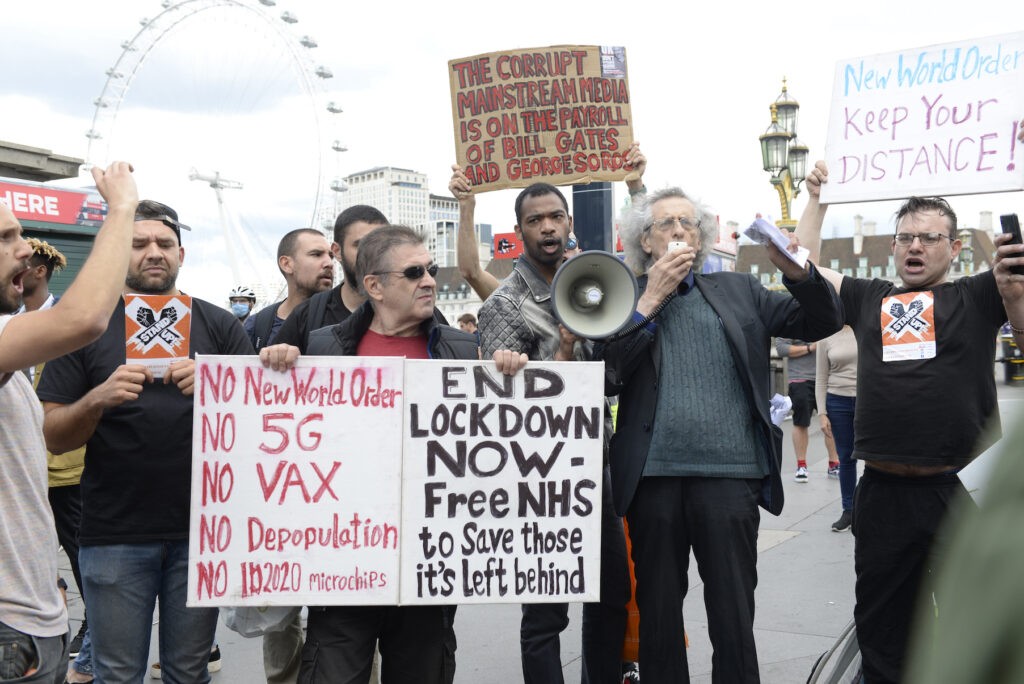 The anti-5G party Save Us Now was impeded in its crusade against killer 5G lampposts by the failure of its two candidates in Gateshead, who received just 46 and 17 votes in their respective wards, while the larger Freedom Alliance party suffered a similar fate in all of its results announced so far.
After failing to win in the London mayoral election last year, Piers Corbyn, the face of the UK's anti-vaccine movement, came ninth of twelve candidates in his run for a seat on Southwark council (Faraday ward) with 200 votes.